Companies of all sizes are embracing the idea of a virtual office. There is an increased need for the best remote-access VPNs to ensure safety and security for employees who often work from home or during travel. In addition, there is also a need to have remote access to servers while hiding your identity.
A business VPN has become the need of the hour. It encrypts and protects your online data safely and provides easy access from anywhere. Moreover, it includes features such as high-speed connection, compatibility with most operating systems, and support for different types of devices, and it gives you great peace of mind.
This article explores the best remote access VPNs for businesses and how they maintain the security of your business data.
Benefits of using remote Access VPN for business
Businesses need high security and protection, so a VPN is the perfect solution. There are a lot of other reasons why a business might need a remote access business VPN such as
Increased security – A remote-access VPN provides employees with secure internet access. This ensures that the data passing through the network is encrypted and cannot be monitored or intercepted by unauthorized individuals.
Flexibility – Businesses can easily connect to their servers from anywhere in the world. This allows employees to work from home or while traveling without any restrictions.
Cost savings – It can help businesses save on travel costs and other expenses related to having employees working remotely.
Increased productivity – They allow employees to work productively without any distractions. This results in increased efficiency and better work-life balance.
Data Security – These VPNs ensure that data passing through a remote network is encrypted and safe from unauthorized access, thus preventing data breaches.
Considering the benefits mentioned above, it is clear that a business VPN can cater to your security and privacy needs and even help in growing your business.
6 best remote Access VPNs for business
Before you choose a business VPN, you should expand your information about the VPN mentioned above providers and make a better decision.
1. NordLayer
Website URL: nordlayer.com
Fast speed
Dedicated servers
Malware blocker
Robust encryption
NordLayer is an excellent choice for businesses that need a remote access VPN service. It was also called NordTeam before and underwent a rebranding, and it has now become NordLayer. The cloud-based VPN provider offers impressive features, including military-grade encryption, a strict no-logging policy, and fast speeds. Additionally, NordVPN has Windows, Mac, iOS, and Android clients and provides a user-friendly interface.
With servers in over 60 countries, NordVPN is an excellent choice for businesses with a global reach. The business VPN offers three different pricing insights, and here's how they differ:
Essential: provides 30+ global servers ar $9 per user
Advanced: provides 20+ dedicated servers at $11 per user
Custom: the number of servers and costs are custom built
NordVPN also offers some great security features that will protect employees from the dangers of remote work, such as public Wi-Fi threats. The provider has a kill switch feature will automatically disconnect an employee's device if the VPN connection drops.
Additionally, NordVPN uses an automatic server selection feature that will connect employees to the best server based on geographic location and network conditions. The best VPN for business also has a strict no-logging policy, assuring business owners of data privacy.
2. ExpressVPN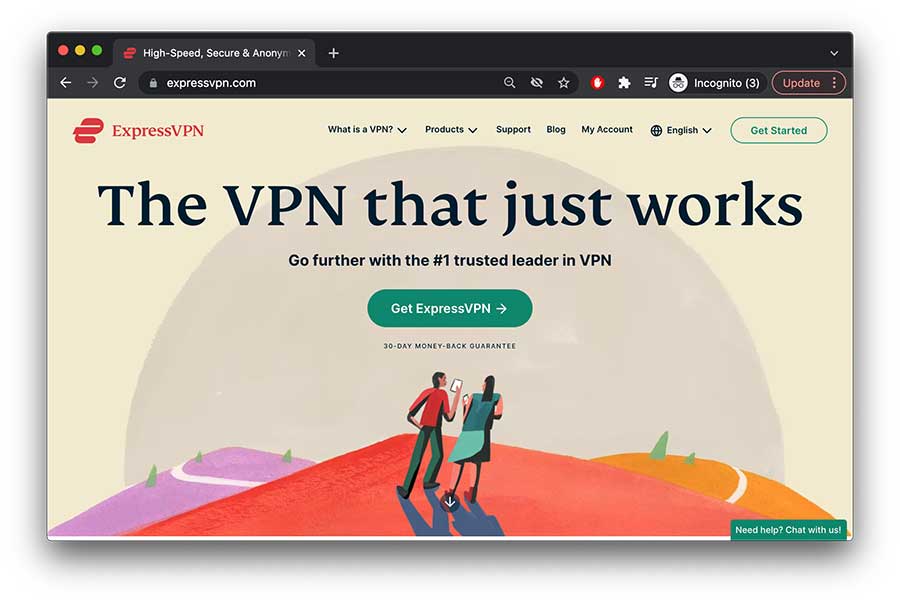 Website URL: expressvpn.com
Global server in 94 countries
Fastest VPN
Trusted server technology
Zero-knowledge DNS
If you own a small business and are looking for a VPN that can protect and further increase the integrity of your business data, then there is no better choice than using ExpressVPN. It is one of the best VPNs that, besides protecting the data, provides employees with safe access to the business network. The VPN is safe and secure and doesn't compromise digital security and privacy.
It uses state-of-the-art AES-256-bit encryption and OpenVPN protocol to safeguard the business data from all snooping eyes. The presence of ExpressVPN's proprietary lightway protocol further helps in boosting the users' business security. The VPN provider doesn't leak your IP address and other sensitive data and thus ensures higher levels of online security while you access or share your business data.
Besides this, ExpressVPN comes with a range of impressive security and privacy-boosting software like RAM-only servers and private DNS and ensures that your data can be accessed by no means. ExpressVPN belongs to the safe jurisdiction of the British Virgin Islands and follows an audited no-log policy.
The VPN is one of the fastest, offering ultra-fast speed owing to its extensive server network spread over 94 countries. It means that no matter where you're physically located, you won't be late joining group meetings or sharing critical business reports. ExpressVPN work compatibility through dedicated apps overall significant devices and operating systems. It allows up to five simultaneous connections, making it a great small-business VPN.
3. Perimeter81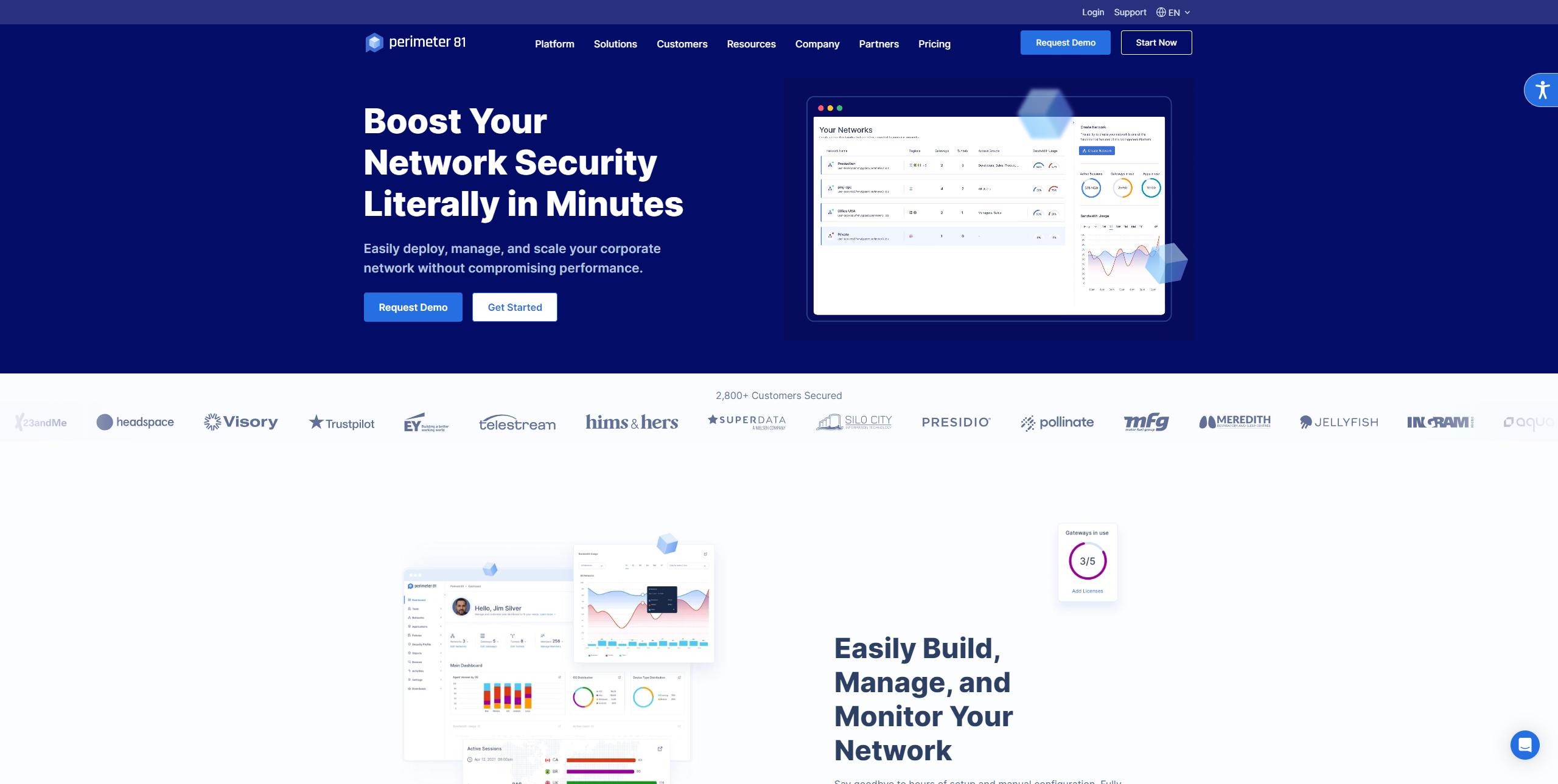 Website URL: perimeter81.com
Easy setups and deployment
Fast and reliable performance
Robust security feature
Dedicated servers and IP address
If you're looking for a reliable and secure remote access VPN for your business, Perimeter81 is one of the best options available. It is a reliable VPN provider that deploys private servers so staff members can connect and remotely access business data.
Perimeter81 also uses advanced security features to proactively protect users from hazards of remote working, such as public Wi-Fi. Moreover, it also follows a no-log policy and uses strong encryption and tunneling protocols to protect the business data. Other security features and benefits are zero-trust network security, device posture check, automatic IP whitelisting, and a single cloud management platform.
Moreover, the VPN provider comes with an impressive multi-factor authentication feature. The feature helps businesses prevent unauthorized login attempts and data theft.
The VPN provider consists of four different business plans that allow a small-scale business owner to a large organization or enterprise to benefit from its services. However, the features and prices vary. Here's a quick overview of all the plans:
Essential Plan: allows 5 number users and 500Mbps costing $8 per user.
Premium: allows 10 users and 1000Mbps costing $12 per user.
Premium Plus: allows 20 users and 1000Mbps costing $16 per user.
Enterprise: allows a minimum of 50 users. The number of Mbps and price is unavailable.
The best thing about this business VPN is that it customizes your business plan. The prices are also low, which makes it the best business VPN.
Additionally, the provider has well-designed clients for Windows, Mac, iOS, and Android and provides a single-click web management console. Although there is limited server coverage, it is not bothersome, as it offers above-average speeds.
4. Twingate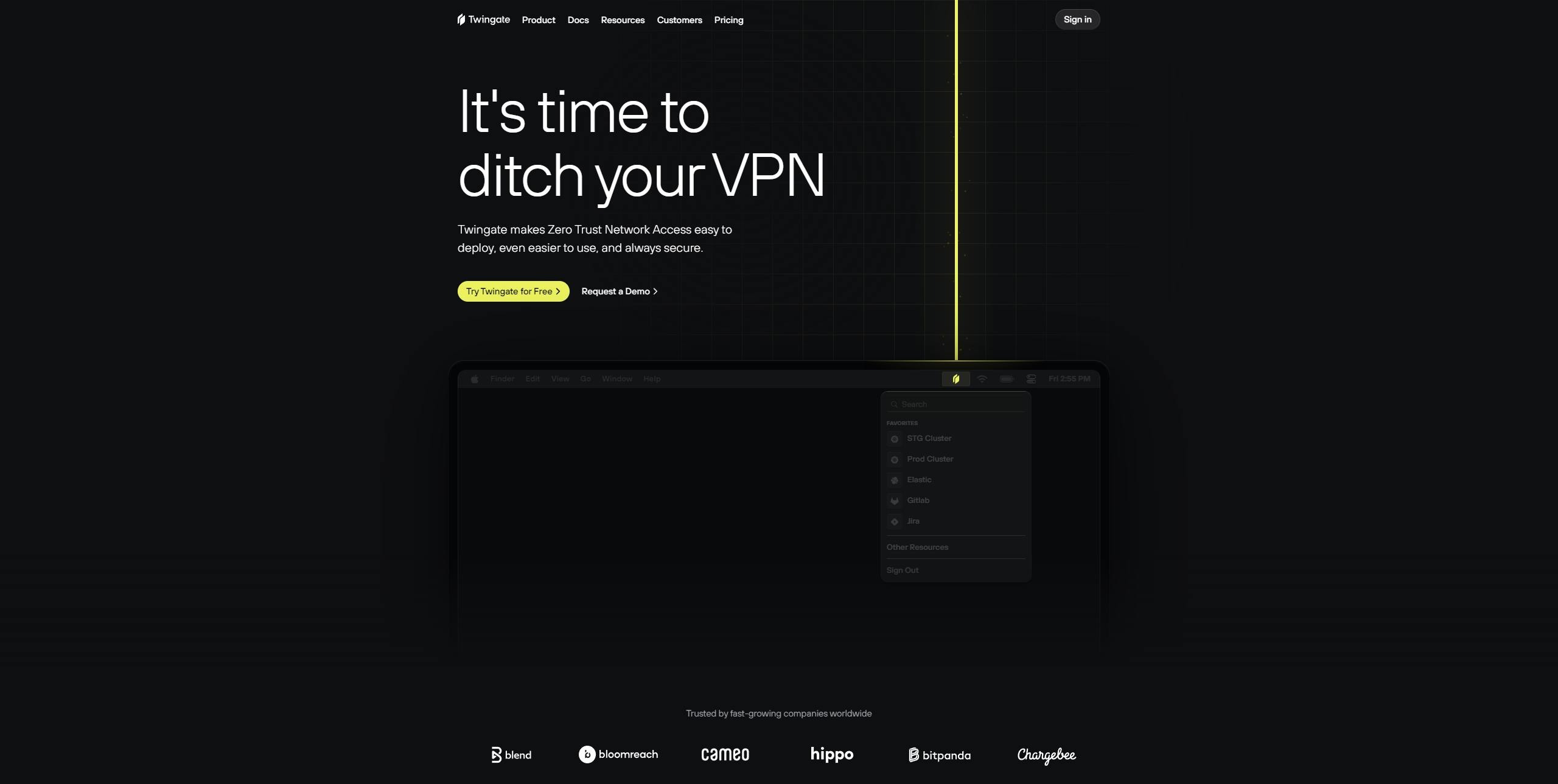 Website URL: twingate.com
Zero Trust network design keeps data secure.
Best VPN pricing for medium-sized businesses.
Build the business you've always dreamed of.
Freedom to work remotely and on the go.
Increase your productivity and privacy
If you're looking for a Zero Trust network that will keep your business's data as secure as possible, Twingate is an excellent option. It's easy to deploy and manage and boasts some impressive security features. However, it would be nice to have more instant support available.
It is a cloud-based VPN that differs from the traditional VPN providers and is designed to keep your business's data as secure as possible. The network is based on the premise that employees should only be able to access the data they need and that access should be granted on a need-to-know basis.
It is also designed to function quietly in the background, so you'll barely notice it's there. This best VPN for business can be deployed and managed from one central console, so the IT helpdesk won't need to handle any additional tasks. Comprehensive documentation is also available online, so you can refer to it if you encounter any issues.
Twingate has the best VPN pricing at $10 per user, so it's a good option for medium-sized businesses. It also allows up to 150 users to access the VPN services. The VPN offers a free plan that allows up to 5 users. If you have a larger organization, you can contact the customer support team and customize your plan according to your needs. The best part is that Twingate offers a 14-day free trial period to test out its services without entering your credit card details.
5. TorGuard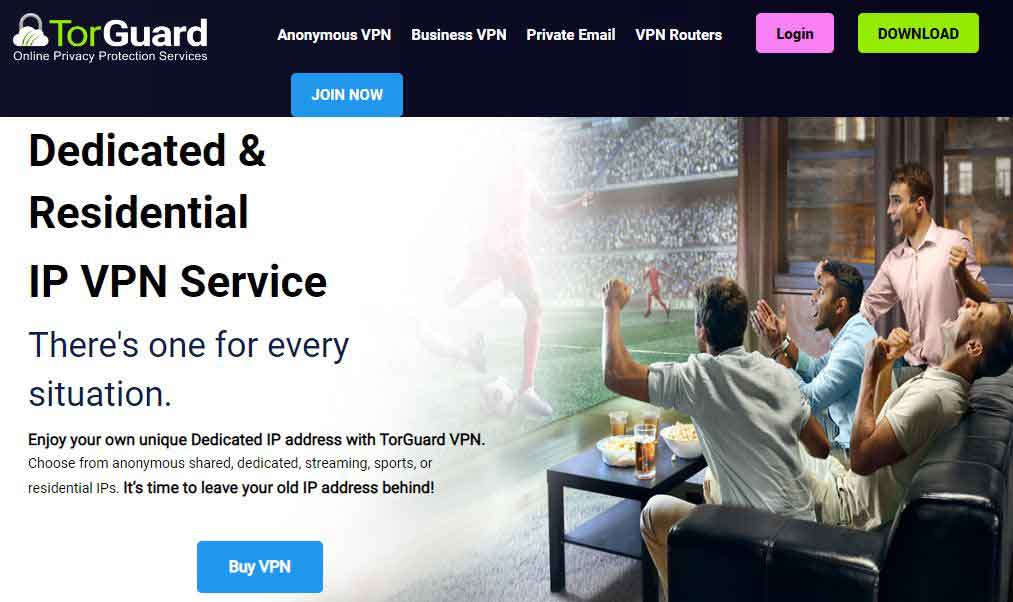 Website URL: torguard.net
Encrypted email accounts
Dedicated user management portal
Unlimited speed and bandwidth
Dedicated IP address
TorGuard offers a perfect solution to business owners by offering top-notch data security and protection. It encrypts your business network and assigns you an anonymous IP address to browse the web anonymously. You can rely on secure AES-256 bit encryption SHA-512 authentication key to ensure online data security. The VPN also offers secure tunneling protocols like WireGuard and OpenVPN, ensuring secure data transmission and communication.
The VPN provider offers four different plans, and the features and prices vary from plan to plan. Here's a brief insight into the different plans offered by TorGuard VPN:
Starter: allows 5 user connections with 1 dedicated IP address at $32 per month
Small: allows 10 user connections with 3 dedicated IP addresses at $69 per month
Medium: allows 15 user connections with 5 dedicated IP addresses at $110 per month
Large: allows 20 user connections with 10 dedicated IP addresses at $169 per month
TorGuard is the best business VPN because it offers a business plan for all types of businesses. Depending on the nature of the business, users can set their preferences. The most impressive feature of TorGuard is that it offers a private email service that uses PGP encryption and, thus, helps in sending confidential business details anonymously.
Moreover, the VPN offers an extensive server network comprising 3000+ servers in 50 countries. The best part is that no matter whichever plan you choose, you can access all the servers and enjoy fast browsing speeds.
The only concerning thing about TorGuard VPN is its jurisdiction. The VPN has headquarters in the US and doesn't have a log audit report to prove its confidentiality. But there aren't any known security mishaps regarding the VPN. There are no reports of TorGuard logging or sharing users' data logs in the past, making things a little less concerning.
6. VyprVPN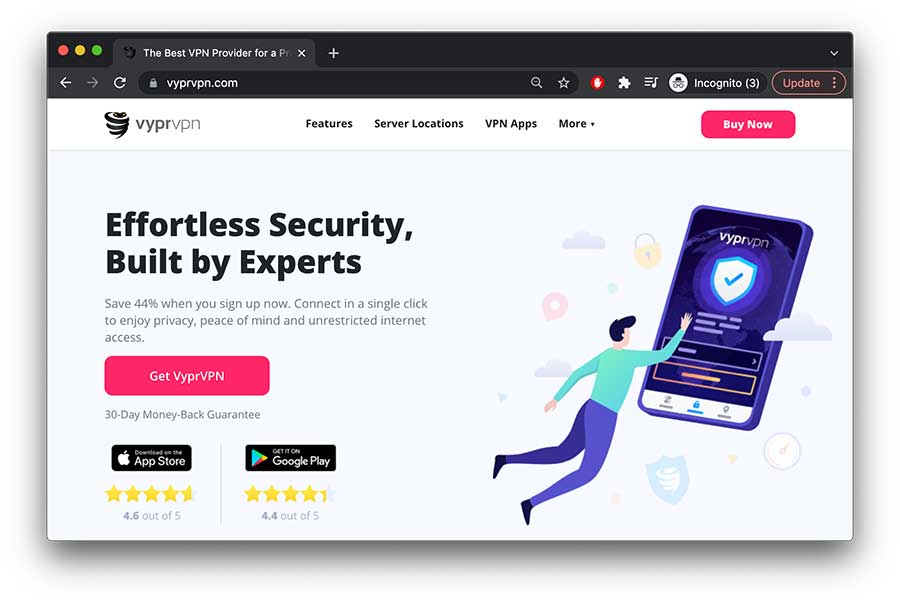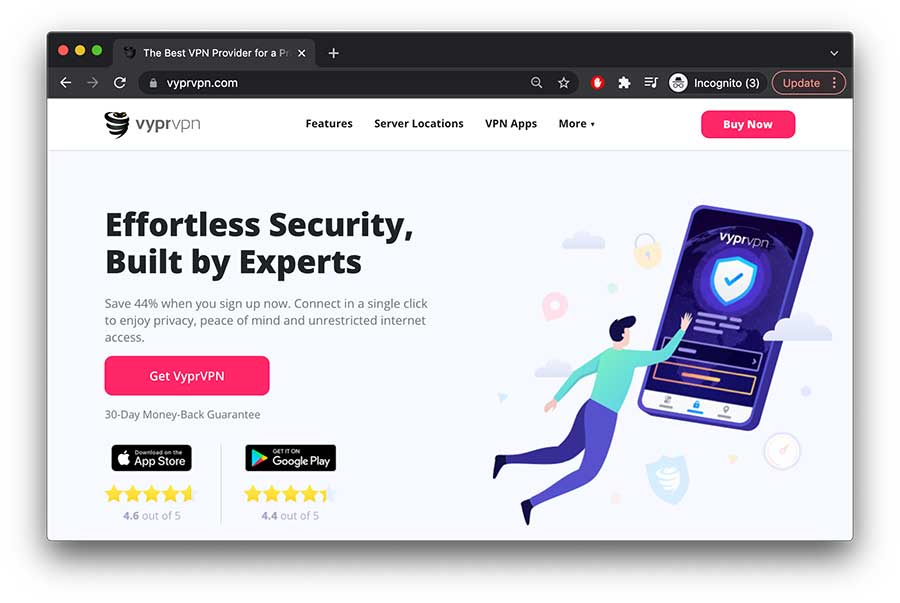 Website URL: www.vyprvpn.com
Global business servers
Protect your business data in the cloud
Uses Chameleon protocol
Kill switch
VyprVPN is one of the market's safest and most reliable VPN providers. Besides proving to be best for personal use, the VPN also develops a compelling business plan. The VPN provider offers two separate business plans, i.e., VyprVPN for business and VyprVPN for business cloud, and thus ranks as one of the best business VPNs.
If you opt for a simple business plan, it'll cost you $299 per year
The business cloud VPN plan starts at $349 per year.
By using VyprVPN for the business, you can take the security of your business communication to the next level. It ensures that your connection remains secure while using office chat, sharing emails and files, and accessing business resources within and outside the office. If you're a journalist, entrepreneur, or remote worker, this is the perfect VPN. The VPN allows you to set up a dedicated account, manage multiple user accounts, and access global business servers.
The VyprVPN for business cloud is a cloud VPN that offers complete control of your network in the cloud environment. This plan offers you your dedicated servers and IP address that further boosts your digital security, and makes it difficult for anyone to know about your activities. Moreover, you can add multiple servers at a quick time.
VyprVPN uses military-grade solid encryption and chameleon protocol, improving speed and data security. It also uses features like a kill switch, DNS, and IP leak protection to maintain online security. Moreover, Switzerland is a privacy-heaven country with a verified log-audit report, so your business data remains secure in all cases.
Factors to consider while choosing a business VPN
A business VPN differs significantly from one you use for your personal use. Thus, it is a bit tricky to choose the best business VPN. To make things easier for you, here are the essential factors that you should give priority to when selecting a VPN for your business:
Speed: The VPN should be able to provide a high-speed connection so that your employees can work smoothly.
Compatibility: The best business VPN should be compatible with different operating systems and devices.
No of Users: Choose a VPN that allows a maximum number of users to access the VPN from a single user account.
Server Network: Ensure that the VPN offers an extensive server network so that speeds are not an issue if you're a remote worker.
Support: The VPN should offer excellent customer support in case of any issues.
Security: Ensure that VPN provides robust security features to protect your data.
Pricing: The VPN should be affordable without compromising on quality.
To enjoy better business security and privacy, make sure that you don't skip any of these features.
Conclusion
A business VPN has become mandatory to protect your business data's integrity. Whether you run a small or large business, you'll need a business VPN. It encrypts your business data and makes it impossible for hackers or competitors to reach your data. Also, a business VPN offers additional benefits like encrypted email services, IP filtering, and user management that ensure more protection.
The above-discussed are some of the best business VPNs. They come with all essential features that increase your business data's security, so choose one of them and start securing your sensitive business data now.
Share this article
About the Author
Rebecca James is an IT consultant with forward thinking approach toward developing IT infrastructures of SMEs. She writes to engage with individuals and raise awareness of digital security, privacy, and better IT infrastructure.
More from Rebecca James
Related Posts