Quick Review
Dashlane password manager is a popular password manager in the market that allows users to store and autofill unlimited passwords, personal info, and payment details. It uses AES-256-bit encryption, zero-knowledge, and US-patented security architecture that ensures robust security and privacy. It offers various basic password management features but stands out in the crowd because of its built-in VPN and real-time dark web monitoring feature. Besides this, Dashlane provides a simple interface and plans for individuals, families, and businesses. Before getting into the detailed Dashlane password manager review, let's first have a quick overview of its strengths and weaknesses.
Strength
Unlimited password storage
Darb web monitoring feature
Pricing plans for personal, families, and businesses.
Browser extensions for all popular browsers
Compiles with CCPA and GDPR
Account recovery option for teams and business plan
Single-Sign-on for business plan
Automatic password changer
Weaknesses
No published audit reports
Limited customization features
Removed Emergency Access feature
Dashlane is a top-tier password manager that provides excellent service. It offers top-notch security by using end-to-end encryption, a zero-knowledge protocol, and a two-factor authentication option to protect your passwords and other sensitive information. While it is the most suitable password manager for individuals, families, teams, and businesses, users can still use it for free.
In addition, Dashlane is a feature-riched password manager that offers various useful features that help in valuable functionalities. It performs all the basic and advanced tasks that users always demand from a password manager. It bundles with a VPN, scans the account for weak and compromised passwords, and autofill the stored details. The table below highlights some of Dashlane's distinctive features:
| | |
| --- | --- |
| Features | Description |
| Automatic Password Changer | It enables users to change and save their passwords with a click automatically. (But this feature is now discontinued) |
| Secure File Storage | It offers 1GB of encrypted file storage to keep files and notes securely. |
| Personalized Security Alerts | Users receive alerts if the data stored in the Dashlane account is affected by a data breach |
| Dashlane VPN | It's powered by Hotspot Shield VPN, which encrypts the data traffic and ensures more online privacy. |
| Dark Web Monitoring | It scans the dark web for users' email addresses or any other information and informs them if they got leaked in a breach. |
| Audit Logs | It enables businesses to track and monitor group activities and more. |
| Password History | Users have also access to view their password history. |
| Single Sign-On | Business plan users can sign in to their accounts with their SSO credentials and enjoy a seamless experience. |
| Two-Factor Authentication | You can add a 2FA feature for enhanced account security and prevent unauthorized access. |
| Friends and Family Dashboard | It efficiently organizes and manages all users' dashboards in the friends, family, and business plans. |
| Password Generator | It helps to generate unique and strong passwords across all devices. |
| Password Sharing | Users can securely share encrypted passwords, 2FA tokens, and secure notes with individuals and other group members. |
| Password Health Checker | It audits the passwords and notifies users about weak, compromised, and reused passwords so they can take immediate action. |
| Password Vault | It provides a secure and encrypted vault for storing unlimited passwords, secure notes, payment information and more. |
| Autofill and Autosave | It fills in and saves your password, payment details, and other personal information across the web. |
| Dark Web Insights | It sends alerts and insights about any vulnerability or security breach that an employee or organization might face. |
| Emergency Access | It allows users to add trusted contacts who can access their vault in an emergency. However, this feature is now discontinued. |
The password manager has been in business for over a decade. However, the company has changed its services, and some changes might disappoint the users. Besides this, some users on Reddit also complain about its browser extensions and app functionality, while others praise it. Let's dive into this Dashlane password manager review to know if users can consider using it or not.
Managing Dashlane's Settings
Dashlane password manager works across all popular devices and operating systems. From Windows to Mac and from Android to iOS, you can easily use the Dashlane password manager.
Setting up Dashlane isn't complicated; it's a simple and easy process, that does not consume too much of your time. The company has discontinued the desktop apps of the password manager. Instead of downloading apps on Windows or Mac, you'd be eligible to use the fully-integrated web version via browser extensions. But not finding the prompt download might confuse the new users, especially if they don't know about this change.
To get started with Dashlane on a desktop, here are the steps you need to follow:
Visit the official site and click on the Get Dashlane option.
The website will redirect you to the browser extension store.
Click on the Add Extension option and wait for a few minutes till the installation finishes.
Sign up with a valid email address.
Create a strong master password and create your account.
You will automatically be logged into the Dashlane account, and a dashboard like this will appear on your screen.
Dashlane does have well-designed apps for Android and iOS. Visit Google PlayStore or Apple App Store and download the app with a click. For account creation, the steps will be the same as described above. One important thing to remember is to enable the biometric login feature, as it's the only way to reset the account when you lose the master password.
Dashlane Password Manager Security
It seems that Dashlane offers standard security, but it has a solid history of supporting top-notch security standards to secure users' data.
On the top, Dashlane deploys AES-256-bit encryption to store and manage passwords. It is the industry's highest encryption level which is uncrackable and guarantees maximum data security. Also, it uses end-to-end encryption to protect passwords, secure notes, and other personal data in the vault. This means Dashlane locally encrypts the data on the device, and users can decrypt it with a master password.
Besides this, Dashlane uses Webcrypto API for browser-based cryptography on Android and iOS. But on Mac and Windows, it uses OpenSSL for encrypting and decrypting users' data. It uses HTTPS to protect all the communications between the Dashlane apps and servers and prevents hackers from intercepting the data. At the same time, the business version supports additional SSO and SAML 2.0 IDP.
It was good to see that Dashlane allows users to link their accounts to a 2FA app on their mobile devices. Instead of sending the OTP by email, it asks users to provide an OTP generated via the 2FA app. This way helps to reset the account on iOS and Android devices. To further boost security Dashlane uses secure keys like PBKDF2 and Argon2d.
Dashlane's US-patented security architecture and zero-knowledge policy further guarantee that no one can intercept users' data. It also complies with CCPA and GDPR, and SOC 2 Type compliance. This means Dashlane will respect users' data even under dire circumstances and won't sell it to anyone.
With all these advanced security measures, Dashlane is highly secure and safe. But to shine out among others, it will be best if it comes with security or privacy audit reports.
Interface and Ease of Use
Dashlane's interface is sleek and intuitive; the best part is it's easy to use and navigate. The vault is highly organized and the most appealing thing to the users. You can open the vault by logging into the app or browser extension. The left-side menu includes a search bar, all the item categories, and security tools.
Dashlane lets users store logins, payment info, Secure notes, personal info, and IDs in the main vault. By clicking on any category, you can add items to the vault.
You can also view the password history that informs you about the old versions of your passwords.
At first, it seems that Dashlane offers limited data entry items. But this is not the truth. If you go into the ID and Personal Info category and tap on the Add New option, it tells you that it has all data entry types. It is great to see but what was more amazing was how the data entry items were organized.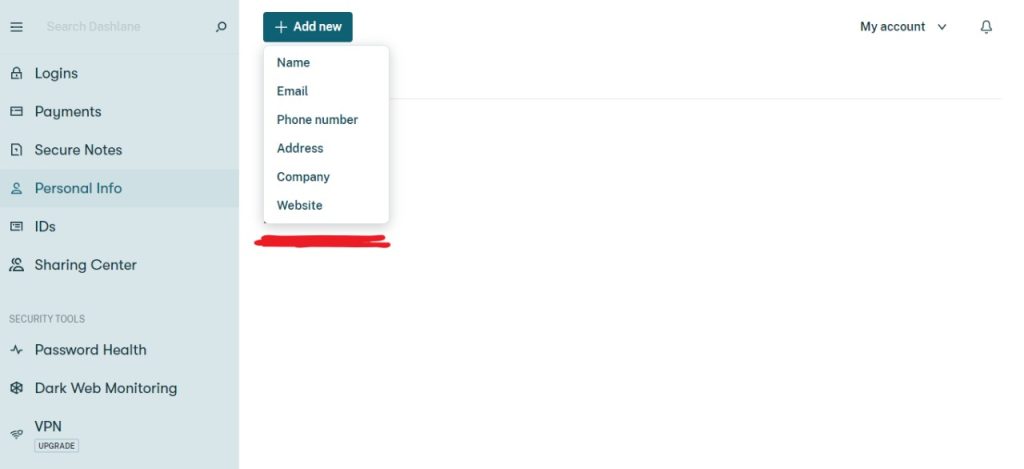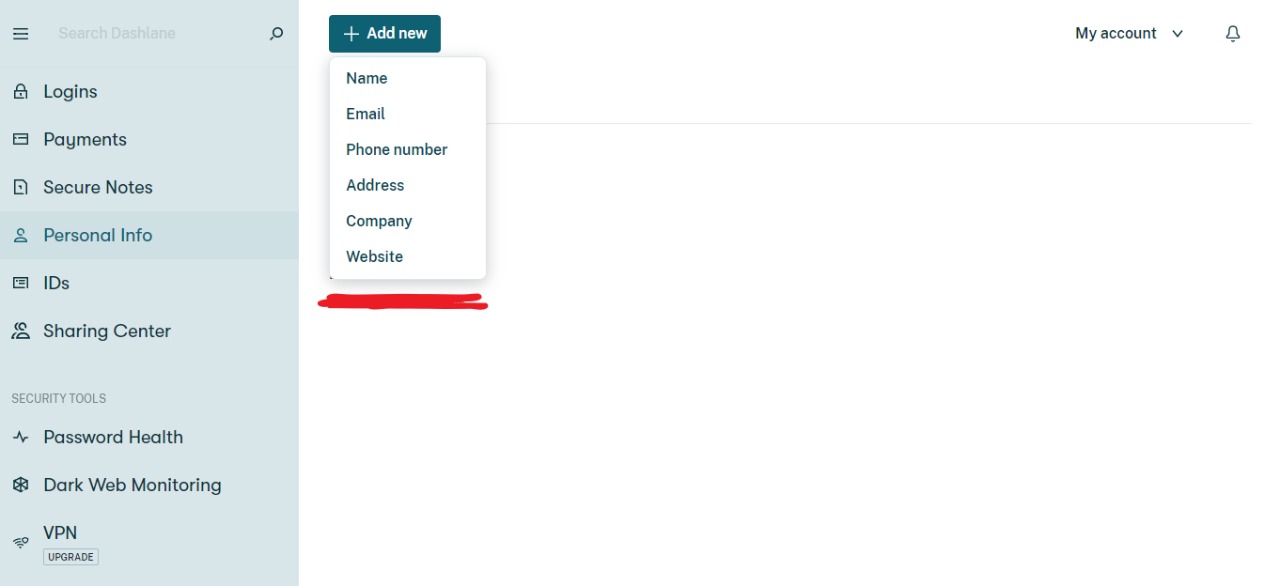 Below the categories, there are security tools. To determine the health of all your passwords, choose the Password Health option.
The Dashlane account settings do not look as good as others. Users can sync devices and import and export passwords. But it lacks customization options.
However, the password import options are quite limited and don't impress the users.
The Security Settings category looks good somehow. It allows users to configure the security settings to enhance account security.
All in all, Dashlane's interface is amazing and provides excellent ease of use.
Compatible Devices and Browser Extensions
As mentioned above, Dashlane no longer offers dedicated apps for Android and Mac platforms. It now works as a web-based browser; download the browser extension to use the web version. Moreover there is no Linux support which is another major drawback.
Dashlane offers browser extensions for Google Chrome, Firefox, Safari, and Microsoft Edge. Dashlane's browser extensions allow users to generate new passwords, view the stored login details in an encrypted vault, and autofill logins and web forms.
Adding Dashlane's browser extension is a seamless task. Download and install the extension in your favorite browser. In the browser toolbar, Dashlane 'D' icon appears; click on it and log into your account. It was incredible to see that the Dashlane browser extension allows users to stay logged in for 14 days. This is a feature that many of its competitors don't have
The Chrome browser extension was the best of all. The extension is easy to download and use; it offers almost everything web and mobile apps offer. However, Google removed its extension from the web store over user data issues in February 2020, but it is back again.
It is great to know that the Dashlane extension helps sync the vault, easily switching to the web app and accessing the support Help Center. But the extension doesn't have the security tools.
However, Dashlane does offer native mobile apps for Android and iOS phones. These apps are available on the respective app store and work exceptionally well. Both apps provide easy access to all the features and ensure a hassle-free user experience. After downloading the app, you can set up biometric login for your account, so you don't lose vault access if you lose the master password.
As a whole, Dashlane's apps and browser extensions are probably the best all around, with a slight need to further improve the browser extension functionality.
Features Overview
Dashlane is a feature-packed password manager. Users can create, save, autofill, share, and import their passwords. Other password managers have features like Dashlane, but its premium VPN and dark web monitoring provide the utmost security and privacy and make it the best among all.
Below are the prominent security features that Dashlane offers:
Password Generator
Dashlane's personal or business password manager offers the easiest way to create strong passwords. It allows users to create and remember unique and strong passwords for every account. Users can resist hackers by generating long, random, unpredictable passwords and adjusting guidelines to fit different websites' password requirements. This means users can customize the length of the passwords and use letters, symbols, digits, and similar characters to make them stronger.
All the generated passwords are securely saved in the vault. Even if you haven't saved any password, Dashlane also keeps a log of it.
Dark Web Monitoring
The Dark Web Monitoring tool is an outstanding feature that monitors the dark web for any leaked passwords and notifies them. Besides alerting the users, it also encourages them to take quick action.
This feature monitors up to five email addresses. For each email address, it runs an initial scan that finds personal information related to that address. Once the initial scan finishes, the results are sent to the users via email, dark web alerts, and pop-up messages.
The dark web monitoring security tool is only available to premium users. But if you're using the free trial version, you can access this feature. This feature is more valuable to business plan users. It provides real-time insights and alerts regarding online threats and breaches and offers solutions organizations can take to reduce such threats.
Password Health Checker
Password Health checker is yet another useful Dashlane feature. It is a password auditing tool that scans and analyzes all the saved passwords. After evaluating the passwords' health, it categorizes them as compromised, weak, and reused. Also, it provides an overall password health score and prompts you to change the ones having issues. To check the health score of your passwords, you must have five logins. However, this isn't a unique feature and is available in all popular password managers.
Dashlane's VPN
A VPN is the best tool that encrypts the internet traffic and secures the data from all snooping eyes. Dashlane bundles with a dedicated VPN to boost your digital privacy. It partner's with Hotspot Shield VPN to provide its premium VPN service and 24/7 tech support. To use this feature, click on the VPN option in the dashboard > download and install it > sign in, create a new user account, and start using. But you need to download the HotSpot Shield VPN app on mobile apps.
However, this feature is only available in the premium, friends and families plan, and all business plans. You can't even access this feature during the free trial period.
Two-Factor Authentication
Users can also enable two-factor authentication to increase the security of Dashlane accounts. With this feature, hackers can't access the vault. You need to use 2FA with an authentication app that replaces the email codes, and instead, you enter a six-digit token. Authenticator apps like FreeOTP, Authy, and Google Authenticator are available for Android and iOS devices, while WinAuth is for PC. Mobile users can also use biometric login as a second option to authenticate their identity. It is a great security-boosting tool that also supports Yubikey, and it takes a few seconds to enable this feature.
Knowing that Dashlane discontinued some of the password management features was great displeasure. Previously, the password manager allowed users to change passwords automatically with the password changer feature. But after evaluating the beta version, this feature is no longer available. Similarly, in 2015, Dashlane introduced the Emergency Access feature on iPhones and iPads. It was the first ever password manager to offer this feature. However, now this feature is missing. The website page about how to use it is also missing, leaving users disappointed.
Moreover, some features are missing in Dashlane. For instance, there isn't any option for creating and managing multiple vaults. Also, the password generator feature is missing from the apps; to use it, you need to use the website link.
Dashlane's built-in VPN makes it outclass its competitors. Adding these features will add more functionality to Dashlane and attract users.
Dashlane Password Manager Customer Support
Dashlane's live customer support is ineffective. It provides English chat support from 9 am to 6 pm (EST), from Monday to Friday. Users can get in touch with the support team during these hours by tapping on the chat widget in the bottom right corner of the Help Center.
It was disappointing to find out that there was no human agent to assist when a query was sent on Friday at 4 pm (EST). The bots replaced human agents making the live chat feature less convincing. They provide automated replies and often fail to give the right answer.
It seems the bots have limited information, and they give the same answer no matter what you ask every time.
You can also submit a ticket by clicking on the 'Leave a message option. It will ask for your email address, subject, and the issue that you are facing.
After submitting the ticket, you receive an automated email. But it's again a setback as it asks to wait 24 hours for a support agent to contact back.
The customer support agent contacted back after more than 30 hours. The support agent was able to address the problem and provided an appropriate reply, which gave some relief.
The absence of email and telephonic support also makes users wait a long time to resolve their issues.
But, Dashlane offers excellent knowledge base online resources. A Help Center page includes featured articles, and all the information users might need to know to start with Dashlane.
There's a Reddit community and Twitter page where experts, team representatives, and other users offer help and share their personal experiences with Dashlane. Besides this, there's also an extensive resource library that includes:
User Guides
Blogs
Video Tutorials
Admin Resources
User Education
Success Stories
White Papers
Migration Resources
A separate section informs about operational Dashlane servers. Overall, Dashlane offers good help through its online website resources but needs to improve live support options.
Dashlane Password Manager Pricing Plans
Dashlane costs a little more than traditional password managers but is worth using. It has two basic paid plans for personal and business use but has other sub-categories. The personal use plan offers three different paid subscription plans, namely:
Advanced
Premium
Friends and Families
Dashlane offers a free version that is limited to only one user. However, you can even use the free version if you don't have a budget. Users can create, store, and share unlimited passwords, use 2FA, and store up to 1GB of data while using the free version. Though the free version offers quite limited features, it's still a good option for generating and storing passwords.
Dashlane's premium plans start from $2.75 per month, known as the Advanced plan or the low-cost essential plan introduced upon users' request. Users can use it on unlimited devices and enjoy all the free plan features with the addition of the dark web monitoring feature.
Besides this, the Premium plan costs $3.33 per month and has an extra VPN for Wi-Fi protection features. It is an amazing feature that Dashlane offers, which any other password manager doesn't offer.
Interestingly, Dashlane has an amazing offer for friends and families. It includes everything other paid plans offer but what attracts the users most is that it provides more functionality and allows up to ten members to use it. Also, it enables users to manage dashboards so every user can enjoy a good user experience.
Though the Dashlane prices are slightly higher, the features in the premium plan make it worth the money price.
Business Plan
Dashlane is the perfect solution for businesses, including starters. It protects organizations from security breaches, sends threat alerts, and helps improve employee workflow. Plus, it allows them to keep track of other employees' activities and create groups for secure password sharing and increased productivity. Here's the pricing insight into the different business plans that Dashlane offers:
It is easy to use and deploy and ensures a seamless user experience. The Starter plan is best for teams with up to ten users and costs $2 per seat/ month. It offers all Dashlane core features with extra business features like dark web insights, audit logs, secure sharing, and business and personal spaces.
Whereas, if you want a plan with unlimited seats, you can opt for the Team plan, which costs $5 per seat/month. It includes all the features of the Starter plan with the addition of the built-in VPN feature. The business plan is the most recommended plan for organizations. While it is a bit expensive and costs $8 per seat/month, it includes everything that a company might be looking for. It has all the functionality of the Team plan, plus additional features like dashboard management, SSO integration, and SCIM provisioning.
Starter, Team, and business plans can avail email support throughout the week, while business plan users can also ask for telephonic support. All the premium plans come with a free trial and a 30-day money-back guarantee offer, making it an ideal software to test out.
FAQs
Is Dashlane better than all other password managers?
Dashlane has similar features to other password managers, like the password health checker and dark web monitoring. But it's the only password manager that offers a built-in VPN feature, making it better than most competitors. Also, Dashlane's security levels are appreciable. It uses AES-256-bit encryption and US-patented security architecture to protect users' data. However, other password managers like Keeper offer a wider range of features when it comes to the business plan. Also, Dashlane's customer support and web-based version make it slightly less than others.
Is Dashlane a web-based password manager?
Dashlane discontinued its desktop apps for Mac and Windows a few years ago. Now, it works as a fully web-based password manager. It might seem a significant drawback, but the web-based version of Dashlane is much improved and user-friendly. Besides this, Dashlane offers easy-to-use and intuitive mobile apps for Android and iOS platforms.
Does Dashlane offer a free version?
Dashlane offers free and paid versions making it the best choice for users who don't want to invest in a premium password manager. The free plan is pretty decent but has some serious limitations. It allows you to generate and store unlimited passwords on one device. This is the most significant drawback of the free version, as users can't sync the passwords across devices. Still, the free plan is safe to use as it offers a 2FA feature, password generator, autofill function, 1GB storage, and personalized security alerts. Also, the US-patented security architecture and a zero-knowledge policy protect the data and ensure that no one except the users can access the data. Thus, the Dashlane free version is a great option for basic password creation and storage.
Which payment methods does Dashlane accept?
Dashlane accepts payments through conventional payment methods such as; credit/debit cards, bank transfers, and PayPal.
Is Dashlane safe to use?
Dashlane is a secure and reliable password manager for personal and business purposes. It secures users' passwords and other information by using end-to-end encryption and AES-256-bit encryption. In addition, it utilizes the zero-knowledge policy that guarantees data privacy. The password manager offers valuable features like a built-in VPN, 2FA, dark web monitoring, password health checker, secure password sharing, and more. The inclusion of the VPN feature further enhances its security level and guarantees to provide the highest level of security.
Does Dashlane offer a free-trial offer?  
Users can avail the 14-day free trial period on Teams and Business plans. During this period, users can access all the features and decide if it is what they are looking for. To avail the trial period, contact the sales department. The free version users can also try out all the premium features by availing the 30-days Premium Trial period. In this period, they can use the dark web monitoring feature and access the logins on multiple devices. The only feature that remains inaccessible in the free-trial version is the VPN feature. The best thing about Dashlane's premium trial offer is that you can simply sign up and start using the service without providing your payment details.
Final Thoughts
Dashlane is a great password manager to use. It is safe and offers incredible features that boost password and online security. It excels the basic password management functions and offers advanced tools that other password managers lack. The Dashlane dedicated VPN and dark web monitoring features are worth using. Besides this, it also offers 2FA, a password health checker, and other useful features for personal and business use. It provides a web-based version, mobile apps, and browser extensions, enabling users to use Dashlane across all popular devices and platforms.
However, Dashlane needs to improve the dashboard customization feature and customer support. It lacks telephonic support, while the live chat option is not very impressive. Also, business users would be glad to see if it expands its features.
Overall, Dashlane is a great password manager, and it'd be best if users tried out all the premium features during the 30-day free trial period.