Quick Review
Keeper is a secure password manager that protects users' passwords and personal information. It is an easy-to-use platform that offers multilayered security features to protect passwords and other sensitive information. Also, it informs users if their credentials are leaked on the dark web. It's a featured-packed password manager that offers plans for individuals, families, and the business sector. To know if the Keeper password manager is the best choice for you, first compare its strength and weaknesses:
Strength
Best for businesses and families
24/7 live customer support
Strong security and privacy
Useful password generator
Weaknesses
Browser extensions were hacked
Some features requires extra money
Looks pricey than other password managers
Keeper is another established brand that belongs to Keeper Security and has specialized in password management and digital vaults since 2011.
The Keeper password manager is a standalone password manager that generates and stores passwords efficiently. It's the best password manager for all businesses that appreciates Keeper's user interface, robust security level, and the pool of advanced features it offers. Besides this, it offers all the generic features a user would expect from a password manager for personal use. Here's a quick overview of the Keeper Password Manager distinctive features:
| | |
| --- | --- |
| Features | Description |
| Autofill passwords | It auto fills login details while accessing apps or websites |
| Secure file storage | It encrypts all uploaded files in the cloud and uses zero-knowledge policy so only the end users can access them. |
| Two-Factor Authentication | It supports various 2FA methods to protect users' accounts from unauthorized access. |
| Custom fields | It organizes and secures all the data using personalized fields. |
| Identity and payment Info | It scans and securely saves the users payment cards for easy check outs during online shopping. |
| Breach Watch | A premium feature that scans and receives alerts on any duplicate or leaked passwords on the dark web. |
| Digital vaults | It stores and manages all the passwords and other sensitive information in a secure and encrypted digital vault. |
| Zero Knowledge encryption | A security model that ensures that all stored in the Keeper password manager is only accessible to the end users. |
| Version history | It allows users to save and restore all previous versions of users records at any time. |
| Emergency access | Users can add up to five emergency contacts to grant the vault access in case of any emergency |
Apart from advanced features, Keeper has a few downsides that might have upset users. It is not about Keeper's interface or apps but privacy. In 2017, the Keeper browser plugin was hacked, allowing hackers to compromise the vault's passwords. The company soon fixed the bug, but users are still keen to know if they are maintaining the same security standard as they claim. This Keeper password manager review, takes a deep dive into these speculations to decide whether using the password manager is worth it or not. 
Managing Keeper Password Manager Settings
The Keeper password manager is an easy-to-use software. The website includes online video tutorials and user guides to help starters download and set up the password manager across all compatible devices.
To get started with the Keeper password manager, users must create an account using a real email address, as it sends a verification code to the registered email address after downloading and installing. The entire downloading and installation process can take several minutes, and sometimes it's an extremely frustrating experience. Once the user account is created, choose a strong master password. It's the main password to access the vault, so make sure it's complex and can't easily be cracked by anyone.
After selecting the master password, security questions window pop ups on the user screen. Security questions are crucial for account recovery, so make sure to add one later if skipped at the setup time. Users can also reset the question by navigating into the account settings menu.
The step-by-step pop-ups guide the users quite well throughout the process. It includes creating logins, enabling the two-factor authentication feature, and installing the browser extensions. Users can skip these steps and can make changes later.
Keeper Password Manager security
The Keeper password manager security is what makes it the best password manager. It uses the industry's highest AES-256-bit encryption combined with PBKDF2 to protect users' passwords.
It locally encrypts the data on the device, meaning the data is not stored on the servers. In addition, Keeper utilizes a zero-knowledge policy, meaning that no one except for the end user can view or access the data.
The password manager offers a two-factor authentication feature that prevents any unauthorized person from accessing the user's account. It supports various 2FA methods that users can choose according to their preferences, including RSA SecurID, text message, and Google Authenticator. Users can also add fingerprint authentication and U2F security keys on compatible devices.
Besides this, users can take advantage of the self-destruct sequence feature. After five unsuccessful login attempts, it wipes out all the locally stored passwords.
As mentioned above, in the past, Keeper's browser extension experienced a serious vulnerability. This event puts users in doubt and they start questioning Keeper's credibility. To prove their credibility, the company underwent a security audit process. The service is now compliant with ISO 27001 standards and has also passed the SOC2 audit.
Moreover, the password manager complies with the Privacy Shield framework. This framework ensures compliance with data protection requirements for US and EU users.
Keeper's security is the best among most other password managers, and users can trust it without any doubt.
Ease of Use and Interface
Keeper is one of the most user-friendly password managers available. It has a simple, clean, and organized dashboard that ensures a smooth and hassle-free experience. The dashboard looks like this: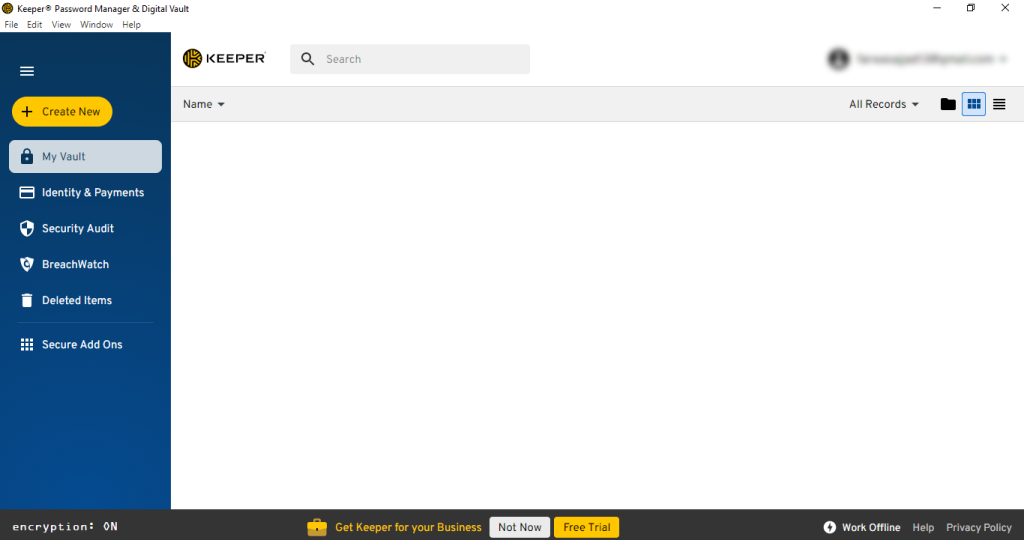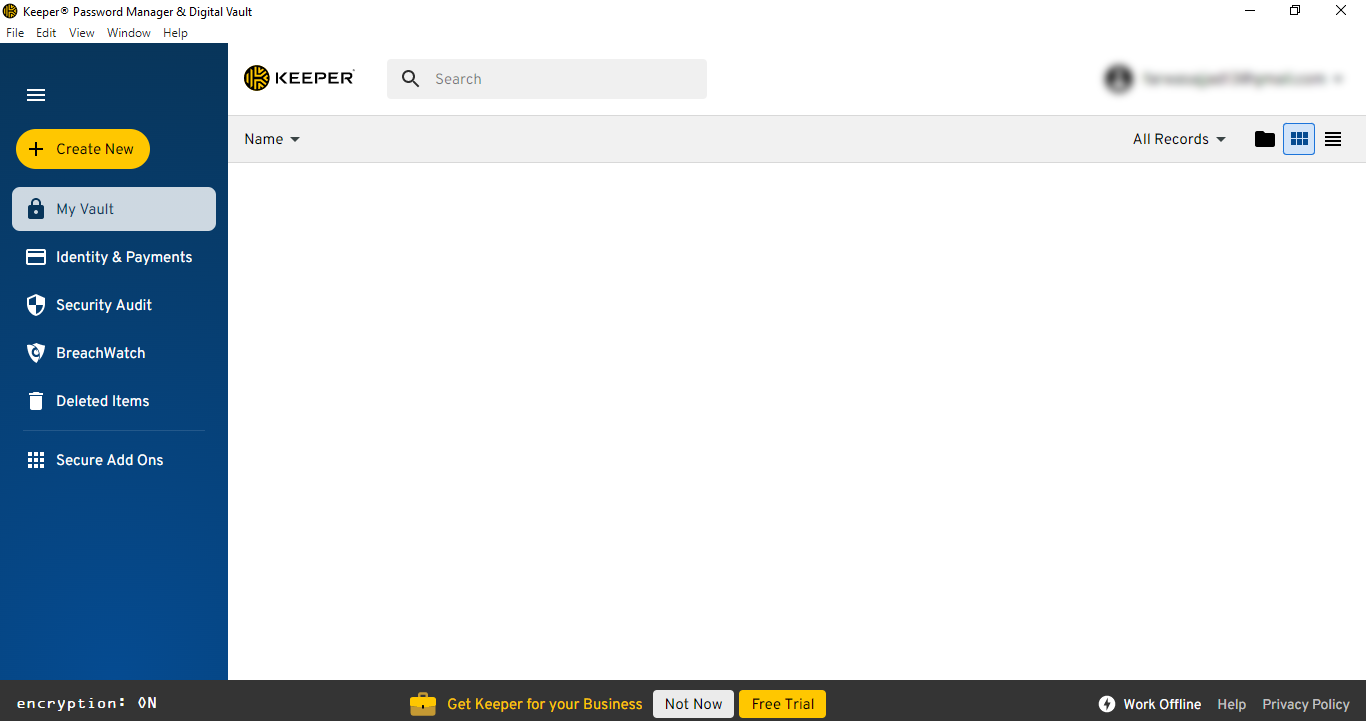 Users generate random passwords and save them securely in the vault with a single click on the Yellow tab. In addition, they can also store payment card info, records, and create and share folders.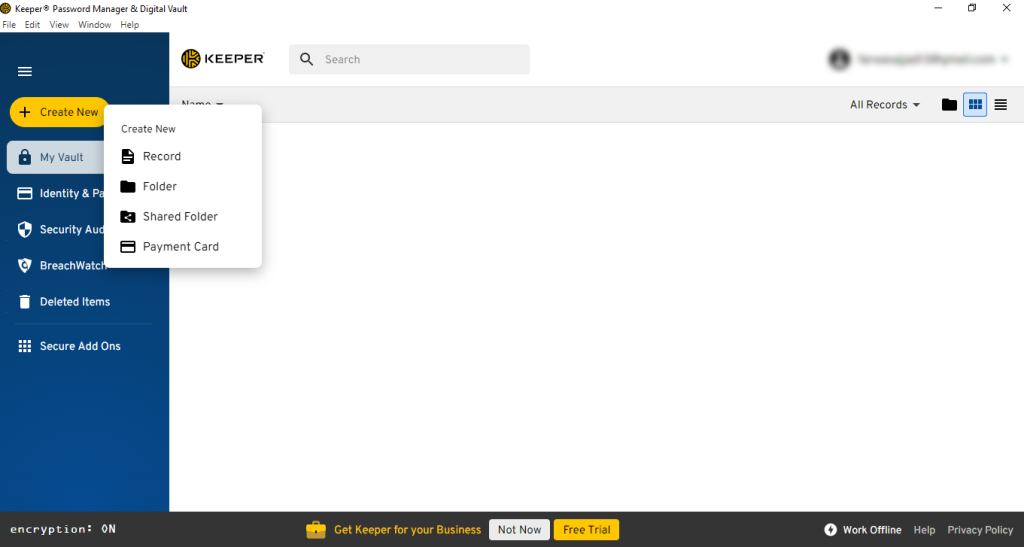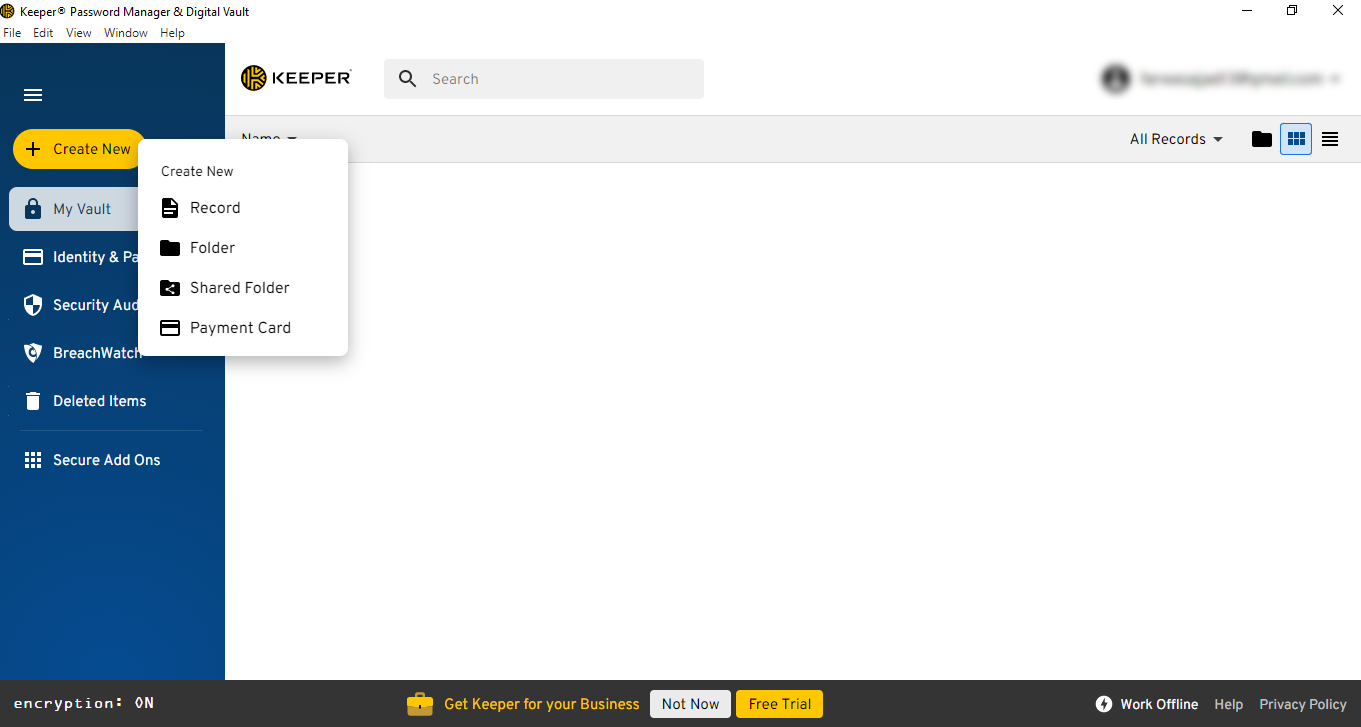 The password manager offers a search bar that increases convenience and makes it easy to search for a file or other important document. All the advanced features, such as My vault, security audit, BreachWatch, and Identity and Payment Info options, are listed on the left. Users can navigate to the secure add-ons to add any extra feature to enhance security and user experience.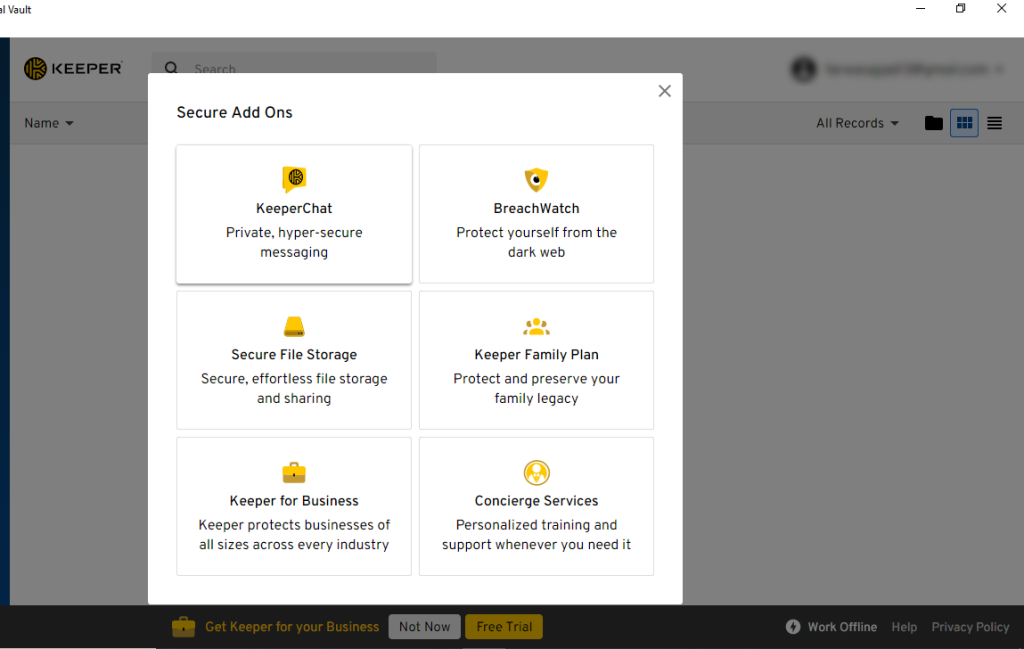 On the top right side, there's All Records option where users can find all the custom fields that allow adding unlimited entries. Keeper offers a range of customized items to store in the vault, an amazing yet rare feature of a password manager. It can be a driving license, photos, files, contacts, secure notes, logins, passwords, etc.
Furthermore, users can navigate to the Settings menu to make some changes in their account. They can customize their dashboard by using various color themes by tweaking the general settings tab.
In addition, there's options to reset the master password, reset the security question, and delete previous records.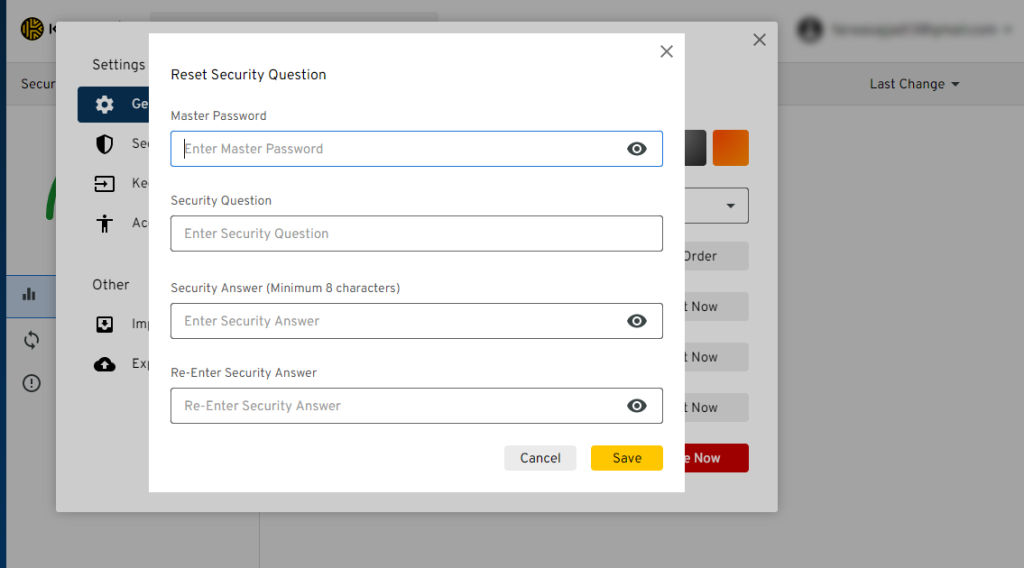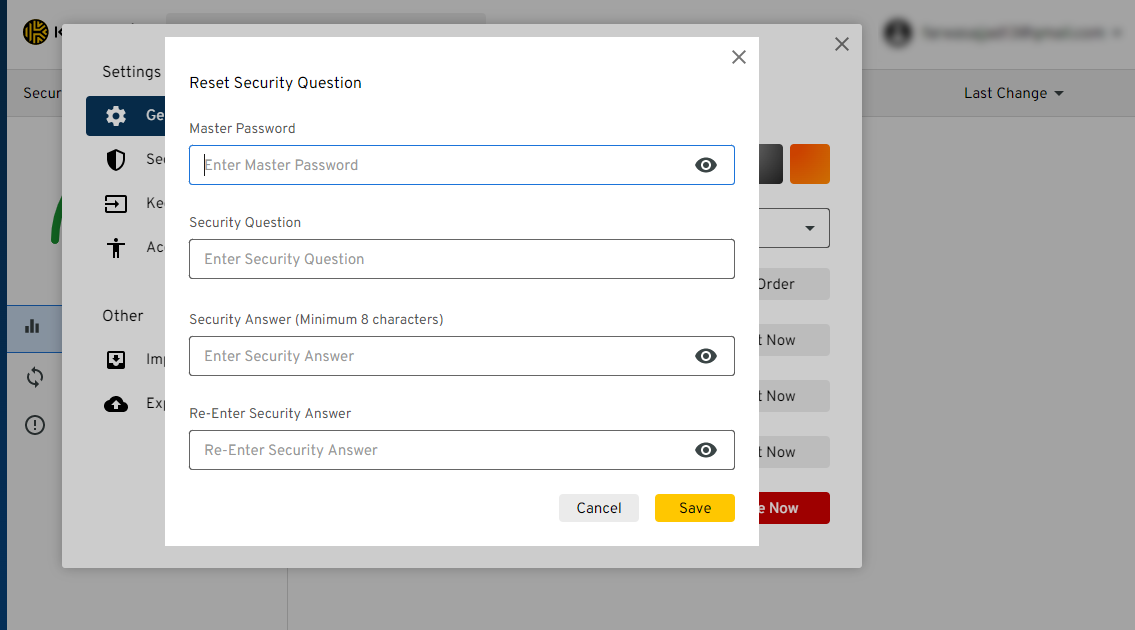 The security tab includes different options to maintain account security. For instance, users can enable the self-destruct and 2FA features. Also, automatic logout is an amazing feature that stops any third person from accessing your vault. Activate the automatic logout feature that makes the user log out of their account after a period of inactivity.
The KeeperFill tab allows users to install browser extensions and adds auto-fills for apps and websites. Apart from this, you can export data in various forms such as PDF. Also, importing data via browser extension and other password managers is another handy option that Keeper password manager comes along with.
Users can add emergency contacts and know about their subscription status and recent activity by navigating through the account setting options. The recent activity tab is the most interesting as it tells about the IP address, location, and platform used. Thus, it's easy to know about and take the appropriate actions against any suspicious activity.
All in all, the Keeper password manager offers excellent ease of use. The interface is simple yet impressive and provides various customizable settings options making it one of the best password managers.
Compatible Apps and Extensions
The Keeper password manager is compatible with a range of devices. It offers dedicated apps for the following platforms:
Android
iOS
Mac
Linux
Windows
All the desktop apps are similar and offer a complete package to the users. It classifies all the items into specific categories. It's just a matter of a single click that users can create and store passwords in their vault.
The Windows users have the best app of all. It is incredibly intuitive and user-friendly. Users won't have difficulty setting up the account or using any feature. But when compared to other password managers apps, Keeper apps have significant room for improvement particularly in its functionality.
Furthermore, Keeper password manager also offers browser extensions for the following browsers:
Google Chrome
Mozilla Firefox
Microsoft Edge
Opera
Internet Explorer
These browser extensions make it easy to manage and store passwords. Users can access their passwords via browser extensions by entering their master password. It seeks permission before saving any unsaved or new credentials and ensures the user's experience isn't ruined.
Features Overview
Besides security and privacy, the password manager's outstanding features make it withstand its competitors. The Keeper password managers provide various advanced features that increase the security level and improve user experience.
Users can access all the advanced features in the free trial except for a few. This gives users a great platform to test them and decide if purchasing Keeper is the right decision. Some add-on features are only for businesses and are of no use to individual users. Here's a brief overview of Keeper password manager features:
Security Audit
A security audit is an impressive Keeper password manager feature that evaluates passwords when users export them from anywhere. The tool scans all the passwords and informs about the weak and reused passwords. The audit report also highlights the password strength and when last time the user modified it. This feature is therefore remarkable in helping users ensure robust password security.
Dark Web Monitoring (BreachWatch)
Hackers, after stealing passwords, often sell them on the dark web while users remain unaware of it. Fortunately, Keeper offers a unique BreachWatch feature that warns users when a password is leaked on the dark web. It performs unlimited scans on the users' devices and alerts them timely before any damage is done. This feature is available in individual and business plans, but it's more helpful to organizations. This feature allows companies to prevent credential-stuffing attacks and maintain data integrity easily.
Record Types
Record Types allow users to digitize any of their important documents. This includes passports, passwords, driving licenses, and payment information. In other words, users can save anything in the vault to prevent any hassle in the future.
Secure File Storage
The Keeper password manager usually allocates 1GB of storage to store passwords. But if any user wants to keep some more data like images, files, and documents, they can purchase extra storage of up to 10 GB by paying additional charges of $0.83/m. Similarly, business can also benefit from this feature and buy 100GB extra file storage with the starting price of $125 per year.
Robust Compliance and Reporting
The Keeper password manager also allows the administrators to monitor and report the access permission of all privileged accounts across the company. This ensures that the password manager follows the zero-trust security model and is a perfect fit for business organizations to maintain data security.
Keeper Chat
KeeperChat is Keeper's secure messaging app that users can download on Android, iOS, Mac, and Windows devices. It uses end-to-end encryption to secure the messages and deploys a zero-knowledge policy to prevent unauthorized access to view the users' messages. Besides this, it provides initial 50 GB of storage which can increase to 1 TB and allows users to save their photos and videos in a private Keeper Gallery. They can also share it with others without leaving any tracebacks. But the biggest drawback of KeeperChat is that only users who have subscribed to the premium version can benefit from it.
Besides this, business users can also benefit from the secret and connection manager feature that manages and secures the environment by removing hard-coded credentials.
Keeper Password Manager Customer Support
The Keeper password manager offers effective customer support to its users. It includes a wide range of options for customer support, such as:
24/7 live chat feature
Users and enterprise guides
Blogs
Case studies
Infographics
Content Library
Research reports
White papers
Video Tutorial
Starters can take great help from the in-depth knowledgeable base available on the website. It has the most extensive online resources for both personal and enterprise users. The video content category is the most impressive. It provides step-by-step guides regarding installation or how to use any particular feature. Anyone facing issues with Keeper's service can check the server status on the help page. It informs about service outages on a daily basis.
Besides this, there's a help center for any user who's ready to use the Keeper's service but has some confusion. Such users can register for a free Q/A support webinar and clear all their doubts.
Keeper also offers live support to the users. A 24/7 live chat feature is available, which is Keeper's plus point as most other popular password managers lack it. Click on the blue icon at the bottom right and start talking with the support team. It's good to see real humans assisting people instead of AI bots. They reply instantly, but most of the responses are automated. The chat representative suggests website resources links and doesn't chat directly, making live chat option less effective.
Moreover, users can submit live tickets regarding billing, general queries, and CCPA. The free and premium users can use any customer support method to fix their issues. But, despite the website claims, there's no direct email or telephonic support address provided.
Keeper Password Manager Pricing Plans
Like most other password managers, the Keeper password manager is available in free and premium versions. The free version allows one mobile device user to try out all the basic features. The accessible features during the free version include:
Random password generator
Unlimited password storage
Identity and payment info
Two-factor authentication
Export passwords
Live chat support
When users subscribe to the Keeper password manager, it offers a 30-days free trial period. During this time, users can access all advanced features on all devices. If they don't intend to purchase it, they are eligible to use the free version on a mobile device after the trial period ends.
Keeper offers various paid subscription plans for individuals, families, enterprises, and military and medical professionals. Individuals can use the password manager at the lowest price of $2.92/month. Whereas families can use it for $6.25/m and secure their passwords and access advanced features like dark web monitoring and secure file storage.
Small and mid-size business organizations can use Keeper password manager to protect their data from hackers and competitors for $3.75/month. Large-size enterprises can customize a plan according to their number of employees, and the price will be according to it.
The best thing about a Keeper password manager is that it encourages medical and military professionals to secure their data. The prices may sound a bit expensive, but they are not more than the worth of their sensitive data. The individual pricing plan starts from $24.49 per user and, for families, $52.49 for five users.
The business plans are backed up with a 14-days trial offer, while all the plans also come with a 30-days trial period. But there is no refund policy which is a significant setback for many users.
 Is Keeper a safe password manager?
If someone plans to invest in a good password manager, consider Keeper password manager. It is highly safe and utilizes AES-256-bit encryption for high-level security. Also, it uses zero-knowledge security to ensure that the passwords remain private only to the users. Besides this, the password manager comes with various advanced features that everyone might look for. From 2FA to secure file storage and from emergency access to breach guard, Keeper includes everything.
Is Keeper better than Dashlane?
Keeper and Dashlane are reliable and outstanding password managers available for business and personal use. They use strong military-grade encryption and zero-knowledge policies to ensure data security. Besides this, users can use it on all major devices and platforms and download browser extensions. They provide similar features and an easy-to-use interface. But Dashlane offers unlimited VPN access, which makes it slightly better than Keeper.
Does the Keeper manager offer a free trial?
The Keeper password manager offers a 14-day free trial for business organizations. During this trial period, businesses can protect their passwords with zero-knowledge security. Also, they can access the encrypted vault, secret management, and other advanced features for free. Besides this, the password manager offers a 30-day free trial on all plans. The free version is also available for mobile users. But it provides limited access to services and features.
Final Thoughts
Users who have a budget and are willing to invest in a good password manager must consider Keeper. It is among the best premium password managers that is safe for personal and professional use. It has a simple and easy-to-use interface across all devices and platforms.
The password manager employs top-notch security and policies to maintain their service standards. Also, it offers advanced security features that ensure passwords and other sensitive data remain safe and private. Some features require an extra amount, so not every user can use them.
As a whole, Keeper is a safe, feature-enriched, and user-friendly password manager. Users can take advantage of the free trial option to see if it's a perfect choice.