Cloud adoption has increased rapidly during the past few years, but the cloud environment isn't 100% secure. During the last 18 months, 79% of companies have suffered from one data breach incident in the cloud. Cybercriminals easily hack into cloud data centers through unauthorized access, account hijacking, and exploiting misconfigurations to compromise business data. If your company also suffers from this, then be ready to face catastrophic impacts that damage reputation, customer loss, and significant financial loss. Thus, protecting the cloud data using the best-encrypted cloud backup services is essential.
An encrypted cloud server backup has become extremely necessary for organizations relying on the cloud environment to store their critical business data. To its core, a cloud backup backs up the data to the cloud-based servers that let you save a copy of your data on one or more servers managed by a reliable third-party cloud service provider. These encrypted services help mitigate cyberattacks by restoring or recovering the company's data while having complete control over the encryption keys for the files.
If you are also interested in using an encrypted cloud backup service for your business, explore this guide and decide which cloud backup platform fits your requirements.
Why there is a need to use Encrypted Cloud Backup services
Using an encrypted cloud backup service keeps your data safe. These comprehensive security solutions work best for disaster recovery and archiving purposes. In addition, they proved to be an invaluable resource in somehow reducing the number of cyberattacks.
If you're still wondering whether to use cloud backup services, here are a few more reasons to help you make the right decision.
Reduced Cost: Cloud backup services are cost-effective. These cloud providers manage these solutions instead of the internal IT staff. This frees the IT resources to focus on other high-value projects.
Infrastructure Complexity: The cloud backup solutions automate the backup process so the IT team can focus on other essential tasks.
Increased Availability: By having a copy of the company's data on the cloud-based servers, your data is always available to you from any location.
Remote Workplaces: These services provide flexible backup and security solutions with as many remote endpoints with no additional hardware to install and maintain.
Enhanced Security: The cloud providers use end-to-end encryption, which protects the data within multiple layers of encryption and security. In this way, it prevents any unauthorized person from accessing it in highly secure data centers.
Compliant With Security Standards: Besides providing strong security, most cloud backup solutions meet the industry's necessary compliance standards and ensure that data integrity is maintained at all costs.
Cloud backup solutions are the easiest to secure data from data loss or natural calamity. Businesses must use them and maximize their data security.
12 best Encrypted Cloud Backup platforms to consider using in 2023
Out of the wide world of cloud backup providers, choosing the best one for your business can be daunting. Several cloud vendors claim to provide excellent service and features, but not all are credible enough to use.
Below is the breakdown of the 12 best-encrypted cloud backup services, free and paid, that businesses must consider using to keep their data safe.
1. Sync.com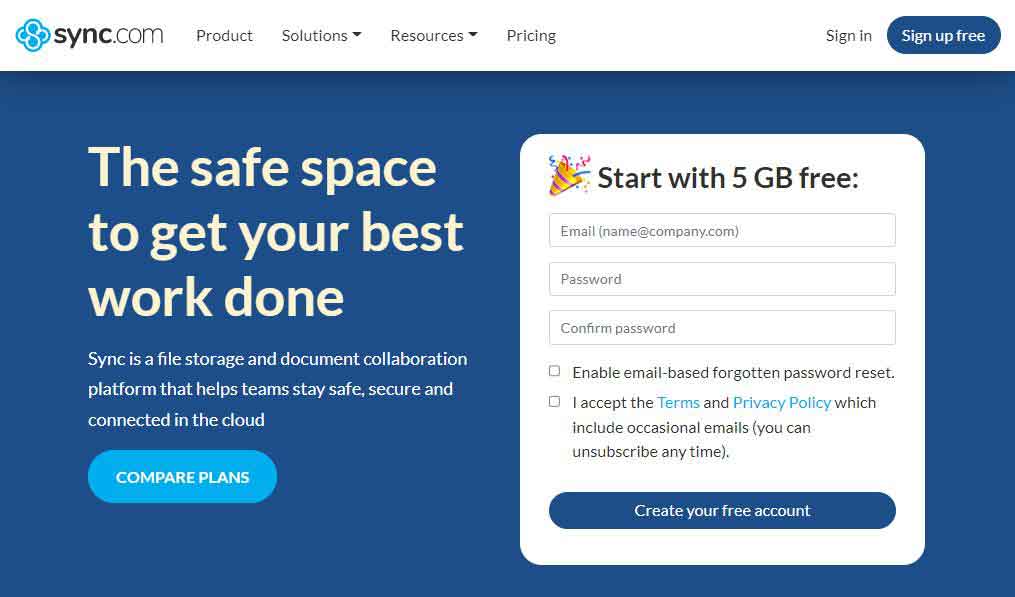 Advanced sharing
Account security controls like 2FA
Offline access
Archive files in the cloud
Administrator account
Sync is a file storage provider that helps companies stay secure and connected within the cloud environment. It backups up the company's data in real time, guaranteeing that you can access any file or document anytime. This way, it protects from the risk of paying the ransom and not recovering the data.
On the top, it uses end-to-end encryption, which is perfect for keeping business data out of the clutches of hackers. Besides this, the cloud backup provider uses enterprise-grade infrastructure to replicate the data with multiple SOC-2-certified data center locations, boosting data security. Its groundbreaking privacy-focused features and certification with the most widely accepted privacy and security regulations like GDPR make Sync the best encrypted cloud backup provider.
Moreover, it connects your internal teams, external partners, team members, and clients and enables them to access files and data seamlessly across mobile devices, web PCs, and laptops. The storage capacity is also enough to store large files and bulk data. Sync offers 1TB secure storage in the Standard Team plan, which costs $6 per user/month, while unlimited storage capacity in the Teams Unlimited plan costs $15 per user per month. If you are a solo professional or individual, Sync lets you backup your sensitive data by offering a 2TB and 6TB storage limit.
2. pCloud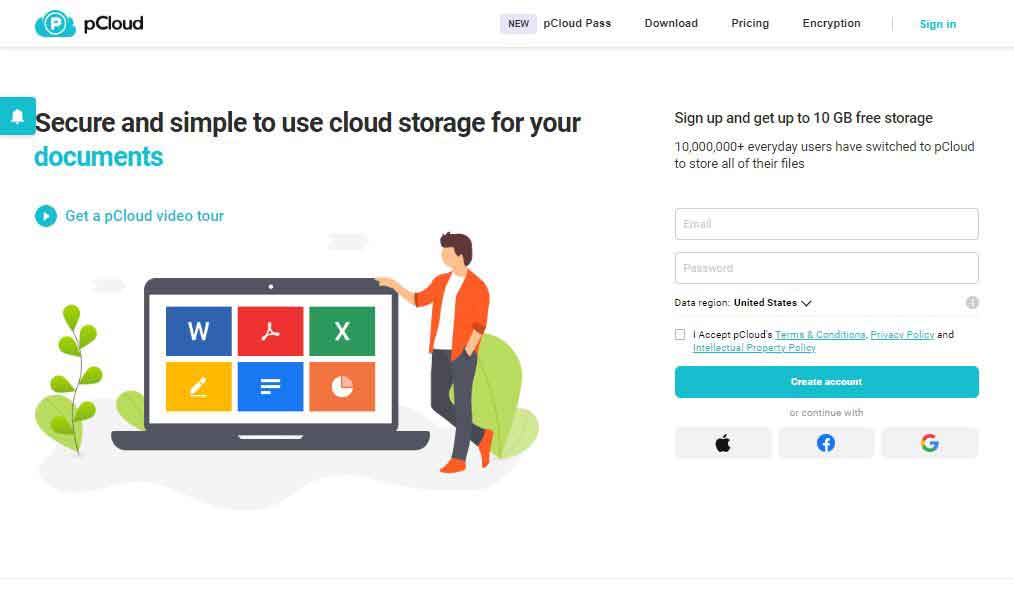 File management
Backup from other platforms like Dropbox, OneDrive, and Google Drive
File versioning
Digital asset management
pCloud is among the best encrypted cloud backup service that allows businesses to use high-end security to protect their data. It deploys the industry's highest AES 256-bit and 4096-RSA keys to encryption to protect files, documents, and other sensitive business data. In addition, it also implements the zero-knowledge policy, which guarantees that users' data isn't stored on the servers and only the end users can access it.
The cloud backup provider is secure, simple, and easy-to-use cloud storage for your work files, photos, and videos. It offers 500GB and 2TB storage capacity depending on your plan. It is compatible with all devices and major operating systems, meaning you can save and access important files and data from your laptop, mobile phone, and web computers. Besides this, sharing and receiving files and working with your colleagues on each is also easy with pCloud.
One impressive feature of pCloud is that it offers encrypted and non-encrypted folders. You can choose which files to encrypt and lock in the encrypted folder and which ones to store in their natural state. To protect your data with pCloud, you must buy a premium subscription. It isn't available to use for free; you can buy it for $49.9/year or $99.99 yearly.
3. MEGA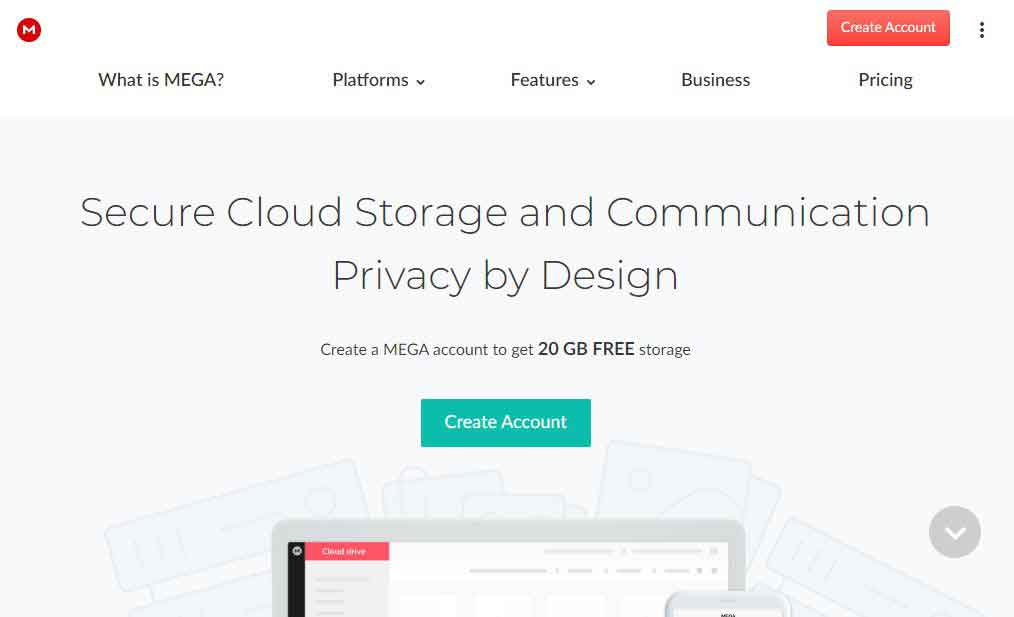 Two-factor authentication
Free version offers a 20GB storage limit
Group conferencing
Public source code
Continuous file versioning
MEGA is a reliable cloud backup service provider that allows businesses to back up their documents and other sensitive files and save them from malicious attacks. The cloud provider offers a free version, and this is something that start-ups and small businesses like the most. By creating an account on MEGA, you get 20GB of free storage capacity and access to all basic features essential for backing up the data in the cloud servers.
All the data on MEGA is protected with user-controlled end-to-end encryption derived from your passwords. Thus, use strong passwords for your accounts, as they are the main encryption keys. Also, it automatically backs up the data and deploys the zero-knowledge policy, which guarantees data security and makes it impossible for hackers to access the data.
Apart from this, MEGA allows users to secure and access the data and files from any device. It provides dedicated and easy-to-use apps for all major platforms, including tablets and smartphones. This means you can easily manage your files, chat with the team members, and simultaneously make calls from your device.
The cloud provider allows users to create a public folder for customers or suppliers to send files securely, even if they don't use MEGA. Also, it has good storage capacity, ensuring you can store and transfer large files faster. Unlike the free plan, the premium plan provides up to 16TB of secure storage capacity that more than three users can use and access all the advanced features.
4. IceDrive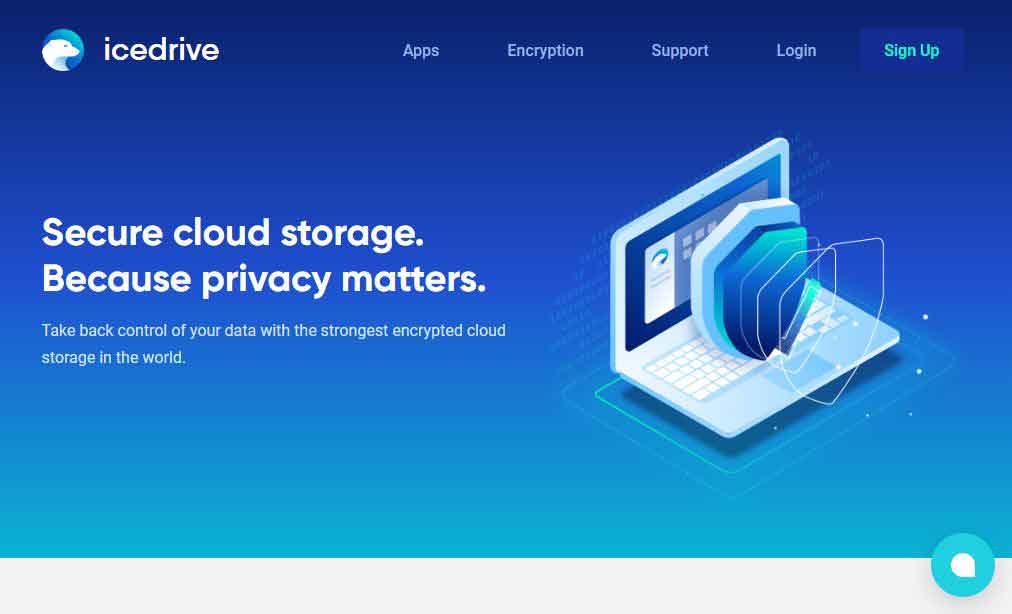 Uses Twofish and client-side encryption
Zero-knowledge encryption
Dedicated apps for all devices and OS
Free 10GB of cloud storage
Password protection
IceDrive is a relatively new cloud backup provider, but since its launch, it's making great progress and has been a popular choice for businesses. Because of its exceptional security standards, IceDrive is among the best encrypted cloud backup providers.
On the top, IceDrive uses the Twofish encryption algorithm which is more secure than the conventional AES/Rijndael solution. In addition, the cloud provider uses client-side encryption that encrypts everything, including the file and folder names, before storing it in the cloud servers. With such strong encryption, sensitive business data won't ever be leaked, compromised, or deciphered.
IceDrive is a popular choice for businesses because of its impressive cloud storage apps for various platforms. You can download this cloud backup tool across desktop and mobile apps and easily access and store files.
Another best feature of IceDrive is that it is available in free and premium plans. You automatically use the free version when you sign up for an account. It allocates 10GB of cloud storage and a 3GB daily bandwidth limit but doesn't provide client encryption in the free plan. You can get a massive storage capacity of up to 5TB by subscribing to the Pro+ version and can also avail the 14-day money-back guarantee offer.
5. IDrive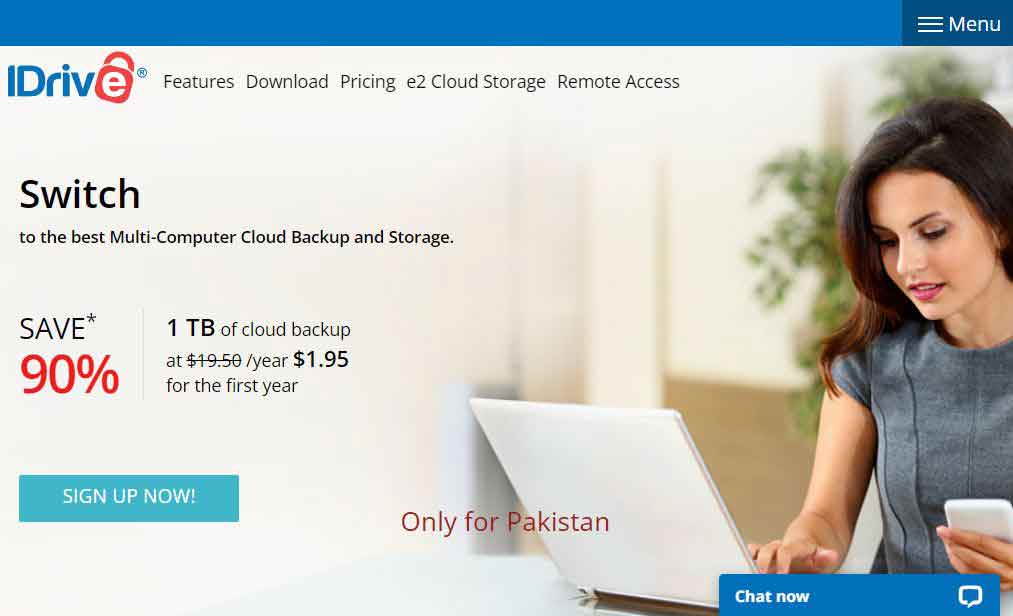 Multiple device backup
Free version available
Robust encryption and privacy
Data archiving
Dedicated apps for mobile and desktop devices
IDrive is an excellent cloud backup service that uses strong encryption and a range of features to keep your data safe. Using the industry's highest AES-256-bit encryption, IDrive guarantees that user keys are not stored on the servers, and hence no one can intercept or leak the data. All the files and folders are synced in real-time across all devices linked with the Cloud Drive.
The IDrive Express is an amazing feature that automatically recognizes the files and backs them up quickly. It also backs up the data from external hard drives and creates a backup copy of them. The best part of using IDrive is that you can also retrieve the data within a week because it doesn't delete any data until the user manually deletes it or runs the Archive Cleanup tool.
Another prominent IDrive feature is its multiple-device backup compatibility. You can unlimited backup data from Android, Linux, Mac, iPhones, and Windows devices by using a single account. In addition, it enables businesses to search and restore files from browsers or desktop applications within 30 days. This rare feature makes IDrive one of the best cloud backup providers.
The cloud backup provider offers subscription plans for everyone. From individuals to solo professionals and from teams to businesses, everyone can use IDrive. The business plan provides up to 5TB of storage capacity, enough for storing all important files, documents, customer details, and much more.
6. Tresorit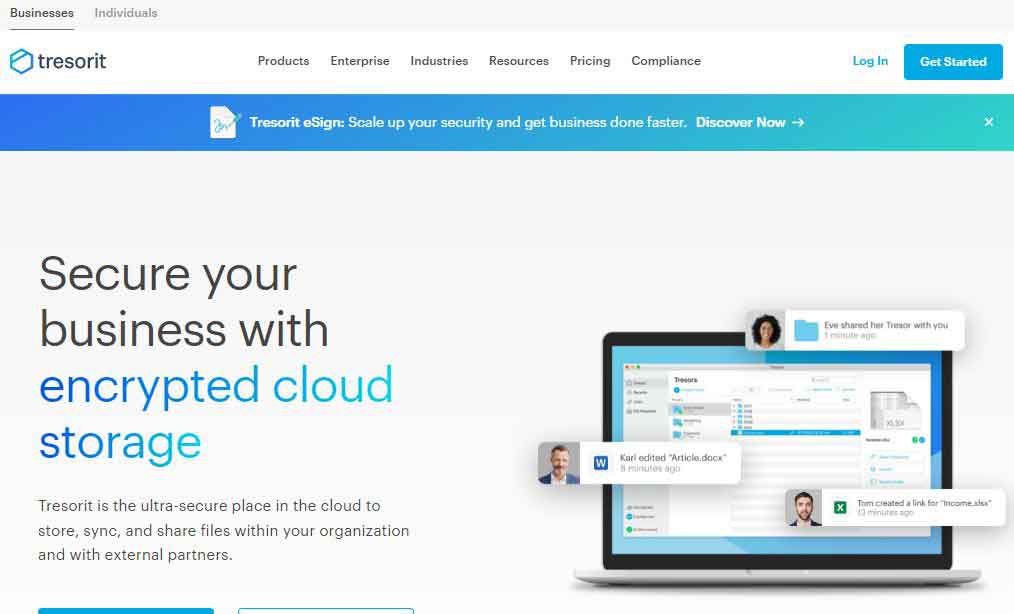 Zero-knowledge system
Redundant storage
Remote and local wipe options are available.
Compliant with GDPR and HIPPA
Maximum file storage size is 20GB
Tresorit is an end-to-end encrypted cloud backup provider designed to protect the digital assets of individuals and organizations within the cloud infrastructure. Its end-to-end encryption is automatic and built-in, so users don't have to worry about their data privacy. Also, the zero-trust system ensures that it doesn't store or transmit data, files, or passwords in unencrypted or unhashed form.
Another reason Tresorit is the best encrypted cloud backup provider is that it complies with the industry's security standards and regulations. The service provider implements the data protection measures and ensures that the users can prevent getting penalized for not using enough measures to protect customers' data.
The cloud backup provider runs smoothly on all popular devices, including Linux, and allows easy access to files and stored data. Tresorit's local wipe option removes all your data and synced folders when you sign out from its service. Similarly, the remote wipe feature deletes all the synced files and folders when the device is lost or stolen.
The secure storage capacity is enough to store bulk and large file-size data, but it depends on your plan. The business plan gets up to 2TB of encrypted storage, while the enterprise plan users can customize their storage limit depending on their needs. Users can also avail the 14-day trial version to test Tresorit's features and functionalities.
7. SpiderOak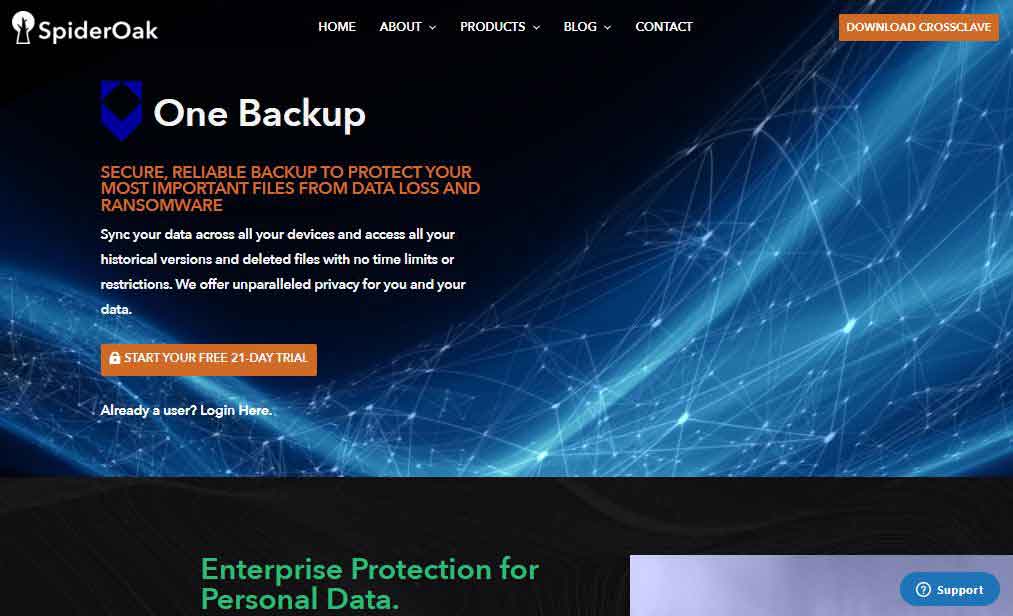 Zero-trust encryption
Backup scheduler
Uses strong AES-256 bit encryption
Works on Linux, Mac, and Windows
File sharing support
SpiderOak One Backup is another reliable backup solution for boosting security and privacy within the cloud environment. Its robust encryption and wide range of valuable features make it the best encrypted cloud backup provider. It uses solid AES-256 bit encryption to protect the files and data at rest and in transit. In addition, it uses TLS encryption to protect the data while in a transit state and to prevent any potential MITM attacks during the backup process.
The service provider backup and restores the files on the cloud server quite impressively. However, users can only access the data via desktop apps as it isn't compatible with mobile devices, and this disappoints the users a lot.
SpiderOak comes with essential security-focused features like file syncing and file versioning. But it needs to expand its functionalities as some limitations often restrict users. For instance, you can sync files and folders that you include in the regular backup process. Also, it doesn't allow cloning the hard drive or using any other courier recovery service.
Luckily, there aren't any restrictions on the encrypted storage capacity. You can get up to 5TB of storage limit; that's more than enough for storing large files and documents. Still, if you feel confused about SpiderOak being the right choice for your business, you can avail the trial period.
8. Livedrive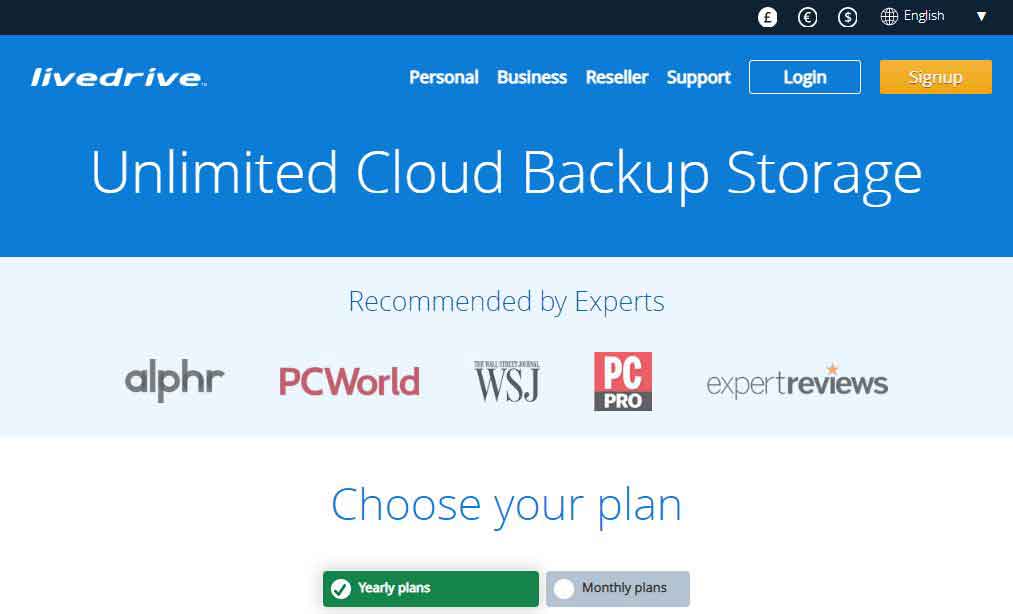 Automatic backup of files and data
Industry's highest encryption standard for protecting the data
Impressive briefcase feature
Unlimited cloud backups across all devices and operating systems
A free trial version of 14-day
Livedrive is yet another online cloud storage and backup solution that enables companies to back up an unlimited number of files. Like all other top-tier encrypted cloud backup providers, Livedrive also uses end-to-end encryption to safeguard the data and files from unauthorized access. Also, its data center monitoring team is ISO 27001 certified, guaranteeing robust security and protection of the stored cloud data.
Besides this, it offers some useful security features that further maintain the business data's integrity. The cloud service solution supports two-factor authentication that adds an extra protective layer to the user account and prevents any malicious person from accessing it even if they have your password. The Briefcase feature is another prominent Livedrive feature that allows viewing and editing files from mobile or desktop devices. It works perfectly well on Android, iOS, Mac, Linux, and Windows devices and ensures a seamless user experience.
LiveDrive offers three premium subscription packages: multiple device compatibility, secure cloud backup, and massive encrypted storage capacity. However, the features vary according to the chosen plan. LiveDrive's Pro Suite is the most popular plan for business users. It offers unlimited cloud backup storage and 5000 briefcase storage on all compatible devices and platforms. Also, it provides a 14-day trial version to check if it meets your requirements.
9. NordLocker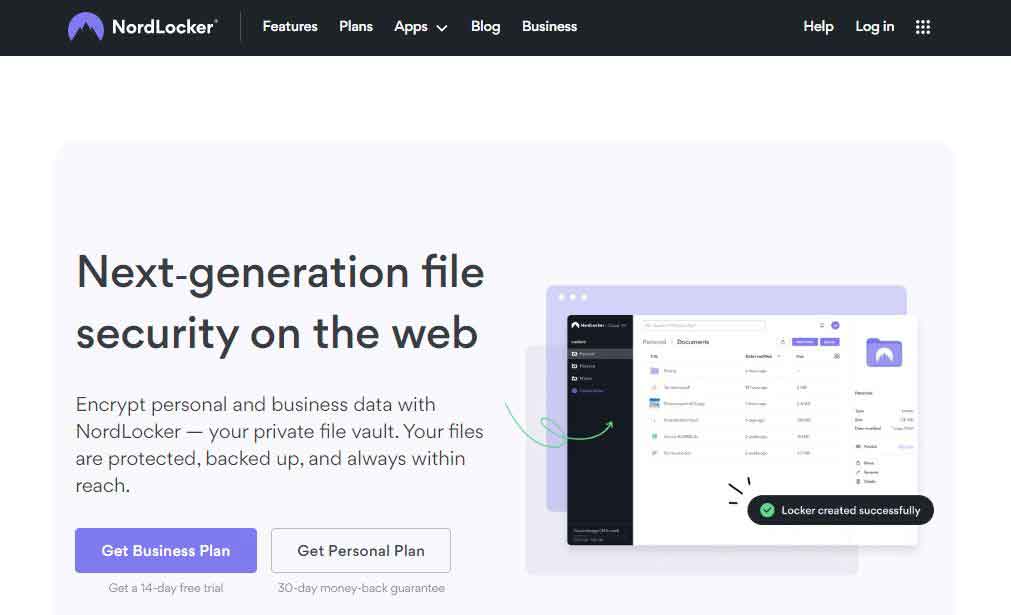 Powerful encryption
Multi-factor authentication feature for added security
Zero-knowledge architecture
Sync files across all devices
Get up to 2TB storage capacity
NordLocker is the best encrypted cloud backup provider that uses uncrackable encryption and comprehensive security features to protect the users' files and other critical data in the cloud. It relies on AES-256 bit encryption that's virtually unbreakable and maximizes your data security. Besides this, it also uses the zero-policy architecture to protect cloud data from malicious actors.
It is one of the easiest tools to use. All the data becomes encrypted automatically by dragging and dropping the file or folder into the NordLocker app. You can also schedule backup and benefit from the secure file-sharing feature. With NordLocker, you can securely share files across all compatible devices and operating systems like Android, iOS, Mac, Linux, and Windows.
With NordLocker, you can get up to 2TB of secure storage limit, but if you want more, you can customize a plan by contacting the sales department. NordLocker doesn't offer a free version or a free trial option. But you can always take advantage of the 30-day money-back guarantee offer if you feel the service is not worth using.
10. ElephantDrive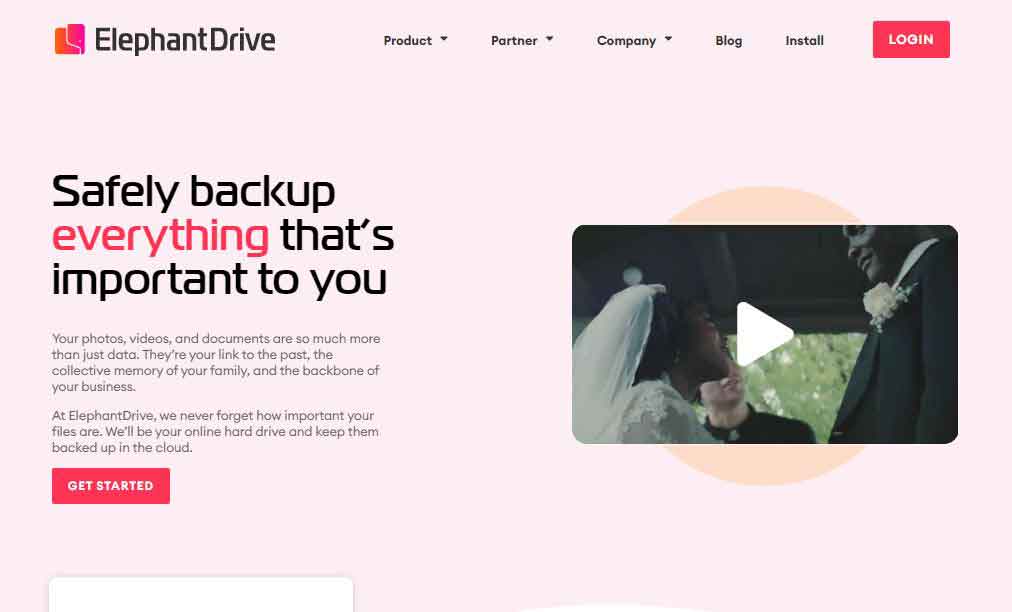 Automatic backups
Up to 2000 GB base storage
Dedicated mobile apps
External disk backups
NAS backup
Businesses can also consider using ElephantDrive to back up their data in the cloud environment. It uses powerful AES-256 bit encryption and SSL secured channel to keep your data private and secure from the prying eyes of hackers. It automatically backs up the data and files, so there's no need for a separate IT team to monitor if the data is backed up successfully. But you can also back up the data from NAS devices which adds a protective layer to your data and further ensures that no one except the owner can access it.
ElephantDrive offers a solution so that users can collectively work together. It supports secure file sharing, making it easy to share files with your work colleagues and edit them simultaneously. You can back up and sync data on all supported devices and access it via your phone, laptop, tablet, or desktop PC without hassle.
The cloud backup provider doesn't offer any free version. It offers premium subscription plans for individuals, families, and businesses. You can get ElephantDrive at the lowest price of $400 per year and unlimited data storage capacity on over 25 accounts.
11. Internxt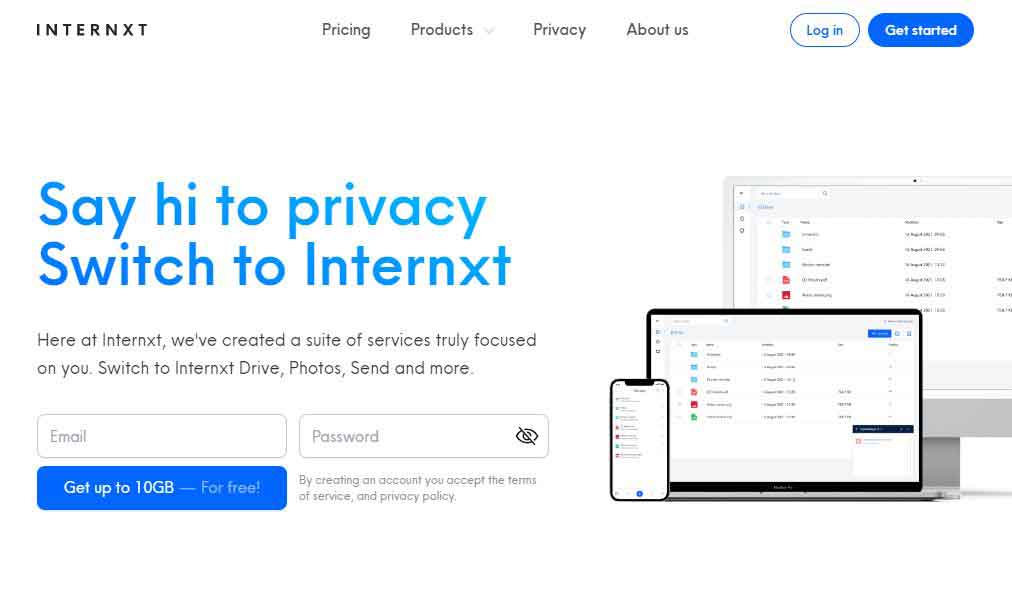 Encrypted file storage and sharing
Money-back guarantee offer
Massive encrypted cloud storage limit
Access files from any device
Zero-knowledge architecture
Internxt is another popular name that makes it into the best encrypted cloud backup providers list. It deploys military-grade AES-256 bit encryption and a zero-knowledge policy to protect sensitive business data. Because of strong encryption standards, the stored data isn't stored on the cloud servers; only the users can view it. This way, a business can prevent identity theft and other common cyber threats.
The cloud service provider works exceptionally well across all platforms and devices. You can use your mobile devices, laptops, and Windows computers to access the cloud data. Also, it supports the secure file-sharing feature, resulting in easy and fast access to data. However, besides this, Internxt doesn't provide any noticeable features that might distract users from using this service.
Internxt is available in both free and premium versions. However, the free version only allocates a 10GB storage limit, which is not enough to cater the business needs. Businesses can get up to 2TB of encrypted storage limit at an affordable price. If unsatisfied with the cloud provider's service, they can demand a refund within the initial 30-days of the purchase.
12. PolarBackup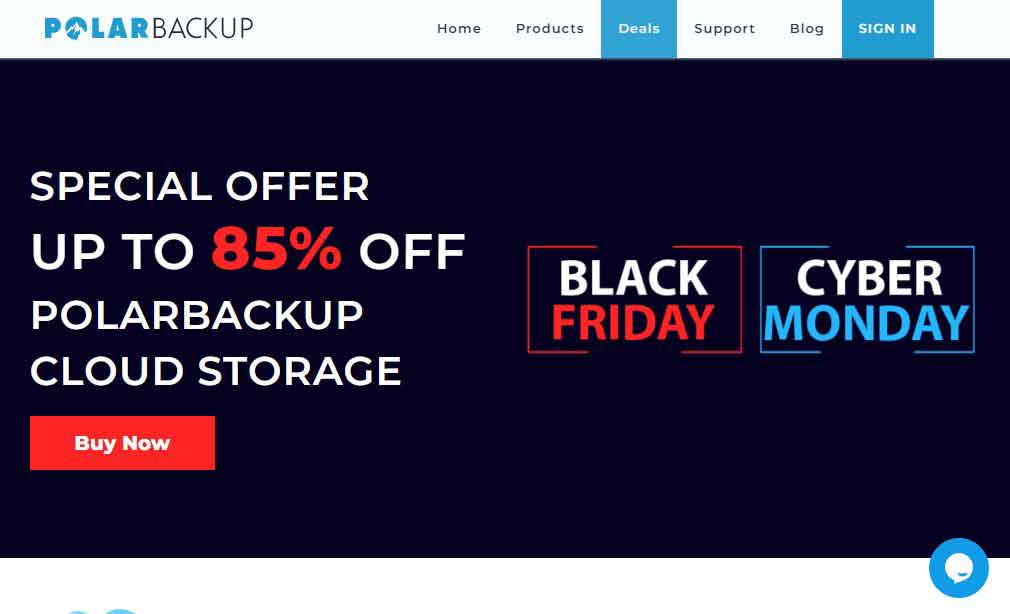 Uses AWS technology
GDPR compliant
Supports file versioning
No support for mobile devices
30-day refund offer
PolarBackup is another great encrypted cloud backup provider that allows businesses to securely store and back up their data. It uses the advanced AWS technology that provides the highest data security and protection level within the cloud environment. Besides this, it utilizes the unbreakable AES-256 bit encryption that encrypts the data at transit and thus protects it from ransomware attacks.
The cloud service provider lets users restore their data with a single click and enjoy a smooth backup and storage experience. Also, you can share and access files easily on your devices, but unfortunately, PolarBackup doesn't work on mobile devices, which users don't like.
PolarBackup offers different pricing plans, and businesses can choose according to their needs. The encrypted storage capacity varies; the highest limit it offers is 5TB, which is huge. A 30-day money-back guarantee offer backs up all the pricing plans, so if you don't like their service, don't worry; you can get a refund.
What makes the Encrypted Cloud Backup the most secure
The encrypted cloud backup solution is of great value for your business data, but choosing the right tool isn't easy. One wrong decision can significantly risk your business data. Thus, before using any cloud backup solution, make sure it has all these features:
Robust Encryption: It is an essential feature in the cloud backup solution. Make sure you select a service provider that uses the industry's highest encryption standard for protecting and backing up the data in the cloud.
Zero-Knowledge Policy: A cloud backup provider that relies on a zero-knowledge architecture ensures that the data isn't stored and is only accessible to the end user.
Storage Capacity: Select a cloud backup provider with massive encrypted storage capacity for storing large-size files and data in bulk quantity.
Device Compatibility: A service provider that works across all devices is the most preferred choice of the users. Therefore, use a backup solution compatible with desktop and mobile devices and ensures easy and quick data access.
Trial Period: Try to use a cloud solution that either offers a trial period or has a refund policy. It is extremely important when you think the features or services the solution offers are not something you were looking for.
All the cloud backup providers reviewed above are based on the above criteria, so it's advisable not to skip any of the abovementioned features.
Final thoughts
The encrypted cloud backup services enjoy a clear edge over the traditional backup approaches in the modern threat landscape. They increase data security but also come with additional benefits like reducing cost and increased data availability. If you haven't used any cloud backup solution for your business, choose from the above-recommended list and boost the security of your business data.
FAQs
The business data in the cloud can be an easy target for cybercriminals. Thus, encrypting the cloud platform has become essential to protect the data and prevent the damage it causes.
All reputable cloud backup providers like IceDrive, Livedrive, or Sync offer top-notch security and encrypt the users' data. But, to further add protection, businesses can also practice some additional cloud data security practices.
Backing up the data in the cloud is the safest option to recover the data in the hour of a data breach or natural disaster. So, if you haven't backed up your data, use any of the tools mentioned above.
Share this article
About the Author
Waqas is a cybersecurity journalist and writer who has a knack for writing technology and online privacy-focused articles. He strives to help achieve a secure online environment and is skilled in writing topics related to cybersecurity, AI, DevOps, Cloud security, and a lot more. As seen in: Computer.org, Nordic APIs, Infosecinstitute.com, Tripwire.com, and VentureBeat.
More from Iam Waqas
Related Posts