Recently signed by trump, the new broadband laws will allow the ISPs to sell your data without any legal barrier. Users personal data could be sent to many third parties including advertisers and that's what make users perturbed. For securing sensitive data, many customers considered having a VPN which is the most efficient way to make their browsing history safe.
Unfortunately, taking advantage of such urgency, many scammers are now in haste to trap users by offering a fake VPN service.
Motherboard, a tech website who has first reported the issue said that a scammer offers "MySafeVPN" access to people through sending emails. The scammer also claimed that this VPN service is launched by Plex media streaming company.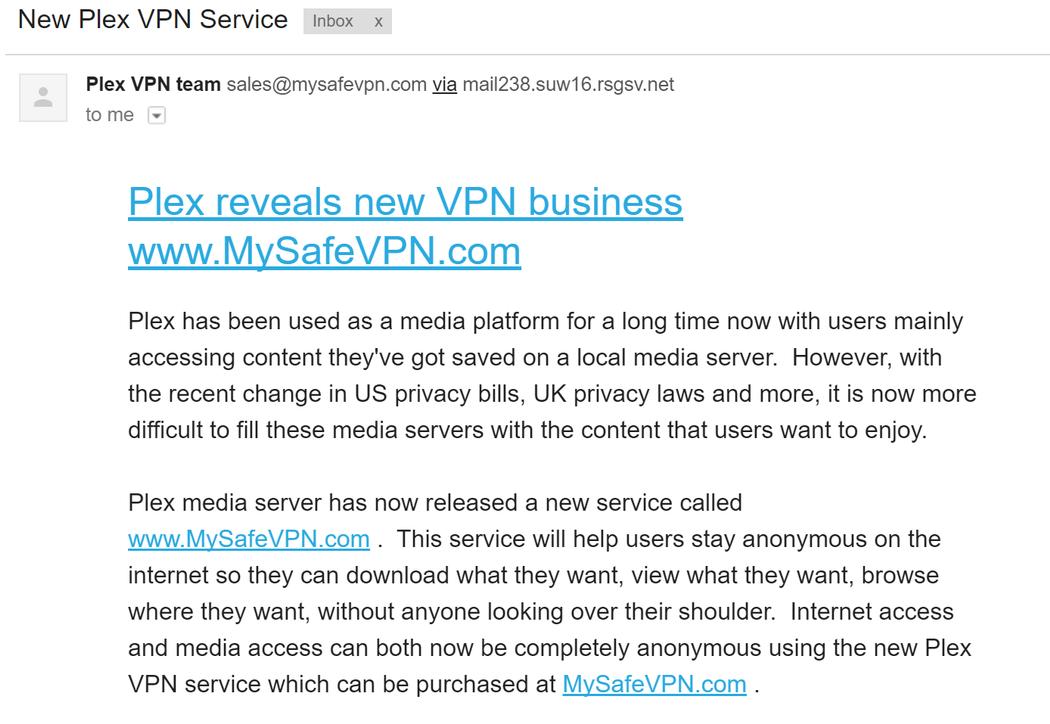 The phony Plex email. Screenshot: Nicholas Deleon/Motherboard
The scammer has also contacted motherboard's writer through email and ask him to use MySafeVPN services to prevent ongoing privacy threats. The writer Nicholas Deleon authenticated the offer by asking Plex about it, yet the service proved to be fake.
However, the Plex's co-founder and Chief Product Officer, Scott Olechowski denied launching such a service saying, "If anything, it suggests that mysafevpn.com is super sketchy and we would recommend using almost any other VPN service with your Plex Media Server."
It seems like the user's information has been stolen to contact them as the customers of other services are also likely to receive such messages. To this, the most appropriate conclusion that could be made is that message boards were accessed and the details were taken.
Such scammers are like the ones who often ask users to fix their PC or mobile issues by offering them the services which don't exist. The recent user concern about the privacy of their browsing history has been used by the new scammers as a golden opportunity to take benefit.
conclusion
But you can avoid these malicious attempts by sticking to the reputable and proven VPN services in the industry and has a strong customer base. You can follow our Best VPN services guide to know more about such VPN services.