Betternet is a free and premium VPN service that offers access to free users via ad support and to paid account users with premium features.
It offers servers in 10+ locations around the world. Betternet allows users to block about 1000+ websites on iOS, Mac OS X, Android, and Windows devices for free with its forefront network infrastructure.
It is an excellent choice for those users who demand a simple-to-use interface and a one-touch unblocking solution.
Betternet is one of the newest free VPN providers, and those who wish to stay anonymous while surfing the Internet are huddling around the Betternet service, which is why it has 10 to 50 million downloads alone on Google Play.
Here is a comprehensive Betternet VPN review that sheds light on the different aspects of the Betternet VPN provider:
Pros
Free or very cheap
Simple user interface
Permits P2P
No usage logs
No data limits
BBC iPlayer available
One-touch server selection
Decent connection speed
Cons
Poor customer support
A limited number of servers
Keeps connection logs
Average performance
US Netflix is inaccessible
Lack of the strong security
Let's take a look into Betternet features
Pricing Plans
Betternet VPN is a free service for different system users. The free users are not limited to restricted data usage. If you require a VPN service for, say, a small business trip, then you might protect your information in a new location by using the free service by Betternet without needing to pay for the monthly subscription for merely a few days.
The paid subscribers, who avail of the Premium plans of Betternet, get the upper hand over the free subscribers and enjoy the following advantages:
5 simultaneous connections
Dedicated servers, faster speeds
Great server locations
24/7 customer support
Ad-free service
The Premium pricing plans offered by Betternet come with a 7-day free trial version.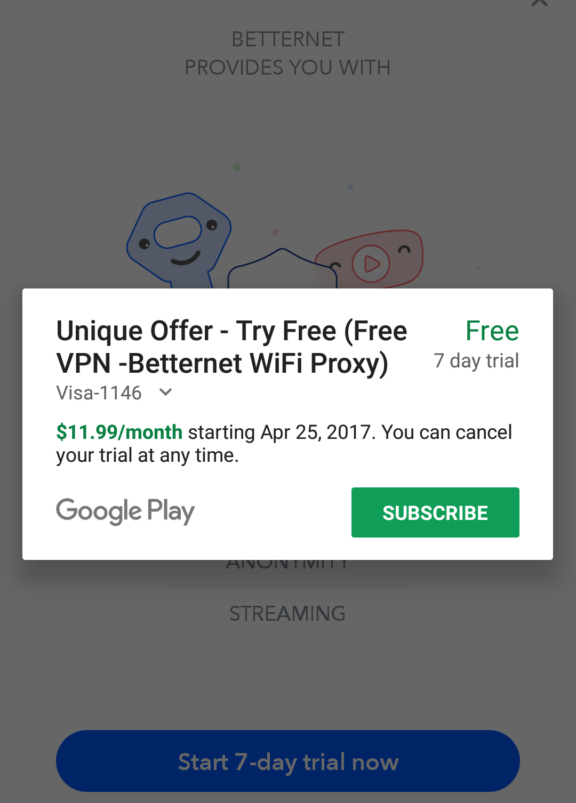 Both the premium packages offer somewhat similar features, but they still have no protocol selection option. The Premium subscription is $11.99 monthly, which is relatively pricier than Premium VPNs like ExpressVPN.
Betternet Money-back Guarantee
Betternet VPN offers users a relaxation of a 30-day money-back guarantee so that their investment is not at risk. But the refund policy from Betternet VPN is under strict conditions. You are only eligible for the refund if you have availed of less than 50 MB of data. That means there is no use of a 30-day refund policy because 50 Mb is used only to connect to the internet. Therefore, it is impossible to check their services without investing money.
Multi-Login feature
The best VPN services strive hard to offer more than one device connection simultaneously through your VPN. For instance, if you are traveling, you can keep your laptop, mobile phone, and tablet connected to your VPN service at a time. This provides a user with convenience as he does not have to disconnect a device to connect to the VPN through any other device.
Per our Betternet VPN review, it provides up to five simultaneous connections to use any devices simultaneously. This multi-login feature offered by Betternet is regardless of the device type and the OS the user uses as long as it has VPN support.
Peer-to-Peer Connections
Betternet VPN is not packed with added-value features. That is not surprising at all because it is providing a free VPN service primarily. So if you are looking for a VPN packed with exclusive features, you can opt for another paid VPN like NordVPN or ExpressVPN. Although what Betternet does offer, regardless of the free service, permits P2P downloading.
However, it is essential to note that, concerning the DMCA notifications, Betternet has clearly stated, "If we ever receive a DMCA takedown notice or valid court orders, we fully comply with the notices without disrupting or jeopardizing any client's privacy. As mentioned, we don't save logs, IPs, ports, user information, or timestamps. Hence, to satisfy legal requirements from bandwidth providers, we do not disclose any user data to the authorities. So far, we have not received any valid court order that has required us to provide something we do not have."
But in our Betternet VPN review, we had a lot of issues to go up against. Firstly, Betternet VPN is located in Canada, which has direct and efficient legal jurisdiction. Secondly, this VPN is not foolproof, as it leaks information if a user is not careful enough. Thirdly, you have to understand your access provider's incentives, values, and position, whether or not you are trying to infringe on copyright.
Betternet does offer P2P connections, but nothing proves whether they are a profitable company with a legitimate team and proper insurance.
Security and Privacy
A VPN is considered the most secure option among other services and tools. According to our Betternet VPN review, the safety and privacy offered to ensure its user's complete privacy through OpenVPN with AES256 encryption and IPsec with 128-bit AES-CBC.
Betternet VPN distributes all the user traffic over hundreds of shared IPs, ensuring that the user traffic mixes in the crowd and thus ensure anonymity, as no one knows about your identity.
Another thing of importance here is that Betternet VPN is enabled on your browser, so it is only concerned with any Internet activity routed through that browser, and any other Internet activity routed via other means is thus neither encrypted nor hidden. That's why if you think your connection is a failsafe, it is invalid.
Therefore, for ironclad security and privacy, you need to opt for some other VPN service provider like NordVPN, which has a Double encryption feature that multiplies the encryption and security strength.
Cookies
Betternet VPN allows the third-party organization to inject cookies into a user's device. That is stated in the Betternet terms of services, and according to them, the practice is to estimate the effectiveness of the VPN services. However, such a method could be risky for the customers as the third party is independent of all the exercises without the control of Betternet.
Customer Support
According to our Betternet VPN review, customer support is very poor. We believe a company should be transparent about itself and provide enough information about itself. For instance, the user must not dig deep to gain the required information. Even if a user faces any problem, then customer support should be such that it solves the issue as its utmost priority. But in the case of Betternet, customer support seems almost non-existent.
There is also a short and unfortunately not-at-all informative FAQ section as well. Betternet also has a 'Knowledge Base,' which is also uninformative. Thus, the only possible way to get direct support is by sending a ticketed request to the knowledge center, where you must wait a long time before resolving your issue. But if you are paying for a Premium service, you can gain all-time customer support, which seems somewhat contradicting for free users.
Logging Policy
In our Betternet VPN review, we discovered that Betternet does not keep logs for any information that reveals identity, like your email address or your name, as it does not have that information stored. But it does not promise the fact that your connections aren't logged. As stated earlier, Betternet can go back through the connection data if there is a need to comply with legal requests.
For the betterment of their services, the activity of free users may get compromised by third-party advertisers. As it is stated in the privacy policy of Betternet VPN,
"Third Party may use technologies to access some data including but not limited to cookies to estimate the effectiveness of their advertisements. Betternet does not control the activities of the Third Party, which is not included in Betternet's privacy policy but is related to the privacy policies of our third-party advertisers."
However, some other VPNs like ExpressVPN and NordVPN follow a strict no-log policy where they do not even keep the connection logs.
Performance and Speed
A VPN acts as a man-in-the-middle of your Internet connection and thus causes a speed loss with any VPN. However, a good VPN like NordVPN or ExpressVPN goes that extra mile just to lessen the latency and bandwidth.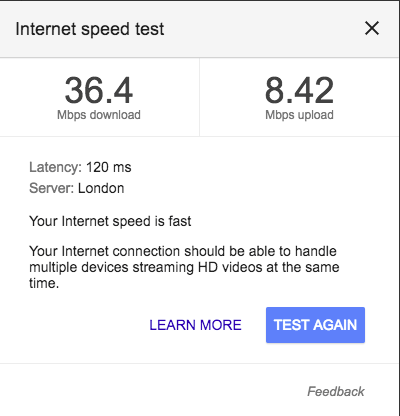 However, Betternet VPN review indicates that it missed the boat on both of them and had some satisfactory results;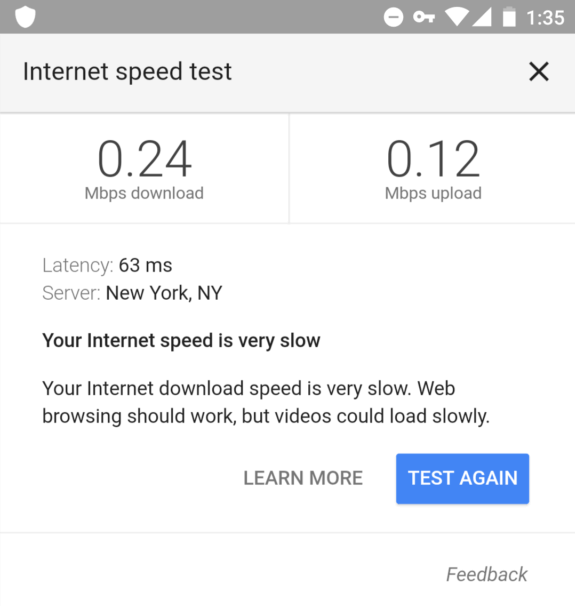 But it also showed highly variable results like;
For blazing speed and outstanding performance, you can employ one of the paid VPNs like NordVPN, PureVPN, or ExpressVPN.
How does Betternet make money?
VPN services are expensive and tedious to run. That's why no one is going to offer the services for free. We do know that Betternet offers a Premium plan to mobile users. However, Betternet says that it earns its pots of money by the following methods:
By providing free sponsored apps:
There's an "Install an app" button inside our mobile app. You are offered other apps for installation when you click on this button. For each app installed, Betternet earns money from the app publishers.
By offering videos:
You can watch a short video by clicking the "Watch a video and connect" button inside the Betternet app. Every time you watch a video, you help Betternet earn money.

When using the mobile app of Betternet, it occasionally offers the opportunity to install free apps and watch videos, in return for which it allows you to connect through Betternet. But you can also easily dismiss these offers and enjoy the services offered. This is why the question arises again about how the model works for Betternet to make money. To which Betternet answers,
"Is this model working for us? So far, it has worked very well, thanks to the support of our wonderful users. We have many daily emails from our users, who share their love with us by telling us they have installed our recommended apps and find them useful."
Where Betternet Performance Lacks?
As a matter of fact, even the most efficient tool isn't 100% authentic; the same is true with Betternet. However, while the Betternet VPN review, there were a few lacks in the critical fields of VPN features.
The most important feature is security, and a study showed Betternet VPN in the list of VPNs that might have been injected with malware or adware. This lack is more concerning because of the fact that security is the prominent VPN feature. Yet, Betternet VPN claims to be secure and still, and there are large downloads for it.
Along with Betternet VPN, the boost to the VPN tool is majorly due to the purpose of unblocking websites and streaming restricted content. Netflix being the most popular streaming channel, has worldwide demand, but unfortunately, it is legal in just a few locations. Therefore, it is also among the highest priorities of users. Unluckily, the users of Betternet VPN could not unblock Netflix even with their premium version.
Also, heavy torrenting with Betternet VPN will expose you to the speed issue, which is annoying while the torrent file is downloading.
Another annoying thing with Betternet is the display of intrusive ads while browsing the internet. This ad display is the issue with almost all the free VPNs, and the accessible version of Betternet is also lacking. However, the service providers are transparent and inform the users about how they make money which is rarely seen.
Betternet Website
The official website of Betternet VPN is understandable and simple for new visitors. They provide easy access to the free app download with the highlighted button. However, they don't have the display information about their premium services and pricing. Even they don't provide any clue about the Betternet premium services, and you are told about it when you download the premium app.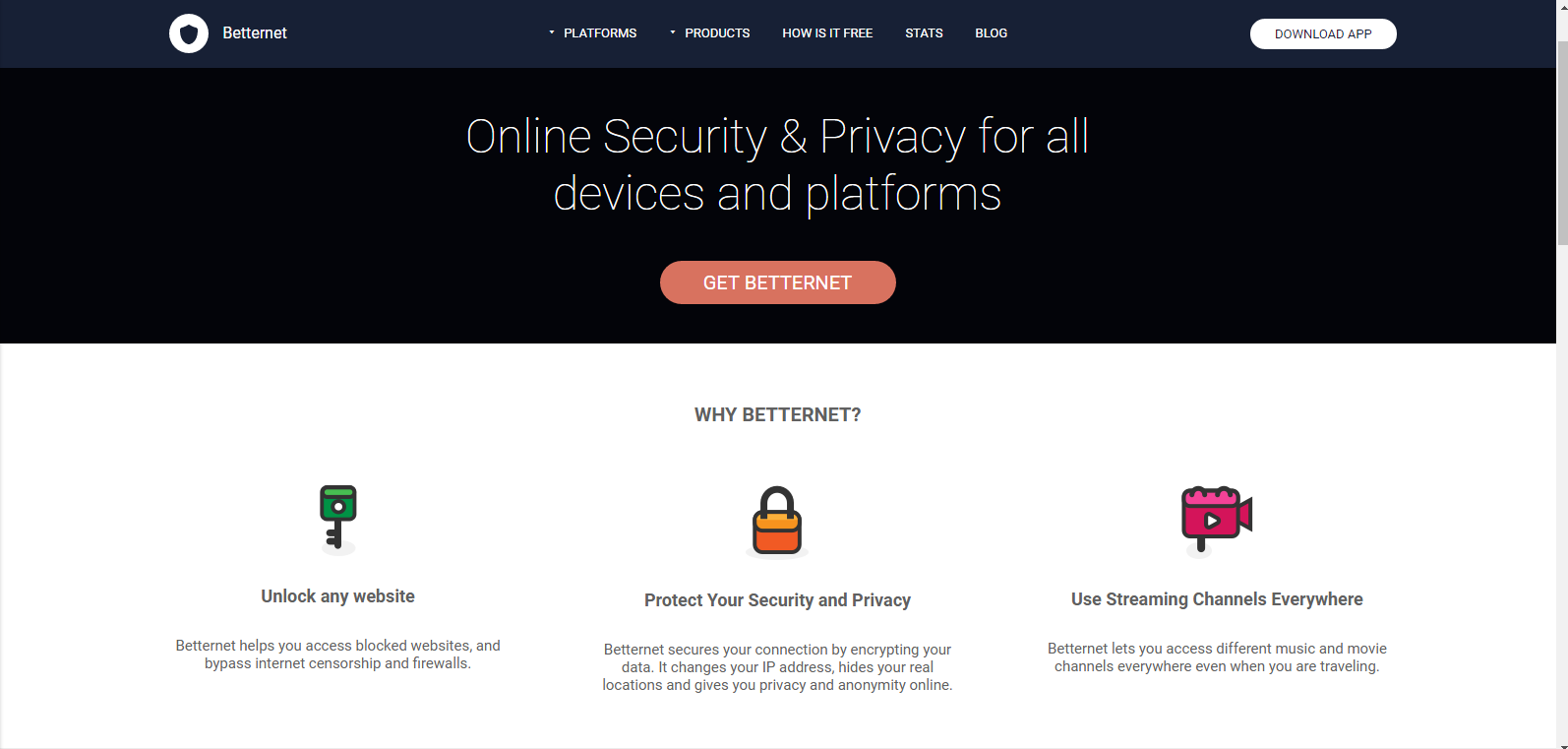 Yet, it is mentioned on the page "How We Make Money" and somewhere in the FAQ section of their website.
Betternet VPN setup guide
Betternet VPN follows a seven-step simple, and easy installation procedure. If, however, you are unfamiliar with VPN installation on different platforms, then here is the simple Betternet VPN installation procedure for Windows:
Open the official website of Betternet VPN
Go to the Download section
Download the Betternet VPN Windows app and then install
Launch Betternet software
Proceed further by skipping the hints and the guide
Click the Connect button and wait until your connection is completed.
Upon successful connection, enjoy your freedom on the Internet!
Conclusion
Concerning our Betternet VPN review, the service must be validated on its own terms. Betternet is a cheap or somewhat free service with expertise in geo-spoofing your location, and site blocks, bypassing some simple firewalls, or protecting its users on public WiFi hotspots. Otherwise, to protect your privacy and implement ironclad security measures, you should look for Betternet alternatives like NordVPN, ExpressVPN, or PureVPN.
Betternet is a relatively new service in the VPN industry packed with huge areas that need betterment. Beginning with the small server selection that they can work on to expand. Yet, with other services like the few tunneling protocols where some more protocols need to be added, we can finally dig our way to the vulnerabilities in the privacy policy that also need improvement.
In conclusion, it can be said that Betternet is a decent and free VPN service, but the service is not good enough to mask the potential dangers to your anonymity and security.
Share this article
About the Author
Related Posts