Author Findings: While writing this Browsec review, I have plenty of flows in the service. Found DNS leak and WebRTC leak while testing the service. It is not recommended for torrenting or streaming. Saw a massive decrease in the speed of servers as well. Alternatively, you can try NordVPN, which is 9/8 out of 10 user ratings.
Browse VPN is a proxy add-on that is available for Chrome, Opera, and Firefox browsers through which you could unblock websites around the world. It has gained immense attention with a user list of almost 3 million. This service hasn't displayed much knowledge about the ownership of the VPN extension on the web page. However, Browsec is found to be a Russian-based proxy.
Russian attempts to establish a constricted internet has created uncertainty regarding the anonymity offered by Browsec. Browsec LLC Company owns the services and provides free services to users worldwide. However, if you want an enhanced version with many efficient features, you could opt for their premium offer, including monthly and annual pricing plans.
This Browsec review will see if this VPN provides anonymous connection, fastest connection, VPN protocols selection, the wide range of VPN servers, & DNS leak protection.
Browsec is compatible with most devices, including Mac OS X, Windows, Linux, iPhone, and iPad. It also offers a VPN app for mobile phones.
Browsec has a rating of 4.5/5 on Google's website, a good rank given through 11000+ reviews.
Let's Talk About Pro's & Con's
Pros
Easy to Use: The interface offered by the Browsec VPN extension is user-friendly and easy to use. An individual could easily install and learn the operation of this add-on.
Switch server location: You could switch your server location among the four provided options according to your own will.
No Data Limit: That means an unlimited downloading and a carefree browsing experience could be enjoyed by a user.
iOS application: This is what gives you a faster browsing speed as compared to a browser add-on.
Cons
Limited Server Location: With the free version of the Browsec VPN extension, users are provided with just four out of thirty locations to switch their connection.
Bandwidth cap: Users have to experience slow and interrupted browsing due to a bandwidth limit of 1mbps.
Unclear privacy and logging policy: They don't have a clear policy or plan regarding privacy through which a transparent service could be made possible for the users.
Restrictions could affect the services of Browsec VPN due to its location in Russia.
Vague promises: They promise the users an anonymous browsing experience but don't provide adequate information about their policy regarding IP obscuring. Also, their services are unable to work on streaming channels such as Netflix, as they affirm.
However, if you look at the Browsec VPN extension and its services with its free version, they are quiet enough and make it worth considering. A user could unblock restricted websites, stream videos, download content without exposing their identity to the internet world. Such basic features provided by the Browsec add-on and VPN are a great deal of privacy protection for those who don't want maximum security.
Browsec VPN Review
With browser premium VPN services, you could boost the provided features to an extraordinary level. All of the features provided with the free version get much efficient and increase immensely for the premium customers.
The bandwidth cap is no longer a concern, and you could freely browse rich content and download stuff without annoying interruptions and lags. There is 30 server location for users from which they can choose the one according to the content they want to access. One of the ease providing features is that you are given the dedicated traffic lanes that offer you a robust acceleration while browsing web pages.
Pricing Plans and Payment Methods
For the paid customers, the prices of the Browsec VPN add-on are affordable and cheap compared to the other VPN services. They have two plans, one is monthly, and the other is an annual base.
For the monthly plan, you have to pay just $4.99. However, this cost decreases up to 33% when you opt for an annual pricing plan. For a yearly payment, you have to pay $39.99, which means almost $3.33 per month.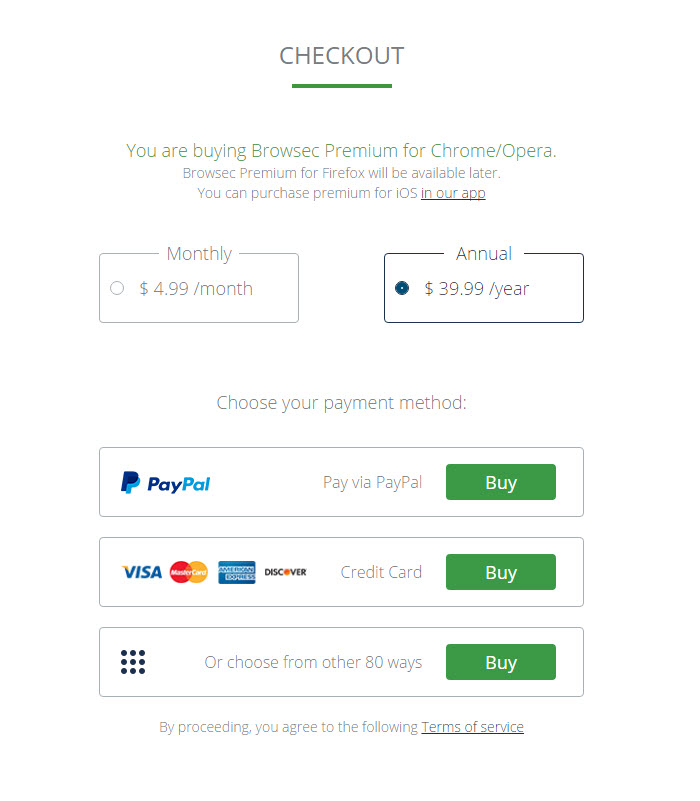 They advertise to provide 80 payment options, including PayPal, VISA, MasterCard, and others, depending on their location. Also, a customer could not use the Bitcoin payment method regardless of the area.
Logging And Privacy Policy
As told before, Browsec has not specified how they collect the user information and what data will be kept. They only state that some information is stored for enhancing the user experience and to get better insights. However, while selecting a VPN, there must be clear clauses in the privacy policy of the VPN service.
There is a brief privacy policy on the Browsec website, which you can read here.
Speed Test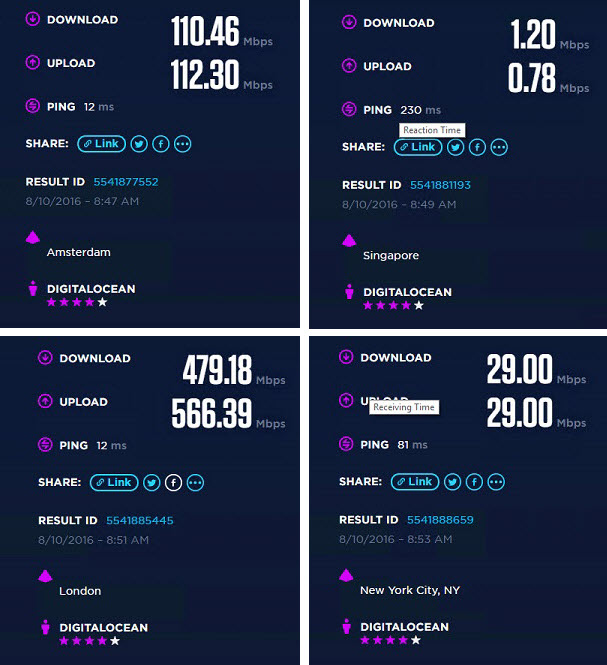 Mobile Support
The Android application of Browsec VPN add-on works with any iOS or Android app, making your favorite content easily accessible in any place. It also makes your data safe while traveling and protects you while being on the public Wi-Fi connection.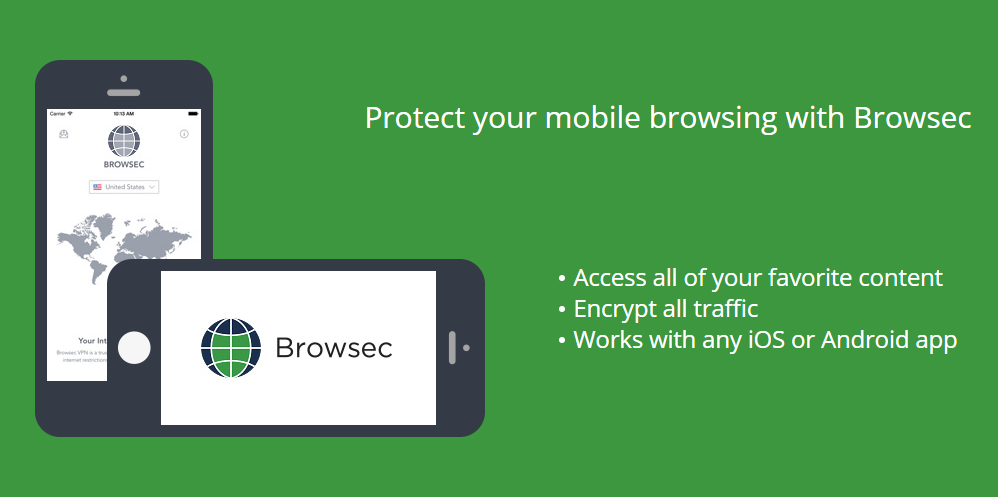 This mobile application performs well and doesn't have speed lags. Similar to the browser extension, the mobile application has an easy interface with clear instructions.
Customer Support
Although they don't have a feature of live chat or 24 hours customer help service, their response time is fast enough to cater to their users. They assist a user issue with great concern and works to solve that problem as soon as possible.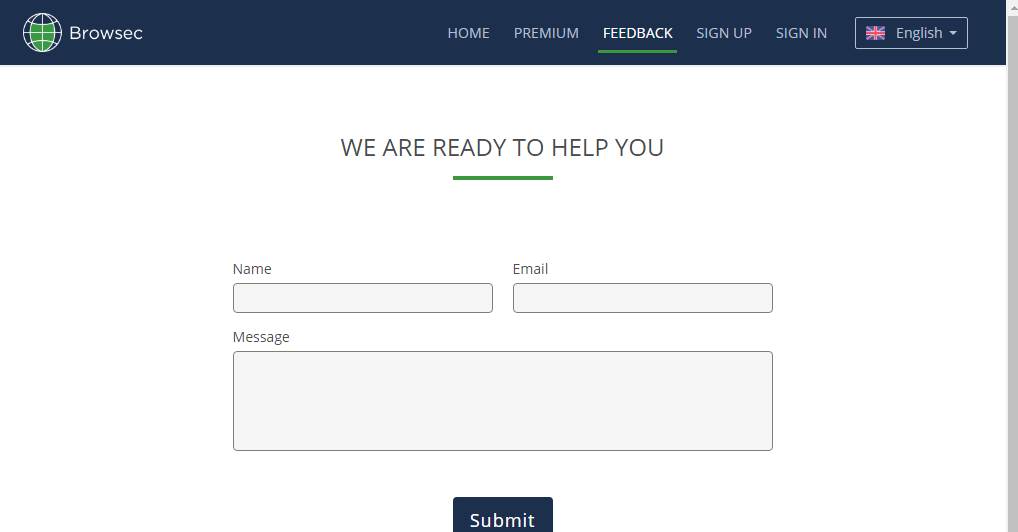 A Browsec user could address his/her issue though submitting their question from their "contact us" page. Most probably, you would get an answer within a few hours after reporting your issue.
Lacks Noticed While Browsec Review
Many claims are stated in the Chrome Webstore, which were not verified while Browsec review. For instance, there is written that the VPN will support channels such as Netflix, Hulu, Spotify, Soundcloud, etc.; however, among these, you will not be able to stream Netflix and Hulu. That is probably because these streaming channels are viral and could be unblocked by just a few paid VPNs. Yet, Netflix is continuously blocking VPNs, and now it could be unblocked by some reputable VPNs.
Browsec also doesn't include the built-in features that restrict the IP leak risks, such as the WebRTC or flash player. Therefore, the users have to install the add-on or additional extensions to prevent such threats.
Best Browsec Alternatives
Various security patches and feature lacks have compelled us to check out some other VPN extensions that could be the best Browsec alternatives for VPN users.
Most of the Browsec users have complained about their faulted streaming services, especially when accessing channels like Netflix. Also, the users are just provided with the 4 server switching options with their free version.
They have a vague policy regarding collecting user information and how the VPN extension keeps this data. They only tell that the user information is maintained for research and improvement. Also, it is not known that the customer log is kept private or leaked, just like other websites.
Therefore, the information collected could be leaked or shared with third parties and government agencies. Also, the lack of information regarding the VPN owner company is negatively impacting Browsec's privacy policies. Without knowing the management behind a business or product, nobody wants to invest their money in it. However, an individual avoids considering its free version as they never want to compromise on their privacy.
Fortunately, many free VPN extensions provide Internet users a satisfactory performance with appropriate privacy. We have filtered out some of the best Browsec alternatives for our readers and their convenience; they could opt for a fantastic browsing experience.
1 – DotVPN (best for streaming)
Compatible with: Chrome, Firefox, Opera, iOS, Android, Windows
DotVPN is a free VPN service that has many users all around the globe due to its robust features and all-around performance. We have given it a priority among all the Browsec alternatives because of the streaming ease it provides to the users.
DotVPN provides Wi-Fi hotspot security with access to blocked content by eliminating location restrictions. Therefore, you could easily enjoy your favorite stuff and channels such as Netflix, BBC, Facebook, YouTube and, many others.
DotVPN has gained an overwhelming user response and has more than 10 million downloads from 160+ countries. They have a straightforward setup process with a one-click connection. It is an efficient free VPN service, especially for unblocking content due to its vast range of server switching options, unlike other free VPNs. You could change your server location according to your will between the options, including UK, USA, Sweden, Singapore, Switzerland, and others
Compatible With: Chrome, Firefox, Opera, Linux, Windows, MacOS, Linux
Windscribe is a popular VPN service that keeps on increasing the efficiency of their VPN extension, and that's why an excellent consideration for the ones looking for a Browsec alternative is. Recently, they have released Windscribe Beta for Linux users.
Windscribe provides you nine server locations to choose from. It also restricts tracker and intrusive ads to make your browsing experience annoyance-free. While easy unblocking, you are also provided with appropriate privacy.
Compatible with: Chrome, Firefox, Windows, macOS, Windows, Linux, Android, iOS
BetternetVPN offers its users unlimited bandwidth that is a great delight and benefit for uninterrupted streaming and downloading.
It provides an easy connection to the users with one tap VPN enabling your desktop. There is no registration or login needed, which many users are trying to avoid and want an uncomplicated, fast setup. They also claim in their privacy policy not to log the customer data.
Therefore, your data is safe from every kind of tracking and snooping activity.
Compatible with: Chrome, Firefox, Opera, Windows, Mac, iOS, Linus, Android
Cyberghost VPN provides you anonymity by obscuring your IP address, which makes us recommend it as a Browsec alternative. The built-in Firewall keeps you safe while streaming and while being connected to public Wi-Fi.
While being connected to CyberGhost, you could stream popular content and channels such as Netflix, Hulu, HBO, and much more without an annoying and prolonged connection process. You could enable CyberGhost VPN with just a single click.
Compatible with: Chrome, Firefox, Windows, macOS, Google Android, iOS
Hotspot Shield is an entirely free VPN extension that provides ad-free services to its users. It an effective Browsec alternative with over 350 downloads.
You could access blocked websites and content through just one simple click to enable the VPN services. It gives you server location options of the UK, US, Denmark, France, Canada, and the Netherlands. Therefore, you have vast options of unblocking websites with banking-level encryption to your online traffic and data.
Conclusion
After reading this, you must consider one of the Browsec alternatives to evade the chances of data leakage. These VPNs, which we have discussed above, are the most popular and worth having among all the free VPN services. However, it would help if you remembered that these are not complete VPNs as the paid ones. Therefore, you may be losing something in return for getting free services.
But, for those with less private stuff and online activities involving personal details such as credit card information, log-in passwords, etc., these free VPN extensions are a good choice.