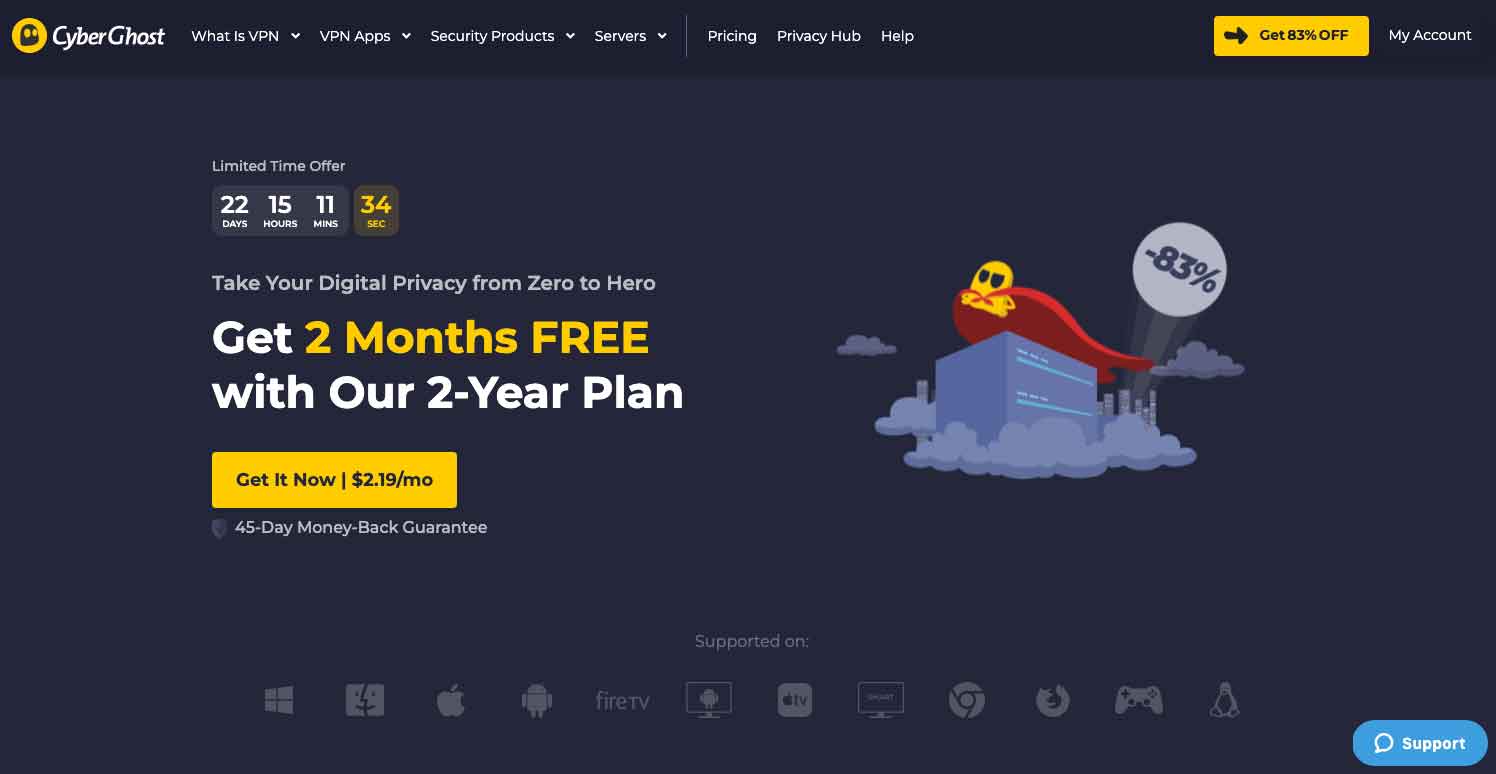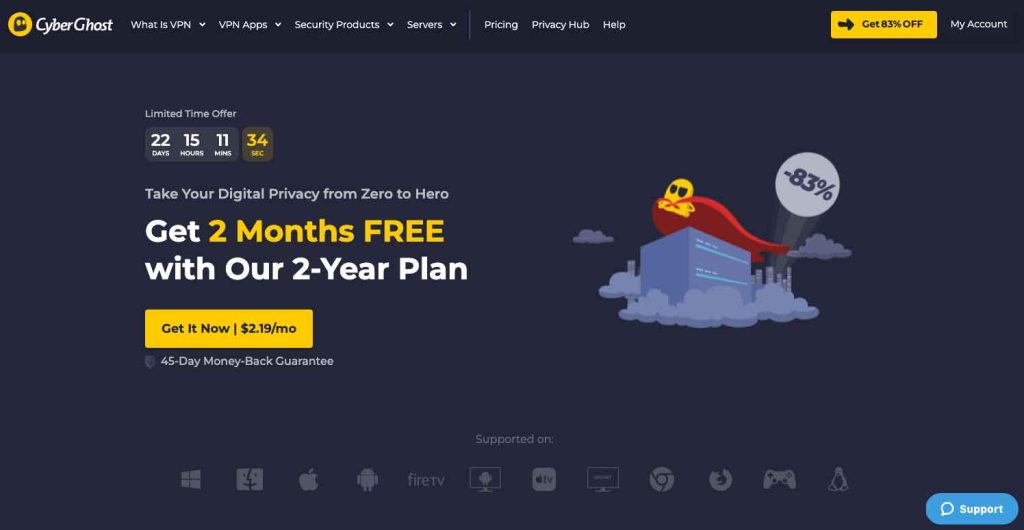 Promises unrestricted internet.
Allows anonymous payments
Uses secure tunneling protocols
30 Days Refund Policy
CyberGhost VPN is a fully featured-packed VPN provider and is one of the most preferred users' choices. It works on the mission to protect users' activities from all snooping eyes and guarantees a top-notch level of online security. The following table gives a quick review of the VPN features, so have a look:
Security and Privacy:
Encryption
AES-256 bit encryption
4096 bit RSA key
SHA-256 authentication key
Log Policy
Follows a no-log policy but does keep a minimum of information
Security Features
VPN leak protection
Wi-Fi protection
Dedicated IP address
Security Suite
Password Manager
Streaming and Torrenting
List of Compatible Streaming Platforms
Netflix
Amazon Prime
BBC iPlayer
Disney Plus
HBO Max
Hulu
User-friendliness
No. of Servers
7900+ servers in 91 countries. Five specialty servers too
Pricing
$2.29/m on 3 years and 3 months plans
$3.25/m on 2-year plans
$4.29/m on 1-year plans
$12.99/m on a monthly plan
Customer Support
Email
Live chat support
Online resources
Compatible Devices
Android
iOS
MacOS
Linux
Routers
Windows
But, the debate on its parent company makes people think CyberGhost is honest with its claims. The VPN's parent company owners are accused of spreading adware and malware on other users' devices. Moreover, the company hasn't undergone a third-party log-audit process since 2012. All this raises significant doubts among the users.
The best way to get all the answers is to review the VPN. This CyberGhost VPN review looks into their service, privacy policy, and features to give you a clear answer. So, let's dive into it:
Security and Privacy
CyberGhost is a safe and trusted VPN provider to use. The VPN uses strong encryption ciphers and tunneling protocols to protect your data. It maintains maximum online security by protecting from VPN leaks. Moreover, CyberGhost also doesn't record and share your activities and thus making you more anonymous on the web.
– What Type Of Encryption does CyberGhost VPN Use?
CyberGhost uses a top-notch level of encryption to safeguard your data traffic from all snooping eyes. The VPN provider uses state-of-the-art AES-256-bit encryption, a 4096-bit RSA key, and an SHA-256 authentication key.
Many top-rated VPN providers like NordVPN and ExpressVPN use the SHA-512 authentication key. But it doesn't mean that CyberGhost is anyhow less. The SHA-256 key is also secure and doesn't leak your internet traffic to anyone.
– Jurisdiction of CyberGhost VPN
CyberGhost has its headquarters in Romania. The country falls outside the jurisdiction of the global surveillance alliance, and your data won't be shared with international intelligence agencies. But, Romanian is a member of the European Union, so the data retention laws of the EU and the Romanian regional laws might apply to the users.
However, the mandatory data retention laws pushed by the EU are unconstitutional in Romania. Moreover, it is a free country ranked in the Global Freedom Index 2021, so the users are subjected to no laws. Therefore, it is a safe jurisdiction for operating a VPN company and won't log and share your data.
– Logging Policy – Does it Keep Logs?
CyberGhost is a private VPN provider and keeps all your activities and browsing data private. It follows a strict no-log policy that doesn't log your traffic and connection logs. According to the privacy policy:
However, the VPN provider does collect and keeps some amount of data like:
Transaction location
Approximate location
Connection attempts with the IP address are stored in an anonymized manner.
This might sound unusual to the user, mainly when the VPN provider hasn't audited its logging policy. CyberGhost audited its log policy in 2012 by QSCERT. After that, the company issues annual transparency reports. These reports reveal the number of requests the company received for providing the users' data. But since they don't record anything, they have nothing to show.
CyberGhost is a truly no-log VPN that doesn't record any data logs. But to gain more trust from the users, the company should undergo a third-party log audit process.
– Which Tunneling Protocols Does it offer?
Besides using military-grade encryption, CyberGhost VPN also uses a range of secure tunneling protocols to maintain the utmost level of online security. The VPN uses:
WireGuard
OpenVPN
IKEv2 protocols.
The WireGuard protocol is the latest next-generation protocol that's safe and fast to use. The OpenVPN protocol is also a popular open-source protocol that supports TCP and UDP ports and provides a perfect balance of reliability and security. Besides this, the IKEv2 is best for mobile devices and offers excellent compatibility with other devices.
OpenVPN is the default protocol in all CyberGhost apps. But you can also manually switch the protocols depending on your activity.
– How good is CyberGhost VPN in bypassing Censorship?
Though CyberGhost doesn't offer any obfuscation technology like the other top-tier VPNs, you can still use it to bypass censorship. The VPN provides advanced features like the NoSpy servers or the dedicated IP address servers that work simultaneously. They guarantee maximum anonymity and protection and allow you to circumvent censorship. As a result, you can use CyberGhost to access any blocked website, service, and platform. Moreover, you can also use it in restrictive states like UAE, Turkey, RSA, and Iran.
In addition, CyberGhost offers servers in Hong Kong, Singapore, and other countries neighbouring China. By connecting to these servers, you can circumvent censorship and access the web without restrictions.
Past History of CyberGhost VPN
CyberGhost started its operation in 2011 and was operating under a German IT expert. In 2017, an Israeli firm, Crossrider, bought the company for $9.2 million. The company later changed its name and is now popularly known as Kape Technologies. It's the same company that also owns Zenmate, PIA, and ExpressVPN.
However, the company has not a good privacy track record among the users. It's accused of distributing adware and malware through fake Adobe Flash updates and infected software bundles. Furthermore, Kape Technologies is registered in the UK, meaning the UK data retention laws are applicable. Also, it's a member of the five eyes alliance and, thus, is a less privacy-friendly jurisdiction.
Any Extra Privacy and Security Features by CyberGhost VPN?
CyberGhost VPN provides a range of extra privacy and security-boosting features that many other top-tier VPN lacks. Here's a quick overview of these features:
– WiFi Protection
Public Wi-Fi networks are notorious because hackers always monitor the network for potential targets. Anyone accessing unsecured Wi-Fi can fall easy victim to various cyber-attacks. CyberGhost VPN enables users to stay safe and secure on public Wi-Fi networks. You can enable the Wi-Fi protection feature by navigating to the settings option and increasing your Wi-Fi security. You can choose the activity from the given options: ask, always connect, never connect, or terminate the connection.
– Content blocker
CyberGhost offers an impressive content blocker feature to protect users' privacy and security. It returns the IP address of the unwanted domain names as the address that can't be routed over the public internet. Moreover, it blocks ads and potential malware and viruses that aim to infect your device.
– Dedicated IP Address
To enable users to protect their online identity and browse the web anonymously without any restrictions, CyberGhost VPN offers a dedicated IP address feature. Unlike the shared IP address, the dedicated IP address exclusively belongs to you and remains the same every time you connect to a server. CyberGhost assigns you a dedicated IP address via a token-based system. After receiving the token, you have to redeem it into your account and validate it within your VPN apps.
With CyberGhost's dedicated IP address feature, you will likely see fewer CAPTCHAs, secure your accounts and IoT devices, and get off the blacklist. The VPN offers dedicated IP address servers in five locations, including; the UK, the US, Canada, France, and Germany. Since it is an add-on feature, you have to pay an extra $5/m to get the dedicated IP address.
– Password manager
Besides offering robust security and privacy, CyberGhost VPN offers a password manager feature that allows users to secure and organize their passwords in an encrypted vault. The company teams up with Passcamp to introduce a reliable password manager to create strong and unique passwords for your accounts. It uses two-factor authentication combined with a secure SRP 6A authentication protocol to restrict password access to you. Also, your credentials are encrypted by using the AES-256 bit encryption and RSA-4096 key.
Another benefit of using CyberGhost password manager is that you can store unlimited passwords and can automatically fill in your credentials. Get the CyberGhost password manager feature for $3.49 per month on Android and iOS devices and keep your passwords safe.
– Security Suite
Though VPNs are excellent tools for online anonymity, they aren't very effective in protecting you against malware and other device threats. But with CyberGhost Security Suite for Windows devices, you can improve your device security. The security suite includes an Intego antivirus and a security updater to boost your digital privacy.
The VPN company partnered with Intego to bring the antivirus feature into the VPN apps. It provides 24/7 protection against malware, viruses, Trojans, and other threats. Similarly, the security updater performs multi-functions such as detecting and updating outdated apps, getting an overview of the software security, and even seeing the security impact of each program. This way, it ensures that your apps are not vulnerable or become an easy entry point for the threat actors. If you want to protect your Windows devices with a security suite, get it now for $5.99 per month.
– Private Browser
To ensure an anonymous browsing experience, CyberGhost also offers a free private browser that runs off DuckDuckGo and is compatible with Windows, iOS, and MacOS platforms. It consists of a built-in ad/malware blocker that wipes out all intrusive ads and ensures a smoother browsing experience. The browser has zero Google integration and guarantees that none of the data is recorded or shared with third parties.
Moreover, it deletes all trackers, cookies, browsing data, and passwords and gives you more control over your online privacy. The CyberGhost private browser is available for all major search engines like Google, Bing, DuckDuckGO, and Yahoo.
The VPN provider also provides every VPN provider's basic security and privacy features. These features include a kill switch, split tunneling, VPN leak protection, and Smart Rules.
Streaming and Torrenting
CyberGhost comes with unlimited bandwidth and data caps and, thus, is best suited for streaming and torrenting. You can use it on a range of streaming and torrent downloading sites. The VPN guarantees an amazing user experience without compromising your security.
– Compatible Streaming Platforms
CyberGhost works on all streaming platforms and hence ensures the best streaming experience. The VPN offers specialized servers for streaming, so it's easy to access the blocked content. You can use CyberGhost to unblock streaming content from all popular services like:
Amazon Prime
BBC iPlayer
Disney Plus
HBO Max
Hulu
Netflix
Like NordVPN and ExpressVPN, CyberGhost is also a good option for bypassing the Netflix block. It unblocks nine different Netflix libraries and lets you enjoy your favorite streaming content. Since the VPN offers reliable and fast streaming speed, you won't experience much buffering and connection lags. You should use the WireGuard protocol while streaming because it's faster than OpenVPN and IkEv2.
To sum up, CyberGhost is a good VPN for streaming and never fails to impress users.
– Is CyberGhost VPN Good For Torrenting?
CyberGhost is an ideal option for downloading torrents. Its dedicated P2P servers, fast speed, and torrent-specific features make it a good choice for torrenting. The VPN works perfectly well on popular torrent clients like:
BitTorrent
Deluge
qBitTorrent
You need to connect to the P2P optimized servers and download torrents from anywhere with maximum anonymity and protection. It also doesn't leak your Torrent IP address or store any torrent activity records. Moreover, the VPN also offers an advanced split tunneling feature that boosts your downloading experience.
You can also use CyberGhost NoSpy and dedicated IP address servers for additional security and privacy. So, if you're looking for a reliable and secure torrenting VPN, try CyberGhost.
– How Fast Is CyberGhost VPN?
CyberGhost is not the fastest, but the speeds are more than fast. It provides reliable and consistently fast connection speeds that are enough for streaming, gaming, and downloading. The VPN speeds are the fastest on the local servers, but you might experience connection drops as the distance increases.
By switching your protocols, you can easily overcome this issue. The WireGuard protocol is the fastest to use for uninterrupted connections. Meanwhile, OpenVPN and IKEv2 also offer stable and above-average connection speeds.
As a whole, CyberGhost offers pretty stable internet speed, but on remote servers, you can encounter minimum connection lagging.
User-Friendliness
Another impressive thing about CyberGhost is that it is easy to use. All the apps have a clean and intuitive user interface that's easy to navigate and won't cause any trouble. You can find the solution in the customer support category if you encounter any issue while downloading or setting the app on your particular device. It has various videos and troubleshooting that might help you.
Moreover, the CyberGhost apps offer customizable options that enhance your user experience.
– The Number of Servers CyberGhost VPN Provides
CyberGhost is among the few VPN providers that offer an extensive server network. The VPN consists of 7900+ servers in 91 countries, constantly updating its server network. There are 113 locations where you can find CyberGhost servers, including Australia, Canada, Germany, the UK, and the US.
In addition, CyberGhost also offers various servers optimized for specific activities like:
P2P Servers: These servers help fast torrent downloading and work with all popular torrent clients.
Gaming Servers: These servers have low latency and ensure a fast and hassle-free gaming experience.
Streaming Servers: You can connect to these servers to access the blocked streaming content anywhere.
Dedicated IP Address Servers: To reduce the risk of static IP addresses, you can connect to the dedicated IP address servers and enjoy maximum anonymity on the web.
NoSpy Servers: These servers are owned by the CyberGhost data center in Romania and come with extra bandwidth and ensure more anonymity.
If you can't find a server in a location you want, you can even request a server location.
– How Good is CyberGhost VPN Customer Support?
Another best thing about CyberGhost is its effective customer support. The VPN offers various options to get connected with the customer support team. It has a 24/7 live chat feature, email support, and detailed online resources to help users.
You can start the live chat if you want an instant reply. Enter your query, and the related support post will appear. You can also opt to chat with a live agent. The chat agents are pretty professional and respond promptly. But if the issue is difficult for a chat agent to solve, they create an email ticket to resolve the query.
Besides this, the CyberGhost website has a separate portal for customer support. You can find a range of FAQs, troubleshooting, video tutorials, FAQs, and blogs that prove very useful to the users.
As a whole, CyberGhost provides excellent customer support options to users. Their customer team is well-informed and knowledgeable and gives timely responses.
– What Devices Is CyberGhost VPN Compatible With?
CyberGhost is available for all platforms and devices, such as:
Android
iOS
MacOS
Linux
Routers
Windows
In addition, you can also download and install the CyberGhost VPN on a range of streaming devices and gaming consoles. The VPN offers dedicated apps for each platform and device; download them and enjoy an excellent user experience.
FAQs
Does CyberGhost offer a free trial period?
CyberGhost offers a 24 hours free trial period on Windows, iOS, Apple, and Linux devices, whereas Android users can avail of the seven-day free trial period. You can access every feature and VPN server during this period and decide if you want to continue using CyberGhost VPN. You don't have to provide your credit card information to start the free trial. You can begin testing the VPN and its features by providing your email address.
How many simultaneous connections do CyberGhost offer?
CyberGhost allows up to seven simultaneous device connections with one subscription. You can download and install the native VPN apps on multiple devices to enhance your user experience. 
Does CyberGhost offer a refund policy?
Besides offering a free trial period, CyberGhost also offers a refund policy, which varies from the premium package you use. If you're unsatisfied with the VPN's performance, you can contact the customer support team and demand a refund within 45-days. But this scheme is applicable if you've subscribed to an extended subscription plan. If you've bought the monthly plan, you should ask for a refund during the initial 14 days. 
Is CyberGhost good to use in 2022?
CyberGhost is a good option to consider using in 2022. Its robust encryption, vast server network, streaming, and downloading abilities benefit users. You can also use it to enjoy a seamless gaming experience. Also, it offers various subscription plans, so the prices don't cost too much in your pockets. In addition, the VPN comes with extra security and privacy-enhancing features, so do try it out once. 
Can CyberGhost unblock Netflix?
CyberGhost, unlike many other top-tier VPN providers, offers dedicated servers for streaming. Thus, you can use it to unblock the streaming content from anywhere, including Netflix. The VPN unlocks nine Netflix libraries, including the US Netflix library. Its unlimited bandwidth and stable connection speed enable users to watch their favorite streaming content in HD and 4k quality. 
Does the VPN block ads?
CyberGhost lets you eliminate intrusive ads that ruin your browsing experience. With the ad blocker feature, you can block the annoying ads following you on the web and even infect your device with malware. Also, it improves your overall page loading and browsing speed and saves much of your bandwidth. You can configure your VPN app settings to enable this feature. 
Does CyberGhost offer a browser extension?
Like ExpressVPN and Surfshark, CyberGhost also offers a browser extension for Google Chrome and Mozilla Firefox. You can enjoy a stable and uninterrupted connection and surf the web with complete anonymity. CyberGhost offers eight servers from four countries on Chrome and Firefox. But using a browser extension has its drawbacks and limitations, so it's better to use the native VPN app for long-term use.
Final Verdict
CyberGhost is a reliable VPN provider offering everything a user might want in a VPN. The VPN provides dedicated servers for streaming, torrenting, and gaming and works on most devices and operating systems. It uses strong AES-256-bit encryption combined with WireGuard, IKEv2, and OpenVPN protocol to protect your internet traffic.
Besides this, the VPN offers a wide range of advanced features like a dedicated IP address, NoSpy servers, and an ad blocker that further boosts your online security. The prices are also affordable, with good discounts on extended subscription plans. However, CyberGhost should improve its reputation by undergoing an independent third-party log audit process.