Hide.me VPN provider is a streamlined VPN provider famous for belonging to the safe jurisdiction of Malaysia. It is also a preferred choice for users, offering exceptional features like the stealth guard and multi-hop double VPN that boost digital privacy. The VPN offers a free version that provides 10GB of monthly data. But, as the VPN offers a free version, why should one pay for the premium plan?
To know the truth, reviewing the VPN is the best available option. But before that, let's first look at the table below that gives you a quick overview of the VPN provider:
Security and Privacy:
Encryption
AES-256 bit encryption and 8192-bit keys
Log Policy
Follows a no-log policy with security audits but stores a minimum amount of data
Security Features
Self-managed DNS servers
Stealth Guard
Multihop Double VPN
SOCKS5 proxy
Streaming and Torrenting
List of Compatible Streaming Platforms
Amazon Prime
BBC iPlayer
Crackle
Hulu
Netflix
Disney channels
HBO Go
Hulu
Sky Go
DAZN
Kodi
YouTube
User-friendliness
No. of Servers
2100+ servers in more than 77 locations
Pricing
$9.95/m on a one-month plan
– $3.00/m on a 15-month plan
– $5.82/m on a 6-monthly plan
Customer Support
Live chat support
Community forums
Support ticket
Online resources
Compatible Devices
Android
iOS
macOS
Linux
Routers
Amazon Fire TV
Windows
Hide.me VPN seems reliable, but let's not be hasty and form decisions based on a mere overview! It's better to clear the doubts with a detailed Hide.me review.
Security and Privacy
The most important quality of a reliable VPN is that it provides a top-notch level of online security and privacy. It guarantees that your data traffic and activities remain anonymous from all prying eyes. A top-rated VPN provider masks your IP address and encrypts the data traffic using strong encryption and tunneling protection. Also, the VPN uses various security and privacy-boosting features that guarantee maximum online protection.
Moreover, such a VPN doesn't record your data or browsing activities and operates from a secure jurisdiction that doesn't violate users' privacy by sharing their data. By doing so, they ensure that you remain private and anonymous over the web.
– What Type Of Encryption does Hide.me VPN Use?
Hide.me VPN uses the industry's standard AES-256 bit encryption and 8192-bit keys to hide your data traffic and protect you from unsecured WiFi hotspots. With Hide.me VPN, all your internet activities are secured under several layers of encryption that are difficult to crack. Hence, you don't need to worry about ISPs, hackers, or government surveillance agencies intercepting your online communication. Besides this, the VPN uses the advanced port forwarding feature, but unfortunately, this feature isn't available in the free version.
– Jurisdiction of Hide.me VPN
Hide.me VPN started its services in 2012, and Sebastian Schaub founded it. The VPN belongs to an IT security company headquartered in Malaysia. Malaysia is a secure and reliable country from privacy prespective. There are no specific Malaysian data-logging laws against VPN companies; hence they won't record and share users' logs and browsing data.
In short, Malaysia is a privacy-friendly jurisdiction that doesn't fall within the jurisdiction of the five eyes, nine eyes, and 14 eyes alliance. The country is not bound to any surveillance agreement making it the best country to operate a VPN company.
– Logging Policy – Does it Keep Logs?
Hide.me VPN works with a mission of internet freedom for all. The VPN provider has mentioned that their service doesn't keep any data logs and makes you completely anonymous on the web. Moreover, the VPN prevents storing connection information and guarantees that you remain untraceable.
However, after taking a deeper look into Hide.me VPN's privacy policy, it's found that the VPN doesn't follow a truly zero-logging policy, and it's a bit shady. The company logs some of the user data, including:
Amount of data used during the VPN session
The email address that's stored in encrypted form on secure servers
Internally assigned IP address
Randomly generated username
Besides this, they keep the stored data for a few hours and erase it later. However, personally identifying information like your IP address, location, and browsing data are not stored, so there is nothing to worry about.
In 2015, a security-testing firm DefenseCode LTD audited the VPN provider and verified its safe logging practices to prove its claims further. The company has also released transparency reports since 2012 that list requests for illegal activities, law enforcement agencies, and DMCA violations. The VPN provider also claims to reply to every case but they can't offer any help because they don't store the data.
In other words, Hide.me is a safe VPN to use, and its logging policy is close to no logs. The VPN can hire audit firms to undergo an independent third-party log audit process to prove that it is living up to all its claims of being a no-log VPN.
– Which Tunneling Protocols Does it offer?
Hide.me VPN uses various tunneling protocols, including:
OpenVPN
WireGuard
IKEv2/IPSec
SSTP
SoftEther.
All these protocols are secure and have certain advantages over each other. You can choose them as per your preference by configuring the settings.
The WireGuard is the recently introduced protocol that's fast and secure. It uses state-of-the-art cryptography like ChaCha20, HKDF, Poly1305, Curve25519, BLAKE2, and SipHash24 to provide robust security. The WireGuard protocol is available on all Hide.me apps and servers, including the Linux app.
Apart from that, Hide.me VPN uses the open-source OpenVPN protocol that utilizes AES-256 bit encryption and is compatible with all Hide.me apps. It offers a perfect balance between security and speed and has no major vulnerability. Another reliable and industry-standard protocol offered by Hide.me VPN is IKEv2. The protocol supports both AES-128 and AES-256 bit ciphers for data encryption. It helps bypass firewalls but is only available for Windows and Linux platforms.
SoftEther is a multi-protocol that Hide.me VPN supports and is compatible with Windows, Linux, and Mac devices. The VPN provider also supports the SSTP protocol that uses the SSL/TLS encryption standard to maintain data security. It also uses the TCP port 443, making it difficult for firewalls to block you. So, if you want to bypass a firewall, you can use the SSTP protocol.
– How good is hide.me in bypassing Censorship?
Hide.me is also an excellent choice for bypassing censorship. It allows you to access many blocked services and websites, including WhatsApp, Snapchat, Twitter, Tinder, and Facebook.
Moreover, it also enables users to access the free web in highly restrictive countries like China, Russia, Turkey, and UAE. The VPN offers servers in the neighboring regions, so you can freely use the internet by connecting to such servers.
Hide.me VPN doesn't offer an obfuscation feature, but it provides encrypted DNS servers that shield your website requests and stop third parties from monitoring your online activities. The VPN provider offers servers in the best IPTV locations, allowing you to access millions of channels and watch your favorite content. In addition, by switching to OpenVPN (TCP) mode, SoftEther, or SSTP protocol, you can also circumvent internet censorship. Thus, this way, you can defeat censorship with Hide.me VPN.

Past History of Hide.me VPN
After digging out the past, no records show that Hide.me VPN is involved in violating users' online privacy. This shows that Hide.me VPN is reliable and makes no compromise on users' digital privacy.
Extra Privacy and Security Features by hide.me VPN
A VPN must offer extra privacy and security features to give the best performance. These features benefit the users in one way or the other. Along with the necessary privacy and security features such as an actively working kill switch protection, IPV6 leak support, and split tunneling, Hide.me offers various other features that help boost your online privacy and security, such as:
– Self Managed DNS Servers
Most VPN providers rely on third-party DNS services to monitor your activities and record your details. If the government orders them to hand over user data, they intercept your DNS requests and block them. Hide.me offers its proprietary zero-knowledge DNS service that prevents monitoring your DNS requests or websites that you want to visit.
In other words, by connecting to any Hide.me VPN servers, all your internet traffic routes via the same tunneling protocol are protected with the same level of encryption. This advanced feature is beneficial to prevent censorship and also doesn't inject ads or any sponsored content within your DNS requests.
– Stealth Guard
Stealth Guard is yet another impressive feature offered by Hide.me VPN. It is a mixture of split tunneling and kill switch. This feature is handy during torrenting because it won't leak your IP address and keeps your torrenting activities private.
Moreover, as long as you enable this feature, it won't consume much data bandwidth. As a result, you can download torrents at a fast speed. The VPN offers two options by which you can use the stealth Guard feature. You can limit all VPN connections, restricting your internet connection to the Hide.me VPN servers only. You can also choose to limit apps to VPN. This option allows users to select various apps that only work if connected to the VPN. Besides the apps you choose, all the apps will continue to work even if the VPN is not running.
To use this feature, click on the Settings option at the bottom of your app > Stealth Guard > tap on limits app on the VPN > and click on + Add option to add any app you want to block when the VPN connection is disabled.
– SOCKS5 Proxy
Hide.me VPN offers another SOCKS5 proxy feature that they integrate within the VPN to provide optimized speed and security to its users. It is an internet protocol that routes the data packets via optimized connections over the VPN servers. The SOCKS5 combination with any supported app boosts security and prevents IP leaks. Besides this, it reduces the Round Trip Time (RTT), improves the Maximum TCP, and has a positive impact on your connection speed
– Multi-hop Double VPN
Hide.me VPN also offers the double VPN feature that adds an extra layer of security and encryption while you browse the web. The multi-hop double VPN feature allows you to select an entry and exit server, securing your connection with multiple VPN servers. This feature is all about avoiding censorship and surveillance and improving browsing speed. However, it's best to use this feature when you want additional security because since it encrypts the data twice, this slows down the speed.
Streaming and Torrenting
A VPN is the perfect solution for getting around issues with streaming and torrenting. A compatible VPN hides your IP address and encrypts the data traffic making it impossible for anyone to learn about your streaming and downloading activities. Besides this, the VPN also offers some advanced features that result in a seamless experience; hence, always use a VPN like Hide.me for streaming and downloading torrents.
– Compatible Streaming Platforms
Hide.me is one of the best choices to use when it comes to watching blocked streaming content. The VPN enables users to unblock the streaming content from all popular streaming platforms, including:
Amazon Prime
BBC iPlayer
Crackle
Hulu
Netflix
Disney channels
HBO Go
Hulu
DAZN
Kodi
YouTube
Besides this, with Hide.me VPN, you can watch your favorite sporting event or matches like football, hockey, or basketball on Sky Go. It offers streaming servers that enhance the streaming experience. You can use the OpenVPN protocol (TCP port) for unblocking the streaming content because it disguises your VPN traffic as HTTPS traffic and helps in defeating censorship. Plus, the VPN uses the stealth guard feature that helps bypass censorship and enables you to access the blocked content from anywhere.
Hide.me VPN fulfills all your entertainment needs. But if you're using the free VPN version, you won't enjoy a seamless streaming experience. In the free version, you only get 10 GB of data each month; though streaming is allowed, you won't be able to watch your favorite streaming content because of limited data allowance and server access.
– Is hide.me VPN Good For Torrenting?
Hide.me VPN is an excellent option for downloading torrents from anywhere. The VPN allows torrenting in free and premium versions. But, as in the free version, the data limit is 10 Gb per month, and you also have access to servers in four locations; hence you can encounter speed issues.
But if you've subscribed to the premium version, Hide.me won't disappoint you during torrenting. The VPN supports torrenting on all servers, excluding the streaming ones. It protects from IP leaks and doesn't store any torrent-related traffic, making it the most suitable VPN for torrenting. You can also enable the Stealth Guard feature to increase your security levels during the entire downloading process. This feature maintains security and also improves your downloading speed during torrenting.
Moreover, it also uses various torrent-specific features that improve your downloading experience. For instance, the VPN provider offers a split tunneling feature that improves downloading speed. Also, the VPN uses a kill switch feature that protects your IP address from accidental leaks. Hide.me VPN offers a free SOCKS5 proxy for a fast and smooth downloading process. But the proxy offers no encryption and routes your data traffic via intermediary VPN servers, so you must connect to the VPN to use it.
– How Fast Is hide.me VPN?
Hide.me VPN provides fast connection speeds across all servers. The VPN provider offers blazing-fast speed on short distances. However, you can sometimes experience connection drops while connecting to long-distance servers. To balance things, you can configure your protocol settings. You can choose WireGuard, OpenVPN, and SoftEther protocols that ensure reliable and consistently fast browsing and downloading speeds. Also, you can use the IKEv2 protocol on mobile devices to enjoy stable internet speeds.
Hide.me VPN leaves a good impression regarding speed and reliability. You have various options to select from and can enjoy uninterrupted connections. As the VPN offers streaming servers, you won't experience significant connection drops while streaming your favorite content. In contrast, during torrenting and browsing, the speeds can sometimes be disappointing.
User-Friendliness
Hide.me VPN offers user-friendly apps that are easy to download and install. The VPN provides dedicated and simple apps for all major platforms like Android, Apple, Linux, and Windows. You can download the apps from the app stores. These apps also have great customization features that ensure a hassle-free user experience.
– The Number of Servers hide.me VPN Provides
Hide.me VPN has servers spread worldwide, claiming that all the servers are security-hardened and self-maintained. The VPN consists of 2100+ servers in more than 77 locations. You can find servers in Asia, the Pacific, America, and several European countries and enjoy uninterrupted browsing, downloading, and browsing experience. The VPN lets you select a server randomly or add any of them to your favorite list. The app also tells about the best/preferred location and best servers for streaming.
Each server supports a range of tunneling protocols, including OpenVPN, WireGuard, SSTP, SoftEther, and IKEv2/IPSec. In addition, each server stores sensitive cryptographic keys in temporary storage to reduce the attack surface. The servers don't hold your online data and activities on their servers. Hence, you can enjoy the fastest and most secure connections with the best server location.
– How Good is hide.me VPN Customer Support?
Hide.me VPN doesn't leave the users in their hour of need. You can always find a solution to your problems by contacting the customer support team members. The VPN offers various modes by which you can remain in touch with the support team. If you're in a hurry and want instantaneous replies, you can use the 24/7 live chat option. However, the live chat feature is quite misleading. Upon clicking on the live chat feature, it asks for your name, email address, and query, and when you submit it, it gives a message that the support team will contact you shortly. When a message was sent inquiring about streaming and P2P servers, the team responded within 10-20 minutes.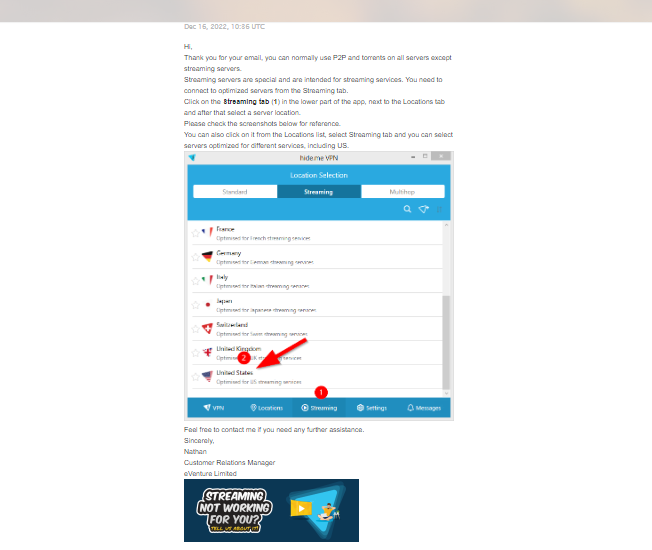 The above screenshot makes it clear that the support team is knowledgeable and correctly addresses the users' queries. Furthermore, you can even submit a ticket to connect with the support team to resolve your issues. The VPN provider's website is also full of valuable, comprehensive resources. A separate help section offers help regarding account setup, connection guides, apps and devices guides, and other issues. Moreover, you can also find FAQs and blogs that inform you about the latest development and answer common questions that users usually have. You can join the community forum to connect with experts and other Hide.me VPN users.
Though the VPN provider offers various options to assist the users still, it would be best if it works on improving the live chat feature.
– What Devices Is hide.me VPN Compatible With?
The VPN provider offers multiple device compatibility features. You can download and install the VPN with a single click on a range of supported devices, including:
Android
Fedora 24+
iOS
MacOS
Linux
Routers
Windows
Besides this, the VPN offers great compatibility with smart TVs like the Amazon Fire TV. Also, it is among the few VPN providers you can even use on BlackBerry phones. However, as the VPN lacks the SmartDNS Play feature, you can't use the VPN on streaming devices and gaming consoles.
FAQs
How many simultaneous device connections does Hide.me VPN allow? 
The number of simultaneous device connections varies according to the VPN version. Suppose you're using the free version of Hide.me VPN; then you are allowed to connect to a single device. But if you're subscribed to the paid plan, you can connect up to ten multiple-device connections on all supported devices. But do remember that more devices can result in slower speed, so keep the connection per five or six devices. 
Does Hide.me VPN offer a free trial? 
Instead of offering a free trial period, the VPN provider offers a free version that you can use without making payments or sharing any payment information. You can start using the VPN's service by signing up for an account. 
Does Hide.me VPN offer a refund policy? 
All the paid versions are backed with a risk-free 30-day money-back guarantee offer. If, after subscribing to the VPN's services, you're not satisfied with its performance or features, you can request a full refund within the initial 30 days of the purchase. You can drop an email or contact the support team via the live chat feature, and you'll get the refund money without being questioned. 
Is the free version of Hide.me VPN worth using? 
Hide.me VPN is also among those providers offering a free and premium subscription plan. The free Hide.me VPN provider secures your data with strong encryption. But since it comes with significant limitations and doesn't allow you to access all the features or perform certain activities. In short, with the free version, you can't enjoy a fantastic user experience. Here are the drawbacks of the free version of Hide.me VPN: 

– It offers 10 GB of data per month. If your prime purpose for using a VPN is streaming and downloading, the allocated data isn't enough to carry out these activities. 
– You have limited server network access meaning you can't access the entire server network. You can only connect to servers at five locations. This sometimes makes it difficult to establish a quick and stable connection. 
– Unlike in the premium version, you can connect to one device. This means other people within your family can't benefit from the VPN's service. 
– You won't access advanced features like port forwarding, streaming support, and fixed IP addresses. 

All these issues can't guarantee a good user experience. Thus, for a better user experience, use the premium plan. 

How much does Hide.me VPN cost? 
Hide.me VPN costs not much in your pockets if you buy their service for an extended time. The VPN offers free and three different premium packages, and here's an insight into it: 

– $9.95/m on a one-month plan
– $3.00/m on a 15-month plan
– $5.82/m on a 6-monthly plan 

Choosing a plan for 15 monthly is pretty affordable and worthy of use. 
Which payment method does Hide.me accept? 
Hide.me VPN allows users to buy their services by accepting various payment methods. You can pay via credit cards, PayPal, bank transfer, SEPA, and SOFORT. Moreover, the VPN accepts payments via cryptocurrency which helps users' keep their identity anonymous while purchasing their service. 
Does Hide.me offer a browser extension? 
Hide.me offers browser extension or free proxy for Google Chrome, Microsoft Edge, and Mozilla Firefox. You can get the browser extension simply without requiring the sign-up process. The free proxy service has no bandwidth limit and is a good way to prevent WebRTC leaks and access the blocked sites. Also, it hides your IP address and location but offers zero encryption, so you can't use it for a long time. 
Final Verdict
Hide.me VPN offers a great deal of security and privacy by effectively hiding your IP address, encrypting the data traffic, and using secure VPN protocols for transferring the data packets safely and quickly. It provides the best entertainment, works on various streaming platforms like Netflix and BBC iPlayer and lets you unblock and watch your favorite streaming content.
The VPN provider is a private and safe VPN to use, thanks to its jurisdiction and zero-logging policy. Furthermore, the VPN allows you to download torrents at a decent speed. However, the VPN needs to consider expanding its server network to compete with other top-tier VPN providers in this area and improve speeds on long-distance servers.
All in all, using Hide.me VPN is not wrong, but make sure you use the paid version.