Internet-hassle for hola VPN and confusing debate for hola safety forced me to hatch a detailed hola review.
I have joined many communities for VPN user experiences and asked professionals about their recommendations.
The Internet is full of privacy-destructing news like;
The recent "Hola VPN hijack via MyEtherWallet cryptocurrency" and the news of user bandwidth selling by Hola VPN greatly deflected users from using Hola VPN.
Let's dig deep and find out!
Most of the best VPN providers use different virtual servers from different countries. The servers actually got the bandwidth to assign users and to allow them to put their traffic to the encrypted tunnel.
In the case of Hola VPN, they use a peer-to-peer connection with their users or installers. It's like Torrenting, where many seeders use each other files parts and partially download.
Confused?
You can get a good idea of the P2P process by skimming "How Torrenting Works."
Let's move to the hola VPN aspects for which people are most confused.
Is Hola totally free?
Hola VPN is commonly used as a free service, and it is not different from many free VPNs.
Thinking why?
Like most free VPNs, hola VPN also has premium service, and the free version is used as a strong tool to convert free VPN users to the premium version.
Here are the striking differences between the free Hola VPN and Hola Plus (premium)
In the free version, you are a peer, which means that instead of being connected to a server, your signals are being tunneled through the connection of its users. But, in paid service of Hola VPN, you can use Hola VPN without sharing your unused resource with the network.

Not just this!
Hola VPN uses its free subscribers as a botnet and sells it to its paid customers for an extra $20 GB.
As I experienced, the Hola Plus service is faster than the free version. This is mainly for user conversation from free to premium, which could be witnessed in most VPNs with free versions.
Some general differences between Hola Free service and hola plus are;
Premium provides a simultaneous connection to 10 devices.
30+ IPs all around the world
Faster IP change
Is Hola safe to use?
Safety is a prominent reason for why people opt a VPN.
But!
What if a VPN company itself reports or accepts the privacy compromise? Nobody will ever select such VPN. About six months ago, in July 2018, the Hola VPN blog started the hacking Chrome extension of Hola VPN.
But as a familiar gesture, the Hola team reported it more lightly, highlighting their attempts and notion towards the security patch-up.
However, I can never trust a compromised VPN without complete confirmation of privacy and security. While searching for the Hola VPN safety, I witnessed various news reports the data leaks and vulnerability exploitation.
At that moment, I wondered if Hola VPN management had also claimed the security patch when the first news surfaced on the internet, but the privacy concerns were raised again. Then, is there a guarantee that this is the last news of unsafety?
Does Hola keep logs?
Hola VPN doesn't support a strict no-log policy. Also, they don't claim that they do log but digging deep into the details of their privacy policy exposed many hidden policies.
They log a lot of information!
But this is obvious in many free VPNs, so this doesn't surprise me. But, most VPNs mask their policy with excuses like; the data collection is for enhancing the user experience, etc.
The VPN's privacy policy has a lot of information, and most people avoid reading it. That's what provides more chances to free VPNs.
But you don't need to worry.
I have thoroughly reviewed the Hola VPN privacy policy and found much that could concern you too.
Let's have a look.
First, they log your activity, the browser you are using, and how much time you spend on every page. Almost the same stuff is allowed to ISPs in FCC's new net-neutrality regulation, and people are mad about it since they are approved.

Moreover, Hola VPN states in the personal information section that they keep your email address, your name, and the eye-opener is your IP address too. This particular clause makes me think that what is the use of having a VPN then?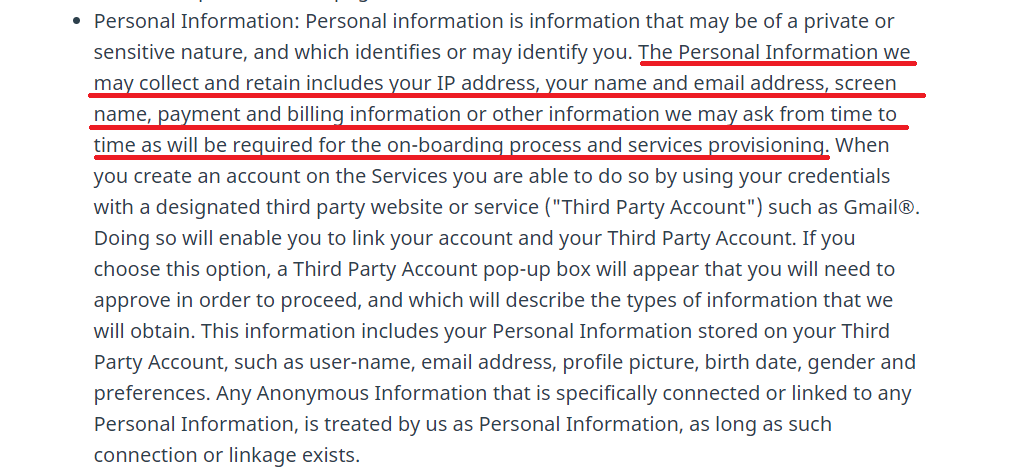 You must be thinking that there could be nothing else more devastating. But there is.
Hola VPN shares your information too.
Shocking?
The Hola VPN privacy policy shocked me too, when they shared my personal information then what is left? As stated, they share information with the "subsidiaries and affiliated companies," but they haven't specified who these entities are. Even if Hola VPN specifies it, the concern remains that some of my sensitive data is kept and shared with third-party, no matter who they are.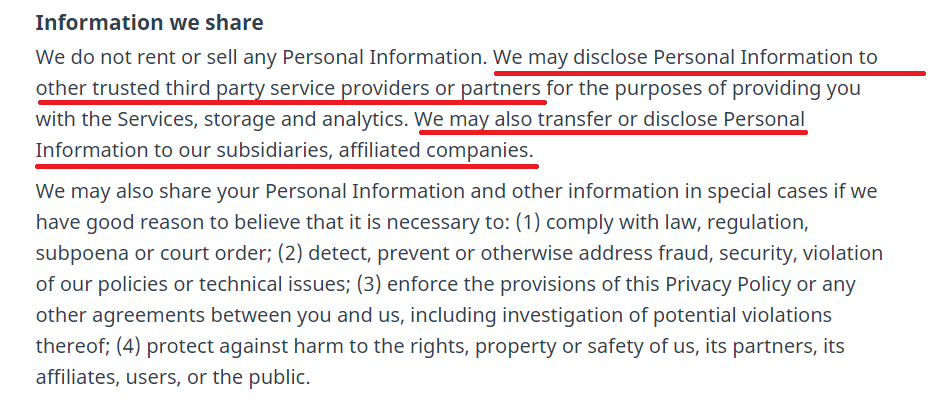 As I said before, despite having such intrusive privacy clauses, many free VPNs claim that they never collect, share, or store user information. While Hola VPN review, I found similar claims.
Here is an example.

This is a claim I found in the Hola VPN FAQ section. So, these things confuse individuals, and they consider free VPN safe. But, when there is a serious issue, most free VPNs shield themselves with the declaration they have made in their privacy policy.
A product user review on Reddit
I consider Reddit a platform where anybody can get an authentic and first-hand user review. Therefore, I headed to the site for the Hola VPN review from the user's perspective.
Surprisingly, there were numerous questions, discussions, news, and experiences regarding hola VPN, and going through every comment took a lot of time.
But I could safely say that most comments suggest staying away and not using Hola VPN.
Here are some examples.
Hola VPN, sharing my negative experience from r/pcmasterrace
There are some detailed opinions too.
Card

5 Best Hola Alternatives to Use
Why are most users searching for hola alternatives? They could also search for the best VPN. The probable reason is that there are some efficient features of Hola VPN that users don't want to lose.
These features compel users to get an alternative and privacy compromised due to Hola VPN.
Let's have a deep look at Hola VPN alternatives.
Some trusted, free VPN services will give you better security and privacy, unlike Hola.
1. DotVPN
DotVPN is one of the most popular VPN extensions and an epic solution for those questing for Hola alternatives. This VPN invaded the internet in 2014 and has gained an immense response from internet users. DotVPN has almost 10 million downloads from countries all over the world.
There are certain benefits for which users mainly consider DotVPN;
Unlimited bandwidth can be highly beneficial while downloading and streaming heavy content.
Vast Server coverage with unlimited switching can improve the chances of unblocking content by continuously connecting the servers until you successfully unblock your wanted content.
Easy to Use DotVPN is extremely helpful for internet users, especially those new to VPN technology.
Features like Free TOR inside an Integrated Firewall add extra protection to your internet browsing.
DotVPN is available for download on Chrome, Firefox, and Opera browsers. It encrypts the user traffic with a 4096-bit key, which is double-strength banking standards. Therefore, it is an intelligent choice for anonymous browsing and unblocking content.
2. BetternetVPN
Betternet is a VPN extension previously available for mobile use but could be downloaded as an add-on to Chrome, Firefox, and an app for Windows. You can get certain benefits through betternetVPN, which are either inefficient or utterly absent in Hola VPN. Therefore, BetternetVPN is also among the best options for the Hola alternatives.
No Data Limits with Betternet VPN gives its users great exposure and satisfaction while downloading and streaming content that requires vast amounts of data. With many VPNs, users face annoying restrictions which limit them to a certain usage level.
Anonymity with an Unshared IP address is the most significant advantage you could not get by opting for the HolaVPN extension. The users have complete anonymity with an unshared password and zero log policy.
One tap connection is possible through a connection switch that you get on your browser after downloading BetternetVPN. Therefore, it's a highly easy-to-use VPN service.
It is a VPN extension that can be downloaded on Chrome and Firefox browsers. It also supports most platforms like Windows, Mac, iOS, and Android.
3. Windscribe VPN
If you want a free VPN service with features equivalent to a paid one, then Windscribe is a robust choice as a Hola alternative. The exquisite features that are offered by the Windscribe VPN are;
10 GB data is a considerable amount of data limit from the Windscribe VPN through which you can experience tension-free internet browsing.
Block ads, Web trackers, and Beacons on websites you use daily. This could immensely enhance your browsing experience as extensive intrusive ads ruin web surfing.
DNS protector and Kill switch are the extra and advanced features of the Windscribe VPN.
Link is a unique feature through which a user can check the number of trackers that exists on a particular website.
Windscribe VPN is compatible with all popular Android, iOS, Linux, Windows, and Mac devices. However, a downside of Windscribe VPN is that they restrict the number of servers for the free service users.
Windscribe could be downloaded as an extension to Chrome and Firefox browsers.
4. Zenmate VPN
According to its features and as the website claims, Zenmate VPN is a complete cyber solution for VPN seekers. It is an appropriate Hola alternative that offers secure and private access to the content you love. That is why it has gained a huge number of users, more than 40 million from all over the globe.
A huge Server network is amazingly helpful for users and provides them with more excellent options for unblocking content and access to restricted sites. Also, Zenmate VPN allows customers to opt for the server of their choice.
Zenmate VPN protects you against third-party marketers and trackers, which evade the chances of getting various target ads.
Protects from IP, DNS, and WebRTC leaks are available with a few VPN providers.
Zenmate also has a malware blocker that protects you from possible vulnerabilities and cyber attacks. However, there are just four VPN servers to choose from if you are a free VPN customer.
You can get Zenmate for Chrome, Firefox, and Opera.
5. TunnelBear VPN
TunnelBear VPN is a VPN service with efficient security features that accommodate the most recommended Hola alternatives. This VPN extension has the edge over HolaVPN due to some of the benefits users get through it.
AES 256-bit encryption is the most protected and advanced encrypting protocol for data protection. Therefore, there is the lowest possible risk to your data traffic.
Efficient speed is another core feature that makes a VPN worth considering. You could stream content without facing annoying interruptions.
It's a User-Friendly VPN service, and users can handle it quickly, especially those who avoid prolonged connection processes.
Users have a vast option for selecting servers from 20 countries by their own choice. This means that unblocking becomes more convenient and easy with almost every content.
There are over 40 million users all over the world who have acquired TunnelBear VPN for their browsers. It supports almost all the devices, such as Windows, Mac, iOS, Android, Smart TVs, Apple TV, Chromecast, and Ruko.
You could download TunnelBear VPN into your Chrome and Opera browsers.
You must be considering one from Hola Alternatives
Through knowing all these facts, you must have decided to opt for one of the Hola alternatives. People already using Hola VPN might not have experienced such stuff due to their VPN usage, or their issue could not be judged, such as bandwidth selling or IP usage.
Most of the Hola alternatives discussed in this article are VPN extensions, but they provide satisfactory services. However, individuals looking for a complete package with robust security, smooth streaming, lightning speed, unlimited data usage, torrenting, and much more must opt for a total pledges VPN provider such as ExpressVPN, CyberGhost VPN, or NordVPN.
However, buying a product by investing just a few cents instead of being a product yourself is better.
Share this article
About the Author
Rebecca James is an IT consultant with forward thinking approach toward developing IT infrastructures of SMEs. She writes to engage with individuals and raise awareness of digital security, privacy, and better IT infrastructure.
More from Rebecca James
Related Posts