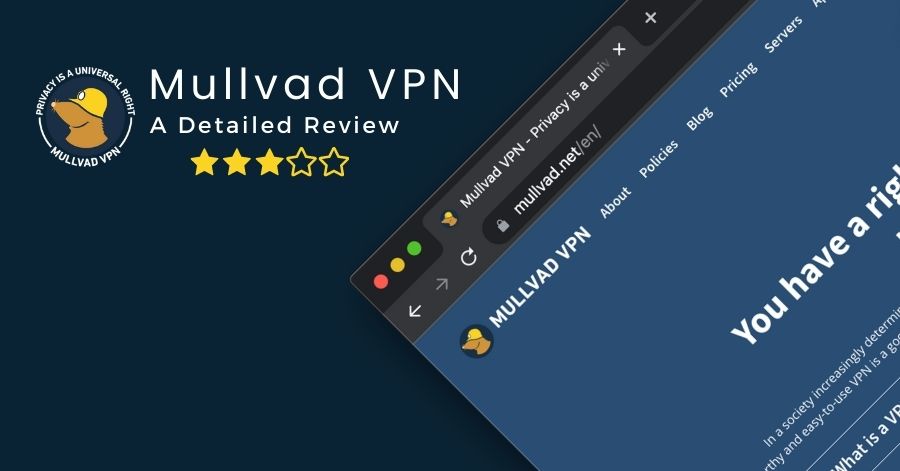 Allows anonymous payments
30 Days Refund Policy
Mullvad VPN is a beginner VPN that focuses on boosting digital privacy and security and is pretty good at doing its job. It's a safe VPN that uses industry-standard protections and is well-rounded with advanced security and privacy-boosting features.
Like the top-rated VPN providers that care about users' privacy and prevent logging their sensitive data, Mullvad VPN is also on that list. However, the VPN's jurisdiction, Sweden, poses a big question mark on its reputation.
People, for this reason, avoid using it despite being a pocket-friendly VPN. Do the Swedish laws force Mullvad VPN to retain and share users' data? The best available way was to review Mullvad VPN to resolve this query. Before starting the detailed Mullvad VPN review, let's have a quick overview of the VPN and its features:
Security and Privacy:
Log Policy
Follows a no-log policy with security and infrastructure audit reports
Security Features
ShadowSOCKS5 proxy
Bridge Mode
Ad, malware, and tracker blocker
Custom DNS server
IPV6 leak support
Multihopping
Port forwarding
Streaming and Torrenting
List of Compatible Streaming Platforms
Unreliable on all streaming platforms
User-friendliness
No. of Servers
800+ servers in 38 countries
Pricing
€5/m on a one month plan
€5/m on a yearly plan
€5 on a decade plan
Customer Support
Email Support
Online Resources
Compatible Devices
Android
iOS
MacOS
Linux
Windows
The table above isn't enough to answer a long list of queries that you might have in your mind. Hence, let's start testing and reviewing Mullvad VPN.
Security and Privacy
The best VPN won't ever compromise your online security and privacy. Such a VPN provides the utmost level of protection by using strong encryption ciphers and protocols. It conceals your actual IP address and prevents storing any data related to your online activities. In addition, it belongs to a privacy-friendly jurisdiction and undergoes a security and log audit process to prove that they're honest with its claims. It is, therefore, crucial to never overlook these aspects while choosing a VPN.
– What Type Of Encryption does Mullvad VPN Use?
Mullvad VPN uses the secure AES-256 bit encryption for safeguarding your data traffic from privacy invaders. The AES-256 is the highest encryption standard; by no means the threat actors can break it and intercept your online communication. Hence, your data remains protected from third parties.
– Jurisdiction of Mullvad VPN
Mullvad VPN has its jurisdiction in Sweden, and it's not an ideal jurisdiction for privacy-conscious people. The country is an EU country and must follow the EU's General Data Protection Regulations laws.
Moreover, Sweden is among the 14 eyes alliance countries and, by a signed agreement, is bound to share the users' browsing data with other allies.
But, what's interesting, in Sweden, according to the Electronic Communication Act (2003:389), VPN providers are not part of the electronic communication networks or services. Hence, any data logging rules are not applicable.
– Logging Policy – Does it Keep Logs?
Mullvad VPN works with the mission to keep you anonymous when you're using its service. The VPN, according to its privacy policy, claims to be a zero-log VPN and prevents keeping data logs and other sensitive data that might reveal your true identity. It never records any activity or metadata and ensures that you browse the web privately.
While signing up for an account, the VPN provider doesn't ask you about any personal information such as your username, password, or email address. The users are assigned a random account number which is the only identifier of the person to use the Mullvad account.
Mullvad VPN doesn't look like it is a truly no-log VPN at some point in the privacy policy.
But since, since the company has reasoned their actions that they collect the payment information to pay refunds and for accounting purposes, it is something not to be worried about.
Mullvad VPN has undergone several external independent security and infrastructure audits that prove it is a trustworthy VPN provider. The VPN was last audited by the famous audit firm Cure53 in January 2021. The company performed its infrastructure audit and found that the VPN wasn't collecting or sharing any personally identifiable information or major privacy leaks.
The VPN provider has also audited its apps and OpenVPN protocol. If you want to know more about these audits, follow this link.
– Which Tunneling Protocols Does it offer?
Mullvad VPN uses secure tunneling protocols for maintaining data security. The VPN supports two protocols:
Both are reliable, strong, fast, and guarantee maximum web protection.
The WireGuard protocol is the latest open-source protocol that offers the best performance in terms of speed. Since the protocol comprises smaller code baselines and consumes less bandwidth, it provides much improved downloading and uploading speed than other traditional VPN protocols. The VPN protocol also ensures a higher level of safety by using strong encryption ciphers like ChaCha20 and Blowfish. Mullvad VPN uses the standard Linux kernel implementation when available or the wireguard.go.
The VPN also implements the OpenVPN protocol, yet another open-source protocol, and is free from significant vulnerabilities. It utilizes the SSL/TLS libraries and AES-256 bit encryption for encrypting the data traffic. Though OpenVPN protocol speed is not as fast as WireGuard protocol, it gets on the top in providing a top-notch level of security.
You can either choose the protocol according to your preference. Go to advanced and select the OpenVPN or WireGuard protocol; otherwise, the VPN provider will automatically select the protocol.
– How good is mullvad VPN in bypassing Censorship?
A crucial reason for using a VPN is to circumvent internet censorship and browse the web freely. Mullvad VPN allows such freedom to its users. It uses the SOCKS5 proxy that hides your IP address and allows you to access blocked sites and services like Facebook, Twitter, and Skype.
Moreover, the VPN provider offers a Bridge Mode, the obfuscation technology used to get around internet blocks in China, Russia, and Turkey. It works by first connecting you to Mullvad Bridge servers and then connecting you to the country where you want to bypass the web blocks.
However, the bridge mode works perfectly well in countries with less censorship technology like the UAE.
Past History of mullvad VPN
Mullvad VPN is a private VPN owned by a Swedish company called Amagicom AB. Since the company was established in 2009, there are no bad track records proving that the VPN provider is capable enough to protect and maintain users' privacy.
Any Extra Privacy and Security Features by mullvad VPN?
The VPN provider with a range of extra privacy and security boosting features is more reliable than those that lack these features. A fully featured packed VPN provider by utilizing these features guarantees a better and much-improved user experience and a higher level of online protection.
– ShadowSOCKS5 Proxy
shadowsocks is an open-source protocol designed to bypass censorship. The internet firewalls cannot detect the VPN feature when using it because it uses HTTPS, disguising your traffic as regular internet traffic. Hence, it's the most preferred choice of users living in censored countries. Moreover, since it is light in weight, it improves speed, a feature that significantly helps users while downloading torrents.
You can only use this feature when the bridge mode is enabled because it works only on the Bridge servers. When enabled, your internet traffic will first go through the bridge servers and then the exit server of your choice. Also, make sure to use this feature in a combination of VPNs to keep your data and activities private.
– Bridge Mode
Bridge mode is Mullvad VPN's anti-censorship feature that merges two or more networks. This feature is useful when connected to the multihop servers or using the ShadowSOCKS5 proxy. Also, you can use it to improve latency and increase your digital privacy.
To enable this feature and to bypass censorship, go to Settings > Advanced > OpenVPN > OpenVPN settings > Bridge Mode > Tap to turn it on. You can select the entry and exit locations from the location list. However, the bridge mode is currently not available for mobile apps. But, if you're an Android user, you can use the ShadowSOCKS5 apps with the OpenVPN app to use the bridge mode.
– Multihopping
With Mullvad VPN's multi hopping feature, it's easier to increase online privacy for Linux and WireGuard users. With this feature, your internet traffic passes via more than one server, and each time re-encrypts it and assigns you a different IP address. It adds an extra layer of protection by routing your internet traffic via two or more servers in two separate jurisdictions and even provides greater privacy and security.
The multi hopping feature is available on Linux, Windows, and MacOS apps. To enable this feature, go to Settings > Advanced > WireGuard settings > Enable multihop. Like bridge mode, you can select the entry and exit locations.
– Custom DNS Server
Mullvad VPN also offers support for custom DNS servers for Android and Windows devices. It is an excellent feature for blocking adverts and trackers from invading and disturbing your browsing activities. Also, you can use this feature to filter out harmful websites that might risk your digital privacy.
Since DNS servers are your browser's first point of contact regardless of what website you visit on the internet. In other words, your DNS server has knowledge regarding every website you visit, every file you download, and every image, including ads or videos that are present on the webpage you visit. The matter becomes particularly alarming as most DNS servers are owned by ISP or other big companies that work alongside ISPs and might share their database. As ISPs have long since been practicing a gross abuse of user privacy, this DNS leak ultimately leads to a significant cause for concerns regarding online privacy and security.
Therefore, to mitigate these risks, Mullvad VPN offers custom DNS servers, due to which all of your DNS requests get rerouted to their non-logging DNS resolvers instead of ISP or public DNS providers. You can quickly turn on their feature by Going to Settings > Advanced > Enable the custom DNS server to enable this setting.
– Ad, Malware, and Tracker Blocker
Online trackers and ads irritate you the most while browsing the web. They somehow invade your privacy and even collect information about your browsing activities. While some might infect your device with spyware or malware and compromise your device security. Mullvad VPN apps offer the ad, malware, and trackers blocking feature to block ads, malware, and trackers from recording your browsing activities. This feature also saves your mobile bandwidth and helps in improving the page loading speed.
The ad and tracker blocking feature is available in all Mullvad VPN apps, but you have to set it up manually if you're using it on Android.
– Port Forwarding
Mullvad VPN is among those VPN providers that offer the port forwarding feature. With this feature, you can enable the remote computers to access a specific service or computer with the private LAN. It also proves to be handy when setting up a gaming server. Besides this, you can also use the Mullvad VPN's port forwarding feature to improve your downloading speed and get around NAT firewalls.
However, since the port forwarding feature brings some risks, like allowing unwanted connections to access your device, it is better to use it only when needed.
Overall, Mullvad VPN possesses great features that result in improved security and privacy.
Streaming and Torrenting
It's crucial to use the best VPN to download torrents and access the blocked streaming content. Besides encrypting and masking your online identity, VPN providers are equipped with advanced features that prevent the security and privacy issues related to streaming and torrenting and ensure an improved experience.
– Compatible Streaming Platforms
Mullvad VPN is not an ideal choice for streaming. Though it works on YouTube, it's pretty unreliable to use on other popular streaming platforms like Netflix, BBC iPlayer, Amazon Prime, DAZN, and Hulu. In fact, users on Reddit also criticized the Mullvad VPN for not being a suitable VPN for Netflix. However, it does allow you to watch the streaming content on Netflix on selected servers like Japan.
If you're using Mullvad VPN to access the geo-blocked content, you should look for other reliable options.
– Is mullvad VPN Good For Torrenting?
Mullvad VPN is another option that you can consider for downloading torrents. With the kill switch and IP leak protection feature, the VPN ensures that your IP address doesn't get exposed during torrenting. The VPN also doesn't log any of your data related to P2P file-sharing activities and guarantees that your activities remain private and hidden.
Besides this, Mullvad VPN offers the split tunneling and ShadowSOCKS5 proxy feature that ensures a safe and hassle-free downloading experience.
– How Fast Is mullvad VPN?
Mullvad VPN offers fast and reliable connection speeds when connected to both OpenVPN and WireGuard protocols. Both protocols are designed for fast speed, resulting in fewer connection lags. However, WireGuard speed is much faster than OpenVPN. But, if you're using Mullvad VPN for bypassing censorship, then OpenVPN can offer better protection and speed with the TCP port.
You can also improve the speed while switching to different servers. The VPN provider offers a small server network comprising 800+ server networks. Since the server speed varies at different times of day, you can boost your connection speeds by switching servers. However, to compete with the fastest VPN provider, it's better if Mullvad VPN considers expanding its server network.
Furthermore, Mullvad VPN speeds don't significantly drop while browsing, and while torrenting and streaming, the speed is expected to rise by 10-15% more than provided by your ISP.
User-Friendliness
Mullvad VPN offers dedicated apps for all desktop and mobile devices. These apps are user-friendly and easy to use, but they differ in functionality and available features. You can download the apps from the Mullvad VPN's website or the app store.
Each Mullvad VPN app has an impressive auto-connect and local network sharing feature. Also, you can report a problem about a bug or vulnerability by simply going to the settings option and finding the report a problem option. However, this feature isn't available if you're an iOS user.
– The Number of Servers mullvad VPN Provides
Mullvad VPN offers more than 800 servers in 38 countries. These servers are fully encrypted and are either owned by the VPN or are rented servers. The servers that the VPN owns are much more secure and faster than the rented servers. The rented servers are not shared with anyone else. You can find Mullvad VPN's servers in all major cities like:
Australia
Canada
France
Germany
Japan
UK
US
Since Mullvad VPN has a physical server network, that's the main reason why there are few countries to connect. Compared to other top-ranked VPN providers, Mullvad VPN's server network is pretty minimal and thus impacts the performance when trying to establish a connection.
– How Good is mullvad VPN Customer Support?
If you experience any issue while using any Mullvad VPN apps, its customer support team is always there to assist you. You can contact the customer support team via email or reach out on Twitter and Facebook. The VPN also offers great help with its online resources and help center available on the website. Here you can find FAQs, troubleshooting, setup guides, and blog posts. Also, the VPN has a YouTube channel that also helps you immensely in the setup process.
Another much-appreciated thing about Mullvad VPN customer support is that you can easily change the language of Mullvad VPN apps. The VPN offers support in 20 languages making it easier for people to use it from anywhere without facing any language barrier.
Mullvad VPN offers a good range of online material to help users; however, its customer support is certainly not the best when compared. It's mainly because the VPN lacks the 24/7 live chat option. Thus, if you're looking for quick and instant replies, then it won't be happening while using the Mullvad VPN.
– What Devices Is mullvad VPN Compatible With?
Mullvad VPN is compatible with Android, iOS, MacOS, Linux, and Windows devices. All the apps look similar, but the settings options and available features might differ. One disappointing thing about Mullvad VPN is that you can't install them on streaming devices and gaming consoles. It lacks the Smart DNS feature and won't offer any support to provide a seamless streaming experience.
FAQs
How many simultaneous connections does Mullvad VPN offer?
Mullvad VPN allows up to five simultaneous device connections with a single subscription account. 
Is Mullvad VPN better than NordVPN?
NordVPN ranks among the top-rated VPN providers and outweighs Mullvad VPN in accessing blocked streaming content. Both VPNs utilize strong encryption and protocols to protect your data and online activities from snooping eyes. But, NordVPN is super-fast, has an extensive server network, and is a highly user-friendly VPN. Hence NordVPN is a better option to use than Mullvad VPN.
Does Mullvad VPN block ads?
You can get rid of pop-up ads and social and analytics trackers by enabling the ad and tracker blocking feature. Mullvad VPN offers ad and tracker blocking service on all its servers. By blocking the intrusive ads and trackers, you can have some peace of mind and continue browsing the web with complete anonymity. 
Does Mullvad VPN offer a free trial period?
Mullvad VPN doesn't offer any free trial or demo period to test its features and services. Instead, the VPN's premium subscription plans are backed with a 30-days money-back guarantee offer. In other words, if you want to first test the VPN for its features and performance, you must buy the premium service. If you're satisfied, you can continue using the VPN, but if not, then don't worry; you can request a refund. 

However, make sure that you claim the refund during the initial 30 days of purchase. You won't be getting back the cash amount because of money-laundering regulations. If you have any queries regarding the refund policy, follow this link. 
How much does Mullvad VPN cost?
Mullvad VPN has a simplistic pricing plan. Unlike NordVPN and ExpressVPN, the VPN's prices are not too high, and you can buy them at an affordable price. Here's an insight into the fair pricing plan of Mullvad VPN:

€5/m on a one month plan
€5/m on a yearly plan
€5 on a decade plan

The VPN offers a flexible pricing plan that they haven't changed since it launched its service in 2009. But, if you think you can get the free version of Mullvad VPN, you won't. The VPN was offering a free trial version after creating your account, but since 2019, this option is no longer available now.
Which payment methods does the VPN accept?
The VPN provider accepts payment through a wide range of payment methods to assure that more and more users can subscribe to their services. You can pay via cash, credit card, PayPal, bank wire, Swish, Eps transfer, iDEAL, Bancontact, Giropay, and Przelewy24. Since the VPN provider collects your payment info, if you don't want to reveal your identity while purchasing the VPN, you also can pay via bitcoin and bitcoin cash. Also, note that if you're paying via credit card or PayPal, you have the option to set up a monthly subscription.
Final Verdict
Mullvad VPN ranks among the safest VPN providers to use. The VPN service neither keeps logs nor shares your data with the government and surveillance agencies despite belonging to a 14 eyes surveillance alliance. Moreover, it prioritizes your online anonymity by using standard encryption, secure protocols, and a range of advanced security and privacy-boosting software.
The VPN provider further improves your browsing experience by offering native and easy-to-use apps for all major platforms and devices. However, if you want to watch the blocked streaming content on Netflix, BBC iPlayer, or any other platform, you should not choose Mullvad VPN and instead use its alternatives like ProtonVPN and VyprVPN or PIA VPN.