The Private Internet Access or PIA VPN is a veteran VPN having more than ten years of experience in the industry. However, the VPN's parent company is Kape Technologies, which has connections with distributing malware, raising privacy concerns.
Also, the CTO of the company is a convicted cryptocurrency criminal. PIA VPN also belongs to the US jurisdiction, which is an active part of the 5, 9, and 14 Eyes alliance and doesn't value users' digital privacy. Such incidents have made users question the VPN's credibility, which is only answerable through a detailed PIA VPN review.
Despite having a shady record, the VPN prioritizes all users' security, privacy, and internet freedom. They promise to keep you safe and anonymous online. Thus, PIA VPN is fully packed with advanced features that help in enhancing your digital privacy and security. The following table gives you more insight into the PIA VPN features:
Security and Privacy:

Encryption
AES-128 GCM
AES-256 GCM
RSA-4096 handshake encryption ciphers

Jurisdiction

Log Policy
Follows a no-log policy but keeps some information

Security Features
Network Kill switch
Split tunneling
Private DNS
PIA Mac
Port Forwarding
Dedicated IP address
Anti-virus protection
SOCKS5
In-Browser
Streaming and Torrenting

List of Compatible Streaming Platforms
Amazon Prime Video
BBC iPlayer
Disney Plus
CBC
Hulu
France TV
YouTube
Netflix

List of Torrenting Features
Split tunneling
Torrent IP leak protection
SOCKS5
Port Forwarding
User-friendliness

No. of Servers
Numerous next-generation servers in 8 countries

Pricing
$11.95/m on a 1-month plan
$3.33/m on a 1-year plan
$2.03/m on a 3 years+ 3 months plan

Customer Support
Live chat support
Email ticket
Online resources
Community forums

Compatible Devices
Android
iOS
macOS
Windows
Smart TV
Read the detailed PIA VPN review and gain better insight into the VPN's privacy, security, features, and if it's living up to all of its claims.
Security and Privacy
The best VPN provides users with a top-notch level of security and privacy. It hides your IP address and conceals internet traffic through robust encryption and secure tunneling protocols. Plus, a secure VPN follows a strict no-logs policy and neither tracks nor gathers data about your browsing activities. Also, a truly private and secure VPN operates from a safe jurisdiction and possesses no bad track record that raises speculations.
What type of Encryption does PIA VPN Use
PIA VPN offers the highest level of encryption and ensures no prying eye can monitor or view your data traffic. The VPN utilizes:
AES-128 or 256 GCM encryption
4096-RSA handshake key.
But the best part is you can customize the encryption level and take it to the maximum, i.e., AES-256 GCM and 4096-RSA key. You can manually select the encryption algorithm and handshake encryption to enjoy better and enhanced security.
Jurisdiction of PIA VPN
PIA VPN's jurisdiction is something that doesn't impress the users. It operates from the US, a member state of the five eyes surveillance alliance. The mandatory data retention laws and other regional laws are applicable here. Also, the ISPs do logs and share the users' data; even the government can ask them to hand over the data without users' prior knowledge.
Logging Policy – Does it Keep logs?
PIA VPN follows a strict no-log policy, meaning that they neither collect nor store your sensitive information like IP address, data logs, bandwidth usage, and browsing activities. However, the VPN stores your email address and payment information to create your user account and improve your overall service.

PIA VPN doesn't have a log audit report to prove its claims of being a no-log VPN are valid. But, the company issues transparency reports that provide a detailed insight into the number of data requests the company receives from the higher authorities.
Moreover, they have a court-proven track record of respecting and protecting users' privacy. In 2016, the FBI subpoenaed PIA and asked them to hand over user data. But, since the VPN stores no information, they had nothing to provide. The Russian authorities seized the PIA servers in the same year but found no activity or connection log.
In addition, the PIA VPN's apps are open-sourced. You can view the source code on GitHub and even contribute to making some improvements. This makes the VPN more transparent in maintaining digital privacy, but having a log audit report will further boost users' trust, so they must consider undergoing this process.
Which Tunneling protocols does it offer?
PIA VPN supports all popular VPN protocols, like:
OpenVPN
IPSec
WireGuard
Shadowsocks
The WireGuard protocol uses the advanced and latest encryption standard and efficient code, which makes it less susceptible to bugs and errors and guarantees more security than other traditional protocols. Besides this, it consumes less bandwidth and ensures a stable and fast connection. The protocol is compatible with Android, Apple, Linux, Windows, Chrome, Opera, and Firefox.
The VPN also uses the OpenVPN protocol, allowing you to choose between TCP and UDP ports. It uses TLS encryption and offers a perfect balance between speed and security. As the OpenVPN code contains 7000 lines, it's not as fast as the WireGuard protocol, but you can use it to defeat censorship.
Using the iOS app, you can enjoy a better connection with the IPSec protocol. It offers a higher level of security and transparency to the users. The VPN provider also provides a Shadowsocks protocol, an encrypted proxy that improves speeds and proves helpful while downloading torrents and bypassing internet censorship.
How good is PIA VPN at bypassing censorship?
PIA VPN doesn't offer any obfuscation technology that helps evade censorship; it's one of the few VPN providers that effectively bypass censorship and allows you to surf the web freely.
You can get around the internet restrictions by switching to the OpenVPN protocol. The OpenVPN protocol effectively circumvents censorship because it utilizes the same port as HTTPS.
Moreover, PIA VPN offers the Shadowsocks protocol that hides your online identity and helps bypass internet censorship. You can access blocked websites like Facebook or Skype in schools, colleges, and offices without the network administrator knowing. However, since it is a proxy, it won't provide encryption and is suited well for short-term use.
PIA VPN provides a stable connection in heavily restricted regions like Russia, UAE, and China. The VPN offers servers in China, Hong Kong, and Turkey, making it easy to use the internet without any restrictions. However, the lack of obfuscation technology results in an inconsistent user experience.
Extra privacy and security features by PIA VPN
PIA VPN offers impressive features that ensure maximum online protection on the web. It uses an active kill switch that protects your IP address from leaking when the VPN connection drops for any reason. Moreover, the VPN protects from VPN leaks like IP, DNS, and WebRTC leaks and further boosts your digital security levels. It also allows the users to control their VPN traffic via the advanced split tunneling feature (available on Android and desktop versions) to decide which apps and activities they want to route via the VPN server.
Besides this, PIA VPN offers a range of additional features that are advantageous to all users. Here's an insight into the extra privacy and security features provided by PIA VPN and how they help the user:
PIA MACE
PIA VPN offers an impressive ad-blocker feature known as MACE. This feature detects ads and blocks pop-up and video ads so they can't appear and interrupt your browsing experience. It identifies and blocks trackers and malicious sites that might infect your device with malware. Also, it works on the DNS level to stop intrusive ads or scripts from loading or making tracking requests.
Besides blocking annoying ads, this feature hides your IP address and helps evade data-logging practices. The PIA MACE feature works on MacOS, Linux, and Windows native VPN apps.
Dedicated IP Address
The PIA VPN offers a dedicated IP address feature not shared with any other user. These IP addresses are specially for those who want to avoid security warnings and account restrictions and access geo-restricted content. In addition, the dedicated IP address systems think less that you're a bot and show fewer CAPTCHA for authentication purposes. This way, it also improves your browsing experience.
The PIA-dedicated IP address doesn't compromise your anonymity. It uses a fully anonymous token-based mechanism in which no one can know which IP address belongs to which user. You receive a token for the dedicated IP address when you add the option at checkout. Here it is up to you to redeem your token and choose a dedicated IP address server from five locations, i.e., Australia, Canada, Germany, the UK, and the US. You can get this feature by paying an extra $5/m.
VPN Router
With PIA VPN, you can protect your entire network with an advanced VPN router feature. It lets you configure the PIA VPN on your home or office network. Also, it ensures that all the internet traffic passing via the router is automatically routed via an encrypted and secure tunnel.
There are several benefits of using PIA's VPN router, such as:
It allows you to protect more than ten devices.
You can set up PIA VPN once rather than setting it up on each device.
You can easily protect IoT gadgets and other devices without native apps.
Besides this, you can even use it with the split tunneling feature and better control your VPN traffic.
InBrowser
Another fantastic feature offered by PIA VPN is InBrowser mode. The private or incognito browser is only available for Android and iOS apps, ensuring maximum anonymity while browsing. The prime function of this browser is that it permanently deletes the cookies, browsing history, trackers, and session data each time you exit the app.
Port forwarding
PIA VPN also provides the port forwarding feature as their standard feature. This feature allows incoming data traffic to bypass the NAT firewalls and increases the connection speeds. There are other benefits of using this feature it improves the downloading speed during torrenting and gaming and allows you to remotely connect to your device when you're not at home.
Private DNS servers
Another benefit of using PIA VPN is owning and operating private DNS servers. Public DNS servers also record your queries and share them with ISP or government authorities without your consent. This way, they also violate your digital privacy. You don't have to worry about your DNS queries getting leaked with PIA VPN. All your DNS requests go through the PIA servers rather than the ISPs. This way, the ISPs can't intercept or view what you are doing on the web and protect you from DNS leaks.
Antivirus protection
Another add-on feature that PIA VPN offers is the antivirus protection feature. It continuously scans the PC for malware and viruses and removes them without tracking or stealing your data. Besides this, it provides 24/7 alerts about potential online attacks, and when it detects any suspicious activity, it immediately sends you a notification so you can take appropriate action. The antivirus protection feature offers useful benefits like flexible scan settings and detailed security reports. As it is an add-on feature, you can get it for $4.50/m.
PIA VPN offers a free email breach scanner, browser extensions, and a box crypto license for encrypting and securing the files in cloud storage in all its subscription plans. However, unlike other VPN providers like Surfshark, NordVPN, and ExpressVPN, PIA VPN lacks obfuscation technology, making it easier to defeat censorship.
Streaming and Torrenting
Excessive streaming and torrenting can compel the ISP from slowing down your speed. In addition, because of geographical restrictions and licensing agreements, you won't be able to access from other regions. A reliable VPN like PIA offers unlimited bandwidth and various features that ensure a seamless streaming and torrenting experience.
Compatible streaming platforms
PIA VPN is a decent option for accessing blocked streaming content. The VPN offers dedicated streaming servers in all central locations and helps easily access geo-blocked content. You can use PIA VPN to stream content from:
• Netflix
• Amazon Prime
• HBO Max
• BBC iPlayer
• Hulu
• YouTube TV
• Disney Plus
PIA VPN uses the OpenVPN and SOCKS5 proxy that helps in bypassing censorship and allows you to unblock content from anywhere. You can also stream the blocked local content on CBC and France TV. It's of great value when you're traveling abroad and want to access the home country's local content. In addition, the VPN has the Smart DNS feature, which allows you to bypass firewalls and censorship and stream content on devices that don't support a VPN, like gaming consoles.
Is PIA VPN good for Torrenting?
PIA VPN is a good option for torrenting. Its no-log policy, unlimited bandwidth, next-generation servers, and torrent-centric features make it a good VPN for downloading torrents. The VPN provider allows torrenting on all servers and works well on all popular torrent clients like uTorrent, BitTorrent, and BitTorrent.
It also offers split tunneling, port forwarding, and a SOCKS5 proxy that maintains security and improves your experience. The port forwarding feature increases the number of peers, increasing the downloading speed. You can even switch to the WireGuard protocol for faster and more reliable downloading speeds.
However, Reddit user has revealed that the ISP caught them downloading torrents despite connecting to the PIA VPN. This raises questions about the credibility of PIA VPN, and people would not prefer to use it for downloading torrents.
How fast is PIA VPN
PIA VPN offers a stable and decent connection speed across all the servers despite having a small server network. The speeds are good enough for streaming, browsing, and downloading. However, you can experience lags while connecting to long-distance servers. Switching the protocols and connecting to the WireGuard protocol is best if you want to enjoy maximum speeds. You can also connect to the dedicated IP address servers and enjoy stable and consistently fast speeds.
User-Friendliness
PIA VPN offers dedicated and intuitive apps for all platforms and devices. You can download the apps on various platforms and devices within a few minutes without any trouble. The VPN offers customization options for advanced users.
The number of servers PIA VPN provides
PIA VPN offers next-generation servers in 83 countries meaning that the VPN stores data on RAM-only servers and deletes the data permanently after every session. The VPN has servers in all corners of the world, like Asia, Europe, and Africa, but many servers are optimized for US performances. Most of the servers are less crowded and ensure fast connection. Though the VPN has a minimal server network, you can improve speed by switching or using dedicated servers.
Unlike other VPN providers, PIA VPN doesn't offer specialized servers for torrenting. You can connect to any server and start downloading torrents. The particular server that PIA VPN offers is the streaming and the dedicated IP address servers available in five countries, i.e., the UK, the US, Canada, Germany, and Japan.
How good is PIA VPN customer support
PIA VPN apps are easy to use and download; however, you can sometimes experience issues that require advice and guidance. You can contact the customer support team to address your problem via the live chat that you can find on the bottom right side. Tapping the support button connects you with the agent so they can answer your query soon. However, the PIA VPN live chat feature is not much impressive. You can either assist the bot or connect with the support team member. But the support team will take time to respond. In my case, I had to wait 5-8 minutes, but it was good to see that the support agents addressed the query well.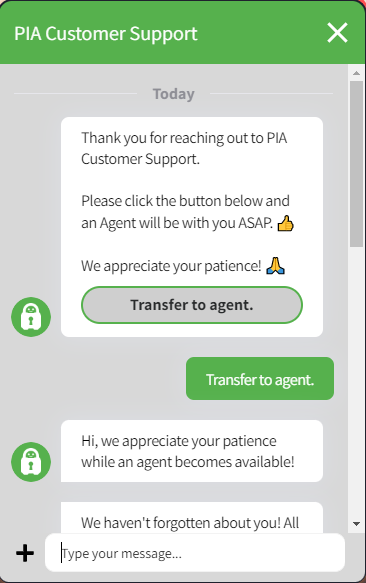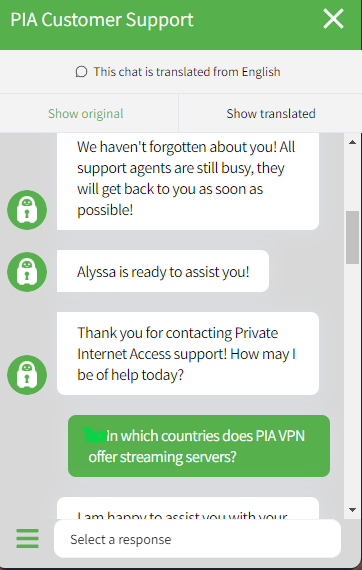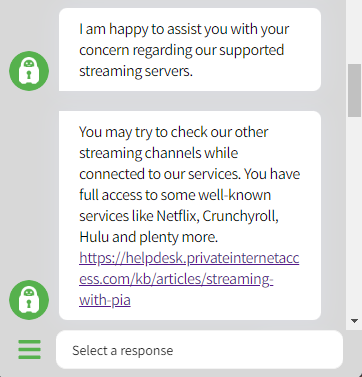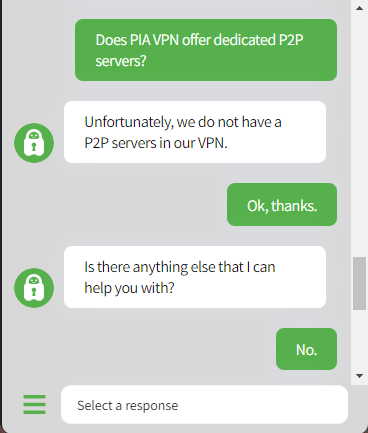 Besides this, you can also submit a ticket for your query, but the reply won't be instant, and you will have to wait for an hour or more. The website has a blog and support section that includes blog articles, troubleshooting, guides, FAQs, knowledge bases, news, and community. All the information proves helpful in resolving your query. However, the information in the articles/blogs hasn't been updated for a long.
What devices is PIA VPN Compatible With
PIA VPN offers excellent device compatibility features. You can download the VPN on a range of devices, such as:
Android
iOS
MacOS
Linux
Windows
Smart TVs
The desktop and mobile apps worked quite well, and users don't have any significant complaints except for a few. Still, the users need to update the apps timely to enjoy a smooth user experience. You can also download the Firefox, Opera, and Google Chrome VPN extension.
Another notable feature of PIA VPN is that all the desktop and mobile apps and browser extensions are open-source. Anyone can view and study the app source code and contribute to improving the code and fixing errors and vulnerabilities. This way, if the apps have some security flaws, they are quickly reported and resolved before they harm your digital security and privacy.
Conclusion
PIA VPN is a fast-growing VPN that still needs improvements despite serving the people for ten years. The VPN must undergo an independent third-party log audit process to earn users' trust after Kape Technologies acquired it. Moreover, the VPN must introduce obfuscation technology to improve your experience while evading internet censorship.
Besides this, PIA is a good choice to use. It provides the utmost level of online security and offers impressive features like in-browser, PIA MACE, and VPN router that improve digital privacy and your overall user experience.
FAQs
PIA VPN allows you to enjoy up to
. You can download the VPN on all the supported devices and platforms and connect to a maximum of ten devices. This perfectly fits those who have an extensive family or run a business on a small scale. 
The PIA VPN offers
on Android and iOS devices. You can test the VPN during this time and decide whether it fulfills your standards. Also, the VPN offers a 30-day
on all their plans.
The PIA VPN is backed with a
If your mind changes and you think the VPN is not the right choice, you
. 
PIA VPN accepts many payment methods, including;
. If you want to keep your identity hidden while purchasing, you can
PIA VPN
that spreads across the globe, including China and neighboring countries. You can access the web freely in China by connecting to these servers
Besides this, the VPN provider also comes with
by which you can evade censorship easily. 
PIA VPN has an
. It detects and
and ensures an ad-free browsing experience. Moreover, it also
from tracking your digital footprints and malware from infecting your device. 
Compared to PIA, NordVPN is
and has more features. NordVPN also streams the content better because of its impressive speeds and
of over 5000 servers, resulting in ultra-fast connection speeds. In contrast, PIA VPN offers fast speeds that are not the fastest. It belongs to a less privacy-friendly jurisdiction, and the parent company has involvement in spreading malware. Overall, NordVPN is a leading VPN provider with great value, so if you choose, use NordVPN over PIA VPN. 
PIA VPN offers
You can get the VPN at the lowest price of
for three years and a three-month plan. It is the most pocket-friendly plan compared to the monthly and bi-annual plans. The monthly plan costs
, while you have to pay
on a one-year plan. Hence, it's better to opt for an extended subscription plan. 
How useful was this post?
Share this article
About the Author
Rebecca James is an IT consultant with forward thinking approach toward developing IT infrastructures of SMEs. She writes to engage with individuals and raise awareness of digital security, privacy, and better IT infrastructure.
More from Rebecca James
Related Posts