PureVPN enjoys a good reputation among the people since it has improved its services and logging policy over the last two to three years. The VPN offers maximum online security, and allows streaming, and torrenting, and all this you can enjoy at affordable price. But, changes in the VPN's jurisdiction have put users under the dilemma of is PureVPN capable enough to use in the future?
This PureVPN review digs deep into the VPN's jurisdiction, logging policy, encryption, and features. But before getting into much detail, have a quick overview of it:
Security and Privacy:
Log Policy
Follows a verified no-log policy
Security Features
Kill switch
Split tunneling
Dedicated IP address
Port forwarding
Streaming and Torrenting
List of Compatible Streaming Platforms
Amazon Prime
BBC iPlayer
Hulu
HBO GO
Netflix
Sling TV
ESPN3
DailyMotion
YouTube
HotStar
List of Torrenting Features
Split tunneling
Torrent IP leak protection
User-friendliness
No. of Servers
6500+ servers in 78+ countries
Pricing
$10.95/m on a monthly plan
$3.24/m on a yearly plan
$1.33/m on a five-year plan
Customer Support
Live chat support
Email support
Ticket
Online resources
Compatible Devices
Android
Apple (iOS, macOS)
Linux
Windows
Routers
Android TV
Roku
Kodi
Amazon Firestick TV
Chromecast
Now TV Box
Boxee box
Xbox
PlayStation
PureVPN makes some big promises and it's difficult to trust them all by having a quick overview of it. Thus, let's delve into this detailed PureVPN review and decide whether it's worth using or it's only the marketing-hyped.
Security and Privacy
The VPN market is full of providers claiming to provide top-notch security and privacy to users. But, at times, many of their claims are null and void. A trustworthy VPN meets the safety and privacy criteria, meaning it uses strong encryption ciphers, protocols, and a range of extra security and privacy-enriched features. The VPN must have its headquarters in a safe jurisdiction and follow a no-log policy to keep your activities private.
– What Type Of Encryption does PureVPN Use?
PureVPN encrypts your online traffic and ensures no privacy invader can intercept and compromise your privacy. The VPN provider uses self-optimized servers secured with AES-256 bit encryption to provide the highest level of anonymity and prevent various cyber threats. The AES is the most secure encryption standard unlikely to break and is used by other top VPN providers.
The VPN also uses the port forwarding feature for enhanced security and protection. It allows the incoming data to get around the NAT firewalls and speed up your connection. With such high encryption and a port forwarding feature, all your internet traffic remains protected and out of the reach of prying eyes.
– Jurisdiction of pureVPN
PureVPN started its business in 2007-2008, and at that time, the company was registered in the Hong Kong region. But now, like Surfshark VPN, it has switched its jurisdiction. The VPN provider is owned by Gaditek, which operates from Pakistan. Since Pakistan isn't a jurisdiction that falls under the global surveillance alliance, it won't log and share your data with intelligence agencies. However, the country is subjected to regional laws, which might favor maintaining users' digital privacy.
– Logging Policy – Does it Keep Logs?
PureVPN has improved its log policy from the past. All your online activities remain private as you use PureVPN to browse the web, stream blocked content, or download torrents. The VPN provider follows a strict zero-logging policy and doesn't keep any of your activity and connection data. This also includes your IP address and other sensitive data. Have a look at the VPN's privacy policy:
However, the VPN does require your email address, name, password, and payment details to sign up for their service. Also, it collects additional information like;
Bandwidth use and consumption.
Data from emails, feedback forums, and live chats.
Software analytics and statistics.
If you have purchased the dedicated IP address add-on feature, PureVPN stores the fixed IP address for 15 days after the subscription ends. This is something that might trouble the users.
PureVPN, in August 2021, announced that they are the first VPN provider with an always-on audit. The company hired KPMG, which conducted a detailed audit of the VPN's processes and servers without prior notice. The KPMG testifies that PureVPN's claim of being a no-log VPN is true.
Previously, in 2018 after upgrading the privacy policy, PureVPN hired Altius IT to audit their log policy. They also concluded that the VPN doesn't log or share any of your activities. The change in the privacy policy and the log audit process has boosted users' trust in PureVPN. In addition, PureVPN releases transparency reports to inform users about the yearly requests they receive. But, they could not comply with the requests because they didn't keep any data logs.
– Which Tunneling Protocols Does it offer?
PureVPN supports the latest and most popular tunneling protocols to boost your online security further. The VPN uses:
WireGuard is the most secure and fastest protocol that uses advanced encryption ciphers to safeguard your data and increase your online security. This latest protocol has a smaller code base of 4000 lines and hence is lightweight, consumes less bandwidth, and offers a faster connection speed. It also uses the open-source OpenVPN protocol, which is the second-best protocol PureVPN utilizes. It is also a secure and fast protocol, but the speeds are not as fast as the WireGuard protocol, but it gives off the best performance while streaming. In addition, PureVPN even uses the IKEv2 protocol, which provides a reliable connection and works perfectly on mobile devices.
– How good is pureVPN at bypassing Censorship?
PureVPN is another good option to use for bypassing censorship. Using the OpenVPN protocol, you can circumvent censorship and freely browse the web. The OpenVPN protocol uses SSL encryption that conceals your traffic as regular HTTPS traffic and helps get around internet restrictions and bans. You can even use the dedicated IP address feature to circumvent censorship.
On the top, PureVPN offers servers in Turkey, UAE, Oman, and other restrictive countries. By connecting to these servers, you can anonymously browse the web. Similarly, you can connect to the Hong Kong servers and surf the internet in China. In addition, PureVPN also allows you to bypass VOIP blocking. It creates an encrypted tunnel by which all your VOIP traffic gets through, and you bypass firewall restrictions. As a result, you can use several blocked services like Facebook, Skype, Viber, and WhatsApp in highly oppressive states.
Past History of pureVPN
PureVPN, since the start, claims to follow a strict no-log policy, but in reality, it wasn't living up to its claims. In 2017, PureVPN was named for logging users' data and handing it to the FBI for a criminal case. This event put the VPN provider under the radar as people got angry with it for violating users' privacy.
PureVPN has improved a lot to provide maximum online protection to users. After this incident, the VPN provider updated its privacy policy and underwent an independent third-party log audit process confirming that PureVPN was safe to use and won't be logging or sharing your data with anyone. Later in 2021, the VPN provider again audited its log policy and processes to restore the lost trust among the users.
Extra Privacy and Security Features by pureVPN
VPN service providers must offer privacy and security-enriched features to provide maximum online protection. These features help protect you from online threats and internet restrictions and boost your overall experience. PureVPN comes with basic security and privacy features. Here's an insight into them:
– Kill Switch
Even if you're using a VPN, your can experience accidental connection drops. As a result, your IP address and other sensitive information get exposed. PureVPN, to add an extra layer of security, offers a robust kill switch feature to prevent accidental exposure of your actual IP addresses. It disables your internet connection when your VPN connection is lost until the connection is re-established.
When the kill switch feature is enabled, your IP address and location are not exposed, and you can rest assured about your online security and privacy. If you're a journalist, blogger, or social activist, you can use the PureVPN kill switch feature to boost your digital security.
To enable this feature, Right-click on the VPN software and tap on Run as administrator > choose general tab > Toggle to allow IKS to turn on the feature. PureVPN kills switch is only available for Android, MacOS, and Windows platforms.
– Split Tunneling
PureVPN offers a split tunneling feature that splits your internet traffic between the VPN and the local ISP. It lets you choose certain apps you want to encrypt via the VPN connection while allowing the other apps to route through the normal network. Doing so increases your privacy while performing certain activities like torrenting. Also, it consumes less bandwidth and boosts your connection speed. Besides this, you can use this feature for ultimate privacy, bypass ISP throttling, and evade censorship.
To enable this feature, click on settings > advanced split tunneling tab > toggle on this feature to turn it on. You can then select the apps you want to include or exclude. However, the PureVPN split tunneling feature is only available on the Windows platform.
– Port Forwarding
Another paid-on feature that PureVPN offers is port forwarding. It enables all the incoming connections from the internet to reach specific devices on a private network. You can open any UDP/TCP ports by using this feature. Also, it provides various benefits like it helps access your system when you're away, improving the downloading speed, and forming a direct connection with a gaming server. You can get this feature at the lowest price of $0.99 per month or combine it with the dedicated IP address feature for $3.49/m.
– Dedicated IP Address
A dedicated IP address is a unique add-on feature offered by PureVPN. It's for those who don't like to share their IP address or want to enjoy more anonymity while browsing the web. There are various benefits of using a dedicated IP address, like achieving a high level of anonymity, securing your remote access, and securely transferring P2P traffic. Besides this, you can prevent CAPTCHA, stream blocked content, download torrents, and even access your bank accounts from abroad without getting banned.
The VPN offers seven dedicated IP address servers in the UK, the US, Canada, Australia, Germany, Malta, and Singapore. By connecting to any of these servers, you'd be assigned the dedicated IP address, but first, you have to pay an extra price of $2.99/m.
– DDoS Protection
DDoS attacks are common while you play online games. A reliable VPN service like PureVPN with anti-DDoS functionality blocks the unwanted traffic that decreases speed or crashes the server. PureVPN offers a DDoS protection add-on feature that hides your actual IP address from hackers and filters your incoming traffic to your connection via the anti-DDoS mitigation servers.
All your data traffic passes through the dedicated anti-DDoS servers that can easily absorb the DDoS attacks. As a result, your system runs flawlessly without any uninterrupted connections. Since it is an add-on feature, you can get it for $3.99 monthly.
PureVPN is now also making its way into the business world. It is evolving to cater to business needs with the name of PureDome. The business VPN aims to secure business data and offer effective cybersecurity solutions.
Streaming and Torrenting
Streaming and torrenting come with various security and privacy issues. Downloading torrents without an anonymity tool like a VPN puts you in legal trouble as your ISP and the copyright owners can easily detect your activities by tracking your IP address. There is no anonymity in the swarm, which results in more problems. Also, while streaming, you would face several online restrictions and IP banning. Therefore, using a VPN compatible with streaming and torrenting will fix these issues.
– Compatible Streaming Platforms
Another best thing about PureVPN is that it provides access to your favorite streaming content from various platforms. It has dedicated streaming servers optimized for a super-fast, uninterrupted, and buffer-free streaming experience. No matter which ever streaming service you're using, the speeds are always fast and guarantees a fantastic streaming experience.
The VPN works extremely well on Netflix and lets you watch TV shows and movies at high speed. With PureVPN, you can access the following regional Netflix libraries:
Australia
Canada
France
Germany
Japan
The UK
The USA
Besides Netflix, PureVPN lets you seamlessly access other popular streaming platforms and stream content in 4k quality. Other popular streaming channels that you can use with PureVPN are:
Amazon Prime
BBC iPlayer
Hulu
HBO GO
DailyMotion
YouTube
HotStar
With PureVPN, you can stream live coverage of your favorite sporting event on Sling TV or ESPN3. You can also use the app blocker filter to restrict the apps working in the background from consuming much bandwidth.
– Is pureVPN Good For Torrenting?
You can even use PureVPN to download torrents, but it has some limitations. PureVPN has blocked the P2P traffic on some servers because torrenting is illegal by law in those regions. These countries include; Australia, Canada, the UK, and the US.
PureVPN allows torrenting on limited servers like;
The British Virgin Islands
Denmark
Germany
Netherlands
Norway
Turkey
UAE
You can safely download torrents by connecting to the P2P-optimized servers in these locations. PureVPN also offers torrent-specific features that improve your downloading process. It has a kill switch and split tunneling feature that boosts security. The VPN doesn't leak your torrent IP and uses strong encryption to protect your torrent traffic and out of the reach of prying eyes. However, people have shared mixed reviews about PureVPN for downloading torrents. It fails to provide maximum speed during downloading and hence users look for other options. You can check out our list of the best VPNs for torrenting.
Still, if you have trouble downloading torrents, you can check out our list of the best VPNs for torrenting.
– How Fast Is pureVPN?
PureVPN provides reliable and fast browsing speed across all servers. The speeds are more than enough for browsing, streaming, and downloading. The VPN provider offers impressively fast speeds while connecting to the WireGuard protocol. It is faster than OpenVPN and IKEv2 and consumes less bandwidth because of its smaller code size.
But if your top priority is streaming, then switching to the OpenVPN protocol is better. It uses regular HTTPS traffic that helps in bypassing censorship and ensures a much faster and more stable connection than WireGuard. However, some users have shown utter disappointment regarding PureVPN speeds. You can get good streaming and browsing speeds but when it comes to torrenting so, the results are not much effective.
User-Friendliness
Besides offering robust security and privacy, a VPN must offer dedicated apps for a hassle-free browsing experience. The VPN must have a simple and clean interface that is easy to use and download and offers various customization features.
PureVPN has a well-designed and intuitive interface. You can easily change the protocols and configure the settings as you want.
– The Number of Servers pureVPN Provides
PureVPN has an extensive server network that's spread across 96+ locations worldwide. It consists of 6500+ servers in more than 78 countries. The VPN offers multiple servers on all continents, including
Asia 560 servers
Africa 86 servers
North 9 2232 servers
Central America 4 servers
South America 115 servers
Oceania 483 servers
Europe 3052 servers
PureVPN provides both physical and virtual servers. A virtual server is one that assigns you the IP address of a country of your choice while it routes your traffic via a server in some other country with a more stable internet connection. All the PureVPN virtual servers are located in the US.
Furthermore, PureVPN has specialized servers like NordVPN. It offers dedicated servers for torrenting and streaming. Also, you can connect to the dedicated IP address servers for enhanced anonymity on the internet.
All the servers are protected using unbreakable encryption and multiple protocols. They are optimized for speed and performance and ensure a fantastic user experience. However, it's not necessary that all the servers will give the best performance. At time the server perfromance might vary so, it's better to either restart the app or contact the support team.
– How Good is pureVPN Customer Support?
A reliable VPN comprises an effective customer support team ready to help its customers. Luckily, PureVPN is one of them. It offers excellent customer support service and ensures that the customers are not left alone in their hour of need.
You can contact the support team via the impressive live chat option. You have to enter your name and email address to initiate the chat. The chat agents respond instantaneously and are adequately knowledgeable as well. Here's the proof of it: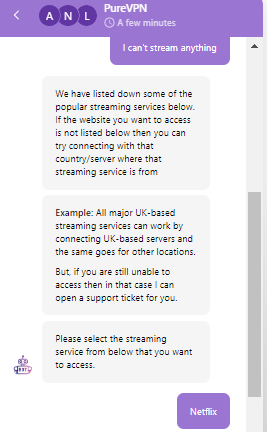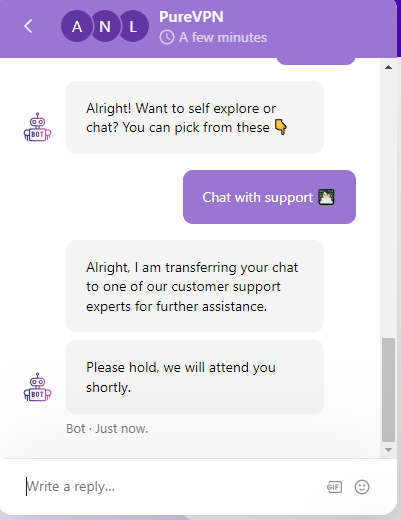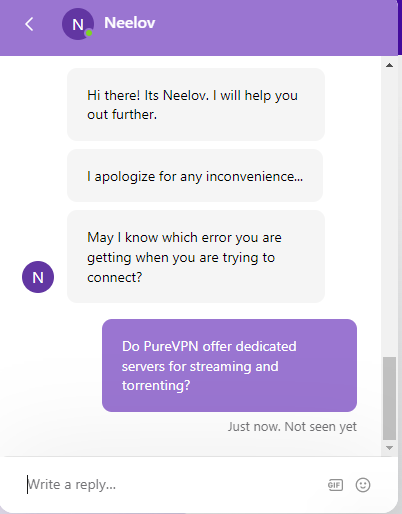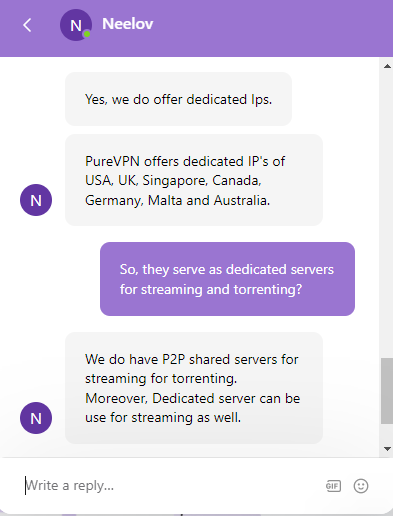 When you first initiate the live chat so, the bots are there to assist you but you can choose the option to chat with support team. The support team members are responsive and knowledgable in addressing the query. The VPN also aims to solve all the complex issues through submitting the ticket, email support, and online resources. It's website is also resourceful and includes guides, FAQs, troubleshooting, billing information, and more. But if you still think that you need a bit of extra help, don't hesitate to contact the team through the 24/7 live chat feature.
– What Devices Is pureVPN Compatible With?
PureVPN offers easy to use for more than 20 supported devices. The apps are fast, secure, intuitive, and work seamlessly in the background. Here's the list of the supported devices:
Android
Apple (iOS, macOS)
Linux
Windows
Routers
Android TV
Roku
Kodi
Amazon Firestick TV
Chromecast
Now TV Box
Boxee box
You can also use PureVPN on your gaming consoles, such as Xbox and PlayStation. You can download the PureVPN apps from the app store or from the official website. The apps are easy to use but the features and functionalities might varies. Users on Reddit have often criticizied the Linux app functionality but the support team member clarified that it was because of the update issue. Thus, make sure to always update your VPN app as soon as the updates are rolled out.
FAQs
Does PureVPN offer a free trial?
In 2020, PureVPN launched a seven-day premium trial period. The VPN allows users to test its premium features and services for an entire week. You can access the whole server network, have high-grade security, 24/7 customer support, and even stream the blocked content. Moreover, with every trial, you can share 12 free monthly accounts. However, you have to pay $0.99 to avail the trial offer. If you're unsatisfied with PureVPN's service, you can cancel the trial plan during the seven days. 
How many simultaneous connections does PureVPN offer?
The VPN allows using a single account on ten multiple devices. You can connect ten simultaneous devices with one PureVPN subscription account on all supported devices except mobile devices.
Does PureVPN unblock Netflix?
PureVPN can be used to unblock Netflix to access your favorite streaming content. With PureVPN, you can unlock an extensive content library, including the US, the UK, Japan, Canada, and Australia. Since the servers are optimized for high speed, you won't experience any buffering and can enjoy streaming the content in HD quality. The VPN also offers unlimited bandwidth meaning the ISP neither would know nor can limit your online streaming activities. Besides Netflix, you can also access other streaming services like Amazon Prime, Hulu, and Disney Plus.
Is PureVPN secure to use?
PureVPN is safe; you can trust it to hand over your sensitive data and digital privacy. The VPN uses robust AES-256 bit encryption and reliable tunneling protocols such as OpenVPN and WireGuard to protect your data traffic. It also offers IP, DNS, WebRTC, and IPv6 leak protection to boost your online security. 

Moreover, PureVPN provides a range of extra privacy and security features like the kill switch, split tunneling, dedicated IP address, and port forwarding, ensuring no one can intercept your online communications. Although the company has been named in a privacy scandal, it has now audited its log policy, so it's enough to trust them again.
Does PureVPN offer a dedicated IP address?
PureVPN is among the few rare VPN providers that offer a special dedicated IP address add-on feature. It provides dedicated IP address servers in eight countries that allow you to become more anonymous, secure your online payments, and access the blocked streaming content. To prevent IP blocklisting and browse the web with the same IP address, you should buy a PureVPN dedicated IP address for $2.99/m. 
Does PureVPN offer browser extensions?
PureVPN offers browser extensions for Google Chrome, Microsoft Edge, and Mozilla Firefox. These browser extensions protect from WebRTC leaks and ensure that your actual IP address remains protected. Also, these extensions allow you to access the blocked streaming content and keep you safe from ISP throttling. However, it is essential to remember that the browser add-ons don't encrypt the data traffic, so you should avoid using them for a full desktop client. 
How much does PureVPN cost?
PureVPN doesn't offer the free version. Thus, you must subscribe to its premium plans to access its service. The VPN provider offers three different subscription packages. Here's the pricing insight of the PureVPN:

– $10.95/m on a monthly plan
– $3.24/m on a yearly plan
– $1.33/m on a five-year plan

PureVPN's monthly plan is expensive; hence, it is better to buy the long-term five-year plan. The VPN provider accepts payment via traditional PayPal and credit/debit cards. Also, if you want to keep your online identity hidden while purchasing the VPN, you can pay via cryptocurrency. A 31-days money-back guarantee offer backs up all the premium plans. But, if you have paid through cryptocurrency, you're not eligible for a refund.
Final Verdict
After a detailed PureVPN review, it is possible to say that it's a reasonably reliable VPN. It provides a top-notch level of online security and uses the industry's reliable encryption standards like other top-rated VPN providers. Moreover, PureVPN also unblocks the streaming content from all popular services and even allows you to access blocked websites.
Besides this, you can also enjoy some decent internet speed by using WireGuard and OpenVPN protocol. The OpenVPN protocol lets you defeat censorship and browse the web freely in China and other restrictive countries. However, the compatibility of some premium features on limited devices is something that the VPN must improve.