Cybersecurity threats and vulnerabilities continuously evolve in today's digitalized world. By November 2022, Statistica found more than 22.5 thousand new common IT vulnerabilities that affect sensitive business data and devices. Hackers identify and exploit the security flaws within the network or systems, resulting in data breaches or launching various types of cyber attacks. This is where the need for vulnerability management software arises.
Vulnerability Management is a continuous process designed to detect, classify, remediate, and mitigate vulnerabilities within an IT infrastructure to reduce organizational risk. Implementing vulnerability management practices is vital for organizations and requires vulnerability management software. The software helps companies by scanning the entire network and discovering security flaws and weak points that intruders can exploit. Later, it fixes the vulnerabilities and enhances the organization's overall security posture.
Several types of software exist, but not all vulnerability management software are equal. The following guide puts together the best vulnerability management software to help you find the right solution for your organization and boost security.
Quick List For The Best Vulnerability Management Software
Vulnerability management tools scan and detect weaknesses within the network that hackers can exploit. Using such a tool is essential to maintain business integrity and prevent data breaches and the risk of cyber attacks. Check out the following list of the 19 best vulnerability management software worth trying in 2023:
If you want more information about these tools, read their reviews in the latter section of the guide. You can find details about the product's standout features, usability, and whether they offer a free or trial version.
Why Is Using Vulnerability Management Software Important?
Hackers always look for vulnerabilities to exploit to access the network and compromise sensitive business data. Thus, organizations must use vulnerability management software to reduce risks and improve security posture.
The main function of vulnerability management software is to keep the business network safe from all known vulnerabilities and ensure that it isn't easy for cyber criminals to target you. It detects, prioritizes, and remediates critical vulnerabilities before they can cause any harm.
Besides this, other reasons that signify the importance of using vulnerability management software are as follows:
The software adds operational efficiency by reducing the manual workload and automating the process by continuous monitoring, alerting, and offering mitigation solutions.
By detecting the vulnerabilities, the companies stay compliant with the regulatory standards, protects them from getting penalized, and thus save their reputation.
The threat vector increases as enterprises add new devices, cloud services, and applications to their network. To protect your company from these threats, it's mandatory to use trusted vulnerability management software that can ensure maximum organizational security.
19 Best Vulnerability Managers Worth Considering In 2023
The global security and vulnerability management software market will likely grow to $15.5 billion by 2025. Such drastic market growth is due to rising cyber-attacks and regulations for enterprises to follow mandatory regulatory compliance. Hence, it's the right time if you haven't started using any vulnerability management software for your company.
Using any vulnerability scanner tool straight away might not give you the desired results. Let's take a closer look at the 19 best vulnerability management software and decide which one might be the perfect fit for your organization. The primary consideration for reviewing this software are features, prices, reliability, and ease of setup and use.
1- OpenVas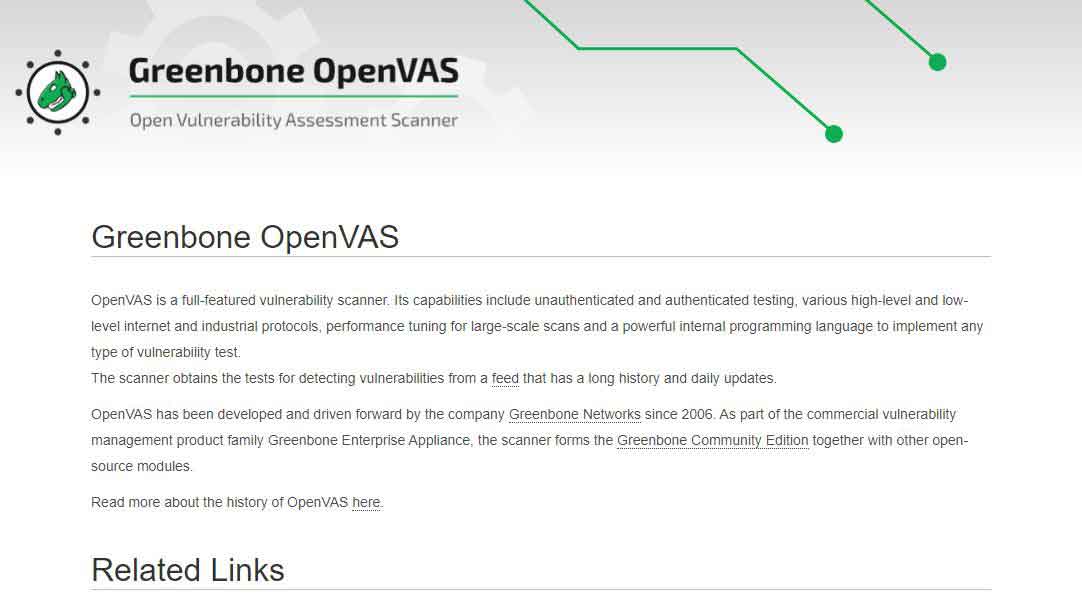 OpenVAS, also known as Open Vulnerability Assessment System, is a fully-featured vulnerability scanner that offers vulnerability scanning and management techniques. It is an easy-to-use tool with a user-friendly interface with dashboards that give details such as displaying the vulnerability list and its detailed view and give quick results. In addition, it identifies vulnerabilities in an app's feed containing approximately 50,000 texts and updates daily.
One best things about OpenVAS is that it's supported by a large open-source community and is free of charge. It's free to use and gets regular updates, thus making it the best option for small to mid-sized organizations searching for inexpensive tools to discover vulnerabilities. But there is a paid version called Greenbone Vulnerability Management; however, getting the premium plan is challenging. The only downside of this tool is that it doesn't support all operating systems and only runs on the Linux environment.
2- Intruder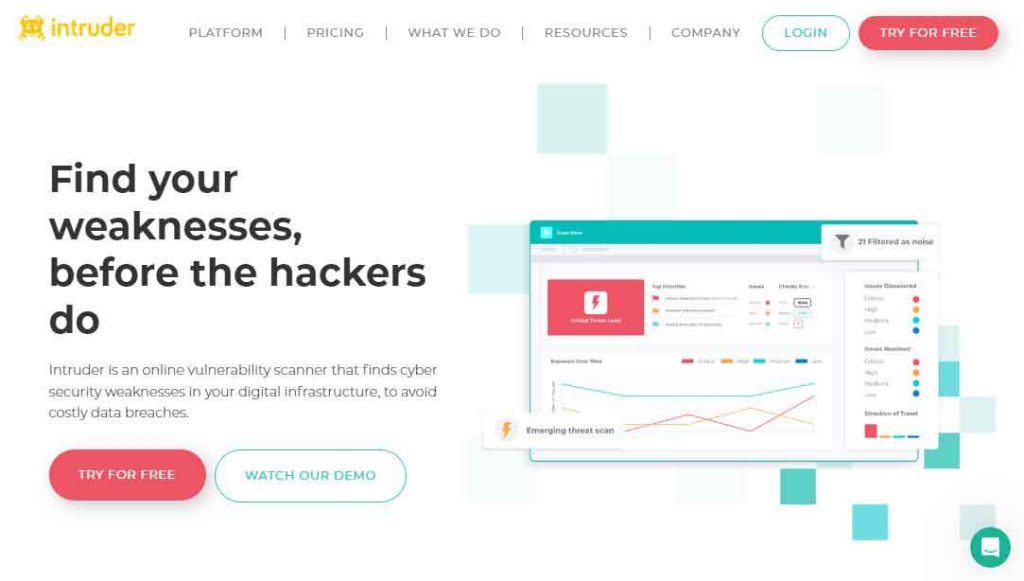 Intruder is a top-rated online vulnerability scanner that publicly and privately scans websites, cloud systems, servers, and endpoint devices using the industry's leading scanning engines. In addition, it detects a wide range of vulnerabilities like missing patches, misconfigurations, application bugs, weak encryption, and other weaknesses within the digital infrastructure that causes data breaches.
The recently released Network View feature provides a clearer and updated picture of what attackers can see and what's easily accessible to them that can put you at risk. The raw data taken from the scanning engines are prioritized for a holistic view, and quick action is taken that saves time and reduces the attack surface.
The software is ideal for companies who want continuous vulnerability monitoring and receive a proactive response. It offers three premium subscription plans, but you can take advantage of the 14-day free trial period to check out all the pro features and decide whether it can ensure network security.
3- Harness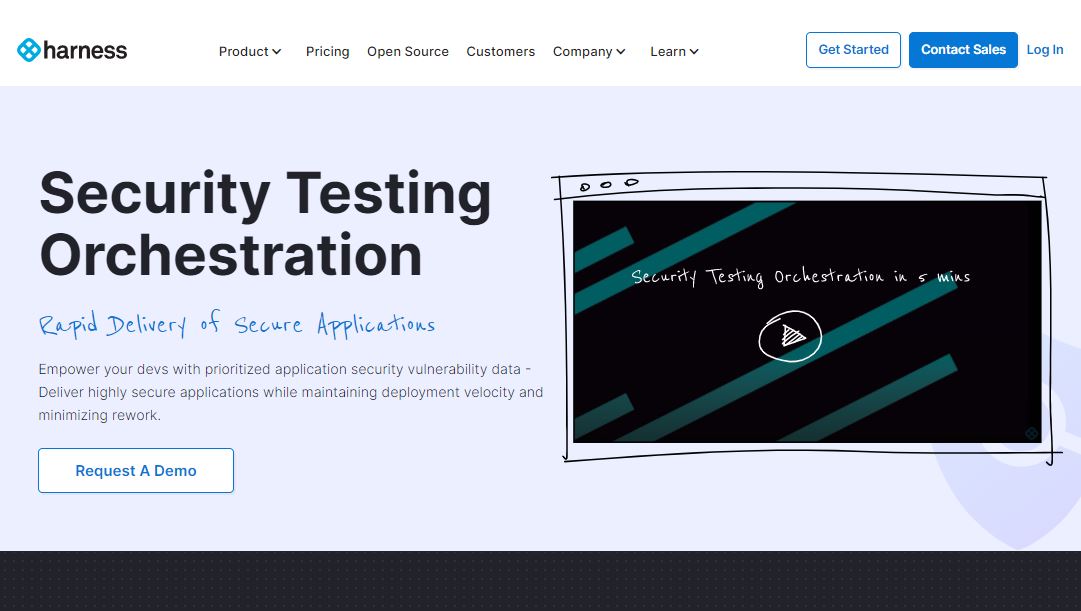 To automate security testing and eliminate false positives, consider using the Security Testing and Orchestration tool, a major service Harness offers. It automatically runs the desired security scans at the appropriate pipeline stage to deliver secure applications and minimizes the risk of potential misconfiguration and security flaws. In addition, it allows the users to repeat the scans to detect risks without changing the existing workflows and offers instant remediations.
This vulnerability management tool is handy for app testing and is mainly used by DevOps or DevSecOps engineers. It offers free and paid versions, and the free plan is available to all customers, i.e., individual developers, start-ups, and mid and large-size organizations. On the downside, the free plan offers limited monthly scans and doesn't allow users to access certain advanced features. To get complete access to all the features, upgrade to the team or enterprise plan.
4- ThreadFix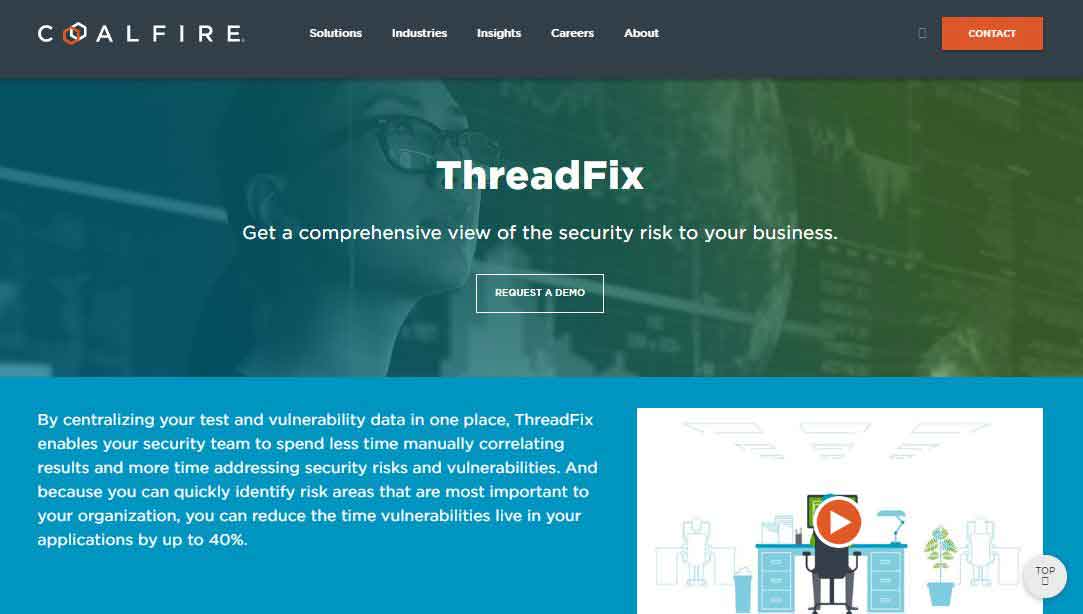 ThreadFix is a great vulnerability management software that comprehensively views applications' risks. It applies DevOps concepts for continuous vulnerability scanning and detects, organizes, and prioritizes the risks. Instead of using a spreadsheet, it relies on advanced patented Hybrid Analysis Mapping (HAM) technology to eliminate the need to manually merge the results of static and dynamic testing activities using efficient tools. Besides this, the software integrates with over 40 different applications and network scanners to detect vulnerabilities making it an efficient vulnerability management tool available in the market.
ThreadFix is an advanced tool that offers a seamless vulnerability management experience and is best suited for businesses searching for comprehensive vulnerability management and reporting. The software doesn't provide a trial version or a fixed pricing plan. You need to contact the customer support team and request a demo to try out its features and functionality.
5- Rapid7 Insight VM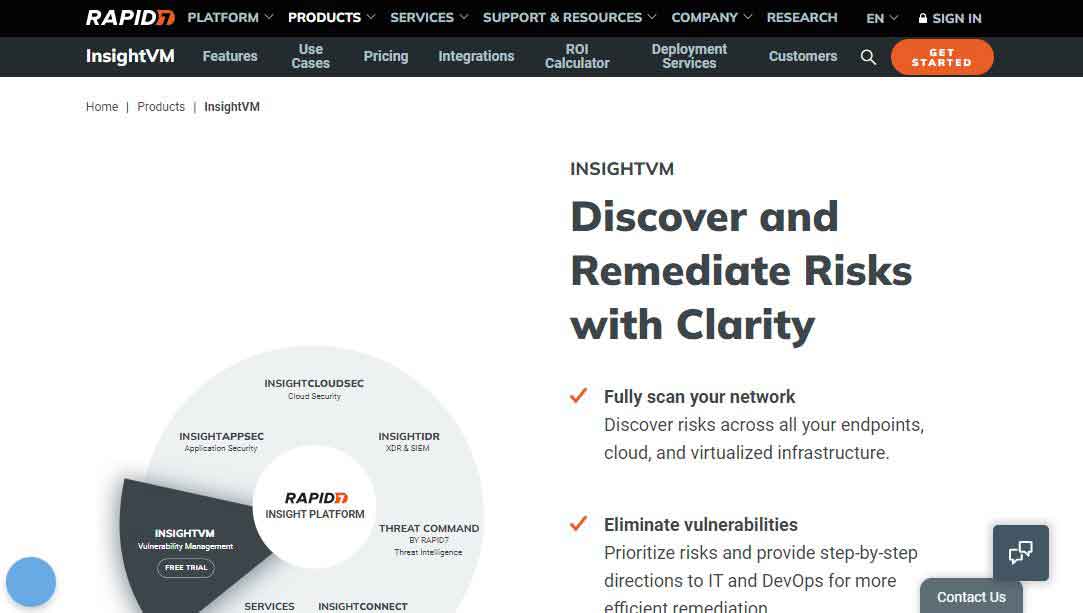 Insight VM is a robust cloud-based vulnerability management software built around the Rapid7 on-premises vulnerability scanning solution known as Nexpose. It enables the security teams to run vulnerability scans across their entire environment (physical, virtual, and cloud environments) and automatically obtain data across all the endpoints. Also, it supports a proactive approach to vulnerability management with tracking and metrics that recommends remediations to fix the issues immediately.
Rapid7 InsightVM is the best tool for small to mid-sized organizations looking for end-to-end solid vulnerability management capabilities and integration with other endpoint security tools. It offers a paid subscription plan, but the prices are not fixed and depend on the number of assets covered. It also provides a free trial version, so interested people can use it and decide if it's a good option to use.
6- Kenna Security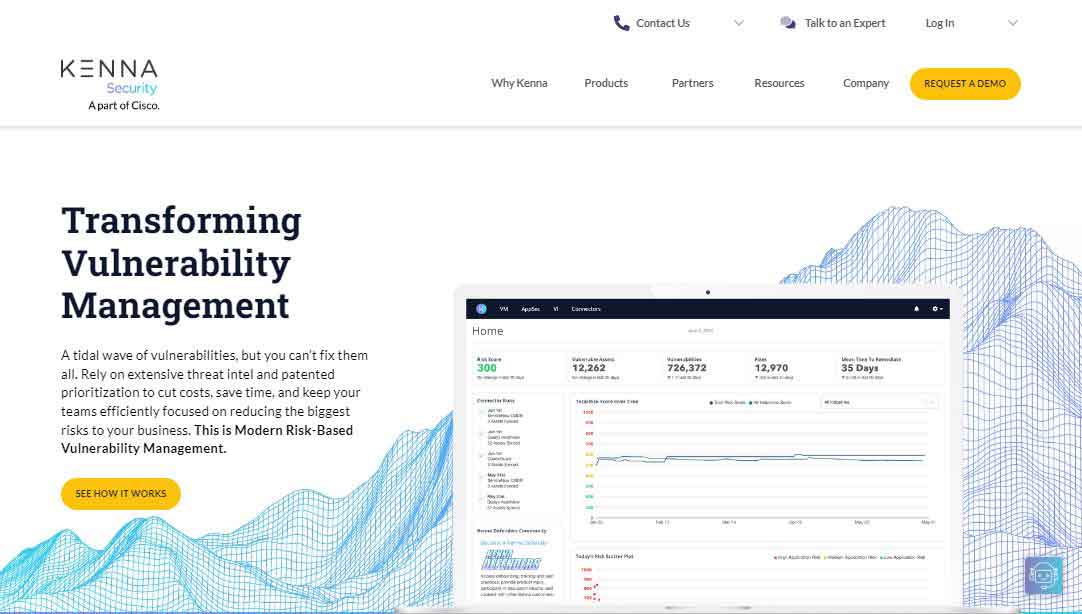 Kenna Security is a pioneering vulnerability management software that relies on threat intelligence and prioritization to help security teams focus on reducing the most significant business. It uses advanced machine learning and data science techniques to analyze over 12.7 billion managed vulnerabilities, exploit intelligence feeds and business data to uncover what attackers can benefit from.
The software's risk scoring is the most impressive and unique feature that most other software lacks. The discovered vulnerabilities are given scores between 0-1000, with 0-330 being the lowest risk, 331-660 in medium, and 660-1000 as high-risk vulnerabilities. Its predictive modeling technology is also an outstanding feature that predicts which vulnerabilities become weaponized and can risk overall security.
Organizations of all sizes can use this software to discover and remediate security issues. It is also a paid vulnerability management tool, but to check its functioning, you can contact the sales team to start a free demo.
7- CrowdStrike Falcon Spotlight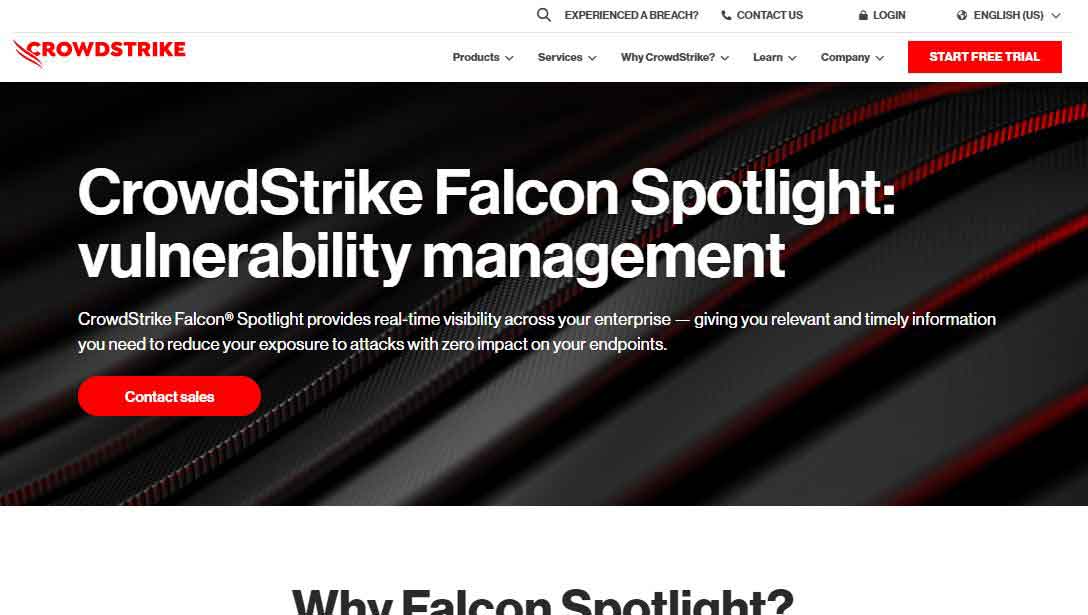 Falcon Spotlight is a vulnerability management software offered by CrowdStrike Falcon that provides robust visibility detection and management features to manage potential vulnerabilities and risks in the organization. The software uses a combination of AI processes and a threat intelligence database to detect vulnerabilities within a network. What's impressive is that it continuously updates the threat intelligence database with information about the latest attacks across the globe, giving users an insight into the possible dangers.
The CrowdStrike Falcon Spotlight is suitable for large organizations with various operating systems in a cloud environment. It is a subscription-based per endpoint software whose pricing plan varies. However, you can always request a free demo by contacting the support team and test all the features.
8- ImmuniWeb Discovery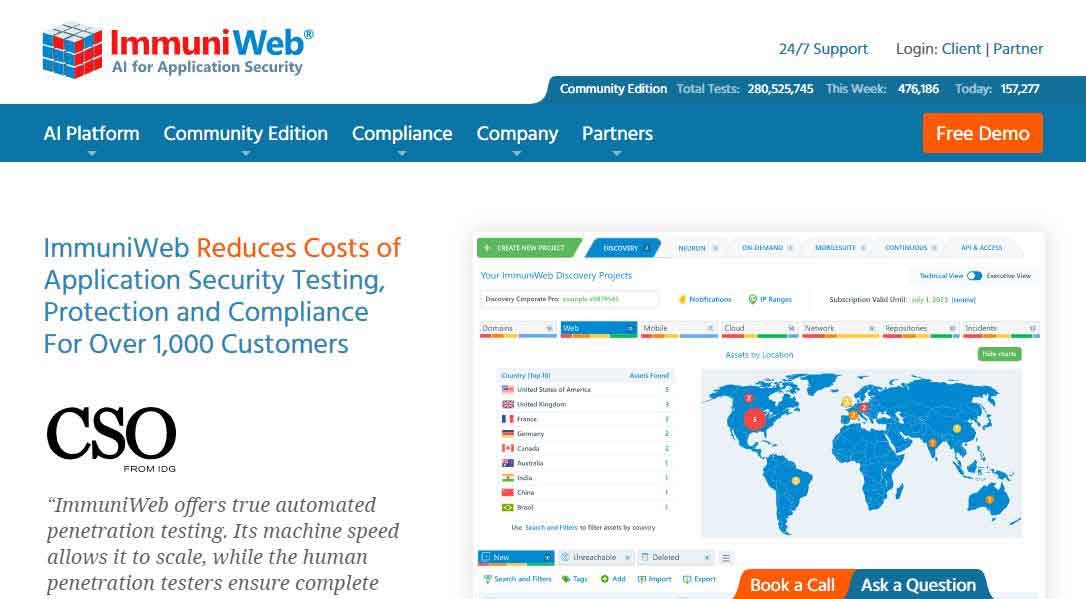 ImmuniWeb Discovery is a leading vulnerability scanning product by ImmuniWeb that monitors the loopholes in the network that provide easy access to the attackers and checks vulnerabilities within the web servers. It is advanced AI-based software that performs automated scans to view network vulnerabilities comprehensively. In addition, it uses machine learning techniques to identify the weaknesses within the network and plays a crucial role in reducing the incidences of false-positive reporting.
This vulnerability management software is best suited for small or mid-sized organizations. Like other software mentioned here, ImmuniWeb Discover also offers a paid version, but you can request a demo to check its credibility and decide whether it's worth using.
9- ManageEngine Vulnerability Manager Plus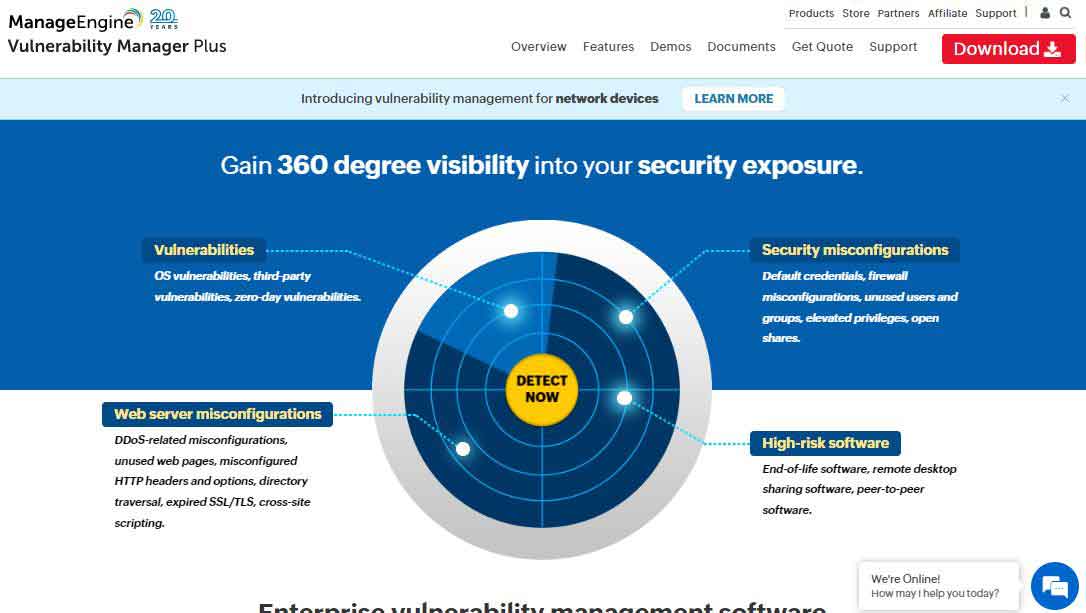 Vulnerability Manager Plus is on-premises vulnerability management software offered by ManageEngine. It is an end-to-end vulnerability management tool that provides continuous visibility, assessment, and remediation of threats and vulnerabilities. It efficiently scans your endpoints at the local network or a remote location and ensures a safe working culture. Also, it offers compliance and patch deployment solutions that provide visibility and remediation of existing and potential vulnerabilities. The patch deployment process is automated; just choose the criteria of patches and target systems for deployment and let the patch management system handle everything efficiently.
This vulnerability management software is ideal for businesses of all sizes that want a real-time, robust and on-premises solution. The security-centric software is available in three editions, i.e., free, professional, and enterprise. However, the features and the number of workstation devices vary; the free edition allows up to 25 devices and is best for small businesses. Companies can also use the trial version to check if the software meets their requirements.
10- Nessus Professional

Nessus Professional is a cloud-based vulnerability management software that performs active vulnerability assessment scanning and checks for compliance, websites, and IP addresses that can emerge as possible threats in the future. The software uses diverse sensors to provide unified visibility of the attack surface. It automatically gathers and analyzes vulnerable data.
Besides this, it continuously tracks and assesses the known and unknown assets for vulnerabilities and provides immediate insight through the dashboard for detailed analysis. The dashboard enables viewing the live scan results with information on the discovered vulnerabilities like low, high, medium, or critical. This way, it prioritizes the severe vulnerabilities so they are instantly fixed.
Nessus Professional software is suitable for organizations of all sizes who want to protect their network from possible threats and vulnerabilities. Businesses need to buy the premium subscription plan to benefit from this tool, but if they first want to test the features and how the tool works, they can try the seven-day free trial version.
11- Paessler Network Vulnerability Monitoring With PRTG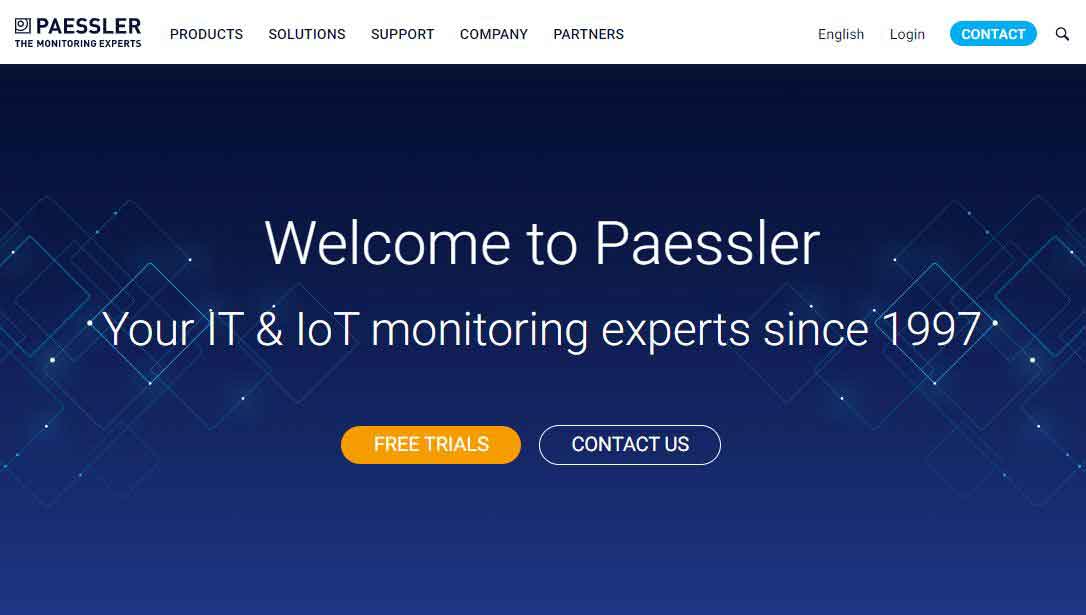 The Paessler Network Vulnerability Monitoring, also known as PRTG, is a great vulnerability monitoring tool that efficiently scans all the systems, devices, and applications within an organization's environment across multiple locations. The software scans the network with the IP address and uses a combination of packet sniffing, SNMP, and WMI to report on the network performance and discover new devices. It supports various alert methods like SMS, emails, or third-party integration so that no one can miss them.
PRTG is best suited for all businesses across all industries, regardless of size. However, when it comes to pricing, it's not an ideal option for small or medium size organizations. The prices are relatively too high compared to other software, so it's better if large enterprises use it. Still, organizations interested in using this tool can download the free trial version for 30 days and get unlimited access to all the features.
12- Alert Logic MDR

Alert Logic MDR is a reliable vulnerability management software that organizations can consider using. It works across hybrid and public cloud environments to provide critical information on security posture and identify threats that risk business data and reputation. With this tool, businesses can benefit from continuous attack monitoring and vulnerability scanning, including unlimited web application scans and reports on OWASP top threats and exploits targeting known vulnerabilities. Once the platform detects the vulnerabilities, it immediately provides remediation to boost organizational security.
MDR is best suited for small and medium-sized organizations that want a comprehensive MDR solution with strong vulnerability management capabilities. The security solution offers three premium packages, i.e., essentials, professional, and enterprise, and businesses can choose a plan according to their business needs. However, you can also demand a personalized demo to view how threat intelligence and expert defenders work together to strengthen the security infrastructure.
13- Qualys VMDR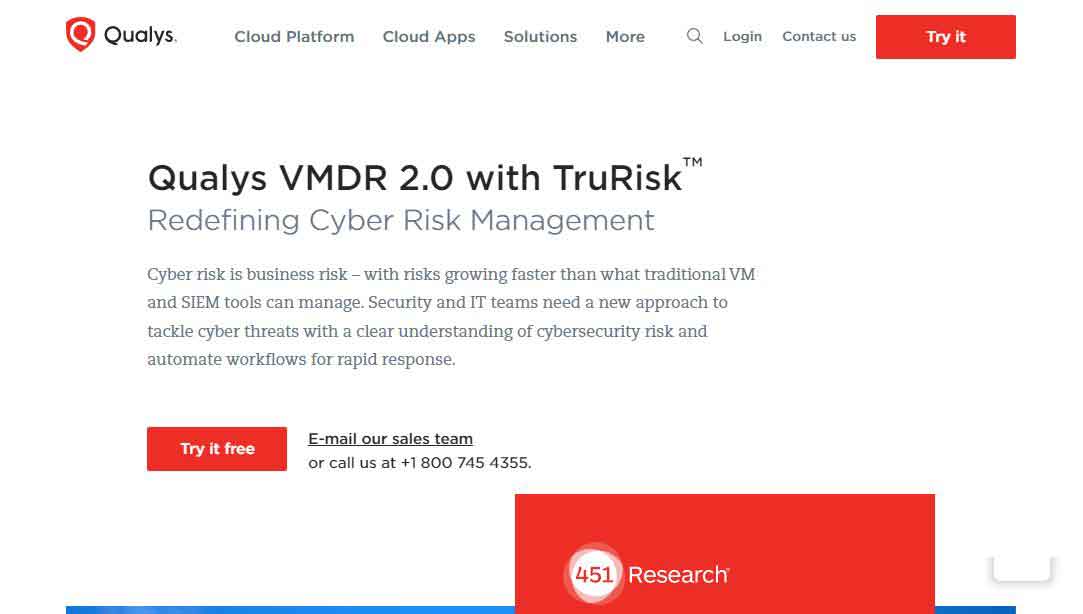 Qualys Vulnerability Management is designed for the cloud environment, providing instant visibility and remediation of the organizational security infrastructure. This software allows organizations to automatically discover every asset (devices, endpoints, and systems) within their environment and classify and tag the most critical ones. After categorizing the assets, it applies the latest intel analysis to prioritize the exploitable vulnerabilities. Later, the Qualys VM automatically deploys the latest vulnerability patch for remediation. This way, the tool automates the entire process, improves organizations' ability to respond to threats, and stops potential exploitation.
Qualys vulnerability management is an excellent tool for small, medium, and large-size organizations across all industries. This security-enhancing software doesn't offer a free version but does offer a trial period that enables companies to decide whether it's worth using.
14- Astra Pentest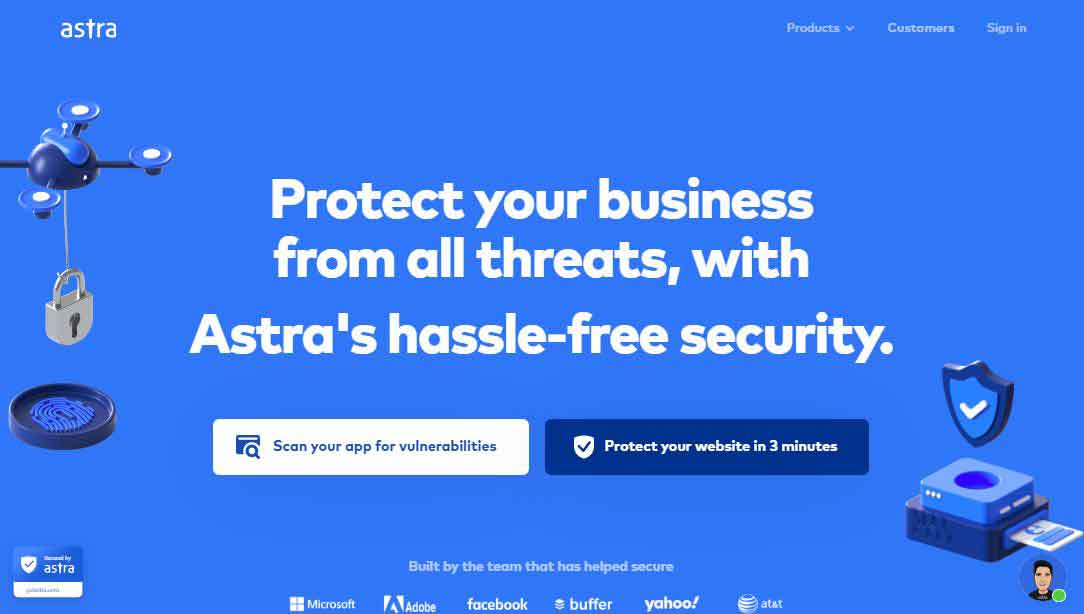 Astra Pentest is a trusted penetration testing solution with an automated vulnerability scanner that analyzes the organization's network security in-depth. It performs automated vulnerability scans to cover CVEs and the top 10 OWASP threats and guarantees to keep the business data safe and secure.
The software analyzes the vulnerabilities by showing the risk scores of each vulnerability in the dashboard and their impact on the business. It then assigns the vulnerabilities to the team members for collaboration with the security teams and offers them suggestions for fixes.
Small and medium-sized businesses with less dedicated security teams can consider using this tool and improve their security infrastructure. It is available in three premium subscription packages with no free version, which might disappoint the users.
15- Acunetix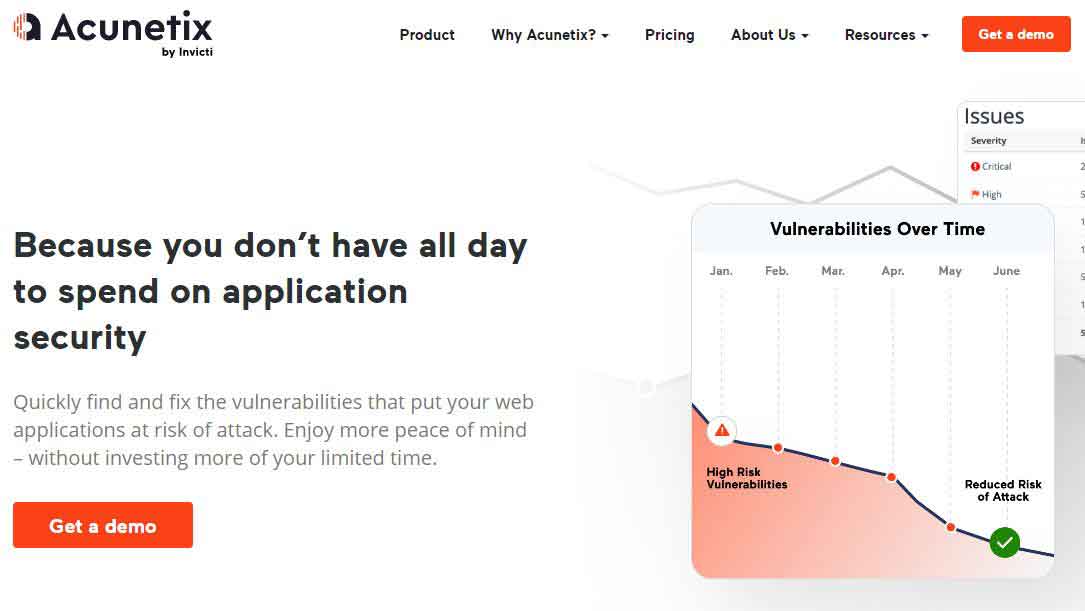 Organizations who want to improve web application security can use the Acunetix vulnerability scanner. The software uses an advanced yet unique AcuSensor Technology that allows you to detect more vulnerabilities than other web app scanners. It provides exact information about the vulnerability, like its source code line number and affected SQL query, and locates and fixes the vulnerabilities faster.
One impressive trait of this platform is that it offers multiple scanning engines, increasing efficiency and ensuring an excellent user experience. Besides this, it can detect over 7000 vulnerabilities and scan the system at an incredibly high speed without overloading the servers. It also reduces false positives by verifying the vulnerabilities before reporting on them.
Acunetix is one of the best vulnerability management software for APIs, web applications, and secure websites. Businesses must invest in a premium plan to benefit from this software. However, it doesn't offer any fixed pricing plan, so contact the support team and get the pricing quote per your needs.
16- SolarWinds Network Configuration Manager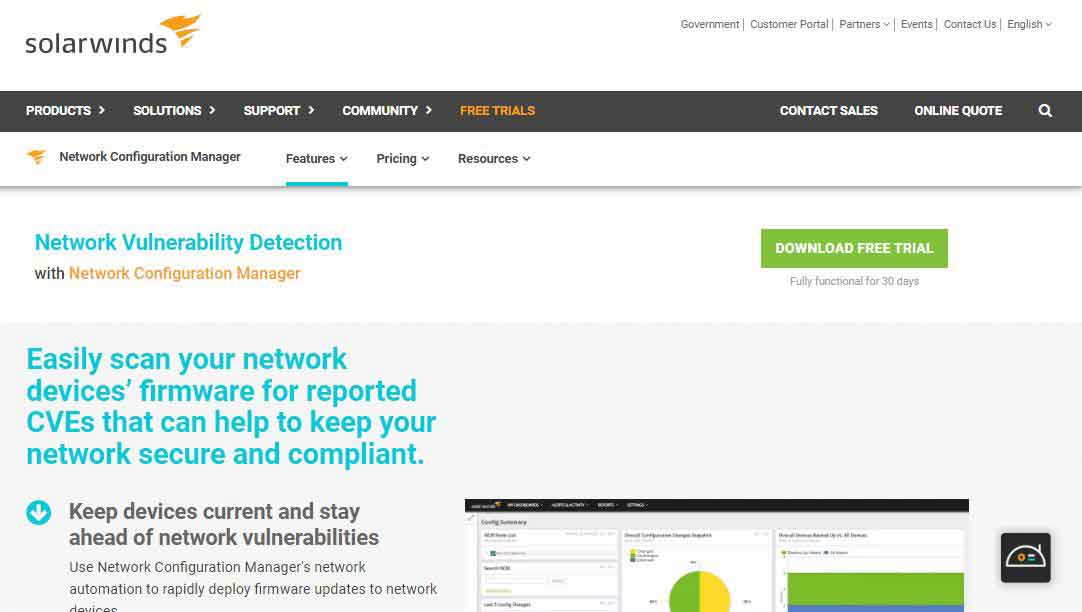 SolarWinds Network Configuration Manager is a vulnerability manager software that scans and manages vulnerabilities related to configurations of Internetwork Operating Systems and Cisco Adaptive Security Appliance-based devices. In addition, it scans the vulnerabilities associated with switch and router configuration.
An impressive feature of this tool is that it provides management and backup of all the network devices, thus minimizing the management of several devices. Besides this, it offers features like compliance security auditing and runs remediation scripts when it detects vulnerabilities related to configuration errors.
This software is ideal for businesses of all sizes; however, the prices are pretty high, and it doesn't offer any free version. If you're hesitant to buy the premium subscription, you can download the free trial version and test its features for 30 days.
17- Hexway Vampy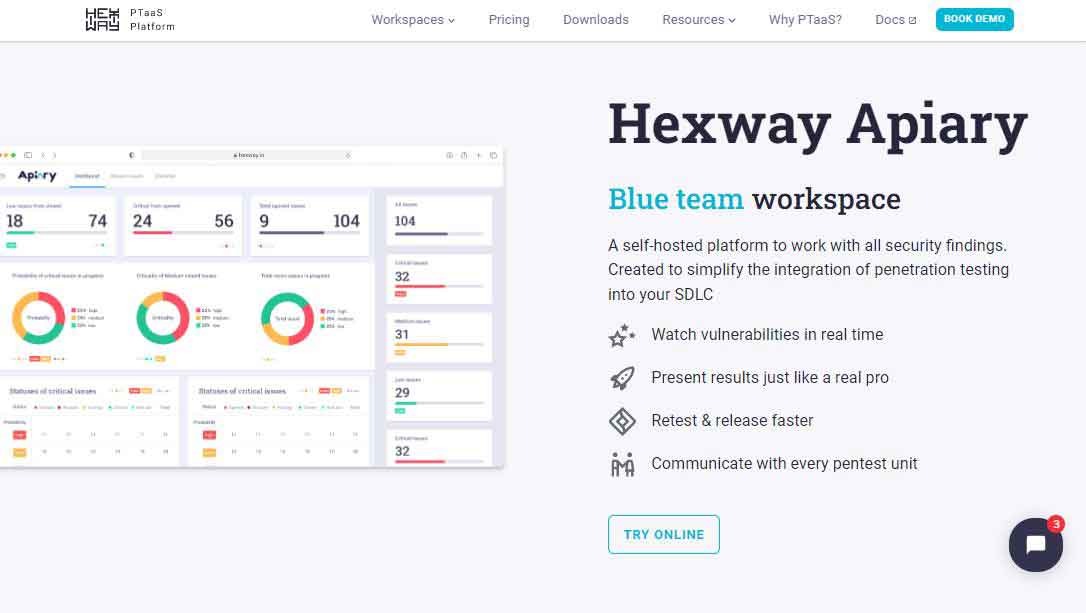 Hexway Vampy is a tool for pen testers that increases vulnerability management efficiency by integrating various tools and makes the entire process engaging rather than dull. It gathers data from different sources and gives real-time insight into the vulnerabilities to take remediation steps instantaneously.
This software is ideal for DevSecOps orchestration, application security testing, and CI/CD automation. It is available in three editions, i.e., community, pentest, and enterprise. The community edition is free to use and is best suited for bug hunters and freelance pen testers who want to increase their efficiency. The large-size enterprises must contact the support team for the pricing quote.
18- Automax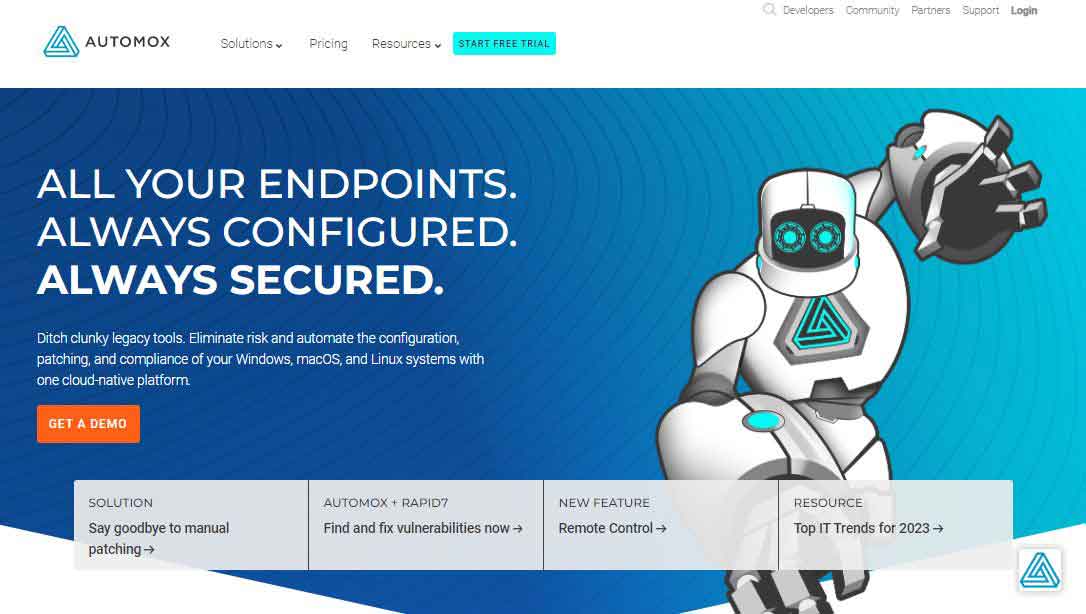 Automax is another great option for organizations to manage vulnerability. It is a cloud-native platform that allows organizations to automate critical patching, security configurations, software updates, and custom scripting across various endpoints and remediates vulnerabilities. Impressively, it comes with automated patching policies, so within a few clicks, you can create a patch for specific targets and schedule it to run automatically without disturbing the user.
The software is best suited for small, medium, and large-scale organizations looking to automate their Linus, MacOS, and Windows OS configurations and compliance with one cloud-native platform. The tool offers three premium packages, i.e., basic, standard, and complete. Also, you can use the free trial version for 15 days and check out the software's credibility.
19- Tripwire IP360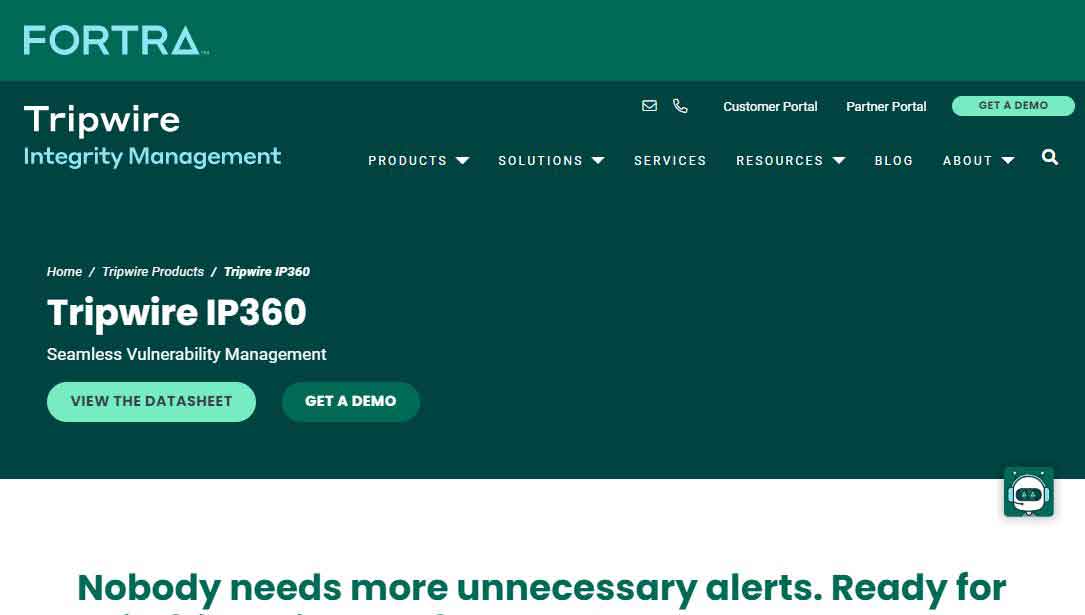 Tripwire IP360 is the best vulnerability management software that provides complete visibility into organizations' on-premises and cloud environments. Prioritization and vulnerability scoring are its most impressive features that discover the most critical vulnerabilities that need immediate patching.
The vulnerability management software best suits large organizations that want highly accurate detection and remediations for vulnerabilities. It is a license-based premium software, and you can contact the support team for the pricing quote and start a demo to test the software's credibility.
Things That Makes The Best Vulnerability Manager Tool
As several vulnerability scanners are available, deciding the best and most reliable one is challenging. Below are some necessary factors in the best vulnerability manager software, so have a look:
Ensure that the software relies on automation and runs continuous scans to send real-time alerts about vulnerabilities.
The software must be easy to use, install, configure, and integrate easily within the operating system. A central project dashboard that provides the threat's location, severity, and nature is essential.
Select software that provides comprehensive reporting and analysis about the vulnerability with recommendations to prevent the issue in the future.
Look for software with a range of vulnerability scanning features that helps proactively detect weak points in a system, endpoints, and devices and fix the most critical ones first.
Ensure you choose a VM software compatible with all major operating systems and applications.
Look for vulnerability management software that offers an affordable subscription plan along with all the necessary features.
It is best to use the vulnerability management tool with all the above features for instant addressing vulnerabilities.
How Do Vulnerability Management Tools Work?
The vulnerability management software ensures the network system and protects the organization from data breaches. As it is a continuous process, the tools follow a lifecycle as its working model. The lifecycle consists of five stages, with each fulfilling a vital task. Below is an insight into each process that makes up the vulnerability management software work:
Discovering Vulnerabilities: The first step is identifying vulnerabilities within the existing systems that involve automated scanning to assess the system, network, and applications for potential flaws and vulnerabilities like cross-site scripting that hackers can exploit.
Evaluate and Prioritize Vulnerabilities: The next step involves analyzing the network scans, firewall logs, penetration test results, and vulnerability scans to highlight the most critical weak points that can result in malicious events.
Verifying Vulnerabilities: This includes inspecting whether hackers can exploit the vulnerable points within the servers, applications, and networks. This way, organizations can focus on the severe vulnerabilities that need immediate action.
Patching Vulnerabilities: Once the software verifies the vulnerabilities, the next step is fixing them and reducing the attack vector. There are different ways to patch vulnerabilities, such as remediate, mitigate, and accept.
Tracking and Reporting Vulnerabilities: It is also vital to have regular tracking metrics and to report a culture that boosts efficiency and, ultimately, the security posture. This practice enables the security teams to monitor the changing vulnerability trends in various parts of the network and introduce remediation techniques to fix the flaws.
As mentioned above, vulnerability management is an ongoing process, so continuous monitoring and assessments of the organizations' assets are necessary for effective results.
How Do Organizations Manage Vulnerability Management?
Vulnerability management is a continuous process requiring a well-defined proactive approach for the security IT departments and reliable tools that automate and manage the entire process. To manage vulnerabilities efficiently, it's vital to keep the following things in mind:
The IT teams must determine the assets to be analyzed for vulnerabilities. They must look at the internal and external potential risks and recognize the sensitive data, devices, or systems that malicious actors can likely attack or exploit.
Determining who's responsible for managing the entire program is also essential. This person must have deep technical knowledge about the software and technologies being used and then define the roles and responsibilities of others.
Consider which tools are essential to use. Different organizations have different preferences, so they choose tools accordingly.
Besides this, organizations must establish a vulnerability management policy that can further define rules for reviewing and evaluating vulnerabilities and ensure the success of a vulnerability project.
Final Thoughts
An organization's security solely depends on identifying and fixing the vulnerabilities before malicious actors can exploit them. Using vulnerability management software is vital for organizations to protect their network from internal and external vulnerabilities and security glitches. There are various free and paid options available that companies can choose based on their needs and budget and maximize their security ecosystem. The software mentioned above are the most reliable ones that companies can choose. If you haven't picked one, go through this guide and select the one that meets your criteria.
FAQs
Which is the best vulnerability management software?
All the vulnerability management software mentioned in the above guide is best in one way or another, but it also depends on the company's needs. For instance, any small organization must consider using OpenVAS, Rapid7 InsightVM, and ImmuniWeb Discovery software, while CrowdStrick Falcon Spotlight and PRTG best suit large organizations. Similarly, if a company is looking to detect vulnerabilities within the web app, it must try using SolarWinds Network Configuration Manager. Apart from this, certain factors like a simple and sleek user interface, detailed visibility, integration, automation, and instant remediation capabilities make the software the best.
How does a vulnerability management tool help businesses?
A vulnerability management tool has become the essential demand for all businesses across all industries. It helps companies to find and fix vulnerabilities that hackers can exploit and result in a possible data breach or cyber-attack. These tools automate the detection and remediation process, increasing efficiency and enabling the security teams to focus on other important tasks. Also, it ensures the organizations comply with the regulatory compliance and protects them from getting penalized, which leads to financial and reputational loss.
What is vulnerability management software?
Vulnerability management software allows developers and security engineers to monitor an organization's security infrastructure to identify and manage the threats and risks that hackers can exploit and provide remediation actions. A comprehensive vulnerability management software offers a range of features that ensures efficiency and automates the scanning and detection process across all the operating systems, endpoints, and devices known for weaknesses. Once it detects vulnerabilities, it provides a detailed view in the project dashboard that helps organizations understand their weak points and how to improve them.
What is the most popular vulnerability scanner?
Nessus Professional is the most popular vulnerability scanner that companies frequently use. It is best suited for all organizations regardless of size and uses diverse sensors to detect vulnerabilities within the IP address, websites, and the entire network. In addition, it continuously scans and assesses known and unknown assets for vulnerabilities and provides detailed insight and analysis in the project dashboard. It even offers a seven-day free trial period that enables the security teams to test its features and functionality.
What kind of vulnerability management tools do companies use?
Companies usually use a vulnerability management tool that offers a wide range of features like web scanning, vulnerability assessment, and automated scans of all the systems, servers, devices, and applications within the IT ecosystem. Plus, it's also essential that you must ensure that the software is easy to use and deploy and won't cause any troubles in terms of usability.
Is CrowdStrike a vulnerability management tool?
CrowdStrike Falcon offers the Falcon Spotlight solution that works as a vulnerability management tool, provides real-time visibility across enterprise assets, and gives relevant information to reduce exposure to potential threats and attacks. For effective detection of vulnerabilities, the tool uses a combination of AI and threat intelligence databases that continuously update information about the latest attacks and gives the security teams an insight into the impending danger so they can prepare accordingly. This security-focused tool is best suited for large-scale companies and is available in premium subscription plans.