Network security software keeps the data secure and blocks malicious or potentially vulnerable entities. This keeps the network safe and enables businesses to focus on their goals. Below is a quick overview of the 15 best network security software; let's have a look:
If you still can't decide which security software will be the best fit, read their short reviews in the latter part of the article.
Network security is a set of actionable measures organizations take to prevent accidental damage to sensitive network data. Poor security practices within an organization lead to the exposure of private data, including customer data. In addition, hackers are continuously looking for new vulnerabilities to exploit business networks and access data. The old security tools are not as effective in protecting the network and require specialized network security software to do the job.
Network security software protects the network infrastructure from unauthorized access, misuse, and theft. It also helps keep sensitive data safe from cyber-attacks, ensures that the company meets regulatory compliance requirements, and avoids legal troubles.
This guide covers the best network security software available in the market with its key features. Go through it and decide which one suits you the best.
Why Do Businesses Need Network Security?
With the increasing use of technology, businesses rely more on their networks for data storage, communication, application usage, and other activities that malicious actors can compromise if not appropriately protected. In addition, securing business networks becomes even more crucial as the number and cost of data breaches and cyber crimes are increasing. The average cost of a data breach is $4.24 million, which further increases the demand for robust network security.
Network security has become a vital aspect of all businesses. It helps organizations prevent data breaches that result in millions of lost revenue. Besides this, it ensures that sensitive customer data or financial information is not shared with unauthorized persons. Cybercriminals can sell this information on the dark web, use it for identity theft, or launch other cyber attacks.
There are different components used to secure a network. This includes VPNs, firewalls, antivirus software, EDR, XDR, and more. All these components mix with the network security practices to secure the network from malware, spyware, ransomware, and other intrusions through accidental or intentional means.
A reliable network protects organizational interests and operations and clients who exchange information with them and trust them to share their sensitive data. Here's a reminder of the top benefits your business gain from having strong network security:
Builds trusts
Mitigate risks
Comply with regulatory compliance in your industry
Enables a modern workplace
As a whole, organizations must consider network security as it protects them from internal and external threats. By implementing network security protocols and practices, businesses can ensure that their systems are safe and can focus more on their business goals.
15 Best Network Security Software
There are various network security tools, and deciding on one is challenging. However, through research and testing, below is a detailed analysis of the 15 best network security software worth using in 2023.
1- Perimeter 81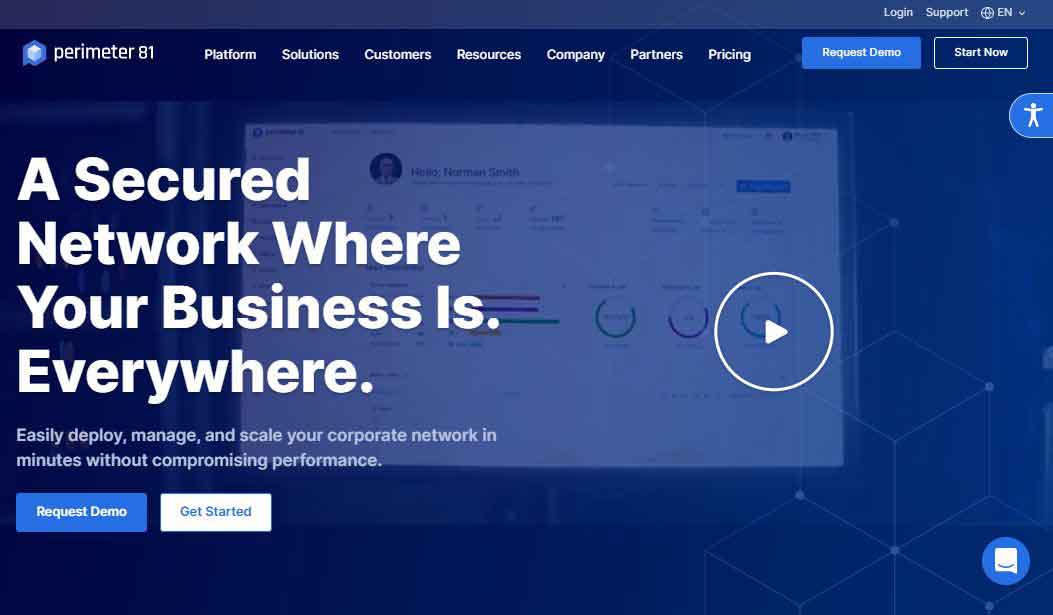 Perimeter 81 is the top network security software popular that secures the business network, including local and cloud resources. It includes basic to advanced network security management features for thousands of businesses and industries to achieve holistic cyber and network security, irrespective of size. Besides this, users can create adaptive least-privilege access policies based on location, identity, role, and device and grant access to only authorized employees to combat unauthorized access.
Another impressive feature of Perimeter 81 is that it offers other security and privacy-centric features like:
Split tunneling
Multi-factor authentication
Web filtering
Dashboard monitoring
Identity management
All the above features make it difficult for bad actors to breach your network and compromise security. The software offers different pricing plans, each with a 30-day money-back guarantee offer.
2- Snort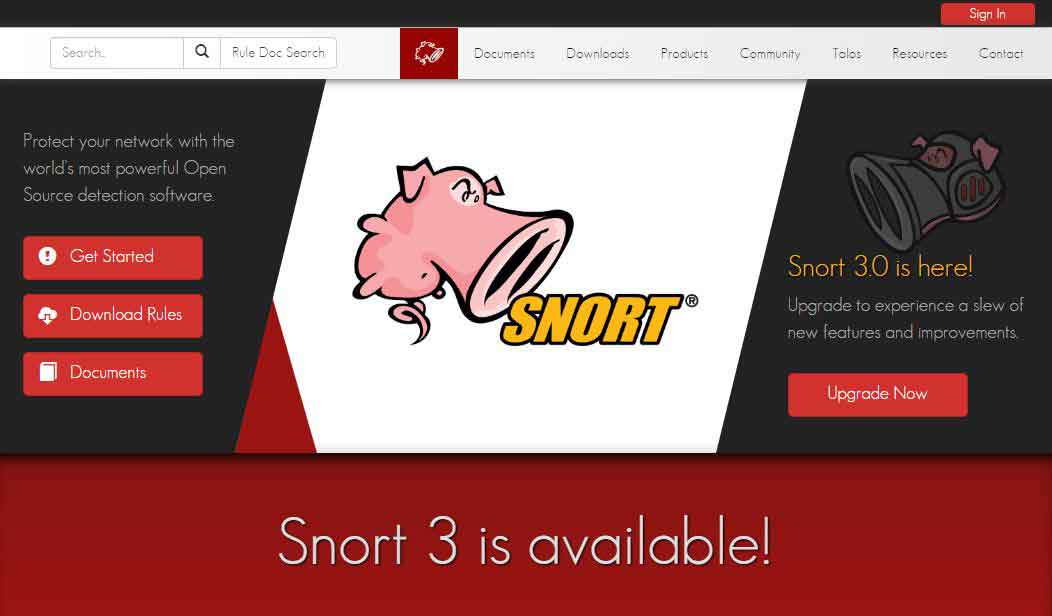 Snort is an Open Source Intrusion Prevention System (IPS) that uses rules to define malicious network activity. It monitors the network traffic and then compares it against a set of rules that issues an alert when it detects any unusual activity within the network. Besides IPS, Snort also works as a packet sniffer or a packet logger, which is helpful for network traffic debugging.
The software also performs various functions that boost network security like:
Identify attacks and probes like fingerprinting attempts
CGI attacks
Stealth port scans
It is an advanced network security solution available for personal and business use. Businesses of all sizes can benefit from this software. However, it requires users to have advanced technical knowledge for successful implementation or results. The security software prices vary from the subscription plan you want to buy, and all the plans come with a refund offer.
3- Webroot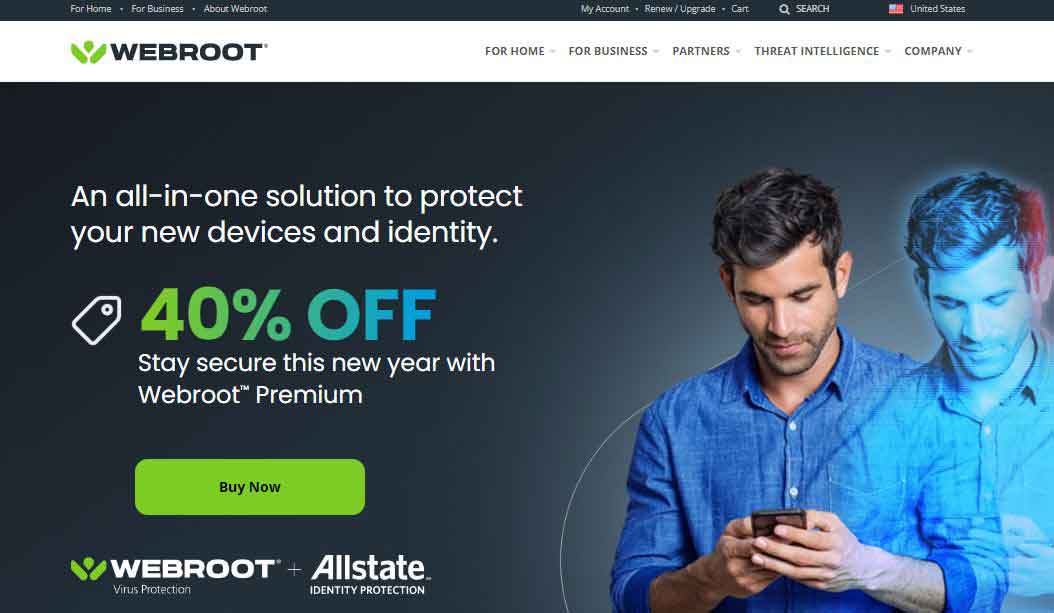 Webroot is an endpoint protection software that relies on cloud computing, predictive analytics, and machine learning to combat network security threats. One notable aspect of Webroot is that it efficiently understands the challenges faced by SMBs and offers tools that secure endpoints, networks, and end users.
Its services include antivirus, anti-malware, and web filtering that keeps your critical business systems safe and ensures that threat actors don't find any way to invade the network. Besides this, it offers remote monitoring and management integrations to protect businesses and clients from rising cyber threats. Some other impressive features include the following:
Cloud-based solution
DNS protection
Threat Intelligence Service
Multi-vector protection
The security solution is available for personal, small, and large-scale business organizations. The pricing plan varies, but all the plans come with a free-trial offer that allows users to test all features and decide if the product is worth using.
4- Norton Security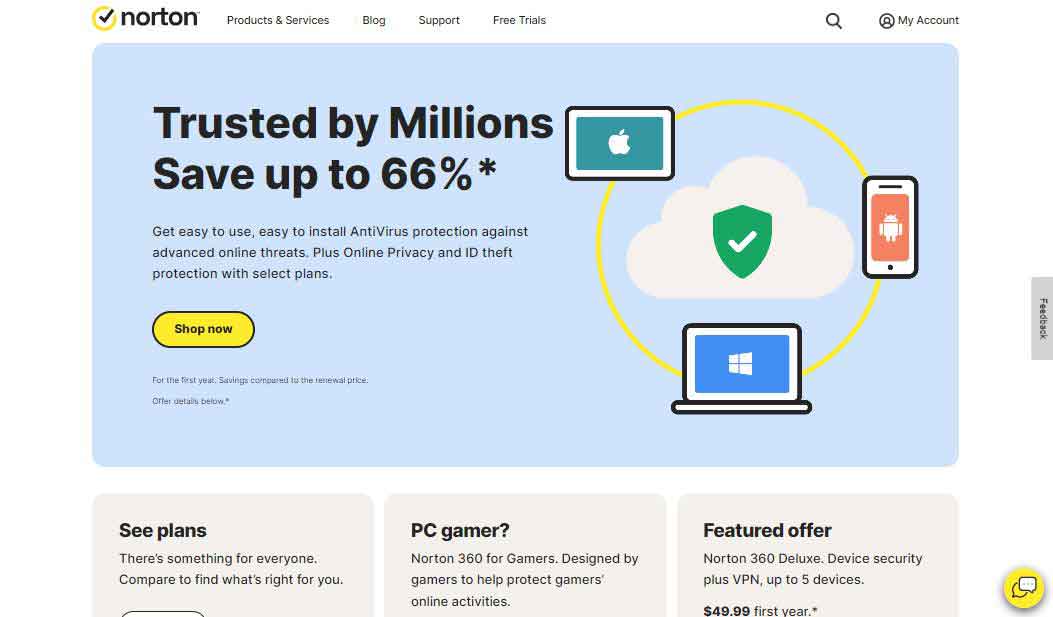 Norton provides excellent all-around protection from multiple cybersecurity threats within the network or the device. Its anti-malware search engine uses machine learning and a malware directory to detect malware, from simple viruses and trojans to advanced malware like cryptojackers and ransomware. With a long history of producing outstanding security solutions, Norton is top-rated antivirus software that you must consider.
Besides antivirus, Norton also provides a range of other security-centric solutions that helps in boosting network security like:
Identity theft protection
Password Manager
Parental Controls
Device optimization
Firewall
VPN
Anti-phishing protection
This network security software is an ideal choice for businesses that helps in combating network-related threats. The suite is available at various prices, but all the plans offer a seven-day free trial period. If you are hesitant to buy the premium plan directly, avail the trial version and then decide.
5- Solar Winds Security Event Manager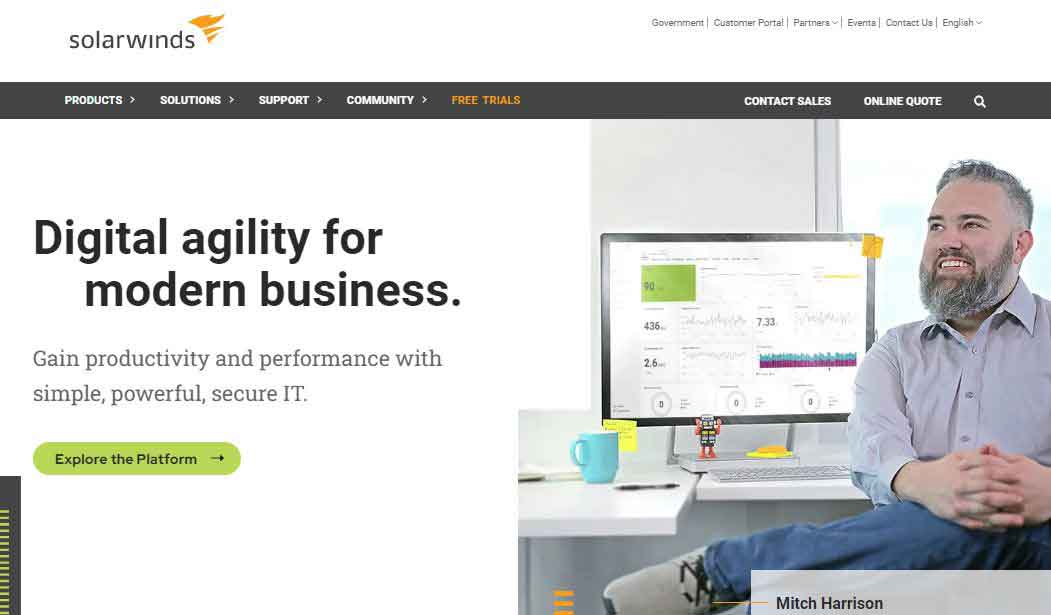 The Security Event Manager from Solar Winds is a leading network security software that IT professionals and MSPs must consider using. It's designed to provide a comprehensive overview of the security status of the devices and services across the network infrastructure. In addition, it continuously monitors the network, detects threats, and sends alerts on any unusual and suspicious activities.
What's more impressive is that this tool uses automated processes for threat detection across the network and minimizes the need for manual detection. Besides this, admins can use the SEM configuration options to create rules to respond to flagged threats. Some other highlighted features of this network security software are as follows:
Threat intelligence
Network intrusion and detection system
Log correlation analysis
Security monitoring
As a whole, SEM is a great network security tool that includes all network elements. Though the software is available in paid versions, you can use the 30-day free trial version and check whether it meets your requirements.
6- Zscaler Cloud Firewall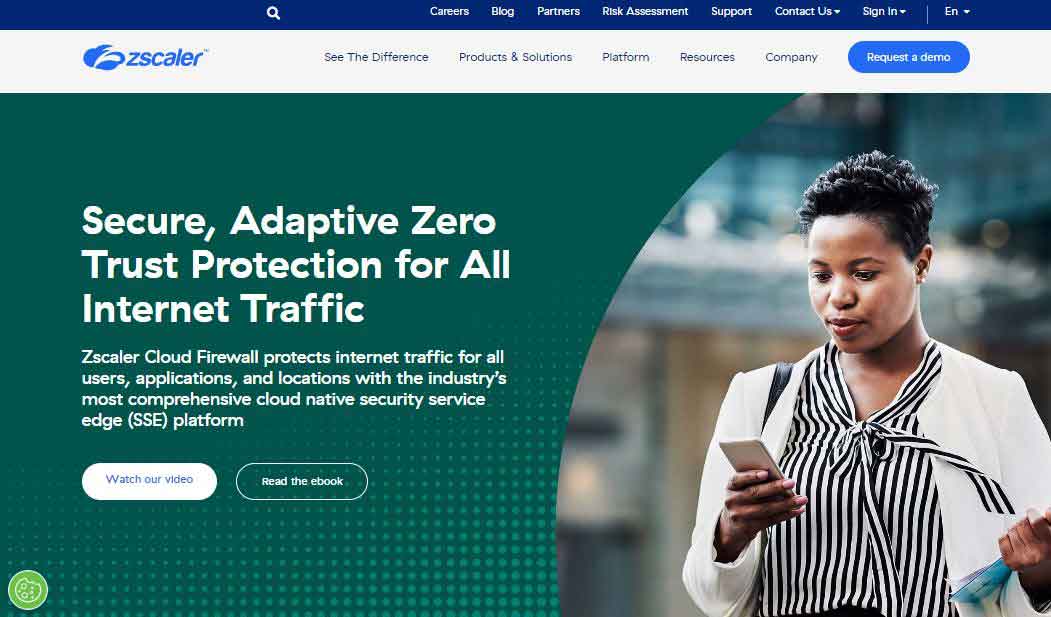 Zscaler Cloud Firewall is another network security software that relies on the industry's most comprehensive cloud-native security service edge (SSE) platform. It secures internet traffic, applications, and end users and boosts network security.
The security tool creates a virtual network that extends to create a custom IPS signature and implements it using the Snort syntax to identify and prevent potential threats. It protects the connection between a community of users, making it an ideal option for companies with remote workers. Besides this, it creates a flexible access policy to cloud services and PaaS and IaaS with centralized policy management, which makes it easy for businesses to limit unauthorized access. Also, to ensure network security, it offers the following features:
The cloud firewall solution is best suited for small and large-scale business organizations. It doesn't offer a trial version, but you can contact the support team and request a demo.
7- Burp Suite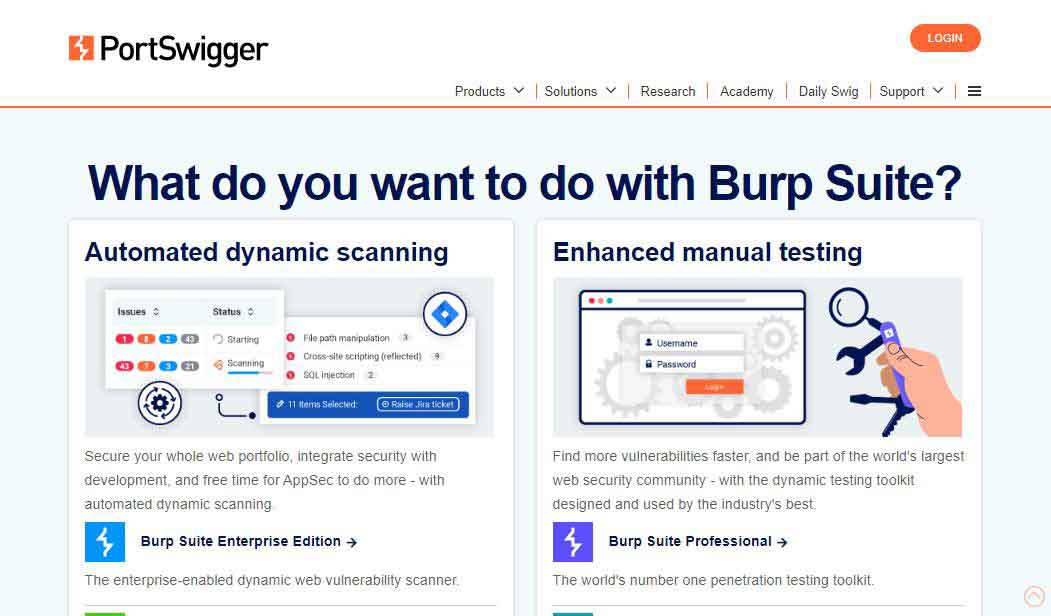 Burp Suite is an integrated tool that performs security testing of web applications. Different tools efficiently support the entire testing process, i.e., from initial mapping and analysis of the attack surface to finding and exploiting the security vulnerabilities.
It is a popular tool among bug bounty hunters and web app security researchers. It works by stimulating an attack on a network and listing the correct access attempts. Later, the results are further investigated. To detect and mitigate network threats, the security suite features a vulnerability scanner and other tools like:
Proxy
Intruder
Repeater
Sequencer
Decoder
Extender
An impressive trait of this network security software is that it offers a community edition that is free to use. It's best suited for startups because it doesn't include access to a professional support team and requires the community for advice. Besides this, Burp Suite offers two paid plans; the professional and the enterprise edition. Both plans include different tools, as the professional edition includes pen testing and a web vulnerability scanner, while the enterprise edition provides vulnerability scanning and scheduling for network security sweeps.
8- Nessus Vulnerability Scanner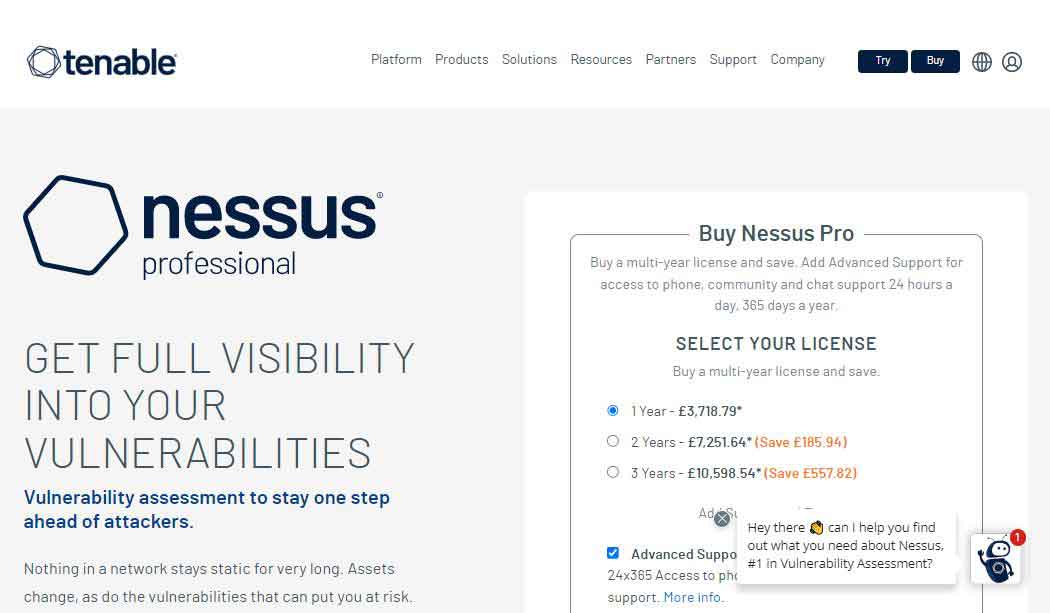 Nessues is a prominent open-source vulnerability scanner that uses the common vulnerabilities and exposure architecture for easy cross-linking between the security tools. It employs the Nessus Attack Scripting Language (NASL) to detect potential threats and cyber-attacks.
Administrators can include the NASL descriptions of all suspected vulnerabilities to create customized scans. Some other significant features of Nessus include:
Policy management
Web scanning
Network scanning
Asset discovery
The network security suite is best suited for mid and large-scale organizations. It offers three different premium packages, so you can opt for them or first take advantage of the seven-day free trial period. Thus small businesses can also consider using Nessus only if they have prior experience and technical knowledge.
9- CrowdStrike Falcon Insight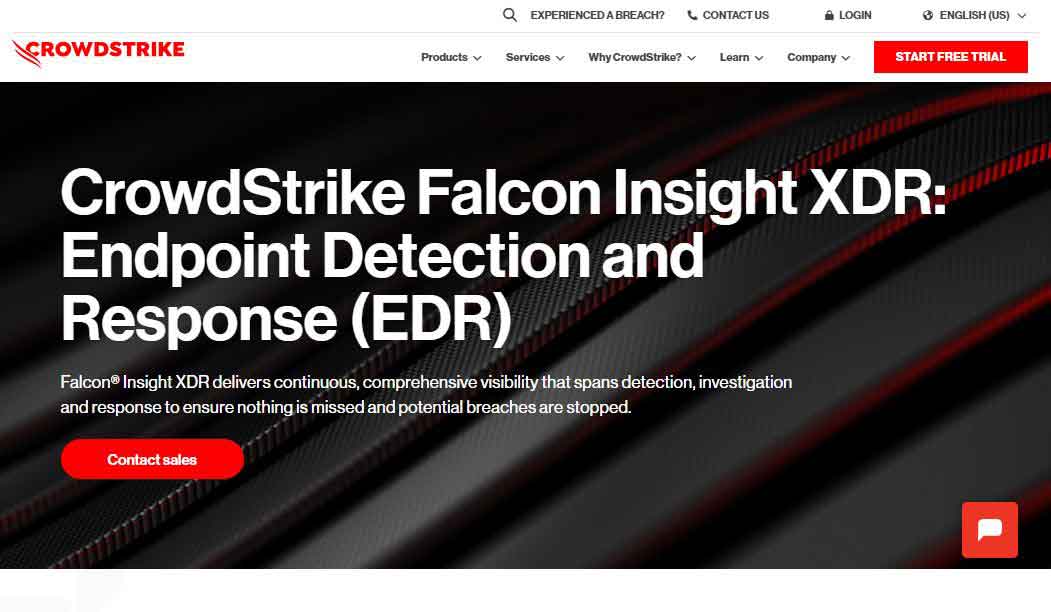 Falcon Insight XDR is the network security tool offered by CrowdStrike that provides continuous and comprehensive visibility that detects, investigates, and responds to prevent potential breaches. By opting the Falcon Insight, users get access to full enterprise-wide security systems instead of a collection of endpoints.
On the top, it continuously monitors the endpoint activities, so you know what's happening, meaning a threat on a single endpoint to the threat level of the entire organization. In addition, with AI-powered indicators of attack, it automatically detects and prioritizes malicious activity. Some other prominent features of this tool are as follows:
Threat hunting
Easy-to-use APIs
Continuous raw event recording
Streamlined notifications
The best thing about this network security software is that it is best for all businesses regardless of size and offers a trial version. Thus, if you're often confused about the product's functionality, you can try out the 15-day trial version.
10- Kaspersky Endpoint Security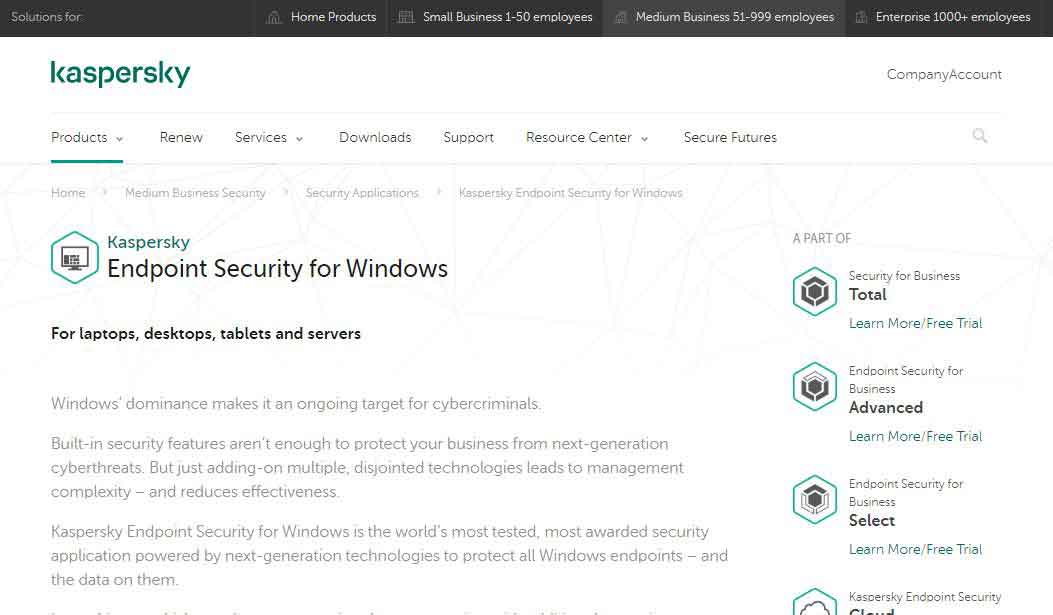 Kaspersky Endpoint Security is also a good option to ensure network security. It protects the business from next-generation cyber threats by combining multi-layered threat protection with additional proactive technologies like web and device controls, vulnerability and patch management, and data encryption into an EDR-ready endpoint agent with an extensive systems management toolkit.
The software offers various valuable features to protect the network:
Robust firewall
Threat response
Intrusion detection system
Activity monitoring
This network security software is best suited for small to midsize organizations. However, it doesn't offer a free version or a free trial period, meaning the users cannot test the features and functionalities. But don't worry, as all the premium subscription plans come with a 30-day money-back guarantee offer, so if you're unsatisfied with the software, you can get your money back.
11- Forcepoint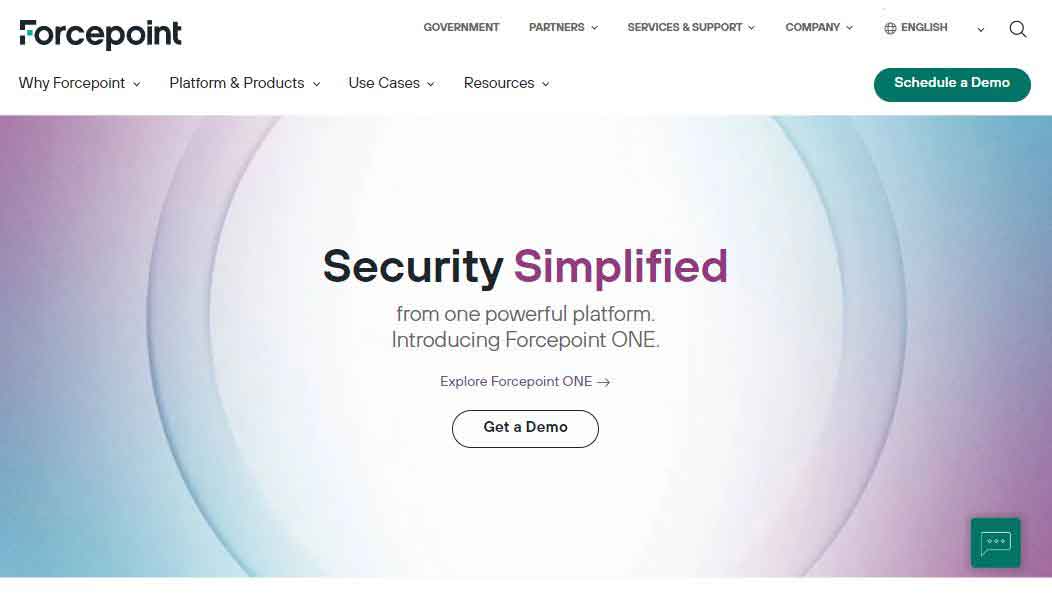 Forcepoint is a cloud-based network security software that monitors unusual activities within the cloud environment. It ensures network security by restricting users from accessing content that isn't their use and blocking attempts to access the organization's information. Also, it provides warnings about any risky cloud servers and adds an extra layer of security to fight critical threats.
The best feature of this software is that the user can customize it to monitor and detect any unauthorized activity with the network and take appropriate steps quickly. Besides this, it also offers the following features to increase network security:
Next-generation firewalls
Insider threat detection
Data visibility
Data loss protection for cloud email
This software is best suited for organizations that are working in the cloud. It offers various subscription plans, but you can schedule a free demo to check its credibility.
12- Kali Linux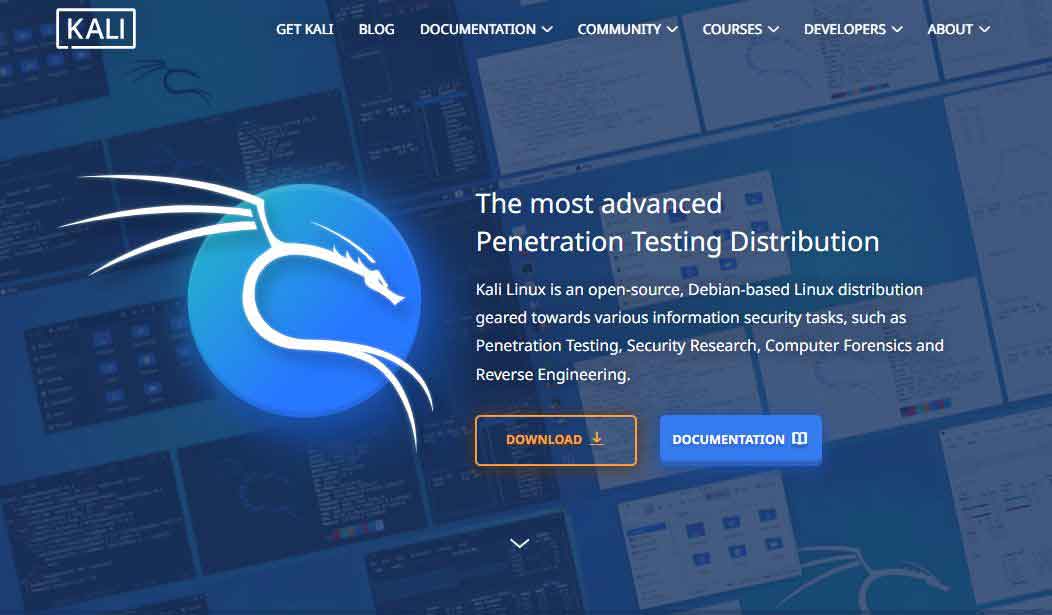 You can also consider using Kali Linux if looking for an easy-to-use penetration testing tool for scanning network vulnerabilities. It is open-source software that allows organizations to maintain network security on one platform.
One impressive feature of this software is that it offers security auditing tools with over 300 techniques that ensure that your sites and Linux servers remain protected from malicious intrusions. Though this software doesn't provide a range of features like others, it comes with pre-installed tools that help in maximizing security, such as:
Professional penetration testers, ethical hackers, and cybersecurity experts can find this software useful. Individuals can also use it, but if they possess strong technical knowledge.
13- Nagios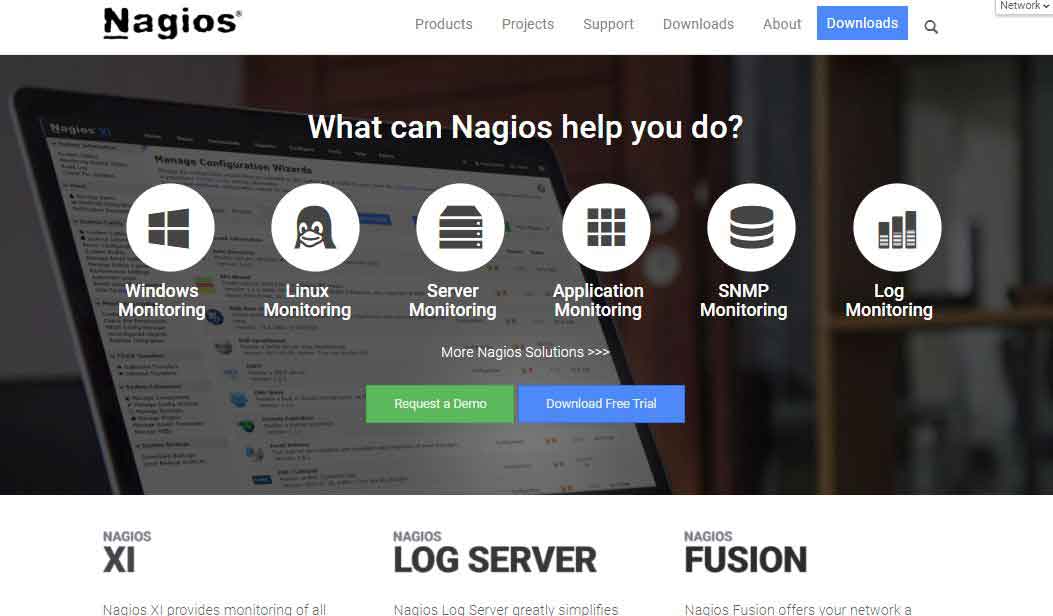 Nagios is a network security software that efficiently monitors the network for problems that's caused by overloaded data links, network connections, switches, and monitoring routers. In addition, it tracks network resources like POP3, HTTP, NNTP, SMTP, and NNTP and informs about any suspicious activity.
It also sends real-time alerts so appropriate actions can be taken correctly. What's more impressive is that it offers various amazing features that boost network security like:
Network analyzer
Log server
Traffic monitoring
This network security software is ideal for mid to large-size organizations and cybersecurity experts. Like other software, Nagios also offers premium plans but to test its service, you can download the trial version, which is free to use.
14- Splunk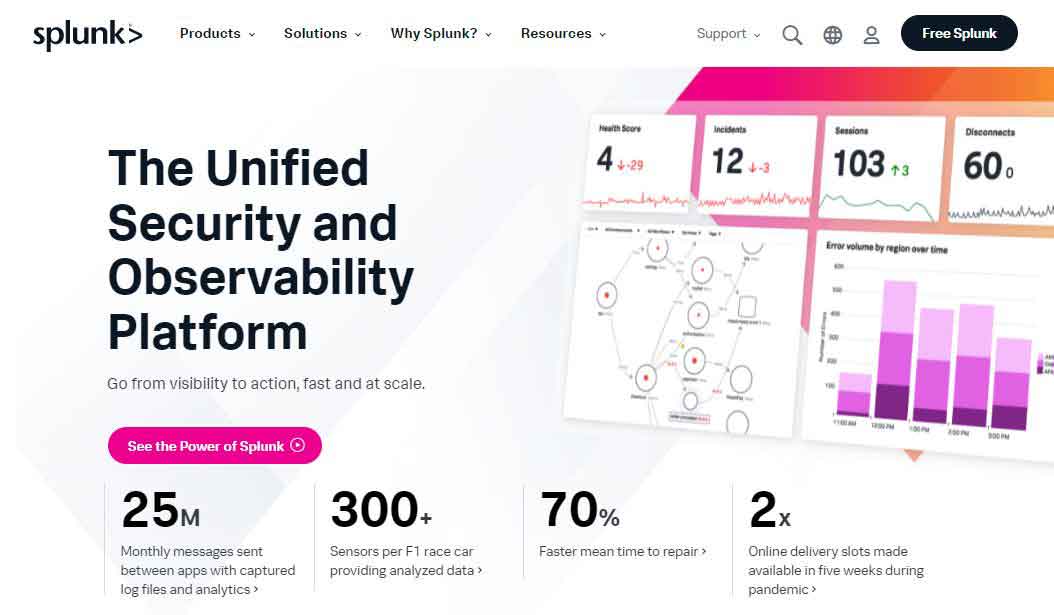 Splunk is a reliable network security software designed mainly for the cloud environment. It monitors the network and provides alerts to the cybersecurity frameworks. In addition, it helps prioritize the alerts and boosts investigations with built-in threat intelligence capabilities.
The software is easy to download and install and offers some impressive security-centric features like:
Advanced threat detection
Application modernization
Incident investigation and forensics
Businesses of all sizes can consider using this software and increasing their network security. Though it is available in paid versions, you can use the free trial version to check if the software meets your requirements.
15- OWASP ZAP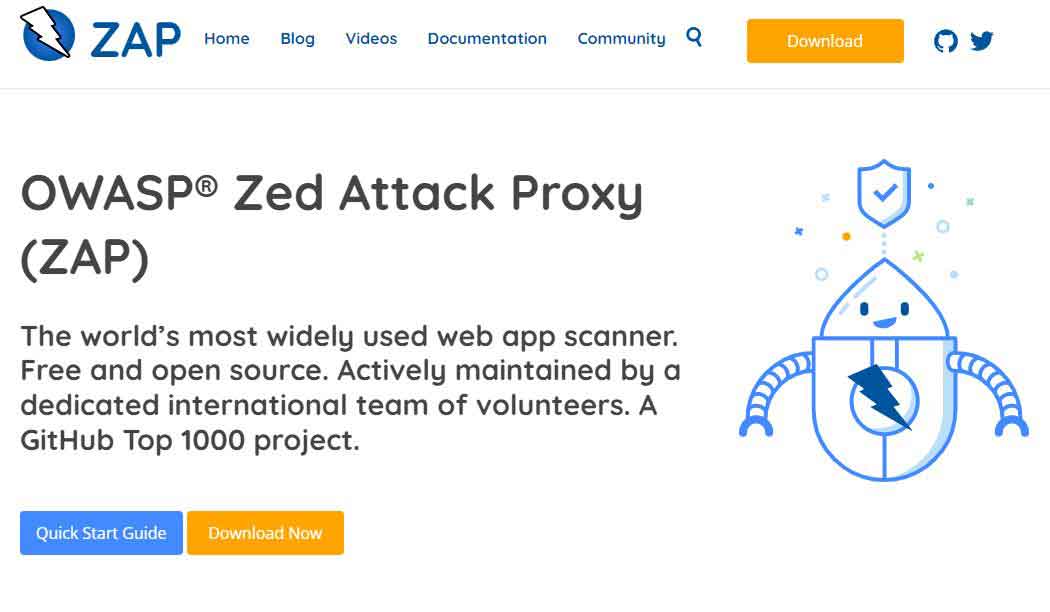 OWASP ZAP is an open-source software that works as a penetration testing tool and checks for web application vulnerabilities. It acts as a proxy and protects the system from hacker interference.
Besides this, it scans the network for system configuration weaknesses and faulty authentication to ensure network security. Also, it maintains network security by offering the following features:
Detecting poor access control
Securing unprotected APIs
The best thing about this network security software is that it is free to use and is compatible with all major devices and operating systems. Hence, anyone looking for free software must consider using it.
Key Features For Network Security Software
When investing in network security software, it's crucial that you choose the right solution. There are some other key features that you must not ignore while selecting a network security software for your business like:
Choose a security software that's easy to deploy and use. Complex software will take a lot of time to learn how to use and will keep you away from your actual mission.
Select software that sends you extensive reports about all the logging devices and activities on your network and ensures that you won't miss out on any detail.
Ensure that the software sends alerts about suspicious activities, so it's easy to take appropriate action in a quick time.
The best network security software must rely on automation or AI/ML systems to effectively detect suspicious activities.
Ensure that the network security software offers a demo or free trial version so it's easy to test its credibility before you invest in it.
The features listed above are vital for maximizing network security, so don't overlook them.
Final Thoughts
Businesses of all sizes face severe cybersecurity threats every day. They come from malware, endpoints, bugs, threat actors, or hackers. No matter their form, their goal is the same, i.e., to compromise your network security and access sensitive business data. Losing sensitive business data can cost an organization millions. In addition, by stealing and selling the customers' data publicly, hackers create mistrust in the organization and damage their reputation.
Hence, investing in good network security software has become imperative to prevent unauthorized access and actions. The above guide covers the best network security solutions for personal and professional use. Choose the most suitable one and boost your network security.
FAQs
Which is the best network security software?
All the network security software discussed in this article is a good option to use to boost network security and reduce the risk of potential threats. However, if you want to network security on an individual level, there is no better option than using Norton Security. Whereas, if you want security software for businesses, then Perimeter 81 and CrowdStrike Falcon Insight are recommended for their ease of use, functionality, and impressive features.
Is network security software free to use?
Using network security software for personal or individual level is a worthy investment that doesn't come for free. All the security suites mentioned above don't offer any free version except for Burp Suite, but it does come with limited features. However, you can try out the trial versions and decide whether the product is worth using.
How do businesses benefit from network security software? 
Network security software aims to keep the business and client's data safe and out of the reach of malicious actors. By analyzing the network through various aspects, these solutions detect and remediate the threats that surround the network. This way, businesses don't lose their sensitive data, and the trust of their clients isn't damaged.