Quick List For the Best Virtual Machine Software For Windows
Virtual machine software is vital tool for developers to deploy VM software to test applications in a safe environment. Besides this, it ensures security by fighting against viruses and blocking hackers from invading a system. Below is a quick overview of the 15 best virtual machine software for Windows OS that can consider using in 2023:
If you still can't decide which VM software to use, read their short reviews in the latter sections and choose the best software that meets your standards.
Virtual machines are among the most edge-cutting technologies of the modern era. Going virtual is a significant step for any IT professional or programmer, but what is a virtual machine? In a simple realm, a virtual machine is a digital version of a physical computer that can run multiple operating systems and programs, store data, and perform other computing functions.
Each virtual machine possesses its operating system and functions that differ from other VM located on the same physical operating system. It normally runs on the server, but you can also run them on embedded platforms and desktop systems. Besides this, it brings various benefits to the business, such as supporting legacy apps, eliminating the cost of migration to other OS, and testing apps in a secure sandboxed environment.
Different virtual machine software is available, but not all are equal or reliable, making it difficult to pick the right one for your needs. The following guide compiles the best virtual machine software for Windows that benefits the business in several ways. Let's look deeper into this and explore the perfect match for your business.
Why It's Important To Use Virtual Machine Software?
Virtual machine software allows organizations to take advantage of the virtual desktop infrastructure (VDI) that enables users to access desktop environments like Windows or Linux remotely. In addition, it acts as a digital office available anywhere, anytime, and proves handy to hybrid workers to boost productivity and access all company tools.
Apart from this, virtual machine software can use in several ways, and below is an insight into its benefits:
Virtual machine software provides the basis for creating a cloud environment with an on-premises one which adds more flexibility without leaving the legacy systems.
The software offers integrated disaster recovery and applications that enable IT teams to detect and mitigate potential software threats and maintain security.
Security engineers and developers can use the VM software to test how an app or software works without worrying that any bug or malware can affect their physical computer.
Virtual machine software increases efficiency by enabling you to use incompatible software with the host machine and reduces the cost of migration to a new operating system.
A virtual machine is also handy for making a clone of the system, which helps create data back-ups of the existing systems.
Despite all the benefits, virtual machines carry some drawbacks that users can't neglect. For instance, a VM is slower than a physical machine. Plus, running multiple VMs can affect your CPU and other hardware components, causing unstable performance. Thus, ensure that you choose a VM software considering the specifications of your physical OS.
Best Virtual Machine Software For Windows That Is Worth Considering
The versatility of virtual machines has increased their popularity in the business sector. VMs are easy to manage and use and offer several advantages over physical machines. They can run multiple operating systems on a single device and help IT teams to improve efficiency and reduce management costs.
If you are also searching for virtual machine software for your business, below is a detailed insight into the 15 best VM software for the Windows platform:
1- VMware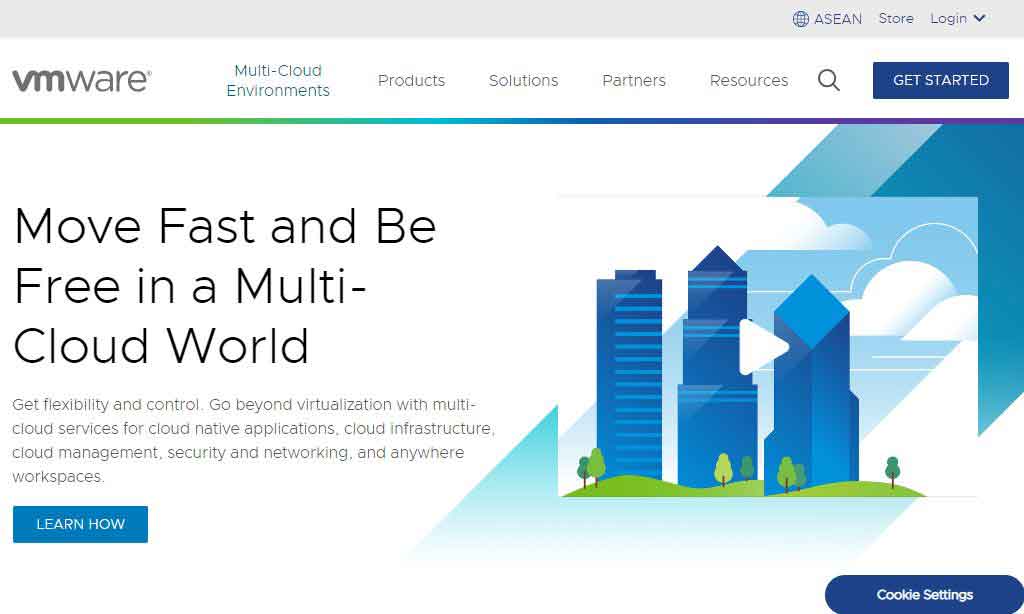 VMware is a top-rated virtualization program that offers multiple virtual machine software for personal and business use. This software works on standard x86-based hardware with 64-bit Intel and AMD processors and 64-bit Windows. Besides this, it is compatible with other operating systems, including Linux and Fedora, and allows developers to develop and test apps. This software benefits the IT admins who can centrally manage and enforce the security policies and allows employees to access all the desktops and apps quickly.
The virtual machine software has numerous impressive security-centric features such as UEFI Boot support, GPU Sandbox renderer, and create/manage encrypted VM. The product is free for personal use, but for business, it offers two premium editions, i.e., Workstation Player and Workstation Pro; contact the support team and ask for the pricing quotes.
2- Virtual Box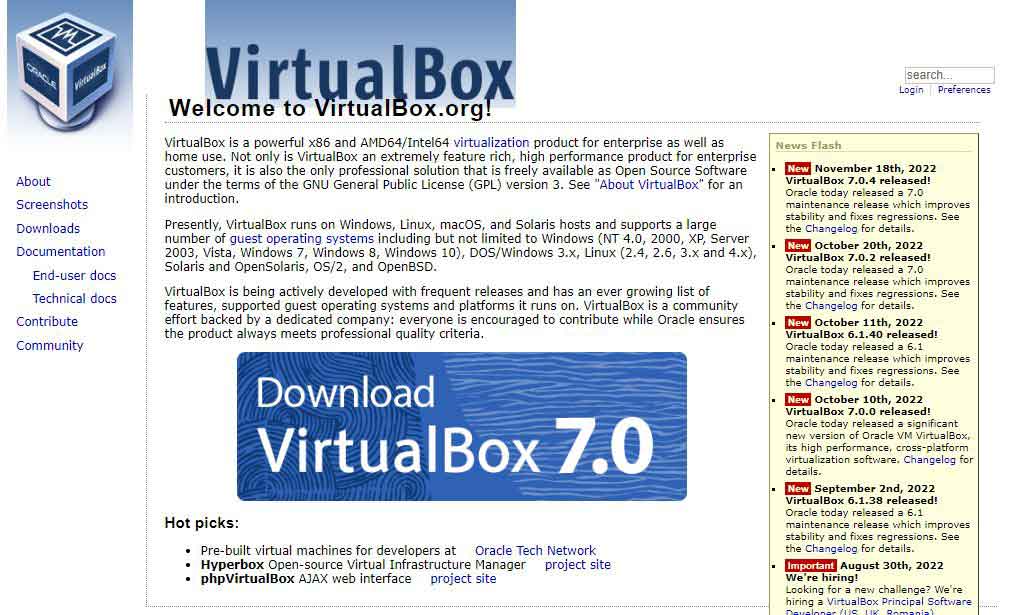 VirtualBox is a reliable virtual machine software developers frequently use to test apps on various operating systems. It is open-source software that is free to use and runs different programs from both operating systems simultaneously, ensuring a seamless user experience. It supports all major operating systems like Windows, Linux, MacOS, Solaris, and various guest operating systems, providing a great user experience.
One best things that users like about this product is that it receives frequent updates and bug fixes, making it the best virtual machine software. Besides this, it offers an impressive virtual network setup that allows you to group and segregate VMs and host operating systems.
3- Xen Project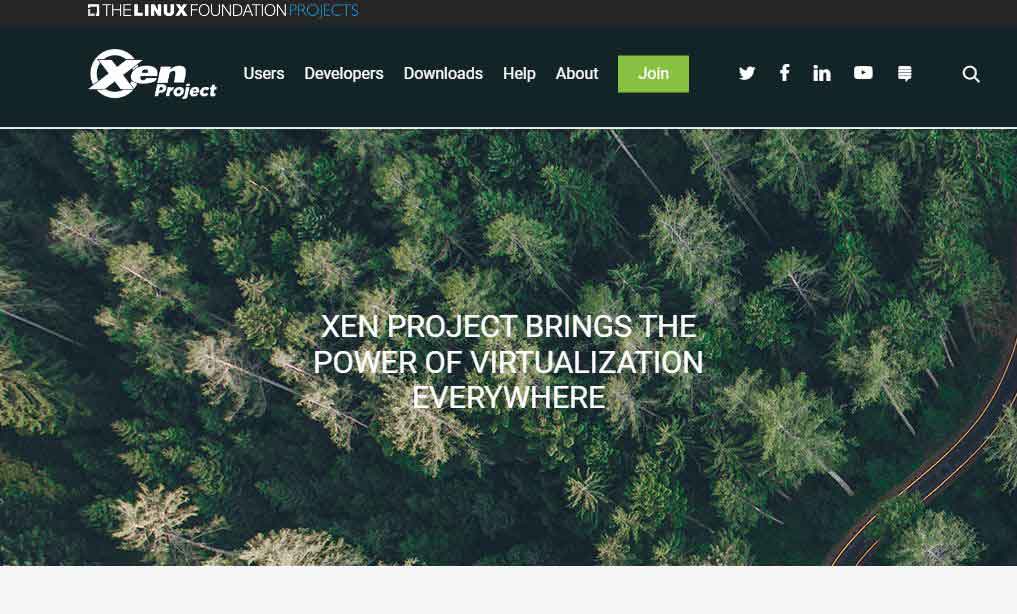 Xen Project is a free and open-source virtual machine software that's an ideal option for API developers to build and monitor security applications thoroughly. It comes with a virtual machine introspection (VMI) supported on ARM and Intel Chips, protecting from malware attacks and ensuring maximum security. In addition, it also boosts security by offering a live patching feature that reduces disruption and downtime during the security upgrades for the DevOps practitioner and security administrators.
The software boosts advanced virtualization in various open-source and commercial applications and serves as a type-1 hypervisor for multiple operating systems using the same hardware. It is among the most versatile and customizable VM apps for the Windows platform, and all credit goes to its unique architecture.
4- Microsoft Hyper-V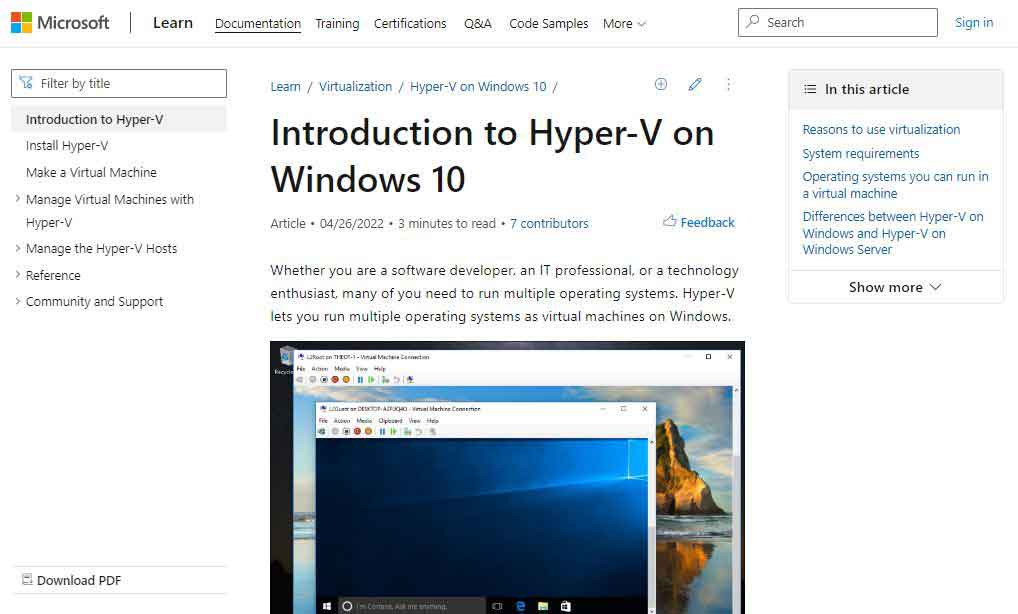 Microsoft Hyper-V is a free virtual machine software that efficiently creates a virtual experience on the host PC and server. It is a popular VM software because of its ability to take snapshots of the virtualization process and clone different versions of the VM in an isolated and secure environment. These features protect the VM from malware or other threats and help in future data backups for future use.
Besides this, the virtual Switch is another impressive feature that ensures extensive connectivity and lets you connect your VM to both physical and virtual networks. The software is compatible with 64-bit Windows 10 Pro, Enterprise, and Education versions and is available in free and paid versions.
5- Oracle VM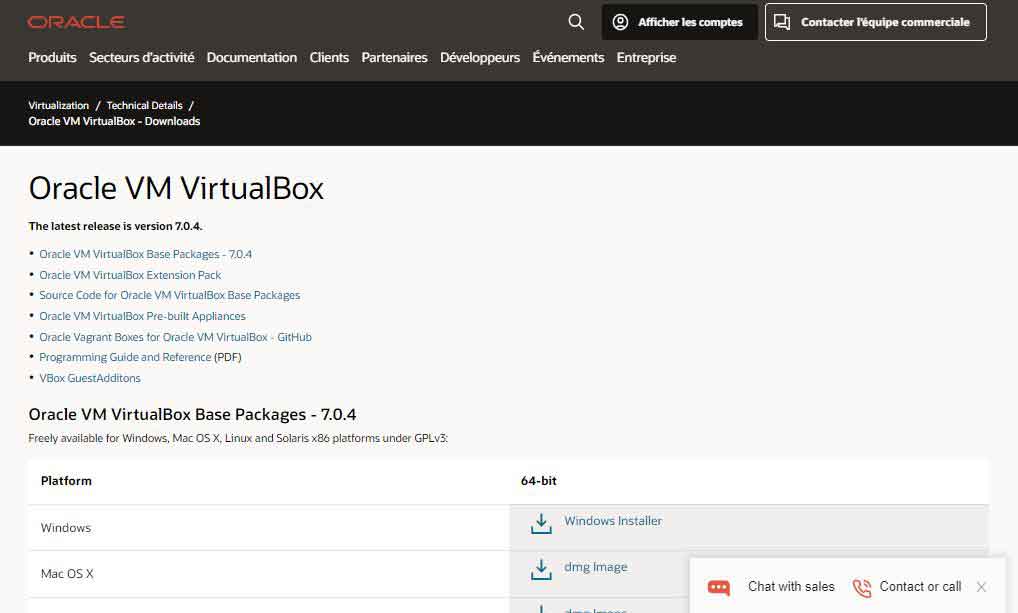 Oracle VM is a popular open-source virtualization software for Windows that allows developers to deliver code faster by running multiple operating systems on a single device. It is an excellent solution for IT teams who want to reduce operational costs and deploy applications on-premises or in the cloud environment.
The IT teams use this virtual machine software on any x86 host operating system. Besides this, it possesses an easy-to-use GUI and strong command line interface, making it easy for developers to work with multiple operating systems on a single device.
6- Citrix XenServer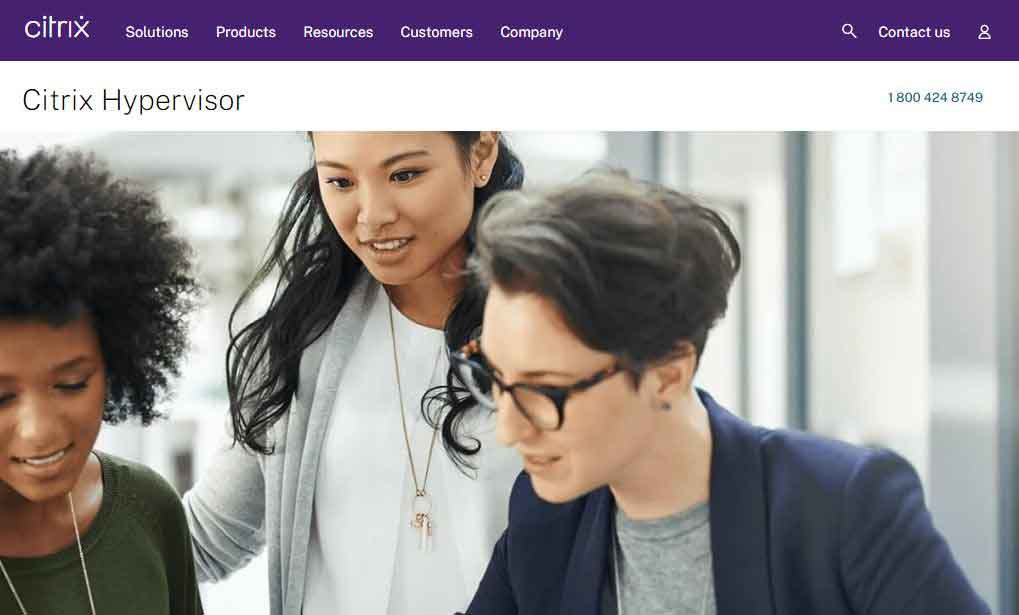 Another reliable free and open-source virtual machine worth using is Citrix XenServer. It provides great dependability and reliability to businesses by using various administration tools. For instance, it uses system automation and GPU functionality features, allowing users to participate in virtualized activities actively. Besides this, it creates virtual data hubs and protects the virtual infrastructure from advanced threats.
It's regarded as one of the best VM software for Windows 10 and offers free and paid versions. The fundamental edition of the software is free to use. However, it won't allow access to all the advanced features. Thus, you can upgrade to the premium version of the software to take advantage of all the features.
7- QEMU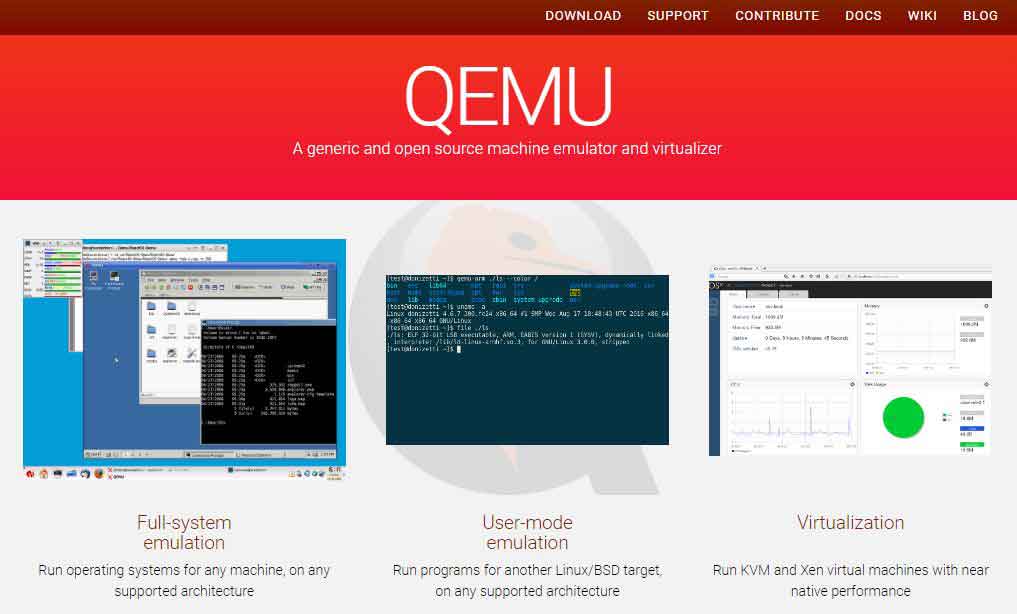 QEMU is an open-source machine emulator that creates a virtual environment on multiple architectures and operating systems. The software can run programs, and the OS is seamlessly made for one machine on another machine. In addition, it allows the users to perform emulation for user-level processes, and admins can run many unmodified guest operating systems.
Apart from this, it uses a dynamic binary translation to enable the machine's processor to run various operating systems and can stimulate different sets of instructions. This VM software is its multi-device compatibility feature. You can use it on Windows, Linux, and Solaris for free.
8- Red Hat Virtualization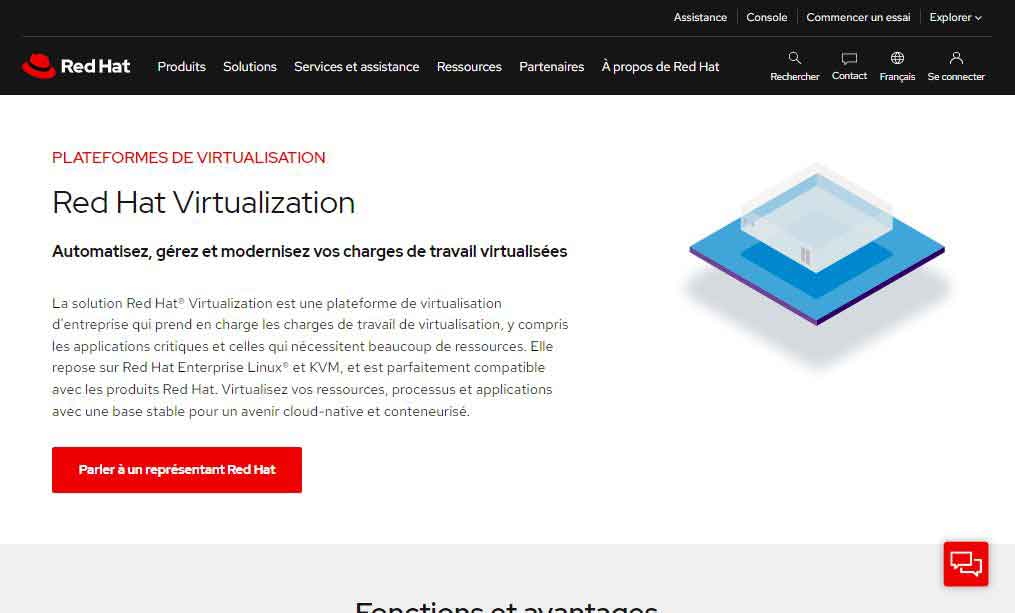 Red Hat Virtualization is a premium VM software that offers sophisticated and user-friendly features and is users' preferred choice. It is an enterprise-level virtualization platform that allows users to create new virtual environments or replicate previously established ones. In addition, it is an open-sourced solution supported by a community offering high-performance virtual servers and ensuring the best user experience.
This virtual machine software's most impressive feature is that it automates, manages, and modernizes the virtualization workloads and increases overall efficiency. It works perfectly well on Windows and Linux OS. Though the software offers premium versions, you can take advantage of the trial version and decide whether it meets your requirements.
9- KVM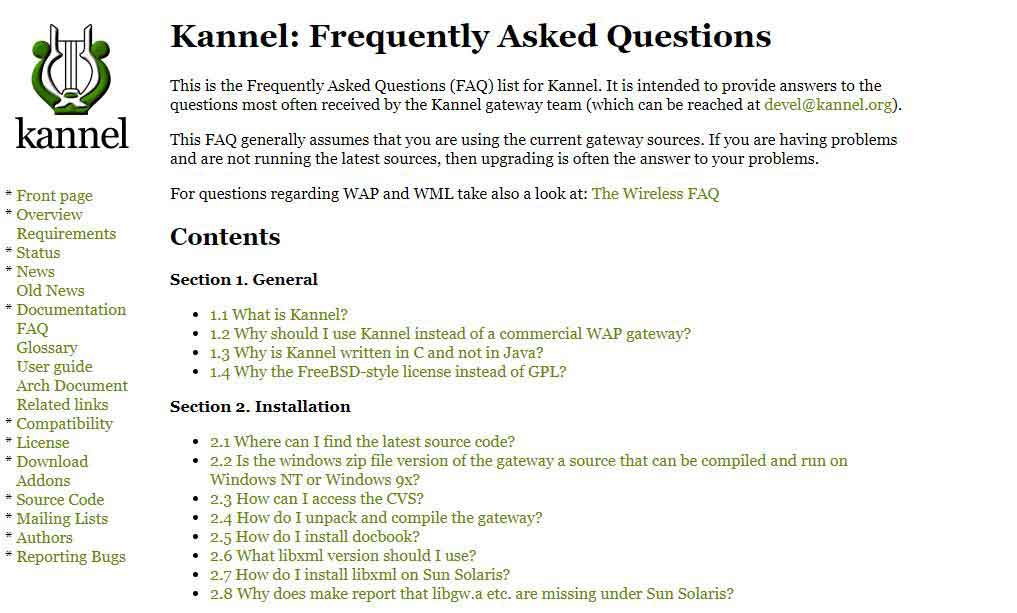 Kannel-based Virtual Machine or KVM is another open-source VM software that virtualizes x86-64 Linux systems. It is an easy-to-use and free program that offers compatibility with Windows, Solaris, Linux, and FreeBSD operating systems and guarantees a smooth and user-friendly experience.
The VM app offers impressive features that other software doesn't, such as host-guest communication, live migration, and hotplug support. It has no license, type-1 hypervisor capabilities, and various performance extensions, making it an ideal choice for virtualization and cloud infrastructure implementation. In addition, it consists of a core virtualization infrastructure for various modules and even runs unmodified Linux and Windows images on the free virtual machine app.
10- Parallels Desktop 18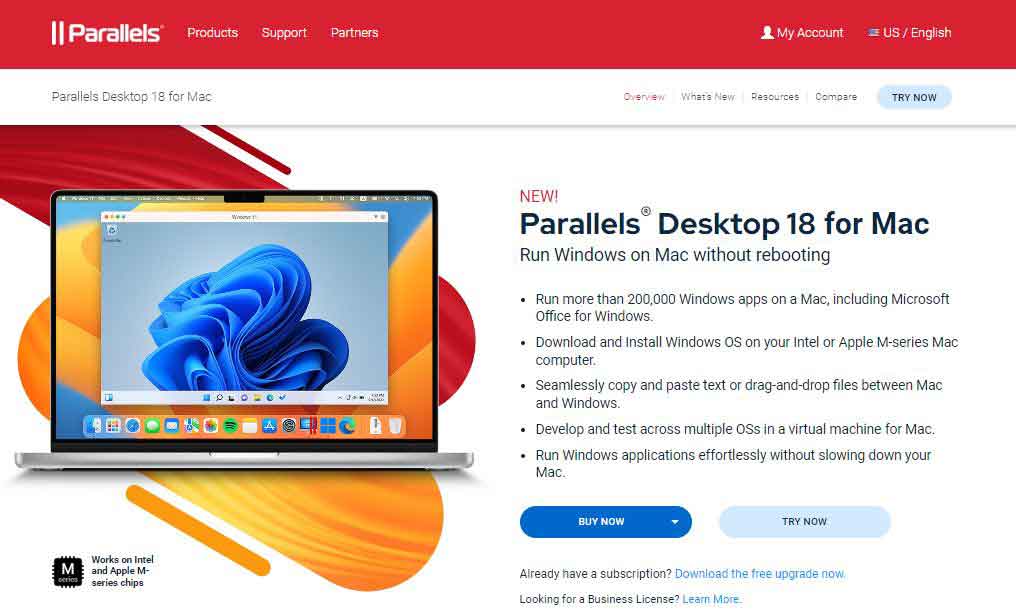 Parallels Desktop 18 is the best VM software enabling users to run Windows on Mac OS without rebooting. It allows the users to run different Windows apps like Microsoft Office, QuickBooks, and Visual Studios without worrying about slowing down the MacOS. You can download and install the Windows OS on Apple M-series or Intel computer hassle-free, drag-and-drop files, and copy and paste the text between the two systems.
The software's most impressive feature enables users to use a uniform clipboard and include Windows notifications in the Mac notification panel. This way, it ensures that you use the Windows program and the Mac apps and enjoy a smooth user experience. It offers three paid editions, but you can download the 14-day free trial version and check its credibility.
11- Google Cloud Compute Engine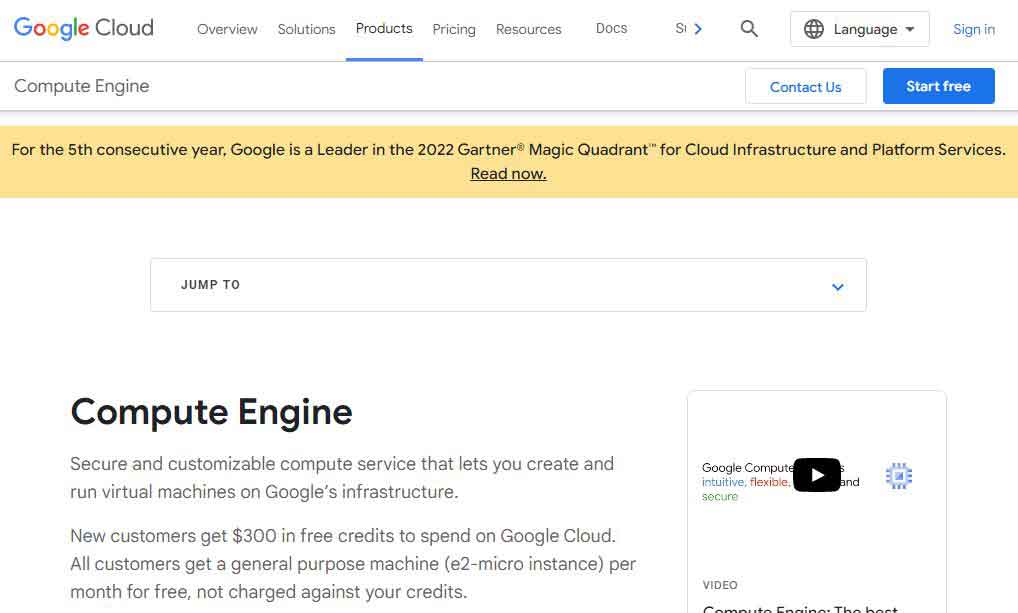 Google Cloud Compute Engine is an advanced VM software to enjoy a secure and customizable experience on multiple operating systems. This software is best for web development companies who want to test online apps in a customized environment. It offers a container-optimized OS that enables a secure virtual testing environment. Besides this, the software also comes with various advanced features like confidential computing, high memory support of up to 12TB, and spot machines that increase efficiency.
This reliable VM software works smoothly on the Windows environment and offers a paid version, which might not be in everyone's budget. However, you can also avail the trial version to check its features and functionality. If you're interested in using this software, contact the sales department and ask about the pricing quotes.
12- Nutanix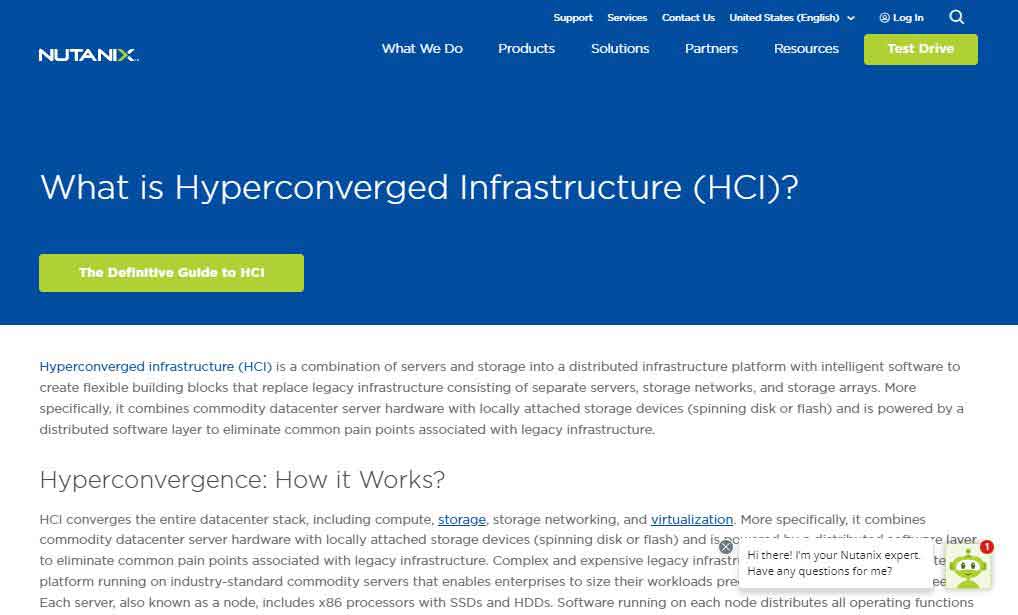 Nutanix Hyperconverged Infrastructure is a free and open-source VM software for Windows that's worth using. Unlike others, it is a flexible VM software that enables developers to build an infrastructure that matches their needs and empowers a single team to manage all the applications, data, and security across all environments. It ensures enterprises run applications from any location as per the requirement without hassle.
The software's most impressive feature is that it unifies public, private, and distributed clouds and protects enterprise data and services from attackers and advanced threats. Besides this, it offers fast deployment and supports various hardware platforms to run the virtual server.
13- Portable VirtualBox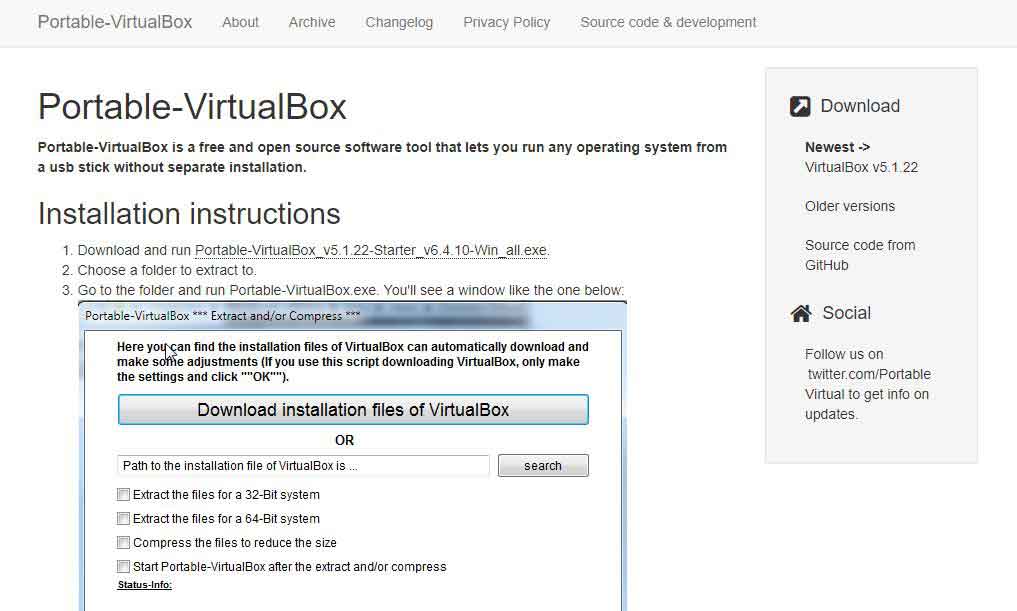 Portable VirtualBox is a free, open-source software tool that allows users to run any operating system from a USB stick without the hassle of separate installation. It automatically checks for VirtualBox updates and ensures that the users don't miss out on critical updates that can increase security risks. Besides this, the VM software offers other impressive features; it has a configurable home directory, supports the creation of portable operating systems, and allows saving files and documents in editable form.
The software works efficiently with Windows host PCs and supports guest multiprocessing and RDP authentication. It needs different kernel drivers installed to start its services, so make sure you have already installed them, and if not, then you need administrator rights to run the virtual machine software.
14- Proxmox Virtual Environment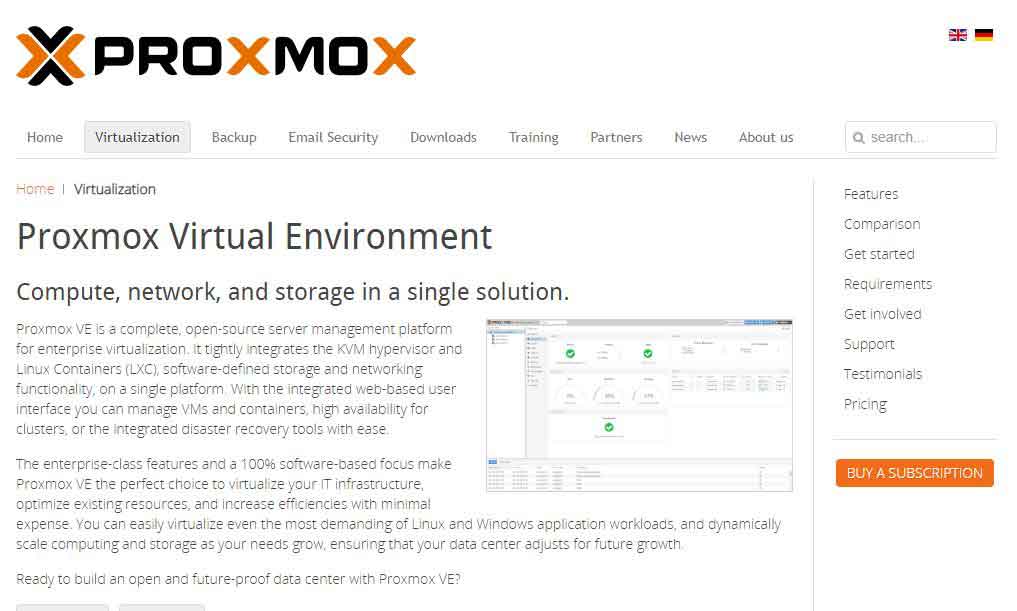 Proxmox Virtual Environment is an open-source server management platform for enterprises that manages two virtualization technologies, i.e., KVM for virtual machines and LXC for containers with a single web interface. By combining two virtual technologies, the VM software ensures maximum flexibility within the production environment. In addition, it integrates various tools for configuring high availability between servers, disaster recovery, and software-defined storage networking.
You can use the KVM virtualization for Linux and Windows images and containers to run conflict-free Linux applications. You can use the KVM virtualization for Linux and Windows images and containers to run conflict-free Linux applications. The software code is available under the free software license GNU AGPL and v3 and is free to download and use. But, the Proxmox VE subscription is an add-on service program designed to help IT professionals and businesses keep their Proxmox VE deployment updated and take advantage of all the advanced features.
15- V2 Cloud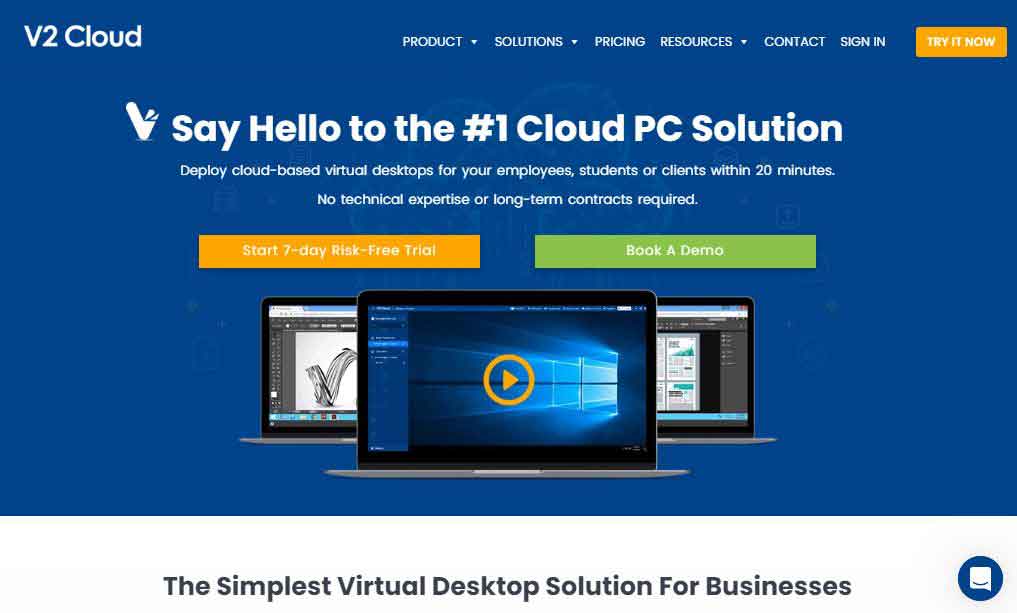 V2 Cloud is a popular desktop virtualization software that allows quick installation and management of the Windows cloud desktop. The VM software is easy to install and use, requires no technical expertise and ensures a smooth and user-friendly experience. It offers a centralized platform that enables remote working culture and supports published applications that allow the publishing of Windows to an end user without providing full desktop access.
Besides this, the software also offers a wide range of security features like HTTPS encryption and two-factor authentication, reducing the likelihood of data breaches. To benefit from this software, you need to buy the premium subscription; however, if you first want to test how the software works and if it's worth using.
How To Pick The Best Virtual Machine Software?
The online market is full of VM software but deciding on one that is a perfect fit for your business is challenging. Thus, it's vital that you keep in mind some important factors while picking the best virtual machine software like:
Choose a VM software that is easy to use, deploy, and configure. It must have a simple and intuitive interface that's best suited for beginners and advanced users without usability issues.
It's vital to consider the type of operating system your business uses. Different VM tools do not support all operating systems, so ensure you choose according to your needs.
Virtual Machines are expensive, so make sure to choose pocket-friendly software with all the necessary features.
Some VM tools offer a trial or free version; you can use them before buying the premium plan.
Ensure that the software must provide various methods like 24/7 live chat, email, or telephonic support to connect with the support team member in case the user faces any difficulty.
It's best if the VM tool website has knowledgeable resources like FAQs, setup guides, or blogs to help users.
The criteria mentioned above ensure the best user experience with virtual machine software, so don't overlook these things.
Do I Need To Use An Antivirus Program On Virtual Machines?
Virtual machine software is an excellent tool that enables developers and security teams to manage online threats. It improves security by allowing IT professionals to develop a secure sandbox environment to analyze dangerous files without affecting their network or device. However, suppose you are using a virtual machine to perform some original task rather than testing an app or software. In that case, a virus can quickly move from the VM to the host OS during file-sharing and risk the device's security.
Besides this, if a virtual machine is on a vulnerable network where other physical and virtual machines are present, the virus or malware can escape through the VM software and bring potential risk. Thus, use the best anti-virus software on the VM. It acts as the first line of defense and protects the device from privacy intruders and online attacks that can compromise the device's security and steal sensitive data.
Final Thoughts
Virtual machine software is an edge-cutting technology that allows businesses to run multiple operating systems and applications on one physical computer. There are several benefits of using VM software; it will enable the developers to test new applications and software in a secure environment, create data backups of physical computers, or restore the data from the host systems.
Several VM software are available, but they all vary in features and compatibility. Depending on your needs, you can choose reliable free or paid virtual machine software for Windows that runs efficiently and smoothly and provides the best results.
FAQs
Is virtual machine software secure?
Virtual machines are safe to use, but you need to ensure that you are taking all security measures, like using a reliable antivirus and firewall, to maintain the security of your physical machines. As long as your physical machines are safe, it also guarantees the safety and protection of virtual machines.
Is it legal to use virtual machines?
Virtual machines are legal and safe to use and don't bring any legal issues. Businesses use this software to reduce their workload and improve efficiency, so there's nothing wrong with using it. However, make sure they have the license copy of the operating system.
Can someone trace or hack a virtual machine?
A virtual machine can easily be tracked or hacked if the physical computer exhibits poor security practices; then, it's easy for the malicious actor to track your activities and enter into the virtual machines. This can bring significant issues like hackers can exploit the apps and software, and when others use it, they can compromise their security. Hence, antivirus software or a firewall is essential to use to boost network and device security.
Which is the best virtual machine software for Windows
VMware is the best virtual machine software for Windows. It is reliable software that allows IT admins to manage and enforce security policies. Besides this, it offers security-focused features such as GPU sandbox renderer and UEFI Boot support and ensures a smooth and hassle-free user experience.
What features have been added to virtual machines in 2023?
Virtual machines have added new features to improve their functionality and efficiency. Now the software is more user-friendly and offers various customization options that allow users to use them how they want. In addition, now the software does have security-centric features, so it's easy to combat the rising cyber threats.
What is the most popular VM software?
Oracle, VMware, Google Cloud Compute Engine, and Red Hat Virtualization are the most popular virtual machine software. These VM tools offer impressive features that make the entire virtualization process easier and is best for companies who want advanced network-wide management of virtual machines.
Can you download a VM software on Windows 11?
You can run virtual machine software on Windows 11, but you must use the right tools. Not all VM software offers compatibility with Windows 11. Currently, you can use VMware and VirtualBox on Windows 11, so choose the software as per your preference and perform tasks without risking the host operating system.
Can viruses escape the VMs?
It is possible that the viruses can escape the VMs. If the virtual machine is on a network where other vulnerable physical or virtual machines are present, there are chances that the malware can spread through the network. Hence, the VM software you use must have an impressive snapshot feature that spots the virus and returns the system to its original state.