The best private email providers use impressive features like PGP or end-to-end encryption, belong to safe jurisdictions, have multi-factor authentication, and are free from serious security flaws. Considering all these features, here's the list of the 12 best email providers:
Quick List
All these are the best email providers that can allow you to send anonymous and private emails anywhere you want.
It might surprise you, but using any mainstream email provider can risk your digital privacy. Using the best private email providers is one of the best ways to send anonymous emails. Email providers encrypt your messages, hide your metadata, and make it impossible for any third party to decrypt it.
Conventional email providers such as Gmail, Microsoft Outlook, and Yahoo don't respect your inbox privacy. They share your email data with the government and law enforcement agencies without your consent. For example, Yahoo has been caught scanning emails for US surveillance agencies. Also, the company was involved in the largest data breach that compromised three billion accounts.
Similarly, 48% of malicious email attachments are Microsoft Office files. The problems don't end here as the free email services sell your data for revenue, and Google is the best example. It scans your emails for keywords and then targets you with personalized product ads.
Thus, it has become essential to use a secure email provider. This article helps you find the best private email providers that balance privacy and security to enjoy maximum email privacy.
12 Best Email Services in 2022
Check out the detailed description of each secure email provider and select the one that fits your requirements. Some email providers offer a free and paid plan, so investing in a premium plan is not a bad idea considering the state of email security.
1. ProtonMail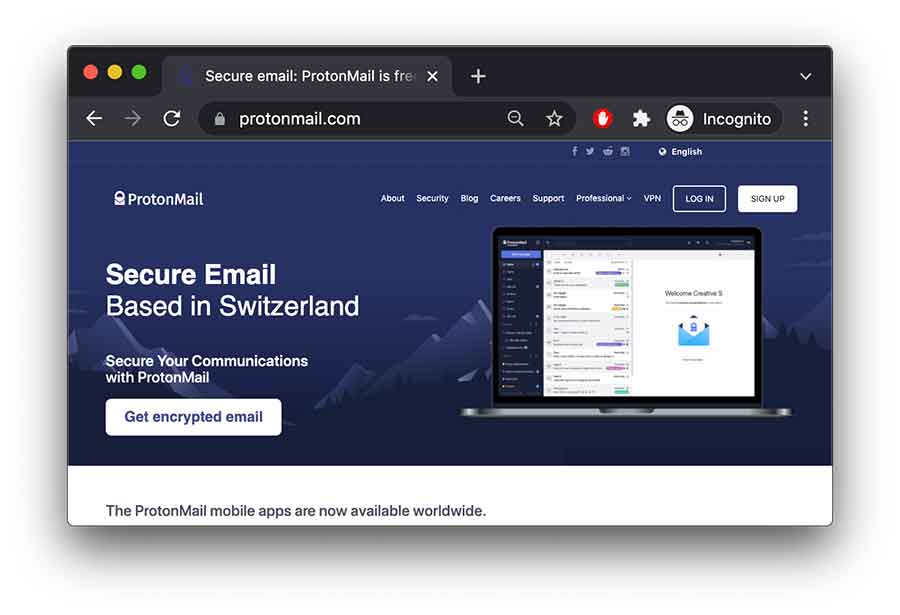 The free version offers 500MB of storage, while paid offers 5-20GB
Based in Switzerland
Follows no-logs policy
Encrypted messages
Self-destructing emails
ProtonMail is one of the best secure email providers that uses end-to-end encryption and zero-access encryption to ensure an anonymous mailing experience. It uses SSL encryption to add a layer of protection and ensure that your web pages aren't tempered by a third party or hacker who's intercepting your traffic, and as a result, your browser speeds are affected.
The email provider has a modern and sleek interface that's easy to use. It offers various customization features like self-destructing messages. You can set an expiration time on ProtonMail emails and automatically delete them from your inbox once they reach the expiration time.
If you're a social activist, journalist, or anyone with a sensitive profession, ProtonMail offers an anonymous email gateway that further strengthens your online security. Moreover, it also offers an impressive encrypted Proton Calendar and Proton Drive feature that allows you to integrate your documents and events with end-to-end encryption and keeps everything more private. The email provider also doesn't track your emails to create your profiles or target you with personalized ads.
You can use the email service for free. The free version of ProtonMail comes with 500MB daily and allows only one user to send 150 emails daily. But the support is limited with a lack of features. Still, you can switch to plus, professional, or visionary plans and get it at a starting price of $5/m.
Apart from this, ProtonMail belongs to a safe jurisdiction of Switzerland, which respects users' privacy and strict Swiss privacy laws protect all your data. Hence it won't record or share your data with anyone.
2. StartMail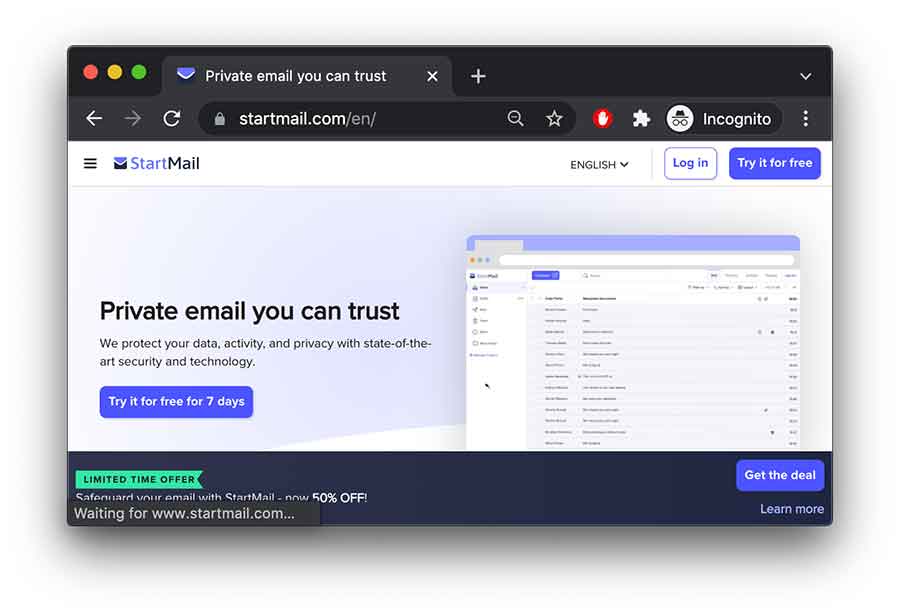 Storage limit up to 10GB
Supports PGP encryption Easy to set up and configure
Based in the Netherlands
Seven-day trial period is available
StartMail is another best private email providers owned by the StartPage search engine and has its headquarters in the Netherlands. The email provider thus adheres to the Dutch privacy laws, which are the strictest worldwide yet favors users' right to digital privacy. But the email provider does keep some data about the users' as mentioned in their privacy policy.
The email provider comes with fantastic features that guarantee an excellent user experience. For instance, it offers full support for IMAP and SMTP and allows you to catch up on your emails through your usual service. It will enable the users to use PGP encryption and ensure anonymous communication with other users while also keeping the emails encrypted at rest.
Another best part of using StartMail is integrating burner email to receive an email at a temporary address. You can later destroy it without messing up your email account. Besides this, it also provides compatibility with Tor. Users can sign up using the Tor browser for maximum anonymity and online protection.
The email interface is user-friendly and easy to use. Also, it offers an ad-free experience, so you won't see any intrusive pop-up ads when browsing your inbox. The only thing users don't like about StartMail is that it doesn't offer any free version, and the prices of the premium plans are fairly high. But it does offer a seven-day trial period to test out its services so you can avail it and then make a decision.
3. Tutanota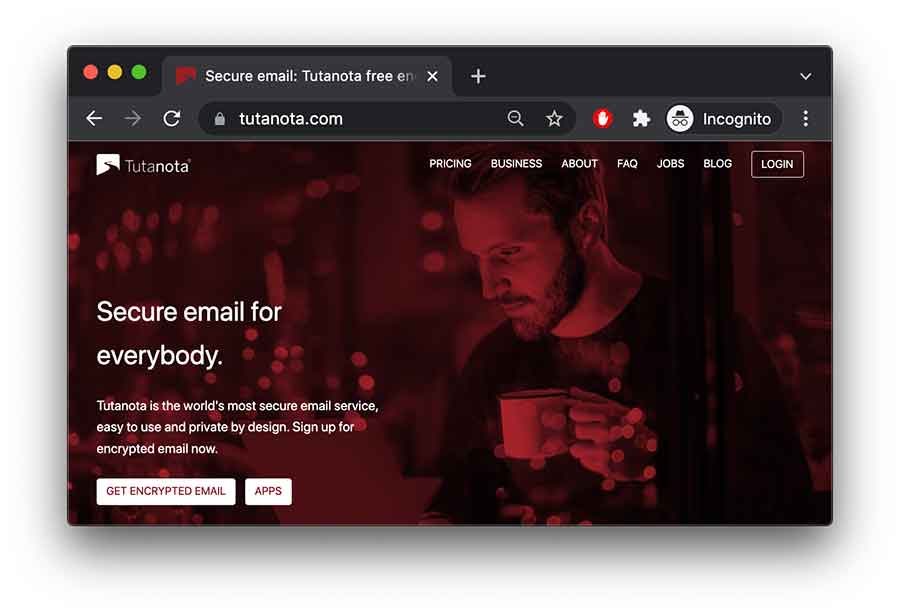 1GB to 10GB of storage data
Advanced features like an encrypted calendar and secure connect
Follows a no-log policy
Two-factor authentication support
Dedicated apps for mobile devices
If you're looking for a business email provider to help keep your business communication safe and private, you should try using Tutanota. It is a German-based email provider that doesn't compromise your security and enables secure communication. The email provider uses automatic end-to-end encryption so no one can spy or decrypt your emails. Moreover, it also uses the 2FA feature that makes your emails more secure. By enabling this feature, you're warned about any unusual activity and can instantly change your password to prevent any mishap.
Tutanota is the best private email provider because it belongs to Germany. Despite being a member of the 14 eyes alliance, it encrypts and saves all your email data on their data servers in Germany. Also, it follows a strict no-log policy that refrains from collecting any data logs or other sensitive information.
The email provider offers an easy-to-use interface with customizable options like an encrypted calendar and secure connection. Enable these features, you can even encrypt your calendars and allow anyone whose email is not encrypted to connect with you safely.
An impressive thing about Tutanota is that it uses both asymmetric and symmetric encryption to protect your emails. It uses symmetric encryption when you email to a non-Tutanota user and asymmetric when you email to another Tutanota user.
Besides being a business email provider, you can use it for private purposes. It offers a limited version if you subscribe to personal service and various premium business plans depending on your need. You can opt for a premium plan at the lowest price of euro 1 for personal use and euro 2 for business pro.
4. Zoho
Easy to use and set up
Zoho streams
Powerful control panel
5GB storage for each user in the free version
Reports unusual activity
Zoho is yet another secure email provider that specifically targets business professionals and users who want to take their email privacy to the next level. It uses AES-256-bit encryption and maintains and secures the keys using its own KMS (Key Management Service). Moreover, it also uses TLS encryption and strong ciphers and prevents anyone from intercepting your emails. All your emails are stored in an encrypted format in the Zoho mail servers.
It has been serving users for the last 25 years, and this is a reliable email service. Unlike Google, this private email provider doesn't scan your keywords and has no advertisement providers within its network. Also, it comes with other fantastic features that help you in your business work, like rest API & Webhooks, domain branding, and web tabs.
You can further protect your valuable business data with two-factor authentication and ensure that all the users have secure access to their accounts. ZohoMail's powerful control panel is another feature that attracts professionals. You can add users, set up policies to watch the email content, and set filters to organize your emails.
Zoho comes with a free and premium version like other private email providers. It offers three different plans, i.e., basic, standard, and professional, that start from $49, but you can avail of the 15-day free trial.
5. Thexyz.com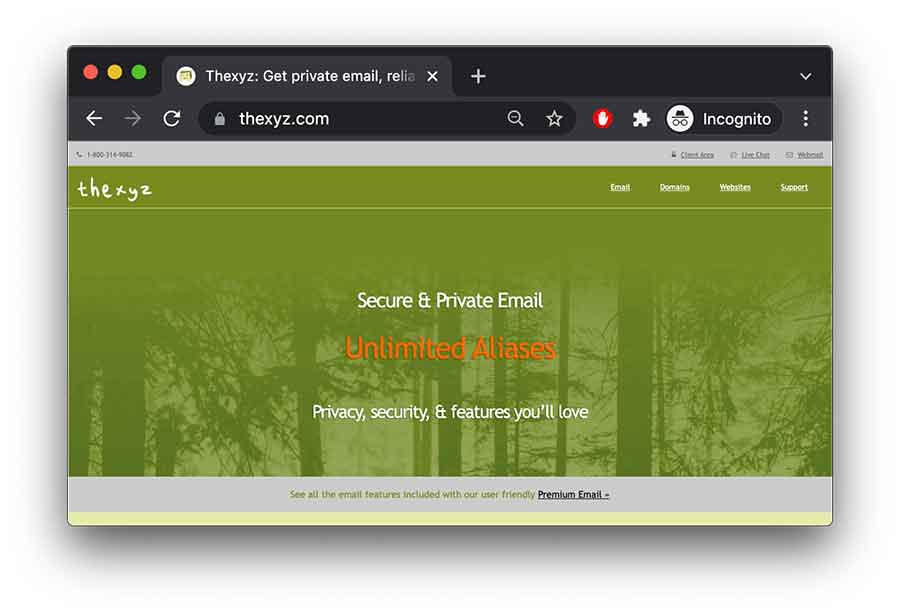 Attach file up to 50MB
Serves zero ads
Spam protection
Restore deleted messages
Unlimited email storage and a 30GB cloud drive
Thexyz.com is a popular email provider that individuals and large business organizations use to enjoy high privacy and security standards. It is an ad-free email service with full mobile synchronization that improves your user experience. All your emails are in transit using SSL/TLS encryption from getting invaded by privacy abuses.
If you want to enjoy more added security, Thexyz has a solution. It supports IMAP, OpenPGP, and POP public end-to-end encryption that helps in boosting your security. But they are not enabled by default, and you need to configure it using Mailvelope addons.
You can even turn on the 2FA feature to further protect your privacy. Moreover, an email archiving option automatically backs up your email data with their top-tier data centers. Thexyz is among the rare email providers offering 30GB of cloud drive storage and shared files.
Overall, Thexyz.com offers excellent benefits to the users but does come with some drawbacks. This email provider has its headquarters in Canada, a prominent member of the five eyes alliance. Furthermore, it doesn't offer any free version. It has three premium plans with premium webmail starting at $2.95/m, mobilesync plus cloud drive costs $4.95/m, and unlimited email archiving costs $9.95/m.
6. CounterMail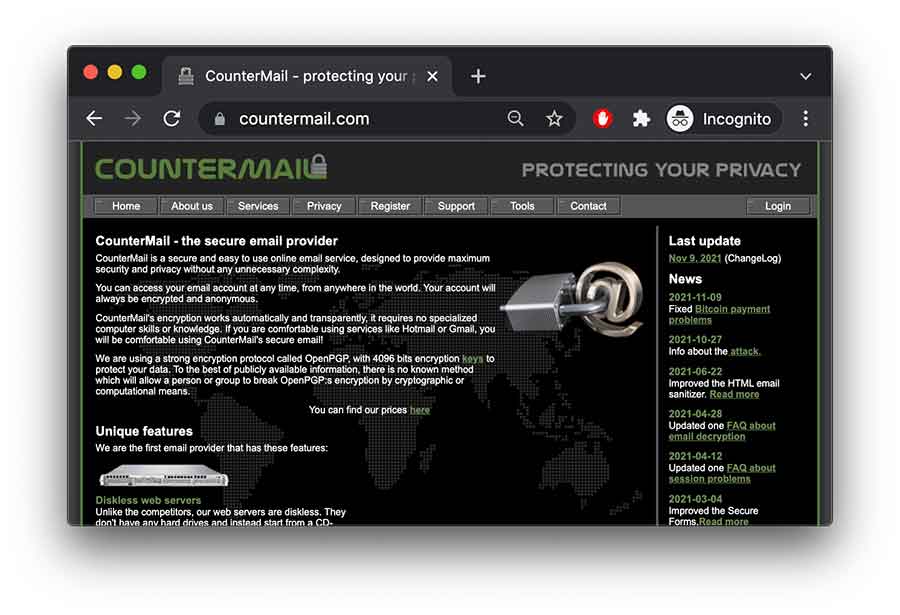 OpenPGP encryption
Anonymous email headers
Password manager
Diskless servers
MITM protection
CounterMail is also among the secure email providers that you can consider using. It is an easy-to-use email service designed with top-notch security and privacy to provide maximum protection. It automatically encrypts all your emails and makes your online communications private. It uses robust OpenPGP protocol and 4096 bits encryption keys to shield your data. In addition, all the servers are diskless and don't have any hard drives, which means your IP address is not logged.
It is the best private email provider because it protects from MITM attacks. Again, thanks go to the OpenPGP that encrypts email content and makes it impossible for anyone to decipher it. The email provider offers a wide range of features that boost security and improve user experience. For example, you can turn on message filters and email notifications and create passwords. It comes with a password manager feature, enables you to create complex passwords, and reduces the chances of email compromises.
They've mentioned that they're soon launching new features like encrypted chat clients, password-based encryption, one-time message, and time-delayed sending that will further improve your user experience. CounterMail also offers compatibility with Android devices. If you are a business professional or an individual who wants to keep your email data private, you can get it at the lowest price of $3.29 per month for two years and enjoy 4000MBs. Also, if you join CounterMail via a referral link, you can use it for free for ten days.
7. MailBox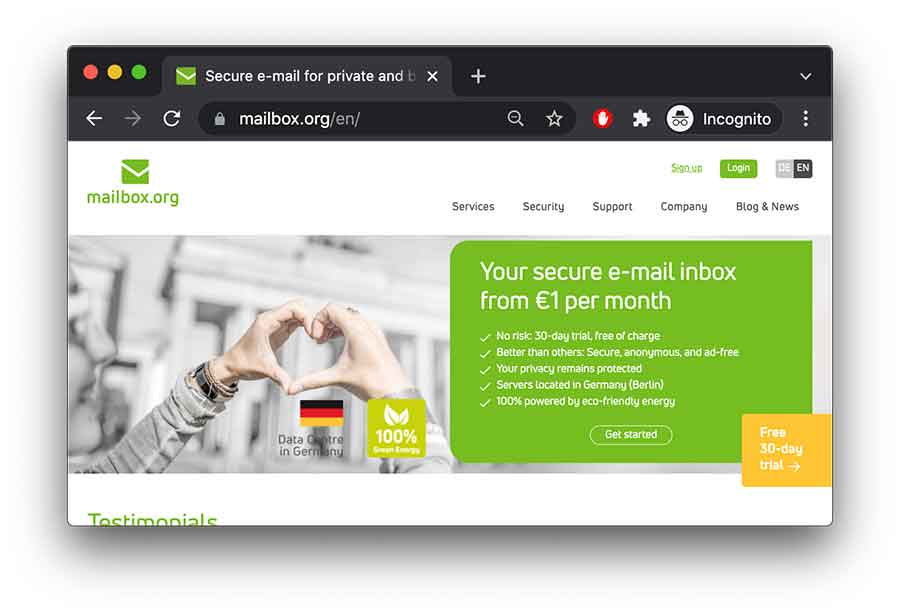 Ad-free experience
Uses state-of-the-art encryption
Servers based in Germany
Anonymous registration process
Spam filters and virus protection
Mailbox.org is the best private email provider that uses full PGP support and SSL/TLS encryption and perfect forward secrecy to encrypt your email data at rest. The email provider values users' privacy and thus has an anonymous registration process. It's not necessary to provide the recovery email address or phone number.
It is a German-based email provider that stores the data in its own secure German servers. Also, it follows a no-log policy that refrains itself from collecting your IP address and other email-related details. The email provider underwent an SSL test by the Qualys SSL Labs and was awarded an A+ grade for proving its credibility. Thus, it is a trustworthy email provider that doesn't compromise your online security and privacy.
Besides this, Mailbox offers various features that boost your digital safety and ensure an excellent user experience. For example, it uses advanced Tor Exit Node with Hidden Onion Services to make you more anonymous on the web. If you belong to a sensitive profession, this feature proves to be extremely handy in sending anonymous emails.
Moreover, it also benefits the users with its spam filter technology. It ensures that spam doesn't enter your systems or reach your inbox. You can also use the virus protection feature to stop viruses from entering and harming your device.
Mailbox also offers an ad-free browsing experience and generates revenue only from selling their premium plans. The email provider has a decent and easy-to-use interface with several calendar, Tasks, book, drive, webchat, and spreadsheet features.
It comes with a 30-days trial offer, and the basic plan also starts at an affordable price of €1.
8. Mailfence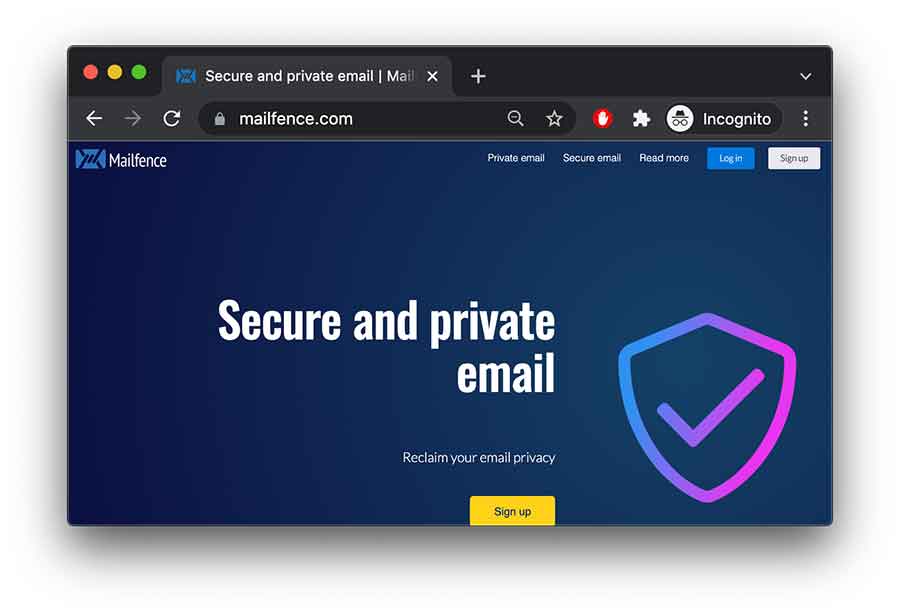 No tracking
Uses Open PGP encryption
Supports two-factor authentication
Sleek and easy-to-use interface
Belongs from Belgium
Mailfence is another secure email provider that uses AES-256 bit encryption and SSL/TLS certificates to protect your data and allows no one to decipher the messages. The SSL/TLS encryption prevents tampering and anyone spying on your emails. The email provider even uses perfect forward secrecy for secure HTTPS connections and saves the email data in case of a data breach.
It belongs to Belgium and follows strong data protection laws and the EU's GDPR to maintain users' privacy. Moreover, it follows a no-log policy and doesn't track and share your data with anyone, so it's reliable to use despite being a member of the 14 eyes countries. To prove that Mailfence is a secure email service, it issues transparency reports highlighting all the data requests that the company receives, including those they've denied.
The email provider offers an integrated suite of tools, including contacts, calendars, and documents, resulting in a better user experience. It even has a filter option preventing spam emails from landing in your inbox. The interface is clean and somehow similar to Microsoft Outlook.
Besides being a private email service, MailFence is also secure. It uses password-encrypted messages that enable you to send encrypted emails. The receiver gets a link to decrypt the messages. Also, it provides a digital feature that displays absolute authenticity to your email messages.
MailFence offers free and three different premium plans. The free plan comes with 500MB, while the pro versions offer 5GB to 50GB of email data. You can get it at a starting price of €2.50 and even pay in Bitcoins to further protect your identity.
9. Posteo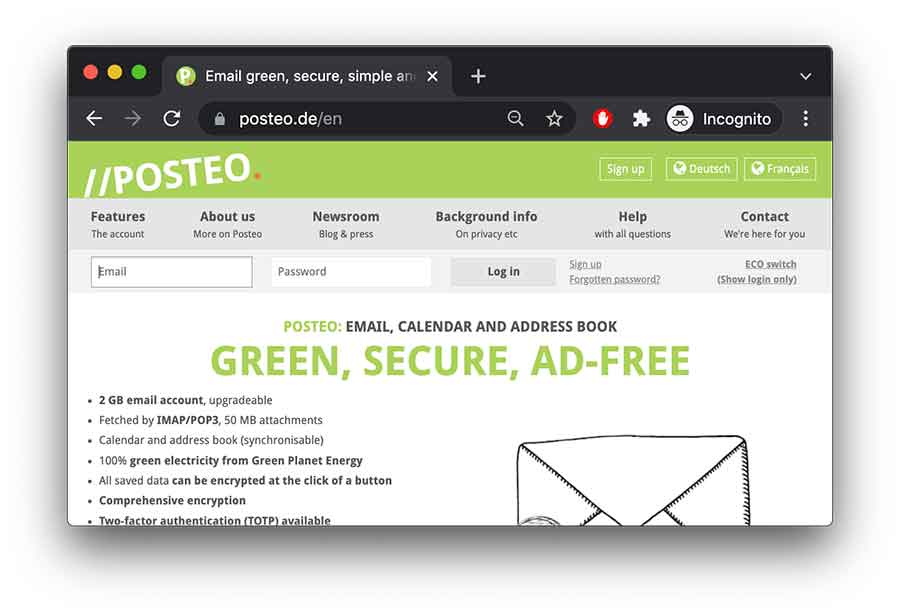 Supports two-factor authentication
Follows a zero-logging policy
Line up features like calendar, contacts, messages, and notes
German-based servers
Multiple device compatibility
Posteo is also ranked as the best private email provider that safely stores the data in private German servers, so it's inaccessible by a third party. The email provider follows a strict zero-logging policy and has even undergone a third-party log audit process by Cure53, the same company that audited ExpressVPN. The audit reports also confirm that it doesn't keep logs and go to a great extent to protect your data.
One impressive feature of Posteo is IP stripping which neither shows your local nor public IP address when sending emails. Moreover, it protects emails and your metadata as long as another email server supports TLS encrypted transmission.
It offers a basic email interface that's not troublesome and includes all the necessary features you'd be looking for, like an address book, calendar, attachment browser with a stream, and notes. It regularly backs up your data and ensures it doesn't get lost. It has a spam filter that protects your inbox from unknown spam sources. You can configure this feature by navigating into the settings menu. Besides enabling this feature, you can also create a safelist of email addresses you don't want the spam filter to block.
This private email service respects users' privacy and thus offers an anonymous signup process that doesn't require you to enter any personal information. The only thing that users don't like about Posteo is its plans. It doesn't support a custom domain and has no free version. But since it costs $1.17 per month with 2GB of storage, you shouldn't have any issue investing in Posteo and securing your email data.
10. Runbox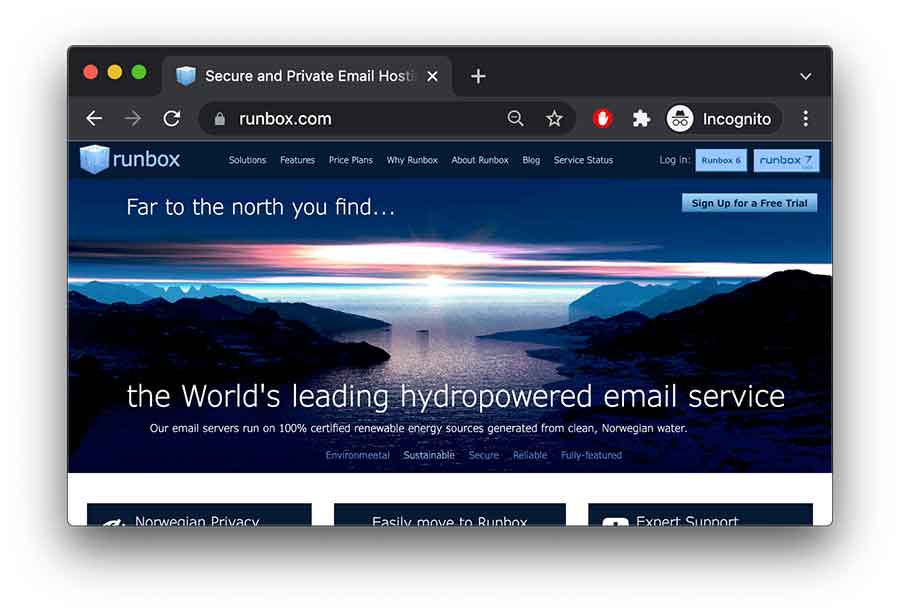 Uses PGP and SSL/TLS encryption
Synchronize easily with other email clients
No ads
Intuitive and sleek interface
60-days money-back guarantee offer
Runbox is yet another private email provider that you should try to enhance your email security. It is a Norway-based email provider that is safe to use despite being a member of the 14 eyes country. It owns private servers in Norway and stores your data there. This email service uses PGP, SSL two-factor authentication, and perfect forward secrecy to secure your emails as they are transferred between you and the servers. However, it doesn't offer any built-in support for encrypting your mailbox, and you need to configure it manually.
It ensures an excellent user experience by not displaying ads and running invasive scripts. Moreover, it is a featured-packed email provider with impressive features like SMTP/POP/IMAP support and easy integration into other email clients. You can also find the contacts and file option, which allows you to protect your important documents and contacts from any unauthorized attempt.
Runbox has a window menu manager with various customizable options like retrieve, filter, and access. You can easily import messages by enabling the retrieve option, while with the filter option, you can prevent spam and virus-embedded messages.
The email provider comes with four premium plans starting with $1.66/m and offers 2GB of email storage. Don't worry if you're unsatisfied with the service or features; you can avail of the 60-days money-back guarantee offer on all initial subscriptions. You can also avail of the special offer now and use Runbox free for a year.
11. HushMail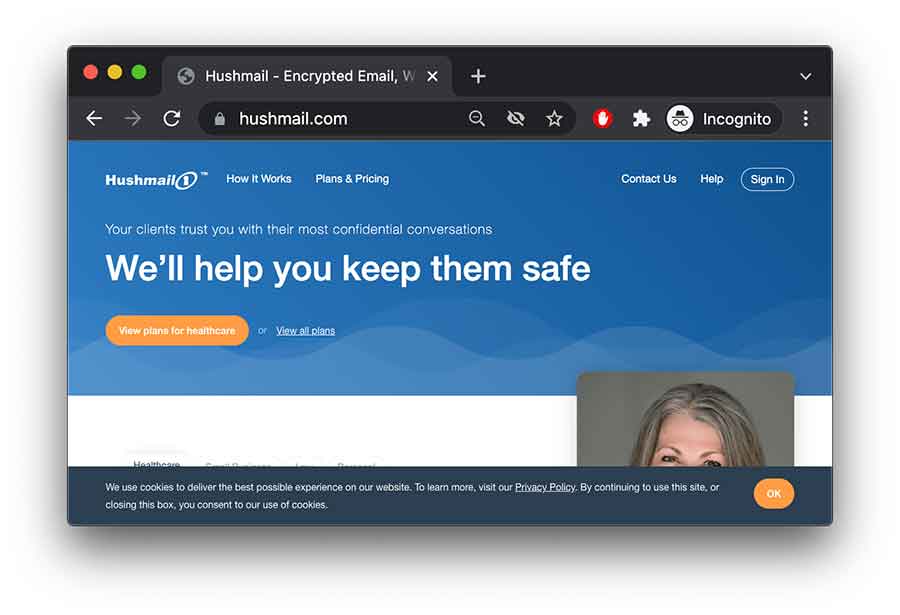 Encrypted emails
HIPAA compliant
Private message center
Digital signature
Secure web forms
HushMail is also among the private email service providers that offer a good user experience. It encrypts your email communication using PGP and SSL/TLS encryption and offers several necessary options like spam filters, virus protection, contacts, calendar, and more.
Hushmail offers premium plans for industry sectors like healthcare, law, small business, custom solutions, and personal use. The prices and features vary according to your needs. If you're using it for business purposes, Hushmail costs $5.99 per user/month on the simple small business plan and $7.99 per user/month on the small business plus plan.
The most significant drawback of using Hushmail is its jurisdiction and logging policy. It has its headquarter in Canada, is a prominent member of the five eyes alliance, and hence can log or share your data. Also, it logs some information like your browser type and IP address when you sign in to your account. But there hasn't been any data logging or sharing report, so it's safe to use.
12. KolabNow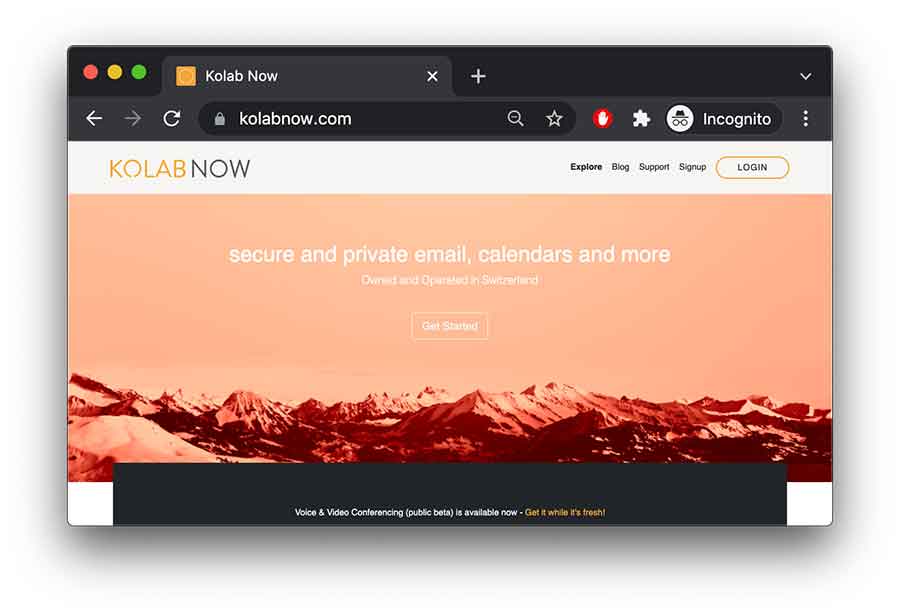 Based in Switzerland
Free and open-source software
No tracking and no data sharing
It supports perfect forward secrecy
Accepts anonymous payment methods
KolabNow is the last best private email provider on our list that you should use. It is a safe email provider that belongs from Switzerland and neither tracks nor logs and shares your data. It is a privacy-friendly country that doesn't fall within the jurisdiction of the five eyes, nine eyes, and 14 eyes countries and follows strong data privacy laws that don't violate users' privacy.
It uses end-to-end encryption to safeguard your emails from getting into the wrong hands. Also, it offers basic features like calendars, contact, file, task, and notes.
The email provider comes with two subscription plans. One is just email, and the other one is full Kolab. The prices are a bit high as the first plan costs CHF 5/m while the other costs CHF 9.90 per month. But you can try the free trial before paying.
how to send an anonymous email
When you send an email, your name and email address are automatically included in the message's header. That can be a problem if you want to send a message anonymously. If someone traced the email back to you where to find it, they would be able to track down your identity easily.
One way to send anonymous emails is by using a private email provider. These providers allow you to send messages without revealing your identity. That is a great way to communicate with others without fear of being discovered.
Choose any best secure Email provider from the above list
Signup the service
Download the client Or use a Web App
Following these steps, you can easily send and receive private anonymous emails with the best encryption. nobody else can read and intercept any of your communications.
Final Thoughts
Using a private email provider is the first step toward protecting your data. Though Gmail, Microsoft, and Yahoo are big names, it's high time to replace them since they violate users' data and privacy. You should use the best private email providers mentioned in this article to maintain your email security.
As most private email services offer a free plan but come with limitations, it's better to invest a few bucks and use premium email providers because staying safe is better than regretting it later. Choose the best private email provider and start sending and receiving emails anonymously.