With the increasing security threats and risks of cyber attacks, antivirus companies have stepped forward to extend a helping hand toward maintaining online security and privacy by introducing VPN services. Like other renowned antivirus companies, Malwarebytes have also taken this initiative, launched its VPN, and marketed it as "Malwarebytes Privacy VPN."
Malwarebytes is not a new name in the cybersecurity industry. The company offers the best anti-malware software and some other security solutions. But in 2020, the company launched its own VPN service provider that claims to focus on users' privacy immensely. It includes all the basic security and privacy features that are enough to ensure the highest level of online protection. Below is a quick overview of the VPN provider.
Security and Privacy:
Jurisdiction
The United States of America.
Log Policy
Follows a no-log policy but do keep some personal, non-personal, client, and GeoIP data
Security Features
Kill switch
Connection Rules
Connection Mode
Malwarebytes Browser Guard extension
Streaming and Torrenting
List of Compatible Streaming Platforms
List of Torrenting Features
Split tunneling Only on Android
Torrent IP leak protection
User-friendliness
No. of Servers
500+ servers in 30+ countries
Pricing
One device costs $5.00/month or $59.99 annually
Three devices cost $6.67/month or $79.99 annually
Five devices cost $8.33/month or $99.99 annually
Customer Support
Email
Submit Ticket
Live chat support
Website resources
Compatible Devices
Android
iOS
macOS
Windows
Chromebook
Since Malwarebytes Privacy VPN is two-years-old, deciding on its credibility and comparing it with other top-rated VPN providers is difficult. The easiest and most suitable way to find out if Malwarebytes Privacy VPN is worth using is by conducting a detailed review of the VPN provider.
Security and Privacy
Security and privacy are the two most essential elements that users won't compromise while choosing a VPN. The best VPN provider is the one that provides a top-notch level of security by using strong encryption standards and protocols. The VPN hides the IP address and ensures no one can view your online activities. Besides this, a reliable VPN runs from a privacy-friendly jurisdiction, refrains from keeping activity or data logs, and undergoes a log/security audit process to prove that it is honest with its claims.
What Encryption Does Malwarebytes Privacy VPN Follow?
Malwarebytes Privacy VPN is a safe and secure VPN provider to use. The VPN uses the industry's highest AES-256 bit encryption to secure the data traffic from all prying eyes. It is an IT-approved encryption standard primarily used by military and government officials, so hackers cannot break into the encryption and compromise sensitive data.
All in all, the VPN provider offers robust encryption that helps in protecting the data from third parties, government agencies, or any other snooping eyes.
Jurisdiction of Malwarebytes Privacy VPN
Malwarebytes Privacy VPN has its headquarters in the US, which is not at all secure from a privacy perspective. The country is a part of the five eyes, nine eyes, and fourteen eyes alliance. Therefore, there is no doubt that the country records and shares the users' logging data with international intelligence agencies under a signed agreement.
Moreover, America has invasive data retention laws that force telecom companies to store users' data for a specific time. The company might record your data, but this isn't the case with Malwarebytes Privacy VPN. The VPN companies within the USA are not forced to keep the users' data by law or the government. Thus, don't worry because Malwarebytes VPN won't log your data nor put your privacy at risk because of its jurisdiction.
Does Malwarebytes PrivacyVPN Keeps Data Logs?
Malwarebytes Privacy VPN claims to be a no-log VPN and claims not to record nor share any data logs or other sensitive information. The VPN has shared a detailed privacy policy on its website. According to the privacy policy, the VPN doesn't collect information like IP address, DNS requests, or bandwidth usage that can reveal users' identities or browsing activities. The following screenshot further tells us about the information that Malwarebytes Privacy VPN refrains from recording:
This is impressive from a VPN provider, especially one that's been functioning for only the last two years and isn't storing data that risks users' online privacy. Hence, it is another reason why users trust Malwarebytes Privacy VPN.
The VPN provider is pretty transparent in its privacy policy. It has informed the users about the data they won't store and the data they do. Yes, the VPN does keeps a minimal amount of information like:
Personal Information like; name, email address, credit card details, phone number, and mailing address
Non-personal information
GeoIP data
Client data
Some privacy-conscious people can have issues with the information collected for an extended time. Also, Malwarebytes Privacy VPN doesn't audit its log policy, which is disappointing. The VPN must undergo a log audit process to prove its claims to follow a no-log policy.
Which Protocol Does Malwarebytes Privacy VPN Use?
A VPN protocol is crucial in deciding how the data routes through the connection. This is why some protocols prioritize security while others focus on improving connection speed. Among the various encryption protocols, Malwarebytes Privacy VPN only uses the latest and advanced WireGuard for ensuring data security.
The WireGuard protocol is the most widely adopted open-source protocol that offers ultra-fast speed because of its smaller code size. Also, it uses robust encryption algorithms to safeguard internet traffic from privacy invaders. But, the lack of other VPN protocols also puts Malwarebytes Privacy VPN under skepticism, and the company must look into this matter.
How Good Is Malwarebytes Privacy VPN At Bypassing Censorship?
A reliable VPN allows users to bypass censorship and helps them browse the web freely without restrictions. Despite making claims, many VPNs fail to circumvent censorship, and Malwarebytes Privacy VPN also falls into the same category.
The VPN lacks obfuscation technology like the stealth mode essential for circumventing censorship. The advanced technology disguises the VPN traffic as regular internet traffic. It allows users to browse the internet freely in countries where the state controls it, like China, Russia, or UAE.
You can try using Malwarebytes Privacy VPN in China as the VPN offers servers in Hong Kong, so by connecting to them, you can surf the web freely in China and bypass the Great Firewall. But the VPN won't give extraordinary performance because of inconsistent speed and increased server load. Also, other than China, you won't be able to use Malwarebytes Privacy VPN in different oppressive regimes like Russia or UAE because of the unavailability of servers.
Past History of the VPN Provider
Marcin Kleczynski founded the famous American Internet Security Company Malwarebytes in 2008 to eradicate malware worldwide. The company has produced leading products, including the Malwarebytes anti-malware, advanced anti-ransomware package, and Malwarebytes Anti-Exploit. These products have treated millions of systems and ensure maximum device security.
After serving for years in the internet security industry, the company founder and CEO, Marcin Klecyznski, decided to expand their services and make their name in the VPN market. The company launched the privacy VPN in 2020 to ensure that the users' online privacy is not invaded and they can securely browse the web. The VPN, since its launch, hasn't been named as violating users' privacy or leaking valuable data. Since Malwarebytes Privacy VPN doesn't possess any bad track record, it can trust users' privacy and security.
Extra Privacy and Security Features
Additional privacy and security features also determine the worth of the VPN provider. These features offer excellent benefits and boost the overall user experience. Unlike other VPN providers, Malwarebytes Privacy VPN provides limited features, and here's a brief description of them:
Connection Mode
Some users prefer double security while surfing the web. Malwarebytes Privacy VPN offers a connection mode feature to fulfill this user's demand. The connection mode encrypts the data traffic via two servers and adds more protection to your online activities. The presence of 'connection mode' or multihop mode enables users to boost their online security levels.
Connection mode comes with three options, i.e., single server, which is a default option and encrypts the data via one server. The other two are automatic multihop and manual multihop. In the automatic multihop, the VPN selects the first server based on your network and speed while the users pick up the designated server. But in the manual pickup option, the user chooses both servers.
The biggest drawback of using this feature is that it decreases the speed because the data traffic goes through two servers. Also, this feature is only available for the Windows operating system.
Kill Switch
At times while using the VPN, the VPN connection drops. This seems normal, but it isn't because this exposes the real identity of the users as the IP address is leaked. Most VPN providers offer a kill switch feature that disconnects you from the web when the VPN connection malfunctions. The Malwarebytes Privacy VPN provides the kill switch feature to the users and prevents data leaks.
The privacy VPN kill switch stops the traffic from entering and leaving the device until the connection is restored. It is an extremely useful feature that maintains maximum online security during browsing, streaming, and torrenting.
Malwarebytes Privacy VPN is only available on MacOS and Windows platforms. Android and iOS users still have to wait to use this feature.
Split Tunneling
Another impressive feature that Malwarebytes Privacy VPN offers is split tunneling. The VPN added this feature in January 2021 and called it a connection rule feature. This feature enables the users to control their VPN traffic by selecting which apps and data to encrypt with the VPN connection and letting the other flow via the regular internet connection. There are two options available that you can choose either to bypass or require the VPN.
The connection rules feature also improves the connection speed and is handy for downloading torrents. The advanced feature is only available on desktop applications, which is disappointing for other platform users.
Malwarebytes Browser Guard
All the Malwarebytes Privacy VPN plans come with an additional Malwarebytes Browser Guard, a prime feature of the Malwarebytes anti-malware software. It is a useful add-on feature that protects from malware, online scams, trackers, intrusive ads, and suspicious domains. Users can install the browser guard add-on along with the VPN and improve online security by blocking annoying ads and trackers that spy on their online activities. By blocking unwanted ads and content, saves much of the bandwidth and improves the browsing speed.
This feature also shows the users about the trackers a particular website blocks and those blocked in the last week or month. You can easily install the Malwarebytes Browser Guard extension on Google Chrome, Firefox, Safari, and Microsoft Edge browsers and protect your privacy.
Streaming and Torrenting
The best VPN is the one that allows safe torrent downloading and access to geo-blocked streaming content. Such VPN comes with several advanced features that prevent privacy issues related to streaming and torrenting and secure their experience.
Compatible Streaming Platforms
Users can use the Malwarebytes Privacy VPN to stream geographically restricted content, but it is certainly not the best option. The VPN providers fail to unblock several online streaming platforms like Amazon Prime, BBC iPlayer, DisneyPlus, and Hulu. Some users on Reddit claim that you can unblock BBC iPlayer with some of the UK servers. 
The good news is that the VPN doesn't block Netflix and allows users to access their favorite streaming content. In other words, with Malwarebytes Privacy VPN, you can unblock Netflix libraries in the US, UK, France, Germany, and Japan.
But Malwarebytes Privacy VPN is not a great streaming VPN because it lacks dedicated streaming servers and the Smart DNS feature that ensures a smooth streaming experience.
Is Malwarebytes Privacy VPN Good For Downloading Torrents?
Malwarebytes Privacy VPN is a good option for sharing P2P files and downloading torrents. The VPN allows torrenting across all the servers, so bandwidth is never an issue. Moreover, the VPN follows a no-log policy and doesn't log data, so none of the torrent-related activities would be recorded. Similarly, the Privacy VPN uses strong encryption that protects torrent traffic and makes it impossible for ISPs and copyright trolls to know that you are downloading torrents.
Besides this, the VPN provider offers an advanced split tunneling feature on desktop apps. With this feature, you can encrypt the P2P traffic without disturbing other apps and programs. The best thing about this feature is that it speeds up the downloading process and ensures a hassle-free torrenting experience.
How Fast Is Malwarebytes Privacy VPN?
Malwarebytes Privacy VPN offers users good and stable speed, which is a good sign if you're a newbie. The VPN provider utilizes the advanced WireGuard protocol that ensures fast speed and helps overcome speed throttling issues. The protocol has a smaller code size because it consumes less bandwidth and provides a faster connection speed.
The VPN offers a limited server network but ensures that users don't experience slow and sluggish connection speeds. The user's location and server choice also determine the VPN's speed. For instance, the Privacy VPN provides the best speed when connected to Asian servers because of the low server load. Similarly, the speeds are above average if you want to connect to US servers. But the VPN offers low speed when connected to the European servers due to high server load. Thus, by switching to different servers, you can maintain good speeds. The download speed is also impressive, as it was 2Mbps when a torrent file was downloaded. Also, there was an increase of 5-10 ms in ping.
Furthermore, Malwarebytes Privacy VPN has partnered with Mullvad VPN to utilize its server network for its VPN application. As a result, the VPN ensures reliable and consistent speed during browsing, streaming, and torrenting.
User Friendliness
Malwarebytes Privacy VPN impresses users with its user-friendliness and causes no trouble. The VPN offers beginner-friendly and intuitive apps for mobile and desktop platforms. These apps provide a range of customizable options like dark mode, auto-connect, auto-launch, diagnostic mode, and more.
The number of Servers Malwarebytes Privacy VPN Provides?
Malwarebytes Privacy VPN comprises a limited server network compared to other top-rated VPN providers in the market. The VPN consists of more than 500 servers located in 30+ countries, and all the VPN servers provide end-to-end encryption, ensuring that they don't compromise the users' security and privacy. But the VPN lacks the specialized servers for streaming and torrenting that other VPN providers offer.
You can find the Malwarebytes Privacy VPN servers in countries like:
Australia
Canada
France
Germany
Japan
New Zealand
Singapore
UK
US
All the VPN servers offer unlimited bandwidth and ensure that users don't encounter any issues in their activities. Moreover, the VPN also uses the Mullvad VPN servers, which it rents out, and this way, Malwarebytes Privacy VPN reaches its maximum potential for speed. But, this also makes the server overcrowded, which even causes slow connection speed.
How Good Is Malwarebytes Privacy VPN Customer Support?
Malwarebytes Privacy VPN ensures that users don't have to wait long to resolve their problems. Hence, the VPN provider offers various ways by which users can connect with the customer support team. If you experience any issue while using Malwarebytes Privacy VPN, the live chat option is the most instant way to connect with the customer support team.
The VPN offers a 24/7 live chat option for addressing the users' issues. However, the live chat is powered by AI bots and is not very effective. They understand the users' problems and provide a solution within the website resources. Here's the proof of it.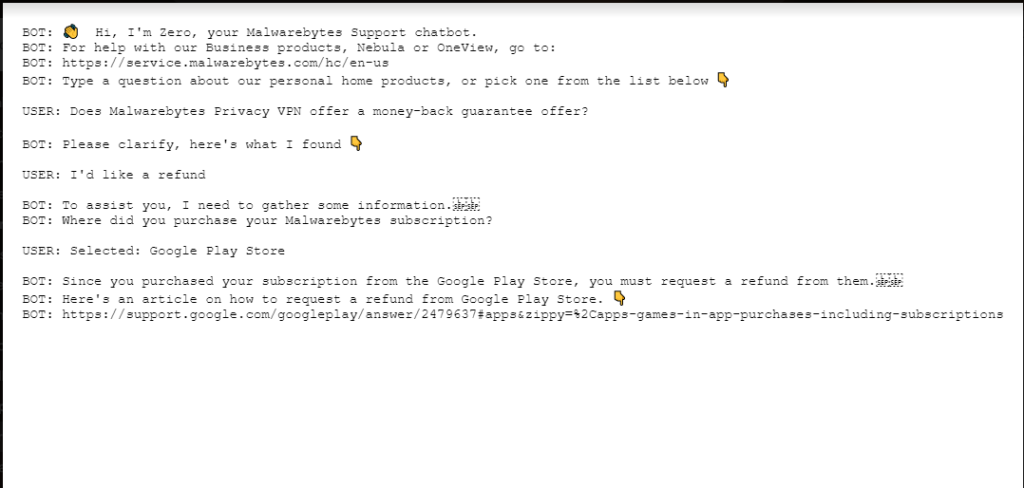 However, the company needs to introduce a human representative who can resolve any query that the AI bots can't do. If the AI bots can't offer a solution, they redirect you to create a ticket. You can submit the support ticket and wait until the support team connects you back, which can take hours to days.
Besides this, the VPN offers impressive online website resources to help users. This includes FAQs, blogs, support pages, news, and live forums. The worried users can also post their queries on forums like Reddit or Twitter, as employees are seen pretty active there helping out the users. But still, there's a great need to improve the live chat feature so the VPN can compete with the biggest names in the industry.
What Devices Is Malwarebytes Privacy VPN Compatible With?
Malwarebytes Privacy VPN is compatible with Android, iOS, MacOS, and Windows. You can download the apps from the app store and enjoy a smooth user experience. All the apps are well-designed and easy to use, but the availability of features varies in each app.
The Windows app is the best as compared to other apps. The kill switch, connection rules feature, and other customizable options are included. You can enable the auto-launch option that connects automatically to the VPN while you use the device. Similarly, the auto-connect allows you to choose when to connect to the Privacy VPN. It comes with two options, i.e., when you're using any unsecured network and when the app is launched. With the Windows app, you can also decide if other devices on your home network can share data with the Windows device.
The MacOS app is also similar to the Windows app. The app is easy to use and offers features like the kill switch, auto-connect, and trust local devices. Besides this, mobile apps have an intuitive user interface and don't cause user trouble. But when it comes to features, these apps need to be upgraded.
FAQs
Does the Malwarebytes Privacy VPN offer a free trial?
Malwarebytes Privacy VPN offers a seven-day free trial on Android, iOS, Mac, and Windows platforms.

The VPN offers an entirely free trial for up to five devices, meaning the users don't have to provide their credit card details. To avail the free trial, you need to provide your email address and create a password. During the free trial, users can avail all the features available in the premium plan. There would be no restrictions on data caps, bandwidth, or accessing any blocked regional sites. An option appears at the end of the trial period if you want to buy the VPN. If satisfied with the experience, you can buy the VPN via the app or website.
Does the VPN have a refund policy?
According to the website's support page, the company offers a 60-day money-back guarantee on all premium Malwarebytes subscription packages. This offer is only applicable if the products are bought from the Malwarebytes website and not for Malwarebytes businesses, teams, and other technician products. The users can submit a support ticket to request a refund.
How many simultaneous connections do the Malwarebytes Privacy VPN offer?
Malwarebytes Privacy VPN offers one, three, and five simultaneous device connections depending on users' subscription packages.
What payment methods does the Malwarebytes Privacy VPN accept?
The users can buy the Malwarebytes Privacy VPN via various payment methods. The VPN accepts payments through traditional payment services, including credit/debit cards like VISA, Master Card,  American Express, and Discover. You can also pay through PayPal, but if you're planning to make an anonymous payment, it won't happen because the VPN doesn't accept payment by cryptocurrency.

How much does Malwarebytes Privacy VPN cost?
Malwarebytes Privacy VPN offers three different premium subscription plans based on the number of users. Here's an insight into the pricing plan of Malwarebytes Privacy VPN:

One device costs $5.00/month or $59.99 annually
Three devices cost $6.67/month or $79.99 annually
Five devices cost $8.33/month or $99.99 annually

These subscription plans offer advanced antivirus, anti-malware, and spyware protection, besides offering VPN protection. Also, you can benefit from the Malwarebytes browser guard that removes ads and blocks trackers and malicious web pages.

Final Verdict
Malwarebytes Privacy VPN is a new addition to the VPN market that looks like a good option. The VPN uses standard AES-256 bit encryption and the advanced WireGuard protocol. Despite belonging to the invasive US jurisdiction, it refrains from keeping data logs, but still, the VPN needs to undergo the independent log audit process.
Furthermore, the VPN offers impressive features that ensure a greater user experience. You can use the Malwarebytes Privacy VPN for downloading torrents or streaming geo-blocked content on Netflix. The speeds are also satisfactory depending on the choice of servers for beginners. The VPN provider is easy to use and offers well-designed apps for all major operating systems and devices.
But, there's room for improvement for the VPN to compete with the top-VPN providers in the industry. The company needs to improve its customer support service, expand its server network, introduce the OpenVPN protocol, and undergo the log audit process.