PrivateVPN is a relatively new VPN provider that has been functioning since 2013. The VPN provider claims to offer users the highest level of security and privacy. However, PrivateVPN belongs to Sweden, a member of the 14-eyes alliance. The VPN hasn't undergone an independent log-audit process or updated its privacy policy in two years. All this makes the users think that PrivateVPN cannot keep their online activities and identity private. This PrivateVPN review will look deeper into various aspects of the VPN provider.
The VPN provider uses robust encryption standards and tunneling protocols to protect the user's data from all snooping eyes. Its multiple device compatibility features also make it users' most preferred choice. Plus, it also offers a few handfuls of security and privacy-boosting features. Before starting the PrivateVPN review, first, have a quick overview of the VPN provider:
Security and Privacy

Encryption
AES-256 bit GCM encryption
AES-128 bit GCM encryption
AES-256 bit CBC encryption
AEs-128 bit CBC encryption
2048 bit RSA key,

Jurisdiction

Log Policy
It follows a shady no-log policy but do keeps minimum information

Security Features
Kill switch
Port forwarding
Stealth Mode
Streaming and Torrenting

List of Compatible Streaming Platforms
Amazon Prime
Netflix
Hulu
HBO Max
Dazn
BBC iPlayer
Diney Plus

List of Torrenting Features
Torrent IP leak protection
User-friendliness

No. of Servers
200+ servers in 65 countries

Pricing
$9.90/m on a monthly plan
$2/m on a 36-months plan
$6/m on three months plan

Customer Support
Online resources
Email
Live chat support

Compatible Devices
Android
iOS
macOS
Windows
Router
Linux
A quick overview might not be enough to know about the credibility of PrivateVPN. But a detailed PrivateVPN review might reveal much more about it, so let's explore more about PrivateVPN.
Security and Privacy
A VPN's prime function is to provide maximum digital security and protection; hence, a VPN is liable to use strong encryption standards, ciphers, and tunneling protocols. Also, the service provider must belong to a privacy-friendly jurisdiction and doesn't follow a shady logging policy. Therefore, looking into these aspects is crucial while assessing the VPN for its privacy and security standards.
What type Of Encryption does privateVPN use?
PrivateVPN keeps your IP address, internet activity, and personal communication private. No prying eyes, including the ISPs, surveillance agencies, and hackers, can't monitor and spy on your online communication or intercept them to access your sensitive data.
The VPN provider uses the industry's highest encryption standards to safeguard your data from privacy invaders. It uses four encryption standards:
AES-128 GCM encryption.
AES- 256-bit GCM encryption.
AES-128 CBC encryption.
AES-256 CBC encryption.
2048-bit RSA handshake.
128 and 256 are different encryption key lengths. Using an extended encryption length is better because hackers or privacy abusers won't be able to guess and crack the encryption. Similarly, the GCM and CBC are slightly different in terms of safety. They both scramble the data but in a different manner. GCM jumbles the data randomly, while CBC depends on the previous data block while encrypting the data. Thus, GCM is more secure to use than CBC.
You can customize the encryption level according to your preferences. Overall, the encryption used by PrivateVPN is enough to keep your data traffic private and secure and allows you to browse the web without any fear.
Jurisdiction of private VPN
PrivateVPN is owned by a private company that belongs to Sweden. Unlike the VPN's name, its jurisdiction is not private when protecting users' privacy. Sweden is a leading member of the 14-eyes surveillance alliance and, thus, shares users' data with international surveillance agencies. Also, the country might impose mandatory data retention laws on the users under which the ISPs can monitor and record your data logs for a particular time.
However, in Sweden, VPN service providers are not considered a part of the electronic communication networks or services. This exempts PrivateVPN from Sweden's intrusive laws meaning any anti-data logging laws won't apply to the users. Thus, you can use the VPN without worrying about your data getting logged because it won't.

Logging Policy – Does a private VPN keep your data private?
PrivateVPN claims to respect its users' online privacy and keeps all the activities private and out of the reach of prying eyes. According to its privacy policy, the VPN provider stated that they follow a strict no-log policy and doesn't record unnecessary or sensitive data like:
IP address
Bandwidth
Browsing history
Connection time
DNS queries
Data content
Traffic destination
The VPN service collects your email address and username while registering for an account. The collected data is used for account creation and to recognize and communicate with you for customer support.
However, Privat VPN's logging policy is not a genuinely no-log because a line in the privacy policy states that:
The statement is enough to damage the trust between the user and the service provider. Plus, the VPN has not performed any third-party audits, so transparency proofs are required to satisfy users to trust the service.
Which Tunneling protocols does it offer?
PrivateVPN uses a combination of conventional and outdated tunneling protocols. The VPN provider uses the following protocols to keep your connection safe:
The VPN automatically connects you to the VPN protocol that best fits your needs. But you can also manually choose the protocols.
The OpenVPN protocol is the most secure among all other protocols PrivateVPN support. It utilizes TLS/SSL for data encryption and key exchange. Also, it allows you to choose between the UDP and TCP ports; you can enjoy more security with the TCP port and fast speed while connecting to the UDP port.
PrivateVPN also deploys the IKEv2 protocol that's combined with the IPSec protocol. It enables your device to seamlessly switch between the cellular and Wi-Fi networks without affecting the internet connection. The VPN protocol uses a secure cryptographic algorithm like Blowfish and AES to protect your connection.
Moreover, PrivateVPN also supports L2TP and PPTP protocols, but they aren't recommended. OpenVPN provides better security than the L2TP protocol, so avoid it. Similarly, the PPTP is outdated and has significant security flaws, so do not consider using it. Many VPN providers have implemented the WireGuard protocol that offers stable connection speed and robust security and ensures the best user experience. PrivateVPN doesn't support the latest advanced WireGuard protocol, which disappoints the users. The VPN must introduce the WireGuard protocol to compete with other top-tier VPN providers.
bypassing Censorship- can privateVPN ensure online freedom
Many VPN providers claim to work in regions under strict restrictions or follow heavy internet censorship. But in reality, they failed to bypass the censorship filters. Luckily, PrivateVPN is among the few reliable VPN providers that help circumvent internet censorship and enable you to access the free internet world.
The VPN provider has an impressive stealth VPN feature that allows you to bypass VPN blocks in highly restrictive countries like China, Russia, Turkey, and UAE. This feature, when enabled, disguises your VPN traffic as regular HTTPS traffic. Since HTTPS traffic is commonly associated with banks and online shopping websites, VPN block firewalls don't filter it. You can also use the OpenVPN protocol, which uses HTTPS ports and easily defeats censorship. But you must download the VPN before using it in a censored country.
Extra privacy and security features by privateVPN
A VPN's reputation is also because of the features it offers. The more features a VPN provides, the more fantastic service it guarantees. These extra features increase your online security, privacy, and user experience.
PrivateVPN offers limited features, and here's a summary of those features:
Kill switch
A VPN kill switch is an impressive safety feature that stops your internet connection when your VPN connection drops or malfunctions due to any reason. By disconnecting you from the web, the kill switch protects your identity and the IP address from exposure to privacy abusers. It's a handy feature that enhances your anonymity level and allows you to stream the blocked content and download torrents safely.
PrivateVPN's kill switch feature is known as the Connection Guard. It isn't enabled by default; you must navigate to the setting to turn it on. However, the PrivateVPN kill switch feature is only available on the Windows platform.
Port forwarding
Port forwarding is another advanced feature that PrivateVPN has on its list. It allows remote devices and servers on the internet to access the devices within your local area network. Besides this, it redirects the incoming and outgoing traffic via specific ports, allowing quicker data transfer. There are a few advantages of using the port forwarding feature; for example, it increases the browsing speed and is a great option to use while downloading torrents and playing online games.
The port forwarding feature is enabled automatically. When you connect to a server, you're assigned a random port number and can't disable it.
Stealth Mode
A stealth VPN is a fantastic feature that allows users to hide online traffic and bypass imposed censorship. PrivateVPN offers a stealth mode that makes your VPN traffic look like regular HTTPS traffic and helps get around restrictions.
As a result, you can browse the web freely in countries like China and access blocked websites and services. Also, you can watch the blocked streaming content on any popular service and download torrents safely from anywhere. You can use this feature on all PrivateVPN-supported devices.
Besides this, PrivateVPN also protects from IP, DNS, and IPv6 leaks and boosts your online security. However, the VPN doesn't provide essential features like split tunneling and Smart DNS play. The presence of limited features is another reason people might not prefer to use this VPN provider.
Streaming and Torrenting
Another important reason for using a VPN is to enjoy free streaming and torrenting. Both activities have many issues, from ISP throttling to IP blocklisting and privacy issues. The best way to avoid these issues and have seamless streaming and torrenting experience is by using a VPN compatible with streaming and downloading, such as PrivateVPN.
Compatible streaming platforms
PrivateVPN is among the best VPNs for streaming geo-blocked content. With PrivateVPN, you can enjoy unlimited streaming on all servers and access your favorite streaming content from the following platforms:
Netflix
Amazon Prime
BBC iPlayer
DAZN
Disney Plus
HBO Max
Hulu
The VPN service provider unblocks 21 Netflix regional libraries and thus is the best VPN for bypassing the Netflix ban. You can access the American, UK, and even Korean Netflix content library with PrivateVPN and enjoy HD and 4K quality streaming content. You can also unblock various sporting sites and watch your favorite sporting events like NFL, UFC, and NHL. The speeds are also stable and cause minimum buffering when connected to the OpenVPN protocol. Even the users on Reddit praise the VPN for working perfectly well on streaming platforms.
PrivateVPN's stealth mode allows you to access blocked streaming content from various platforms. It disguises your traffic as regular HTTPS traffic and easily circumvents the geo-blocks. It also prevents your IP address from getting blocked by the streaming platform and ensures a seamless streaming platform.
Is privateVPN suitable for Torrenting?
PrivateVPN is another good option for downloading torrents. The VPN allows unrestricted torrenting and P2P file sharing on all servers in Sweden. It also allows port forwarding across all servers, boosting your downloading experience.
The VPN uses strong AES-256 GCM encryption and protects from IP and DNS leaks, ensuring that your torrent-related activities remain secured and private. Apart from this, the availability of a kill switch feature boosts the security level during torrenting. However, the absence of the split tunneling feature is disappointing and might affect the overall downloading speed compared with other VPN providers.
How fast is privateVPN
PrivateVPN offers decent and stable internet speed across all the servers. You can experience the fastest speed when connected to the nearest servers, while establishing a connection with remote servers often results in connection lags. Although PrivateVPN is not among the fastest VPNs, its speed is enough to continue your streaming and downloading activities.
PrivateVPN speed is not much impressive because it supports limited tunneling protocols. You can enjoy maximum speed when connected to the OpenVPN (UDP) protocol. IKEv2 also offers reliable connection speed on mobile devices. The VPN provider should consider introducing the WireGuard protocol to ensure users get the maximum speeds.
User-Friendliness
Besides security, privacy, streaming, and torrenting abilities, the VPN provider must offer a hassle-free user experience. For this purpose, the VPN provider must have dedicated apps for all supported platforms and devices. The apps also have a simple and clean interface and are easy to use and download.
The number of servers privateVPN offers
PrivateVPN comes with a minimal server network of 200+ servers in 63 locations. PrivateVPN servers exist in major countries like the UAE, the USA, and the UK. Connecting to these servers allows you to enjoy maximum online protection at home or traveling from country to country.
The VPN provider must add more servers to reduce server load, improve speed, and improve streaming and downloading servers. The website provides no information about dedicated streaming or torrenting servers but the customer support representative informed us about the dedicated IP address servers. Connecting to these servers can further improve your streaming and downloading experience.
How good is privateVPN customer support
PrivateVPN provides various options to connect with the customer support team and resolve your issues. You can fill out the contact form and hope to receive a reply via email. But if you want a quick and instant reply, you can use the 24/7 live chat option. Click on the round green bubble at the bottom right side of the screen. It will ask for your name, email address, and message. You might find chat agents knowledgeable and quick enough to solve your issue. Here's proof of it: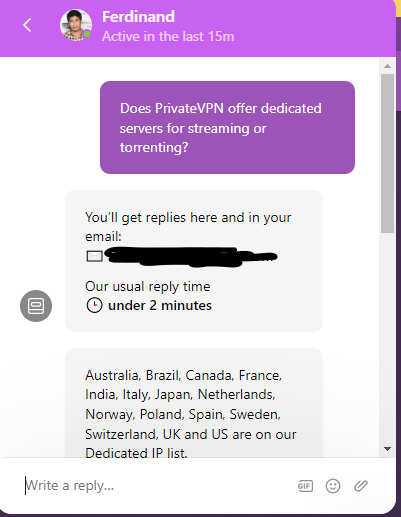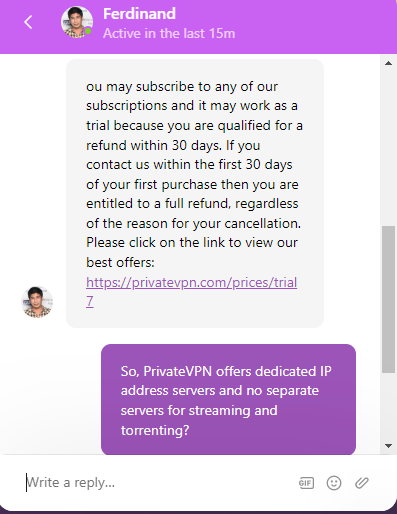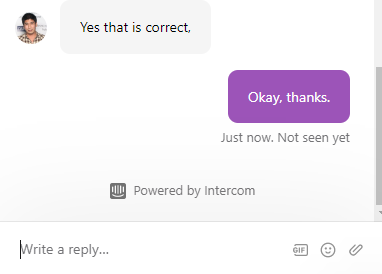 The website offers email support and useful online resources, including FAQs, blogs, guides, and news. You can also take help from the written material. However, the information is not much impressive and needs to be updated.
What devices is Surfshark VPN compatible with
Like other top-tier VPN providers, PrivateVPN offers excellent multiple-device compatibility features. You can install and download the VPN on all popular operating systems and devices like:
Android
iOS
macOS
Linux
Routers
Windows
All the apps are simple, easy to use, and won't cause trouble. And if you experience any issues, you can contact the customer support team or take help from the setup guides available on PrivateVPN's website.
A disappointing thing about PrivateVPN's compatibility is that you can't install it on streaming devices and gaming consoles. The VPN provider lacks the Smart DNS option that allows you to connect to a device that doesn't support VPN. The absence of the Smart DNS feature will limit your streaming experience.
Conclusion
This PrivateVPN review concludes that the VPN provides average user performance and service. The VPN uses a top-notch level of encryption to protect your data from privacy invaders, but several areas need improvement. While the VPN provider promises a zero-logging policy, it must undergo a third-party log audit to prove its stance on users' privacy. Also, the company must update its privacy and remove the clauses that create doubts and makes users suspicious of handing over their digital privacy.
Moreover, PrivateVPN must introduce the WireGuard protocol and extra privacy and security-boosting features. Undoubtedly, PrivateVPN is a good option for streaming geo-blocked content, hiding your online identity, and keeping your data and activities secure, and it doesn't cost much in price.
In a nutshell, you can consider using PrivateVPN for short-term use, but it must work on its weak areas to become a fully-featured VPN provider. Or else you can look at some other options available.
FAQs
PrivateVPN
with a single subscription account. You can connect to up to ten multiple devices, but remember that more devices
Thus, you should limit your connections to up to five or six devices simultaneously. 
PrivateVPN
to test the VPN's service and features without paying. The VPN provider
but to avail, you
and upon
you can start the trial period. 
PrivateVPN offers a fantastic
that
With this feature, your VPN traffic appears like regular web traffic. Hence, getting around the censorship filters ISPs and government agencies use to track and block your activities becomes easier. This makes it easier for people to use PrivateVPN in China and other oppressive states. 
PrivateVPN is a great option for accessing
The VPN uses the stealth mode to unblock 21 regional Netflix libraries and ensure a seamless streaming experience. Moreover, the VPN uses a kill switch feature and protects from IP leak protection that allows bypassing the Netflix ban. 
PrivateVPN provides the utmost level of security to the users. It
you can customize, the
and the
to safeguard your data from snooping eyes. Moreover, the VPN provider uses a kill switch feature and protects from VPN leaks to further enhance your online security. 
If unsatisfied with PrivateVPN's service, you can get your money back. It
money-back guarantee, so if you want to cancel your subscription during the initial 30 days, go ahead. By contacting the customer support team, you
, and the amount will be
starting from the confirmation date. 
PrivateVPN
with various subscription packages and budget-friendly prices. Here's an insight into the pricing plan of PrivateVPN:
$9.90/m on a monthly plan
$2/m on a 36-month plan
$6/m on three months plan
You can select any plan depending on your needs, but opting for an extended subscription is better. The VPN provider
, but if you
you can't buy PrivateVPN.
How useful was this post?
Share this article
About the Author
Rebecca James is an IT consultant with forward thinking approach toward developing IT infrastructures of SMEs. She writes to engage with individuals and raise awareness of digital security, privacy, and better IT infrastructure.
More from Rebecca James
Related Posts