The NFL is among the most popular sports in the US and outside. You can watch the NFL games on cable channels or paid streaming sites. But as most people don't want to invest in paid services, they look for the best free NFL streaming sites.
These streaming sites give you the exact live NFL streams without asking you to pay a penny. As most streaming sites are only available in the US, this disappoints viewers outside the US. Thus, you need a US IP address to access the free sites, and no other tool will help you better than the best VPN for the US. It will change your IP address and allow access to the blocked streaming content.
This article helps you to pick up the best NFL streaming sites. All these sites are well-reputed and give the best streaming experience, so choose any suitable one and enjoy your streaming experience.
20 best NFL streaming sites
All the streaming sites mentioned above are free to use, but since the list gives precise information, let's review the reviews below and decide which will work best.
1. USTVGO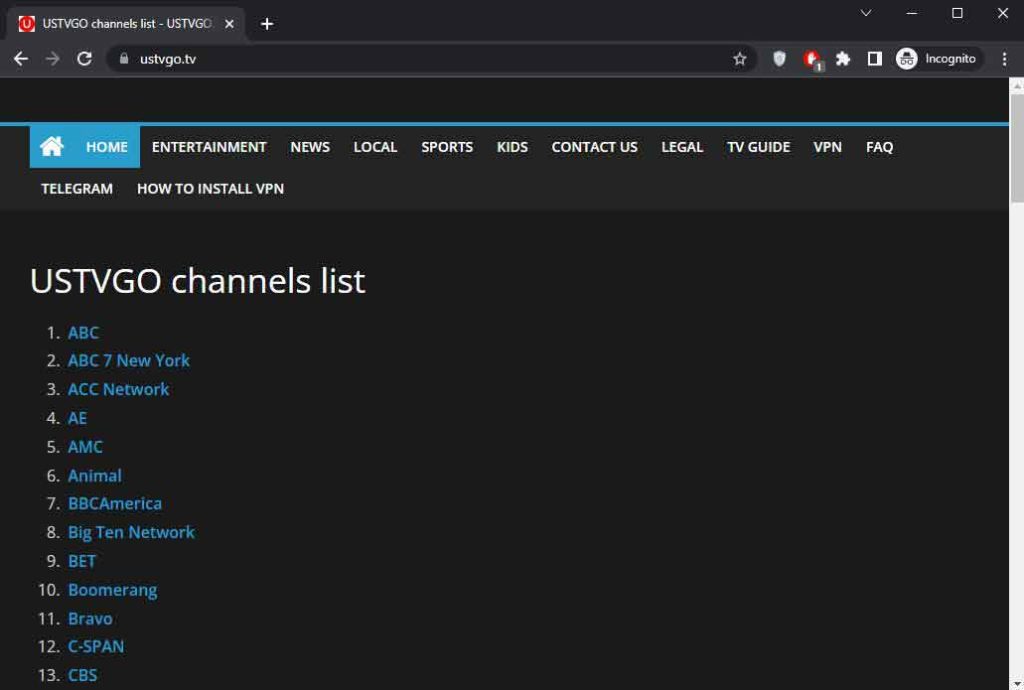 USTVGO is the best free NFL streaming site that has 93 channels of American television which means that you can watch entertainment news, local and kids' content. It has a simple and clean interface that's easy to use and navigate. You can enjoy a user-friendly experience while streaming live sports on your device. Here you can also find a TV Guide that informs you about the schedule of different upcoming TV and sports streams. Moreover, a FAQ section includes the answers to the questions you'd be looking for.
There is no wrong with using this site, meaning it is entirely legal. Another best thing about USTVGO is that it won't show intrusive pop-up ads that ruin your streaming experience. However, you should always connect to a reliable VPN first to have full access to the content library and maintain your online security.
2. LiveTV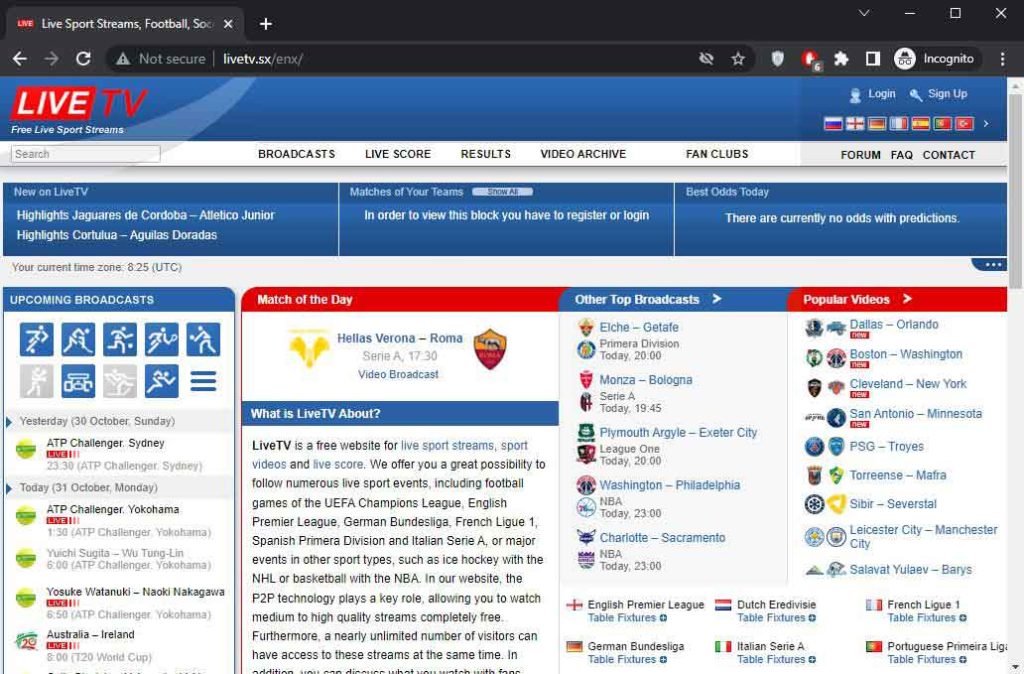 LiveTV is another free NFL site that you can use for live sports streaming, live score, and sports videos. It is the most preferred site where you can follow the live streaming of other popular leagues around the globe, like the English Premier League, UEFA Champions League, French Ligue, and different sports types like hockey and basketball.
To access this streaming site, you must sign up for free. The website interface is well organized and has different sections like broadcast, live score, video archive, and results. The video archive section of the website shows you updated videos of goals and even highlights of recent games.
Moreover, it also includes categories of popular videos and other top broadcasts. Towards the bottom of the page, there's a monthly calendar of the upcoming sports event. At LiveTV, you also find a resourceful FAQ and forum section that provides helpful information to the users.
As a whole, it's a great option to consider, but the thing that users don't like about it is the pop-up ads.
3. NFL Bites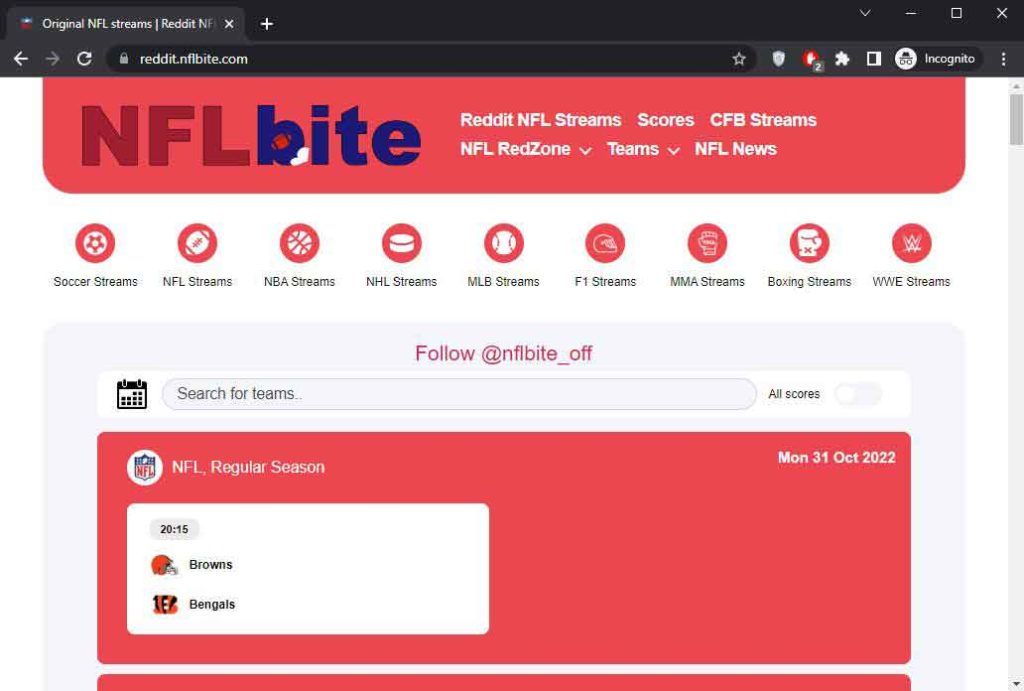 NFL Bites also ranks as the best NFL site that used to be a subreddit-hosted site on Reddit. Users all across the globe came to this site and found various lists of links by streamers that link to their websites. You could watch the NFL games for free by clicking on the links posted. Besides streaming the NFL games, here you can also find the latest news, scores, upcoming game schedules, stats, and popular videos related to the games.
If you want to watch any other game than the NFL, then NFL Bites allows you to stream NHL, NBA, MMA, boxing, scorer, and cricket streams. The website has a simple interface, and to use it, you have to search for your team and click on the playing card. However, since NFL Bites hosts content from other websites, the streaming links are sometimes unreliable and can trick you into a bogus or harmful site. Thus, always use a legitimate VPN provider while using this streaming site.
4. LiveSoccer TV
Another reliable sports streaming website is LiveSoccer TV, which allows you to watch NFL games for free. Besides NFL games, you can also watch cricket, rugby, and soccer matches. The website interface is intuitive and easy to use and navigate. It's divided into sections like teams, matches, competition, channels, news, pubs, and sports. Towards the bottom of the page, you can find the schedule of the top upcoming matches.
The streaming site includes channels from India, the UK, and the US and, thus, is the most preferred choice globally. However, you must connect to a VPN to access the blocked streaming content. Besides this, there are a few other drawbacks to using LiveSoccer TV. The site is full of adverts, which might interrupt you while watching your favourite sports. Using it with the combination of the best ad-blocker will resolve the problem.
5. CricFreeTV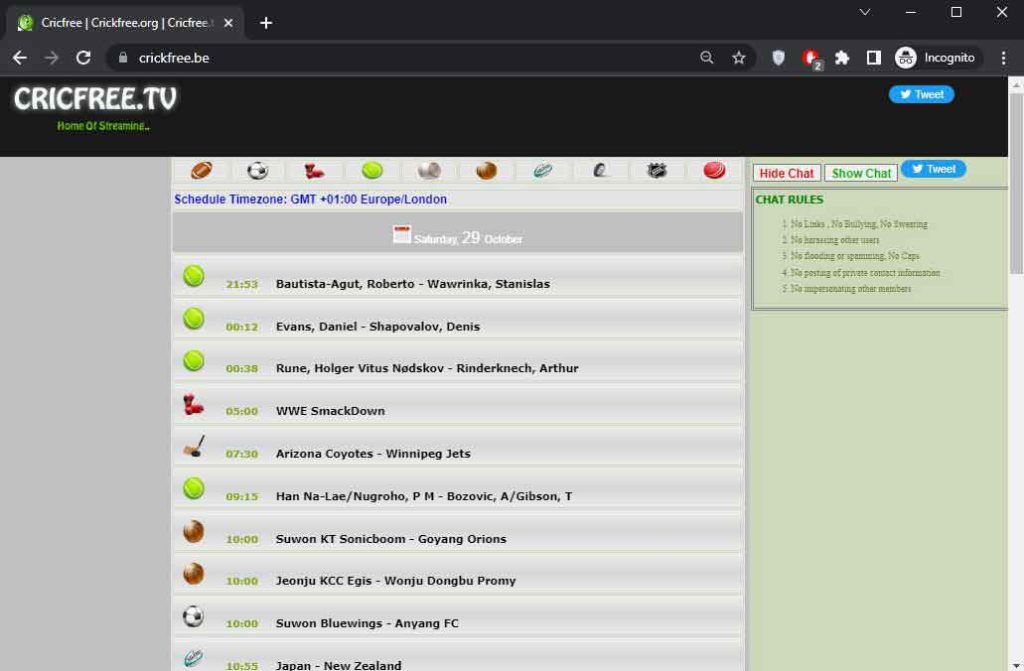 Another sports streaming site that enables you to watch NFL games along with cricket, baseball, basketball, tennis, and others is CricFree TV. It is a free NFL streaming site and doesn't require any registration or signup process. You need to access the homepage, click on the football icon, and start streaming the NFL games without hassle.
The website has a simple user interface but lacks features or options other streaming sites offer, like the FAQ or live forum sections. But it includes a chat feature that enables you to communicate with other users, but you need to follow some strict guidelines mentioned on the website.
Like other streaming sites, CricFree TV also has several drawbacks. As the websites don't host their content, you're redirected to other geo-blocked streaming sites that might contain pop-up ads.
6. BossCast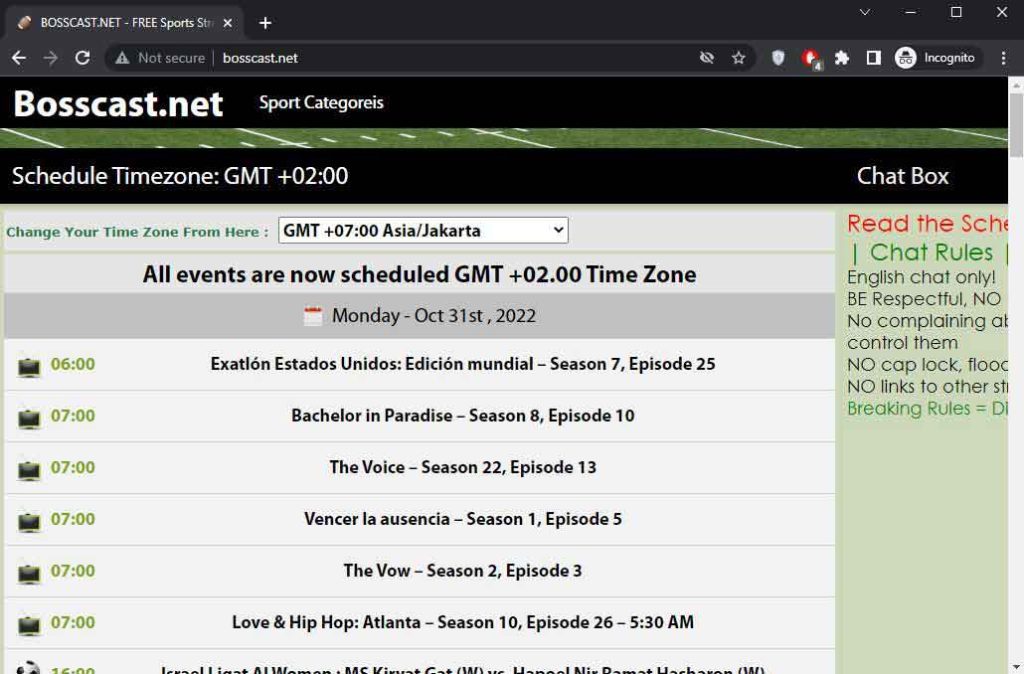 BossCast is another best NFL streaming sites with a similar interface to the CricFree TV and enables you to stream NFL and other popular sports games. It includes a list of popular channels where it hosts the content and ensures the best streaming experience. The website interface is not very attractive and needs a quick update.
You can find the list of scheduled and upcoming matches on the homepage. It also allows you to set your timezone and watch your favorite NFL games according to timings. However, users often complain of constant redirection when selecting a particular channel or streaming a live game. Also, intrusive pop-up ads will ruin your streaming experience, but you can overcome this problem using a reliable ad-blocker.
7. StreamNFL
StreamNFL is a reliable streaming site that allows you to watch football matches for free. To stream HD-quality matches, you must sign up for an account; otherwise, you must click and start streaming. The website's interface is clean and is easy-to-use to navigate. The homepage has different sections, including clubs, NFL sections, MLB streams, WWE streams, and NASCAR streams.
You can find the schedule of the upcoming matches on the homepage. Everything is straightforward; you won't find any issues using this site. However, you might need a trusted VPN provider to access the blocked streaming content.
8. 123 TV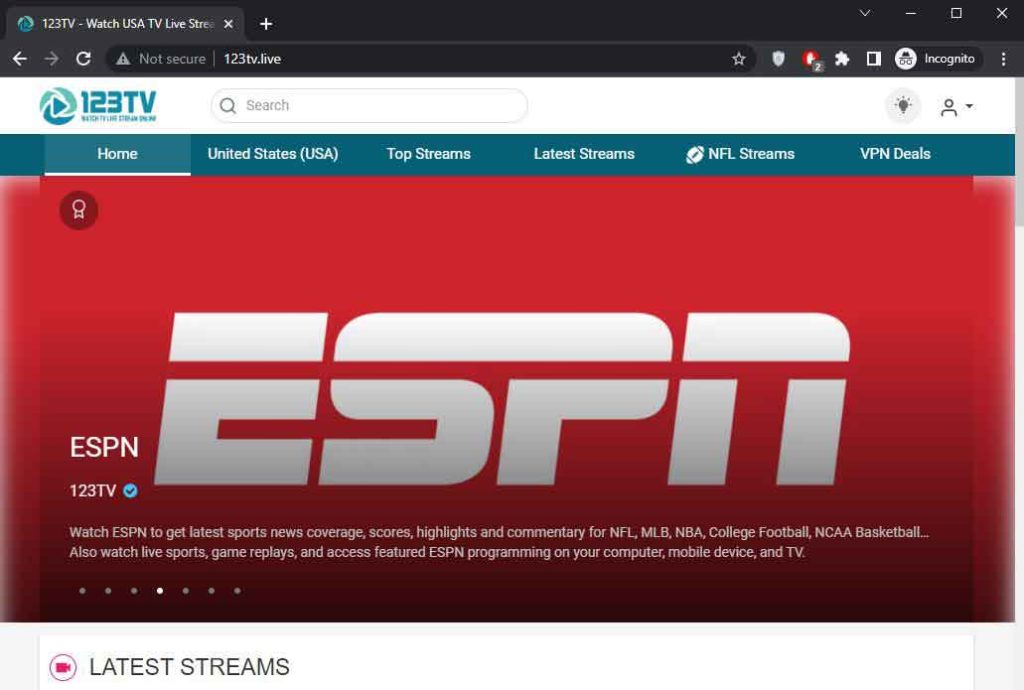 123 TV is the best sports streaming site offering complete NFL game coverage. The website is well-organized, with an attractive and easy-to-use interface. You can find the live match stream by entering a search query in the provided search bar or filtering in the specific category. It includes the NFL stream, latest streams, and top streams category tab on the home page. Also, you can find out the videos in the rundown on the home page.
The streaming site hosts content from popular channels like ESPN and Fox Sports. However, when you use this site, you must be careful as clicking on a link can redirect you to an unknown malicious site that can even put your privacy at risk.
9. Stream2Watch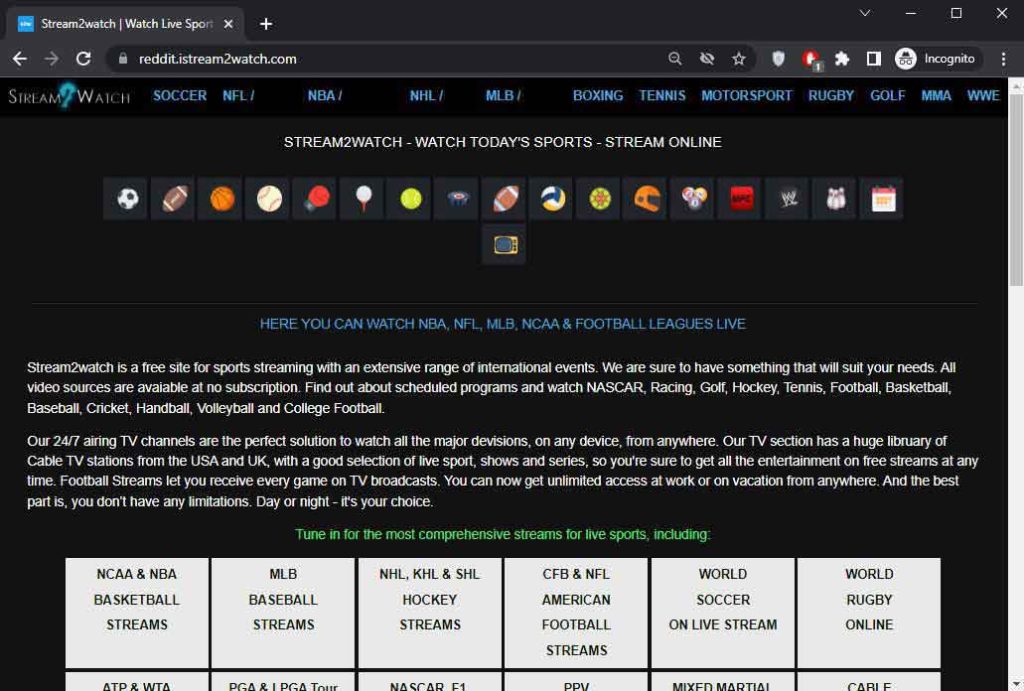 Stream2Watch is yet another best NFL streaming site that you can consider using. It is a free live-streaming platform that you can use without requiring a registration fee or software installation. The website collects live streams and videos from other reliable sites and doesn't host any content.
The interface is clean and straightforward, and the site is pretty organized. The homepage includes the sports that you can stream live on this site. Besides the NFL, you can watch other worldwide professional leagues and sports like baseball, soccer, basketball, and hockey. Select a particular category and enjoy the live stream to watch a sport. Also, it's an excellent platform to benefit from news, TV shows, games, and movies globally.
The only thing the users don't like about this site is redirection to suspicious sites. So, be careful, and don't forget to use a VPN in the first place.
10. NFLWebCast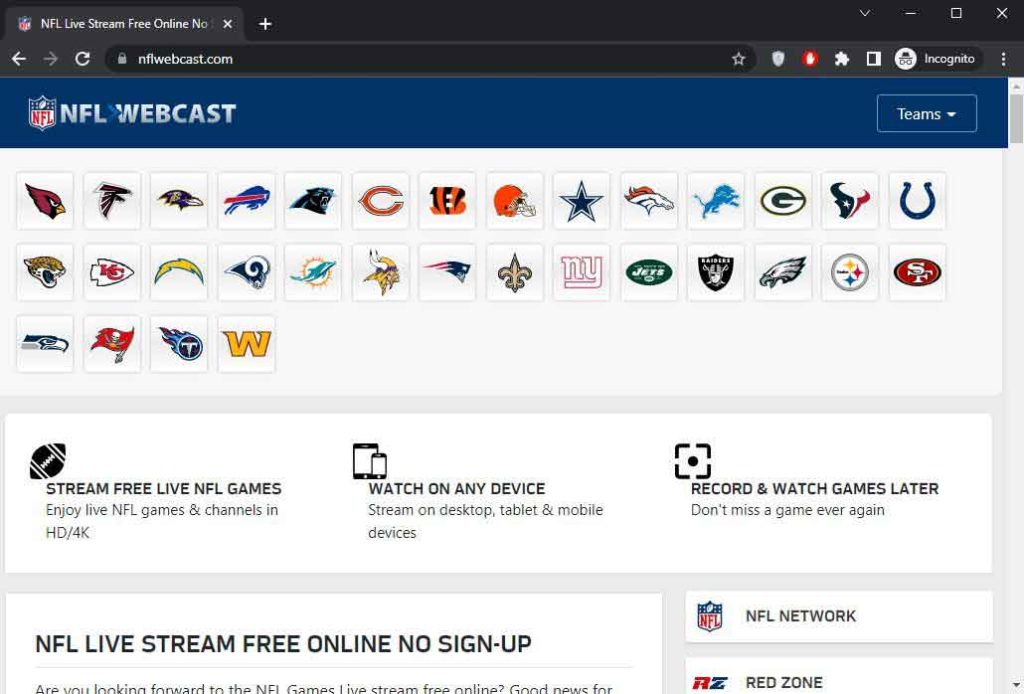 NFL WebCast also ranks as the best free NFL streaming site organized and controlled by the club. It allows you to watch the streaming of the live games in HD and 4K quality. You can access this site on any popular Android, iOS, MacOS, or streaming device.
Since the website follows strict streaming regulations, you should use a VPN and make it easy to access blocked streaming content from any part of the world. Also, remember that as long as you watch live NFL streams on this site, pop-up ads will ruin your streaming experience.
11. SportLemonTV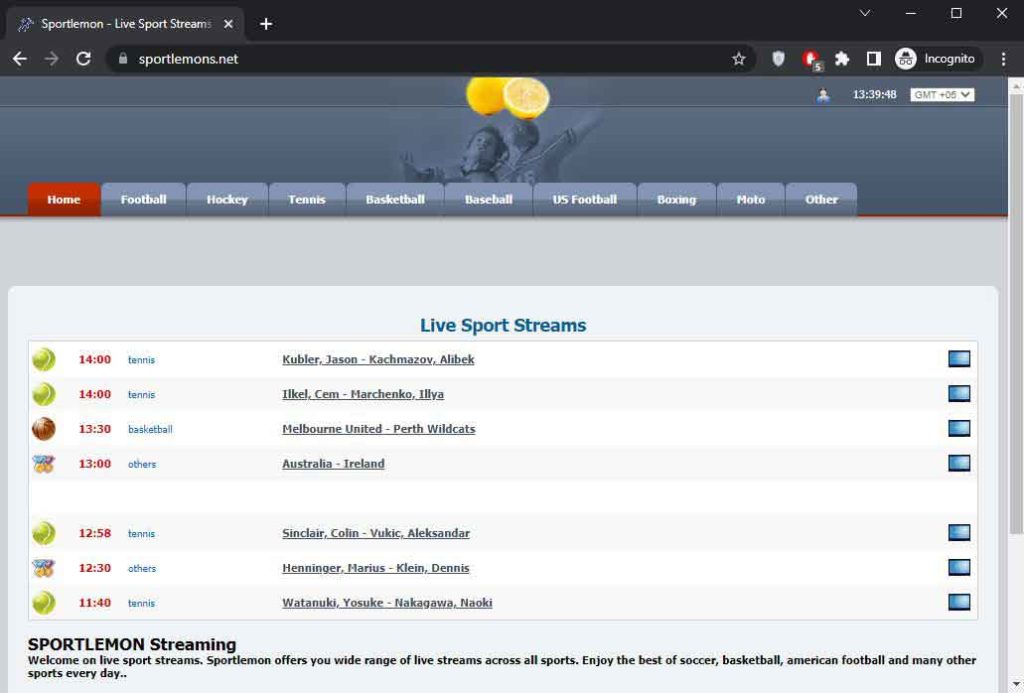 SportsLemon TV is another free streaming that allows you to enjoy the complete coverage of NFL games. The website has an outdated interface that many users don't like, but the streaming experience is still unique. There's not much information about the site, including any other features that can impress the users.
While you use this site, be ready to see unlimited pop-up ads and malicious redirects. Also, the website doesn't host its content and gathers it from other sources. Thus, it's hard to trust the reliability of the content.
12. FuboTV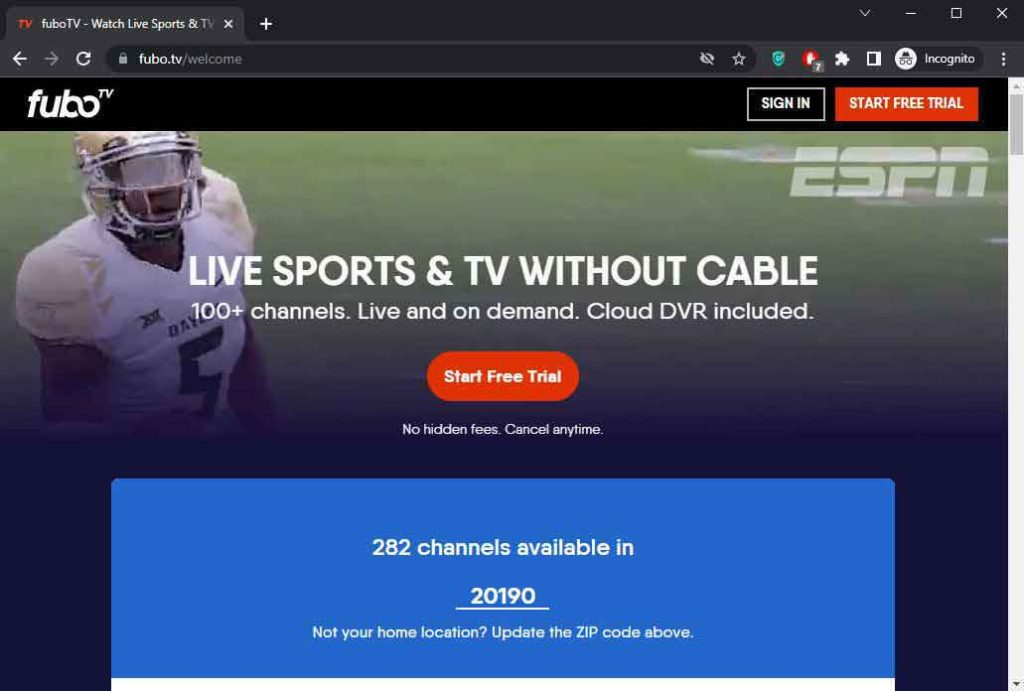 FuboTV is a popular live-streaming platform that you can consider using to watch NFL games. It does not only allow you to stream games about news and other entertainment stuff. The best feature about this site is that you can record the games and stream the NFL matches with the cloud DVR feature, and enhance your streaming experience.
However, this streaming site doesn't come for free; you must first subscribe to it. Still, you can avail of the seven-day free trial to test the site's features and services. Because of geographical restrictions, this site is blocked in most parts of the world, and you need a VPN to enjoy an uninterrupted experience.
13. VIPLeague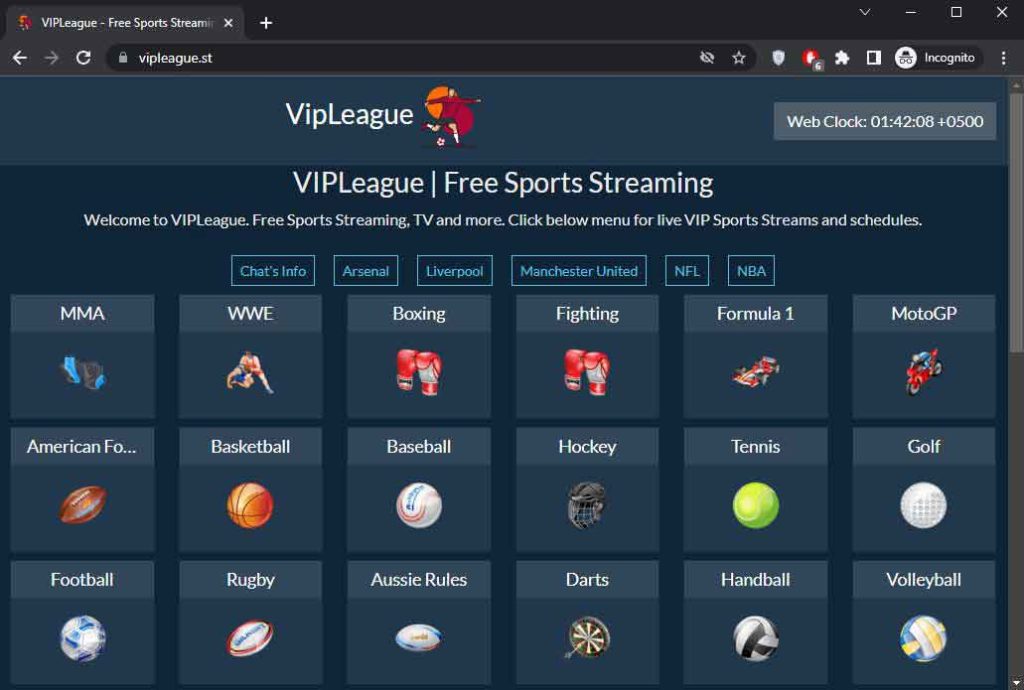 VIPLeague is another best free NFL streaming site that requires you to create a free account to watch the live streams of the games. The website has a simple interface and is pretty easy to use. It doesn't include any prominent features or options like other best-streaming sites mentioned in this article.
Other than NFL games, you can also watch various games played across the globe. However, you need a VPN to bypass the geo-blocks and an ad-blocker to prevent ads from disturbing you.
14. CBS Sports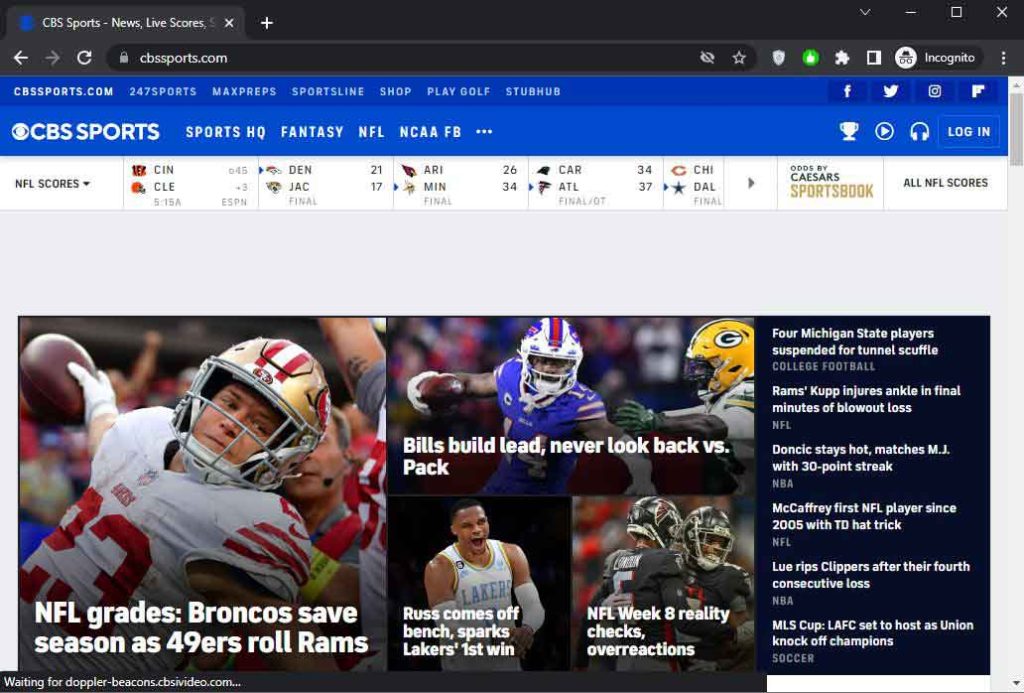 CBS Sports is another best free NFL streaming site that allows live streams and provides popular video clips and sports news. The website is simple and easy to use. It features NFL, MMS, NBA, NHA, MLB, and NCAA matches and ensures an excellent live-streaming experience. Moreover, you can also view the live scores, match results, and highlights of various sports played globally.
You need to sign up for a free account to access the live streaming of NFL games or other sports on CBS Sports. But, the pop-up ads will continue to ruin your streaming experience, so use an ad-blocker.
15. BuffStreams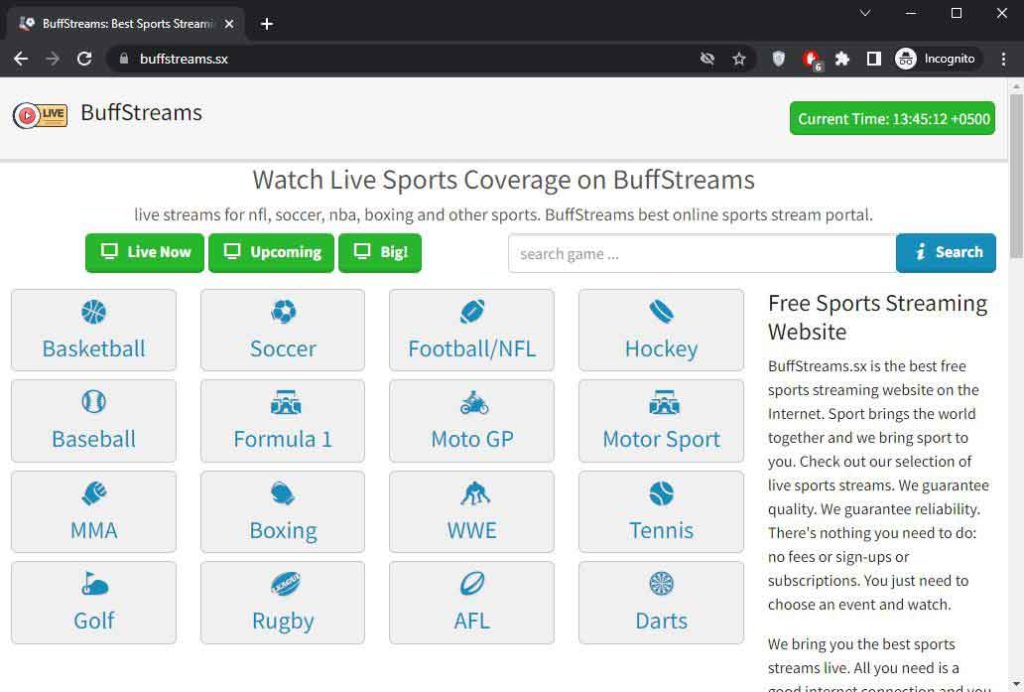 BuffStreams is a famous NFL streaming site that can help you watch live streams of NFL matches for free. The site includes a vast collection of quality video links that are all reliable. It is a free sports streaming site with no subscription fees, and you don't need to register for an account. Visit the site, choose an event, and watch the NFL games. Ensure you have a good internet connection so your streaming experience isn't interrupted by buffering and connection lags. Besides NFL, BuffStreams has a vast content library and lets users stream NHL, soccer, Rugby, boxing, golf, dart, and more.
However, there are a few drawbacks associated with this streaming site. The site doesn't host any live streams and instead grabs results from all other reliable streaming sites. Thus, the reliability of content is not guaranteed. Also, whenever you click on a link or category, it often redirects to a malicious and bogus-looking site that can target you for phishing attacks and trick you into downloading malware on your device. Therefore, using the best VPN for streaming to maintain online privacy is essential while using this site.
16. Roja Directa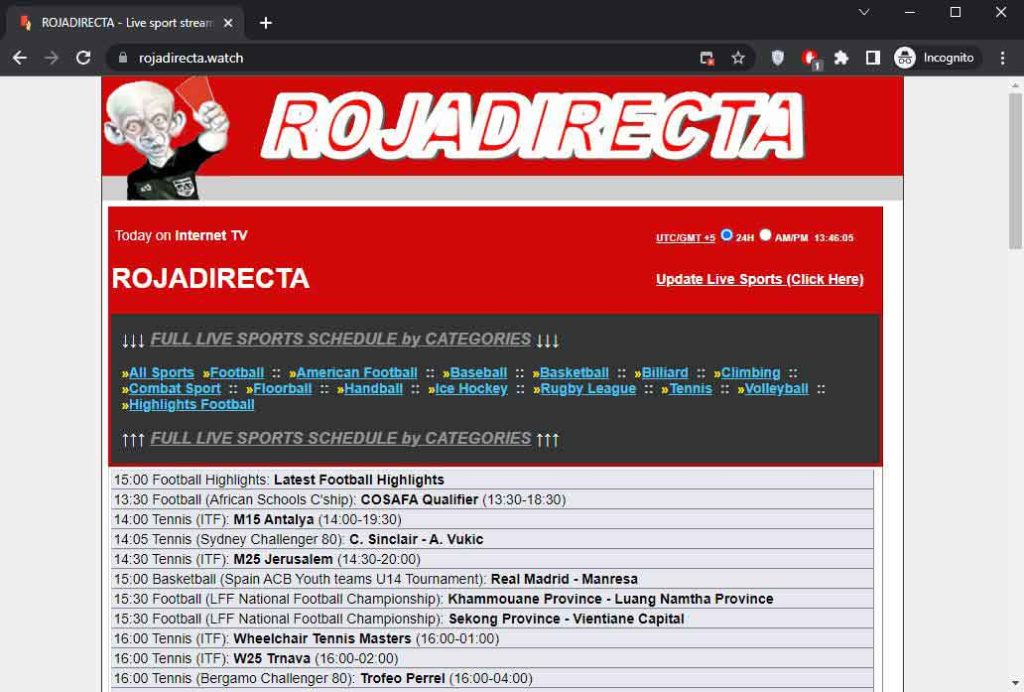 Roja Directa is another reliable NFL streaming site that's been around for a long time and is worth considering. You don't need to create a user account on this site or pay any subscription fee. It is a free NFL streaming site where you can watch NFL live streams and other popular sports games by clicking on the provided links. When you click on a link, it provides relevant video details. It includes the file size, file type, video link, and the source from where it's taken. This means the site provides streaming links after taking them from other sites, but since it shows details, it can be trusted.
The main interface is simple, sleek, and organized, suitable for beginners and advanced users. The homepage includes the schedule of all the sports events by category, making it easy for users to search for the live link. However, unlike most NFL sites, Roja Directa lacks a dedicated search bar, which might irritate users when trying to find the live stream link quickly.
One best thing about this NFL streaming site is that it doesn't show pop-up ads nor redirect to any malicious site. This is a good thing, but ultimately trusting a free streaming site is foolish. Therefore, using a VPN or other security-enhancing tool to attain maximum digital privacy is necessary.
17. SportsSurge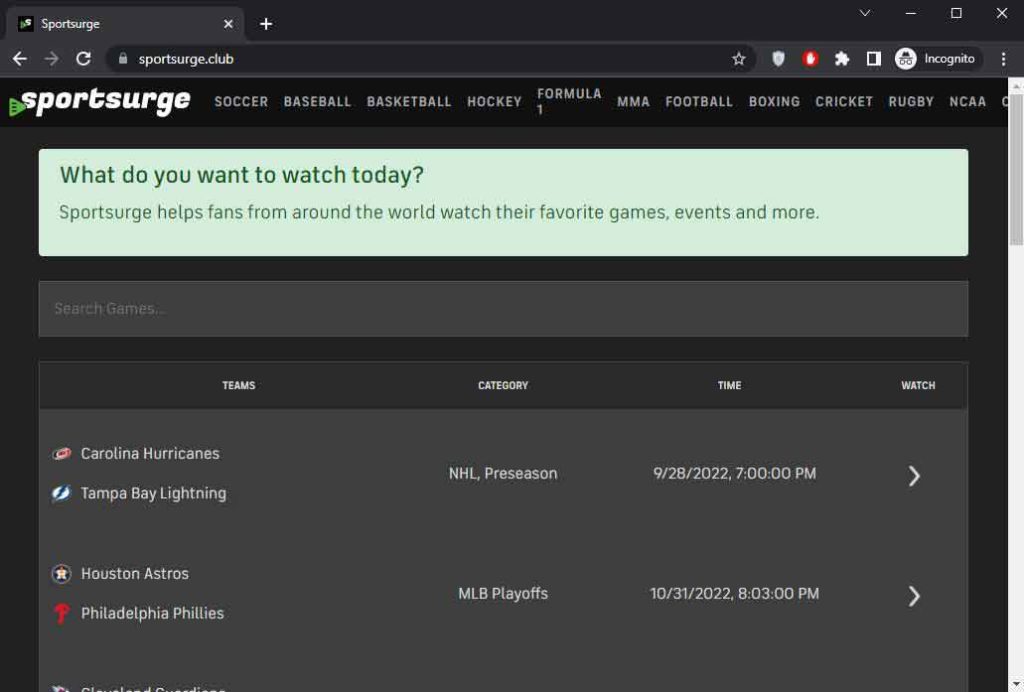 Sportsurge is a live-streaming website that allows users to watch sports matches globally. The free platform allows users to watch live streams of all popular games, including NFL, NHL, boxing, NBA, and MMA. What's more impressive about this site is that it provides real-time statistics, player profiles, and other relevant information.
The website is well-organized and has a simple and clean interface. It has a separate category for each sport. To watch the live streams, go to the particular category and find the streaming links. Each category also includes a search bar that increases convenience and lets users find the game's link quickly.
In addition, Sportsurge also offers a mobile sports streaming app. It provides live stream links of NFL, NHL, boxing, and other popular sports in 150+ countries. With Sportsurge, anyone can watch NFL matches or other sports in HD quality across all devices. However, to enjoy fast streaming speeds, it's better to connect to the fastest VPN provider in the first place.
18. VIP Box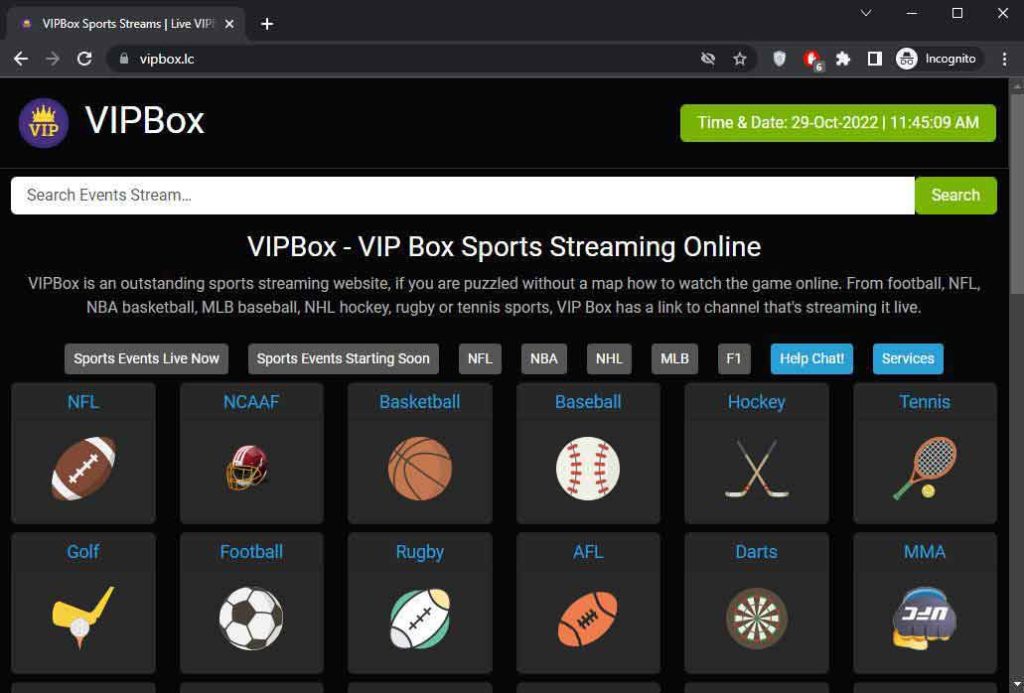 Another best NFL streaming site that you can count on is VIP Box. It is a free streaming service that won't even ask the users to register for an account. Visit the site, search for a live stream video link, click on the link, and that's it. All the videos are HD quality, provide fast streaming speed, and ensure the user experience isn't interrupted by buffering or connection lags.
VIP Box is a perfect site for sports fans. It offers live coverage of all sporting events, including NHL, soccer, tennis, MMA, and more. One prominent feature of this streaming site is that it informs about upcoming matches. The website has a simple, easy-to-use interface and a dedicated search bar, which adds convenience.
VIP Box does not host any live-stream videos on its site. All the videos are hosted on external streaming sites, which means you might end up clicking on fake links. Another issue with this site is that it often redirects users to malicious sites, risking their digital privacy. Hence, try to use a VPN that encrypts all the data traffic, making it impossible for prying eyes to invade your privacy.
19. Crackstreams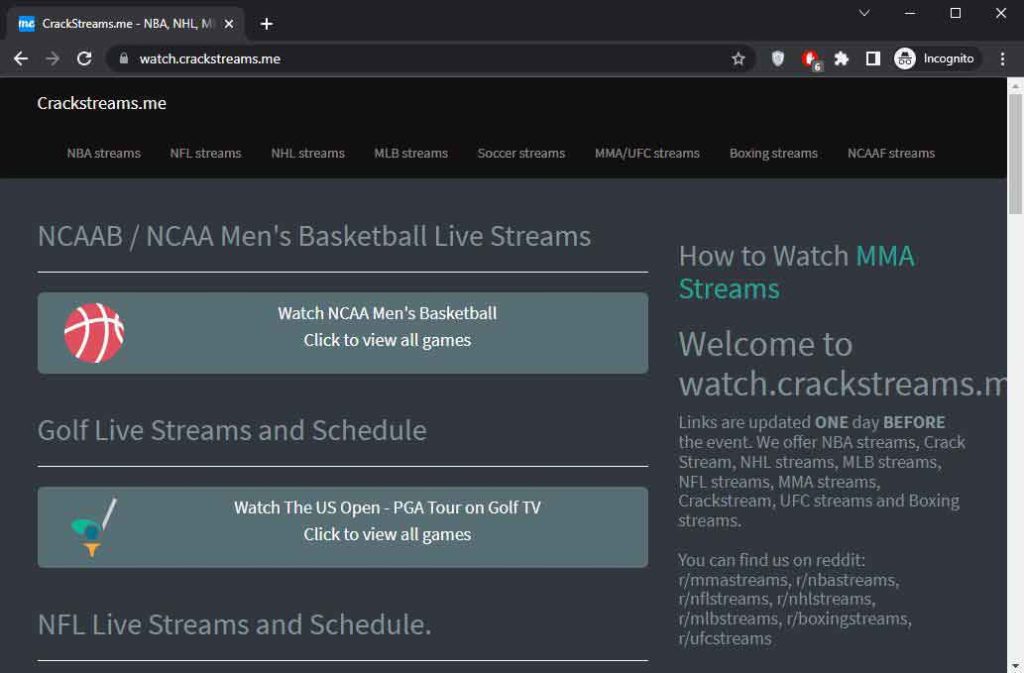 Crackstreams is yet another best NFL streaming site where users can watch live streams of NFL games for free. The site has a unique interface that's easy to navigate but lacks a search bar which might disappoint the users. In addition, to a simple interface, the site's design is also appreciable.
This site also shows live streaming of other sports events like NBL, NBA, and MMA. Each sports category updates all the video links a day before the event. Users don't need to pay any subscription fee or sign up for an account to watch the live games.
However, Crackstreams is not accessible globally, meaning it's blocked in some regions. Consider using the best VPN for streaming, as they are designed to bypass geo-blocks and let users stream their favorite streaming content without any buffering or connection lags.
20. FirstRow Sports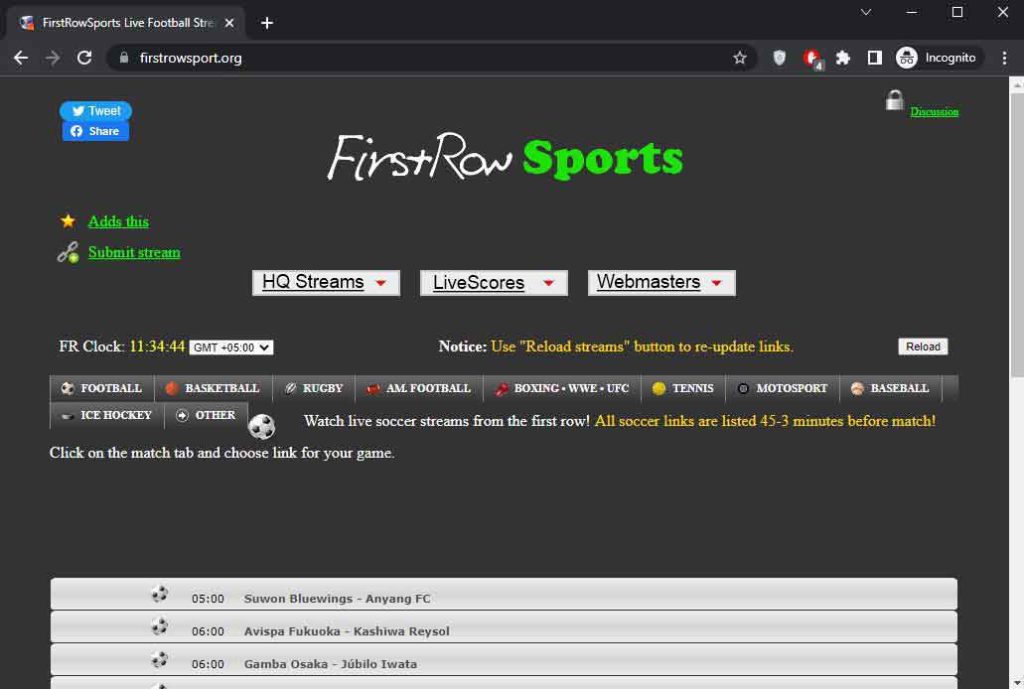 FirstRow Sports is a renowned streaming website that doesn't need any introduction. It has been around for a while, allowing users to enjoy live streaming of all popular sports, including the NFL. The site offers reliable, HD-quality video links organized on the homepage. When you click on the link, it redirects to a new page where clicking on the video stream begins.
The best part about this site is that it doesn't show any ads. This is a plus point: your streaming experience won't be interrupted. Plus, separate categories for each sport don't confuse the users and ensure a hassle-free user experience.
Use a VPN on this streaming site to watch the live streaming without any speed issues.
Is using a VPN essential while accessing the best NFL streaming sites?
NFL is a popular game in the US, and its broadcasting rights are given to a few cable TV networks and streaming services like Amazon Prime, Sling TV, or Hulu. The broadcasters are bound to show the live broadcast in the US, or people subscribed to their services per an agreement. There are also free NFL streaming sites, often blocked in other countries because of geographical restrictions. Also, they are deemed to contain pirated content and, thus, are blocked. This is why you need to use a VPN.
Using a VPN changes your geographical location, and the anti-censorship features or obfuscation technology helps you get around geo-blocks. Besides this, a VPN also hides the IP address and encrypts the data traffic, which ensures no one could know about your online activities and makes you more anonymous and private.
Even if you can access the best NFL streaming sites, you might experience slow speeds, probably because your ISP is throttling your connection for consuming too much bandwidth.
The streaming site you're using is overcrowded with too many users at a time can also result in poor streaming speed. A VPN is the best tool for boosting speeds and preventing ISP throttling. With the fastest VPN, you can get maximum internet speed and enjoy streaming NFL games without buffering or connection lags.
How to stream NFL games online for free safely
The NFL is among the most beloved sports in the United States and many other countries worldwide. Fans can catch NFL games on cable channels and subscription streaming platforms. However, considering not everyone wishes to commit to subscription services, many actively seek out the top free NFL streaming sites.
However, insecurity is a significant concern when accessing free NFL game streaming websites. This is because most free streaming services offer illegal content. Also, most of them cannot provide live matches. Additionally, there is the matter of intrusive pop-ups, cookies, and redirections that pose a potential digital security hazard.
To guarantee your online safety while utilizing these websites, two crucial tools come in handy: a reliable VPN and a robust antivirus. Combining these protection tools will significantly enhance your defense against potential online threats, like malware, and safeguard your digital well-being.
Follow these steps to watch NFL games online freely and safely.
Use a high-quality VPN service, such as ExpressVPN, which bypasses geo-restrictions on US websites.
Register for a subscription, as the longer-term plans typically offer more affordable monthly fees.
Download the VPN software designed for your preferred device.
Open the VPN application once it is installed.
Log in to your VPN account.
Select a server based in the United States from the available options in the VPN server network.
Launch your web browser and navigate to your preferred NFL video streaming platform.
How to watch NFL via cable and over-the-air streaming?
Opting for a cable subscription remains one of the most straightforward methods to ensure comprehensive local and national sports coverage. However, it's important to note that this option typically involves higher costs than video streaming services, and you may miss out on certain conveniences like user-friendly interfaces and broader platform compatibility.
For those seeking reliable live-streaming of regular-season NFL games beyond their local market, NFL Sunday Ticket is a limited viable choice. If you don't have access to DirecTV cable, this service is available online or as an add-on to select cable packages.
Another alternative for accessing broadcast channels like CBS, FOX, and NBC is to utilize an antenna for over-the-air reception. However, the quality of your experience will depend on the strength of the signal and your geographical location. To pursue this option, you must purchase and set up an antenna.
Can you stream NFL commentary shows?
While numerous NFL commentary shows are available on various channels, some exceptions exist. For instance, NFL Slimetime, a family-friendly program showcasing NFL highlights, airs on Nickelodeon and is hosted by Young Dylan and Nate Burleson, with Dylan Schefter serving as the correspondent.
You can now access NFL Slimetime on various streaming platforms, including Hulu, Philo, DirecTV Stream, YouTube TV, and FuboTV. In addition, Monday Night Football is expected to be announced on ESPN2, with Eli and Peyton Manning taking part in the broadcast. The coverage will also be available on ESPN+.
The NFL RedZone channel might be ideal if you're seeking Sunday afternoon scoring highlights or real-time fantasy football stats. Sling TV, Hulu, FuboTV, and YouTube TV offer add-ons for this channel.
Watch NFL Online: Channels that Broadcast NFL Games
The NFL has broadcasting agreements with several major networks and platforms. These are some of the channels that typically broadcast NFL games:
CBS Sports holds the rights to air AFC conference games, including regular-season Sunday afternoon games, AFC playoff games, and the AFC Championship Game.
FOX Sports 1 & 2 broadcasts NFC conference games, including regular-season Sunday afternoon games, NFC playoff games, and the NFC Championship Game.
NBC Sports has the right to broadcast the Sunday Night Football package. This includes a weekly prime-time game, select playoff games, and the prestigious Super Bowl in a rotating schedule with CBS and FOX.
ESPN 1 & 2 broadcast Monday Night Football, a weekly prime-time game featuring teams from both conferences. They also have the right to broadcast playoff games and the Pro Bowl.
NFL Network is the official NFL channel and broadcasts games throughout the season, including Thursday Night Football. It also extensively covers the NFL Draft, training camps, and other league-related programming.
Amazon Prime Video: Amazon Prime Video has streaming rights to Thursday Night Football games. They simulcast the games broadcast on FOX and NFL Network, making them available to Prime Video subscribers.
However, it is essential to note that the schedule can be affected by holidays, meaning there may be other games on Thursdays and Saturdays. As such, you must refer to the program to get a detailed guide to different air times.
Conclusion
NFL games are popular in the US and all across the globe, and to enjoy live streaming; you need to pay subscription fees for games. Fortunately, the best NFL sites allow users to stream NFL games without spending a penny or creating an account. Visit the official sites, choose the link, and start streaming NFL games in HD quality.

Since most of these free sites run in the public domain and restrict the users' access because of geographical restrictions or piracy issues, thus, make sure that you use a VPN while using any of these free NFL streaming sites. Using a VPN lets users get around geographical restrictions and boost their online security and privacy because of VPN's end-to-end encryption and advanced features.
FAQs
DAZN, Amazon Prime, YouTube TV, Sling TV, and Hulu have the official rights to broadcast NFL matches. All these sites are among the best streaming services that offer a dedicated app for a smooth streaming experience. In addition, these services are free from pop-up ads nor risk your privacy by redirecting you to malicious sites. However, all these services come with a subscription fee. People who don't want to invest in premium streaming services can opt for the best NFL sites and watch live streams. 
There are many illegal websites that you might find on the web, but all the NFL sites mentioned above are legal to use. During testing, all these websites were working completely fine. However, the only issue with these NFL sites is that since they're free, they contain ads, while others redirect to suspicious-looking sites. Thus, an ad-blocker or a VPN is essential to enjoy a secure and uninterrupted streaming experience. 
Amazon has exclusive rights to stream NFL games on Prime Video. You must buy a premium subscription to enjoy live streaming on Amazon Prime. But since Amazon Prime offers a 30-day trial period, you can avail of this offer to watch NFL games for free for up to a month. 
If any of the NFL, as mentioned earlier, sites are not working, the site is probably blocked in your region. While many users may find this disappointing, you can always use software to bypass the geo-blocks and access the blocked sites. Using a VPN is the best available method to get around internet censorship. By masking your IP address and connecting to a remote VPN server, a VPN helps users to change their geographical location. In addition, the best VPN providers even use anti-censorship features that greatly help attain maximum security while circumventing censorship.
To your surprise, Reddit is a popular platform for getting live NFL streaming links. Though not a streaming site, it is the biggest online community forum where people, besides sharing their interests and hobbies, also submit content like videos, links, posts, and images, which other community members then vote up and down. Various subreddit pages provide live streams of NFL games. Previously, due to copyright violations, NFL Reddit Streams got banned. It was a great disappointment for NFL fans across the world. However, things have been sorted now, and the NFL Streams is the official backup for Reddit NFL.
Share this article
About the Author
Rebecca James is an IT consultant with forward thinking approach toward developing IT infrastructures of SMEs. She writes to engage with individuals and raise awareness of digital security, privacy, and better IT infrastructure.
More from Rebecca James
Related Posts