Quick List
For saving time, here are the 10 best free ad blockers that you can trust!
The pop-up ads are intrusive and ruin your browsing experience, as well as they also increase loads on the hardware. They are even the biggest source of income for some people and hence are known to install malware and spyware on your device and risk your digital safety. Start using the best free ad-blockers if you want to keep your browsing activities safe and stop these pop-ups from annoying you.
Using reliable and free ad blockers is the perfect and obvious solution to removing unwanted web ads. Most ad blockers come as a premium product, but there are quite a few free ad blockers that you can use without investing. However, be careful while choosing the free ad blockers as most of them collect and sell your data or work as a source to deploy malware, tracker, and virus on your device.
This article has found the 10 best ad-blockers that are reliable and safe to use and ensure an excellent anonymous web browsing experience. So, continue reading and explore more about the best free ad blockers.
Ten Best Free Ad-Blockers
By using the ad-blocker, you can prevent ads that create hurdles while browsing the web and protect your privacy. After hours of testing and research, below is a quick list of the ten best free ad-blockers that helps in improving your privacy and browsing speeds:
1. AdLock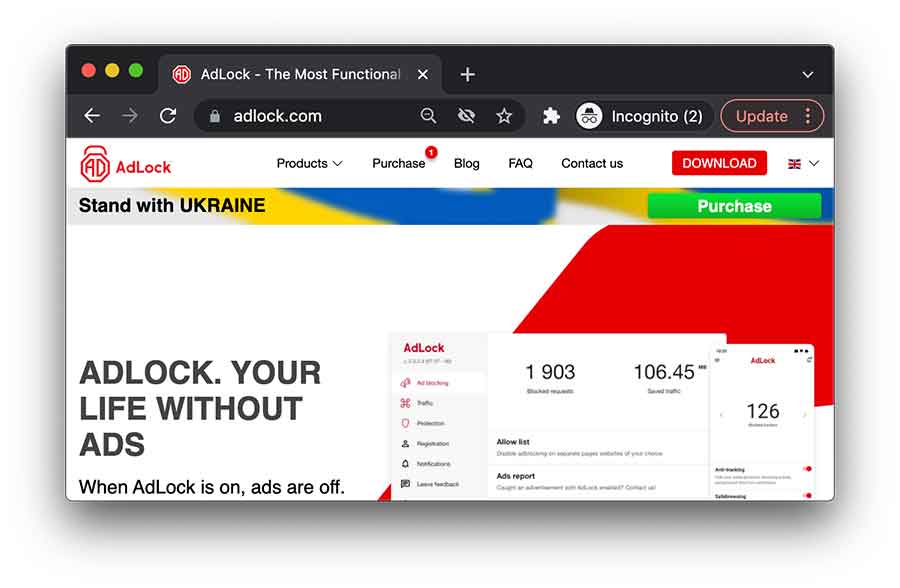 Filters HTTPS connections
Blocks ads from videos
Saves battery power
Numerous add-on features
Functions of Android, Apple, and Windows devices
AdLock is the best free ad-blocker that allows users to use it as a standalone app on their device or as a browser extension. It is among the most comprehensive ad-blocking software that blocks pop-up ads, video ads, and cryptomining ads that might collect your personal information and ruin your browsing experience. With AdLock, you can browse apps, instant messages, and games without seeing any ads.
The ad-blocker filters the HTTPS connections and blocks the harmful links and websites you attempt to access. Besides blocking ads, it hides your identity and traces bugs and spyware to maintain your online presence. It doesn't load unnecessary work and saves battery power and mobile data. It filters the incoming internet traffic and controls the usage of different applications.
The software is easy to use and install. You only need to download it on your device and start using it. It is available for Android, iOS, MacOS, and Windows platforms. Though it doesn't have a free version, you can buy the pro version and avail of the 30-days money-back guarantee offer.
Overall, this ad-blocker is reliable and performs exceptionally well to block ads, but there's only one thing that the users don't like about AdLock. It doesn't offer a live chat feature, and the users can't get an instant reply to their queries.
2. AdBlock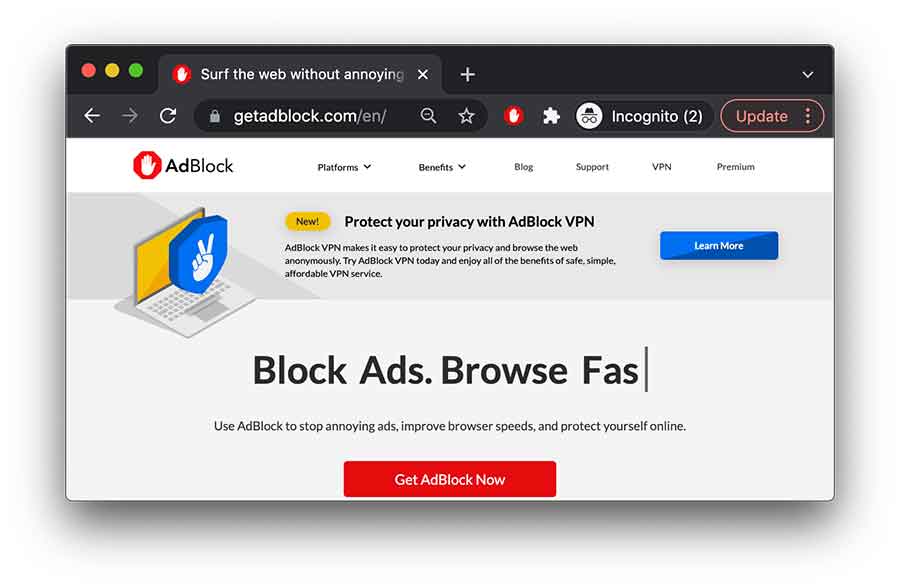 Blocks ads from social media sites
Totally free
Blocks third-party trackers
Various customizable features
Compatible with Android, iOS, Chrome, Edge, Firefox, and Safari
AdBlock is a lightweight best free ad-blocker that wipes out advertisements, including banners, pop-ups, and video ads. It also prevents ads from tracking and interrupting your browsing experience on Facebook, Twitch, and YouTube. The ad-blocker also improves your page load speed and enables you to enjoy a faster internet speed. Firstly, it's light in weight and thus won't consume much of the bandwidth. Also, it stops the ads from downloading and gives your browser a speed boost.
The most impressive thing about AdBlock is that it uses a set of rules called the Cryptocurrency Mining Protection List that tells where to block ads and trackers on the websites. The filter list is enabled by default, and you can use it to protect your device from websites that utilize your computer resources to mine for cryptocurrency. Moreover, the ad-blocker allows you to save from malware and other malicious advertisements. Apart from this, AdBlock comes with various customization options in the settings menu. You can configure the settings as per need and enhance your browsing experience.
It is a great ad-blocker with various customizable options, and you can easily download and use it on your Android and iOS devices for free. You can even use it as a browser extension on Chrome, Microsoft Edge, Firefox, and Safari browser. But as compared to other ad-blockers, AdBlock lacks other advanced features.
3. AdGuard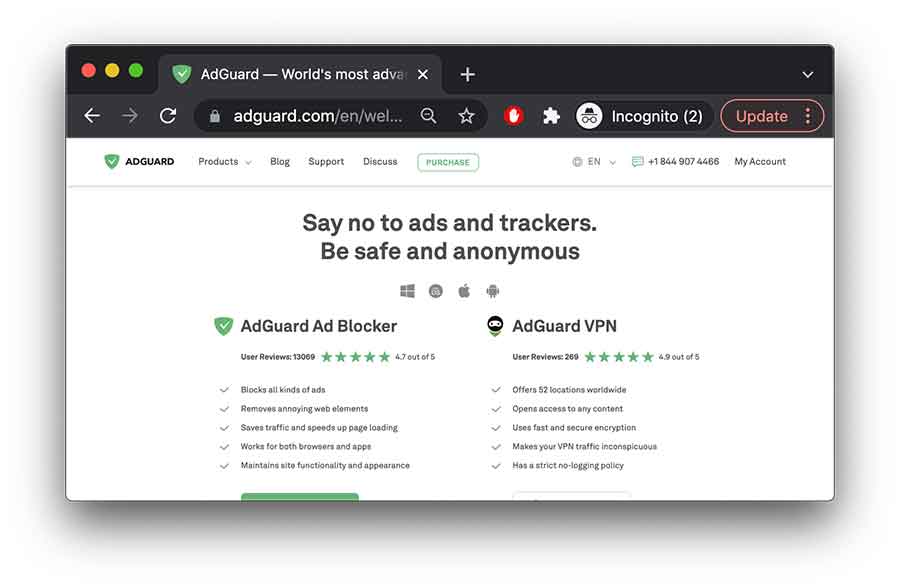 Works for both apps and browsers
Hides your activities from trackers
Improves page loading speed
Parental control
Compatible with Android, iOS, macOS, and Windows
Another best ad-blocker that you can consider using is AdGuard. It efficiently blocks every type of ad from banners to pop-ups and video ads and ensures an uninterrupted surfing experience. When tested so, the ad-blocked lived up to all its claims. The software uses unnoticeable background filters along with cosmetic processing, due to which you see only clean pages when the content shows up on the screen.
The ad-blocker comes with various adjustable features that make it a perfect option for maintaining a high level of security and privacy on the web. For example, you can use the anti-phishing and anti-malware features and enjoy secure browsing. It scans every page against the database for harmful and malicious contents and blocks them. Also, the software blocks third-party cookies and other trackers that secretly spy on your browsing activities.
With AdGuard ad-blocker, you can even protect your children from online threats. It has a parental control feature that blocks access to inappropriate websites and even deletes obscene materials from the search results. It also allows you to create a customizable blocklist to ensure your kids' safe web browsing experience. Another impressive feature of AdGuard is that it offers a VPN that allows you to hide your online identity and browse more safely.
However, the VPN product doesn't come for free, nor does the ad-blocker itself. But you can always benefit from the 60-days money-back guarantee offer and test out the service on all major operating systems and devices.
4. AdBlocker Ultimate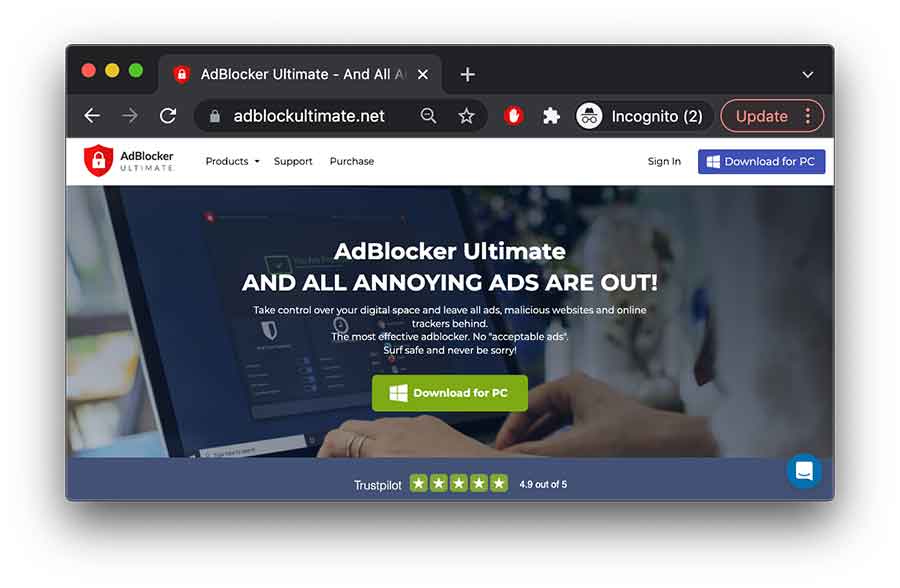 Blocks all types of ads
Ghost Mode
Prevent trackers
Stay safe from online threats
Works with Android, iOS, Windows, and browser extensions
Another best ad-blocker that's also open-source is AdBlocker Ultimate which blocks intrusive pop-ups, banner, and video ads in Windows-based apps and browsers. It is one of the most popular ad-blocking software that even blocks ads and trackers while you're surfing social networking sites like Facebook and YouTube.
The software is easy to use and download. Like other reliable ad-blockers, it also offers features that maintain security and ensure an excellent user experience. Moreover, it has an impressive ghost mode feature that makes your online presence invisible and leaves no room for trackers to track your activities. It also allows you to block access to malicious domains that can make you a phishing or malware attack victim. You can configure the settings and enable the dark mode to reduce the pressure on your eyes with a dark interface.
It works with browsers and other desktop-based apps, including Android and iOS platforms. The browser comes with two different subscription plans. The one is for personal use and allows up to three device connections, while the other is for family use and allows 12 device connections. However, if you're hesitant about investing in a premium plan, you can use it for free by availing of the 30-days money-back guarantee offer.
5. Ghostery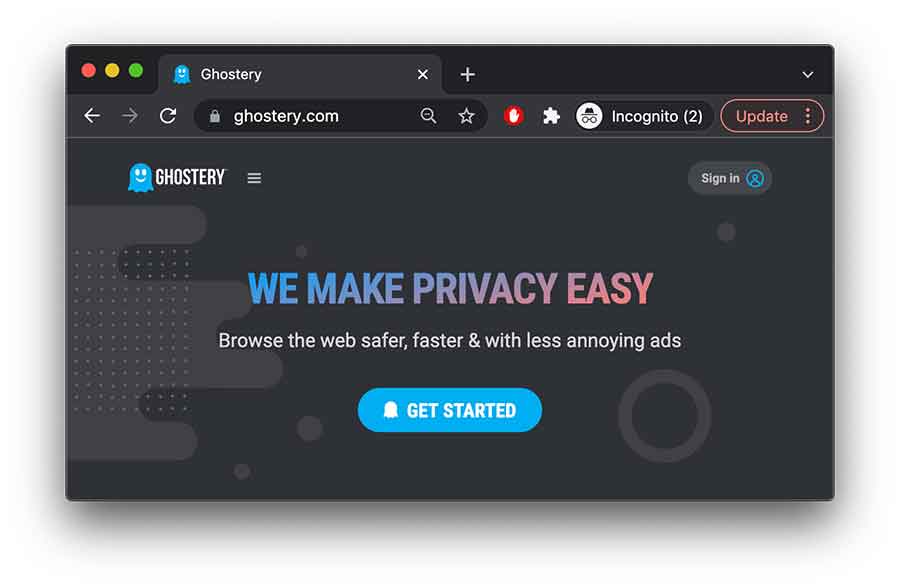 Stop trackers
Speed up web pages
Shows zero ads
Forensic tracker analysis
Works on all browsers and mobile apps
Another best free ad-blocker that ensures an ad-free browsing experience is Ghostery. It blocks ads and trackers on all or selected websites. The smarter ad-blocking feature automatically boosts and optimizes the page loading speed. Using it as a browser extension keeps you informed and updated about the companies tracking you by listing the trackers on every website you visit.
Ghostery even offers a custom blocking feature by which you can decide when and what to block. Another best thing about this ad-blocker is that it removes the data points that can identify you and risk your digital privacy. Since it's open-source, you can easily find the transparency report on GitHub and satisfy yourself with its credibility.
The ad-blocker has an excellent customer support team. If you experience any problem, you can contact the support team via submitting a tracker. It also has a resourceful FAQ section that answers many of your questions.
6. AdFender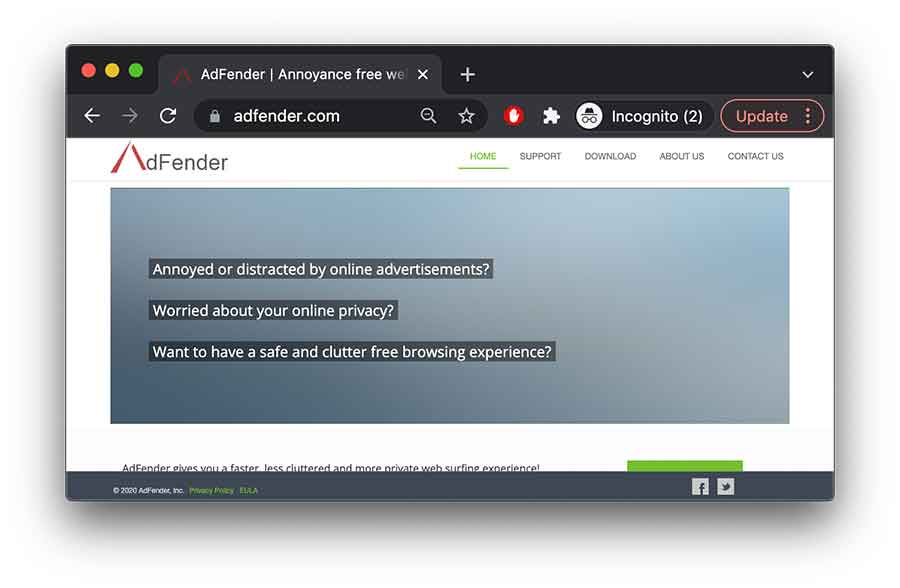 Blocks all types of ads
Improves speed
Remove profiling cookies
Prevent trackers from data mining
Works on Windows and other supported browsers
AdFender also ranks as the best free ad-blocker that you can consider using. It blocks ads and stops certain information from getting leaked to the web servers. It also filters out various types of content and saves much of your bandwidth that enhances the page loading and browsing speeds.
The ad-blocker comes with several advanced features that boost your online security. Like, it uses the man-in-the-middle attack approach to filter secure HTTPS connections and prevent you from accessing any malicious sites. Also, the AdFender anonymizer is yet another excellent feature that the software offers. It protects users from hackers and other snooping eyes while using a public Wi-Fi network at a cafe or coffee shop. The anonymizer routes your data traffic via the Tor network and prevents anyone from viewing your location or websites you visit. This fantastic feature makes you more anonymous and private on the web and is rarely found in any other ad-blocker.
Overall, AdFender ensures a good user experience on Windows, Chrome, Firefox, Opera, and Microsoft Edge. You can use the free trial if you first want to try out the ad-blocker features. However, the ad-blocker does not support other popular platforms like Android, iOS, and MacOS, disappointing users.
7. uBlock Origin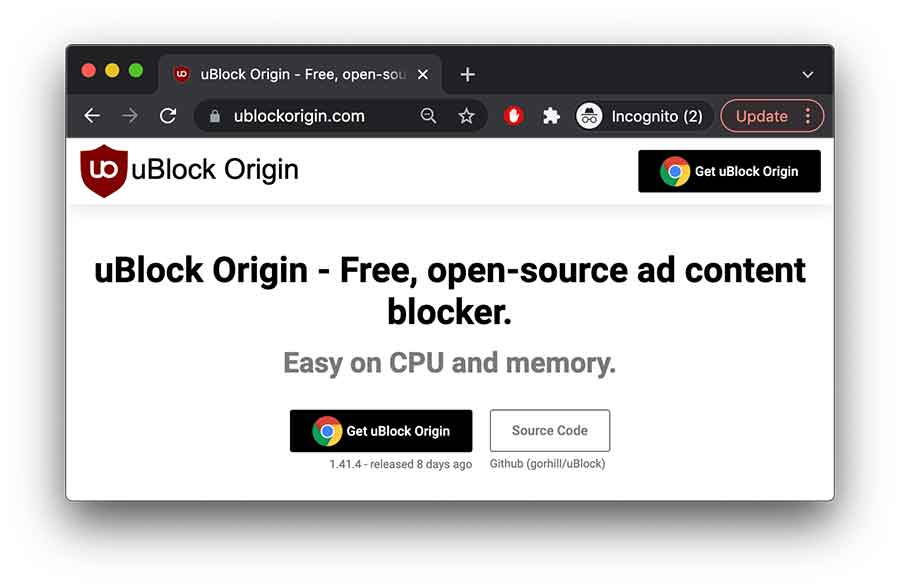 Blocks all ads even from social media sites
Open source and free to use
Allows whitelisting
Protects from tracking
Supports for various browsers
uBlock Origin is an efficient ad blocker that you can use as a browser extension and not as a standalone app. It is a reliable pop-up adware blocker that helps eliminate annoying and unwanted banner and video ads. Though it comes with limited customizable features, whatever it offers is enough to enjoy a secure browsing experience.
The ad-blocker comes with an EasyList filter that automatically removes unwanted content from the web page without impacting your browsing speeds. It also blocks cookies that might collect data related to your browsing history, and later, you become a victim to targeted advertisements. Another impressive feature of this ad-blocker is the supplementary filter list that deletes web bugs and tracking scripts and protects your data from stealing.
The ad-blocker is free and easy to use. You need to download the extension on Chrome, Firefox, Mac, and Safari and enhance your user experience.
8.AdBlock Plus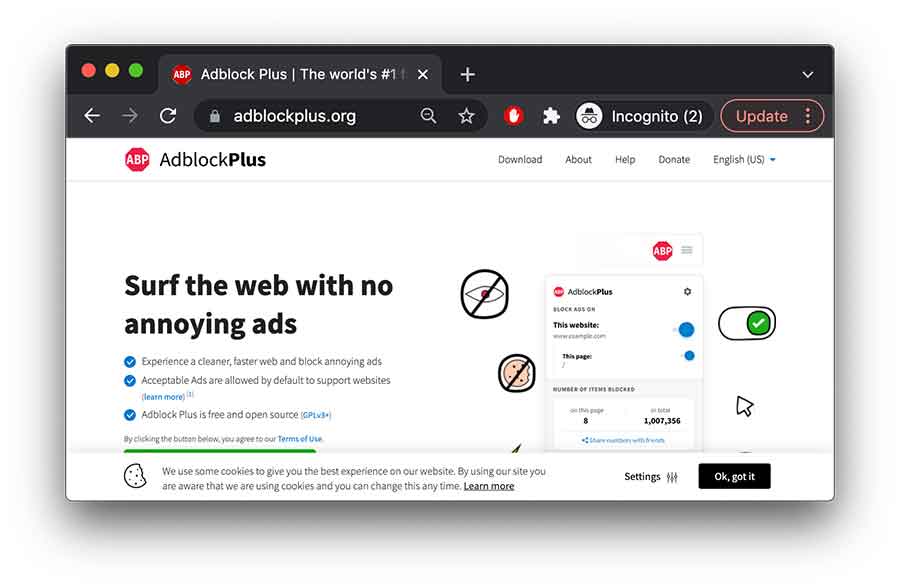 Free and open source
Disable tracking on mobile devices
Loads the web pages faster
Prevents from malvertising
Works on Android and other supported browsers
AdBlock Plus is also a free ad-blocker that allows the users to get rid of flashing banners, pop-ups, and videos ads and ensures a secure web browsing experience. By blocking out these ads, this ad-blocker saves bandwidth and helps in improving the web page loading speed. With this ad-blocker, you can even avoid online tracking and malware from infecting your device and maintain your online security.
AdBlock Plus lacks customizable features. It doesn't mean this makes it less anyhow. By default, it blocks ads depending on the browser's language settings. You even create your list to block any specific types of ads.
The ad-blocker works exceptionally well on Android, Chrome, Edge, Firefox, Safari, and Yandex browser. However, it earns revenue through the Acceptable Ads initiative meaning you'll see non-intrusive ads managed by an independent committee, and many users don't like this.
9. Ad Muncher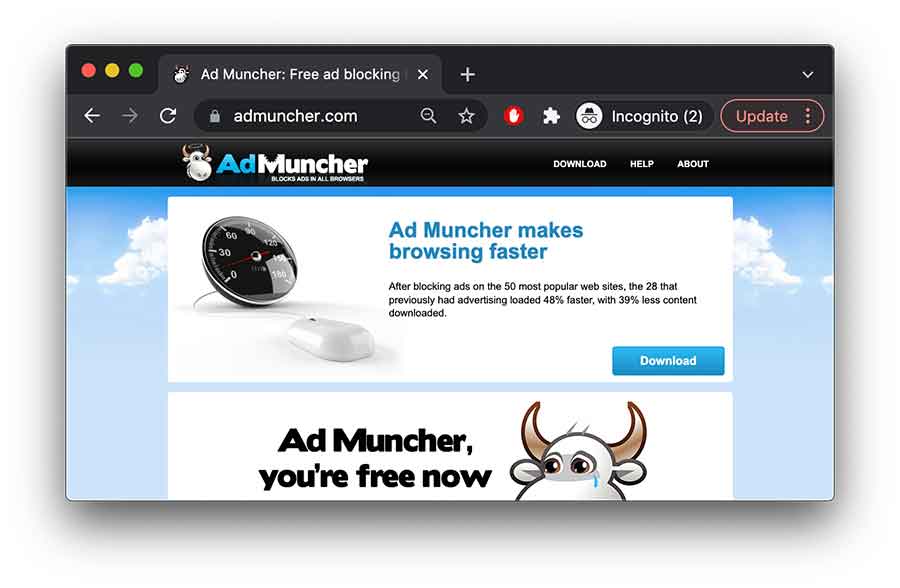 Offers free and paid plans
Blocks third-party tracking systems
Comes as a software app instead of an extension
Blocks all types of ads
Works on all popular browsers
Ad Muncher is yet another best ad-blocker that offers a free and premium plan. You can even buy the pro version and browse the web without worrying about pop-up ads and trackers, but the free version is enough to ensure an ad-free browsing experience if you don't have a budget. You can virtually block ads on all browsers, but you need to install it on your device since it comes as an app and not a browser extension.
The ad-blocker works exceptionally well on Chrome, Firefox, Opera, Safari, Netscape, Flock, and Maxthon. It kills all unwanted pop-up and video ads and filters out the background, plugins, and wallpapers among the contents of the web pages. Also, it saves bandwidth and speeds up the page loading speed.
10. 1Blocker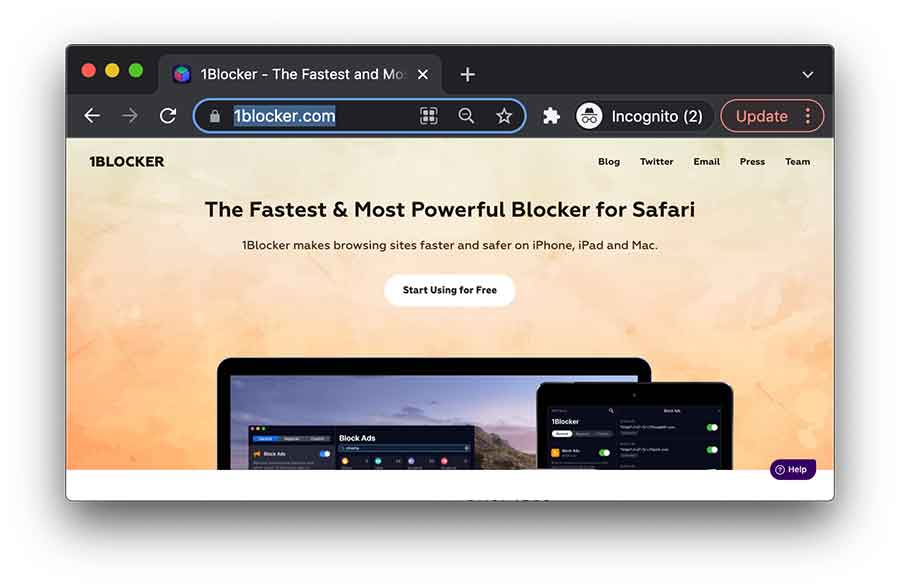 Block intrusive ads and sneaky trackers
Improves speeds
Advanced customization
Whitelist synchronization
Works only on iOS and Mac devices
If you're looking for the best free ad-blocker for your Apple device, you should try using 1Blocker. You can download it from the Apple App store and block all unwanted ads that ruin your browsing experience. It even prevents you from third-party trackers and boosts your digital privacy.
The ad-blocker offers customization features like creating custom rules to block any URL or hide any website element by CSS. However, the only thing that users don't like about 1Blocker is that it isn't available for any other device or platform.
Is Ad-Blocker Safe to Use?
Marketing companies significantly rely on online advertisements to reach the right target audience. They collect information about your browsing activities, likes, dislikes, and preferences via cookies, trackers, and browsers and later target you with personalized ads. The most concerning part of this process is that all this happens without your consent.
The ads on your screen are annoying as they cover the content, are repeated several times and are even malicious. All this puts your privacy at stake. The best way to prevent this situation is to use a legitimate ad-blocker. Using the best ad-blocker is an efficient way to block out ads and browse the web without getting interrupted. Moreover, an ad-blocker is safe to use in many ways like:
It saves your bandwidth and improves browsing speed.
Some ad-blockers even protect from malware and spyware and thus ensure a safe and secure browsing experience.
The ad-blockers come with customizable options that will enhance your overall user experience.
It stops trackers from collecting your personal information.
All the points above clarify that there's no harm in using an ad-blocker. The only thing you care about is using an ad-blocker that's well-reputed and reliable. Make sure you make the right choice because otherwise, you can put your safety at risk.
What Is the Best Free Ad-Blocker?
An ad-blocker has become an essential tool that blocks intrusive and malicious ads and ensures a safe and secure web browsing experience. All the ad-blockers mentioned above are reliable to use in one way or the other. But the best among them is AdBlock. It filters out annoying ads, improves page loading and browsing speeds, and protects your online identity. It offers impressive customizable features that provide various levels of protection. Moreover, besides blocking adware, it also helps prevent malware and other malicious ads. Also, it is among the very few ad-blockers that protect from cryptocurrency mining.
Other than AdBlock, AdGuard and AdFender also ensure the best user experience. Both of them are feature-packed and provide excellent functionality. AdGuard even has an added VPN feature that increases your digital privacy and offers other benefits.
Final Thoughts
The unwanted pop-up or banner ads on your screen are intrusive and can expose your private data to third-party companies and hackers without your knowledge. Hence, it's high time to take action against these advertisements. The best possible way is to use the best free ad-blockers and enjoy anonymous browsing without being disturbed by adware. So, choose those that fit your requirements and start blocking ads from your web pages now.