Here is the quick article summary: list of most used disposable email service providers
If you're in a hurry to find out the disposable email service provider, have a quick overview of the 14 best temporary email services listed below:
Use the best private email providers to send anonymous emails from your real email account.
Sharing email addresses with websites and services might seem harmless, but it has significant privacy risks. Your email address can expose you to unwanted ads, spam, and other vulnerabilities. Hackers can crack your password on other accounts by using your email address and steal your identity and sensitive information. But by using the best temporary email services, you can prevent the risks.
The temporary email services provide a disposable email address that you can use instead of your original email address. These services are a great way to ensure spam doesn't land in your folder, reduce exposure to bad actors and other online threats, and enjoy better email security. These email services also ensure that you can send and receive messages anonymously. If you're searching for one for yourself, below is a detailed insight into the best temporary email services you can use in 2023.
Best Temporary Email Services To Use in 2023
Temporary email services save you from hassle and stress. You might find several email services available on the internet, but not all of them need to provide better security and ease of use.
Take a closer look at the 14 best temporary email services and decide which suits your needs.
1. TempMail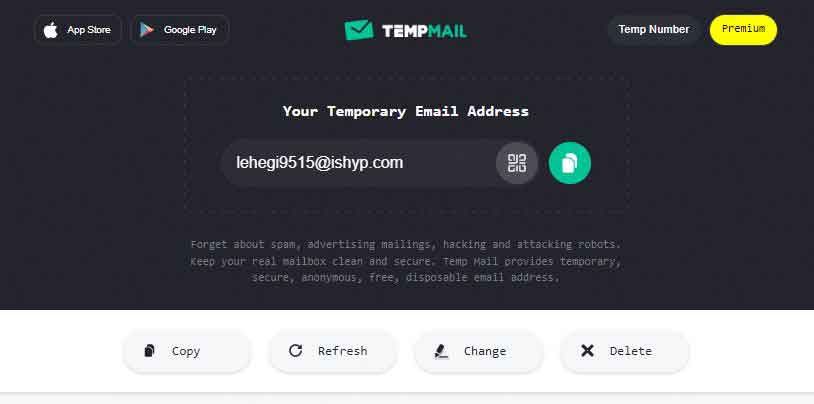 Impressive mobile apps
Easy-to-use UI
Chrome browser extension
No registration
No ads in the premium version
TempMail is one of the best temporary email services that offers a user-friendly interface and intuitive mobile apps. It is free to use and doesn't require you to register first. The most impressive feature of TempMail is its API, which integrates the TempMail platform with its own app and website. In addition, it rolls out a detailed privacy policy and terms of use that ensures that your online anonymity is not compromised.
In its privacy policy, the email provider states that they don't collect personal information, including the user's IP address. Also, all the inboxes are entirely anonymous and won't leave room for anyone to track your emails. Another impressive feature of TempMail is that it lets you connect with their team to resolve queries. You can contact the support team through the online contact form if you have any issues, which other temporary email services won't offer.
Apart from this, a FAQ page also includes answers to all common questions. You can also find various supported articles on the blog section of their website, where you can learn about email solutions.
TempMail is available in free and premium versions. The premium version will cost you $60 per year and comes with additional features you won't find in the free version.
2. Guerrilla Mail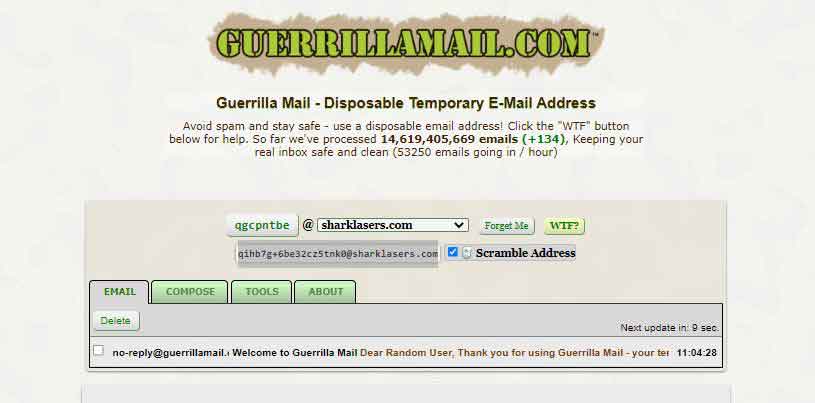 No registration required
Scrambled Address feature
Keeps no logs or other information
Free to use
Anyone can access the inbox
Guerrilla Mail is another best free temporary email service provider you can consider using to send anonymous emails. You don't need to go through the registration process to get your disposable email address. Visit the Guerrilla Mail site, and you'll receive a random email address. But you can also customize your email username, which is quite impressive.
Guerilla Mail doesn't offer advanced or fancy features, unlike other disposable email services. The only advanced feature Guerilla Mail offers is the Scrambled Address, which minimizes the risk of any snooping eyes viewing and accessing your inbox or sensitive information.
This temporary email service has a basic interface but fulfills the users' needs. For instance, it enables you to create a temporary inbox that you can use for sending and receiving emails. All the messages are in quarantine until you view them in the inbox, and they automatically get deleted after an hour if you don't consider them.
The information about Guerilla Mail's privacy policy and terms of use is clear. They keep no logs and data and hence boost online anonymity. Also, it ensures keep your inbox clean of spam emails. The spam emails are zapped by Guerrilla Mail and don't reach your mailbox.
The temp email service offered a premium package but has now canceled it. You can access all the Guerilla Mail features without signing up for an account. The only drawback of Guerilla Mail is that anyone having your inbox ID can access your inbox and read emails. But you can overcome this problem by creating a customized username.
3. Maildrop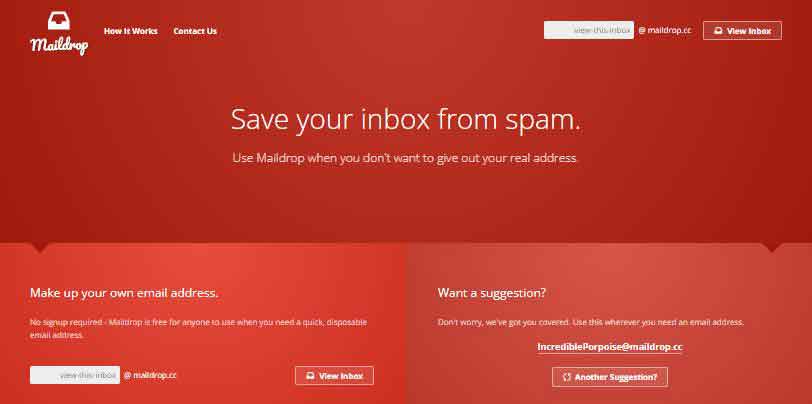 Customize email address
No spam messages
Inbox accessible to the public
Don't log user information
The inbox holds ten messages
Maildrop is a throwaway email service that cuts the amount of junk in your inbox. It is one of the best temporary email services that doesn't auto-generate the email address but allows users to create a custom email address with the maildrop.cc domain name. You don't need to sign up for an account or use passwords to get a temporary email address. Enter your desired username, and the temporary email is created automatically with an alias address.
This disposable email service follows strict guidelines about the content of messages that lands in inboxes. Plain text or HTML emails can enter the inbox, but it's best if it is less than 500k in length. One impressive feature of Maildrop is that it provides space to store all the messages. Almost ten messages can be saved in the inbox, and any inbox that doesn't receive any email during the last 24 hours will clear automatically.
Furthermore, Maildrop does a great job of protecting your mailbox from spammers. It is powered by multiple spam filters created by Heluna. They block all spam attempts before the messages enter the inbox, significantly reducing the total spam. However, Maildrop has warned its users about sending and sharing their details via email. Also, Maildrop's web and email connections are logged, but the company doesn't track the users or collect any other personal information.
4. EmailOnDeck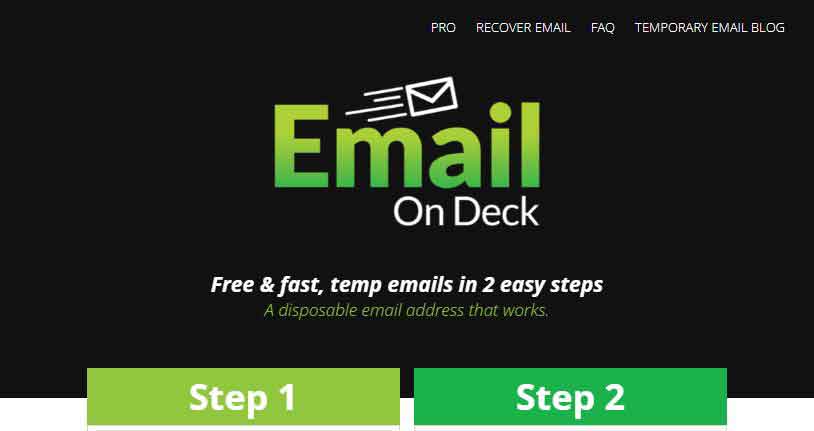 Free and easy to use
Avoid spam messages
Exclusive domains
API Access
The Pro version has additional features
EmailOnDeck provides a disposable email address for temporary login and other related activities. It is undoubtedly the best temporary email service used by global professionals, such as CBS News, NBC, and Fox. You can generate email addresses in two quick, easy steps. You must complete the CAPTCHA test and click on the Get Email button.
Once you get the email address, you can use it for whatever purpose. The free version of the EmailOnDeck lets you make one email at a time, while the pro version allows over 100 email addresses simultaneously. The pro version offers a range of features, including no ads, exclusive domains, saving email addresses, and creating a customized email address. If you want to buy the pro version of EmailOnDeck, you can pay via bitcoin or Ethereum.
An impressive feature of EmailOnDeck is that it enables you to recover your email address session. Although the entire process is not easy, if you have a valid email token, the email address is not wiped off, so there's a possibility. There's a FAQ page that answers all common questions, and you can also navigate through the company's blog page to read more about temp email-related information.
The website has no exact time for the emails to expire. They usually last more than an hour, but if you close your browser and clear the cookies, you might lose access more quickly. The email service site is highly secure as it is accessible via HTTPS and the email servers use TLS to boot. It doesn't have any backup data, and the servers constantly delete the users' logs.
5. AnonAddy
Create unlimited email aliases
Supports OpenPGP encryption
Track email from aliases
Browser extensions for Chrome and Firefox
Premium plan has advanced features.
AnonAddy is a great email forwarding platform that works as a reliable temporary email service provider. It is an open-source platform that creates unlimited email aliases for free. You can generate the temporary email address by using your actual name. Still, if you're concerned about online anonymity, you can select a username that's not linked to your real identity. Also, if you have a domain so you can add it and use it like your username subdomain aliases. However, to get the disposable email address, you need to register for an account, and it will ask for the real email address.
Besides this, the free version offers limited features. Like, it allocates 10MB monthly bandwidth, allows two recipients, and has 20 shared domain aliases. The LITE plan offers 50 shared domain aliases and five recipients at a low price of $1/m. The pro package allows unlimited shared domain aliases, unlimited bandwidth, and 30 recipients for $3 per month.
AnonAddy takes all necessary measures to secure your emails and protect against unauthorized access. All the sensitive data, including alias description, public GPG keys, and recipient's email addresses, are encrypted using AES-256 CBC cipher and OpenSSL encryption. The service provider also offers a two-factor authentication feature to enhance the security of your email accounts.
The temporary email service provider has a clear and transparent privacy policy. It might collect some of the user's data, and in their privacy policy, they have mentioned its purpose. But it doesn't record any email or other sensitive information. All the data is stored on secure Netherlands servers, ensuring maximum anonymity.
6. Gmailnator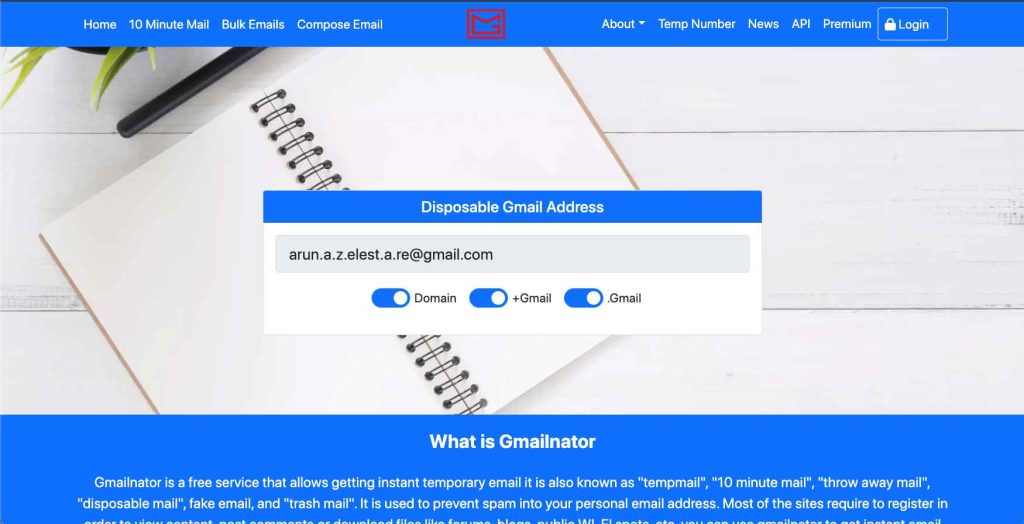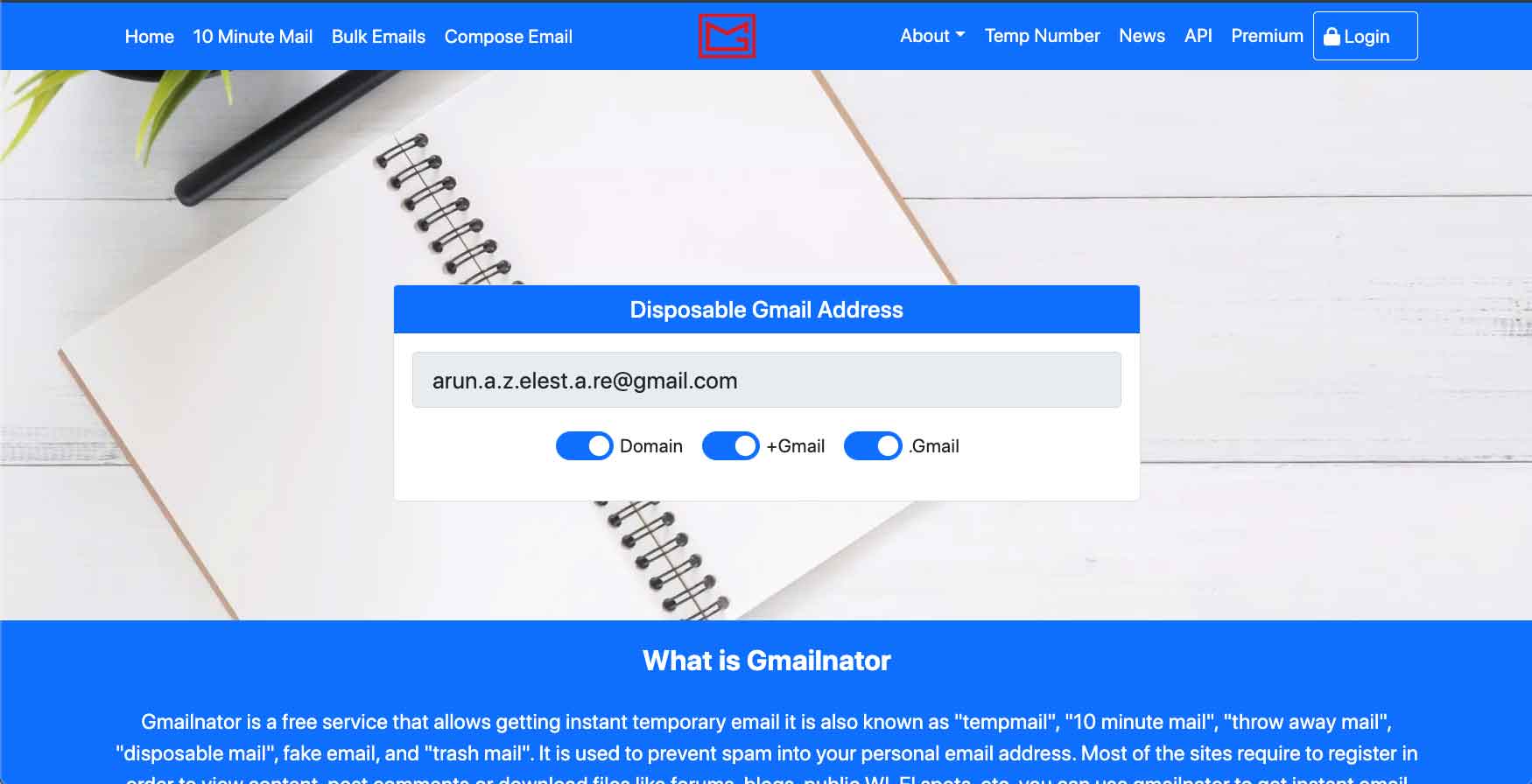 User-friendly interface
Seven days email backup
Custom email
Impressive ten-minute email feature
Shows too many ads
Gmailnator is a free temporary email address that provides you with Gmail email addresses. Open the Gmailnator site to have your temporary email address. If you don't like the email address, click on Generate new and have an email address according to your preferences.
Since it works on websites that block disposable email services and efficiently bypasses Steam's email filter, it is the best temporary email service. Besides this, it offers a custom email feature that ensures that unnecessary spam messages don't enter your chosen email because Gmailnator handles them all.
The most impressive feature of Gmailnator is that it allows you to create the bulk of Gmail addresses without spending a single penny. It provides 100 to 1000 generated emails to send and receive anonymous messages. Also, it allows creating a ten-minute email, which is a burner email and destroys them every ten minutes.
The email service website is user-friendly and includes a blog, news, and FAQ section. You can contact the customer support team via email if you encounter any problems. However, the most significant irritating aspect of using Gmailnator is the pop-up ads. These ads are annoying and intrusive and spoil your overall experience. But if you want to get rid of ads and access more features, you can upgrade to the premium version.
Another drawback of using Gmailnator is it automatically collects certain information when you use their platform. The collected information doesn't reveal your true identity, like your name. It still has your IP address, browser, location, and other related information, which isn't a good sign from a privacy perspective.
7. 10 Minutes Mail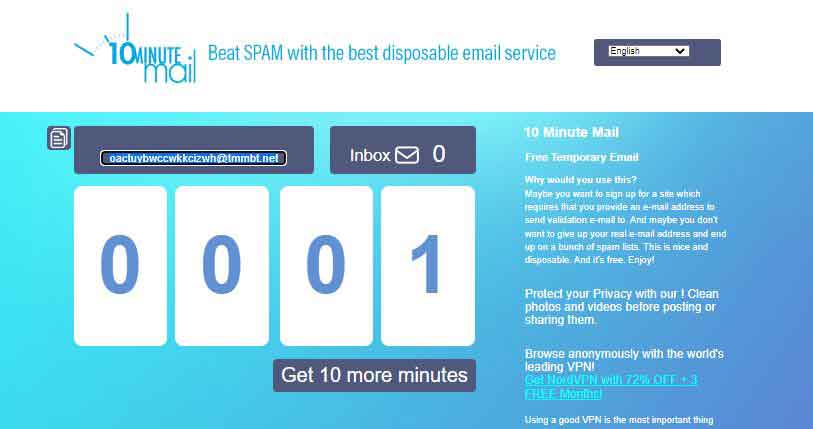 Easy to use and navigate
Basic interface
Free to use
Mobile support
Shows ads
10 Minutes Mail is a temporary email service provider that allows you to create and share email addresses with anyone for free. It is a free service and requires no registration to access. Visit the website, and it automatically generates an email address for you which can last up to ten minutes. But if you want to extend your messages' expiration time, you can extend the limit to 100 minutes. All the deleted messages are stored for some time, meaning there is a chance of recovering your messages.
One impressive thing about 10 Minutes Mail is that it is a dedicated email service that allows you to access messages without compromising security and privacy. The service provider has a basic yet easy-to-use interface that doesn't cause user trouble. It also has a mobile version that is quite functional on all mobile devices. Moreover, the temp email service prioritizes your security and ensures no one can access your emails. On their website, you can find a detailed privacy policy page that informs how privacy is maintained. All the emails and data are not stored and are permanently deleted from their servers.
Unlike many other email services, 10 Minutes Mail doesn't offer any virtual support. Though the service is free, they still accept small donations to support their project via cryptocurrency. But there's a FAQ and blog section that might help the users.
8. Burner Mail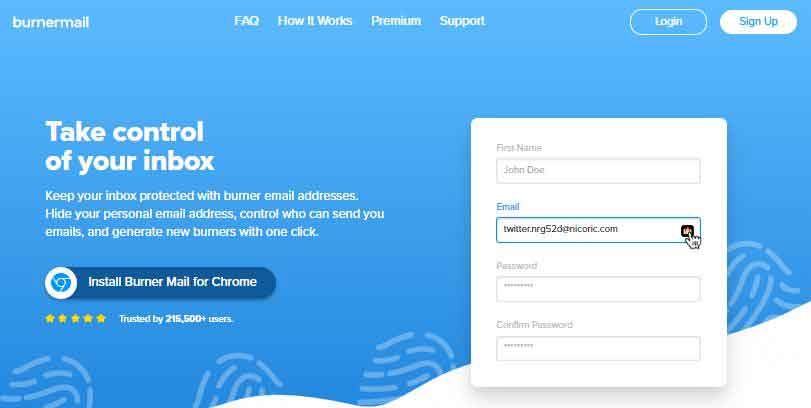 Registration required
Access to Mailbox history
Chrome extension available
Add multiple recipients
Premium version available
Burner Mail is another reliable temporary email service provider you can consider using. It offers free and paid versions that provide temp email addresses easily. As it offers a chrome extension, you can directly download and add it to your browser. When you want a disposable email address to sign up on a website, click the burner icon, and you'll get the email automatically. However, once the burner email is deleted, you can't recover it through any means.
The free version allows the creation of five burner email addresses and seven days of access to mail history. To access full email security suite features, upgrade to the premium plan for $2.99/m.
The best feature of Burner Mail is its consolidation of security protocols, ease of use, and transparent privacy policy. All the emails and data are encrypted using TLS protocols and stored in secure hosting facilities provided by Amazon Web Services. You can go through the Privacy Policy page to know what information the email provider collects and for what purpose.
Moreover, it also protects your privacy by allowing you to create custom email addresses that you can even use to forward all incoming emails to your account. It provides different emails for different websites, making it difficult for privacy abusers to monitor and track your online activities.
With Burner Mail, you can add multiple recipients to your emails. Also, you can block receiving emails from any particular sender.
9. 33 Mail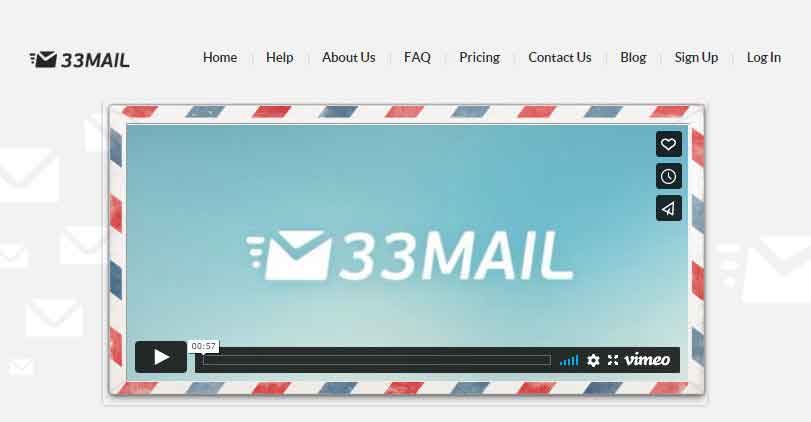 Free to use
Registration required
Unlimited private email aliases
Limited bandwidth support
33 Mail is another free temporary email service that produces millions of disposable email services daily. It is a great platform for signing up for websites and services and keeping your true identity private. To generate the free temp email, the first register, so you have a username and password.
It has free and multiple premium subscription plans. The Lite version is free to use and won't cost money. It allows the creation of unlimited aliases but comes with a 10GB monthly bandwidth limit to accommodate the messages for a specific time. You can subscribe to the paid plans to avail more bandwidth and additional features.
A rare feature of 33 Mail is that it provides a size limit for attachments, and it's best if the attachments are 10M, as they also count toward the monthly bandwidth limit. The email provider has transparent terms of use. They do not log or share your data with third parties, ensuring maximum online protection.
To better understand this temporary email service, you can go through the FAQ and blog sections.
10. Mail Proof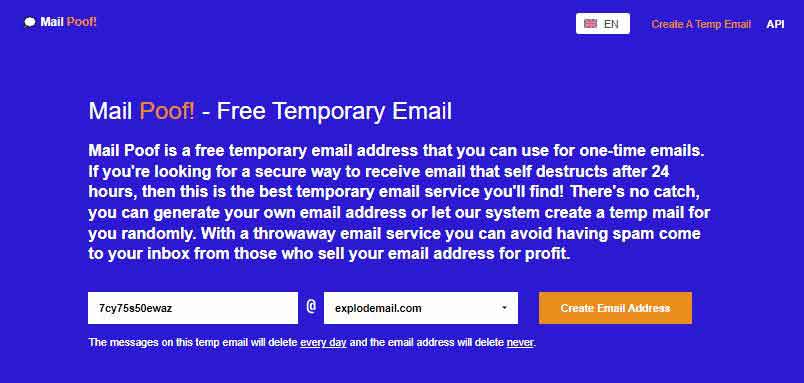 Messages can last 24 hours
Do not store data
Easy-to-use UI
No registration needed
Lack features
Mail Proof provides you with a free temporary email address and shares it with people you don't trust. The site doesn't ask for any signup process; visit the website, and it will generate a disposable email address instantly. However, it does allow you to choose your custom address. You need to click on the confirmation link to view the email.
Moreover, Mail Proof also deletes spam messages and keeps your inbox clean. The email service provider doesn't store your emails on its servers. All the emails are removed after 24 hours, so make sure you read the messages promptly. The site's interface is basic yet easy to use.
It lacks advanced features and also bombards you with pop-up ads, which is a significant drawback of using this email service.
11. E4ward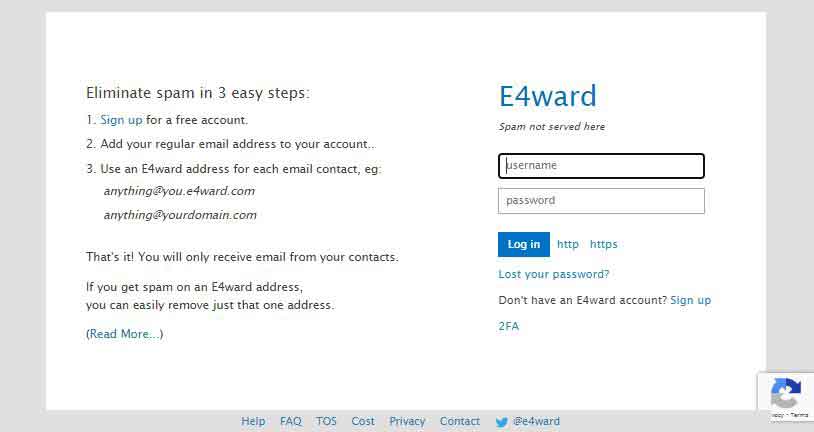 Available in free and paid versions
Registration required
Avoid spam messages
Customize domains
Two-factor authentication feature
E4ward is also among the best temporary email service that allows you to create auto-generated and customized domain email addresses. You can get a throwaway email address in three quick, easy steps, but before that, you need to register for an account if you're a new user.
The temp email address offers free and pro versions. The free plan comes with limitations. For instance, it only allocates 500MB of monthly bandwidth limit. In contrast, the paid version can provide 1000MB to 2000MB bandwidth per month. The service provider blocks emails based on the receiving address. It also keeps spam messages out of your inbox.
The best thing about E4ward is you can create different email addresses for each contact, and they forward email to your real email address. It supports 'address rewriting' that masks your actual email address when you reply to emails. You can further boost the security of the emails by adding the two-factor authentication feature.
12. YOPmail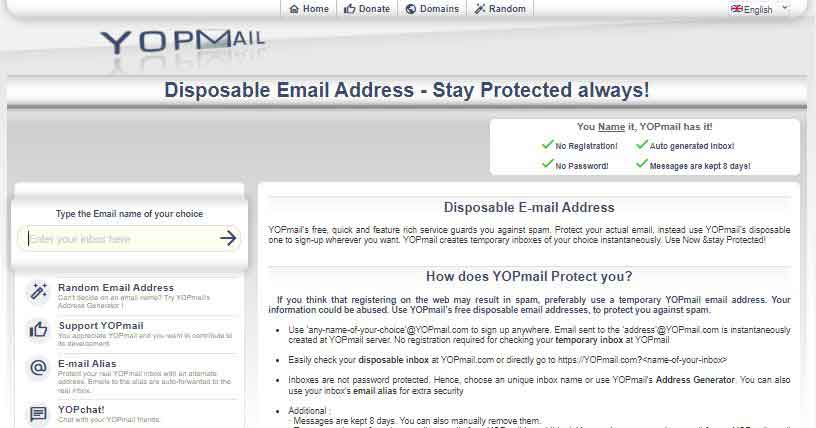 No registration or password
Auto-generated inbox
Custom email name
Store messages for up to 8 days
Runs the service with donations
YOPmail is a disposable email service provider that is easy to use and offers support in multiple languages. The service is free to use and requires no registration process. Access the website and generate a temp email address instantaneously. You can also add your own domain name and start receiving messages.
The YOPmail inboxes are not password protected; therefore, choose an inbox name. You can also use the YOPmail's address generator. All the messages can last up to eight days; later, you can't recover them by any means. It allows you to compose messages through the server, but you can only send them to recipients who use the YOPmail, and this is a drawback of this service.
YOPmail is free to use but to improve and run the service, the email provider does accept donations via PayPal.
13. ThrowAwayMail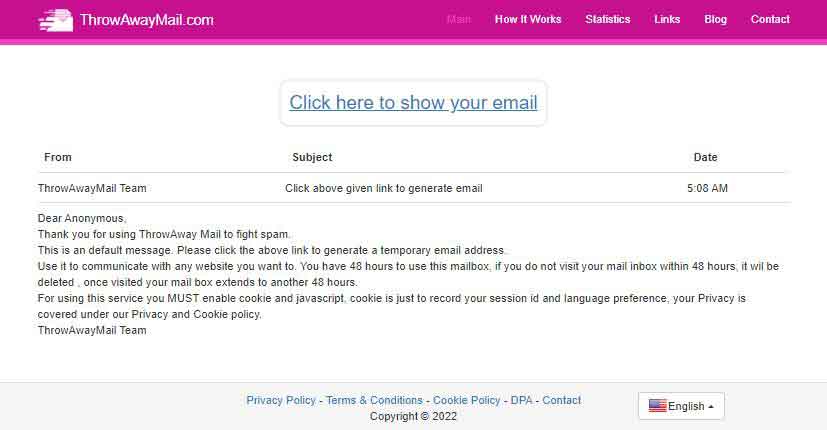 Fight against spam
48 hours storage time
No registration
Easy to use
Customer support service
ThrowAwayMail is also a free temporary email service that you can use to generate email addresses for temporary reasons. The website doesn't ask you about your real email address for registration and provides you with an email address as you show up on the website's homepage.
All the email addresses have a validity of 48 hours. When an email expires, all the messages are gone, and there's no way to recover them. Moreover, it ensures that spam messages don't load your inbox and ruin your user experience.
The email provider lacks the advanced features many other temp email services offer. But it has the basic ones that are enough to send anonymous emails.
14. ProtonMail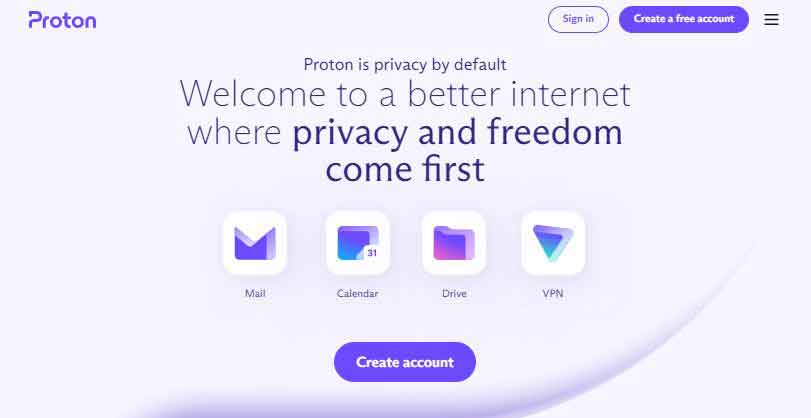 Self-destructing emails
Customizable inbox
Emails are protected under Swiss laws
Modern and impressive design
The subject lines of the emails are not encrypted
ProtonMail is a free private email provider that efficiently manages emails, blocks spam messages, and allows you to send and receive encrypted messages. You can create additional email addresses and aliases and enjoy maximum email security, but registration is mandatory.
All the emails sent and received via ProtonMail are protected by end-to-end and zero-access encryption. The inboxes are secured with built-in PGP encryption meaning you can send encrypted emails to people who don't use ProtonMail. Self-destructing messages are one of the great features that ProtonMail offers; hence, it is ranked as the best temporary email service provider. It enables users to set an expiry time for their emails. All the emails can no longer last more than 28 days, which is quite rare compared to other email service providers.
The email service offers free and premium plans for individuals and businesses. It allows the creation of one email address in the free plan. In addition, you can send up to 150 messages each day and have 1GB of total storage. ProtonMail allows you to connect with the support team by submitting the contact form if you encounter any issues.
There is great speculation on the privacy policy of ProtonMail. Specifucally after the recent security incident in which ProtonMail accepted to log IP addresses of users by default. However, within their privacy policy it still claims to not log the user's IP address in their privacy policy except under "certain circumstances" In addition, ProtonMail has access to various email metadata, such as the IP address and contents of the unencrypted messages. The company has undergone the code audit process, which reveals no significant vulnerabilities, so it is a relief for the users that their online privacy won't be compromised. 
Why Use the Temporary Email Service?
A temporary email address is a self-destructive email address that allows you to stay anonymous online when you send or receive an email. But, besides this, there are other useful reasons to use the best temporary email services like:
Online shops require your email address to send promotional emails. They overload your inbox as they keep informing you about their stories, product launches, and discount offers. A disposable email address is a great way to prevent annoying emails while buying anything online.
Using a disposable email address will protect your account from spam emails.
Online services and websites ask for your email address to complete the registration process so you can read a document or download a file. If you don't want to give away your actual email address for privacy reasons, then a temporary email will help you out.
Your regular email address requires you to remember complex passwords to log into your account, but you don't with a temporary email address because they don't have a password either.
Some people believe that using a disposable email address makes the online activity more secure. They don't exist long enough or contain any personal or sensitive information. This reduces exposure to hackers as they will get no valuable information for committing fraudulent activities.
Make sure you make the right decision while choosing the best temporary email service to enjoy all the benefits mentioned above.
FAQs
Are temporary email services safe and legal to use?
Using a disposable email address isn't against the law, and you can use it safely to protect your email security. Moreover, it prevents you from spammers and unwanted promotional emails and reduces the chances of the email address getting leaked in an email data breach. Your temporary email address is private to you and can't be accessed by any unauthorized person who can violate your privacy. 
Are there any drawbacks to using a temporary email service?
Temporary email services have several advantages, but there are drawbacks that you can't ignore. These email services have limitations and can't completely replace mainstream email providers. They last a few hours or days, and you can't retrieve the password once the email has expired. This can be a serious problem for anyone who uses such an email to sign up for a service. Besides this, some services might be blocklisted, so the email domain they support might help in signing up for services on the web. Also, most temporary emails are free and public, meaning multiple users will use the same email address.
Can temporary email be tracked?
A disposable email address is hard to track back to the sender. The best temporary email services hide your true identity, including the sender name, metadata, and IP address. Some temp email services can be tracked by using some advanced software. Hence, security and privacy still depend on your email service provider.
How to get a temporary email service?
To use a temporary email service, you need to visit the email service website and get your disposable email address. Most of these services are free and don't require registration or signup. However, ensure that the temporary email service you use is reliable and that you don't need to provide any PII access. Also, the email must provide some storage for incoming emails and is easy to use and untrackable.
Final Thoughts
Using a temporary email service is a great security measure that keeps you away from many hassles and everyday stress. You can use email services where you don't want to provide your address, prevent potential email data leaks, and safely access websites without worrying about annoying spam messages loading in your inbox.
All the email services mentioned above provide an amazing experience. They are free and easy to use and allow anonymously composing new emails. You can generate a temporary email address, do online shopping, and register for websites and services within a few clicks. Use VPN, antivirus software, or even private email providers to boost your email security further.