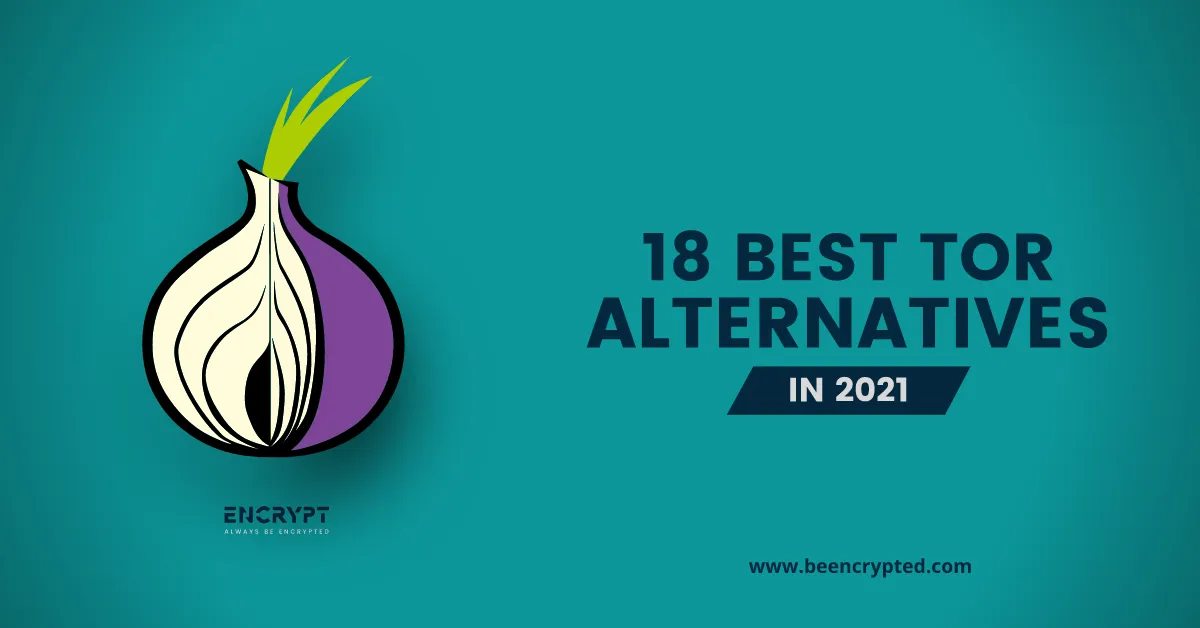 Quick List Of All Best Tor Alternatives
Considering online security is the most crucial aspect to accessing the deep and the dark web safely. However, with high-security risks associated with tor and its alternatives, it is best to attain real-time online security through a legitimate VPN that is compatible with Tor.
Tor Alternatives – Regular
Tor Alternatives – For Dark/Deeb Web
Tor is one of the most reliable networks to access the deep and dark web. Its vast range of servers, circuits, layers, bridges, and security updates/patches make it more secure and anonymous than other Tor Alternatives.
80% of people use Tor to access ".onion" URLs, but thousands of people also use Tor to browse the web anonymously. However, Tor has many privacy and security issues and speed issues from ISP throttling.
21 Best Tor Alternative Which Are Better Than Tor
When you search the web for the Tor alternatives, you get several other options. Though they are suitable options for accessing the dark web via the Tor browser, they won't give you the best results. After much research and testing, the following four Tor browser alternatives work best with the dark web. So, here's an insight into them.
1. Virtual Private Network (VPN)
A VPN is a privacy software that is best for anonymous web browsing. It keeps you protected from all snooping eyes and means that when you're connected to a VPN, web trackers, hackers, ISPs, or other surveillance can't track or monitor your activities. 
Here are the 3 Best VPNs
NordVPN: its top-ranked VPN provider, 5000+ servers, all security features, works with Netflix, Torrenting, Tor, and ISP throttling – 30-day Free trial www.nordvpn.com.
Surfhark: It's great with Netflix and torrenting, also can be used with bypassing ISP throttling, and has great privacy features. 3500+ servers and come with a 30-day free trial www.surfshark.com
ProtonVPN: it has 1400+ servers and is loaded with all privacy features. Works with Netflix, Torrenting, Tor and bypassing the ISP throttling. Free Version available www.protonvpn.com
The service provider comes with an impressive kill switch feature. This feature protects the IP address and other internet traffic from leaking when the VPN connection drops, making it the compelling Tot alternative.
A VPN has two main functions:
A VPN assigns you a new IP address and replaces it with the existing one. It helps get past geo-restrictions.
It encrypts the internet data and ensures maximum security and protection. A VPN creates a secure and encrypted tunnel that encrypts the data into an unreadable form, and from here, the data goes to the VPN server. The encryption makes it impossible for anyone to view your online activities. 
A VPN changes your virtual location. Some other advantages of using a VPN include:
It maintains a fast internet connection.
You can access the geo-blocked content from different streaming channels.
You can prevent ISP throttling.
2. I2P Browser
The Invisible Internet Project or the I2P uses the DarkNet technology and is regarded as the best Tor alternative for accessing the dark web. It encrypts the internet traffic in a layer by using public and private keys. Doing so ensures that no one can track or invade your online privacy.
This browser often creates a network layer within the TCP/IP and UDP sessions and thus becomes a center for network traffic and the best alternative for the Tor browser. 
3. ZeroNet 
ZeroNet is another popular darknet alternative that works through the P2P network. It means there are no central servers, but the network data is still transmitted from user to user. It also uses the BitTorrent network and Bitcoin cryptography, and the websites are identified with a public key instead of an IP address. 
The best thing about this network is that you can even use this without an internet connection. Also, it works like a forum at the start, but you can jump from one site to another to find web pages on any topic.
You can download ZeroNet from Windows, macOS, and Linux from its official website.
4. Freenet
Another darknet alternative is the freenet that again works on the P2P networks and protects privacy. As the name suggests, it is free and allows censorship-resistant communication. The users use a decentralized distributed data store that separates the network structure from the user interface rules. For the past 20 years, it has been a reliable choice.
You can download it for free on Windows, macOS, and Linux. 
5. GNUnet
GNUnet provides decentralized peer-to-peer communication via Bluetooth, WLAN, HTTPS, TCP, and UDP ports. It safeguards sensitive information by keeping the number of your PII as low as possible. 
6. Subgraph OS
Another Tor browser alternative that is quite popular is the Subgraph OS. The best thing about this operating system is that it uses Tor technology and has dedicated software for maintaining user privacy. It has a unique user interface that is hard to crack and track. Moreover, it comes with a firewall and meta-proxy that ensures complete anonymity while you surf the dark web.
7. Epic Privacy Browser
The second Tor alternative in our list is the Epic privacy browser. It is a private program that is basic and simple to understand but guarantees total protection and increased connection speed while browsing the web. It also prevents IP leaks by certain WebRTC.
The best thing about the Browser is that it shows the information who's tracking and following you and then blocks them. Besides this, it comes with an encoded proxy that masks all your sensitive information from the service provider. If you are browsing the web in public, the encoded proxy maintains your security.
Moreover, it also blocks the fingerprint content and capacities like the picture canvas information making it one of the best Tor alternatives.
8. Firefox Focus
One latest addition to our list for the best Tor alternatives is the Firefox Focus browser. Developed by Mozilla Foundation and Corporation, the Firefox Focus is available for all popular platforms, including Android and iOS. 
It is enabled by default and helps the Mozilla browser track the usage perimeters. Furthermore, it comes with blocking social and ad trackers features. Enabling this feature prevents trackers from recording activities and makes their browsing experience smooth without affecting their internet speed.
9. PeerBlock
Peerblocks are among the tor browser alternatives that prevent you from online tracking. By using a peer block, you can control the number of people who can connect you on the web. Peerblock is helpful when you're downloading torrents. 
However, there are some serious risks associated with peerblocks. They provide you with no encryption and don't hide your IP address. Also, they fail to prevent all the trackers from following you. But, since it is free in the market, it is a popular tor browser alternative.
10. Yandex Browser
Yandex browser is yet another popular Tor alternative used for anonymous browsing. It is an open-source Chromium project that doesn't allow the users to set up a proxy manually. 
This privacy and security-enhancing browser are available for Linux, Mac, and Windows platforms. It comes with amazing security boosting extensions such as an ad block, site reputation indicator, and flash blocker. While you download the file using the Yandex browser, it is first scanned with Kaspersky anti-virus and checked for potential vulnerabilities. In this way, it protects from malware and other cyber threats.
11. Disconnect Browser
The disconnect browser disconnects the users from all websites that track them. It does so by hunting all those companies and websites that track down netizens, making it another best Tor browser alternative. They even first ask about your permission before blocking them. 
You can use it on Android, iOS, and Windows devices. You can search and browse anything by using a disconnect browser. Even if you want to access the dark web, you can do it. But, according to security experts, it is not the ideal solution.
12. Comodo IceDragon
If security and privacy are your primary concern, you should try Comodo IceDragon. It offers you great security and privacy boosting features like a site inspection feature and a built-in ad blocker and VPN. It automatically scans the web pages for malware before you visit them. Also, it blocks web trackers and ensures that no one breaches your digital privacy. 
13. IprediaOS Encrypted Browser
IprediaOS is our next choice for Tor alternatives. It is a Linux-based operating system that offers programmed encryption services and safeguards users from attackers and trackers. This Browser uses encryption to secure the data traffic, making it a safe and reliable Tor browser alternative.
14. Tox
If you are looking for a Tor alternative that allows encrypted communication and anonymous browsing, you should try Tox. It is like an instant messaging app that is secure and easy to use. It has no hidden agendas and motives behind it. Tox uses open-source libraries that encrypt everything you do on it. No one can spy or track you while you use Tox. Only the people with whom you are talking can see your conversation. 
15. JonDo Live-CD
If you're looking for a Tor browser alternative that works fine on Linux, then JonDo is the right choice to go with. It promises to secure your browsing experience and prevents spyware, trackers, and malware from invading your privacy. Also, It comes with pre-installed programs like Tor browser, Pidgin, and Thunderbird.
 Furthermore, It also ensures that you enjoy fast internet while browsing and uses special techniques to protect against web profiling. 
16. Whonix
The high level of security that Whonix provides to the users makes it a great Tor alternative. It works exceptionally well on Linux and is responsible for covering your IP address while you're on the web. It uses Whonix-Workstation, which works on a private framework to provide security and anonymity. 
17. Psiphon Browser
Next in our list of Tor alternatives is the Psiphon browser. This Browser uses several systems to verify your security over the web. It offers a user-friendly interface that is simple and easy to use. Also, it comes with multi-screening and server exchanging features that increase its worth and attract many users.
It is a free Tor alternative that depends upon VPN and SSH to benefit its users. It is best at hiding your IP address and is operational on Android and iOS.
18- Globus Browser
You can also use the Globus browser as a Tor browser alternative. It uses VPN servers to keep your activities protected. Besides protecting against third-party trackers, it also protects against malware by using the Tor browser. Since it uses the Tor browser, it also helps unblock blocked websites.
19. Freepto
If you're a Linux user searching for the best Tor browser alternative, you should use Freepto. It uses such high standard encryption that makes tracking difficult. It also helps you in bypassing government surveillance.
Freepto is portable, and you can run it from the USB stick. It is designed to automatically encrypt the data stored on the USB disk and further boosts your security.
20. Lightweight Portable Security (LPS)
It is a Linux-based software that doesn't connect or communicate with the external servers prone to tracking. Also, It is one main reason why Lightweight Portable Security (LPS) is regarded as the best Tor browser alternative. 
It creates a safe end node from dependable media on any Intel-based system. And It doesn't require administrator privileges but requires booting from external memory infrastructure. 
21. Tails
Tail's complicated system is the safest and unique alternative protection used today. It uses cryptographic tools to encrypt emails, data files, and other instant messages. It allows the users to surf the web anonymously by preventing trackers from tracking their online activities. You can also use it to bypass strict internet censorship. 
Why Do We Need Alternatives to Tor Browsers?
People usually use the Tor browser for two significant reasons:
To access the dark web
To enjoy an anonymous web browsing experience
Tor was one of the most secure browsers, but security experts have found some serious issues associated with it. Thus, they don't recommend using it anymore.
The users are now concerned more about their digital privacy than anything else. The following mentioned below are some of the valid reasons that raised the demand for the best Tor browser alternatives:
It slows down your internet connection. Usually, when you browse through Tor, the internet speed is lowered to 40%. It is because the traffic goes through many relays.
It results in a frustrating user experience.
Your ISP can easily detect you when you're using Tor.
It doesn't encrypt the data traffic.
You can get into legal trouble. Usually, people who want to hide sensitive information use it. If the government knows that you're using the Tor browser, they might start keeping watchful eyes on your online activities.
Why You need VPN With Tor Alternatives
There are various Tor browser alternatives available that promise anonymous browsing. Among all of them, a VPN is the best Tor alternative because of the features and benefits it offers. It's recommended to Tor with a VPN as it further increases your protection level.
It is a perfect privacy-boosting software that hides your activities and makes you anonymous over the web. It protects you from all snooping eyes and various cyber threats and vulnerabilities.
When you connect to a VPN, it hides your actual IP address, and because of end-to-end encryption, all the internet traffic appears like scrambled gibberish and is considered useless.
Final Thoughts
Previously, Tor was a popular browser used for anonymous browsing. But, the security and privacy issues have pushed the users to look for other alternatives. The best Tor alternatives offer multiple benefits to the users. It allows them to browse anonymously, blocks all the web trackers and protects against malware. 
Those mentioned above are some of the best Tor alternatives. We recommend you select any of them and start using them right away for an anonymous web browsing experience.