Quick Summary!
Quick Update: Best Free VPNs To Access The Dark Web
To get more information about these free dark web VPNs, read their short reviews in the latter part of the article.
Using a VPN to access the dark web is crucial due to its numerous privacy and security issues and controversies. Although the dark web does have a few legal uses, it is also a hub of illegal businesses and activities, which makes a reliable dark web VPN necessary while accessing it. Moreover, a reliable VPN for the dark web also helps bypass ISP throttling issues and attain online anonymity by masking your IP address and encrypting data traffic. However, using a free VPN to access the dark web might almost be equivalent to not using a VPN altogether unless you make the right choice.
Although there is no doubt that free VPNs are generally a hazard to cybersecurity, a few reliable free VPNs do exist that help access the dark web. These VPNs have relatively good security features and help attain some measures of online privacy.
Is Free VPN Safe Enough To Use With Dark Web?
Using a free VPN is always tempting, especially for such users who don't have a monthly or yearly subscription budget. But in reality, free VPNs on the dark web aren't a good option as they are not designed to provide enough security and protection on the dark web. Free VPNs offer slow speed due to limited bandwidth. Also, the Tor browser itself offers slow speed due to routing the traffic into multiple nodes, so browsing becomes difficult.
Besides this, free VPNs have security issues that make them unreliable. These includes:
Most free VPNs lack advanced features that boost privacy and security on the dark web.
They can be infected with malware or use embedded third-party trackers for tracking and advertising purposes.
Some free VPNs might hijack the browser and redirect users to any malicious site.
Despite many claims, some free VPNs don't follow a zero-logging policy. They log and sell users' data with third parties without their consent and generate revenue.
Free VPNs have bandwidth and speed limitations, leading to slow connection speed.
Therefore, for all these reasons, try out using the best premium VPNs for the dark web, such as:
8 Best Free VPNs To Access the Dark Web
Accessing the dark web requires solid premium features. Fortunately, the best free VPNs for the dark web come with features that ensure a secure browsing experience.
Here are the eight best free VPNs that work with the dark web taking into account speed, security, and privacy features.
1.TunnelBear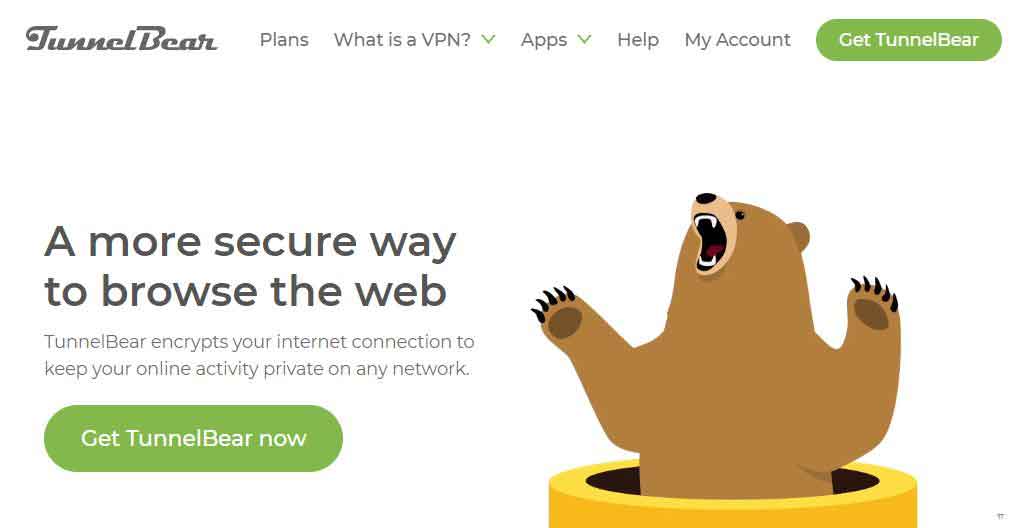 500 MB data limit
Servers in 48+ countries
Impressive GhostBear
Easy to set up
Multiple device compatibility
TunnelBear is a reliable free VPN provider to access the dark web safely. The VPN provider uses the highest encryption standard, such as AES-256-bit, for encrypting incoming and outgoing traffic. In addition, it uses SHA-256 for data authentication and multiple handshake encryption keys depending on the device used to access the dark web.
The VPN claims to follow a strict no-log policy that refrains from collecting IP and data logs. But as it belongs to Canada, an invasive jurisdiction, this creates trust issues.
The GhostBear feature is designed to browse the dark web safely. It is an impressive obfuscation feature that disguises the VPN traffic as regular internet traffic and makes data less trackable for the spying eyes. This way, TunnelBear VPN bypasses the censorship blocks and provides unrestricted access to the deep internet world.
The VPN also offers Vigilant Bear and Split Bear options that increase online security while logging into the dark web. But there's no information on the website if these features are accessible in the free plan.
Speed can be another issue while using TunnelBear VPN on the dark web. The free version comes with a limited bandwidth of 500MB per month, resulting in slow speed and connection lags.
2. Hide.me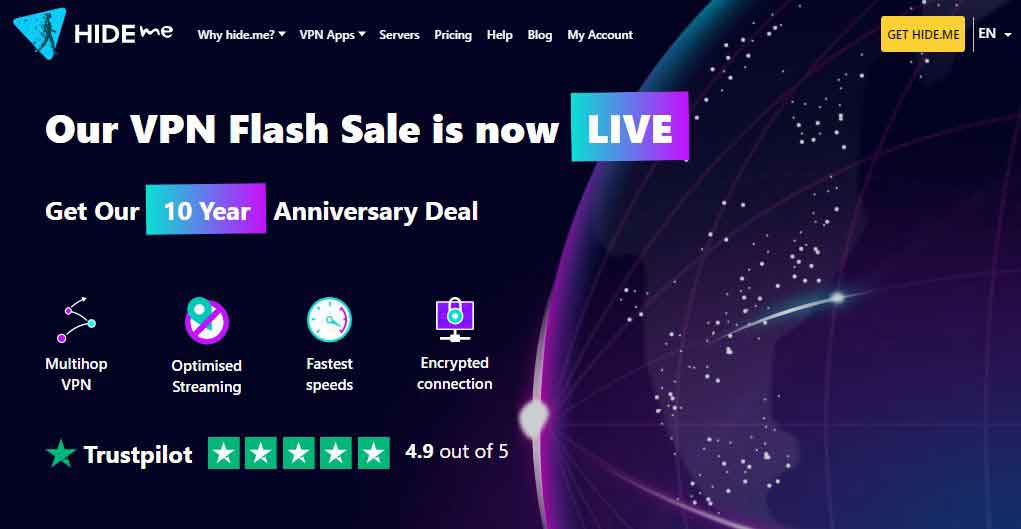 10 GB monthly data limit
Servers locations in five countries
Follows zero-logging policy
Encrypted DNS servers
Multihop
Hide.me VPN is the best free VPN that works on the dark web. It offers encrypted DNS servers that prevent third parties from monitoring the DNS requests and the websites the users visit. These servers route the internet traffic through the same tunneling protocol and guarantee that every server receives the same level of encryption. This way, Hide.me VPN helps get around internet blocks and ensures users can access the dark web without any hurdle.
The best thing about Hide.me VPN is that it allows the users to access the basic security-boosting features like the kill switch. The VPN uses the industry's highest encryption and advanced protocol, like the WireGuard protocol, that secures internet activities from all prying eyes. It also enables the users to use the stealth guard and multihop to enhance their security on the dark web.
The VPN provider comes with an allocated monthly bandwidth. It provides 10 GB monthly data, which might be insufficient for a smooth browsing experience. Also, it promises not to throttle the connection, so you won't experience a slow speed on the dark web. Switching protocols or servers spread in five locations can also improve speed.
Furthermore, Hide.me is a trusted private VPN to access the dark web as it belongs to a safe jurisdiction. It doesn't keep connection logs, IP addresses, or any other browsing data that guarantees your activities on the dark web are not recorded. The VPN doesn't offer port forwarding or fixed IP address features in the free plan. As these features can enhance online security on the dark web, do think of buying the premium plan backed with the 30-day refund policy.
3. ProtonVPN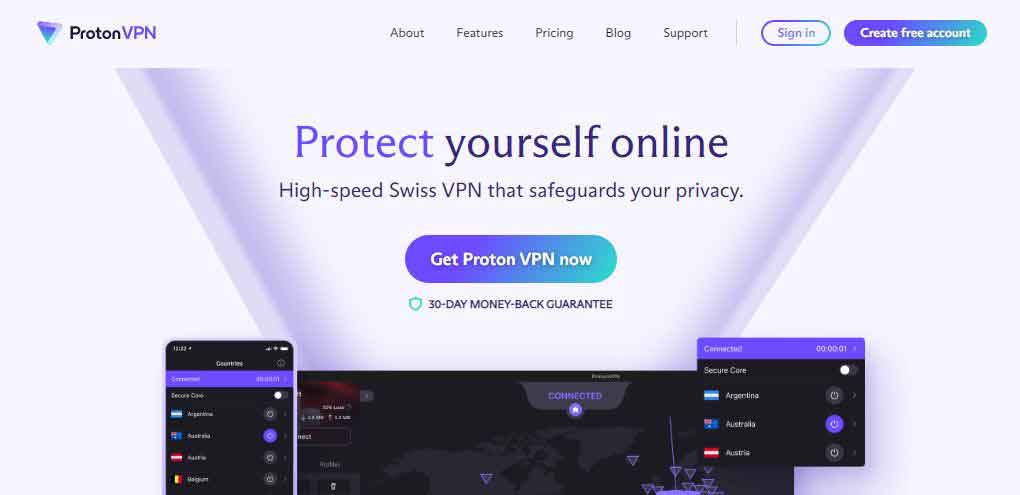 Server connections in three countries
Follows strict no-log policy
Unlimited bandwidth
Anti-censorship feature
No ads
ProtonVPN is a free VPN to access the dark web without putting data caps or limiting bandwidth. The VPN offers 24 servers in the Netherlands, Japan, and the US. These servers offer unlimited bandwidth and ensure that slow speeds aren't an issue while accessing the dark web.
The VPN offers impressive alternate-routing technology, an anti-censorship feature that allows browsing the web freely. It helps circumvent censorship and enables access to websites and services blocked by the government and the ISPs. Besides this, the VPN also uses a kill switch feature that prevents IP leaks when the VPN connection drops. But these are premium features; to use them, buy the pro version of ProtonVPN.
Another reason to use ProtonVPN on the dark web is its jurisdiction. It has its headquarters in Switzerland, which respects users' privacy. It isn't a member of the global surveillance alliance and hence won't log or share users' data with intelligence agencies. The user's data are protected under strict Swiss law and aren't accessible to anyone.
The VPN uses top-notch encryption levels and secure tunneling protocols like WireGuard, OpenVPN, and IKEv2 to maintain online security on the dark web. It follows a strict zero-logging policy and keeps users' activities anonymous and private. The IP address, browsing data, and traffic logs of the users aren't logged. Hence, there's no room for anyone to reveal your true identity.
4. AtlasVPN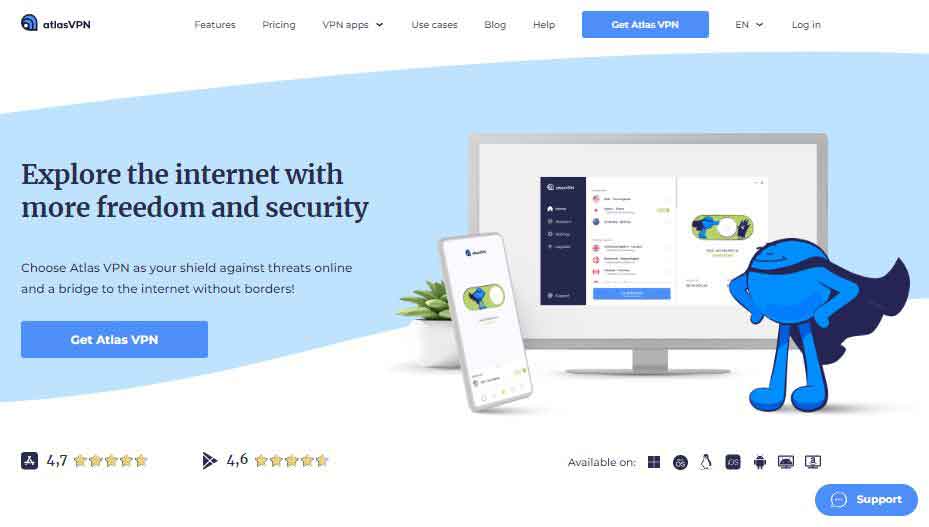 10 GB monthly data
No speed limits
Three free server locations
No-log policy
Unlimited device connections
Atlas VPN is another free VPN to use on the dark web. It comes with 10 GB monthly bandwidth but doesn't put any restrictions on the speed limit. Users can enjoy stable and above-average speed while browsing the dark web. Apart from this, connecting to servers in Norway, the Netherlands, and the US or switching tunneling protocols boost browsing speed.
The VPN provider utilizes strong military-grade AES-256 and ChaCha20-Poly1305 encryption to protect internet traffic from privacy invaders. Also, it supports the WireGuard and IKEv2/IPSec protocols that establish a secure and reliable connection while connecting to the dark web.
To enhance online security and privacy on the dark web, Atlas VPN offers a variety of advanced features. This includes Private DNS, MultiHop+, and SafeSwap servers. The SafeSwap server is an impressive feature for surfing the dark web. It provides different IP addresses that bypass internet blocks and make users' activities untraceable. But these advanced features don't come in the free plan. To use these features, upgrade to the pro version of Atlas VPN.
Atlas VPN's jurisdiction makes people think twice before they use it to access the dark web. It belongs to the US, a leading global surveillance alliance member. They keep and share user logs without users' consent. Besides this, Atlas VPNs' privacy policy is also questionable. It claims to follow a zero-logging policy, but it isn't mentioned on the VPN site if this applies to free-version users.
5. HotSpot Shield VPN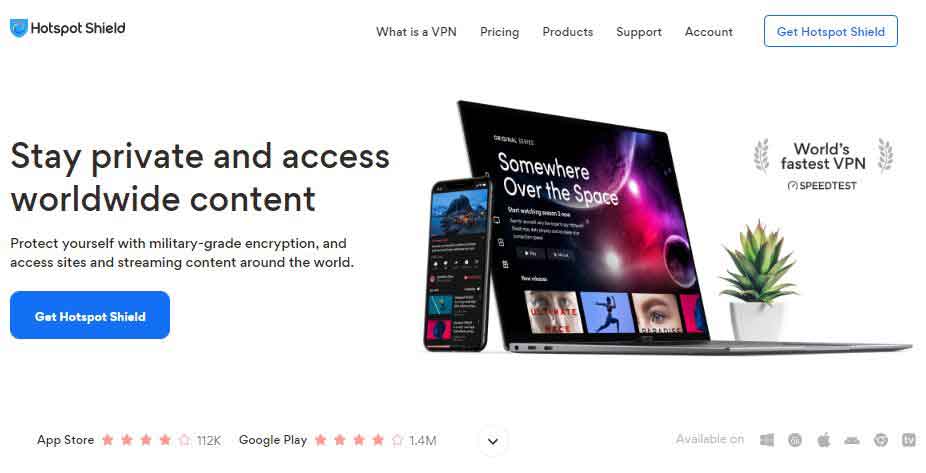 No ISP throttling
Best-in-class encryption
Fastest VPN servers
No data limit
Catapult Hydra tunneling protocol
Hotspot Shield VPN claims to be the fastest VPN that delivers 2x faster than its competitor. It offers 800+ fastest VPN servers, unlimited data, and robust encryption, making it a reliable VPN on the dark web. The AES-128-bit and 256-bit encryption safeguards the data from all spying eyes.
The VPN offers Tor over VPN features and advanced Catapult Hydra tunneling protocol in its free plan that helps access the dark web safely. The protocol makes the VPN traffic regular internet traffic and helps bypass internet blocks and censorship. In other words, by connecting to this protocol, users can enjoy a secure browsing experience on the dark web, even in countries where the use of Tor is banned.
Moreover, it protects against IP and DNS leaks and ensures that the ISP won't know about your activities. However, it doesn't allow users to use the kill switch and the Smart VPN feature since they are only available in the paid plan.
Using the Hotspot Shield VPN for the dark web might put the users in doubt. The VPN's past track record is full of controversies and shady practices that risk users' online privacy. Also, it belongs to the privacy-invasive jurisdiction of the USA, which puts the users' in a doubtful situation. 
6. Betternet VPN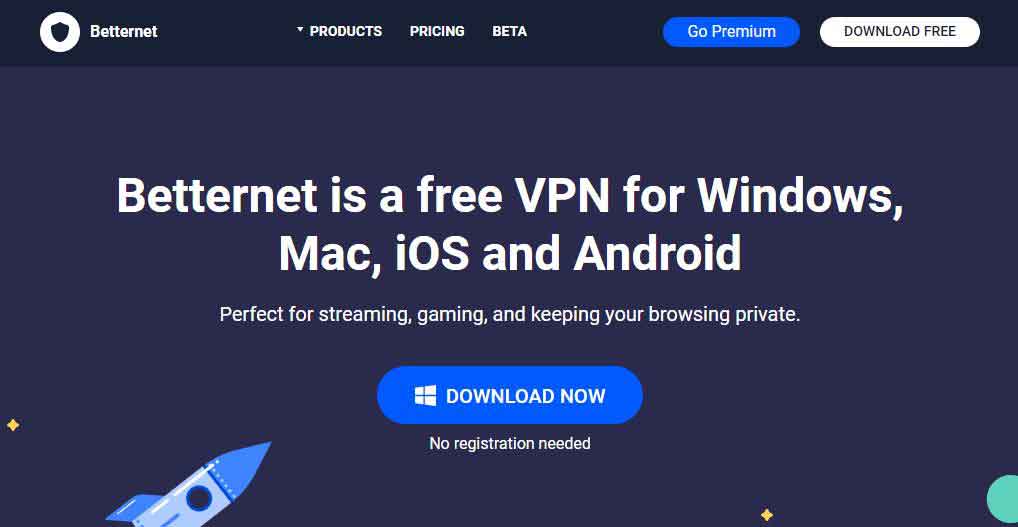 500 MB per day
Only one virtual location
Catapult Hydra protocol
Shows several ads
Speeds are beyond average
Betternet VPN is yet another free VPN provider enabling safe browsing. The VPN uses AES-256-bit encryption to stop prying eyes from monitoring your activities. Also, it employs the Catapult Hydra protocol, which protects the devices and helps bypass internet restrictions.
Betternet VPN offers inconsistent speed in the free version. It limits bandwidth consumption per day and allows 500MB of data daily. Also, it allows access to one random server in the US. Such limited bandwidth and server access are good for casual browsing. But when accessing the dark web, frequent connection drops make browsing difficult, and the ISPs and other prying eyes can learn about your true identity.
The free version also doesn't offer any advanced features like the kill switch or split tunneling. It doesn't block pop-up and banner ads, resulting in a frustrating user experience. To prevent all these issues, consider upgrading to the pro version or avail the free trial period.
7. Windscribe VPN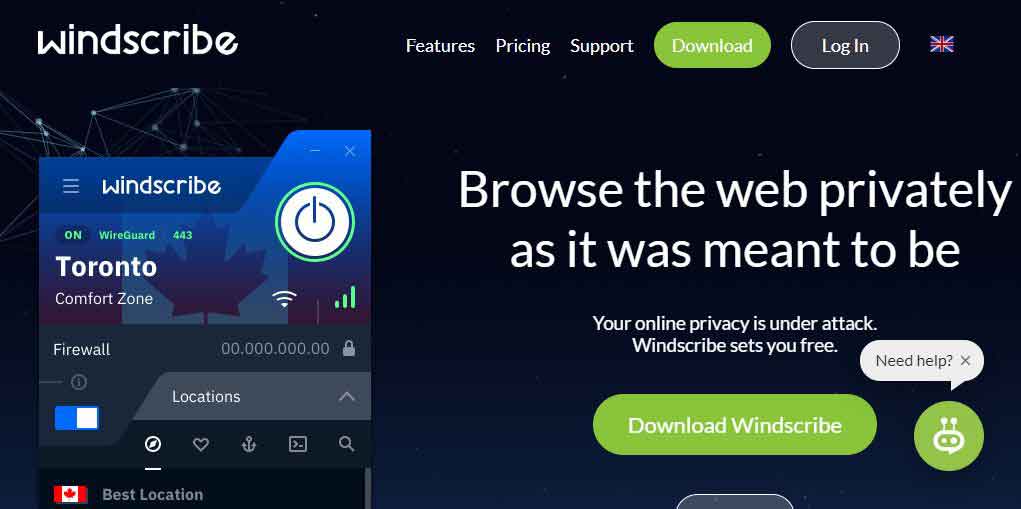 10GB monthly data limit
Access to ten international servers
Strong encryption
Access to advanced features like kill switch and multihop
Headquarter in Canada
Windscribe VPN's server access and bandwidth make it a great option to use on the dark web. It offers global servers with fast speed and bandwidth. You can connect to servers in ten locations like the US, Canada, the UK, France, and Germany. Also, it provides various options that increase the monthly bandwidth and guarantee that you surf the dark web at a fast speed.
Users creating an account for Windscribe VPN provide 2GB of data each month. Confirming the account with their email address automatically upgrades to 10GB monthly data. They can add 5GB of data to the monthly bandwidth if they tweet about the VPN. With so much bandwidth, users' won't face any speed issues while accessing the dark web.
Windscribe VPN utilizes strong AES-256-bit encryption and authentication keys to protect the data traffic. It supports secure protocols like OpenVPN and IKEv2 for increased security. Also, it claims to follow a decent no-log policy and doesn't store information that can reveal users' true identities.
The VPN offers an impressive ROBERT feature that blocks ads and malware. But to use other advanced features, subscribe to the paid subscription plans.
8. PrivadoVPN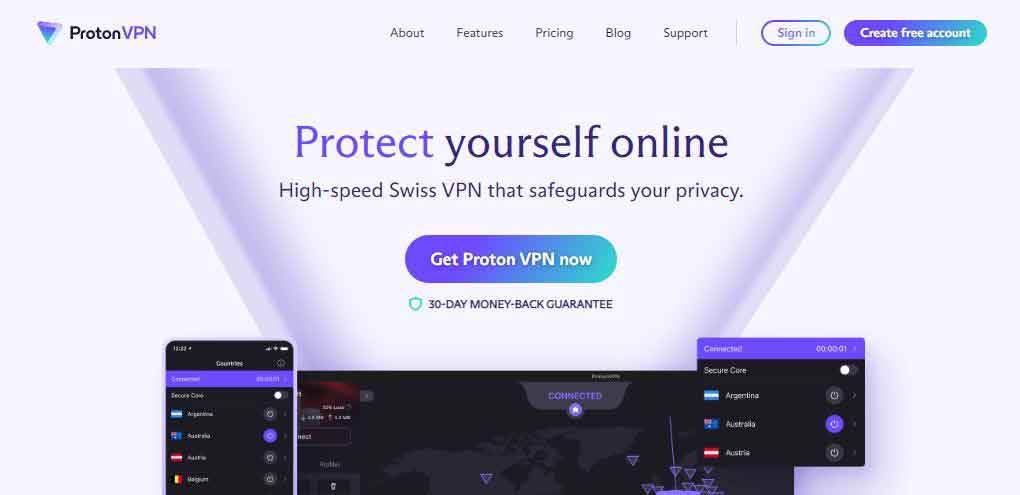 10 GB data limit
Servers in 12 locations
Top-notch encryption
Unlimited bandwidth
Follows zero-logging policy
PrivadoVPN is also among the reliable free VPN that works on the dark web. It offers unlimited bandwidth, strong encryption and follows a strict zero-logging policy, making it one of the best free VPNs to use on the dark web.
The VPN employs AES-256-bit encryption and secure protocols like WireGuard, OpenVPN, and IKEv2. These security standards effectively hide online activities from the prying eyes on the dark web. In addition, the VPN follows a strict no-log policy that guarantees all activities remain private.
Besides this, PrivadoVPN offers 10GB of data monthly but doesn't put any bandwidth limit. It is impressive as users' browsing experience on the dark web won't be affected. The users can also connect to servers of their choice available at 12 different locations. Hence, speed isn't a problem when using PrivadoVPN on the dark web.
PrivadoVPN offers all essential security and privacy-boosting features, such as a kill switch, split tunneling, and SOCKS5 proxy. But, since these are not available in the free plan, you need to invest in the premium plan. And if you're unsatisfied, you can demand a refund during the initial 30-days of the purchase.
How To Choose The Best Free VPN For The Dark Web?
When looking for a free VPN for the dark web, do your research and choose the most secure one. Here are the few factors that everyone needs to bear in mind while selecting the best VPN for accessing the dark web:
As the dark web is not a safe place to visit, ensure to use a VPN that offers a range of advanced features. Camouflage mode, IP leak protection, or private DNS are some features necessary to maintain maximum dark web security.
The Tor browser routes the traffic into multiple layers, slowing down the speed. Ensure that the VPN offers unlimited bandwidth and the fastest servers to overcome this problem.
Many countries have banned the use of the Tor browser. Hence, use a VPN with obfuscated servers that help in bypassing censorship.
To safeguard the data from all the prying eyes, use a VPN that uses strong encryption and protocols.
Choose a service provider that follows a no-log policy and doesn't log or share data with anyone.
The free VPN providers have limitations, so they won't include all the above features. Even if they do so, they still struggle to compete with the premium ones. Thus, using the top-ranked VPNs is recommended. Also, try using the VPNs with free trials, which enable users to test the VPN services without restrictions.
Can you use a free VPN to access the dark web?
Some free VPNs like ProtonVPN, Hotspot Shield VPN, and TunnelBear VPN allow access to the dark web. But free VPNs come with several security dangers and issues. Hence, they won't guarantee a smooth and more secure experience than a paid VPN. 
Which is the best free VPN to access the dark web?
Hide.me is the best free VPN for browsing the dark web. The added IP leak protection feature prevents server cut-outs and boosts online security. It also uses strong encryption with security protocols that ensure an anonymous browsing experience. Besides this, Hide.me offers unlimited bandwidth and doesn't throttle the connection, so everyone can enjoy a stable connection while surfing the dark web. However, you need to switch to the premium plan to access the advanced features that Hide.me offers.
Are there any dangers of using a free VPN on the dark web? 
Free VPNs have come a long way, but they still can't compete with the best premium VPNs. There are a few reliable free VPN providers that can be considered using. But before using  free VPNs on the dark web, it's crucial to know the risks that come along with them: 

These VPNs don't provide access to all the servers compared to premium VPNs.
Free VPNs have speed and bandwidth limits for each month. These limitations lead to slow speed, which isn't enough for a smooth browsing experience on the dark web.
These service providers log and sell users' data to third parties without their knowledge. 
They embed trackers and malware to compromise users' online security. 
The free VPN providers restrict access to advanced security and privacy-enhancing features. 

Therefore, experts suggest using a reputable VPN backed up with a money-back guarantee offer for all these reasons.
Why is it best to use a VPN with Tor? 
To access the dark web, it's essential to use the Tor network. Tor browser is among the most secure private browsers designed for anonymous communication. But as Tor provides layered encryption, the ISP can know that you're connecting to the Tor browser. Also, your IP address is visible, and the Tor vulnerabilities expose you to hackers. Therefore, using a VPN with Tor is much safer. When you connect to a VPN server, it first hides the IP address and encrypts the internet traffic. 
Final Thoughts
The dark web looks like a safe place for those looking for anonymity and internet freedom. But still, it is a dangerous place to visit because of the illegal activities that often occur there. While accessing the dark web, protecting online anonymity and privacy is essential. The best way to remain secure and avoid all dangers is to use a VPN on the dark web. A reliable VPN provider hides their IP address and online identity. The snooping eyes of the ISPs, agencies, or hackers won't know who you're and what you are doing.
Besides the solid premium VPNs, you can also use free VPNs on the dark web. Some free VPNs like the ones mentioned above can easily be used on the dark web. All of them provide decent service for accessing the dark web. But keep in mind that the free VPNs are not as safe as the premium ones and come with restrictions. Thus, choose the free VPN wisely, or you also consider using the VPNs that offer a free trial.