The dark web marketplace is an online marketplace where you can buy and sell anything. These marketplaces have come a long way from the Silk Road as a larger portion of the dark web is indexed and actively monitored. However, law enforcement agencies always try to shut down dark web shops.
Surprisingly, despite great uncertainty, there isn't any effect on the steady growth of the dark web users and the revenue it generates. Dark web search engines support dark web marketplaces and allow users to use them but still accessing them is full of risks; they infect your device with malware or viruses but can bring other legal consequences. Therefore, it is crucial that you know how to access dark web marketplaces safely.
While you might be curious to explore reliable and whitelisted dark web shops, it's advisable to first focus on maintaining your online safety and protection. This guide puts together different ways of safely accessing dark web stores and the list of reliable dark web marketplaces you can consider visiting in 2022.
How To Access The Dark Web Marketplaces Safely?
Accessing the darknet marketplace is dangerous because it is a hub for illegal trade; thus, law enforcement agencies are constantly after people who access them. In addition, several fake websites impersonate the famous dark net marketplace to obtain your financial and personal information and use it for malicious purposes. Hence, you must be careful while accessing dark web marketplaces.
If you want to explore the dark web marketplace, then use the following best security tools:
Use a VPN: Robust encryption makes the contents of the internet traffic and makes your activities private.
Install Tor Safely: Layered encryption makes your activities and identity anonymous on the dark web.
Set Up Tor Browser
Tor is one of the best private browsers for anonymous communications and internet freedom. It allows users to stay safe from ISPs, government, surveillance agencies, and hackers from monitoring their activities and is the perfect option to access the dark web.
The browser uses onion routing technology to route the internet traffic through multiple relay nodes that provide layered encryption. The layers of encryption hide your data and activity from snooping eyes. Moreover, the layers of encryption and the bounce of your data from node to node effectively mask your IP address, enabling online anonymity. It also allows access to the .onion sites on the dark web that you won't find using a regular browser.
Use a VPN
Using a reliable VPN provider is the safest way to access marketplaces on the dark web. A VPN encrypts the data traffic and keeps your activities private on the dark web. It also masks your IP address, making it difficult for government agencies to monitor or track your activities.
Since the dark web can be accessed through the Tor browser, to ensure increased protection use a VPN and the Tor browser together. A VPN hides the fact that you're using Tor, as in some countries, it's blocked, and because of its criminal reputation, it always raises doubts.
17 Best Marketplaces – Finding Reliable Dark Web Marketplaces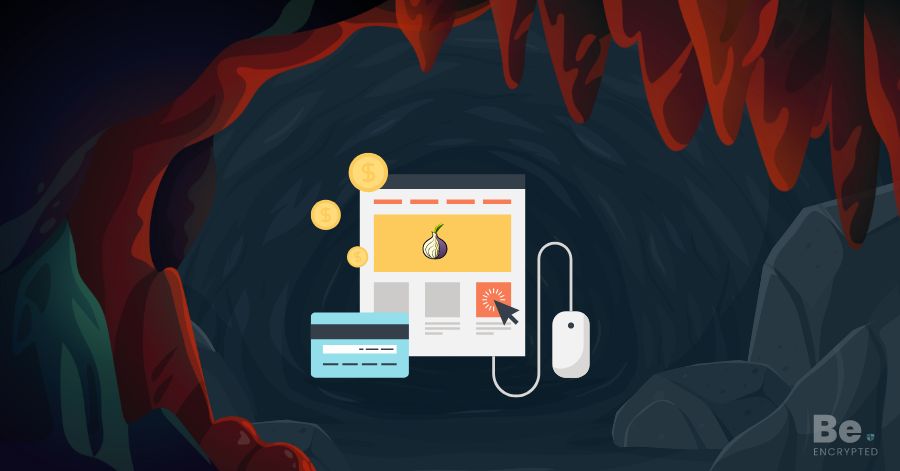 The dark web shops are worth exploring, but accessing them is a real challenge. Several marketplaces are available on the dark web that continuously rises and fall because the risks associated with them force law enforcement agencies to shut down these marketplaces.
Still, you can find and visit some reliable marketplaces by using a Tor browser and a VPN. You can find several detailed guides that inform you on how to find reliable dark web markets. The easiest way is to look for features like anonymous payment options, phishing protection, product listings, and vendor information. This information makes it easy to decide if the marketplace is good for use or is a scam.
Here are the 17 reliable dark net marketplaces that you must explore in 2022:
1. Vice City Market
Established Year: 2020
Language: English
Status: Active
URL: http://xu433i7gnogdh2vlrnvhyqmbry5wew5s7lqf4ddcin3q2nheb7twpyqd.onion/
Vice City Market is a new and cutting-edge dark web marketplace where you can find a range of products and vendors at an affordable price. To access this marketplace, you must register yourself, but before that, you must verify yourself as a human by passing a CAPTCHA test. It possesses a pleasant user-friendly interface that's built from the ground. Its interface makes it easy to identify the clone websites and ensures that users always use the authentic site.
2. DarkFox Market
Established Year: 2021
Language: English
Status: Active
URL: http://7sdzmbd2645jf2afknowz67coktqxxrldble52sa5ep4g4wxu3zcfmad.onion/
DarkFox market is the largest dark web shop that sells various products and attracts more vendors and users. It is a wallet-based shop, meaning you must first deposit bitcoins into your wallet before purchasing any goods and services. The marketplace is much more organized, which makes it easy to use and navigate. Also, the interface is simple and clean. To access the marketplace first register yourself but before registration, on the homepage, you can view the featured listings, goods categories, and a product search bar from where you can search for any product and even apply filters.
3. White House Market
Established Year: February 2019
Language: English
Status: Active
URL: i76guoy77ickcyhazh4bf3hxad2sq2kpwbcopv4z54glq6ynaynvcgid.onion
The White House market offers impressive features like a mandatory PGP requirement that enables 2FA for the user's profile and adds a protective layer. To prevent the users from DDoS attacks, it provides personal marketplace domains to high-volume buyers and sellers. Moreover, this shop provides detailed statistics about each user profile on the platform, giving users a better idea about the vendors to the buyers and vice versa. This marketplace accepts payments via Monero but also supports the Escrow system.
4. Hydra Market
Established Year: 2015
Language: Russian
Status: Offline
URL: http://hydram6esdjf6otepmr5c3vjyndsoddz22afphbbjznwb5ln2c6op7ad.onion
Another dark net marketplace that you need to explore is the Hydra market. The entire website is in Russian, but the vendors are present worldwide. It accepts payments through bitcoins and the Escrow system and ensures that your identity remains anonymous during your purchases. It was one of the longest-running dark web business shops. But in April 2022, this site went offline as the American and German federal government law enforcement agencies seized the website servers. There are alternative links available that provide access to the marketplace.
5. Invictus Market
Established Year: August 2020
Language: English
Status: Went offline after one month of its operation.
URL: http://invictvevpwxlcrbjktr5sxpqpwtk6lel7vppagvtgxtewa3da5hoqad.onion/
Another dark web marketplace is the Invictus market, where you can find useful and rare products. The website has a clean and easy-to-use user interface without any innovation that won't trouble the users. It accepts three types of cryptocurrencies: bitcoin, Monera, and Litecoin. All the purchases through this marketplace must be made through escrow. But the website comes with some security risks, and users experience glitches while using the site. As a result, it went down after one month of its launch.
6. World Market
Established Year: November 2020
Language: English
Status: Active
URL: world6zlyzbs6yol36h6wjdzxddsnos3b4rakizkm3q75dwkiujyauid.onion
World Market is another largest dark web shop that deals with various goods and services. Its impressive anti-DDoS protection feature and easy-to-use interface make this marketplace stand out among the others. Furthermore, it doesn't use JavaScript, meaning the website won't track your activities or exploit vulnerabilities. The website allows a personalized searching experience, where you can search according to your geographical location, country-specific, and keyword or price-specific search results.
7. Mega Market
Established Year: 2016
Language: Worldwide multi-language
Status: Active
URL: http://megadmeovbj6ahqw3reuqu5gbg4meixha2js2in3ukymwkwjqqib6tqd.onion/
Mega Market is a new yet popular dark web market that reached a skyrocketing reputation after the closure of the Hydra market. It allows you to buy and sell a wide range of products and services with a good user experience. This site supports PGP encryption and two-factor authentication features. The vendors aren't required to register or apply for a vendor's account while using this platform. It ensures the buyer's identity is kept hidden and accepts payments through cryptocurrencies, including bitcoins, Litecoin, Ethereum, and Monera.
8. Bohemia
Established Year: May 2021
Language: English
Status: Active
URL: http://bohemia65jifi6rj3dcvu23tks5teidk6wllndg62vb37f57e6ymtgid.onion/
Bohemia is a modern dark web marketplace with a great user interface that is easy to use and navigate. It asks you to pay the merchant fee if you want to sell something. This way, it prevents the buyers from getting scammed. The marketplace has laid out several sets of rules that every user is bound to follow, and if any user is found not complying with the law, strict and immediate action will be taken against them. It uses PGP encryption to protect sensitive data and messages and accepts payments via Monera and Bitcoins to keep you anonymous on this marketplace.
9. DarkOde Reborn
Established Year: 2020
Language: English and Russia
Status: Active
URL: darkoddrkj3gqz7ke7nyjfkh7o72hlvr44uz5zl2xrapna4tribuorqd.onion
DarkOde Reborn is a great dark net marketplace where you can find anything you want. The website has a great design and a clean and organized interface, which is easy to use. The homepage includes options like browsing products, searching, mixer, and coin exchange. To purchase products from this marketplace, you need to first register. If you want to buy something, first deposit cryptocurrency in your wallet and the amount will be charged directly. The acceptable payment methods include bitcoins and Monera.
10. Cypher Market
Established Year: 2020
Language: English
Status: Active
URL: http://6c5qaeiibh6ggmobsrv6vuilgb5uzjejpt2n3inoz2kv2sgzocymdvyd.onion
Cypher marketplace has been on the dark web for a while and deals with the business of a variety of products and services. If you want to buy something from this dark web shop, you don't need to deposit cryptocurrency in your wallet. It accepts payment through bitcoins and Monera, while some vendors accept the coin. The website looks organized and has a clean, sleek, easy-to-use UI. You can find featured listings on the homepage and can browse the product of your choice, while there's a search bar too that you can opt to use for searching any particular product or vendor.
11. AlphaBay Market
Established Year: 2014
Language: English
Status: Active since August 2021
URL: alphabay522szl32u4ci5e3iokdsyth56ei7rwngr2wm7i5jo54j2eid.onion
AlphaBay marketplace is one of the oldest dark web marketplaces that was quite popular for selling a great range of products and services. It offers impressive features, including PGP signed address, payment via Monera, sticky and featured listings, and auto shops. In 2017, the website went offline following a law enforcement action taken by the American, Canadian, and Thailand authorities, but since August 2021, it's again operational. The website's security has always been a concern for users. In April 2016, its APIs were compromised, which resulted in stolen messages. But since its relaunch, the developers are focusing more on operational security and ensuring that users can have a good experience on this site.
12. ASAP Market
Established Year: 2020
Language: English
Status: Active
URL: http://asap2uwsfk4armhegwyanjq4mafugzhvjdcchreih556guod3oqtsyid.onion/
The ASAP is a moderate design dark web marketplace that offers helpful tools like mandatory PGP encryption and two-factor authentication for a safe browsing experience. Like other marketplaces, ASAP market also requires you to register for an account. The website allows visitors to view all the goods and services on display before they buy something. The quantity, price, and characteristics of the product is all provided. The platform lacks an advanced search option and wallet-free payment option.
13. Torrez Market
Established Year: 2020
Language: English
Status: Offline since December 2021
URL: http://333f7ul6ad4nuq4v4i6q7aqlw4e6qjn6ra4w3bz6jzn3po2eodjkl4id.onion/
The Torrez market is one of the biggest dark net marketplaces, also called a community-driven marketplace. It contains a good selection of product listings that ranges over 35000 items. The website has an interface and design similar to other dark web shops. It uses PGP encryption, two-factor authentication, and OPTP authentication to ensure users' security. Besides this, it supports wallet-less transactions and accepts payments through bitcoins, Litecoin, Monera, and Zcash. However, you must wait some time to reassess this marketplace because it's been shut down. It issued a press release revealing that from December 2021, the website won't be functional anymore.
14. Empire Market
Established Year: 2018
Language: English
Status: Active
URL: empiremktxgjovhm.onion
Empire Market is a dark web shop that resembles the AlphaBay marketplace. Its look, design, options, and interface are exactly the exact copy of its competitor, but everything else, including buyers, vendors, and servers, is different. You must register first if you're a new user on this platform. At its launch, the platform accepted payments through Litecoin, but now it has incorporated support for other payment methods like Monero and Bitcoin. It uses PGP encryption and two-factor authentication to secure your data and communication.
15. Nemesis Market
Established Year: 2021
Language: English
Status: Active
URL: http://nemesis555nchzn2dogee6mlc7xxgeeshqirmh3yzn4lo5cnd4s5a4yd.onion/
Nemesis Market is a relatively new wallet-less dark web shop where you don't need to deposit any amount in your wallet before buying products from here. The platform allows buyers to review the vendor's products and services, so it's easy for them to decide if the vendor is reputable or just scamming them. You can see all the product categories the marketplace deals with on the homepage. Like other marketplaces, it also requires registration for new users and accepts payments in Monera.
16. Tor2door Market
Established Year: 2022
Language: English
Status: Active
URL: http://tor2dore7ufpezrcqaw6txolzo42bzh76i7ifydzkpbp23qhfocwpkid.onion
Tor2door Market is among the largest dark net shops you must visit in 2022. On average, the marketplace consists of more than 11,000 items and 1000 vendors. The website has a sleek design and interactive user interface, making it the most preferred choice to consider using in terms of user experience. You can pay through Monera and Bitcoin using the escrow system or the traditional market account.
17. The Silk Road
Established Year: 2011
Language: English
Status: Went down in 2013 but was again relaunched and was shut down in 2014
URL: silkroad7rn2puhj.onion
The Silk Road was a famous dark web marketplace where users could buy and sell goods and services anonymously. All the payments were made through cryptocurrency, further enhancing marketplace anonymity. The users on this site can review and rate the products that promote reliable and fraudster vendors. Registration is mandatory to access the Silk Road. In 2013, the FBI shut down the Silk Road, but it was later relaunched in 2014 with the new name of Silk Road 2.0, but the German authorities put it down in the same year. Other than the Silk Road 2.0, similar marketplaces also emerged, but they all went down sooner or later.
Safe Access To The Dark Web Marketplaces
The dark web shops always conjure up illegal trade and activities. Cybercriminals also use them to launch phishing scams and can even infect your device with malware, increasing the risk of other online threats. Hence, it's essential to follow some extra security measures while exploring reliable shops on the dark web:
Check For IP Leaks
Despite using a VPN, there's always a risk of VPN leaking your IP address through DNS or WebRTC leaks or misconfigurations. Therefore, you must run an IP leak test to ensure that the VPN is working completely fine and is not risking your digital security.
Run Antivirus/Anti-Malware Software
Cybercriminals on the dark web marketplace always look for new victims to target them with scams or infect their devices with malware, spyware, or adware. Thus, use the best antivirus software that protects against these online threats.
Disable JavaScripts
Having JavaScript enabled on the dark web can be havoc because it can reveal your IP address to your website. Also, previously, the Tor browser was vulnerable to JavaScript attacks as it provides hackers a pathway to track your activities by using the session details. Therefore, for security reasons, disable JavaScript on the Tor browser and enjoy an anonymous browsing experience on the dark net.
Tweak Tor Browser Settings
Changing the Tor browser settings can further boost your security levels on the dark web shops. For instance, you can choose the preferred security levels for enhanced protection. The security level is set to 'Standard' by default, but you can change it to the 'safest' and enjoy more security while accessing the dark web.
Besides this, make sure you delete all the cookies and session data by navigating the settings menu. Though the Tor browser by default offers a private browsing mode, if you have disabled it, then enable this mode as it automatically deletes all data and cookies when you close the browser.
Moreover, you can use a Tor circuit, but it won't improve security; instead will surely improve the browsing speed.
Don't ever reveal your true identity on the dark web marketplaces because there's a high chance of hackers and scammers misusing it. Beware of sharing your financial details on the dark web, as this can result in identity theft and your bank account amount stolen.
Always use a fake name and temporary email address while you buy something from the dark net shops. You can even use the secure email provider or a burner email address whenever you visit the dark web.
Use Dark Web Search Engines
Using a dark web search engine is a great step towards enjoying a more secure experience on dark net marketplaces. Not all marketplaces you want to visit can be accessed through regular search engines. In addition, mainstream search engines also track your searches and collect personal information.
A dark web search engine like DuckDuckGo offers impressive anonymity features and makes it easy to access dark web shops. These search engines neither track your search queries nor record any information, improving digital privacy and keeping your data private.
Use TAILS
Using TAILS is yet another security measure that protects your online identity on the dark web. It is a specific Debian-based version of Linux software that leaves no traces of the user activity or the operating system on the computer. It uses the Tor network because it is a popular network that helps to circumvent censorship and online surveillance.
TAILS is free software that you can download on a USB flash drive and can plug that device into your computer, eliminating the need to install it on your device. It keeps your activities private as it doesn't store cookies or files on your hard drive without your permission.
The Tor browser comes with pre-installed TAILS. When you use it, all the web traffic automatically routes through Tor. If the operating system detects any non-anonymous connection, it blocks them, thus ensuring maximum online protection.
Use Cryptocurrency For Transactions
The dark web is famous for being a marketplace for buying and selling products and services. If you purchase something from the dark web shops and make payment through conventional payment methods like your bank transfer, credit/debit card, or PayPal, you can be caught easily and face legal consequences.
To remain anonymous about your purchases on the dark web, always use cryptocurrency as your mode of payment. If some seller encourages you to opt for other well-known and commonly-used payment methods, then the person is likely to be a scammer, and you must not make any deal with them.
FAQs
Are there still dark web marketplaces?
The dark web marketplaces are continuously evolving. Despite the continuous rise and shutdown of dark web shops, many platforms are still in use. Some of them include; Vice City Market, Nemesis Market, and Empire Market. These marketplaces vary in features and functionalities, but all deal with selling various unique products and services at affordable prices.
What are the most popular Darknet marketplaces?
Almost all the marketplaces on the dark web are popular, but the most popular ones include:

– The Silk Road
– Hydra Market
– AlphaBay Market
– White House Market

Law enforcement agencies have shut down some dark web shops like Silk Road. But these marketplaces become operational again after getting relaunched. While some websites even offer mirror sites or alternative links to access them.
How many dark web marketplaces are there?
There are 38 marketplaces on the dark web that you can consider visiting. However, since accessing the dark web is full of risks, it is better to consider using a VPN and the Tor browser.
How to maintain anonymity on dark web marketplaces?
A reliable dark web VPN is mandatory to access dark web marketplaces. But besides this, you also need to practice certain security measures to boost your anonymity on the marketplaces. Ensure you don't use your original information while accessing the marketplaces. Always use a temporary identity and email address for registering an account. Also, don't use traditional payment methods for transactions because you can get caught by the authorities. Pay through cryptocurrencies and avoid dealing with vendors or marketplaces that don't support anonymous payment methods.
Is the Dream market still active?
Like many other dark web shops, the dream market has been shut down. The law enforcement authorities arrested its administrator in 2017, and the marketplace went down in 2019.
Final Thoughts
The dark net marketplaces are online black markets where buying and selling all kinds of goods and services are common. Considering the risks associated with dark web marketplaces, it's crucial that you use a reliable dark web VPN. A VPN adds an encryption layer that keeps your activities private and overcomes the issues with the Tor browser.
Moreover, practice additional security measures to enhance your anonymity and privacy on the dark web shops. This includes using antivirus software, adjusting the Tor browser settings, checking for IP leaks, using TAILS, and making payments through cryptocurrency.