Search engines like Google, Bing, and Yahoo risk your digital privacy by tracking and recording everything you do online. Thus, it has become crucial to use the best private search engines.
The most significant reason to use a private search engine is to enjoy increased online privacy and anonymity. Google knows everything from your search queries to the websites you visit, interests, likes, preferences, and with whom you communicate. It is famous for tracking users, creating profiles, attaching IP addresses, and sharing data with third parties.
A private search engine ensures a safe and secure environment where you can surf the web without being traced back. It doesn't keep your logs and browsing history and ensures you get relevant search results.
What is a private search engine?
A private search engine is a tool that enables you to surf the web without storing your search or other identifiable information. Their main goal is to ensure that users stay anonymous.
The user data that private search engines don't store to keep users safe from other parties include:
User agents
IP addresses
Search terms
Browser fingerprints
Location details
Cookies
While various search engines claim to offer top-notch privacy, it is essential to note that each comes with different functionalities. Therefore, checking each engine individually is prudent to determine which offers you the best privacy features.
What information is Google tracking and why?
Google and other search engines, such as Bing, as notorious for tracking user information. Some of the data recorded include:
Location details
IP address
Search queries
Device, browser, or app identifiers
In most cases, when you key in search terms, Google uses them to create a unique profile of your day-to-day activities. For instance, during our daily endeavors, we tend to search for various topics such as:
Best hotels around me
Banks and investments
Vacation destinations
Activities for the weekend
Directions to various destinations
Kids-related stuff
Health-related searches such as symptoms, among other stuff
All these searches are a great starting point for Google to build a profile of your day-to-day activities. Such information is then used for targeted advertising since your searches reflect your wants, needs, tastes, and preferences. Therefore, this information accurately represents who you are and is used to market different products accordingly.
Why is Google tracking an issue?
Some people perceive Google-targeted tracking as helpful to their daily lives. They feel they are being served better by being shown ads on their social media pages, emails, and frequently visited websites. This argument is what justified Google's actions. In their own words, Google says these ads are meant to serve their customers better and improve their user experience.
However, what happens behind your back is what raises significant concerns. Google collects immense personal data that is analyzed using sophisticated technologies such as machine learning and big data analytics. The results of this analysis are then used to create a unique individual profile that strongly reflects your habits.
The data is then sold to the highest bidder, mostly advertisers who use it to target online ads. While some might think this is a way of improving their experience, it is without a doubt that this activity is highly intrusive.
Besides knowing that someone is collecting massive amounts of your personal information, other uncomfortable situations might arise:
Imagine showing your workmate a specific work-related website, but dating ads pop up throughout the website
You've been secretly searching for the best ideas to propose to your significant other, but related ads keep showing up on your home devices.
You've searched for a medical condition, but an ad related to the condition shows up when a colleague is using your personal computer.
These and many more scenarios are embarrassing moments that might arise due to Google tracking. To a greater extent, tracking could also pose a high risk to persons in abusive relationships.
Furthermore, the fact that cybercriminals know there is a collection of unique online profiles for most users could be a starting point for cyber breaches, not to mention human errors that could cause disastrous results in the event of data exposure. For instance, in 2006, more than 650,000 private search histories were released by AOL. While the case was settled in 2015 after AOL paid a $ 5 million fine, that doesn't mean such incidents can't happen.
Are private search engines legal to use?
There is no law prohibiting the use of private search engines. The primary goal of search engines is to protect your privacy and security, which is generally considered legal and protected by the right to privacy.
However, the legality of private search engines boils down to the specific jurisdiction and how they are used. For instance, some regions like China have strict internet censorship and usage policies. So, before going the private way, you must familiarize yourself with the various policies guiding the usage of private search engines.
Furthermore, using private search engines for your day-to-day activities is one thing, but using them for illegal activities is another. Suppose you intend to use search engines to carry out illegal activities such as money laundering, human traffic, drug trafficking, and fraud, among other unlawful activities. In that case, you should know you risk hefty legal fines or jail time. Therefore, the best cause of action is to delve deeper into the specific jurisdiction and understand online privacy and data protection policies.
How do Private Browsers deal with Security and Privacy?
You might find several options while looking for the best private search engine. They all promise maximum privacy, but a few will stick to their words. Ensure that you opt for a search engine that possesses the following features:
The search engine should deliver authentic search results in less time.
They should offer comprehensive settings options that guarantee a customized user experience.
Be aware of the information that the search engine records.
The best search engine also provides features for enhancing your security and privacy, so do check them.
Always use a search engine that belongs to a jurisdiction that doesn't follow strict internet privacy laws.
The search engine should have a simple interface that is easy to use and understand.
Also, check who is behind the company and whether the company has a shady history.
20 best private browsers that you can Trust in 2023
As mentioned earlier, the search offers more benefits than those listed above. Now, let's take a deeper insight into the best private search engines. So, let's begin:
1. DuckDuckGo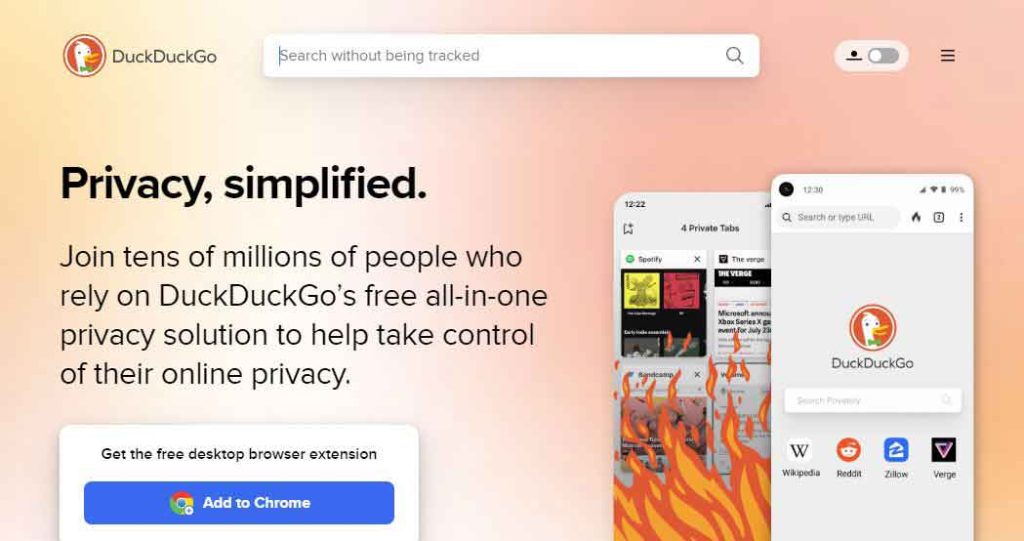 DuckDuckGo is the best private search engine that keeps users' searches private by not tracking and logging their data. The search engine offers a handful of features and customizable settings options that you can trailer according to your needs. It comes with a clean and straightforward user interface that is easy to use.
DuckDuckGo is the safest and the most reliable search engine to use. Besides this, it also offers a private browser that prevents browser fingerprinting, scripts, and third parties cookies from tracking your browsing activities. Here are some of the reasons why DuckDuckGo is the best private search engine:
The Qualys SSL labs report rated DuckDuckGo in the A+ category for providing users with robust online privacy.
It uses a ! Bang feature that commands your searches from other search engines like Google, Bing, and Yahoo.
DuckDuckGo doesn't collect your IP address, cookies, and browser information and thus ensures that it won't track your searches.
The search engine provides on-site encryption by using the Tor proxy feature. It routes your searches via a deeper layer of encryption and adds a protective layer when you browse any unprotected site.
The burn bar feature allows the users to delete the browsing data when they close the tabs after every session.
It automatically activates the Privacy Grade feature that scans the website for potential risks and grades it from A to F.
The search engine earns money via affiliate marketing. The biggest drawback of DuckDuckGo is that it's owned by a company based in the US, a prominent member of the global surveillance alliance. However, there has been no incident where DuckDuckGo has been named for violating users' privacy.
2. Qwant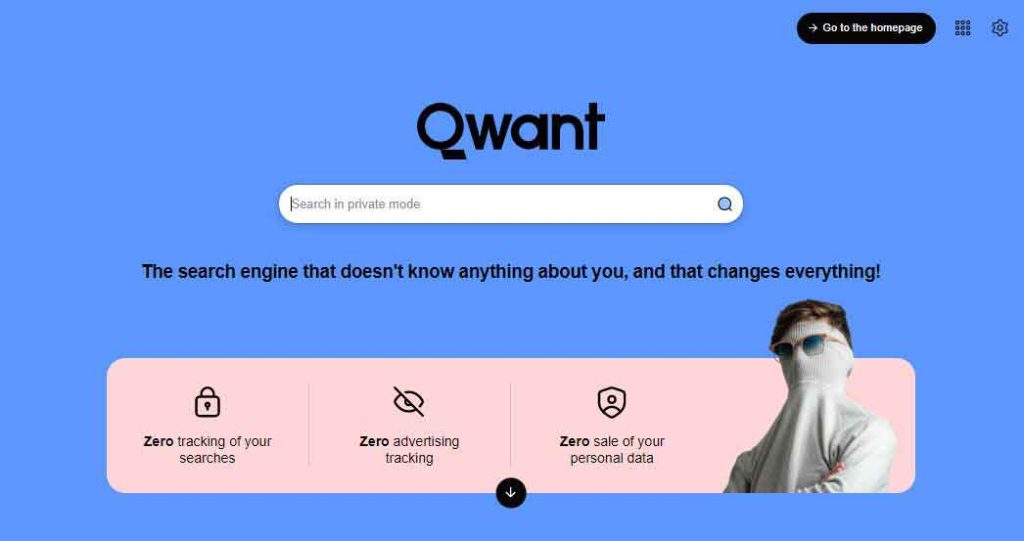 Qwant is a European-based private search engine that emphasizes respecting users' privacy. Their privacy policy has mentioned that they forgo collecting any personal data. The search engine uses algorithms to guarantee neutral and unfiltered results, precisely what you need. It also offers unique customization options and allows users to adjust filters for adult content, change the display mode, languages, and more.
It has an appealing interface and gives a similar user experience to Google. You can find all the options at the top, including images, videos, news, maps, and more. Here are some more reasons why Qwant is the best private search engine to consider using today:
It offers a Qwant Junior search engine for children aged 6-12. Young people can use the internet in a secure and ad-free environment while their parents enjoy peace of mind.
It deletes your search data when you close your browser.
You can filter the search results according to categories like images, videos, news, web, and more.
The search engine doesn't track your IP address and search terms.
It neither uses cookies nor other tracking technology to track your digital footprints.
The thing that concerns the users about Qwant is that it's headquartered in France so it can be subject to data retention laws. But you can always boost your security by using a legitimate VPN provider. Besides this, Qwant also launches their map service to enhance your browsing experience further.
3. StartPage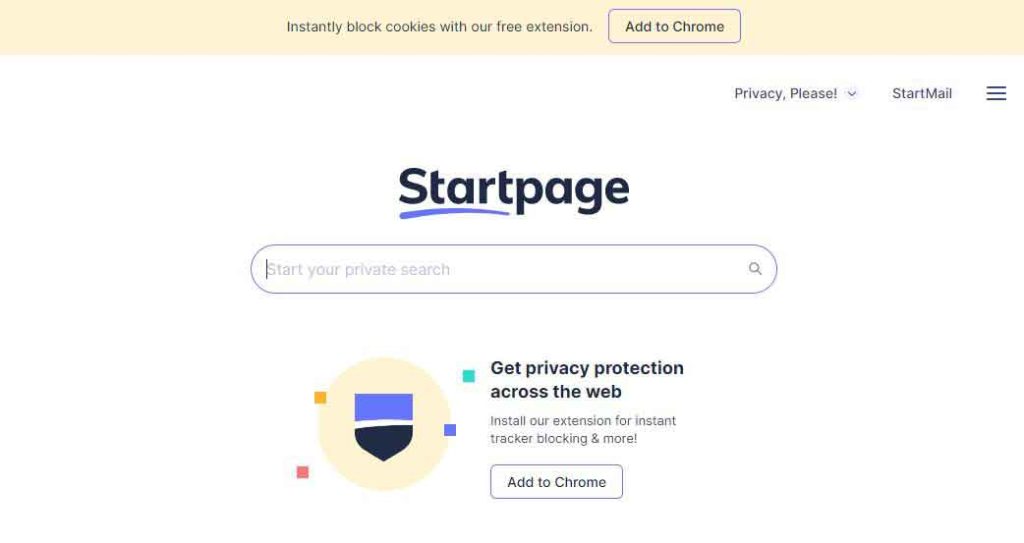 Startpage is another best private search engines that keep your searches anonymous and safe from snooping eyes. It is a reliable search engine that doesn't save sensitive information like your server's search data. Startpage has received the European Privacy Seal Award for providing users with maximum online protection for four years.
You get unpersonalized and unprofiled search results when you enter a search query. The top three search results are contextualized ads meaning ads related to the search term, but no need to worry as it has nothing to do with your browsing history.
It is a user-friendly search engine compatible with all major operating systems and devices. Also, it offers browser extensions for Chrome and Firefox. The search engine also offers excellent security and privacy-centric features such as:
It uses SSL encryption to provide partial on-site encryption to the users. Encrypting the data leaves no room for the prying eyes and the ISPs to monitor and track your searches.
The search engine uses an impressive Anonymous View feature that acts as a VPN and prevents the website from knowing your IP address, location, and other vital data.
It also follows a strict no-log policy and keeps zero user data. The search engine also underwent a third-party log audit report to prove its stance on a further zero-logging policy.
Startpage earns money via advertisements, and this might concern users. A Netherlands-based company owns the search engine. The Netherlands is a member state of the nine eyes alliance that logs and shares user data. There is no record of Startpage misusing users' data and violating privacy.
4. Searx.me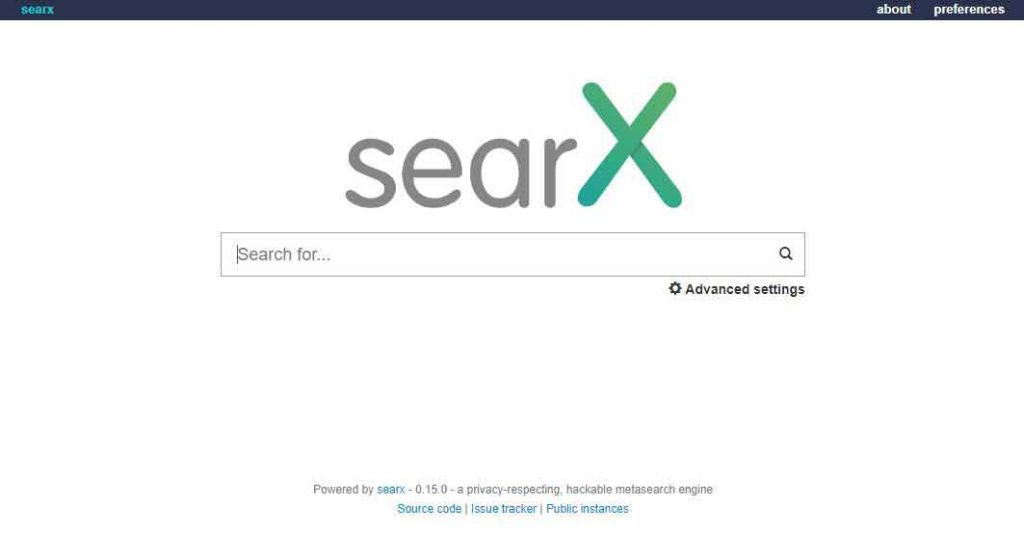 Searx is a metasearch engine that obtains search results from other popular search engines like Google and Yahoo. It is managed and run by volunteers and earns revenue via donations so that intrusive pop-up ads won't interrupt your browsing experience. It has a simple user interface that is easy to use and navigate. The search engine isn't compatible with mobile phones but offers browser extensions on Firefox to enhance your digital security.
The search engine comes with a handful of features and thus ranks in the best private search engine list. Some of its unique features are as follows:
It uses a proxy feature that safeguards your online identity when you visit a website.
The search engine doesn't create user profiles nor share the data with third parties.
Since it is open-source, it helps prevent online tracking and targeted advertising.
You can set up your Searx on a server and control it any way you want. By doing so, you can have some peace of mind that your searches are not logged.
It allows the users to tweak the settings, including removing tracker arguments from the URL and rewriting HTTP to HTTPS.
Users don't like the only thing about this search engine: it doesn't show its own search results and hosts it from Google and other search engines.
5. Yandex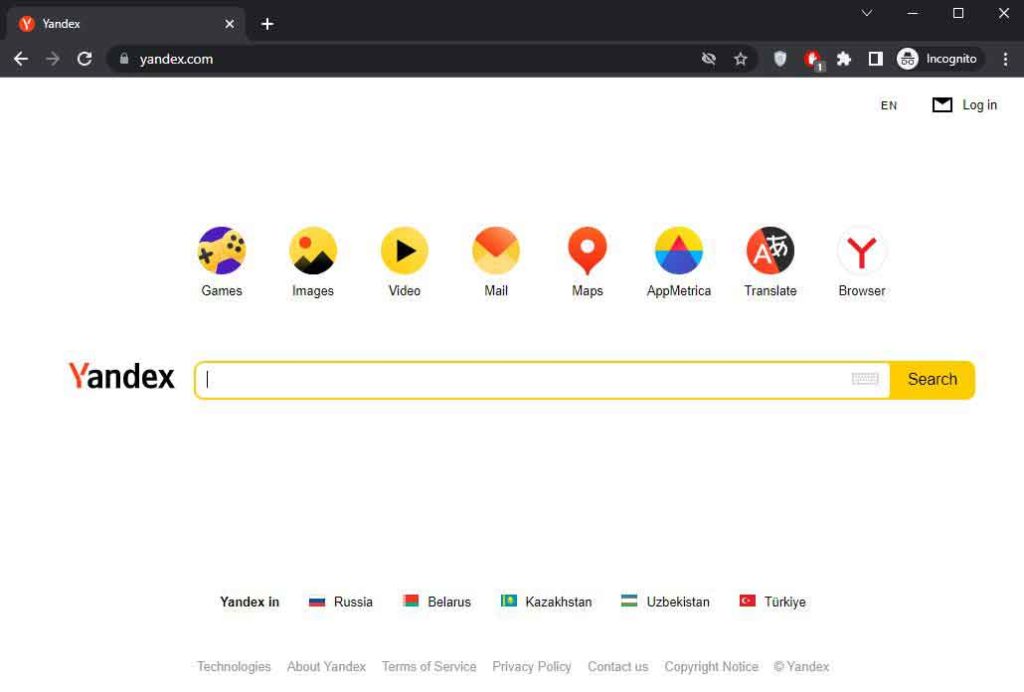 The next best private search engine is none other than Yandex. It is a leading search engine with similar user experiences to Bing and Google. The interface is identical, and the homepage has a search bar for user queries. Upon entering your queries, it shows the best authentic results you seek.
Here's how Yandex ensures a safe browsing experience and protects your privacy while you surf the internet:
The company has clarified that they don't share user data in their privacy policy. But, it collects little information about you as you use their various services like maps, mail, etc.
The search engine also allows the users to customize the settings as they want by scrolling to the button of the search result page and tapping on the settings options.
However, Yandex has been a victim of government surveillance, raising concerns about its credibility. Moreover, the company is headquartered in Russia, raising concerns about users' privacy.
6. MetaGer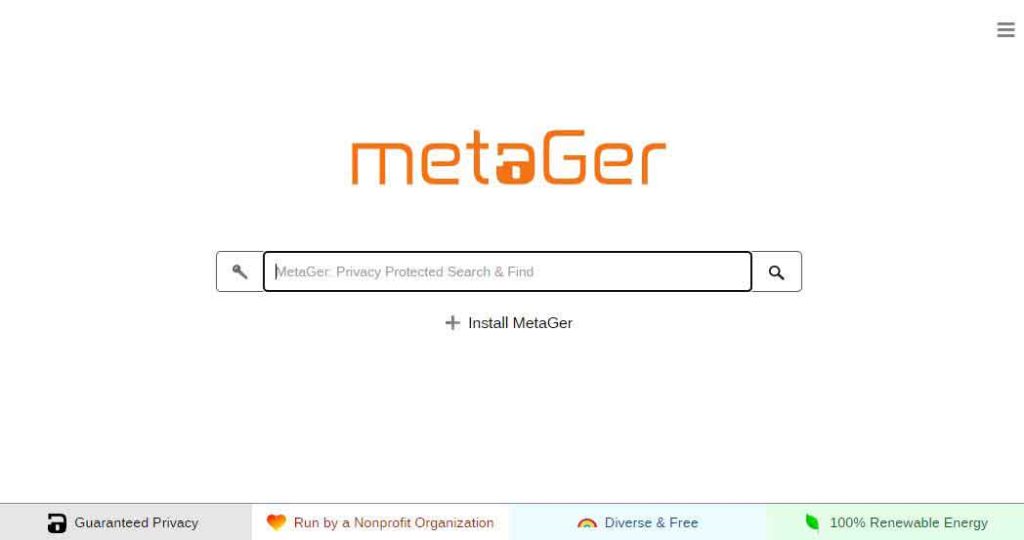 MetaGer is another private search engine that works like a metasearch engine. It hosts search results from other popular search engines and its web crawler, but the search results are pretty authentic. The best thing about the MetaGer search engine is that it also indicates the source from where it came when it shows the search results. The interface is also good and doesn't trouble the users. Here's how MetaGer maintains your privacy and doesn't track you back:
It follows a no-log policy and ensures not to log or share users browsing data.
The search engine protects your IP address and searches keywords from getting tracked and recorded when you visit any website.
It even protects you from unwanted ads.
It uses a proxy server that makes you more anonymous and private over the web.
You can filter the search results according to the date, language, and safe search.
The search engine belongs to a company that's based in Germany. The country is famous for respecting users' privacy and has strong data protection laws, so, by means, users' data can be used in the wrong way. There are no prominent drawbacks to using the MetaGer search engine, but still, it's better to use it with a VPN.
7. Disconnect Search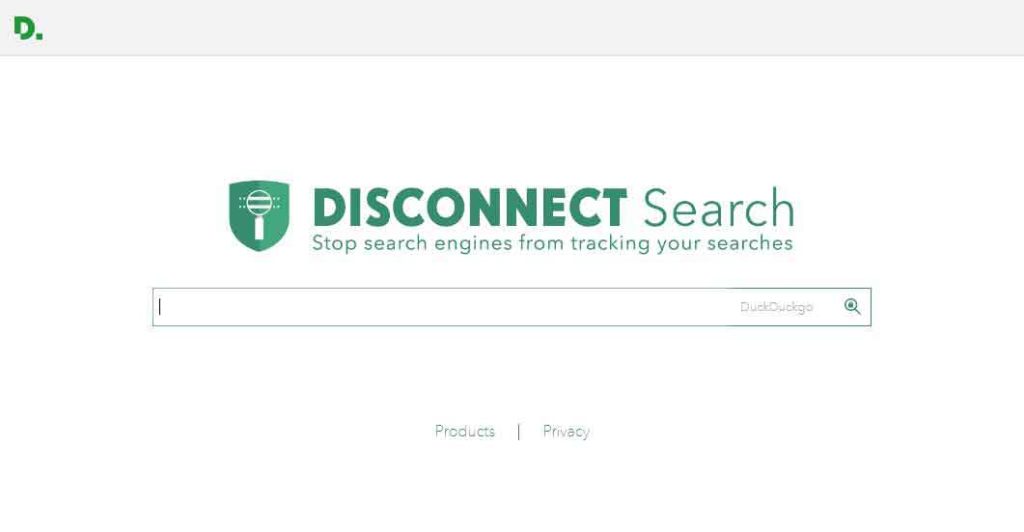 Disconnect Search is another best private search engine that neither tracks nor targets users with pop-up ads. The search engine offers an impressive user interface, and the result pages are much more attractive than others. It generates revenue from selling its premium VPN service provider. It is the only search engine with a VPN functionality and enhances users' digital security and privacy.
The search engine is ranked as a secure and safe search engine to use because:
It doesn't collect your IP address and other sensitive data while using its service.
It offers a premium VPN and security app as its privacy products. These products and the search engine can prevent anyone from spying on your search data.
Disconnect Search uses HTTPS encryption to route your search results and increases online privacy.
It blocks malicious ads and content.
It offers a browser extension called the Disconnect Search add-on for Firefox and Chrome that blocks online trackers and further increases your digital security.
The biggest drawback of using Disconnect Search is that it shows the search results from other search engines. The users are given three options, i.e., Bing, Yahoo, and DuckDuckGo, and can obtain the search results.
8. Search Encrypt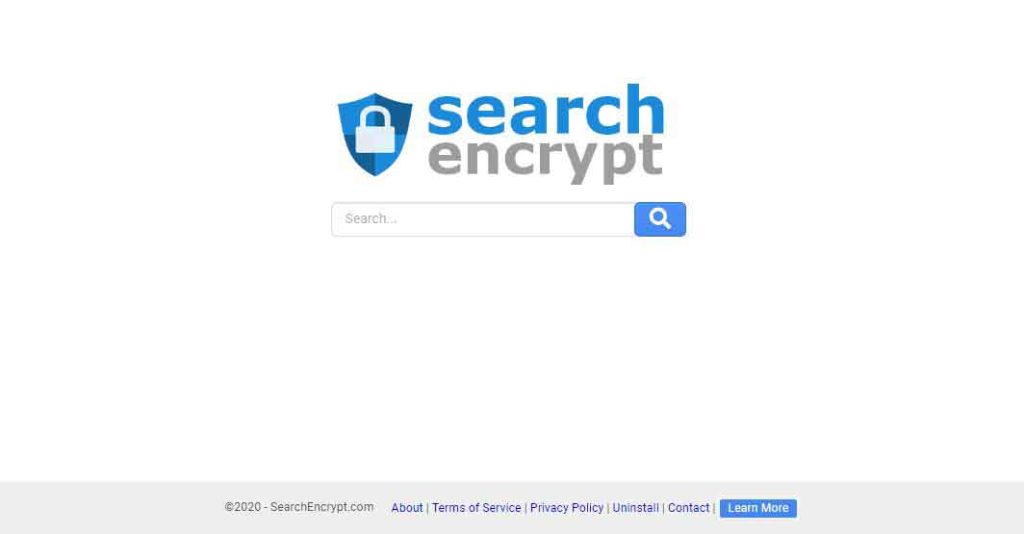 Search Encrypt is also a private search engine that is reliable to use. It protects your search terms and other relevant data from all prying eyes. The search engine has an impressive interface that beginners and advanced users can easily use. Apart from it, it also offers excellent customizable features that further enhance your experience.
Because of Search Encrypt's features, it ranks in the best private search engine list. Here are some of the features that the search engine provides to make your browsing experience worth amazing:
It uses AES-256-bit encryption, SSL encryption, and perfect forward secrecy to prevent privacy invaders from invading your search history.
After 30 minutes of inactivity, the search results expire and can't be viewed again. Thus, in this way, no one can ever know what you have searched online.
The Search Encrypt extensions protect your privacy by identifying the searches that can be tracked. It intercepts between such searches and redirects them to the Search Encrypt privacy-enhanced search engine that will be set to your default search engine.
Besides this, the search engine also offers a Maps Search feature that allows users to access maps without risking their privacy. Your location won't be recorded as you use this product.
However, despite offering such excellent benefits, private search engines have disadvantages. There are speculations on the company headquarters and privacy policy. It logs and shares your data and thus makes it an unreliable option. But, there aren't any occasions that show that Search Encrypt leaks users' data.
9. Swisscows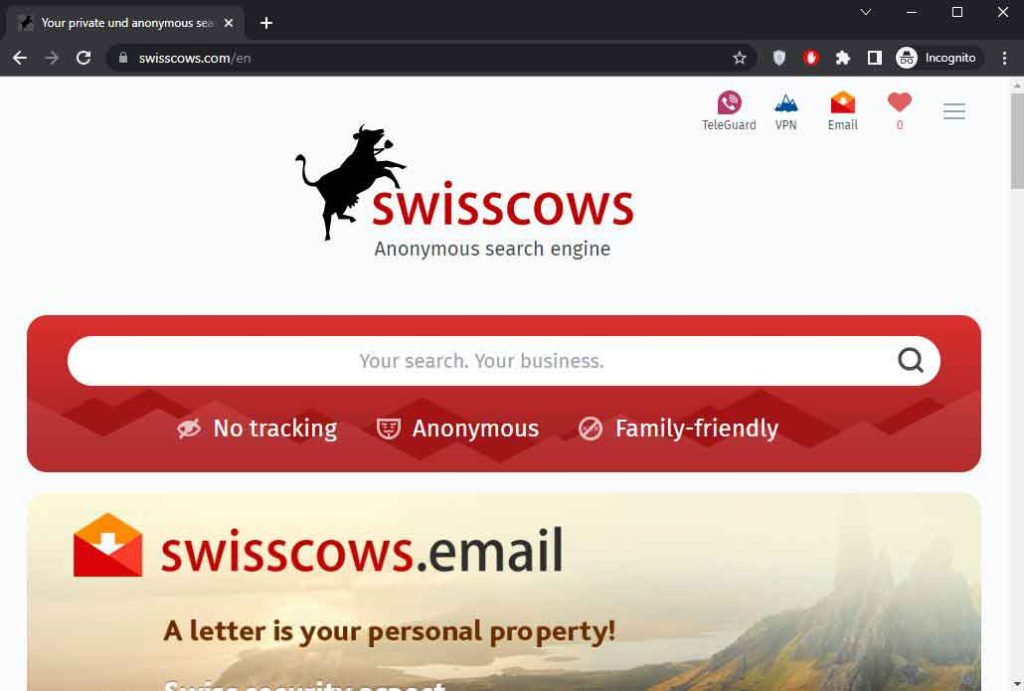 Swisscows is a reliable search engine for all your family members, focusing on maintaining your web privacy. Instead of showing search results from its database, it takes results from other mainstream search engines. It belongs to Switzerland, a privacy-friendly jurisdiction, and follows strict data protection laws that don't violate users' privacy. The search engine is among the best private search engines, and here are the reasons why:
It uses on-site encryption that hides your IP address, location, and search data.
It filters out adult content and allows children to browse the web safely.
The search engine uses AI and ML technology to protect the search engine from man-in-the-middle attacks.
It offers a modern and innovative interface that makes your search experience better.
There are a few concerns while using the Swisscows search engine. It has a shady privacy policy. Despite claiming not to keep users' logs, the search engine stores the data until they permanently delete their account. Besides this, Swisscows generate money via advertising. The ads are placed next to the search results, and upon clicking on the search results, the company earns money. A VPN and the best ad-blocker is recommended to maintain your privacy on Swisscows.
10. Yippy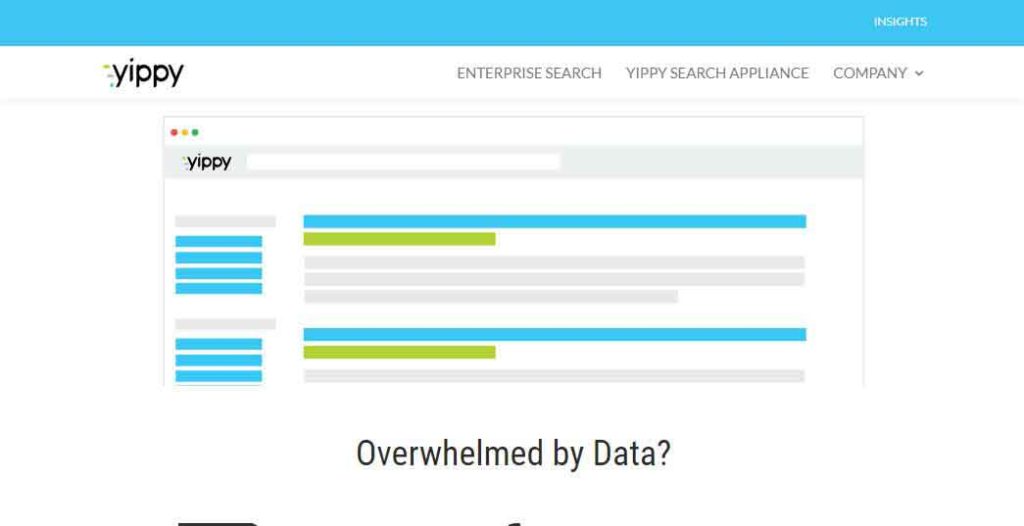 Yippy is also a private search engine that provides excellent search results and even helps bypass ISP and government surveillance. The company doesn't collect any data that can expose the users' real identity and thus is ranked as the best private search engine.
It offers incredible customization features that boost your user experience. Other than that, the search engine also comes with excellent features like:
You can filter results according to different categories and even mark inappropriate results.
It wipes out ads and ensures no one can track your browsing activities.
The search platform helps companies find and lock abandoned files to improve their document security.
You can even search for restricted content at a fast browsing speed.
It also offers field-level security for companies with IT networks and keeps their searches confidential.
It uses content connectors to find relevant search results.
11. Wolfram Alpha
Wolfram Alpha is the best private search engine that provides authentic search results to users. It uses a customary search engine, calculator, and an encyclopedia to provide short answers to various questions. The search topics are categorized into four categories, i.e., Society and Culture, Science and Technology, and Everyday Life, and cover subtopics and related searches.
The search engine is popular among users for having a user-friendly interface and impressive search results. Other reasons why Wolfram Alpha is the best search engine include the following:
It gives direct and more specific answers.
It can compute mathematical formulas to provide graphical and textual answers.
Dedicated apps and mobile versions are also available.
The search engine provides fast search results.
However, Wolfram Alpha comes with significant drawbacks. It provides answers to factual and phrased questions. Moreover, the search engine belongs to the US jurisdiction and tracks users' activities that distract users from using it. It also uses cookies, but you can tweak your browser settings and block cookies.
12. Discrete Search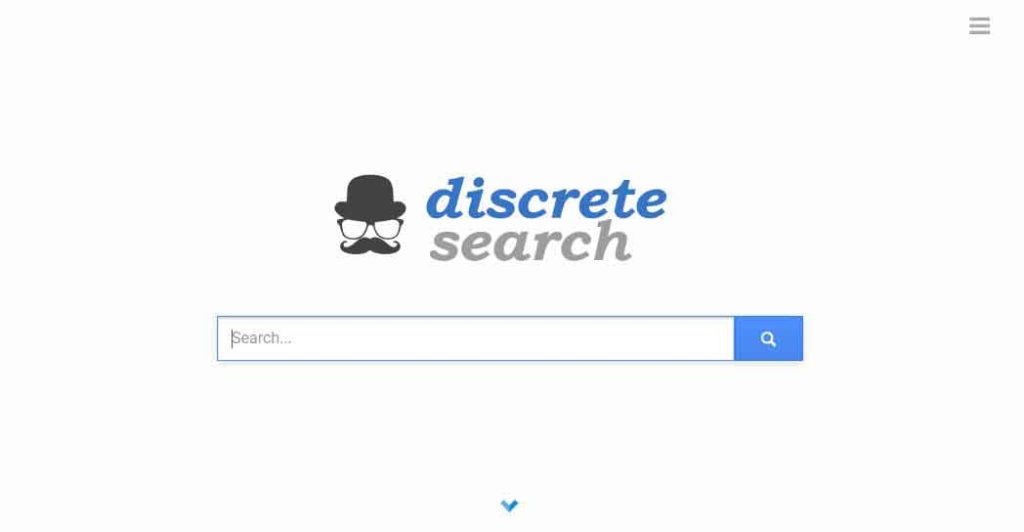 Discrete Search is a privacy-based search engine that helps hide your search history and improves digital privacy. It works like a metasearch engine that grabs results from other search engines instead of showing them. It has a clean interface and offers quick search results, making it the best choice among users.
The search engine offers the following features and thus emerges in the list of the best private search engines:
It uses SSL encryption and perfect forward secrecy to keep your searches private and maintain your privacy.
Your IP address and other uniquely identifiable information are never stored.
Discrete Search results expire after every 30 minutes of inactivity.
It doesn't use cookies to record users' data or site settings.
However, the search engine is supported by sponsored ads that you can see on the search result page. Also, it keeps aggregated search data error log data to improve product performance.
13. Ecosia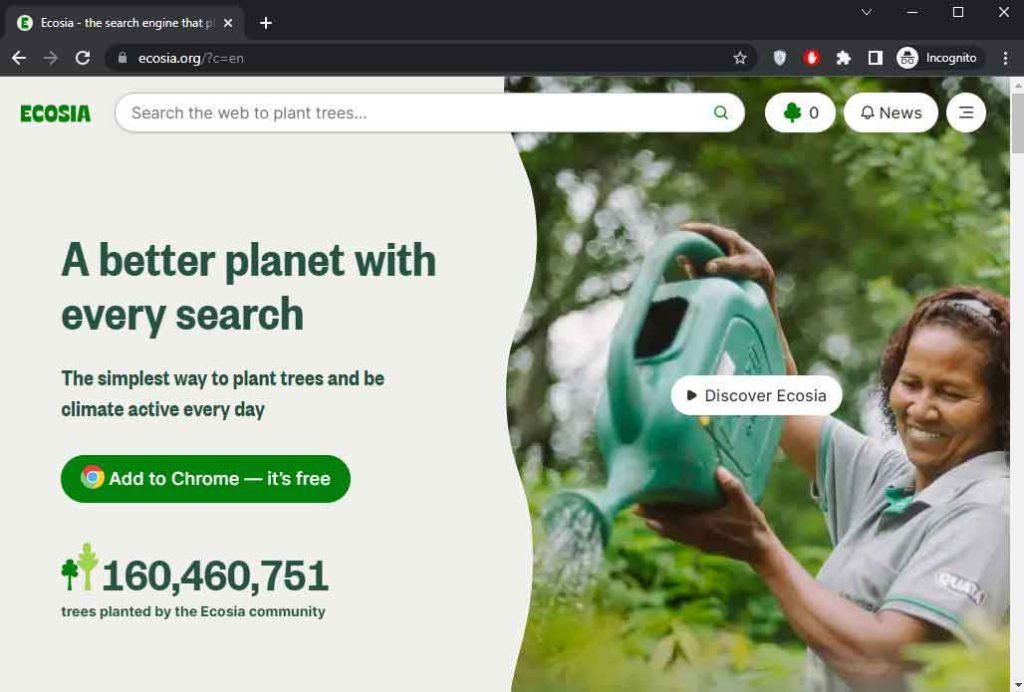 Ecosia is a famous private search engine that 15 million use in over 30 countries. It gives a familiar user experience of Bing and Google. The best thing about the company is that instead of giving all the revenue to the company, it donates the profits towards tree plantation initiatives across the globe.
It is the best private search engine to use because:
It anonymizes your searches and doesn't create user profiles.
It is a German-based search engine that favors users' privacy and thus doesn't log or share the data with anyone.
The search engine uses encryption to protect your searches and make you more anonymous on the web.
The company doesn't sell data to advertisers or third parties to earn money.
Ecosia doesn't use external tracking tools to track the users and their browsing activities.
However, according to the company's privacy policy page, they collect data to improve their searches. But if you're unsatisfied with it, you can configure your browser settings and enable the Do Not Track feature to prevent tracking.
You can use the search engine on all popular devices. It is compatible with Linux, MacOS, and Windows. Moreover, it also comes with a browser extension for Chrome, Firefox, and Safari to enhance your security while you browse the web.
14. Infinity Search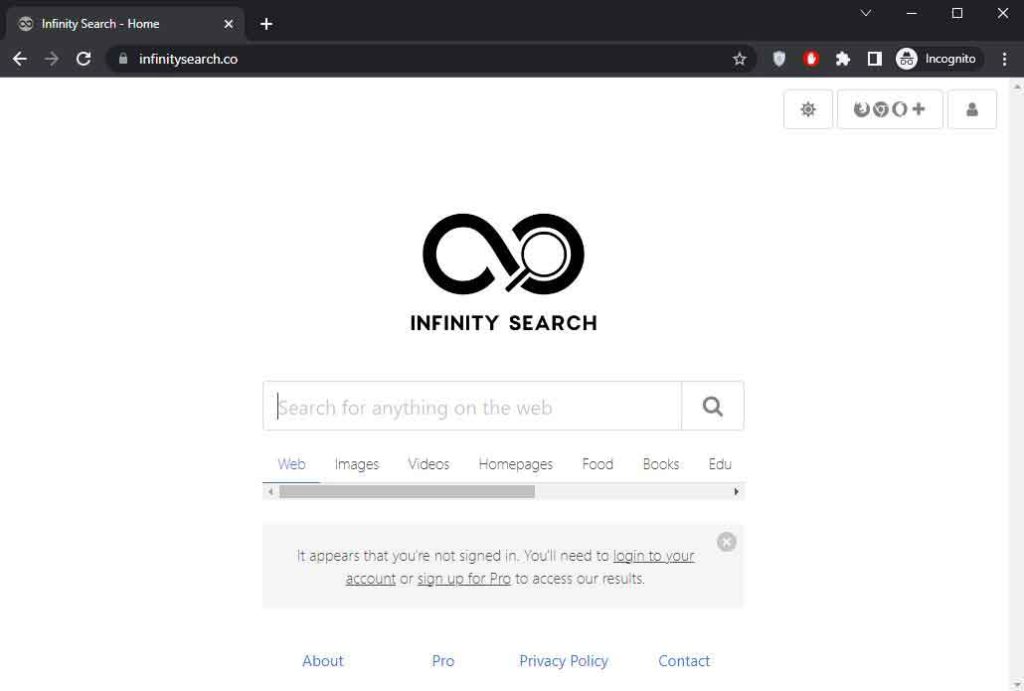 Infinity Search is the next best private search engine focusing on increasing privacy. It is a reliable search engine because it doesn't save users' search data or other identifiable information. It obtains search results from its indexes and other search engines and thus ensures quick delivery of results.
Besides this, the search engine offers excellent customization options. The interface is similar to Google. You can even filter out the search results according to your need. Infinity Search belongs to Oklahoma, a privacy-friendly jurisdiction, so there is no need to worry about your recorded or shared data.
It also offers a pro and business plan with added benefits, enhancing your browsing experience. If you subscribe to the premium plan, no trackers or ads will disturb you. But since it charges $5 per month, users stay away from using it.
15. Gibiru.com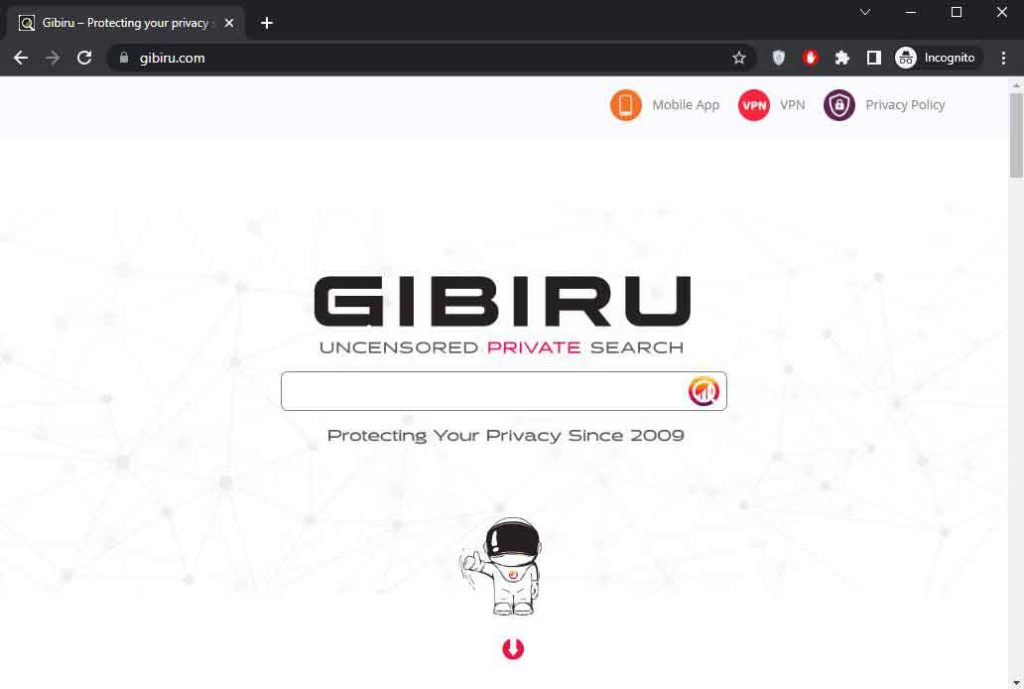 Website URL: gibiru.com
Gibiru is among the best private search engines with a tagline of unfiltered private search. It uses a proxy IP address that ensures more privacy and unbiased search results. The most impressive thing about Gibiru is that your search queries aren't saved, unlike other search engines. Once you finish the search, your queries and other related data are removed permanently.
Moreover, the search engine doesn't store nor sell your information to anyone. It also offers a mobile app and a VPN feature for added protection. The company is headquartered in the USA, so many people fear their data is logged. But since it follows a strict no-log policy, there's nothing to worry about. Also, there are no past events where Gibiru is accused of leaking users' data.
The search engine is a part of affiliate marketing and earns money via commission. It doesn't protect cookies, malware, and other related online threats. Thus, using this search engine is better than using a VPN provider.
16. Lukol.com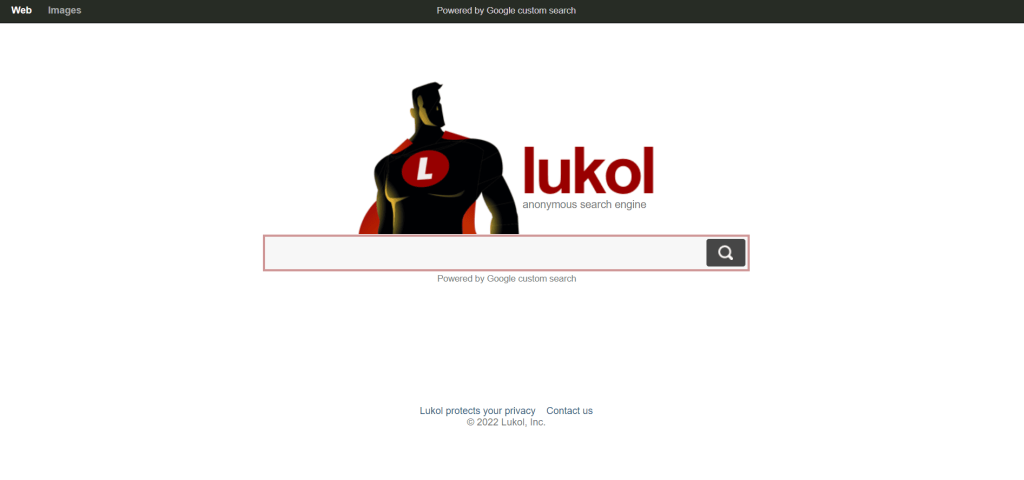 Website URL: lukol.com
Lukol is yet another perfect search engine for protecting your privacy. This is it if you're looking for an engine that retains almost similar results as Google search.
The search engine works in a pretty interesting manner. Contrary to communicating directly with Google, it uses a proxy in-between. For this reason, your search activity won't be availed to Google since traceable data is eliminated during the process.
Arguably, this is one of the best minimal private search engines with a single search box. Lukol doesn't hide the fact that it uses Google to provide results. However, it protects your data by using proxies.
Lukol has several likable features that give it an edge over other private search engines:
Delivers fast and relevant results
Uses proxies to communicate with Google, thus keeping your activity anonymous
Incorporates image and video search
Does not track your activity
It doesn't require any registration
One key drawback of this search engine is that it cannot filter search results. This might affect your browsing experience if you're used to utilizing filters.
17. Oscobo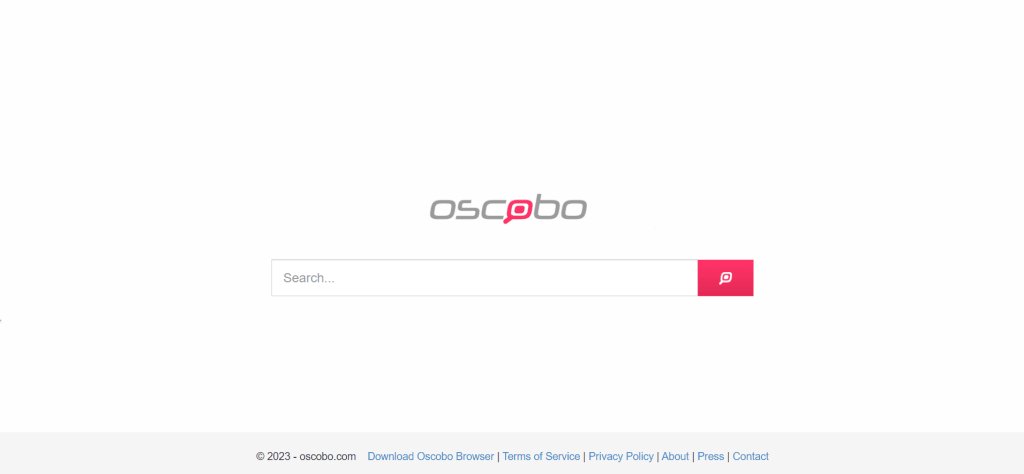 Website URL: oscobo.com
Oscobo has high regard for personal privacy, and that's why it's ideal for you if you want to protect your privacy and security. The search engine applies techniques to ensure your web activity is not tracked.
It does not ask for private information or engage in user tracking when surfing the internet. To achieve maximum personal privacy, Oscobo uses a robust encryption protocol that protects your private data.
Coming to the aspects of looks, this search engine undoubtedly steals the show. Moreover, you're sure that no third parties have access to your browser history.
Various aspects make Oscobo desirable. They include:
It's an entirely free search engine
It uses a minimal UI design for the best browsing experience
Search results are stacked in an ideal design
Despite its incredible features, there are a few concerns, such as the presence of ads. However, Oscobo shows ads that relate to your search query.
18. YaCy.net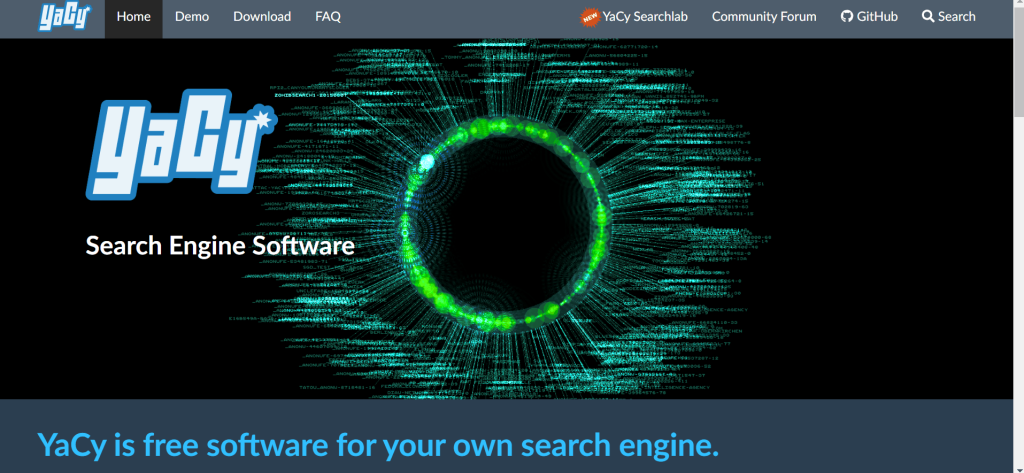 Website URL: yacy.net
Yacy search engine sets itself apart from other engines because it's based on peer-to-peer networks. The search engine uses a Java source code distributed across thousands of other peer computers. When you search on Yacy, the engine analyzes and indexes your results which are then saved into a common database.
The saved database or the index is then shared among the peers using a peer-to-peer network. Since the search engine is based on a P2P network, there is no single administrative device at the core of its network.
Here are some of the fantastic features of the Yacy search engine that makes your private browsing worthy:
The P2P networks are challenging to disable
P2P networks are highly scalable
Your results can't be quickly censored since the engine lacks a central server
There is no centralized advertising platform since the company uses a P2P network
However, despite having various benefits, Yacy is prone to malicious actors since it uses an open P2P network and lacks a central administrative point. In addition, the engine can be slow since its search results are verified on the client's device.
19. Mojeek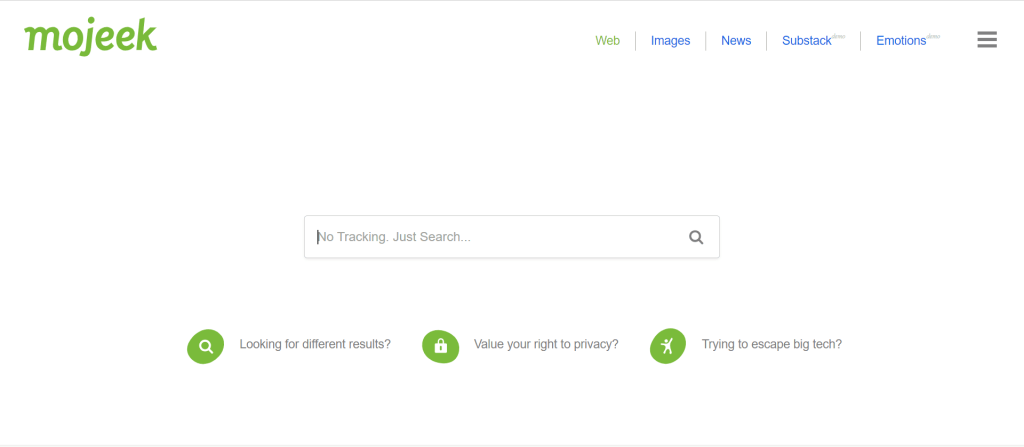 Website URL: mojeek.com
Mojeek is another best private search engines. It is a leading search engine with a different user experience due to its crawler-based functionality. There're several aspects that we like the most about this search engine. These include:
It doesn't rely on results from external search engines.
It crawls the internet by creating a proprietary index.
Interestingly, Mojeek doesn't track users thanks to its strict no-tracking policy.
When browsing the internet, you're confident that no cookies are stored on your device.
Third parties cannot use your data for advertising or building your internet profile.
Furthermore, Mojeek's private search engine doesn't store your IP address.
The search engine ensures no party can track or record your location by replacing your IP address with a 2-digit code showing your region.
These features make Mojeek one of the best search engines. However, the drawback of this engine is that it has a small search index that can result in sparse results. Therefore, you shouldn't expect refined results from this engine compared to other private search engines.
20. Brave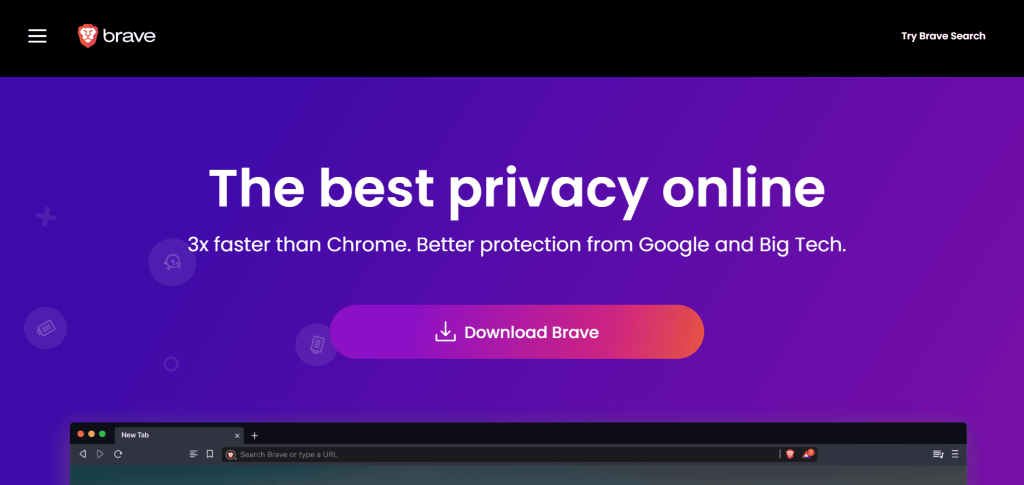 Website URL: brave.com
Brave is a prompt and fast privacy-focused search engine. While the engine sources its search results from other browsers, it's safe to say that it supersedes our expectations.
Furthermore, the browser-native VPN, among other privacy-based features embedded in its source code, protects your privacy and security. Brave can also block ads, ensuring you have the best browsing experience.
Some of the features that make Brave one of the best private search engines include:
Malware and phishing protection
Ad-blocking capability
Cookies blocking
Supports incognito windows
Cross-site trackers blocking
Anonymized network routing in Tor Mode
Bounce tracking protection
The only factor we consider a drawback is that Brave doesn't have its search results but instead relies on the results of other engines.
What to consider in a private search engine?
Before choosing a private search engine, there are specific minimum requirements that you should seek out:
Privacy policy: At the heart of every private search engine lies a privacy policy that guides its activities. When choosing a private search engine, check out the privacy policy details to understand its tracking activities and terms of usage.
Data handling practices: Before using a specific search engine, you should always familiarize yourself with its data handling practices. Look out for how it collects, stores, and shares user data to ensure your privacy and security are not at risk.
Search results: Besides protecting your privacy, you should also look for the best browsing experience. This is where search results come in. An excellent private search engine should be able to deliver quality search results from reputable resources. Additionally, examine whether the engine draws results from other search engines like Google or relies on proxies.
Additional features: Extra features give you extra functionality. The more features a search engine has, the better. Therefore, go for one with additional features such as advanced filters, search options, and customizable settings.
Reputation: No one is looking for a search engine that has a bad reputation. Therefore, when choosing one, do a thorough background check to ascertain any past incidents that might threaten your privacy and security.
Jurisdiction: The private search engine's origin or base is paramount. Some search engines might be located in regions with strict laws and policies that could land you into problems. Therefore, a private search engine in a privacy-friendly country or region is highly recommended.
Compatibility: Despite meeting all the earlier requirements, a private search engine might still be useless if incompatible with your device. Therefore, choosing a highly compatible search engine should be on your priority list.
Why use a private Search Engine instead of Google
A private search engine is the need of the hour. Unlike mainstream search engines, private search engines don't track and collect your search queries, location, source IP address, and unique identifier. They ensure a private browsing experience where you are not bombarded with unlimited intrusive pop-up ads. Moreover, your search results are not influenced by your previous search history.
Another exciting thing about the private search engine is that you're served with a few ads, but it's unrelated to anything you searched for a while ago. Besides this, there are some more benefits of using a private search engine:
It delivers authentic search results.
They offer an easy-to-use interface with customizable setting options.
It maintains your digital privacy by not tracking your searches and online data.
Reliable companies own them.
They don't use any cookies to gather your data.
Overall, using a private search engine is an excellent idea over other search engines. They provide enhanced security and privacy and make your overall experience worth amazing.
Are Private Search Engines Private?
Private search engines maintain privacy by not tracking your search queries and other data via browser fingerprinting. They offer excellent customization features and user experience. The best thing about these search engines is that they don't log or share your browsing activities. Moreover, most offer on-site encryption, which isn't enough to make you 'completely private.
The encryption these search engines provide is limited, so you are still vulnerable to online spying. Besides this, some search engines might belong to a jurisdiction subject to mandatory data retention laws, so; they won't make you wholly private.
However, you can get maximum anonymity over the web by using a VPN and these private search engines. A VPN's encryption feature wholly encrypts the data traffic and makes it impossible for anyone to track back your activities. Also, a legitimate VPN provider doesn't log or share your online data, strengthening your digital privacy. Hence, use a VPN with a private search engine and get completely private.
What if Someone wants to use Google Search Engine?
Despite collecting and sharing users ' data with third parties, Google remains one of the most popular search engines. More than four million people prefer to use Google as their default search engine because of its impressive search intent and personalization features. The Google server stores many users' data on its servers and shows relevant results per users' demand.
However, it is undeniable that Google collects sensitive data, like your IP address browsing history, and even sells it to advertisers without your consent. After knowing if you still want to use Google Chrome, using it with a VPN provider is suggested. It will change your IP address and encrypt the data traffic before redirecting it via a remote server. You can also prevent ISP tracking and boost your digital security using a VPN.
Can you use Incognito Mode for privacy?
The simple answer is no. Browsing in incognito mode won't protect your data because your ISP, websites, and search engines can still see your IP address and what you're doing on the web. When you use the private/incognito mode, it doesn't store cookies, autofill information, and session and browsing history. But your IP address is still visible, so you're close to online tracking.
How to change the default search engine on your browser?
If you've decided to migrate to one of the private engines discussed above, you can do so using the following steps:
Google Chrome
Follow these steps to change the default search engines on your Google Chrome:
On the upper right corner of your browser, click the three dots
Select 'Settings' from the pop-up menu
On the subsequent screen, select 'Search engine.'
On the drop-down menu in the search engine used in the address bar section, choose your preferred engine from the ones appearing, e.g., Yahoo, Google, Bing, DuckDuckGo.
If none is your preferred engine, proceed to the next step.
Go to manage search engines and select 'Add.'
Complete the required sections on the 'Edit search engine' page. In the following instance, we are including 'Startpage.' Input the search engine's name in the 'Search engine' field. Enter the text shortcut you intend to utilize in the address bar in the 'Keyword' field. Lastly, substitute the query in the search engine URL with '%s' to obtain the desired URL. To obtain this URL, search using the search engine and then substitute the search term with '%s' (excluding the quotation marks).
Click 'Save'
The new search engine has successfully been added as an option under 'Manage Search Engines' and 'Site Search.'
Click the three dots beside the new search engine to make it the default.
Mozilla Firefox
Here are the steps to changing your default search engine on Mozilla Firefox:
On the right-hand corner of your browser screen, click the Hamburger icon
Select 'Options,' then click on 'Search.'
Under the 'Default search engine,' various options exist, such as Wikipedia, eBay, Google, DuckDuckGo, and Bing. If you wish to use any of those engines, select and click 'Done.' If you want a different engine, proceed to the next step
Go to One-click search engines located in 'Search.'
Select 'Find more search engines.
On the Firefox add-ons page, enter your preferred search engine.
In the resulting list, select the search engine and click '+ Add to Firefox'.
A pop-up will appear; select 'Add' to confirm.
Another popup will appear, asking you to confirm the new search engine as default. Click 'Yes'.
If you miss the popup, go to the 'Options> Search> Default' search engine and select your new engine as the default.
Microsoft Edge
To change your default search engine on Edge, follow these steps:
Visit your preferred search engine homepage.
Click the three dots in the upper-right corner.
Go to 'Settings> Advanced.'
Click 'Change search provider' under the 'Address bar search.'
The search engine you visited will show up as 'discovered.'
Select it and click 'Set as default.'
iOS (Safari)
Here're the steps to change your default search engine on iOS Safari:
Safari comes with DuckDuckGo as the only built-in additional search engine and doesn't allow adding other engines
If you want to make it the default search engine, Go to 'Settings> Safari,' select 'Search Engine,' then click 'DuckDuckGo.'
However, you can add your preferred search engine to the home screen.
Go to the homepage of the search engine you wish to add.
Click the share button and select 'Add to the Home screen.'
To use the new engine, go to the home screen and select it instead of opening Safari.
Android (Chrome)
To change the default engine on your Android Chrome browser, follow these steps:
Open Chrome and Open your preferred search engine.
Perform a search.
Click on the three dots menu located in the upper-right corner.
Select 'Settings'.
Click 'Search engine' under 'Basics.'
The search engine you used to perform a search will appear as an option
Select it from the list to make it the default
How to delete your Google search history?
If you've resolved to switch to a more private browsing experience, you should consider deleting your past search history. You can delete the data collected, but Google will still retain some information. For instance, your search terms will be erased, but what you searched will remain logged on Google's end.
Regardless, if you want to clear most of your browsing data, follow these steps:
On the 'My Activity page,' select 'Delete Activity by.'
A popup will appear asking which period to erase your activity for.
Select the preferred time and confirm 'Delete.'
A new popup will appear, showing 'deletion complete.'
You can also go to Settings> Your data in search> delete your search activity.
However, if you continue using Google, they will keep collecting and storing your data. Therefore, you might want to turn off your activity via the My Activity page. Click on 'Change setting' and click 'Disallow tracking' via Chrome and websites that use Google services. You can also choose how long you wish Google to store your activity, after which it is deleted automatically or until you erase it manually. You should also disallow Google from saving voice recordings and audio inputs for Google speech services. Additionally, toggle off the Web & App Activity option.
Tips to Keep Your Searches Private?
You can search everything on search engines like Google and Bing, but you must compromise your digital privacy. Since mainstream search engines are data collection tools, they keep records of your searches and browsing activities. It is a clear violation of your privacy to keep your data secure and to browse the web privately; here are a few tips that you should follow:
Use private search engines. Using any of the best private search engines, you can protect your data and searches from online tracking and won't let third parties target you with personalized ads.
Use a secure browser. Like you need to use a private search engine; similarly, it's better to use a secure web browser. It increases privacy by not logging your browsing activities and even helps eliminate trackers, cookies, and browser fingerprinting attempts.
Subscribe to a VPN. The following important measure you need to take is to start using a VPN and private search engines. A VPN encrypts your data traffic and hides your online identity leaving no room for snoopers to spy on your activities.
Use a reliable ad-blocker. Pop-up ads are the most frustrating thing that you experience while browsing. However, these ads are displayed because advertising companies have your data that includes your likes, dislikes, and preferences. Most of the time, these ads can be malicious and harm your device with malware and viruses. Using an ad-blocker can stop such ads from ruining your browsing experience.
Following the tips above, you can keep your searches and online identity private and browse the web however you want.
Still, want to use Google? Consider a VPN
If giving up Google for a private search engine is still not an option, we highly recommend using a reliable VPN. It will protect you from all Google and other third-party tracking.
When using a VPN, your web traffic will be encrypted with the standard AES 256-bit encryption, making it untraceable by ISPs, government authorities, and cyber criminals.  A VPN will add extra protection that hides your IP address by tunneling your connection through secure servers.
Therefore, your IP address will not be revealed to Google; neither will Google be able to tell your web activity, thanks to military-grade encryption. Most premium VPNs also offer ad and malware blocking, which comes in handy to prevent malicious trackers from being installed on your device.
Generally, a VPN will protect you from much of what Google does. But the sad thing is that Google has always been vague about what information they collect and how they use it. So, your best bet is to consider a private search engine and add a VPN as an additional layer of protection to your browsing activity.
How to use a VPN with your private search engine?
Using a VPN with your private search engine is relatively easy using these 3 steps:
Get a reliable VPN: We recommend ExpressVPN as it has robust privacy and security measures for your ultimate protection.
Select a nearby server location. This ensures you get the best speeds for faster browsing and downloading.
Enjoy browsing privately: Go to the homepage of your preferred private search engine and surf without being tracked.
Best VPNs to use with a private search engine
ExpressVPN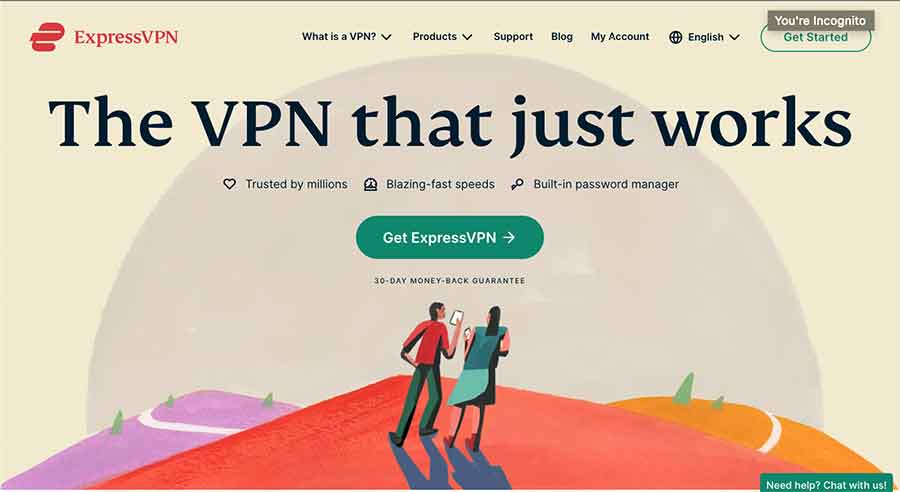 Over 3,000 servers in 94 countries to unblock geo-blocked websites
Supports up to 5 devices simultaneously
A no-logs policy
An automatic kill switch
Fast speeds to bypass ISP network throttling
Works with Ecosia, Swisscows, DuckDuckGo, MetaGer, SearX, Qwant, Startpage, etc.
Supports popular platforms: Android, Windows, MacOS, Apple TV, iOS, routers, Linux, etc
30-day money-back guarantee
ExpressVPN has a TrustedServer technology that clears your data whenever you reboot your server. Also, the VPN has a strict no-logging policy to ensure your private information doesn't fall into the wrong hands when browsing.
It uses AES 256-bit encryption, a reliable algorithm that has been standard among government agencies and the military. An automatic network kill switch button also disconnects your connection to prevent your data from being accidentally exposed when the VPN connection drops.
Additionally, ExpressVPN boasts impressive connection speeds thanks to its over 3,000 servers spread across 94 countries globally. This extensive global network allows you to unblock geo-restrictions across different regions seamlessly.
The user-friendly apps make setting up and using the VPN quite easy and fast. Furthermore, it supports popular platforms such as Android, MacOS, Windows, Apple TV, iOS, routers, and Linux, giving you greater flexibility.
If you're also new to the VPN, it allows you to use it for 30 days, upon which you can request a refund if you don't like the service. This can all happen via the support team since they're pretty responsive on email and live chat.
Pros
Super-fast speeds
Wide server network
Strong geo-unblocking capabilities
Highly compatible with different devices
Cons
Doesn't support ad blocker
2. Private Internet Access (PIA)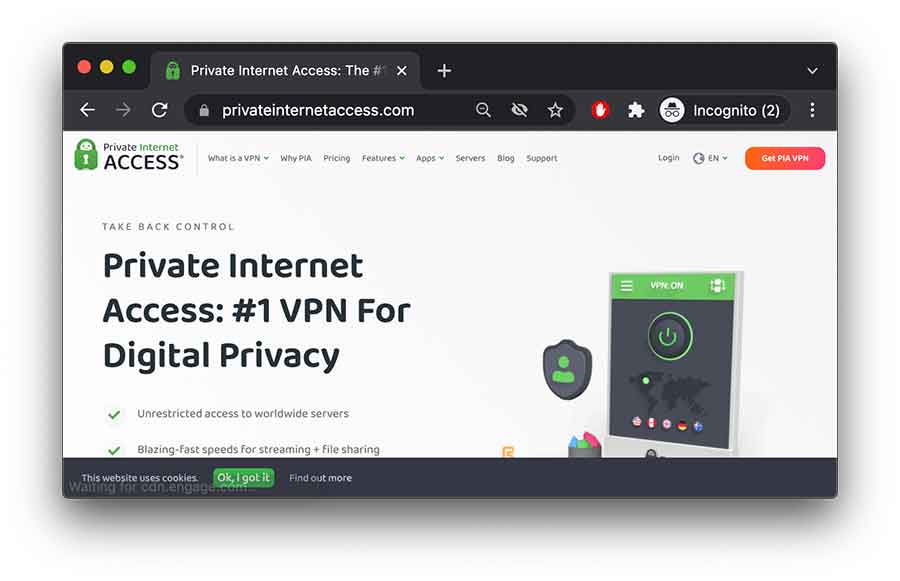 Over 29,650 servers in 84 countries
Protects unlimited devices simultaneously
A strict no-logs policy
WireGuard protocol and Open VPN
AES 256-bit encryption protocol
Automatic network kill switch
IP/DNS leak protection
Works with popular private search engines, including DuckDuckGo, Ecosia, SearX, Qwant, Yandex, etc.
Compatible with Android, Windows, MacOS, Apple TV, iOS, routers, Linux
PIA's advanced encryption improves your online privacy. You can never go wrong with the AES 256-bit encryption protocol. The speed is relatively good compared to other VPNs, so you're sure of a smooth browsing experience.
To even boost your privacy further, PIA uses a WireGuard Protocol, OpenVPN, and IP/DNS leak protection. So, when you use this VPN with private search engines, you can be sure of ultimate protection from data harvesters.
Ad and malware blocking is quite a selling point for Private Internet Access. The VPN blocks the popular domains that trackers, malware, and ads use. As such, you can browse without the fear of intrusive ads or exposing your private data.
When testing the VPN, we were relieved by the 100% no logs policy and the automatic kill switch. The two features will help conceal your location and ensure your internet activity remains private.
Similar to ExpressVPN, you have the chance to test PIA under a money-back guarantee policy. Also, getting a refund is hustle free. You only need to contact the support team via live chat or email within 30 days, and a refund will be initiated promptly.
Pros
A strong encryption
Supports ad and malware blocking
24/7 customer support
Supports unlimited simultaneous connections
Cons
Slow speed on some servers
3. ExtremeVPN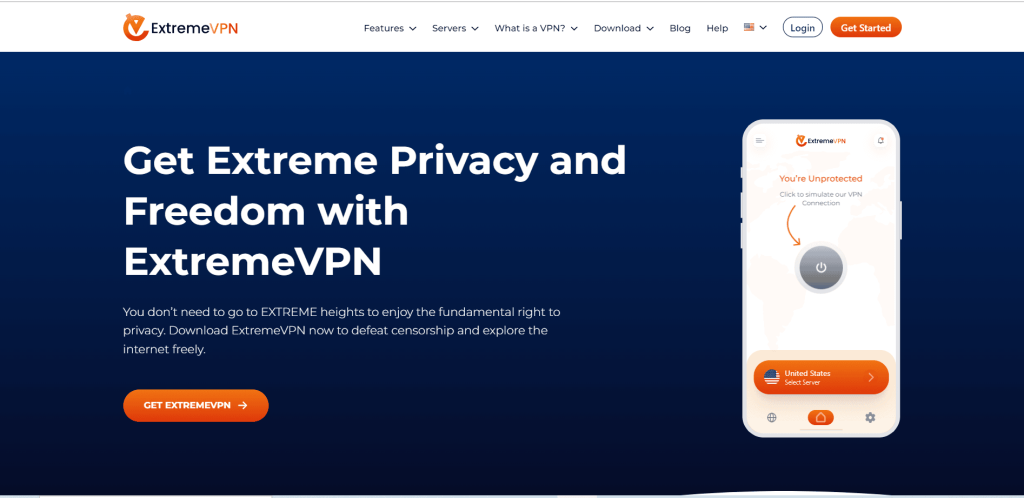 Over 6,000 servers in 70+ countries
No-logs policy
AES 256-bit encryption
Kill switch
Dedicated IP address
Split tunneling
Email and live customer support
Compatible with Android, Android TV, Windows, Apple, Linux, Chromecast, Roku, Amazon Firestick TV, routers, Kodi, Xbox, PlayStation, and more
Supports popular private search engines, including DuckDuckGo, and Searx.me, Search Encrypt, Swisscows, Qwant, Startpage, Yippy, etc.
ExtremeVPN is a robust VPN in the market right now. It boasts premium privacy and security features ideal for maximum online protection. Although a newcomer in the industry, some key features, such as a kill switch, no logs, and a wide variety of servers, make ExtremeVPN one of the most formidable services.
You don't need to have cold feet in case of accidental network failure. The automatic kill switch covers everything and cuts your connection to avoid exposing your identity. Moreover, the no-logs policy also goes a long way to ensure that the provider retains no identifiable data. As such, third parties can't access revealing information such as IP address, browsing history, or any other web activity. With the dedicated IP address, you can take your privacy game up a notch. This feature lets you stay anonymous when browsing by securing your remote access and transferring peer-to-peer networks. Significantly, this feature limits how your IP address is shared.
Pros
Highly compatible with multiple devices and operating systems
Wide variety of server networks
No logs policy
Offers a dedicated IP address
Cons
Some features won't work with WireGuard
4. NordVPN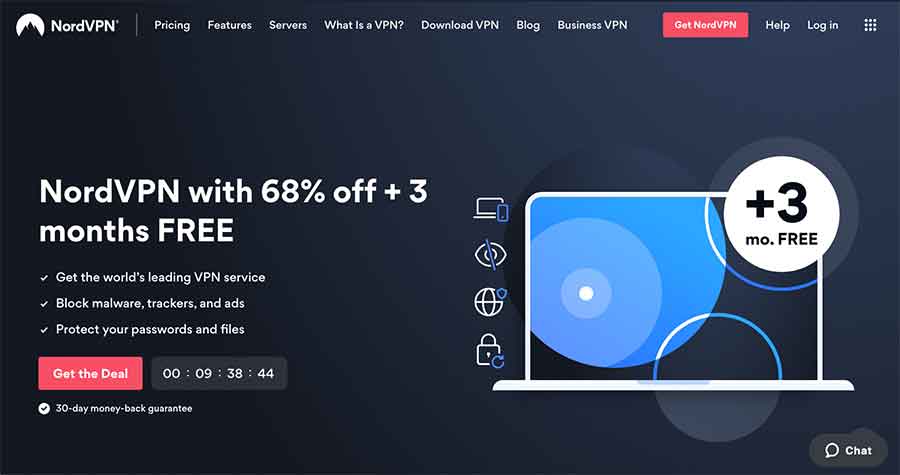 Over 5,000 servers in 59 countries to enjoy fast and reliable connections
Peer-to-peer optimized servers
Supports up to 6 simultaneous devices
A network kill switch
Ad and malware blocking
No logs policy
Uses AES 256-bit encryption
Compatible with: Windows, Android, Apple TV, Mac, Ios, routers, etc.
Works with DuckDuckGo, MetaGer, Yandex, Startpage, Disconnect Search, Searx.me, and more
NordVPN is one of a kind when it comes to private browsing. The VPN offers built-in ad and malware blocking and doesn't keep logs for maximum privacy. With this VPN, websites load faster since no ad pop-ups appear on search results that typically consume your bandwidth.
The speeds are also impressive thanks to its vast network that lets you switch to nearby servers with less latency. Also, geo-unblocking capabilities are impressive, as you can access blocked websites from anywhere worldwide.
NordVPN integrates an automatic kill switch, a no-logging policy, and strong AES 256-bit encryption to improve your anonymity and reinforce your online protection. With these features, you're safe on any device you surf, be it Windows, Android, iPhone, Apple TV, Mac, etc.
Furthermore, NordVPN supports a variety of private search engines. So, whenever you feel like switching across search engines, you're sure that you'll always stay protected.
Pros
Supports unlimited bandwidth for seamless browsing
High geo-unblocking capabilities
Excellent speeds
Support P2P connections
5. Surfshark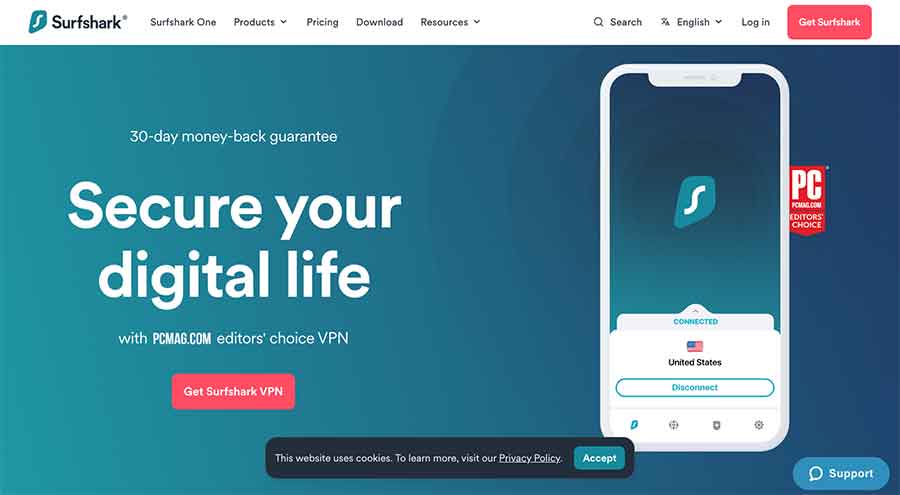 Over 3,200 servers in 65 countries
CleanWeb
Automatic kill switch
OpenVPN, IKEv2, and WireGuard Protocol
Unlimited device connections
No logs policy
Supports Windows, Android, Ios, macOS, and smart TVs
Works with DuckDuckGo, Yandex, Startpage, Disconnect Search, MetaGer, Searx.me, and more
Surfshark is a good VPN if you're looking for a pocket-friendly option for secure browsing. The provider boasts top-notch privacy and security with a strict no-logs policy and automatic kill switch.
What sets this VPN apart from other popular providers is its extensive number of servers. Unlike free VPNs and other mid-range VPNs, Surfshark offers you over 3,200 servers spread across 65 countries. This is quite impressive for its price since you can use different server locations for different browsing needs.
When you need to go private, you only switch to a less congested server network and enjoy seamless browsing with ultimate protection.
The advanced protection protocols, including IKEv2, OpenVPN, and WireGuard, make Surfshark fast but also secure and reliable. With unlimited simultaneous connections, you're good to go if you want to connect all devices in your household to one VPN profile.
Pros
Budget-friendly
Unlimited simultaneous connections
Relatively good antivirus protection
Fast speeds
Cons
Clunky support for torrenting
Conclusion
Considering the risks posed by Google and other standard search engines, it has become imperative to use private search engines. These search engines keep your search data private and don't track you back. They also come with privacy and security-centric features that make your browsing experience worth amazing.
Since the private search engine doesn't encrypt the data, you can still get tracked. But, by using a reliable VPN provider, you can overcome this problem. A VPN provides end-to-end encryption; no one can spy on your activities using a private search engine. So, consider using the search mentioned above engine and enhance your digital privacy.
FAQs
Yes. Private engines will use your data but only for the intended purpose. Unlike Google, private search engines won't store or track your web activity. We recommend going through privacy policies to understand which data they use.
Yes. They're completely safe. However, check the local laws since the US has strict data-sharing policies. Sometimes, the government may authorize the companies to collect and share user data with them.
Private search engines make money via contextual advertising, crowdfunding, donations, partnerships, and affiliate programs. You can always check the privacy policy to understand their revenue streams.
Share this article
About the Author
Zehra Ali is a Tech Reporter and Journalist. She has done her Masters in Mass Communication. Topics related to cybersecurity, IoT, AI, Big Data and other privacy matters are extensively covered by her on various platforms. You can follow her on twitter.
More from Zehra Ali
Related Posts