A Quick Overview Of ExtraTorrent Alternatives & Working Mirror Sites
The best Torrent search engines work to provide reliable torrent links. But torrenting experience is always hindered by ISP throttling, geo-blocks, and other privacy and security issues. Therefore, to ensure safe and reliable torrenting, it is best to use the best VPN for torrenting, such as NordVPN, which offers dedicated torrenting features.
Torrenting with your original IP address can cost
low-speed Internet speed
, called
ISP throttling
. And ISP Monitoring can lead to you
DMCA notices
and fines. It also threatens your online privacy and security by inserting malware into torrent files. By using
Torrent compatible VPN,
you can avoid all these issues and get the
fastest downloading speed
.
If you're looking for more torrenting sites for downloading 4k Movies, Games, or shows, look at the 21 best torrent sites.
Finding the best torrent file might be a hassle because torrent sites are open platforms where anyone can upload almost anything. Moreover, with several mirror sites springing up, finding reliable torrent sites that guarantee the best and most reliable torrent files may take time and effort. Amidst this, a torrent search engine is a valuable tool that helps find the best and most reliable torrent files you might be searching for. From movies and TV shows to books and other important documents, torrent search engines are a reliable way to search for torrents.

But what exactly is a torrent search engine? Like what its name depicts, a torrent search engine is a platform that helps find reliable torrent links for users to download. These torrent search engines have a dedicated search bar and categories of sites, allowing them to provide reliable torrent sites for users. But with most torrenting sites and search engines shutting down, finding a reliable torrent search engine is hard. Therefore, this article will help explore a list of options for some of the best torrent search engines in 2023.
What is a Torrent Search Engine, and is it safe to use?
The torrent search engine is a search engine that offers search results for torrent queries. These search engines collect data from a wide range of torrent sites and provide relevant results in downloadable torrent files and magnet links in response to a search query.
While most torrents available on torrent search engines are safe, users must not ignore privacy and security while using torrenting. Since torrent sites are open-sourced platforms, there are chances of anyone uploading malicious torrent files, which can infect your device. Apart from that, when joining a torrent swarm, there is always the risk of privacy breaches since everyone can see your IP address and track you. Therefore, it is best to use a reliable VPN and ad blocker to ensure safe torrenting.
1. Torrentz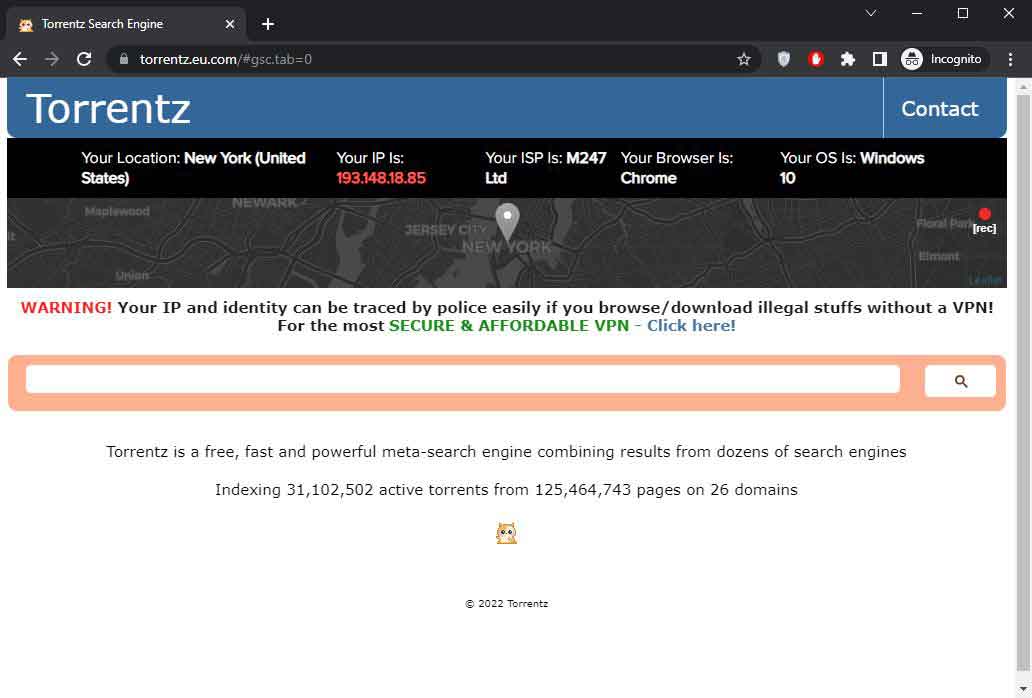 One of the most reputable torrent search engines, Torrentz, works to provide reliable torrent links. It is a metasearch engine that provides fast results by gathering relevant links from other torrent search engines. Moreover, it also has a dedicated search bar that indexes torrents from over 90 torrent websites. Users can use it to find relevant torrent files.
The main interface is sleek and straightforward, making it easy for intermediate to beginner users. The site offers a wide range of content from movies, music, games, software, anime, and web series. The
One of the most prominent functions of this website is it utilizes search inquiry to index torrents from more than 90 torrent websites. The site regularly hosts millions of users due to its reliability.
This torrent website is one of the few sites that value users' online privacy. It has a strict policy of not collecting user IP addresses, allowing them to download files safely. Torrentz also disables all the pop-up ads to make the site more secure and user-friendly.
However, like other torrent sites, this site is also under fire due to copyright issues and has to change its domain name to stay around continuously.
2. AIO search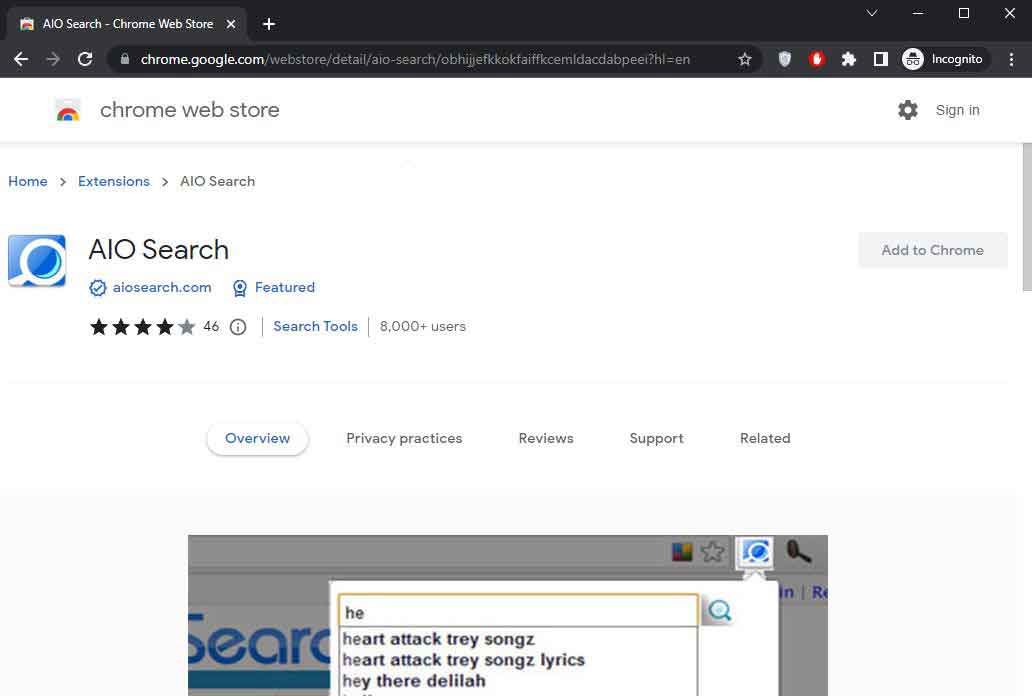 AIO Search is a unique and user-friendly search engine with a reputable name in torrents. The website has a sleek and friendly user interface and is available as a Chrome and Firefox downloadable extension.
Apart from that, the website also provides a reliable torrent search experience. It has a dedicated search bar allows users to filter results based on categories ranging from torrents, subtitles, images, videos, streaming websites, and much more. Apart from that, the website also has some advanced search options known as the Search Cloud feature. The feature allows users to click on a term from a word cloud and have thousand of search results within seconds.
However, the feature that stands out the most is the beginners' tutorials at the start of the website. The tutorial helps newbies understand the website better.
AIO Search is a reliable torrent search engine that provides super-fast speeds and quick, reliable results. The only downside to this search engine is the number of pop-ups it shows, which can harm your privacy; therefore, it is best to use it with a reliable VPN for torrenting.
3. Snowfl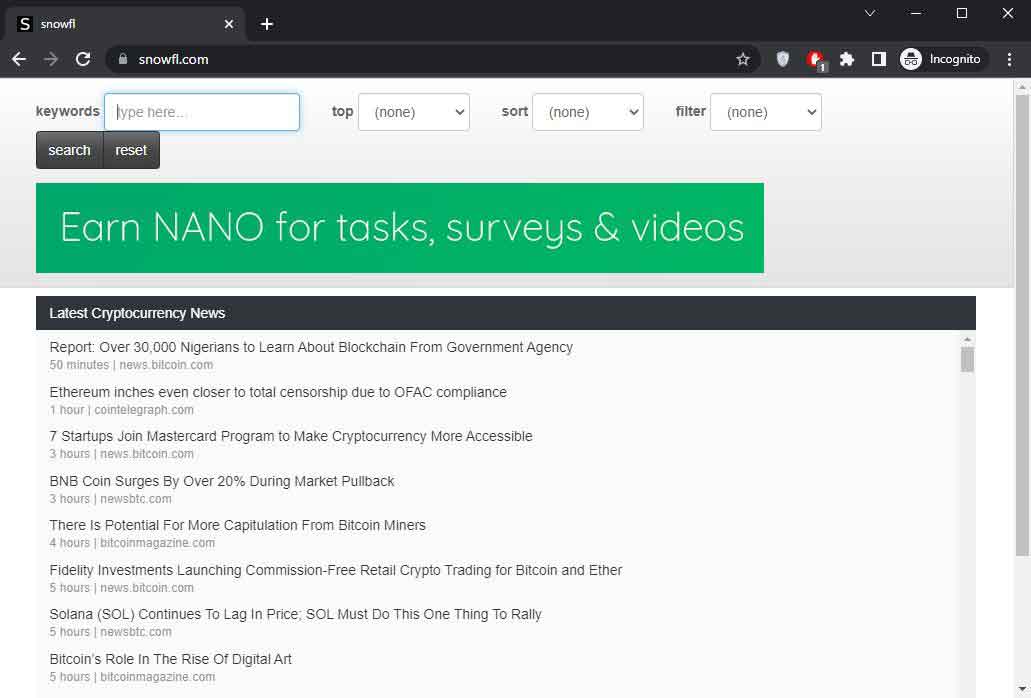 Snowfl has made it to this list primarily because of its reputation as one of the most promising sites. It is a torrent aggregator that goes through various publicly available torrent files to deliver the best and most relevant results to its users. It shows results with complete details containing the number of leeches, seeds, size, type, source, site, and age.
The site has an enjoyable interface which makes it easy to navigate, and a night mode option. It allows first-time torrent users to download torrent files easily.
Moreover, visitors can type the keywords on the search bar, filtering out the results according to the age of the torrent file and torrent size for more specific results. Additionally, visitors can download the torrent file directly using the magnet link bar.
The best part of the website is there is no interruption on the homepage, which makes it user-friendly. Additionally, all results on this site are numbered, unlike other torrent search engines, which makes it simple to go back and find your choice. However, the website does show occasional ads; therefore, it is better to use it with a reliable VPN and an ad blocker.
4. TorLook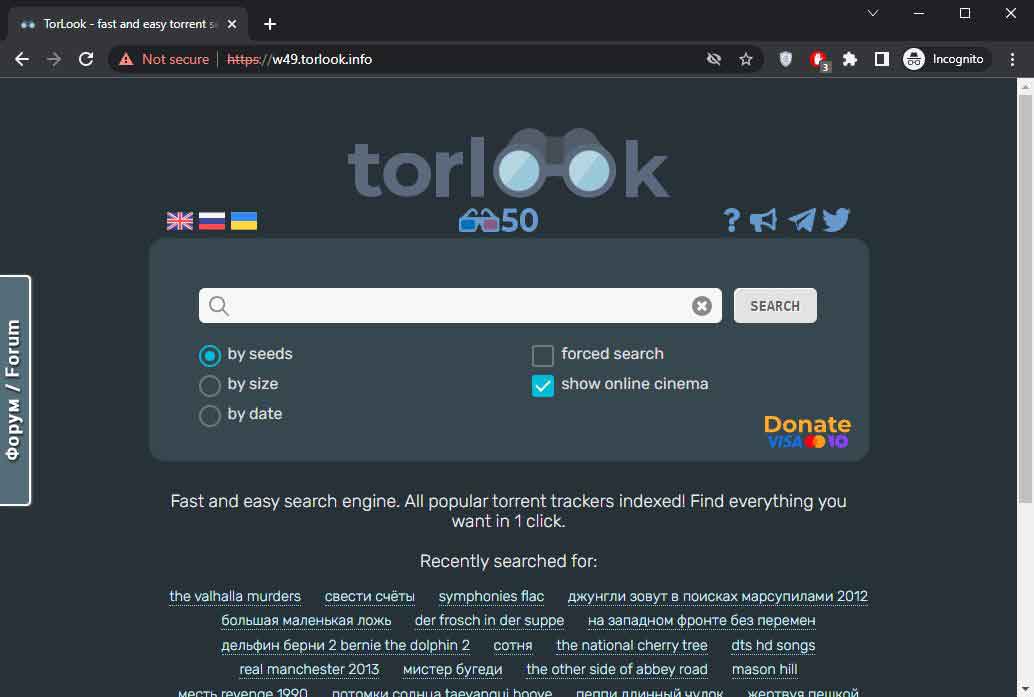 Torlook is one of the best search websites for safe torrent downloads. It has a unique function of paying 1$ to its users for reporting every fake torrent, which shows its concern to its users.
The website is user-friendly and provides a range of content like eBooks, anime, and movies in its search library. Its homepage shows the most recent and most famous torrents from each category. Not only that, but it is also a well-founded website because it still uses an original domain name that shows authenticity.
However, the latest categories are copyrighted, meaning downloading is illegal and can also result in DMC fines.
This website also presents all the file specifications for every torrent, including the seeders, upload date, file size, and health. The website will also show a torrent containing all your search items when you look up a torrent.
5. IDope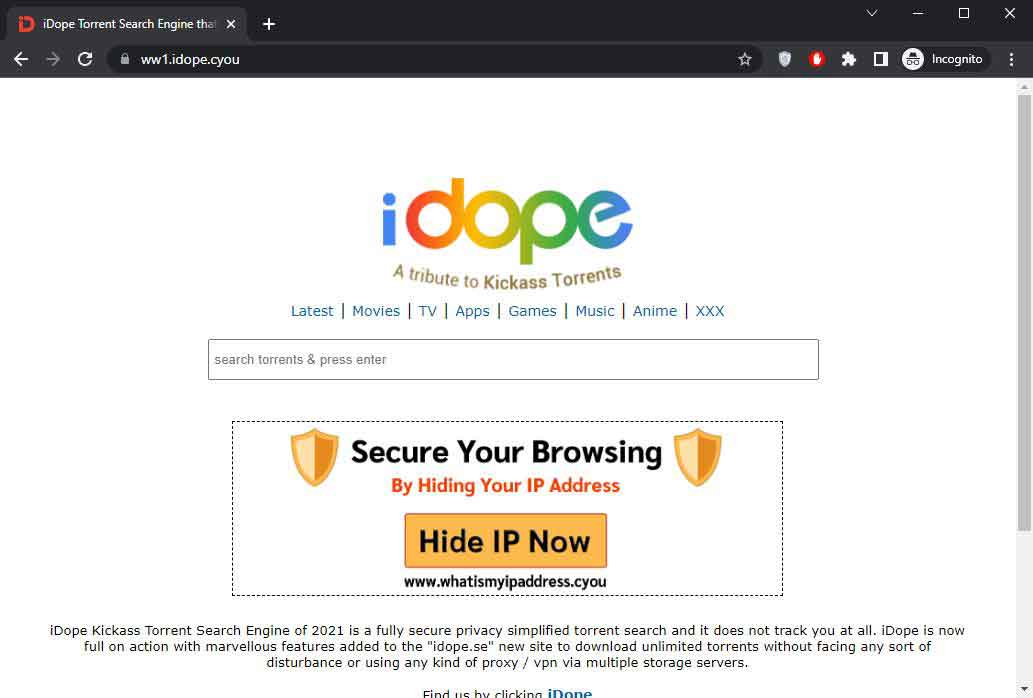 Idope is yet another one of the best torrent search engines. It extracts content from all popular torrent sites and allows single-click access. Besides its website, Idope has a dedicated android app and many browser extensions for easy access.
This torrent search engine provides over 18 million P2P files and direct magnet links. It has an uncomplicated and simple UI and interface, providing a mobile-friendly version of this site, and making searching more user-friendly and pleasant.
One of the most significant features of this torrent search engine is that it values user privacy and promises not to track users' activity. Other than that, the website is committed to showing no pop-up ads while searching this website.
Users can conduct torrent searches: Exact Search, Full Search, and Multi Search. The Exact Search options allow a user to search for types of words precisely without any variation. The Full Search option will enable users to search torrents from the central server containing seeders and peers and upload reliable contributors. And the Multi-Search options provide users with related search results that appear along with what users have searched.
6. YTS
YTS is the highly recommended site for good quality movies, with over 75 million users. The site has a well-built interface which makes the surfing option pleasant.
Moreover, it contains almost 30,000 titles, including subtitles, tech specs, synopsis, IMDB rating of the film, similar films, and pictures. The content on this site is available in 1080p. It allows users to download movies in various resolutions depending on their preferences. Users can also request different types of content.
But the site is currently under the radar for several copyrights, which raises the concern. Also, websites contain pop-up ads, which makes it disturbing to use; however, the amount of ads has been reduced over the years.
Nevertheless, even the small number of ads is a matter of concern. Therefore, it is crucial to use a reliable VPN and adblocker while using this torrent search engine.
7. Solid Torrents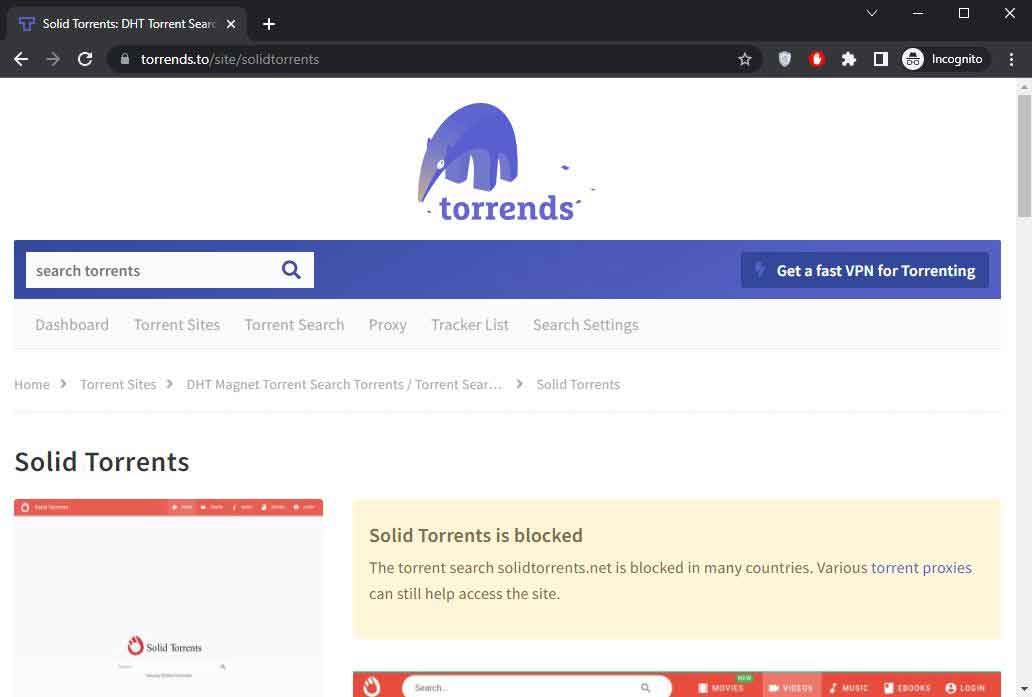 Solid torrent is one of the most prominent torrent engines because it shows users essential information before downloading. The homepage of this torrent site has a search bar at the top with other torrent categories such as; eBooks, music, videos, etc.
This torrent search engine is an easy yet feature-rich site where users can explore various public torrent indexes in current times. It is notorious for being the fastest torrent search engine so far.
When users search for torrents, the results will appear quickly from the 30 million-plus indexed database. The website also presents users with relevant magnet links for direct downloads.
While the site is relatively good, one significant drawback is that it displays casual advertisements. Although most users might brush them off, it is best to remain vigilant and ensure security with a reliable adblocker.
8. Torrent seeker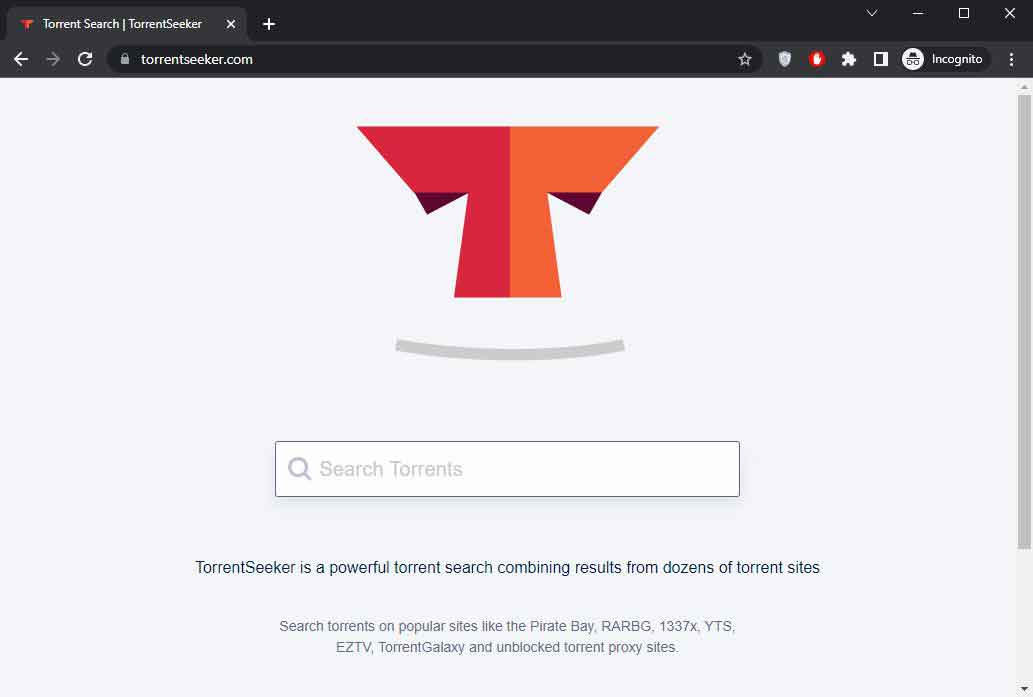 Torrent seeker is a popular torrent search engine that uses the custom Google search to provide torrents from the top 100 famous torrent sites. Some of the prominent features of the site are that it is one of the most well-designed torrent search engine available today. The site contain the most basic layout that is easy-to-operate.
The search engine constantly updates its index with the most available torrent files, sites, and other small niches such as language-specific search queries. Furthermore, it extracts results from blocked and unblocked popular torrent sites.
The homepage is simple and contains zero ads. This site also fascinates many users, which may be the most important reason to introduce it to the list. Not only that, the Torrent seeker is a good foundation with popular torrent engines, the best features, and torrent indexes.
9. Veoble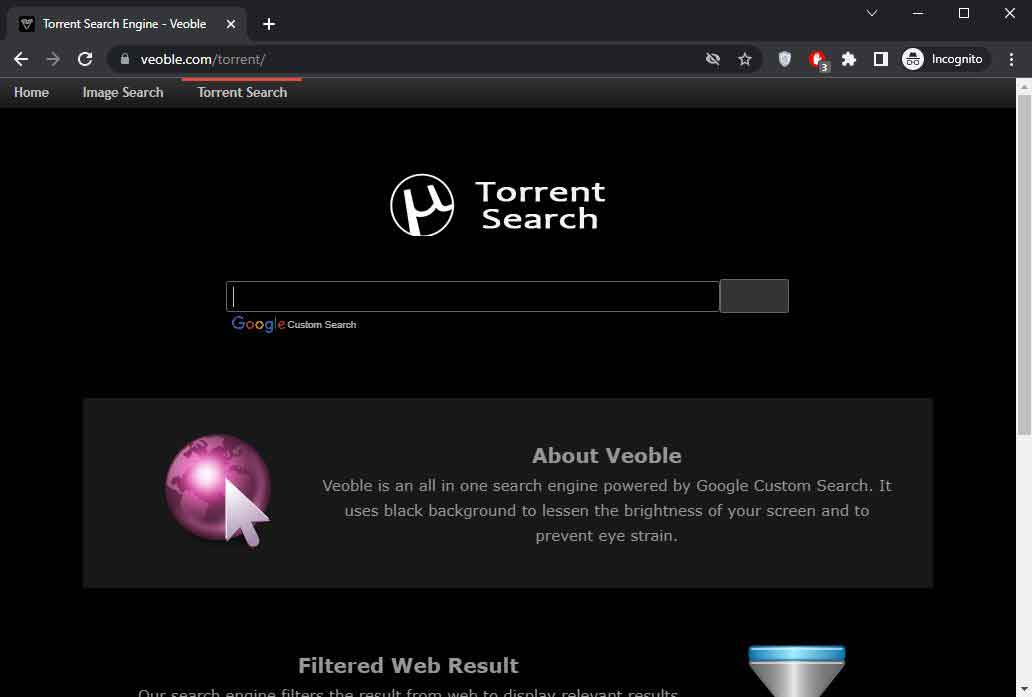 This black-themed website is obtaining popularity at a very high speed that follows the individual approach of other search engines. Its search bar is powered by google custom search.
Moreover, the site has torrent search options and images, which gives it superiority over other torrent search engines. Veoble allows fast search results and numerous filtering and sorting options.
For users who prefer to avoid annoying pop-up ads, Veoble is indeed your site. It has a simple and clean UI and a prominent search bar. Users can also check the relevant and newest files first.
10. Torrentz2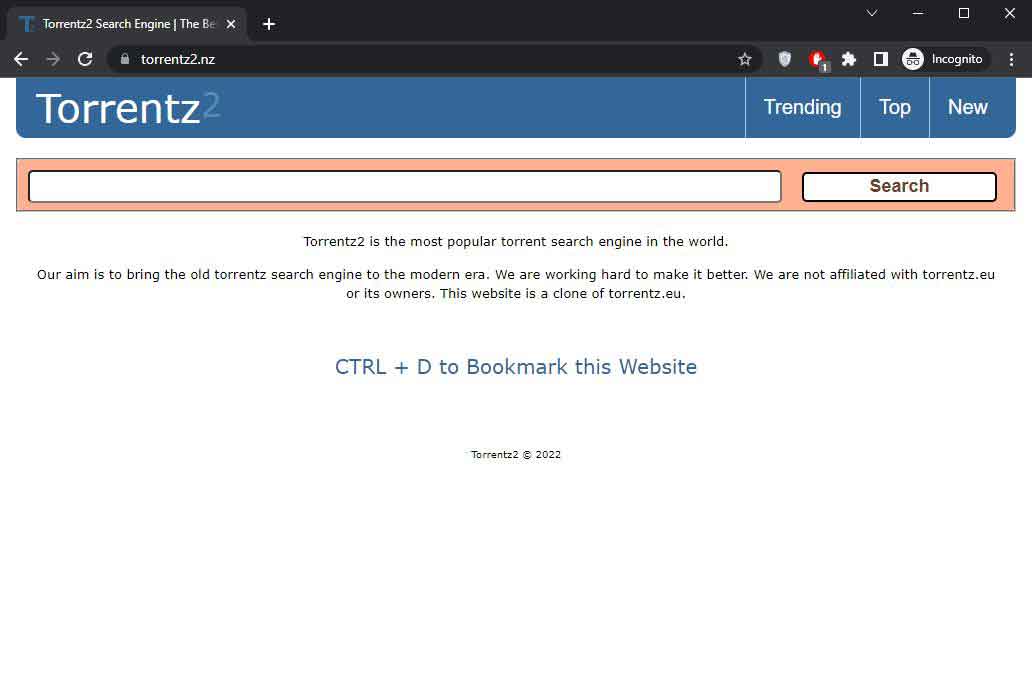 Torrentz2 is the best alternative to the now-offline site Torrentz. This site holds access to an extensive content library consisting of movies, music, software, TV shows, and games. However, the website mainly allows users to download music and has a vast music library with unique genre options. It indexes over 61 million torrent files from more than 90 torrent sites.
The website has a simple interface that is easy to use and navigate for all types of users. However, the site lacks a filtering option, but users can filter torrent files to see if they are certified, which is feasible.
Torrentz2 used to have that annoying ad on the homepage with false and misleading links, but its recent update has resolved many issues that make the website secure. However, given it does have a history of showing malicious ads, it is best to maintain security through a reliable VPN with a built-in adblocker such as Surfshark VPN.
11. Toorgle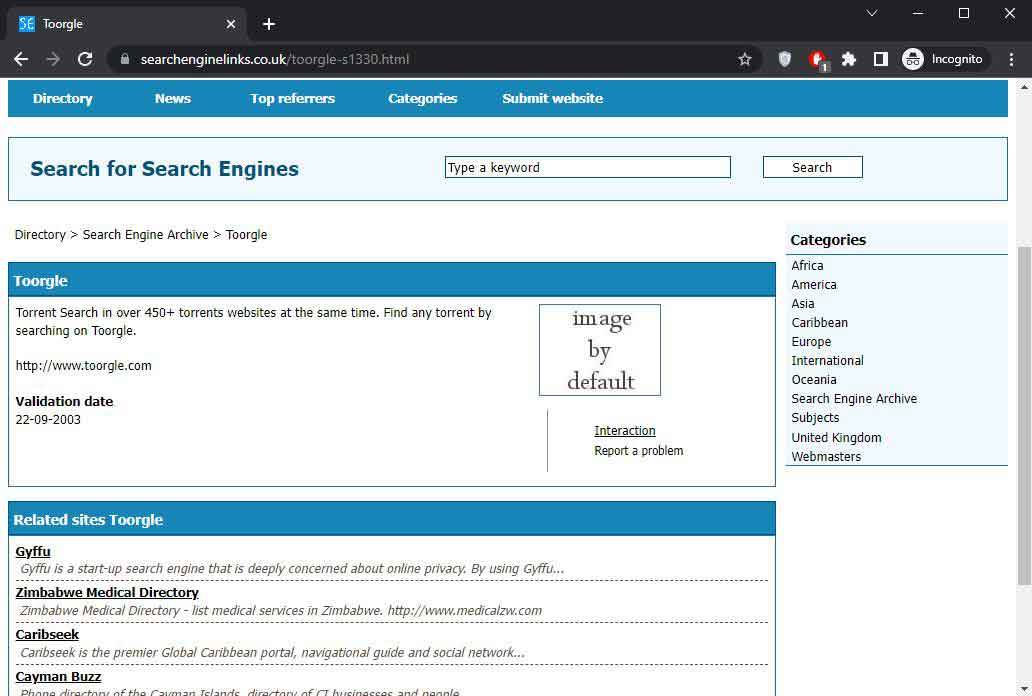 Toorgle is another name in the list of best torrent search engines well-known for its reliability. It covers over 450 P2P websites and gives thousands of torrent results in seconds.
Enter any search item on the search bar, and users can see the massive variety of results, which can be further resolved by time and date relevance. Moreover, since it was established, the site has extracted indexes from more than 55 million torrents.
Troogle is a reliable source for users who wants to explore stable and fast torrents within a second. Furthermore, it has some exciting features, such as; information quality on the torrent link, download speed, and total downloads to date.
However, the website produces income from advertisements, but users may also use an ad blocker for a pleasant experience.
12. XTORX
This torrent search engine is considered one of the least popular, but it made it to the list for its quick features. It has a simple and clean IU that indexes all the up-to-date torrents from different websites and presents them with a single click. This site has absolutely no ads on the homepage.
Moreover, the explore option of XTORX is also easy, with a magnifying glass as the search button and the text box. Users must type the desired torrent name in the search option, and the result will display immediately.
This site gives few search results but provides limited options only from well-known torrent hosts. Users can broaden the search result to see further options if they want.
The only demerit of this search engine is it will not allow its users to apply filters to the search query.
13. Torrentz.colorask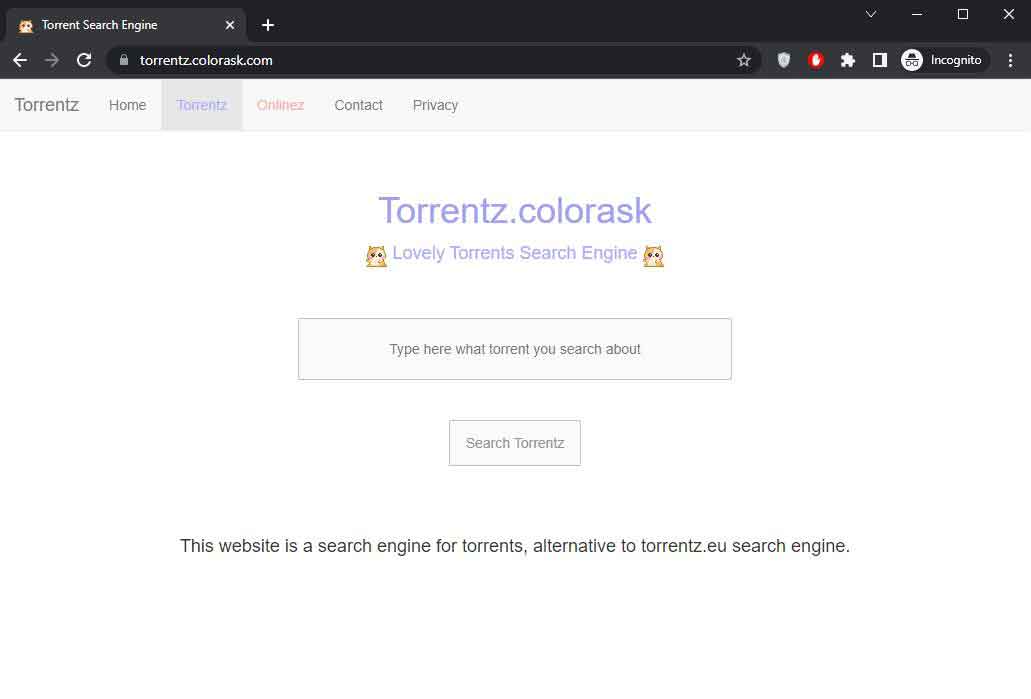 Torrentz.colorask is another reliable torrent search engine. It is a Google-powered torrent search engine with a user-friendly interface and unique search features. The platform is known to provide reliable and fast torrent search results.
Since the platform is Google-powred, the search queries and results are reliable. The dedicated search bar is intuitive and even offers suggestions while users are typing in results. Moroever, it also corrects users typos. Therefore, even if you make mistakes, you will likely get good results using this torrent search engine.
Apart from that, the search results show numerous and relevant results to search queries. These search results are reliable; users can directly head to the parent torrent site from the search results to download torrents. While this search engine seems safe to use, since torrenting can never be completely reliable, it is best to use a VPN while browsing it.
14. TorrentDownload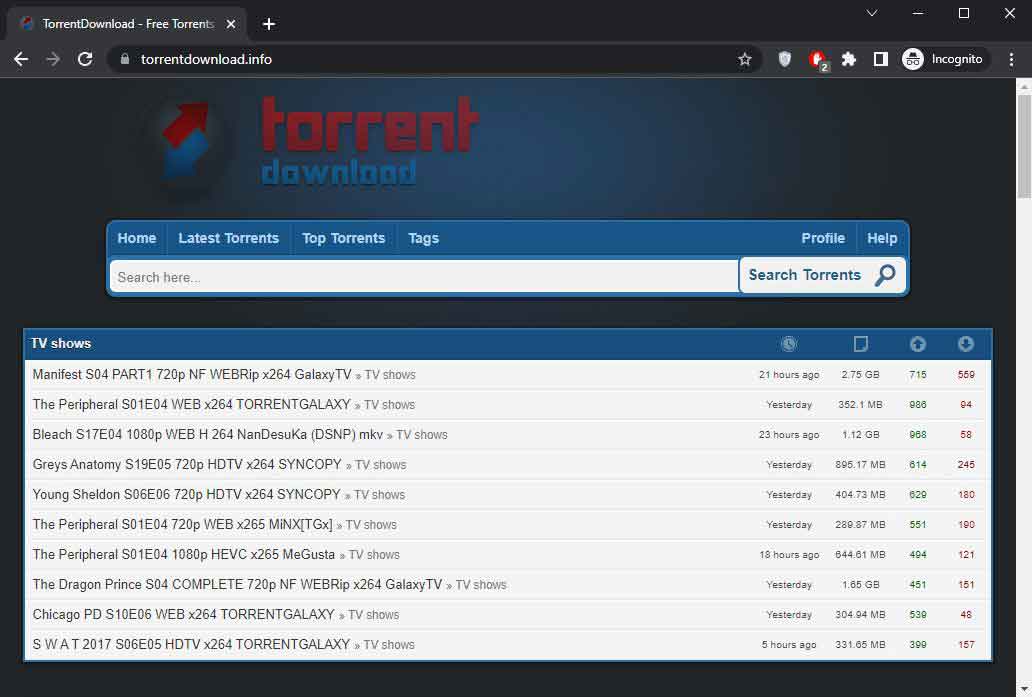 TorrentDownload is a torrent search engine that works as a torrent website. The site is easy to use and displays top torrents for every category. Users can easily find millions of torrents on this utorrent search engine.
It offers content on one site, including TV shows, blockbuster movies, highly awaited games, popular apps, and the latest anime titles. Also, users can get hundred of book repositories and other torrents.
The site contains disturbing ads that annoy its users, so they can use ad blockers to prevent them.
15. BT.digg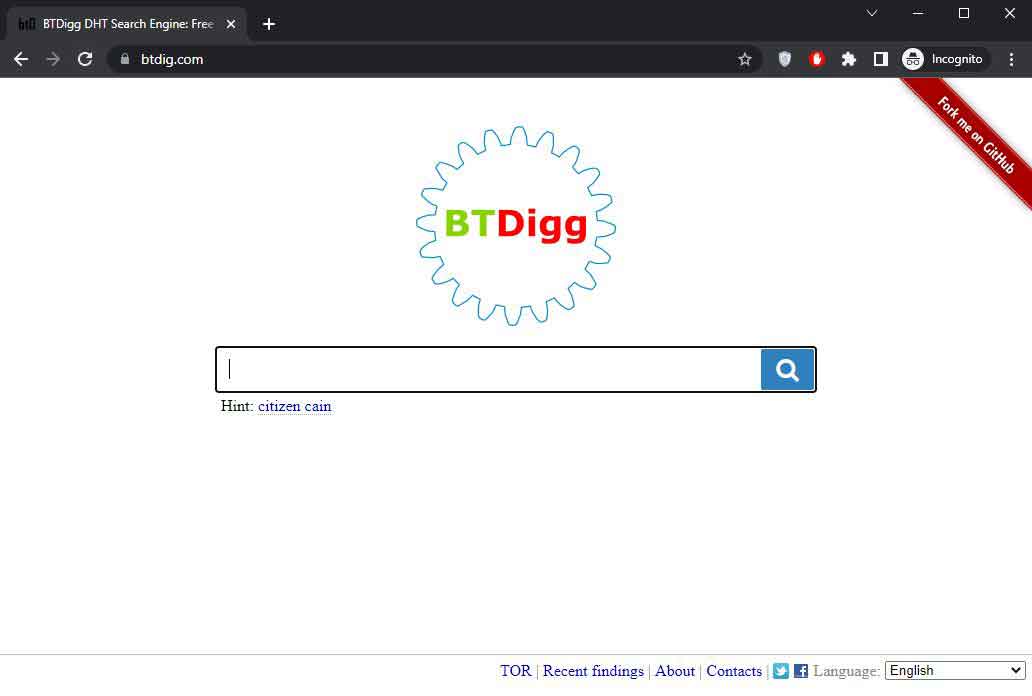 BT.digg is another torrent search engine that is a free torrent aggregator that allows even first-time users to download torrent files easily. Search for any torrent file and download it directly from the results using the magnet link. It does not rely upon other torrent files but utilizes BitTorrent's DHC when scanning for new content. When new metadata is collected, it analyzes the DHT network.
One of the best features of this torrent search engine is that it supports Asian and European languages when users search for queries.
Users can search torrent files based on their size, age, relevance, and number of files. For each search result, users will have 40-50 odd files to choose from. This is all they can get in the search result.
16. Academic torrent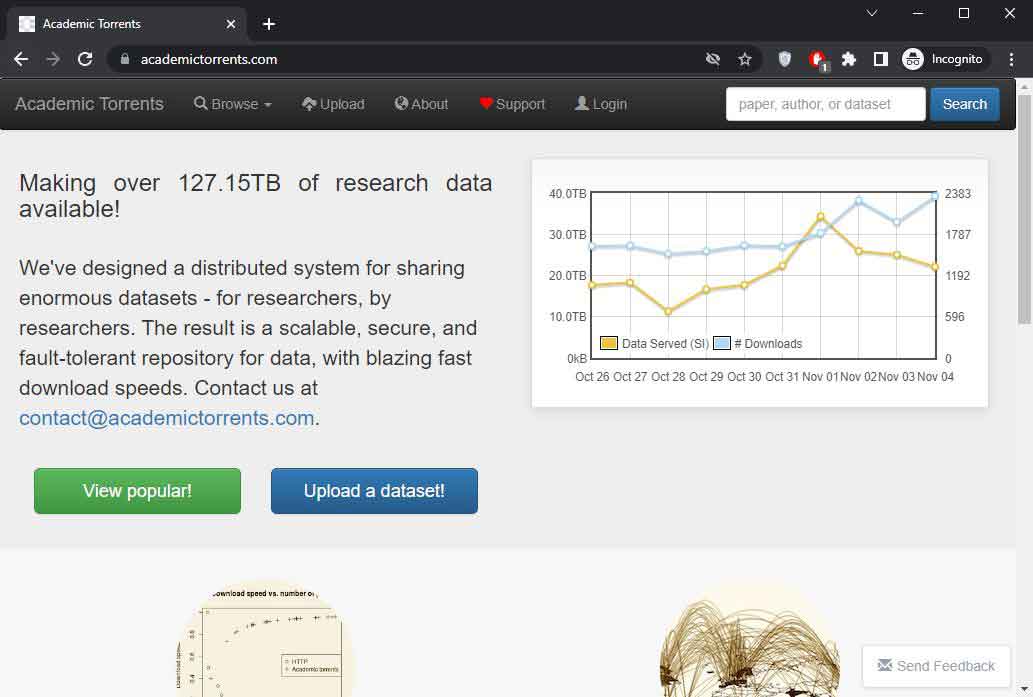 Academic torrent is another reliable torrent search engine. It was created with the University of Michigan and the University of Texas collaboration. One of the most prominent features of this site is that it is legal, entertains over 83 TB of data, and is entirely free to use.
It is perfect for users who want to download research papers, notes, lectures, and datasets and is purely an academic site that does not provide movies, music, or video games.
Users can search for the paper title and name of the author and type the desired data on the search bar to get immediate results. Moreover, they can even create their account on Academic torrent by uploading and browsing torrents and more in just some clicks.
17. GLO Torrent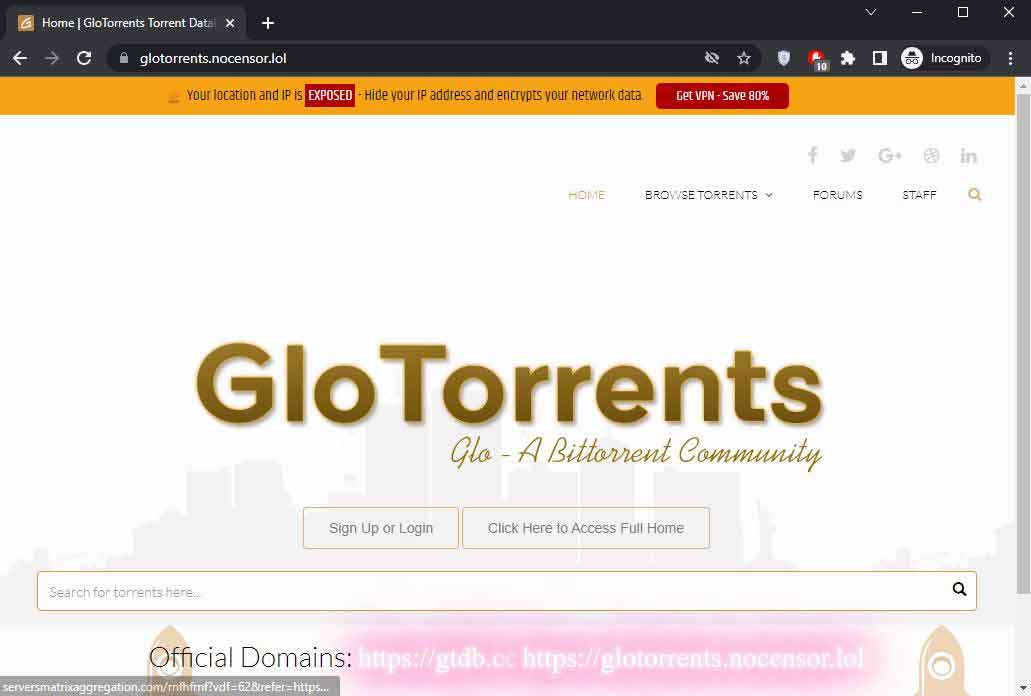 GLO is another best option for torrent search engines, but it has been under the watch for some time. The website provides a variety of the latest movies and TV shows and gives trusted torrent files. It contains many movies in over 14 languages, including Tamil, Telugu, Chinese, and more.
The search bar also includes – and + signs to add or remove certain words from the Search. Moreover, it allows users to download games and applications when they prefer good seeds numbers over reviews in the comments.
Users can create an account on this search engine by simply using an email ID. Furthermore, it helps to download torrents directly from the torrent file search result. However, this torrent search engine is banned in some countries, so you might need to use it with a VPN.
18. TorrentZeta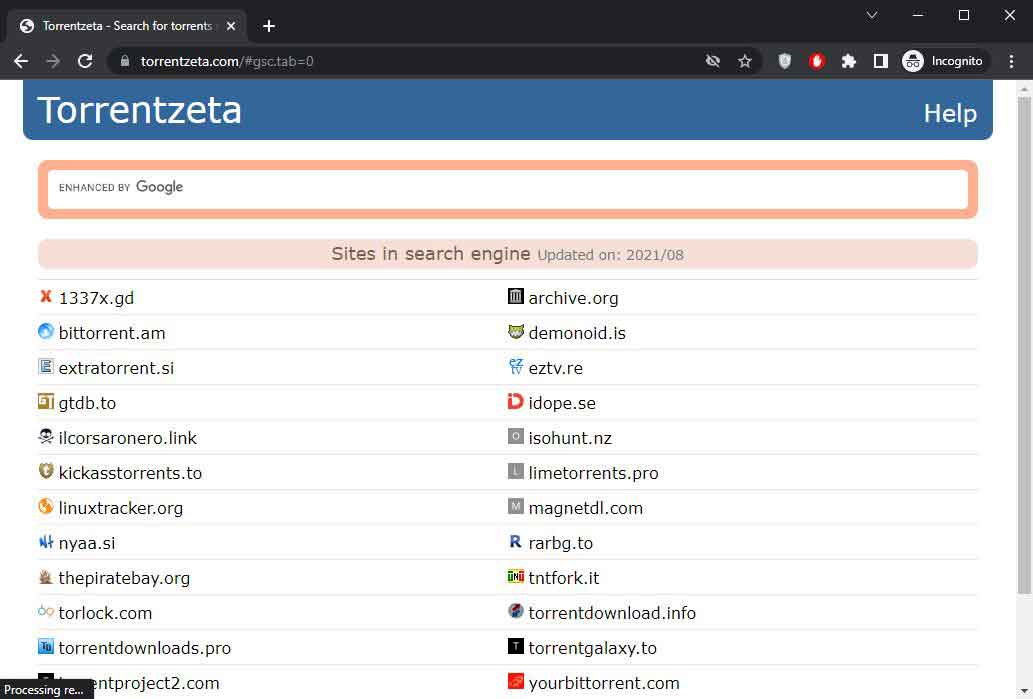 The next torrent search engine is TorrentZeta, which has all famous torrent sites. It is a better version of torrentz. This search engine has millions of indexed torrent files to give its users updated content, allowing P2P file sharing.
The homepage does not contain any ads and shows the list of the recent torrent sites they have in the index for showing torrent results for them. Furthermore, the result of this site is fast, but it needs to be better designed and offer complete details.
Users can explore the result and sort them using the engine's sort-by features, and then the website will take its users to the search result.
However, this website is banned in some countries and regions. It is, therefore, best to use it with a reliable VPN provider.
19. Torrends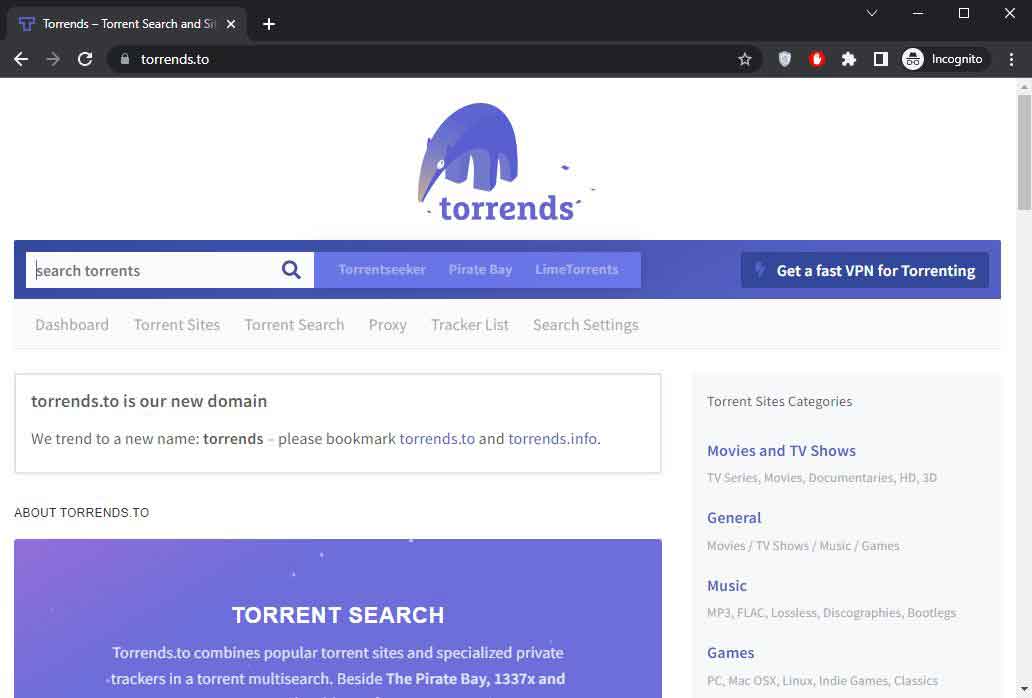 One of the most popular torrent search engines, Torrends, offers its users a reliable search experience. The website has a sophisticated and sleek interface that is easy to navigate for intermediate and beginner users alike. The homepage has content sorted into categories and allows users to have a quick look at the most popular and verified torrents.
A Google-powered search engine, Torrends provides results by relying on TorrentSeeker and Google, which helps present accurate downloadable torrent links. However, unlike other Google-powered torrent search engines like Veoble, it does not auto-correct spelling mistakes.
Torrends is one of the most powerful torrent search engines that have over 61 million torrent files indexed on it. However, the platform keeps changing domain names due to legal issues. To stay safe, it is best to use it with a VPN.
20. Torrent Project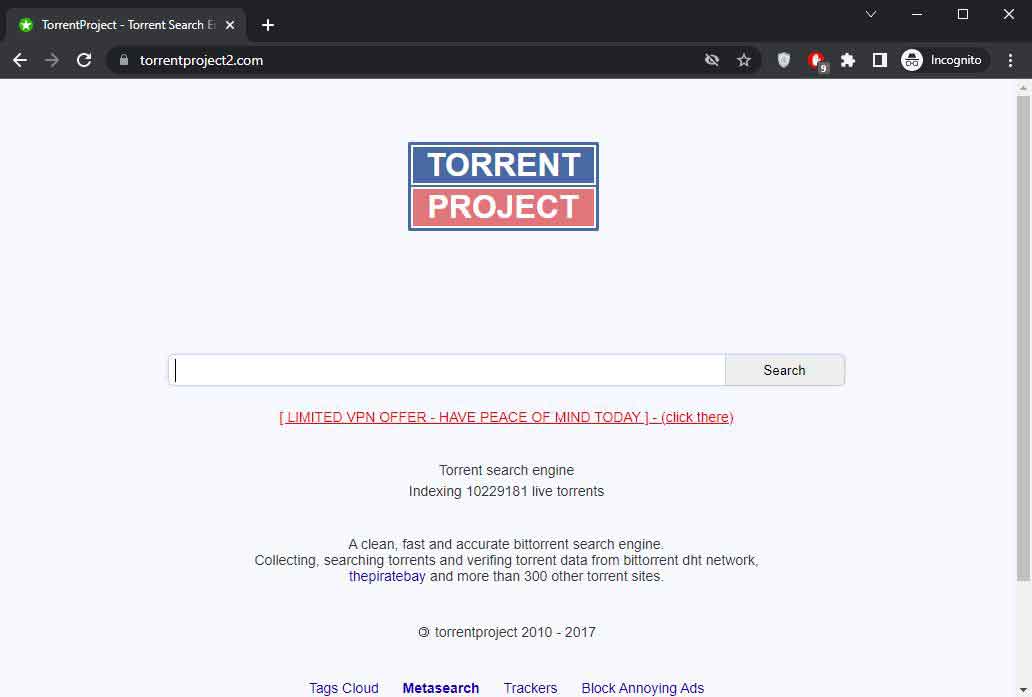 The torrent project is one of the significant online search engines, with almost 1 million torrent files. This search engine provides software, games, music, and movies. But users still need help to search for older content, and it takes the indexes of various torrents to show the results.
This site is different from other torrent sites in that the torrent is downloaded from the site without involving a third place. Magnet links only work here for torrent downloads.
The interface of this website is easy and user–friendly, with high-performance search tools. Its search query features are efficient. Users can type the wrong spelling of movies, games, or shows, and it will correct it. It also has self-produced content. The site is easy to use and hosts many visitors from various parts of the world.
The significant drawback to this site is that it does contain annoying ads that pop up while surfing. But users can bypass this issue by using a reliable adblocker.
21. Lime torrents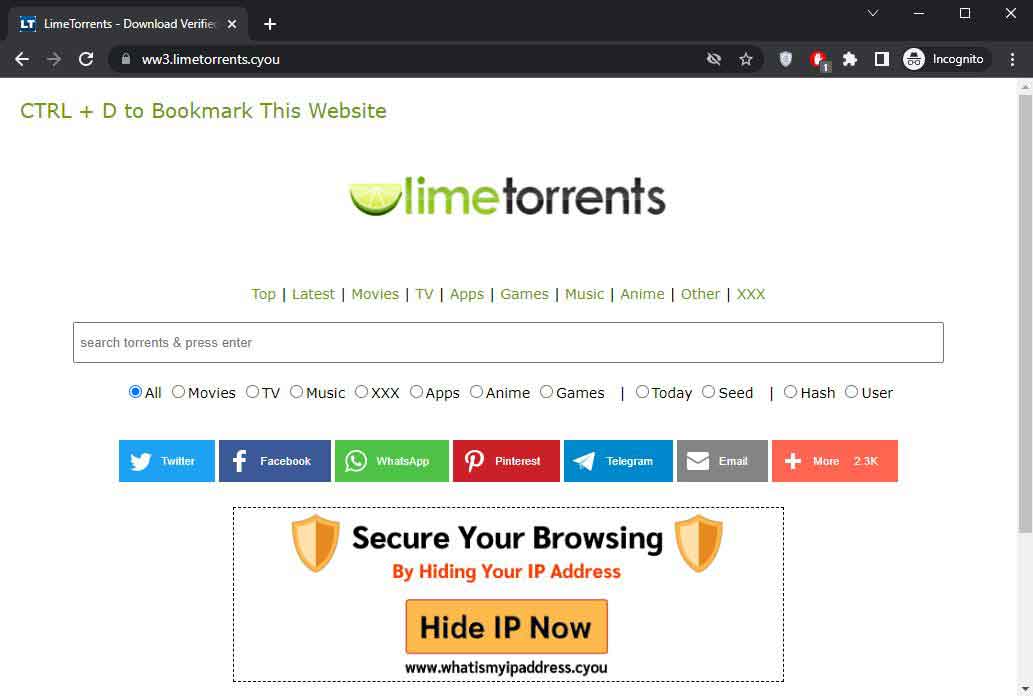 Lime torrent is one of the best finds for always providing updated content to its users. It has a good seeder/leecher ratio on the new torrents. This website has a simple and easy UI, which makes surfing effortless.
Limetorrents has an enormous torrent collection with over 10 million torrents of all media types and over 20 million monthly users. Its library is even more significant than ThePirateBay's, which is quite remarkable. Searches on the site always produce many results, so you will not be discouraged.
Throughout all mirrors, the site receives just under 20 million visitors per month. Furthermore, it has many search options and a download speed of 3-4 MB/s.
Lime torrent also has fake torrent files and annoying ads, making searching rough. Therefore, if you want to use this search engine, it is best that you get a reliable VPN.
How to choose a a Good Torrent Search Engine?
There is much skepticism surrounding torrent search engines, primarily because most are shutting down and getting replaced by mirror sites due to copyright issues. While, at times, these mirror sites are also reliable, choosing a good torrent search engine can still be hard. However, if you look out for the following things, you can find reliable torrent search engines:
It is best to choose a search engine with a domain name that has been around for some time.
Best choose a search engine that provides torrent files from reliable torrent sites.
Ensure that the search engine you download torrent files from has healthy torrents. The torrent must have good numbers of seeders, peers, and leechers.
Avoid torrent search engines that show none or few ads and pop-ups.
While these methods can help you choose a secure and reliable torrent search engine, it is best to take extra precautionary measures and use a VPN for torrenting. The VPN prevents trackbacks and helps ensure online anonymity and security by hiding IP addresses and encrypting data. Moreover, it is also best to scan each torrent file with reliable antimalware software and use an adblocker while browsing these sites.
Final words
Finding the best torrent search engines might take a lot of work. However, the sites mentioned in this article are reliable platforms that provide the best torrents. These sites have large indexed libraries, and they help access a wide range of content from TV series, movies, games, books, software, and more. Users can use these torrent search engines to explore torrent files of their desired content. However, since most of these sites display ads, it is best to use them alongside a reliable VPN and adblocker.
FAQs
How to use the best torrent Search Engines?
Torrent search engines provide links for torrents. Users can search torrents from the search bar, find them in their desired category, and download them directly.
How to download torrents fast and anonymously?
Downloading torrent sites can be threatening. Users downloading torrent sites without a VPN will increase the risk of infecting the device with malware and viruses. Here is the link, which guides users on downloading torrents fast and anonymously.
What are the best torrent search engine?
The best torrent search engines are the ones mentioned in this article such as AIO Search, TorrentSeeker, Snowfl, Veoble, and Torrends
Are Torrent Serch engines legal?
Torrent search engiens are legal if the torrenting files ore the content is not copyrighted.
Do you need a VPN for Torrent Search Engines?
Using a VPN while torenting is a must since it helps ensure privacy and security from ISPs, hackers and other third party surveillance agencies.