Quick List
Using a secure torrent client can save you from all these problems. Here is a quick list of the top, best, and most secure Torrent clients in 2023.
qBitTorrent – It is a free and open-source torrent client that is reliable to use.
BitTorrent – It is the most extensive decentralized P2P protocol for sharing large files.
Vuze – It offers an ad-free user interface and does have some extra features.
Deluge – It offers several useful plugins to boost up your torrenting experience.
uTorrent– it has been one of the best torrent clients.
Tixati – It is a free torrent client with a simple and easy-to-use user interface.
BiglyBt – The most impressive feature of BiglyBt is Swarm Merging.
Transmission – It is available on all major platforms and OS.
BitLord – Another trustworthy P2P downloader despite being the oldest torrent client.
Web Torrent – Yet another free torrent client provides seamless integration with multiple operating systems.
BitComet – It is the fastest BitTorrent client designed especially for the Windows platform.
Halite BitTorrent Client – It is a simple and lightweight app that works exceptionally well on the Windows platform.
KTorrent – It supports plugins for a better torrenting experience.
FrostWire – It is safe because it is free from malware, adware, and viruses
JS Torrent Lite – It is simple and easy to use that runs everywhere in JavaScript.
Tribler – It is among the best torrent file downloaders that allow anonymous downloading
Zbigz – To download a file from Zbigz, you don't need any installation or configuration.
Bitport – All your downloaded files are stored in the cloud, and you can access them anytime and anywhere.
Note: no matter which torrent client you use to download torrents, it's always recommended to use a VPN. VPN will hide your torrenting and avoid ISP throttling and give unlimited protection.
Who doesn't love torrenting, right? Downloading files through torrents is the most convenient way to get movies, shows, books, or even games. But which torrent client is the best in providing better speed, lightweight structure, and better privacy?
Choosing a torrent client is crucial for privacy and security; it's also really important in terms of fast downloading and device performance. You can connect with torrent files through torrent software and then join the seeders and lechers to get going with the downloading process. But it has to be done with better clients; otherwise, some risks can lead to serious issues, like DMC notices, malware injection, and more.
You must ensure that the client you choose does not contain or spread any harmful malware injection and doesn't annoy you with background ads. You also need to check the company history to make sure whether these guys can be trusted or not.
You don't have to worry about anything; here, you can find all experts' recommended and best torrent clients that provide better speed, privacy, and more downloading features.
Before getting into the best torrent clients, let's discuss some other important stuff.
Is Torrenting Legal?
Torrenting itself is not illegal. But, if you download and share any copyrighted material for commercial use, it is unlawful, and for this, you can get caught by the authorities.
The torrenting laws are getting strict with each passing day, varying from country to country. ISPs and government agencies work together to catch people who distribute copyrighted material in the USA. If you are downloading torrents, your ISP can easily hook you.
Your ISP is the one who is continuously monitoring your network. It can be a warning letter, slowing internet speed, or even imprisonment. They can even take legal action against you for downloading torrents.
Thus, for a safe and secure torrenting experience, it's recommended to use a VPN.
Why Do You Need a Safe Torrent Client?
Downloading torrents is always risky. The torrent files and the torrent clients can have malware embedded within them. Downloading such malicious files can also infect your device with malware, and you can face problems such as data theft, hardware failure, or system slowdowns.
Using a secure torrent client can save you from all these problems. The best torrent clients mentioned in this article protect against malware, adware, and ISP tracking, so do use these.
18 Best Torrent Clients – better Privacy and Speed
Without further delays, let's dive into the brief review of the best torrent clients that are reliable to download.
1. qBitTorrent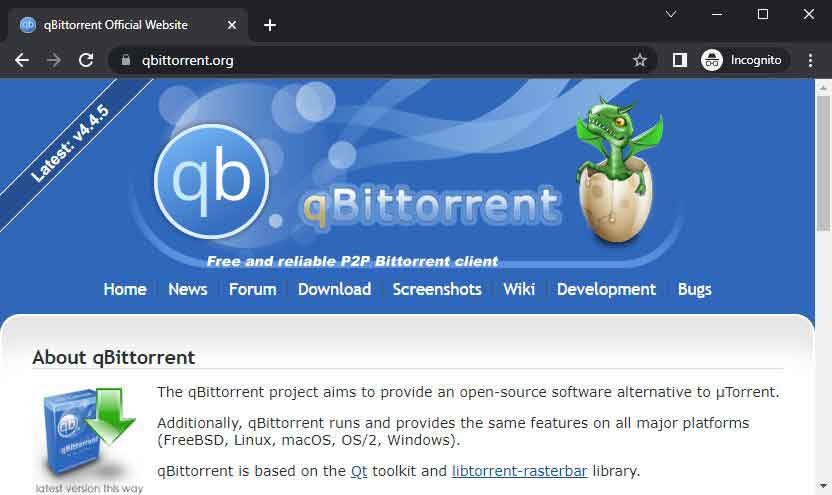 If you are looking for a multi-platform torrent client that provides all the essential features, there is no better choice than qBitTorrent. It is a free and open-source torrent client that is reliable to use. It is among the few torrent clients that don't deal with advertisements. The torrent client is compatible with all major operating systems and devices.
qBitTorrent offers some impressive features that further make the torrenting experience worth amazing such as follows:
Allows category-based searches with a built-in search engine.
It has a UI lock that prevents unauthorized access to the software.
It provides an easy way to download torrents, and you can control it remotely too.
It also supports RSS feeds, proxies, private torrents, and encrypted connections.
The downside of qBitTorrent is that you won't find downloaders' comments. Thus, it would be tough to decide the relevance of the downloaded file.
| | | |
| --- | --- | --- |
| Torrent Client | Supported Platforms | Price |
| qBitTorrent | Windows, Linux, FreeBSD, macOS, OS/2 | Free |
---
2. BitTorrent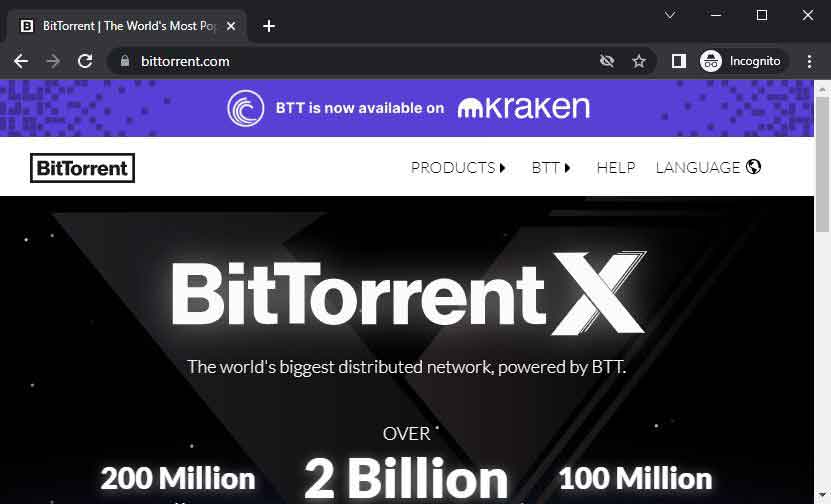 One of the oldest yet most popular torrent clients on our list is none other than BitTorrent. It is the most extensive decentralized P2P protocol for sharing large files. It has a clean and intuitive user interface and offers a wide range of features to beginners and advanced-level users.
BitTorrent comes with a search box that allows users to search for their desired files based on categories. By configuring the setting, you can
schedule downloads
limit the bandwidth
manage the paired devices
cap the downloading and uploading speed
The user interface is simple, clean, and appealing, with several customizable options. Its minimal design is its best feature. The torrent client is safe because the client code is a closed source. It is up to the developers to develop a security patch or the latest update.
The software offers both free and premium versions. But remember that the free version includes ads that disturb your entire user experience. The paid version is of different categories, and each feature also varies.
| | | |
| --- | --- | --- |
| BitTorrent | Windows, macOS, Android | Free and Paid for both |
---
3. Vuze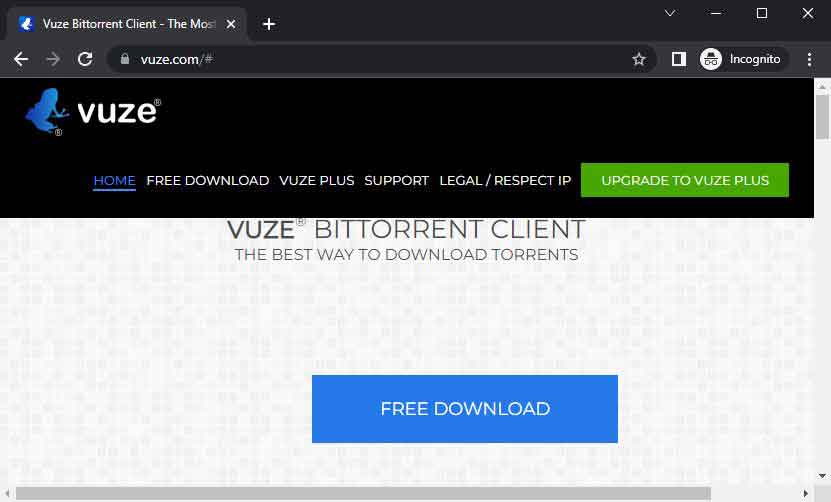 If you want the best torrent client for the Windows platform, Vuzu should be your first choice. It is closed-source and provides strong searching capabilities. It makes the searching and downloading process hassle-free.
The torrent client offers features like:
Magnetic link support
An integrated search option
Control the software remotely through the mobile app.
Enables users to check search query details within its tab, ensuring security.
It also shows pop-up ads, which can risk your privacy and hinder your experience. But don't worry, you can get rid of advertisements by upgrading to a premium version called Vuzu Plus. It offers an ad-free user interface and does have some extra features. These features include built-in antivirus, DVD burning, and the ability to play videos while the files are still in the download phase.
| | | |
| --- | --- | --- |
| Vuzu | Windows, macOS, Linux | Free and $3.99 per month |
---
4. Deluge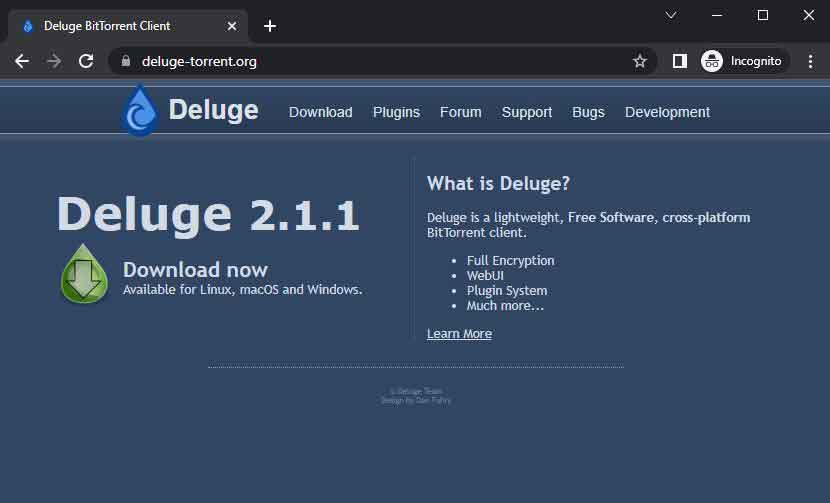 Deluge is a free and open-source client that has gained immense popularity. It offers several useful plugins to boost up your torrenting experience. You can get these plugins from the official site or third-party plugins. Deluge is the favorite choice of torrent users for providing a variety of plugins.
Other reasons to use Deluge are as follows:
The torrent client comes with a minimalist design and gives off fast performance.
Offers per-torrent bandwidth restrictions and the ability to discover peers locally.
Uses encryption tactics such as Message Stream Encryption and Protocol Encryption.
It can manage the IPv6 and proxy servers for a better torrenting experience.
The user interface is clean, but users would find it plain and complicated at first compared to other top names. Since torrent software is open-source, anyone knowing to code can fix the vulnerabilities.
| | | |
| --- | --- | --- |
| Deluge | Windows, macOS, Linux | Free |
---
5. uTorrent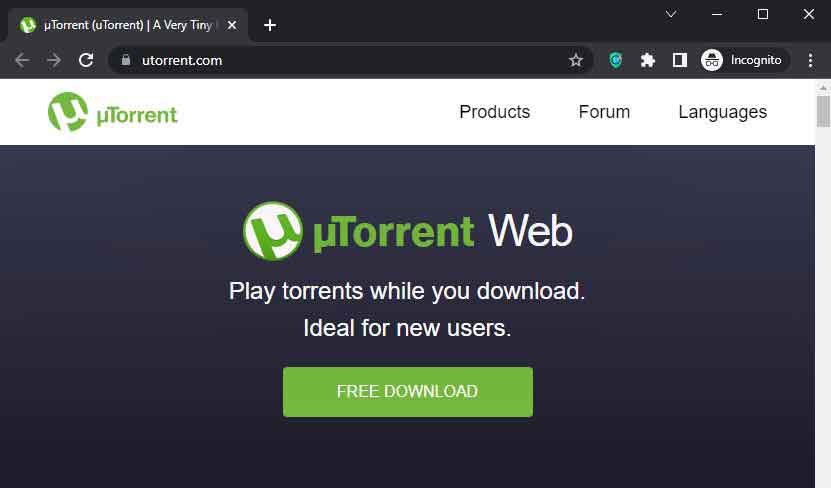 BitTorrent first introduced UTorrent in 2005; since then, it has been one of the best torrent clients. It shares a similar user-interface design to BitTorrent. It offers several handful features that ensure a fantastic torrenting experience like:
Allows limited bandwidth, uploads, and downloads
Users can schedule multiple torrents for downloading.
It also lets users remotely manage their downloads.
Can add the RSS feeds within the client enabling downloads when new torrents are added.
The biggest drawback of using uTorrent is its record of security vulnerabilities.
A few years back, uTorrent vulnerabilities in the Windows desktop and web platform allowed hackers to control key functions and spy on users' downloads. Moreover, it also comes with ads. But again, you can prevent them by switching to the premium version.
| | | |
| --- | --- | --- |
| uTorrent | Windows, macOS, Linux, Android | Free, $19.95 per year |
---
6. Tixati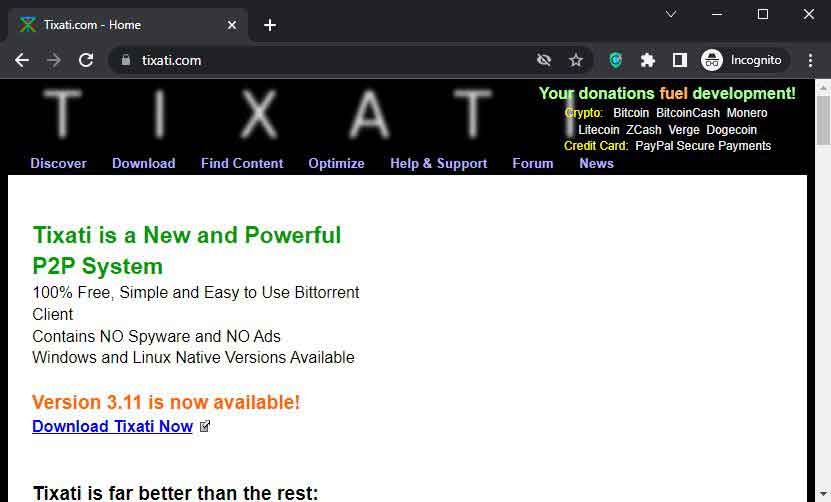 Suppose you want a torrent client that provides ultra-fast speed, then you should try Tixati. It is a free torrent client with a simple and easy-to-use user interface. Since it is adware-free, this makes it popular among torrent users. One should use this torrent client because:
It has a minimalist design provides more configuration options than other torrent clients.
Tixati supports RC4 encryption and SOCKS5 proxy.
There are no previous track records of the torrent client having malware or spyware.
It also enables users to manage downloads by limiting the bandwidth.
Provides torrent files with a seed-to-leech ratio that facilitates fast downloading speed.
You can benefit from an RSS feed that automatically downloads the torrent files you set up in the RSS feed. Whenever the feed updates new files, it will get downloaded automatically. Another impressive thing about Tixati is its website's comprehensive help and support section. It also has a live community forum where users offer advice and support to other users.
Since it is a closed-source torrent client, it lacks transparency. The drawback of using this torrent client is that it doesn't work on macOS and lacks a built-in search function but it provides encrypted chat rooms where links can be searched or shared easily.
| | | |
| --- | --- | --- |
| Tixati | Windows and Linux | Free |
---
7. BiglyBt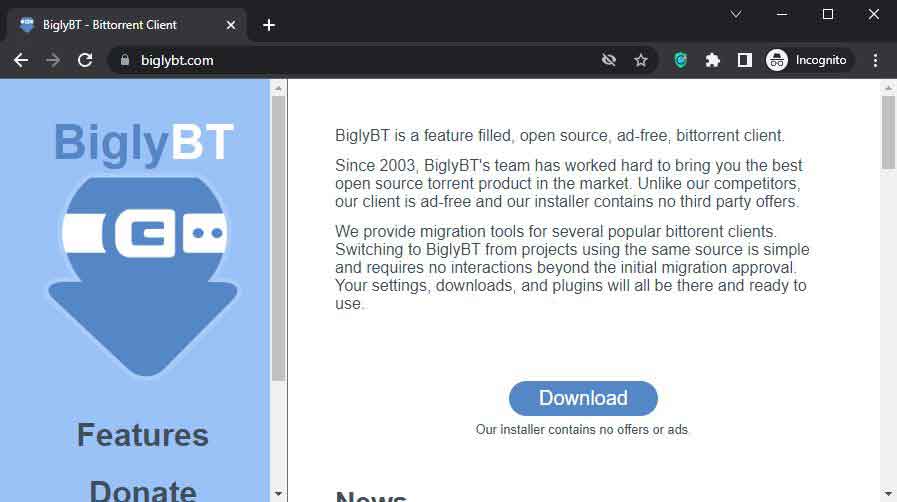 For over 15 years of development, BiglyBt is yet another widely used free and open-source torrent client. Despite being entirely free, it doesn't interrupt your experience with intrusive ads. With tons of customizable setting options and preferences, it ensures a satisfying downloading experience.
The software supports integration with several first and third-party plugins. Like other torrent clients, it also lets users to
Schedule downloading
Filter out the search results
Limits bandwidth
I2P support
Built-in torrent discovery tools
Get all the essential information of your downloaded files.
The most impressive feature of BiglyBt is Swarm Merging. It allows the same file to getting downloaded using multiple torrents to get a fast downloading speed.
Also, the software is available for all major platforms and devices, making it one of the best torrent clients. To ensure a safe torrenting experience, users view comments and ratings before adding the torrent file to the torrent client.
The only thing that makes it less than its competitors is its complex interface.
| | | |
| --- | --- | --- |
| BiglyBt | macOS, Android, Windows | Free |
---
8. Transmission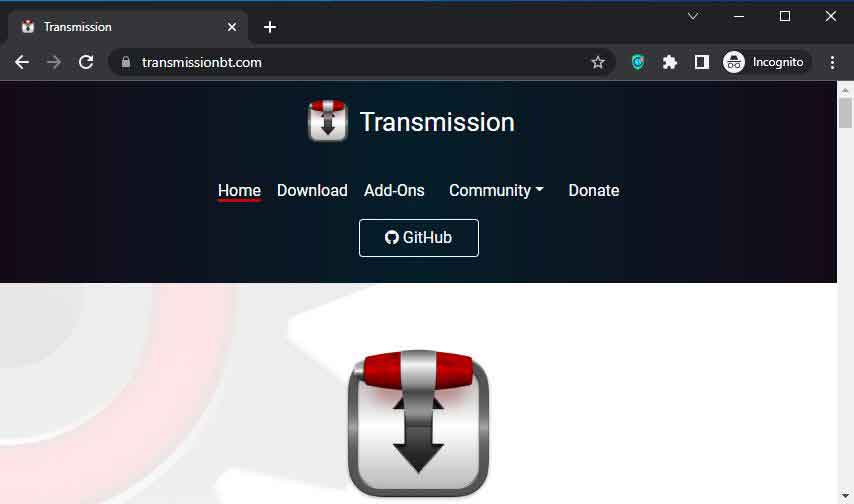 Transmission is an excellent choice for users looking for a free, lightweight, and feature-packed torrent client. It is available on all major platforms and OS and is among the few torrent clients that offer a solution for embedded hardware such as NAS, Raspberry Pi, and home servers.
The open-source torrent client offers great customization options and an appealing and easy-to-use interface. Its extensive range of features also makes it a preferred choice for torrenting. It outperforms other torrent clients and lets users download files from multiple peers and upload their own files. Some of the key features include:
Scheduled downloading
Encryption support
Remote management
IP filtering
Another advantage of using this open-source torrent client is keeping the software free from malware and other potential threats. The software is known to share harmful installer files from its official site in the past; thus, it can be a reason that the users are away from using it. But, it does get some unofficial builds that contain malware payloads. The payloads can create a backdoor for hackers to access your sensitive data and even control your system.
Another disadvantage of this torrent client is that it lacks a built-in search engine and proxy server support.
| | | |
| --- | --- | --- |
| Transmission | Windows, macOS | Free |
---
9.BitLord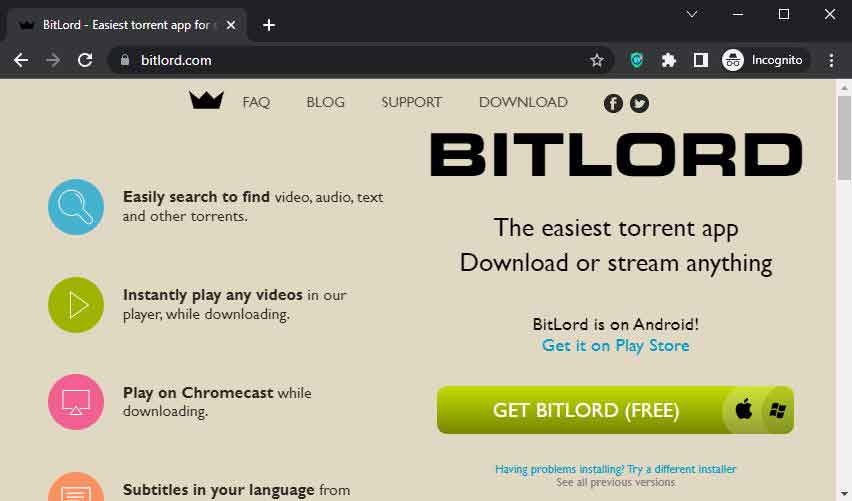 Another trustworthy P2P downloader is BitLord. Despite being the oldest torrent client, it still has many features and exemplary performance. The torrent client works well and doesn't cause any issues during downloading. The user interface is also intuitive, that ensures easy navigation.
The software also allows users to browse torrents category-wise; the top torrents are organized by days, weeks, months, and years. Some of its valuable features include:
Password Protection
Download organizer
Torrent feedback list
Automatic subtitle
Built-in media player
The only issue with this torrent client is its outdated easy-to-use interface rarely publishes new updates. Unfortunately, you can only use the BitLord torrent client on Windows and macOS.
| | | |
| --- | --- | --- |
| BitLord | Windows, macOS | Free |
---
10. Web Torrent
If you want a torrent client that allows you to stream torrents without even downloading them, use Web Torrent. Yet another free torrent client provides seamless integration with multiple operating systems. It is among the best torrent client because:
It has a minimalist interface makes it easy to search and download torrent files.
It enables downloading process as soon as you paste the URL.
It has a built-in media play that lets you play audiobooks as soon as they are downloaded.
Allows streaming videos on AirPlay and Chromecast.
The concerning thing about Web Torrent is that it is made for media streaming. Nonetheless, you can still use it to download all types of P2P files.
| | | |
| --- | --- | --- |
| Web Torrent | Windows, macOS, Linux | Free |
---
11. BitComet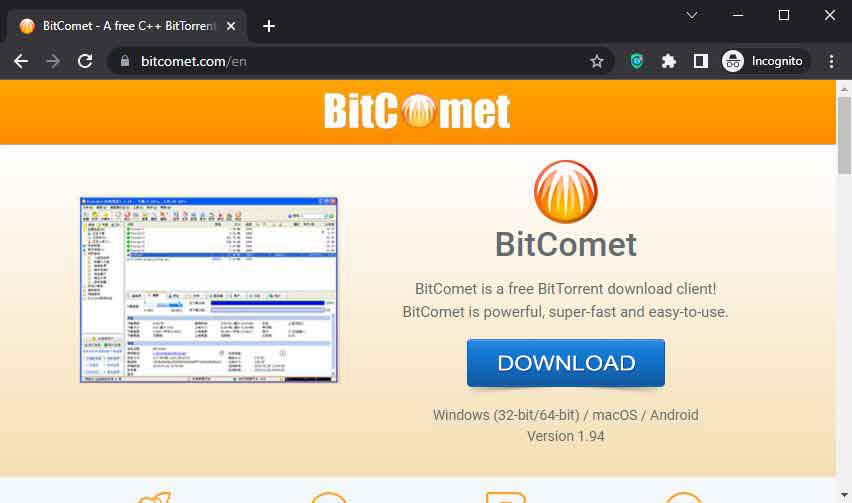 BitComet is the fastest BitTorrent client designed especially for the Windows platform. It provides all the basic torrent client features along with some additional ones too like:
Offers a seeding feature that seizes data from seeders and peers with complete torrent files.
Ensures HTTP support
Provides magnet links
Is compatible with DHT Network support.
The disk caching feature stores accessed data in the main memory instead of the PC's hard drive.
It is free software that is best for previewing downloaded torrent files. But, the torrent client does come with significant drawbacks. Like it doesn't enable users to limit the bandwidth. Even though the installation process is easy, the UI is more complicated than other torrent clients. Also, if you are a Linux user, BitComet is not the right choice for you.
| | | |
| --- | --- | --- |
| BitComet | Windows, macOS | Free |
---
12. Halite BitTorrent Client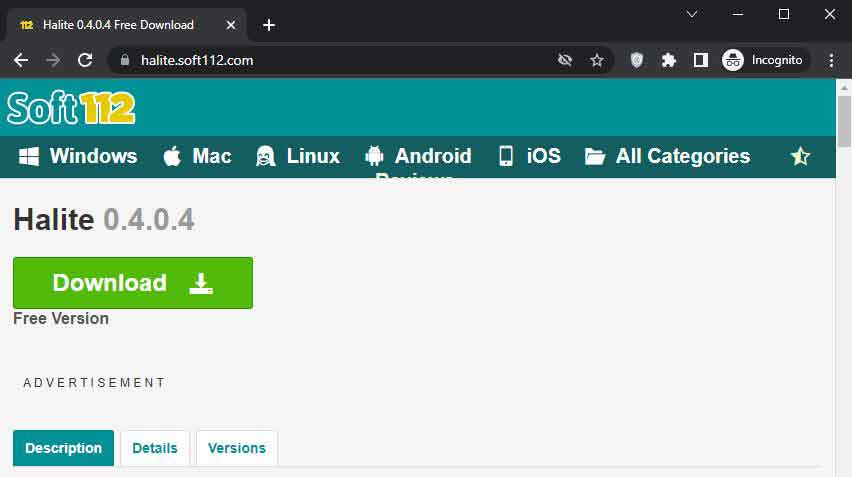 Halite is a simple and lightweight app that works exceptionally well on the Windows platform. It is yet another free and open-source software that offers several advanced features such as:
Protocol encryption
Super seeding
Disk cache support
IP filtering
You need to download Halite from GitHub, and for beginners, the installation process can be tricky and confusing. The user interface is simple and minimalist. You can add a torrent file, and it starts to download immediately.
There are two significant drawbacks of using the Halite torrent client. Firstly, it is only available to the Windows platform; secondly, the updates are not frequent.
| | | |
| --- | --- | --- |
| Halite BitTorrent | Windows | Free |
---
13. KTorrent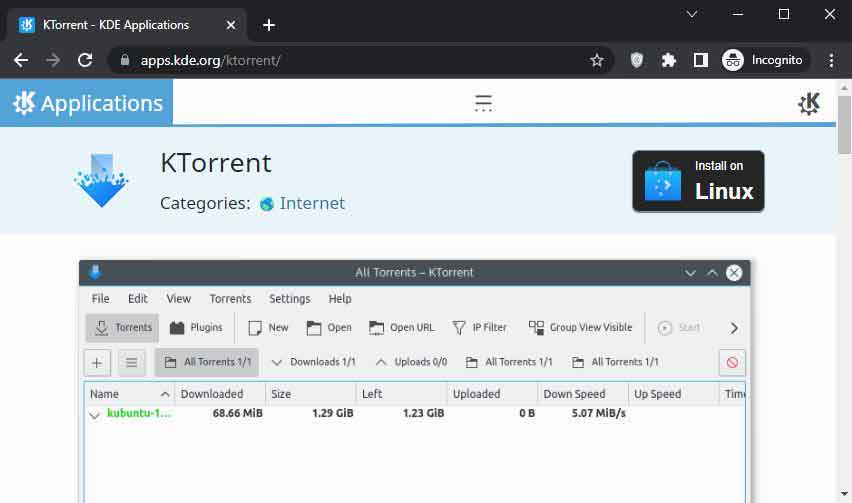 KTorrent is another BitTorrent app that allows users to download torrent files using the BitTorrent protocol. The best thing about this torrent client is that it leads to running multiple torrents simultaneously and comes with extensive features such as:
Support for private trackers and torrents.
Built-in media player
It supports plugins for a better torrenting experience.
Importing fully or partially downloaded files.
File prioritization for multi-file torrents.
Previewing certain file types
Support for web seeds
The software is available in ten languages, making it one of the best choices globally. But, despite being free, it does have a donation option on its website.
| | | |
| --- | --- | --- |
| KTorrent | Windows, macOS, Linux | Free but accepts donations |
---
14. FrostWire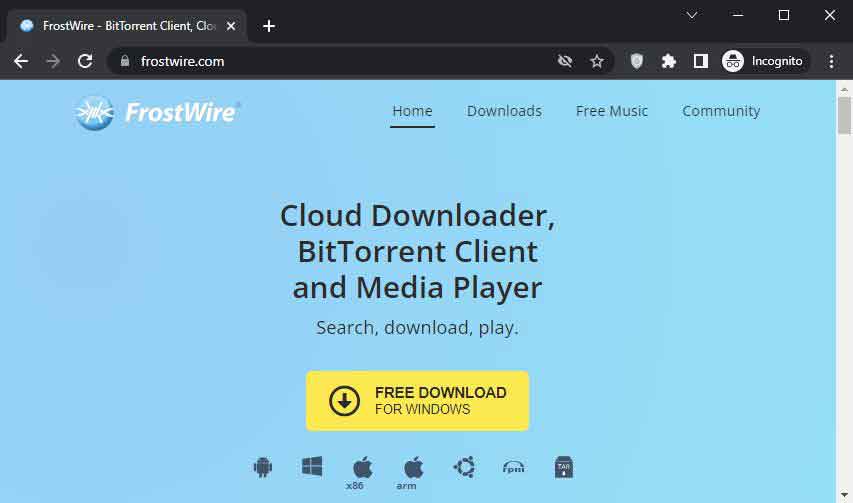 Another oldest BitTorrent client is FrostWire. The open-source software was released in 2004 as a fork for another torrent client, LimeWire. It operates on all major devices and operating systems.
It comes with the basic torrent client features, but it adds more features and functionalities with time, such as:
It allows previewing an individual file in a single folder.
It has a built-in media player that plays the media files.
Sharing options allow users to share their favorite files directly from the computer.
FrostWire is safe because it is free from malware, adware, and viruses that can infect your device. It doesn't host any content but allows you to connect with other computers to find your desired searched content.
It also supports magnet links for BitTorrent extensions and protocols and Peer Exchange. The platform is mainly designed for content creators, including writers, filmmakers, and other professionals who provide their work accessible to millions of users by hosting their files in FrostWire.
However, the torrent client failed to add custom websites to the search bar. Also, during setup, you might end up installing unnecessary programs.
| | | |
| --- | --- | --- |
| FrostWire | Windows, macOS, Android, Ubuntu, | Free |
---
15. JS Torrent Lite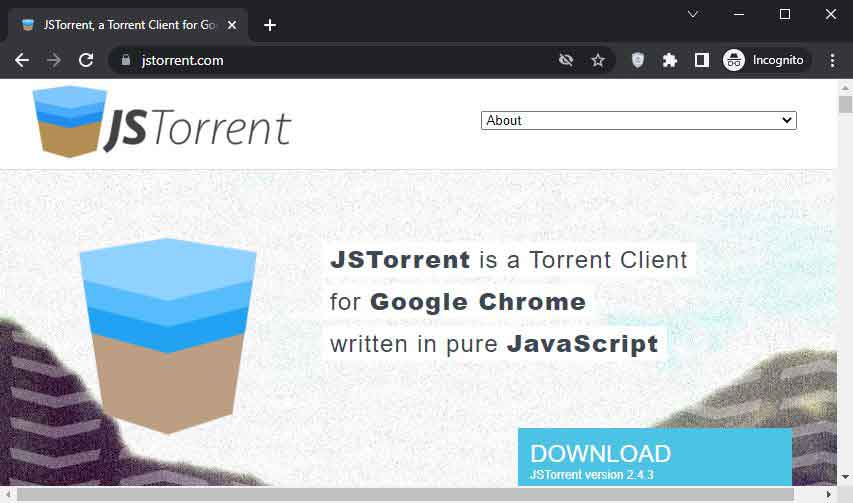 It is a torrent client extension for Google Chrome. It is simple and easy to use that runs everywhere in JavaScript. It improves the download speed by enhancing peer connection handling. Moreover, it informs the users when there are new app updates.
Unfortunately, it only supports Android and has bugs that cause buffering during downloads.
| | | |
| --- | --- | --- |
| JS Torrent Lite | Windows, macOS, Android | Free |
---
16. Tribler
It is among the best torrent file downloaders that allow anonymous downloading. According to your needs, it will enable you to search the content. You can find various videos using the Tribler torrent client and watch them before the downloads are done.
| | | |
| --- | --- | --- |
| Tribler | Windows, macOS, Linux | Free |
---
17. Zbigz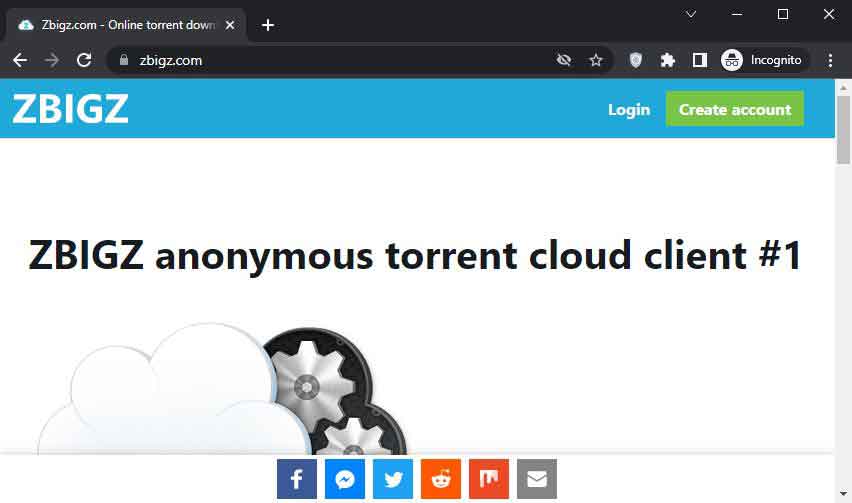 Another secure torrent client on our list is Zbigz. It facilitates fast and easy downloading of files across multiple platforms. To initiate the downloading process, you need a magnet link. It is among the rare torrent clients that are cloud-based. Since HTTPS protocol protects it, it helps the users stay anonymous while downloading the torrent file. It comes with both free and paid versions. The premium plans are for five days, monthly, and three months.
To download a file from Zbigz, you don't need any installation or configuration. It allows downloading all types of content, free from network and software restrictions. The free version offers limited features and has ads that ruin your experience.
| | | |
| --- | --- | --- |
| Zbigz | Windows, macOS, Linux | Free, Four different premium plans starting for $5.99 for five days |
---
18. Bitport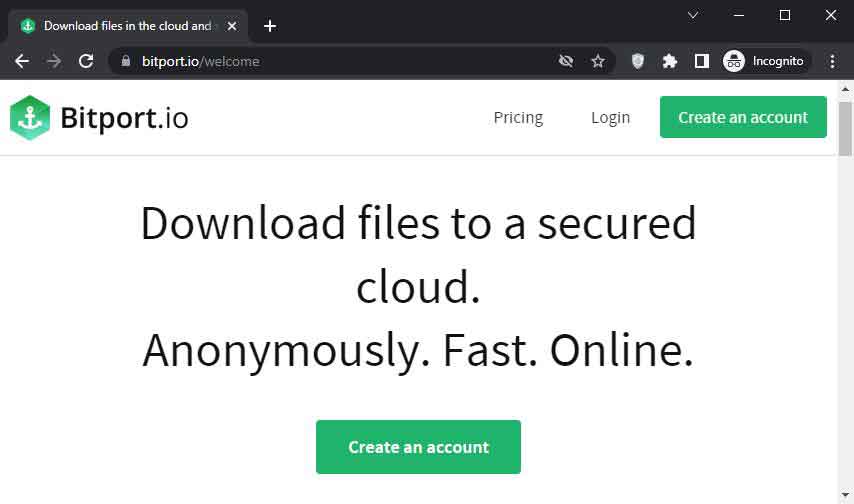 Another cloud-based torrent client is Bitport. Since it is cloud-based software, you don't need any device installation. All your downloaded files are stored in the cloud, and you can access them anytime and anywhere. Like other torrent clients, it also offers a friendly user interface but only functions on Android and iOS. To protect user connections, it supports SSL encryption.
| | | |
| --- | --- | --- |
| Bitport | iOS and Android | Free and three different premium plans starting for $5 per month |
---
Parting Words
Torrenting has gained much popularity, but at the same time, it can be risky. You can securely and anonymously download torrents using the best torrent client and a VPN.
However, finding the right torrent client is not an easy task. Several platforms allow users to download torrent files, but you can't trust them. The above-mentioned torrent clients are the industry's best torrent software with all the necessary features to make your torrenting experience worth amazing. So, do try them, and don't forget to share your experience in the comments section below.