Torrenting is a widespread technique of downloading files like movies, songs, games, and many others through a torrent client.
Torrents extensively use this technique worldwide to download the file from a single server, later transferred by several users with that particular file on their computer.
What is torrenting
Torrenting is a type of peer-to-peer (P2P) file-sharing skill where numerous users can connect and share their specific and required files instead of depending on a single website or a source to download files.
It is beneficial because the users download files from a single website/ source and other users of the same torrent, enabling a flowing transfer among the users.
Moreover, torrenting also reduces the network because, in torrenting, each peer/ user acts as a mini-server and considerably reduces the load.
How to use it
A wrong interpretation of torrenting is that many people think of it as a normal downloading process; however, things are a lot different. People prefer torrenting because it is pretty easy to search for a file according to the user's choice. A user can search for it online and download it using a torrent.
Torrenting can be done so that a file is fragmented into small chunks of data. However, the user/peer has a different fragment of the file. The user downloads it, shares it with peers who don't have it, and downloads all the data chunks. When the users have downloaded them all, they put them all together, and at last, a complete file is formed.
In other words, to use a torrent, a user must follow these steps:
Download a torrent client.
Search for a reliable torrent to download.
Download the torrent file.
Add the torrent file to the client.
Is Torrenting legal or illegal?
This is a very confusing debate about whether torrenting is legal or illegal, but it is essential to know that torrenting is just a simple way to share files among users/peers. In this act, torrenting is not an illegal thing.
The legal and illegal aspect of torrenting depends on the file being downloaded. If the shared file is not restricted or copyrighted, torrenting is legal, but if the downloaded file is illegal or unofficial, such files might have consequences.
Since every country has its legal structure for implementing copyright rules and regulations, it may be possible that if torrenting is considered illegal in one country and another, it might be legal. This all depends on privacy laws and the use of the internet. If you live in a country where torrenting is illegal, then it is necessary that you have to download torrents secretly, and you must remain anonymous.
There is nothing illegal about torrent client software; however, sharing plagiarized and copyrighted content is prohibited in many countries.
Is Torrenting safe?
Although torrenting is not illegal, it is a bit risky. If a user/peer torrents any copyrighted material, there is a greater chance of being caught by higher authorities. Moreover, there is also a chance of downloading infected files. Hence, it is recommended to use a VPN to make torrenting safer.
Governments and service providers work together to make the life of the users more and more difficult for those who torrent media files and pirate software.
The future of torrenting
Torrent downloads peaked in the late 2000s, landing several people into legal trouble. As a result, the authorities increased their campaigns against torrenting activities. For instance, the US started blocking torrent sites in 2011, and Canada followed suit. There are global attempts to curb piracy and the use of platforms like BitTorrent, but these torrent sites have become even more popular in recent years.
Torrenting with a reputable VPN service, such as ExpressVPN, will always ensure your identity is concealed, preventing your ISP from seeing what you are downloading. On the other hand, torrenting without a VPN will continually expose you to the risk of being targeted by third parties and cybercriminals.
However, the legality of VPNs varies per country, and your ISP may restrict you if they discover VPN use. Among the countries that have banned VPN services are Iraq, North Korea, UAE, Russia, China, Belarus, and Oman. In conclusion, the duration for which torrenting will be available is uncertain, considering the government's multiple attempts to ban it altogether.
Can I get into trouble for torrenting?
The punishment for torrent users varies per country, ranging from a tap on the wrist to blocking their accounts to an extreme penalty of serving a prison sentence. However, chances of being arraigned in court for using torrents are pretty minimal unless you are caught torrenting copyrighted content.
Suing torrenters for copyright infringement escalated in the late 2000s, when copyright pirates were prosecuted and fined significant sums of money. Furthermore, direct lawsuits against torrenters are infrequent today, but the war against torrenting continues.
Copyright trolls
Copyright trolls are typically small but rapidly growing legal firms that monitor individual copyright pirates. They strike a deal with copyright holders to track torrenters who download copyrighted content via their actual IP addresses and to take legal action on their behalf.
Moreover, copyright trolls use a list of names and legal leverage to track torrenters through email, mail, or personally handing them settlements. The letters are not legally binding orders or documents but a means of instilling fear, shame, and intimidation to make torrenters settle without appearing in court. These letters threaten to sue for a large amount of money but only ask for a modest figure in the settlement, making it seem like a fair deal. However, if you receive such letters, you should never give in because going to court will be expensive and risky for copyright trolls.
What to do if you receive a settlement letter
The most typical method to receive a settlement letter is via your ISP. Copyright trolls use the judicial system to subpoena your Internet Service Provider, forcing them to share personal information and email users with legal threats.
US law does not regard an IP address as an individual, so, likely, the copyright troll does not know your true identity if you are contacted via your ISP. If the letter does not include your personal data, you should not panic because your case may be withdrawn before your ISP discloses your personal information to the copyright troll.
Furthermore, this is a gamble for copyright trolls because only a few respond to the many threatening emails they send. It is more cost-effective for them to go after the next swarm of torrenters rather than trail those who failed and did not react. However, if the situation intensifies and you need to take action, hiring a good legal team to handle your case is the best option.
ISP penalties
Your ISP may decide to penalize torrenters on its own accord by throttling your internet connection or threatening to share your personal information with copyright trolls. This is because torrenting consumes large amounts of bandwidth, which is expensive for ISPs. Moreover, ISPs may be getting compensation from content holders and their acquaintances.
Risks of Torrenting
Torrent downloading is done from a network of peers, so the risk of computer viruses tying a ride is slightly lower than normal downloading.
Another concern associated with torrenting is malware. The peer wouldn't know that the downloaded torrent file might contain the virus from a source. The downloaded virus-affected torrent files can become a reason to cripple the user's computer system.
There is a risk of illegal and unlawful access to corporations' severe and significant business information with torrenting. This sensitive data may include workers' records, corporations' policies, information about stakeholders, rewards, and many more. If a worker downloads a torrent file and saves that torrent file in the same folder that contains the critical information, the corporations' higher authorities can access the folder. If they notice a torrent file, they will act against that person.
Torrenting doesn't directly affect the user's system. However, online hack attacks and illegal access to users' information is always possible. As soon as a user either uploads, downloads, or shares a torrent file, the online hackers become active and manage to collect data about the online user's activities. After acquiring users' data, the hackers use it for their personal use and advantage.
The torrent users are under the supervision of surveillance agencies. They observe users' online activities. If they find hints of the illegally downloaded torrent file or any copyrighted torrent file, then the torrent users face legal penalties for their actions.
Torrenting rules and regulations in different countries
Different countries have different rules and regulations for torrenting. Torrenting may be legal in one country, but it is possible that it might not be permitted in other countries.
The following list shows different countries having different torrenting statuses:
| | | | |
| --- | --- | --- | --- |
| Countries, where downloaded copyrighted content, is permitted for personal use | Countries where downloaded copyrighted content is overlooked | Countries where downloaded copyrighted content is fined | Countries that have shut down torrenting sites |
| Poland | Argentina | Finland | Australia |
| Spain | Brazil | France | China |
| Switzerland | Canada | Germany | Italy |
| | Columbia | Japan | Latvia |
| | Czech Republic | UAE | Malaysia |
| | Denmark | UK | Portugal |
| | Egypt | | Russia |
| | Greece | | South Africa |
| | India | | USA |
| | Iran | | |
| | Israel | | |
| | Mexico | | |
| | Netherlands | | |
| | Philippines | | |
| | Romania | | |
| | Slovakia | | |
| | Singapore | | |
| | Uruguay | | |
How to protect yourself
If you want to avoid legal implications, you should stop torrenting. However, if you must torrent, safeguard your online privacy with the following measures.
A VPN
Using a VPN is the most secure way to torrent. It redirects your web traffic via a server in a location of your choice, enabling you to replace your actual IP address with a new one. This provides an extra layer of privacy, making it hard for anyone to track you. Furthermore, the VPN will encrypt all torrent traffic before leaving your device, so third parties or your ISP cannot monitor your online activity.
However, you should always select a top-notch VPN provider with advanced features such as fast download speeds, a vast server network, robust security, anonymity, and privacy.
1. ExpressVPN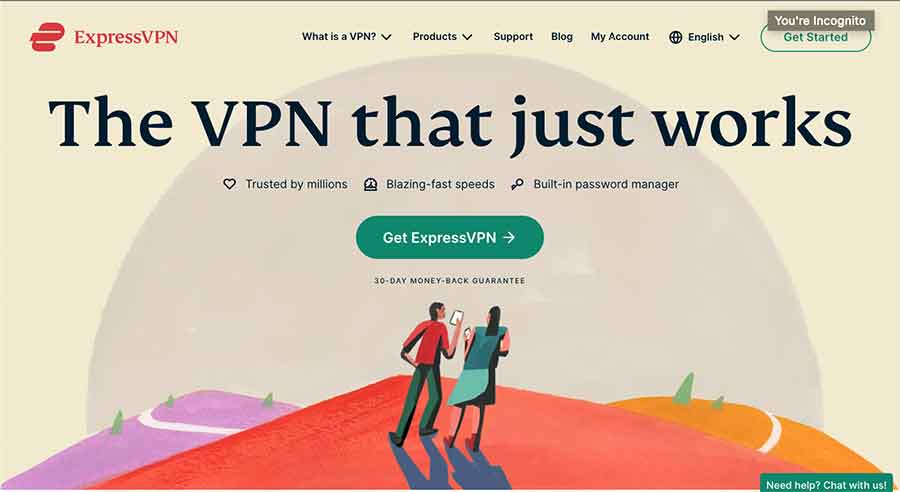 ExpressVPN offers over 3,000 global servers in 94 countries that provide lightning-fast speeds. It supports torrenting and unblocks geo-restricted content on major streaming platforms like Netflix. Furthermore, it uses robust security and privacy features like bullet-proof AES 256-bit encryption, split tunneling, and an active kill switch, and it prevents DNS and IPv6 leaks when downloading or sharing torrents. Also, the VPN offers a 30-day money-back guarantee, allowing you to test its service risk-free.
2. Private Internet Access (PIA)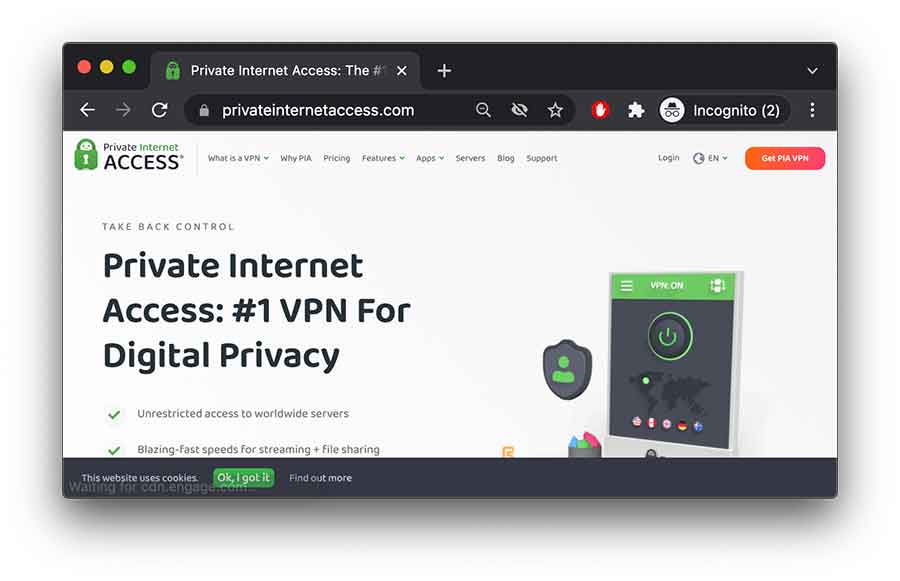 PIA is a decent VPN service that provides fast and stable speeds sufficient for torrenting. It offers dedicated IP addresses that ensure anonymity is not compromised and allows you to access geo-restricted content. Also, it includes an extensive network of over 28,650 next-gen servers in 84 countries. This VPN service offers unlimited bandwidth and multiple features to ensure a seamless torrenting experience.
Moreover, it affirms a top-tier level of security and privacy by hiding your IP address, masking your web traffic through robust encryption, and following a strict no-logs policy.
3. ExtremeVPN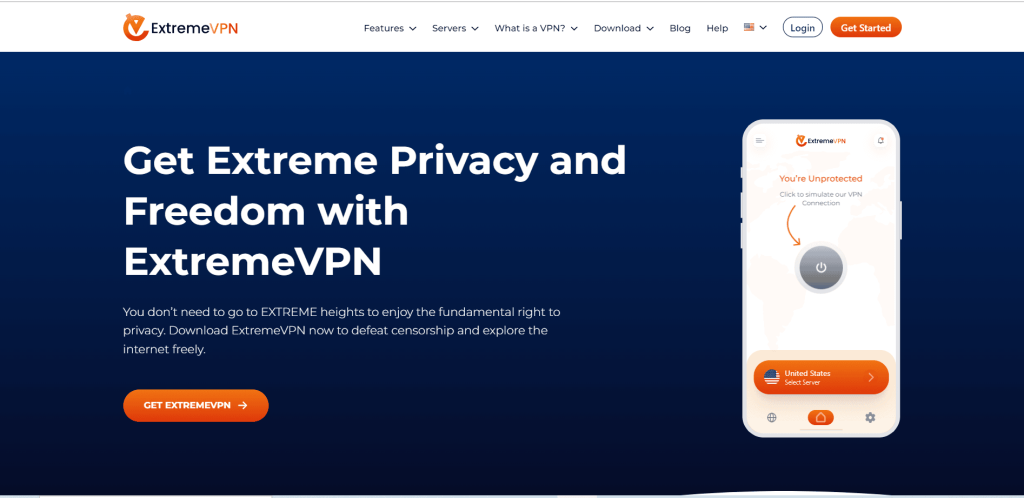 ExtremeVPN offers blazing-fast servers that allow you to browse torrenting sites anonymously and privately. The VPN service boasts over 6,500 servers spread in 78+ countries. In addition, it offers unlimited bandwidth that allows you to download and share torrents while circumventing ISP throttling.
Moreover, it provides sophisticated security and privacy features like AES 256-bit military-grade encryption, an internet kill switch, IPv6 and DNS leak protection, and split tunneling. Also, it offers 24/7 customer support and a 30-day money-back guarantee, allowing you to claim a refund if dissatisfied with the service.
4. NordVPN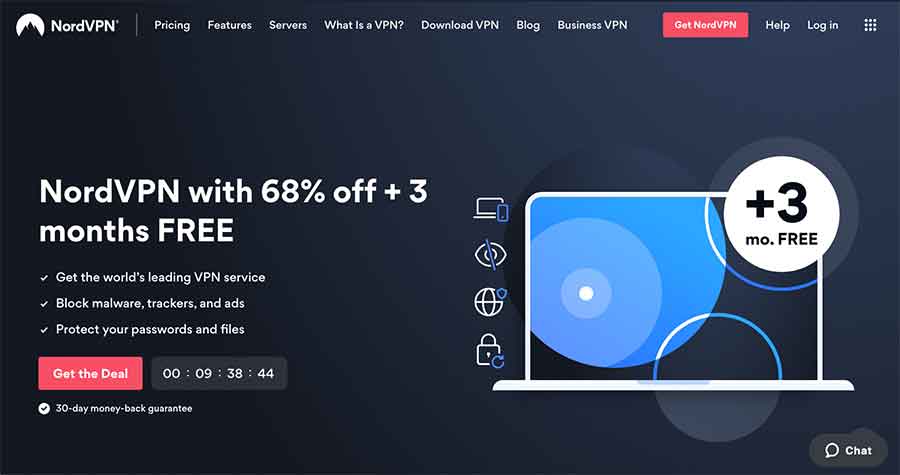 NordVPN is a reputable VPN provider with a vast network of 5,000+ servers spread in 59 countries worldwide. It includes dedicated P2P servers with the fastest connection speed for downloading and sharing P2P files. Moreover, it uses military-grade AES 256-bit encryption, adheres to a zero-logs policy, and has an automatic kill switch. The VPN service supports torrenting on popular iOS, macOS, Windows, Linux, and Android devices.
Usenet
Usenet is a premium service with a monthly price between $10 and $20. It enables you to download files from centralized servers rather than network peers. The downloads are lightning-fast and private since it offers an SSL-encrypted connection between you and the server provider. Moreover, torrenting via Usenet does not require you to seed the content after a download, making you less of a target since you are not sharing copyrighted materials. Usenet providers typically make the files available for at least 1,200 days after posting, giving you complete access to download the files.
Penalties if you caught Torrenting
In the USA, illegal downloading falls under the Copyright Act of 1976. Since torrenting sites are entirely shut down in the US, the general penalty is a monetary fine if someone is caught up with torrenting. The damage an accused may be indebted can range from $750 to $30,000.
This is an exactly fixed penalty amount. It may also depend upon the facts of the case and will later be decided by the legal courts. For example, according to CNN, a 32-year-old woman from Minnesota was found accountable for downloading 24 songs and was charged $80,000 per song, which means a total of $1.9 million.
According to a report published earlier this year, more than 1,000 lawsuits were filed against using BitTorrent in the US last year. Similarly, in the UK, illegal downloading falls under civil law, while copyright violation or stealing someone else work and publishing it on the internet has a sentence of a maximum of two years.
Other alternatives
Also, you can consider Tor if you do not want to pay for a VPN service. It encrypts your web traffic by directing it via several volunteer nodes. However, Tor is typically slow and only supports low bandwidth activity or simple browsing. Also, using Tor may attract the attention of authorities and your ISP because it is mainly associated with cybercriminals. Peerblock is another well-known torrenting tool. It is a desktop firewall that includes a constantly updated blacklist of IP addresses belonging to firms like copyright trolls, which attempt to monitor your online activity, primarily on P2P networks. Sadly, the blacklist is only updated once upon installation, and you must pay to continue receiving updates. However, it is unlikely that the blacklist includes all IP addresses of copyright trolls, so you can still be tracked through an IP address.
Share this article
About the Author
Rebecca James is an IT consultant with forward thinking approach toward developing IT infrastructures of SMEs. She writes to engage with individuals and raise awareness of digital security, privacy, and better IT infrastructure.
More from Rebecca James
Related Posts