Finding the best free VPN for torrenting might be hard, specifically since there are better choices than free VPNs. While they may sound enticing, free VPNs have privacy and security issues, which become a hazard while torrenting.
They risk your privacy and security by exposing your IP address to the ISPs and other prying eyes. Therefore, the ISPs remain aware of your activities and throttle your connection. In addition, since they are free, they come with significant limitations, including monthly data allowance and limited access to server networks and features. In short, free VPNs are terrible for torrenting unless you take a calculated step.
With the world dismissing free VPNs for a few recognized and renowned reliable VPNs for torrenting, people need to pay more attention to a handful of reliable free VPN providers. However, since finding these VPNs is equivalent to finding a needle in a haystack, this guide can make things easier for you!
Are free VPNs a reliable option for Torrenting?
Free VPN providers can be a dangerous option for torrenting. Even though they claim to keep you safe, they don't provide enough security and privacy, that's essential during torrenting. They also come with significant limitations that make them quite unreliable to use.
Some of the reasons to avoid using a free VPN for torrenting are as follows:
Free VPNs often sell your data to various advertising companies and generate revenue. In other words, if you're not paying for the product, you're the product.
These VPNs have limited data caps, which isn't enough for a fast torrent downloading process.
The free VPNs compromise your privacy by recording and sharing logs with the government and third parties without your consent.
They also use trackers and can have malware in disguise to breach your digital privacy.
If you still want to use a free VPN, then the VPNs described in this article might help you. But remember, all these VPNs have limitations that can spoil your experience. Instead of using the free VPN providers, try using these premium VPNs for torrenting that come with 30 to 45 days trial accounts.:
These premium VPNs offer torrent-specific features and help provide a reliable torrenting experience.
How to use a VPN for torrenting
You may have the best VPN in the world, but without using it safely, you will compromise your privacy and safety when torrenting. If, by any chance, your IP address leaks, you are no longer protected. So, follow the steps below to use your VPN safely when torrenting.
Download and install a reliable and trustworthy VPN that handles P2P traffic.
Choose a server nearby in a location that does not block torrenting websites. Connect to the server.
Run a torrent IP test leak to confirm your identity is not leaking.
Confirm your kill switch is enabled to avoid leaking your identity in case your VPN disconnects accidentally.
Download a reputable torrent client like qBittorent.
Open a torrent file or magnet link with your client.
After torrenting, ensure you exit your torrent client before disconnecting your VPN.
You can now safely disconnect your VPN without leaking sensitive information to the torrenting swarm.
Moreover, always confirm that the file you are downloading is safe. You can do this by only downloading torrents from reputable websites and studying the reviews and ratings from other users. Additionally, scan your file for malware using a VPN before opening it.
Eight best free VPNs for Torrenting in 2023
All the best free VPNs for torrenting recommendations are based on thorough tests and reviews. While testing out these VPN providers, specific emphasis was on speed, security, privacy, data limit, and the features it offers.
If you're still interested in knowing more about the best free VPN for torrenting, read their short reviews below and decide which is the right fit.
1. TunnelBear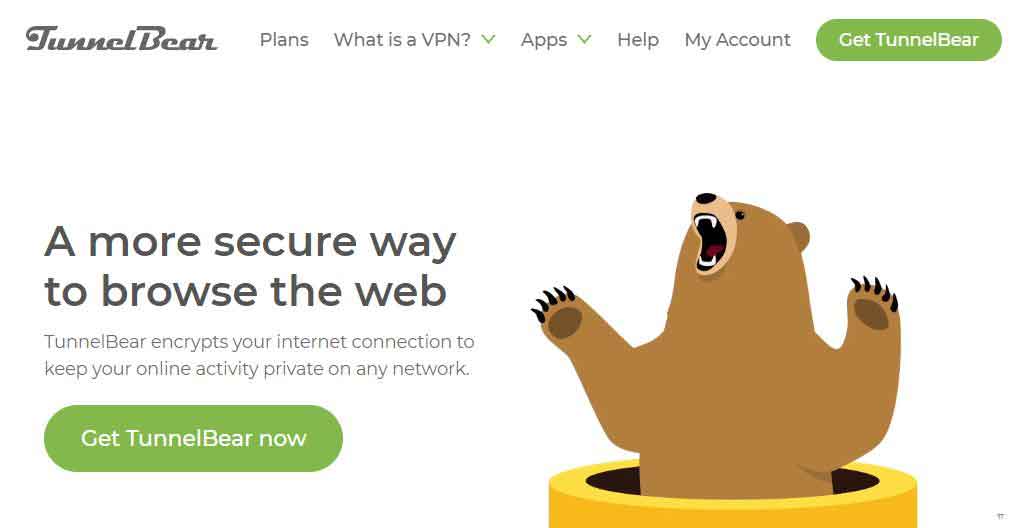 Website URL: tunnelbear.com
Industry's highest encryption level
No-log policy
500 MB data
Servers access in 48+ countries
TunnelBear is a top-rated free VPN provider that allows users to download torrents safely. It has a decent server network spread over 48 countries offers an average downloading speed.
The VPN provider's strong encryption makes it a great option to use for torrenting. It utilizes strong AES-256-bit encryption and authentication keys to protect the data from ISPs and other snooping eyes. In addition, it offers impressive advanced features, i.e., GhostBear, Vigilant Bear, and Split Bear, that increase online security during torrenting. But there are no mentions of these features being available to free users.
Besides security, TunnelBear VPN also maintains the utmost privacy on the web. It follows a strict no-log policy and has also been audited. This gives some relaxation to the users who remain concerned about its jurisdiction. But again, the privacy policy doesn't mention that it offers the same level of privacy to the free users.
There are some other shortcomings with TunnelBear VPN. It offers a limited 500 MB of data daily, resulting in a passive downloading speed. To enjoy a fast and secure torrenting experience, try the premium version of TunnelBear VPN.
2. Hotspot Shield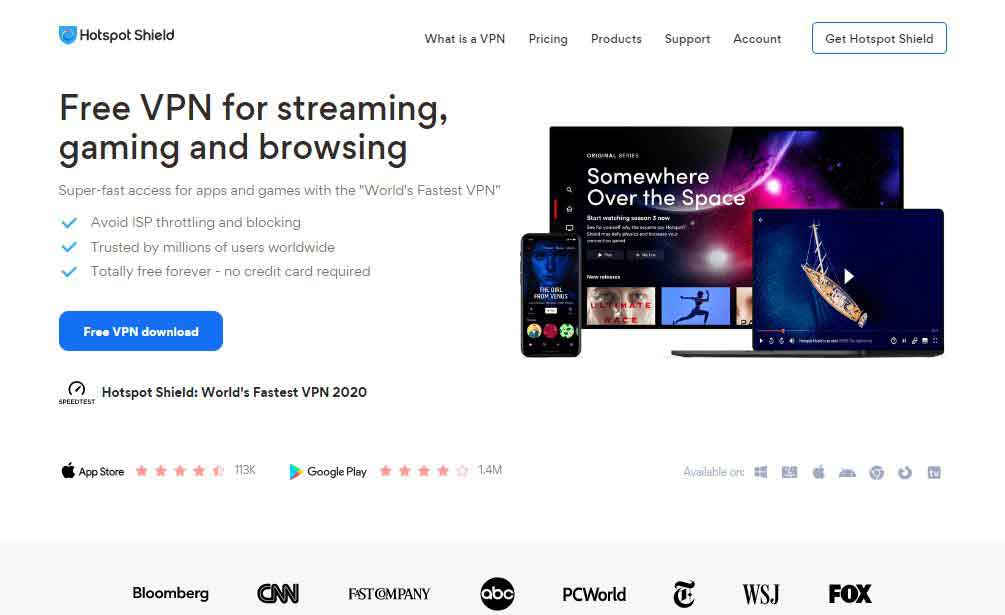 Website URL: hotspotshield.com
Catapult Hydra protocol
Strong encryption
No data limits
Multiple device compatibility
Hotspot Shield VPN is another top-tier VPN provider available in free and paid versions. If you don't want to invest in its premium plan, you can continue using the free version as long as you want and enjoy downloading torrents.
In the free version, users can only access one server location. Also, it offers 500MB daily, which creates issues and might pull users away from using it. But it uses the proprietary Catapult Hydra protocol that delivers fast speed and makes it the best free VPN for torrenting.
The VPN provides top-notch security even in the free plan. The VPN deploys AES-128-bit and AES-256-bit encryption to safeguard torrent traffic from all privacy abusers.
However, unlike premium VPNs for torrenting, Hotspot Shield VPN doesn't offer any basic or torrent-specific features in the free plan. In addition, the VPN follows a strict zero-log policy. But, it belongs to the US jurisdiction and has a history of controversies and practices violating users' digital privacy. If you worry about privacy and security, looking for other reliable options is better.
3. Hide.me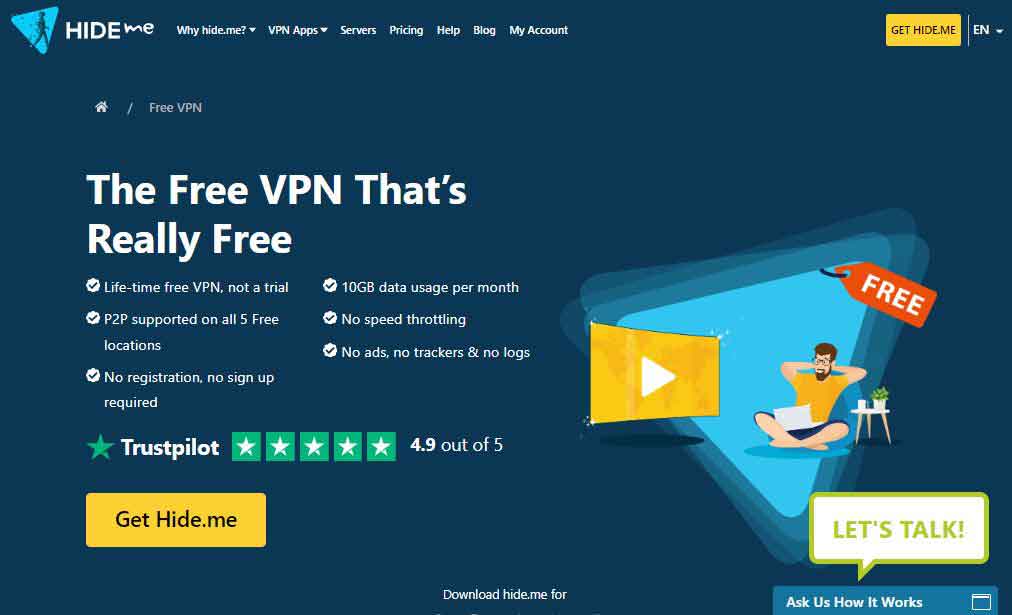 Website URL: hide.me/en
10 GB monthly data limit
Headquarter in Malaysia
Five server locations
Kill switch and split tunneling features
Hide.me is another excellent free VPN provider you must try once for torrenting and P2P activities. The VPN provider belongs to a safe jurisdiction in Malaysia and follows a no-log policy, even in the free version. It promises that all torrent downloading activities remain anonymous and private, which impresses the users.
On the top, Hide.me VPN uses robust AES-256-bit encryption to hide your torrent activities from the ISPs. Another best thing about Hide.me VPN's free version is that it allows users to access a few basic and advanced security features. This includes split tunneling, a kill switch, a stealth guard, and a multihop feature. With all these features, Hide.me VPN guarantees maximum security while torrenting.
However, like all other free VPN providers, Hide.me also has limited monthly data. Each user can use 10GB of data each month, which is somewhat enough, but the experience won't be much impressive when it comes to downloading. It also allows server access in five locations, offering little help boosting connection speeds.
To access the entire VPN servers and other advanced features that Hide.me VPN offers that can help during torrenting, switch to the premium Hide.me plan.
4. Atlas VPN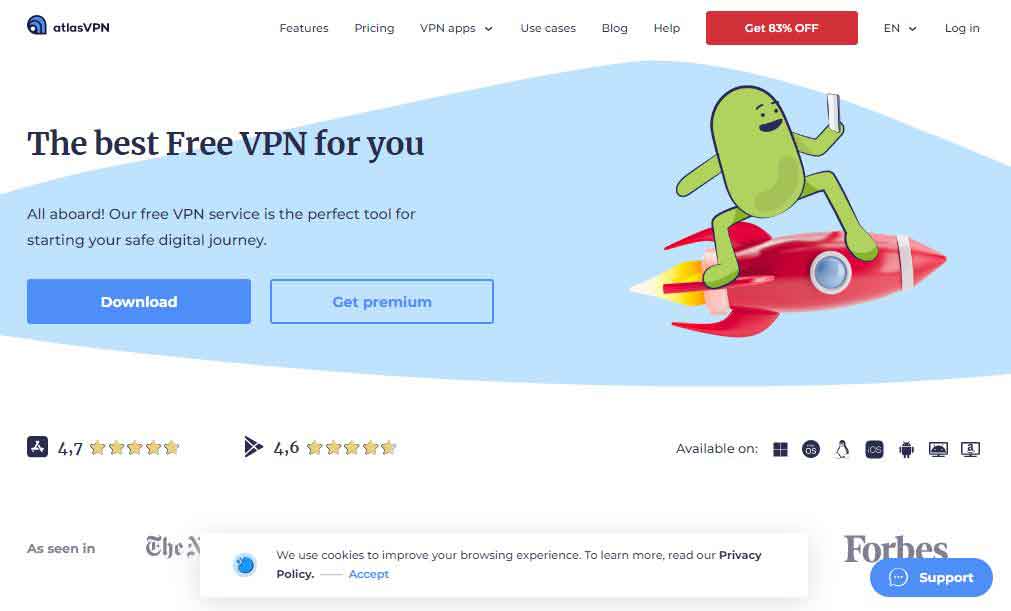 Website URL: atlasvpn.com
10 GB monthly data limit
Three server locations
Robust encryption
Belongs to the US jurisdiction
Atlas VPN is a reliable free VPN provider that you can use to download torrents. It comes with a monthly data limit of 10 GB and allows users to connect to up to three server locations in Norway, the Netherlands, and the US. These servers offer unlimited bandwidth and ensure you enjoy above-average torrent downloading speed.
Nord Security owns Atlas VPN, the industry's leading brand that also owns the best top-rated VPN, NordVPN. The VPN is famous for providing the highest level of security to users. It uses the industry's highest AES-256-bit encryption, ChaCha20 cipher for symmetric encryption, and other authentication and hash keys. With such advanced encryption standards, Atlas VPN guarantees that no prying eye can intercept your torrent traffic.
The VPN provider has various features that are great to use while torrenting. This includes a kill switch, split tunneling, tracker, malware, and ad-blocker. In addition, it also uses a private DNS feature which ensures that torrent-related searches are not logged. However, unfortunately, all these features are not available to the free version users.
Atlas VPN is a private VPN that doesn't keep logs of your torrent activities. But its privacy policy must clarify if this applies to freemium users.
5. Privado VPN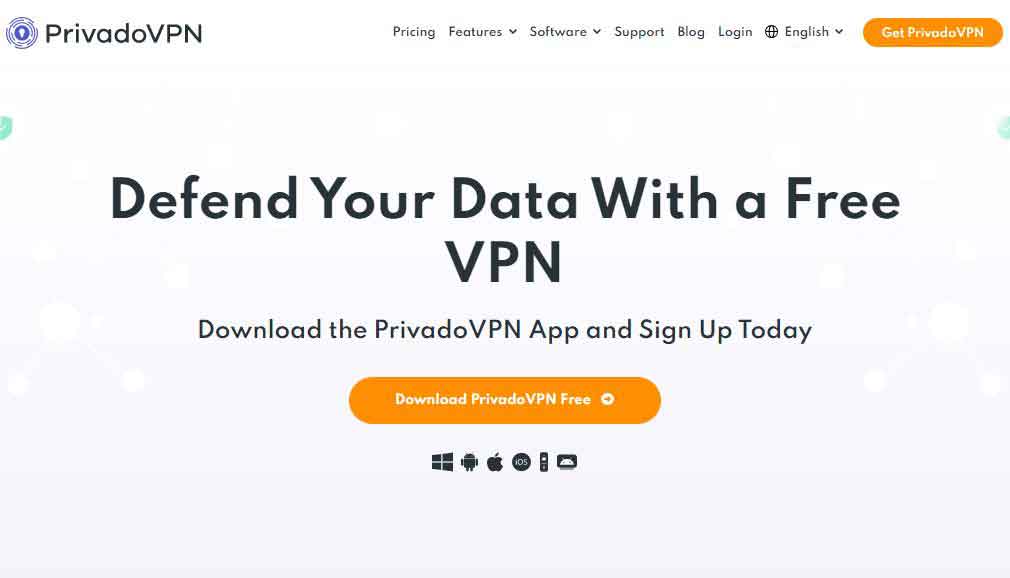 Website URL: privadovpn.com
10 GB monthly data limit
Follows no-log policy
Belongs from Switzerland
Servers available in 12 locations
Privado VPN is yet another secure free VPN provider to download torrents. Its server access, top-notch security standards, and strict no-log policy make it the best free VPN for downloading torrents.
The VPN provider belongs to the privacy-friendly jurisdiction of Switzerland and adheres to a strict zero-logging policy. It doesn't record nor share your IP address or browsing history with anyone and keeps your activities private. Apart from this, Privado VPN also provides the most significant level of online security during torrenting. It uses the standard AES 256-bit encryption, which is virtually unbreakable and guarantees that no one can ever know about your torrent downloading behavior.
The service provider comes with a 10GB of monthly data limit. In addition, it allows users to connect to servers in 12 different locations. You can get average downloading speeds by switching the servers.
PrivadoVPN isn't a feature-packed VPN provider. But it does include all those features that prove helpful during torrenting. It does offer a kill switch, SOCKS5 proxy, and split tunneling features. However, you must buy a premium PrivadoVPN subscription to benefit from all these features.
6. Windscribe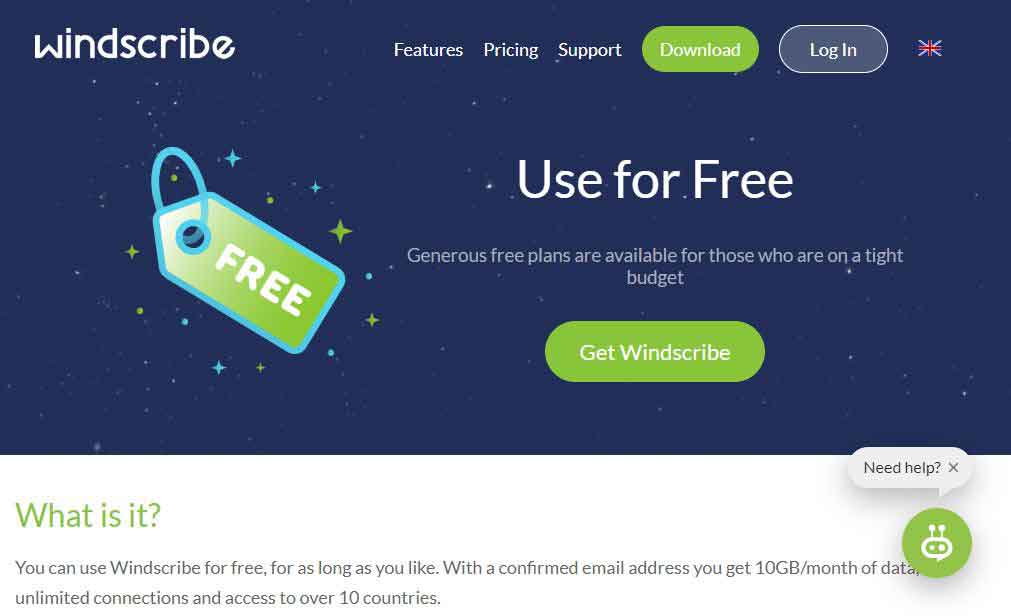 Website URL: windscribe.com
10 GB monthly data allowance
Connect to ten servers
Operates from Canada
Standard encryption
Windscribe VPN is among the best free VPN providers for torrenting and P2P downloads. Initially, it offers users 2GB of data per month, but if you confirm your email address, the VPN allocates 10 GB of extra data. In addition, if you tweet about Windscribe VPN, you can get an extra 5GB of data each month. The VPN offers several ways to increase the data limit; the users can take full advantage of these offers and later have enough data to enjoy a seamless downloading experience.
Besides this, the VPN allows users to connect to ten international servers. All the servers are in prominent countries like the UK, the US, and France. Thus, establishing a quick connection is easy.
While the users rest assured that Windscribe VPN won't compromise their security, its jurisdiction is a prime concern for most users. The VPN belongs to Canada, a prominent member of the global surveillance alliance. It can record or share users' data with the international surveillance alliance.
To boost torrent security, Windscribe VPN offers an incredible ROBERT feature. The ad and malware blocker can prevent users from downloading any infected or bogus torrent file. But upgrade your plan to the premium version to take advantage of this feature.
7. Zoog VPN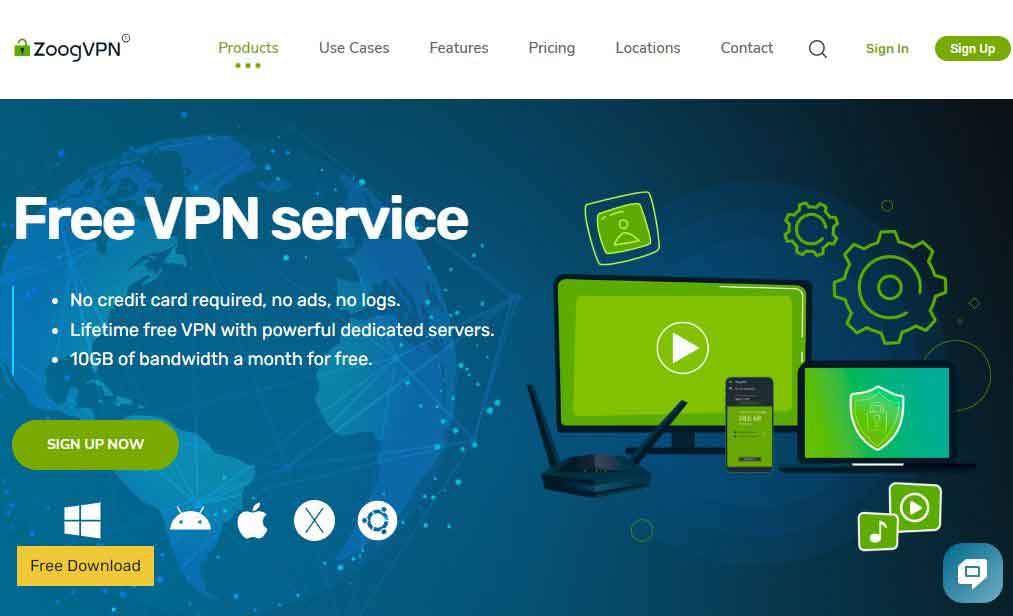 Website URL: zoogvpn.com
10 GB of monthly data limit
Follows a no-log policy
Torrenting is allowed in the free version
Five server locations
Zoog VPN is another best free VPN provider for torrenting that might impress you. It hides your IP address and uses AES 128-bit encryption to secure torrenting activities. Though it has a vast server network, it allows torrenting on a few selected servers. You can connect to the five server locations and download torrents. The speed is average but not very impressive because the monthly data limit is only 10 GB.
Besides, the VPN follows a no-log policy and doesn't store users' sensitive information. This means you can trust Zoog VPN to keep all torrent-related data private. It also offers excellent features that ensure maximum security and protection during torrenting.
However, Zoog VPN offers limited features in the free version. Buy any premium subscription plan to access all the advanced features, including Zoogshadowing. Also, the premium version uses AES-256-bit encryption to protect the data traffic. So, for maximum security, switch to the paid version.
8. Speedify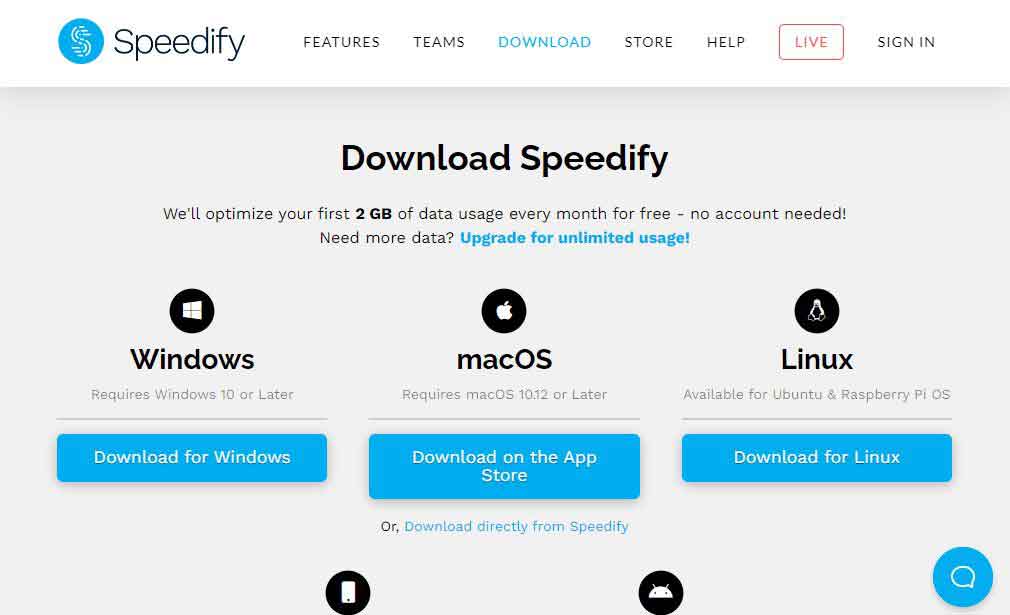 Website URL: speedify.com
2GB monthly data limit
Advanced encryption
Allows torrenting
US-based VPN provider
Speedify VPN is also a reliable VPN provider for torrenting. It uses the advanced ChaCha20, AES-256-bit encryption standard, and security protocols to protect torrent traffic from all prying eyes. Besides this, the VPN offers a global server network spread over 30 countries, but there isn't any information regarding server access in the free version.
Like all free VPN providers, Speedify also comes with a data limit. It allows users to use 2GB of data per month. This is something extremely low and insufficient for downloading torrents. With such limited data, the downloading experience has slow speeds and frequent connection lags. Moreover, the VPN's jurisdiction is concerning and often questioned and might drift users away from using it.
The plus point of using this free VPN for torrenting is that it allows users to access security and privacy-boosting features like the kill switch. However, the torrent downloading experience with limited bandwidth and server network isn't practical.
Paid vs. Free VPNs – which should you get?
Free and paid VPNs have many differences, yet they are supposed to achieve the same goal – privacy and security protection. A free VPN looks attractive because you don't have to pay, but its hidden costs may outweigh paying a few dollars to buy a subscription to a premium VPN service.
Most free VPNs have bandwidth, data, servers, and general network infrastructure limitations. Bandwidth and data caps deny you the freedom to conduct data-intensive activities at optimum speeds, which can be frustrating. Few servers mean you can only spoof your location to specific regions, and sometimes the servers may be overloaded. Some free VPNs can invade your privacy instead of protecting it – by collecting your data.
On the other hand, spending a few dollars can get you a reliable and trustworthy VPN that gives you fast and unlimited access to your favorite websites without a data cap. Also, paid VPNs have expansive network infrastructure and frequently updated systems. They also do not collect or log user data to ensure ultimate privacy. Furthermore, most paid VPNs have P2P dedicated servers where you can download and upload torrents without worrying about someone watching you. There are as many benefits of using a paid VPN as there are dangers of using a free VPN. Alternatively, you can opt for a freemium VPN or take advantage of most premium VPNs' 30-day money-back guarantee policy to test their product for free.
Why is using a VPN Essential during Torrenting?
While torrenting gives quick access to various online content, it also carries a plethora of privacy and security risks. On the top, your IP address is visible to anyone in the P2P swarm during torrenting. The ISPs and copyright owners can filter out your IP address, leading to online surveillance.
Downloading torrents without hiding the IP address can also lead to ISP throttling. As torrenting consumes too much bandwidth to decongest the network traffic, ISPs throttle your connection. As a result, it leads to prolonged downloading. Also, different countries have different laws related to torrenting, so you can even be penalized for this act.
But things don't end here because hackers can upload malware-laden or bogus files in the swarm. Downloading any such file might spread malware or viruses on your device.
Instead of falling victim to the abovementioned risks, you can secure your torrenting experience with a reliable VPN provider. Using a VPN for torrenting increases digital privacy and security. Here are the reasons why use a VPN for torrenting:
It encrypts the entire data traffic and guarantees that no one sees what you're doing on the web.
You can enjoy fast downloading speeds by connecting to a remote VPN server.
A VPN hides your IP address meaning ISPs cannot monitor your online activities and won't throttle your connection.
The best VPN provider offers impressive features like SOCKS5 proxy or split tunneling that enhance the torrent downloading experience.
There are significant risks associated with free VPN providers, so using the best premium VPN providers is a much better option.
Features to Consider while Selecting the best free VPN for Torrenting
A good free VPN for torrenting must be fast, secure, and include features that help during the downloading process. Here's the list of the features that you must look for in the best free VPN for torrenting:
The VPN must be compatible with torrenting. Most free VPNs do not support torrenting, so make sure the one you use does allow torrenting on at least a few servers.
Use a VPN that offers maximum online protection and security. It must use the highest AES-256-bit encryption and popular tunneling protocols to secure torrent traffic from privacy abusers.
Choose a VPN with a vast server network, which establishes a quick connection. Also, having dedicated P2P servers is a plus point.
Free VPN providers rarely come without any data limit. Make sure to use a VPN that offers unlimited bandwidth or enough monthly data limit to make it possible to download torrents.
The free VPN provider must abide by a strict no-log policy to keep your torrent-related activities private.
Select a VPN with torrent-centric features like a kill switch, SOCKS5 proxy, and split tunneling to boost digital privacy.
A VPN offers slow and sluggish connections, which can result in a frustrating downloading experience. Thus, choose a VPN provider that provides above-average and stable internet speeds for P2P downloads.
Use a free VPN for torrenting and P2P downloads only if they meet the abovementioned criteria. Though a free VPN can't have all these features, it must include most.
Free torrenting VPNs to avoid
Most free VPNs will target you with malware, and pesky adverts and sell your sensitive information to the highest bidder. Below are some of the free VPNs you should avoid.
Thunder VPN: This intrusive VPN runs on Android devices and collects a wide array of information like device model, language ISP, OS version, etc. Also, it collects the amount of data transferred in a day and connection timestamps.
Hola VPN: The network has in the past been accused of using the devices of connected premium users as a botnet to perform DDoS attacks and open doors for criminals.
Butternut VPN: Its main goal is not to give you privacy but to collect and sell your data to third parties, including your location.
The intention and the purpose of using a VPN is to have privacy and security when browsing the internet. Some free VPNs jeopardize your privacy and expose you to countless online threats. We recommend you take advantage of the money-back guarantee of premium VPNs and use the window to enjoy premium VPN services for free.
VPN address substitution and privacy
The logs policy of a VPN service provider is vital when choosing a VPN. There is no point in paying your money for privacy protection, and then the company keeps data that can be used to trace online activities back to you. If the company enforces a strict no-logs policy, you can be sure that your internet activities will be untraceable if the authorities seize VPN servers.
Some companies outright lie about their data retention policy to attract customers. Others try to stretch the meaning of the no-logs policy to mean they can log some data. All these are survival tactics in a crowded market with fierce competition. Choose a company whose systems are audited by reputable independent organizations to prove they keep zero logs about your internet activities.
In addition, check out a VPN provider's headquarters. Some regions, like the British Virgins Islands and Panama, are more privacy-friendly than others. Also, copyright enforcement varies in different regions. Companies headquartered in a country with solid copyright enforcement may be threatened with fines and imprisonment for compromising user privacy.
The risks of torrenting without a VPN
You are exposing yourself to many risks when you are torrenting without the protection of a reliable and trustworthy VPN.
Inability to access blocked torrenting websites: Some popular torrenting websites are blocked in various countries. For example, The Pirate Bay contains the best torrents but is unavailable in some countries worldwide. A VPN can help you spoof your location and bypass geo-blocks.
Your IP address can be recorded in torrenting databases: Some websites publish torrenting activities and their related IP addresses, which are visible to the general public, including copyright trolls, media companies, and law enforcement agencies.
Third parties can monitor what you are torrenting: Your IP address is visible when you are not protected in the torrenting swarm. Third parties like copyright trolls can monitor your activities and even use your IP address to pinpoint your approximate location.
Your traffic is exposed to your ISP: In some countries, the ISP is required by the law to play a particular role in stopping illegal torrenting. Without a VPN, they can see all your torrenting activities and may throttle your internet speeds or block you from accessing some websites.
Lack of protection from other peers: All peers' IP addresses are visible in the torrenting swarm. If you are not protected, your actual IP address will be visible to other peers who could use it to create scams.
Conclusion
Finding the best free VPN for torrenting can be a challenging task. Most free VPNs have significant limitations, like not providing enough security or privacy to keep your activities private. Also, limited server access and a lack of basic and advanced privacy-focused features hinder downloading. The free VPN providers mentioned in this article are some decent options that users who don't have a budget for a paid VPN can consider using. While they still have some limitations, they use military-grade encryption to hide and protect torrent traffic from ISPs and other prying eyes.

Nonetheless, the free VPN providers are not as suitable as the premium VPNs. Hence, if you have a budget, it's better to use a paid VPN or try using the best VPN with free trial versions.
FAQs
Using a VPN is the safest option for torrenting and P2P downloads. It hides the IP address and encrypts the data traffic making users anonymous and private on the web. A VPN uses strong and unbreakable encryption, so the ISPs, copyright trolls, and hackers won't be able to learn about your torrent-related activities. Additionally, the VPNs' torrent-centric features maximize security and privacy, and compatibility with torrent clients ensures a smooth downloading experience. Therefore, always connect to the best VPN for torrenting before downloading torrent files.
It depends on the VPN provider that you choose for downloading. A few free VPN providers like the ones mentioned above allow torrenting and are relatively safe to use. They mask your IP address and deploy strong encryption, which protects your torrent traffic from all prying eyes, including the ISPs, government agencies, and copyright owners. Plus, most follow a strict no-log policy, ensuring that users' information is neither stored nor shared with any third party. 
However, it is undeniable that most free VPN providers are unsuitable for your digital privacy and security. They provide weak protection, expose your real identity, and keep data logs to sell to third-party advertisers and earn profit. Besides this, some free VPN providers even infect your device with trackers, malware, and spyware. Therefore, it is crucial to do proper research before choosing a free VPN for torrenting.
ProtonVPN is among the best VPNs that you can consider using for downloading torrents. The VPN provider includes all the necessary features required to download torrents safely. It includes distinctive features like a kill switch, split tunneling feature, secure core server, and obfuscation technology. In addition, it also enables users to improve their downloading speed by connecting to the VPN accelerator feature. 
Interestingly, ProtonVPN is even available in the free version. The free version provides users with secure and private internet access. It further protects users' privacy by following a no-log policy and avoiding sharing their data with anyone. Users can connect to free servers in three countries and enjoy above-average browsing speed. However, the accessible version of ProtonVPN doesn't provide access to advanced features except for the custom anti-censor protocol, nor does it support torrenting or streaming. Hence, you must upgrade to a premium plan to download torrents with ProtonVPN.
Yes, using a VPN for torrenting is legal. Most countries have no laws against using a VPN for personal use. However, some countries have restrictions on the use of VPNs, and you may need to obtain a license to use a VPN in those countries. Additionally, some countries have banned certain types of VPNs altogether.
While using a VPN is generally legal, some activities are illegal when done through a VPN connection. For example, downloading copyrighted material without permission is illegal in most countries, regardless of whether you use a VPN. Similarly, accessing child pornography or engaging in other illegal activities while using a VPN is prohibited and can result in severe penalties.
If you plan to use a VPN for torrenting purposes, it's crucial to ensure that the service you choose allows torrent traffic and doesn't keep logs of your activity. Additionally, it's always best to connect to servers in countries where copyright infringement laws are not as strict as in your own country.
A torrent website may be blocked for various reasons, but you can unblock it using the following methods.
1. Use a VPN to access blocked torrent sites and download torrents.
2. Use a proxy or socket. 
3. Use Tor Browser. 
4. Change your DNS server to unblock the website. 
Not all VPNs have the infrastructure to handle P2P sharing. Some VPNs support torrenting only on specific servers, while others fully support torrenting on all their servers. Check if a VPN supports P2P file sharing if you intend to use it for torrenting purposes.
Your IP address is your unique identifier on the internet. When your IP address is visible in the torrenting swarm, law enforcement and copyright trolls could monitor your torrenting activities and use them to find your location.
Yes. Most ISPs intentionally reduce your connection speeds when you are torrenting. This is called throttling. When you use a VPN, your connection is encrypted, and your ISP cannot know which websites you visit or throttle your connection.
You should test whether your IP address leaks using online tools like whatsmyip.com. First, check your IP address before connecting to a VPN server, then recheck after connecting to a server. If they are the same, then your VPN is not working. You should also check whether the kill switch works by enabling it and switching to a different server. If the internet connection drops, then it is working.
Yes, you can get caught when torrenting without masking your IP address. However, the only thing you should worry about is getting caught sharing illegal files. You could face legal consequences like fines and cease and desist orders.
It is hard to get a VPN that is 100% free that doesn't have restrictions. Proton VPN's free version is great because it does not collect user data or send annoying adverts. Also, it doesn't have data caps or bandwidth limits. However, the servers are limited, and you must upgrade the account to start torrenting.
Proton VPN is the best free VPN. Its free version has powerful unblocking abilities and gives you a premium experience for free. However, it has limited servers, and you can only access other servers after upgrading to a premium service,
Most free VPNs are not safe. Some collect you're your browsing data and use it for personalized adverts. Other VPNs may contain malware that can steal or spy on your data.
Like premium VPNs, free VPNs reroute your connection to remote servers to hide your IP address and mask your identity. However, most free VPNs have limited features and cannot protect you effectively. They only give you a few servers to choose from and impose data caps and bandwidth limits. Others are run by the ads they send to your device, which can be intrusive and annoying. Thankfully, there are also some free quality VPNs like Proton VPN that is privacy centered, have no ads, and do not collect user data.
Share this article
About the Author
Rebecca James is an IT consultant with forward thinking approach toward developing IT infrastructures of SMEs. She writes to engage with individuals and raise awareness of digital security, privacy, and better IT infrastructure.
More from Rebecca James
Related Posts