Quick List Of VPN Browsers
Browsers with built-in VPN features are a popular option for bypassing geo-blocks and censorships. But since they are merely proxy-based servers, they won't allow you to choose custom locations, nor do they allow good speeds. Nevertheless, some popular VPN browsers are as follows:
Aloha Browser: reliable VPN browser that hides IP addresses, blocks ads, and encrypts browser data.
Opera browser: one of the first VPN browsers that encrypts data through AES-256-bit encryption.
Globus browser: a secure VPN browser with built-in firewall for malware protection
Tenta by Avast: a robust browser that hides your IP address, encrypts data and offers DNS security.
Epic Privacy Browser: a reliable browser that filters WebRTC to prevent IP leaks
UR Browser: a chromium-based browser with built-in virus protection
Brave browser: a chromium-based browser with an open source code and built-in phishing protection
Tor browser: a secure browser that secures data within layers of encryption
Psiphon browser: an open-source privacy browser that bypasses censorship through VPN, SSH and HTTPS technology.
Mozilla privacy browser: a quantum-based browser with fingerprint protection.
VPN is the best-known method for enabling online anonymity, which is why browsers with built-in VPNs are a popular option for anonymous browsing. However, despite their claim, the privacy and security offered by these browsers are a faint reflection compared to a VPN. These browsers with built-in VPNs don't encrypt your connection like an actual VPN.
In other words, they are not VPNs and are merely proxy-based routing systems. Therefore, a VPN browser's maximum security is masking your IP address for anonymity and blocking trackers and cookies from stealing your data. Apart from that, they are also a reliable tool if you want to bypass geographical restrictions.
Why Not Use VPN Extension Over Built-VPN Browsers?
A VPN extension for browsers is a straightforward plugin you can toggle on and off while browsing the Internet. They encrypt your browsing activity, block trackers and cookies, and hide your IP address enabling a secure browsing experience. Here is a quick comparison between both technologies.
| | |
| --- | --- |
| VPN Extensions | VPN Browsers |
| ✔ Hide IP | ✔ Hide IP |
| ✔ Unblock Sites | ✔ Unblock Sites |
| ✔ Fast Speed | ✖ |
| ✔ Encryption | ✖ |
| ✔ Servers Locations | ✖ |
| ✔ Kill Switch | ✖ |
| ✔ Streaming | ✖ |
| ✔ Torrenting | ✖ |
However, there is a catch: VPN browser plugins only secure your web browser, not any other application on your device. Therefore, any activity you do outside of that particular browser remains unsecure. In other words, other programs such as games, streaming platforms, and tools will continue to connect to the internet directly and without encryption.
To keep your overall activity secure, you need to install VPN software on your device. Fortunately, every VPN service in this article offers VPN browser extensions and native apps for Windows, MacOS, iOS, Android, and other operating systems.
1. NordVPN – Compatible with all browsers
One of the best VPNs available, NordVPN offers a secure and reliable browser extension for private web browsing. Although it is merely a VPN proxy, it allows a safe and secure browsing experience through several security features. The NordVPN browser extension protects you from online snooping by hiding your IP address and browsing data. Moreover, it prevents IP leaks by automatically blocking WebRTC. Some of the most distinctive features of the NordVPN browser extension are as follows:
30 days free trial
Fast speedy servers
High-quality streaming
Best downloading speed
The best thing about this browser is that despite providing advanced features, it provides super fast speeds and a stable browsing experience with no bandwidth limits. It has an easy-to-use interface, and setting it up requires a simple click on the "Quick Connect" button. Moreover, it has 5600 servers in 59 countries, ensuring a stable browsing experience.
---
2. CyberGhost VPN- Free Extension
Another top-rated VPN is CyberGhost VPN, known for its reliable privacy and security features. The CyberGhost Proxy Plugin is developed on the Ethereum blockchain. Therefore, there is little room for restriction, fraud, or third-party involvement in guaranteeing data privacy and security. Apart from that, it also hides our IP address to maintain online anonymity. Moreover, it ensures data security and privacy by encrypting your browsing data through AES-256-bit encryption. Some other features of CyberGhost VPN are as follows:
Secure Wi-Fi connections.
Free connection
Online data encryption.
Access to geo-restricted websites.
Blocked harmful content.
The VPN offers 9279 servers in 91 countries that provide super fast speeds and help bypass geo-restrictions offering "true internet freedom" However, the best thing about the CyberGhost VPN browser extension is that it is free to use. Anyone who wants to use it won't need to sign up for an account. But to avail of a few premium features, they must subscribe to the VPN.
---
3. Surfshark – the most resilient VPN extension
Although a relatively new VPN provider, Surfshark has quickly gained fame over its astounding
privacy and security features. The Surfshark VPN browser extension is easy to use and is available to users upon subscription. It promises a secure and private online browsing experience by hiding your IP address and encrypting data through AES-256-bit encryption. Moreover, the browser VPN exertion is ideal for bypassing geo-blocks and fast, unrestricted streaming. Some of the noticeable features of Surfshark VPN are as follows:
30 days free trial
effective 1-click VPN plugin
restricts ads trackers
One of the finest VPNs, Surfshark has all the necessary tools for a private browsing experience. It offers split tunneling, SmartDNS, GPS spoofing, the quick WireGuard protocol, and P2P-optimized servers. And to make things even better, Surfshark is constantly releasing new updates and features, like a graphical user interface.
---
4. VyprVPN – Available for all browser
VyprVPN holds a reputation as one of the most secure VPNs available. It was the first VPN to release a log audit report proving it to be an utterly no-logs VPN. Although the VyprVPN proxy browser extension is relatively new and is available as "beta," it does promise a secure and reliable browsing experience. The VPN proxy comes with the following features:
Encrypts your browsing data
High-level performance and speeds
Tracker protection
Helps bypass geo-blocks and online restrictions.
The VyprVPN browser proxy extension is not available for free and instead comes with the VPN subscri[tin. The VPN extension promises unlimited bandwidth and super-fast speeds. It offers reliable VPN servers in more than 70 locations. Moreover, it is easy to set up and is a one-click solution. However, unfortunately, it is only available for Chrome so far.
---
5. ExpressVPN – best VPN Extsions for all browsers
One of the best VPNs available, the ExpressVPN browser proxy extension promises a reliable and secure browsing experience. The proxy VPN extension is sleek, secure, and easy to use and set up. However, it is only available through a VPN subscription. But fortunately, it does provide a 30-day free trial that is easily refundable. Some of the key features of the ExpressVPN browser extension are as follows:
Web RTC blocking to prevent IP address leaks
Location spoofing by masking IP address
HTTPS everywhere feature that redirects sites to their more secure HTTPS version
Apart from providing privacy and security, the VPN proxy browser extension allows customization through the available dark mode option. Moreover, it is simple and easy to use and is compatible with several browsers, be it Chrome, Brave, or Vivaldi. The best thing about the browser extension is its multilingual interface. It offers 16 languages, introducing diversity in its function and ensuring its availability to a significant number of people.
---
10 Best VPN Browsers With Built-In VPN:
The main idea of using browsers with built-in VPNs is to have a private, secure and reliable browsing experience. The following VPN browsers are designed to offer just that:
1. Aloha Browser – sleek and easy-to-use interface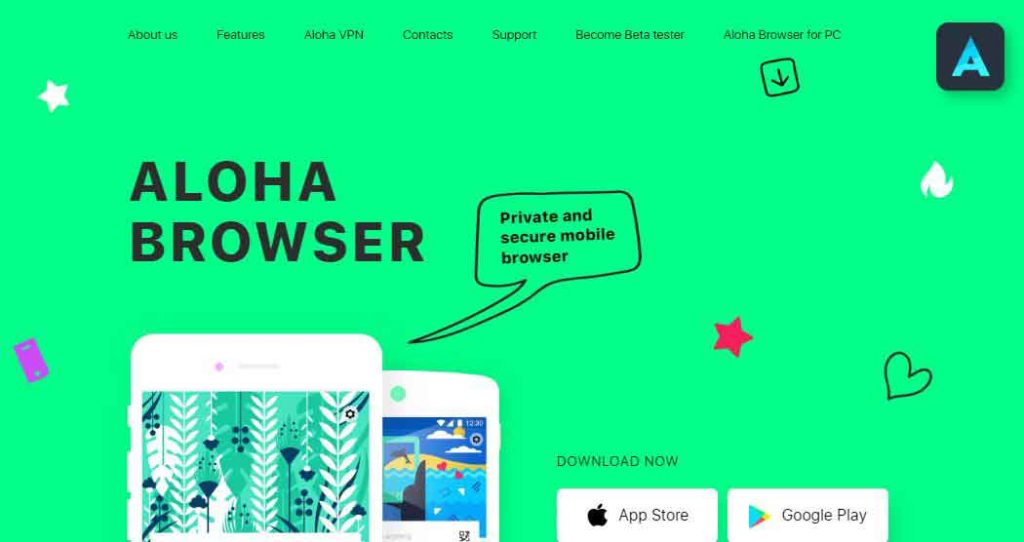 Aloha browser is one of the best mobile browsers that offer a secure and reliable browsing experience with no tracebacks. It is compatible with several platforms, including Android, which makes it one of the best and most reliable browsers with built-in VPNs.
The browser has a clean, sleek, and easy-to-use interface and several customization features that make it ideal for beginners and experienced users. Apart from that, the VPN browser offers several features that help browsers online anonymously, such as:
Built-in Adblock – blocks intrusive and malicious cookies, trackers, and ads
Free unlimited VPN- encrypts your browsing data
Private mode- browse privately without trackbacks and history.
Private tabs- secure your browser tabs with a fingerprint or passcode.
Apart from ensuring secure browsing, the Aloha browser offers a media player. Although the VPN browser is free, it has a premium version available with advanced features such as VPN country selection, premium themes, support for ZIP archives, and much more.
---
2. Opera Browser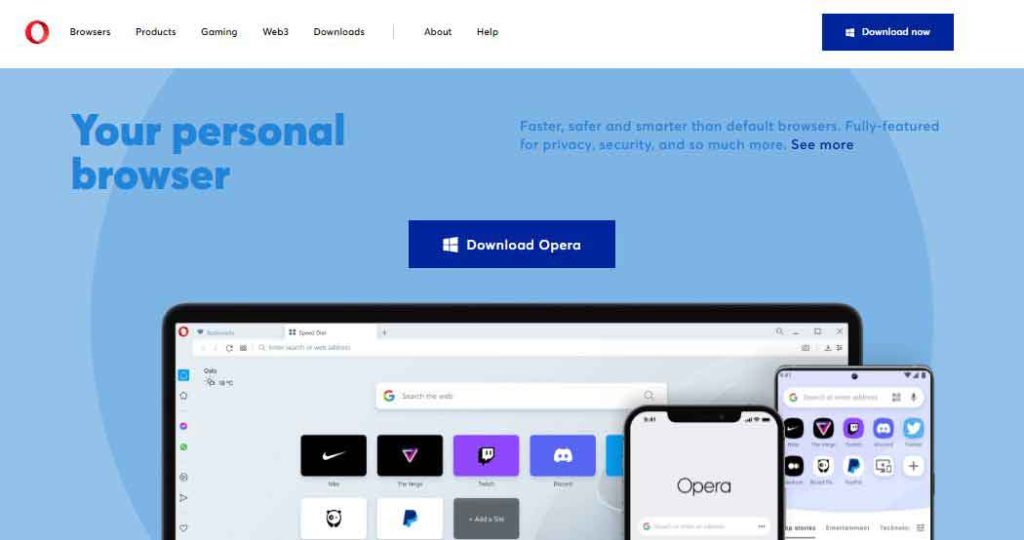 Opera VPN browser is one of the oldest browsers offering a built-in VPN feature. The browser has a straightforward interface that is easy to use and navigate. Moreover, the built-in VPN offers decent privacy and security by encrypting your data through AES-256 bit encryption and other reliable features such as:
A strict no-logs policy- it does not store data logs
Automatic ad and tracker blocker- blocks intrusive ads, trackers, and cookies that hinder your privacy.
Five international locations- has servers in Canada, US, Germany, and Singapore.
Although the browser has a built-in VPN, it has to be turned on/off with a simple toggle. However, some sites might block you while you are using it. The Opera browser has several other impressive features, such as an integrated messenger, fast speed, and easy file sharing. A premium version is valuable for anyone looking for extra features such as up to 6 simultaneous connections and 3000+ servers.
---
3. Globus VPN Browser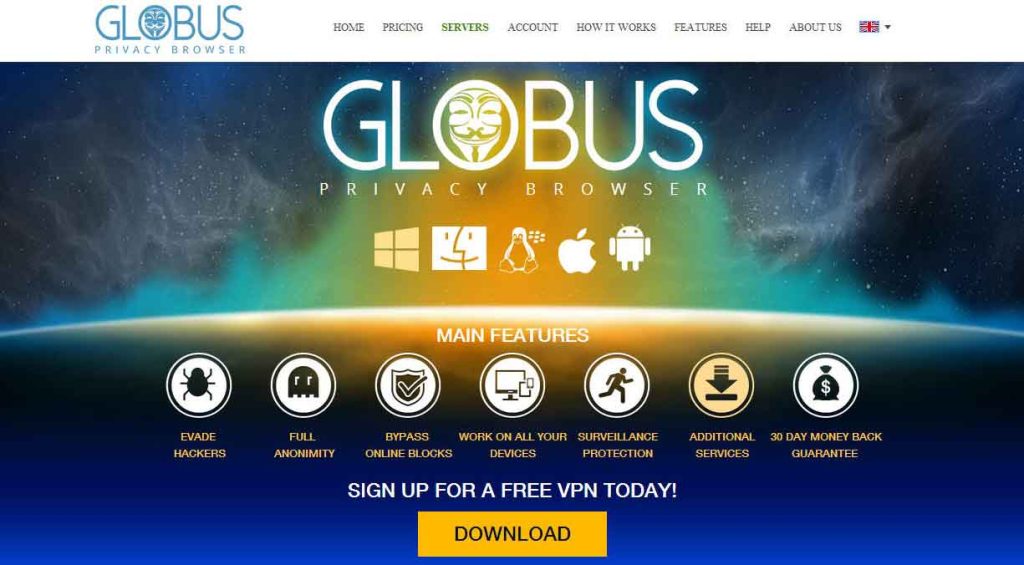 Having been around since 2014, Globus is a popular browser offering VPN integration. The browser is easy to use with its clean and straightforward interface. However, unlike other modern browsers, it does not provide customizable options. Apart from that, the chromium-based VPN browse offers several privacy and security features for secure browsing, such as:
It has a robust traffic encryption system to conceal your online presence.
A solid firewall that protects you from malware, viruses, and cyber attacks.
This free VPN agent will allow you to bypass regional restrictions easily.
The VPN browser has a sleek and easy-to-use interface that is easy to navigate even for first time users. However it does not offer much customization features. Apart from that, while the VPN browser is sleek to use, it does lack in providing super fast speeds.
---
4. Tenta Browser by Avast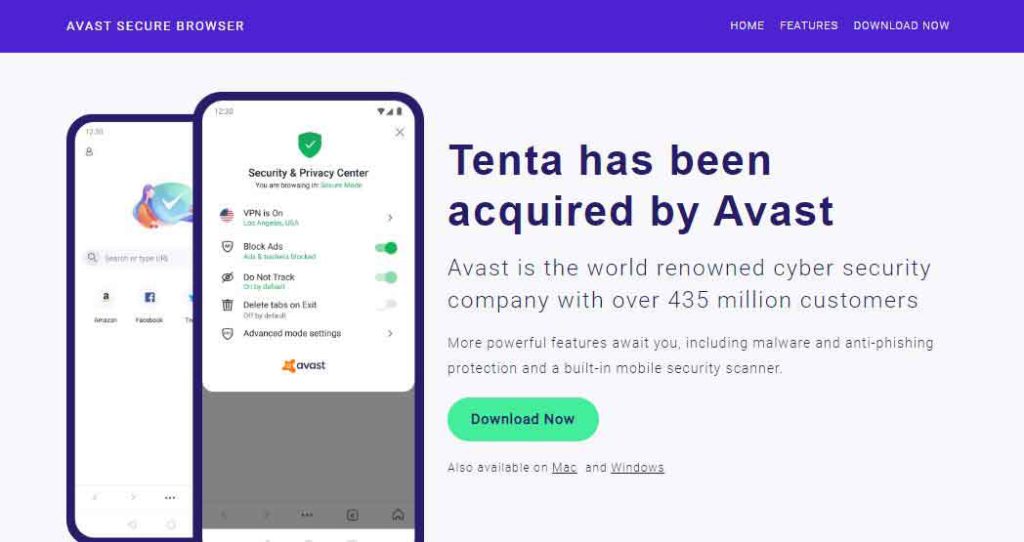 Tenta is one of the best Android browsers that promises optimum privacy and security. Although Avast VPN now acquires it, it has long since upheld its reputation as a secure browser. The VPN browser allows a reliable, secure browsing experience by hiding user IP addresses and encrypting browsing data. Some of the critical privacy and security features of the Tenta browser are as follows:
Secure access through a pin code or fingerprint lock
Built-in VPN that encrypts user data with secure AES-256-bit encryption
DNS security through DNS over TLS, DNSSEC, and decentralized DNS.
Encrypted media vault
Blocks ads and trackers
No logs VPN browser
Despite such complex privacy and security features, Tenta has an easy-to-use, user-friendly interface. The VPN browser offers customizable browsing options such as grouping tabs by VPN location and setting one mode for all tabs. Moreover, it also supports decentralized Web 3.0 and offers anonymous browsing by default. It is a reliable VPN browser that is available for free and is also upgradeable to a premium version.
---
5. Epic Privacy Browser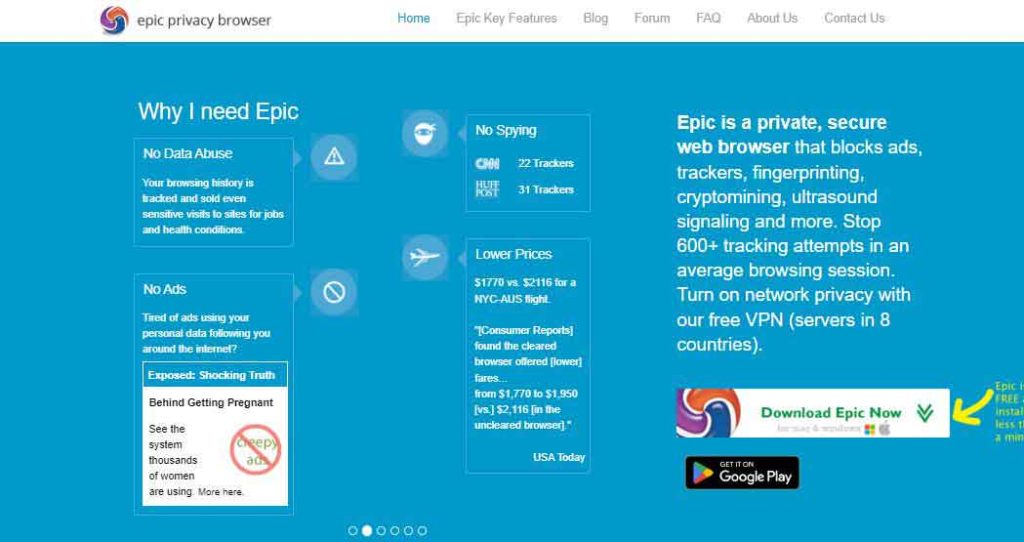 One of the best Chromium-based Browsers, Epic Browser, promises to safeguard your privacy. The browser runs in an always-on private browsing mode and also offers numerous other privacy and security features, such as:
WebRTC filtering to prevent IP leaks
Does not log your data or your browsing history
Blocks ads, trackers and
Automatically redirects you to the HTTPS version of every website.
An encrypted proxy VPN server
The VPN browser is free to use and has no data use restrictions. The VPN proxy servers offer eight different server locations to pick from: the US, Canada, the UK, Germany, France, the Netherlands, India, and Singapore. Apart from privacy and security, the Epic privacy browser offers additional features such as an encrypted vault, an audio queue, a video downloading feature, and a reader mode.
---
6. UR Browser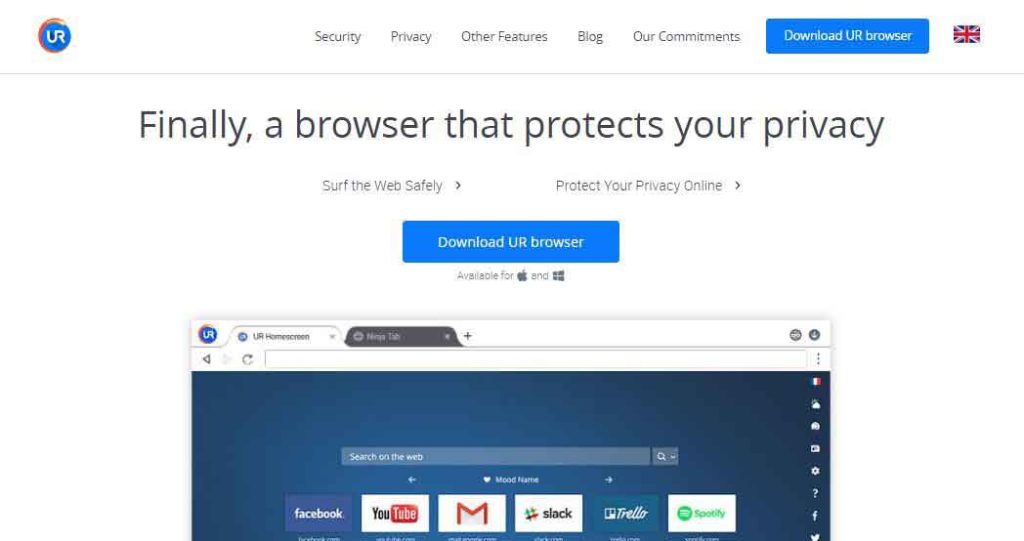 A relatively new VPN browser, UR Browser has become the talk of the town. The chromium-based VPN browser provides super-fast speeds with stable and secure online browsing through remarkable features such as:
Blocks third-party ads and invisible trackers
A ninja mode that erases data after the end of each session.
A built-in virus scanner
Provides default private search engines such as Qwant, Lilo, Ecosia, and StartPage
2048-bit RSA encryption for secure surfing and data exchange.
Automatically directs websites to HTTPS versions.
The UR browser has a user-friendly and customizable interface. Users can personalize their browser home screen through unique HD images and 3D parallax wallpapers. Moreover, they can also customize widgets and backgrounds as per their preferences. Another impressive feature is that the browser allows super-fast downloading and organizes all the downloads in specific folders.
---
7. Brave Browser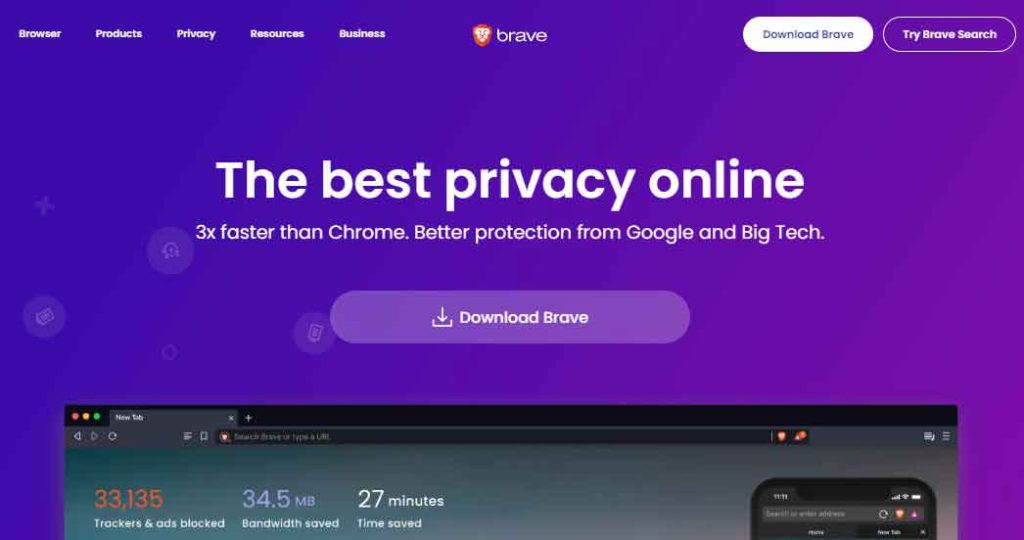 Brave browser has gained immense popularity primarily because it is owned by one of the co-owners of Mozilla Firefox. The chromium-based browser has open-source software to vouch for the privacy and security it provides. Apart from that, it has a simple user interface that is starkly similar to mainstream web browsers making it easy to use. This VPN offers decent privacy and security, such as:
automatically blocks cross-site trackers and browser fingerprinting attempts
Blocks cookie consent notifications
Built-in malware and phishing protection.
It removes intrusive ads from every page you visit
upgrades every possible connection to more secure HTTPS.
What is particularly interesting about Brave is its anti-ad attitude. The browser has a business model that only strips online ads from websites but replaces them with advertisements from its network. Moreover, it also eliminates ad tracking, ensuring user safety and privacy. Another thing that makes Brave stand out is the introduction of "BAT" or Basic Attention Tokens. These are tokens awarded to users who accept advertisements. These tokens can be used to pay off website publishers for support or buy premium content or features.
---
8. Tor Browser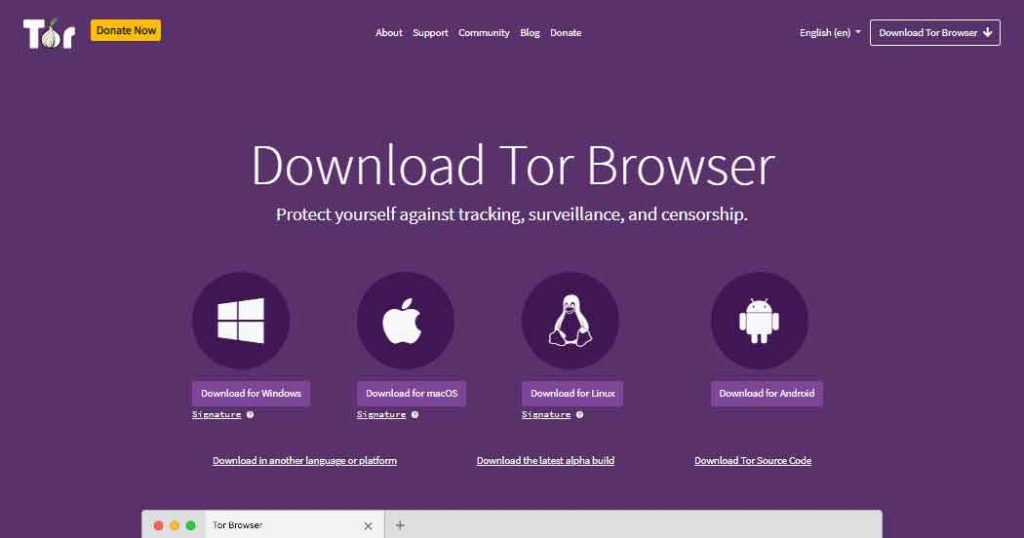 Built by the US Navy, Tor has long since been used as an online anonymity and security tool. It is a popular browser for users accessing the dark web since it helps bypass ISP throttling and online censorship issues. Although Tor is not a browser offering a built-in VPN, it makes it on the list due to its unexceptional privacy and security features. Here are some of the few distinct privacy and security features of Tor:
It encloses the data into layers of encryption to maintain data privacy.
Data packets bounce through different nodes or relays that help maintain anonymity.
Masks IP address to help maintain anonymity.
While the Tor browser offers unexceptional privacy and security, it has a complex user interface. Setting up the Tor browser requires going through its three security settings, which offer varying levels of privacy and anonymity.
---
9. Psiphon for Windows and Android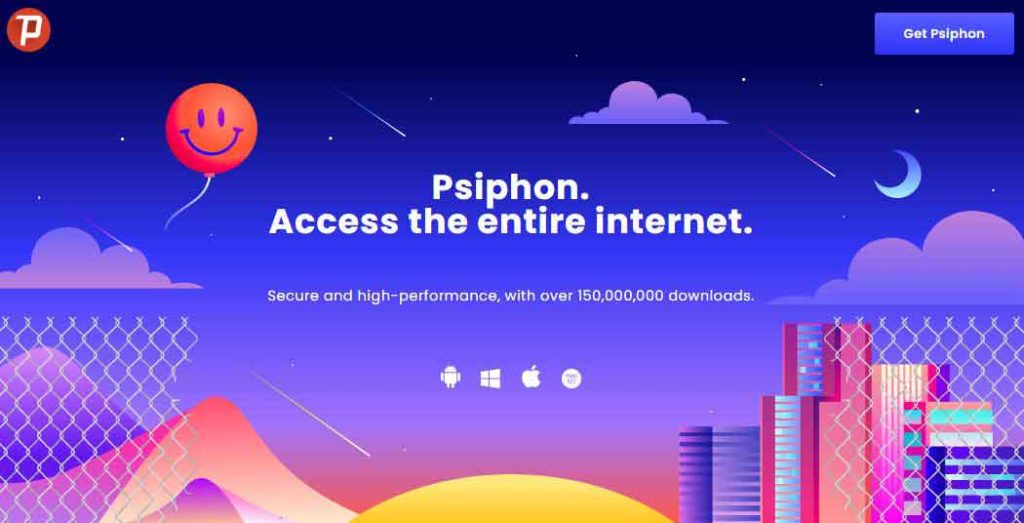 Psiphon is an open-source privacy browser. The browser claims to be a "censorship software" that utilizes VPN, SSH, and HTTPS technology to bypass online censorship issues. The VPN browser has a somewhat easy-to-use interface with unique security features such as:
Encrypts data through AES-256-BIT encryption.
Used L2TP/IPSec for VPN tunneling
Provides separate VPN mode and proxy mode
However, the VPN browser belongs to Canada, which is a part of the 5 eyes alliance and keeps data logs. Moreover, although the Psiphon browser does have a vast server network in 20 countries, it does not help unblock streaming platforms or torrenting. Apart from that, the browser had excruciatingly slow speeds. The VPN browser has a free version which is upgradeable to a premium version that offers a few extra features.
---
10. Mozilla Firefox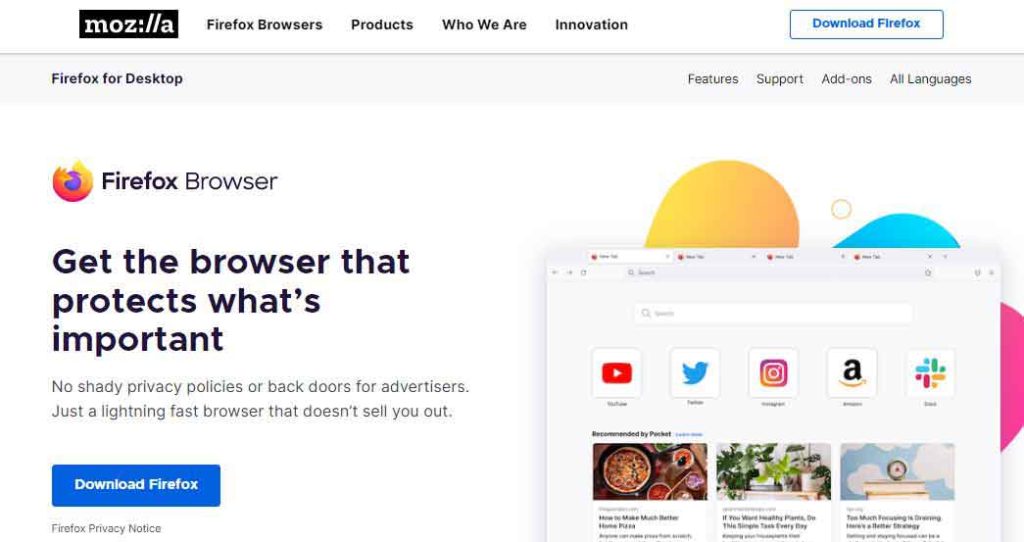 Mozilla is one of the best-known private VPN browsers. It is a Quantum-based browser designed to offer its users the utmost privacy and security. Moreover, the browser has a user-friendly interface and provides several different privacy and security features, such as:
Enhanced Tracking Protection
Total Cookie Protection. DNS over HTTPS
Fingerprinting protection
Built-in ad blocking
Malware and phishing protection
Default HTTPS is supported.
Built-in password manager
Besides privacy and security, Mozilla Firefox offers several customization features that allow users to synchronize the data saved within the browser with other devices. Moreover, it also has a built-in translation feature that allows web translations. Another excellent feature of Mozilla Firefox is the built-in reader mode that allows ease of reading.
---
Are browsers with built-in VPNs safe to use?
Browsers with built-in VPNs are generally safe if you want menial privacy while browsing the
web. These browsers are much more secure than mainstream web browsers, specifically Google. However, while these VPN browsers claim to have VPN capabilities, the privacy they provide is not as good as a VPN. The main difference is that they can only protect your browsers.
Moreover, in contrast to several reliable VPNs, most private browsers have shady log policies making them unreliable for use. Therefore a reliable way out is to use a reliable VPN browser extension and your regular browser. You can also amp up your privacy within it by using incognito mode at all times and pairing up with a private search engine.
FAQ
Which browser comes with a Built-in VPN?
Several browsers come with a built-in VPN. However, most of them will only encrypt your browser's traffic and have a shady log policy. Therefore it is best to use a VPN app like NordVPN to protect your device fully.
Is there a VPN web browser?
Several browsers label themselves as VPN web browsers. However, most of these browsers don't provide privacy and security per their claims. Primarily because of their shady log policies. Moreover, they value your privacy and don't log your data. Therefore, it is best to use a reliable VPN browser extension that helps circumvent geo-restrictions, bypass ISP throttling and encrypt your browsing data to gain browser privacy.
How to use a VPN browser extension?
VPN browser extensions are usually a one-click solution. They are available as add-ons to standard browsers and are activated with a simple click.
Alternatives to using a browser with an integrated VPN:
There are several alternatives to using a browser with an integrated VPN. Anyone searching for merely in-browser privacy and security can opt for a reliable VPN browser proxy extension. Another option is pairing a regular VPN with regular browsers. This method is much more reliable, ad the VPN enables security outside the web browser.
Is there any advantage to using a VPN browser?
A VPN browser is an excellent replacement for standard browsers because it can provide greater privacy and security. The VPN feature hides your browsing activities from online snoopers, ISP, and the government.
Does google chrome have a built-in VPN?
No. Google Chrome is a regular Browser that does not offer VPN protection. In fact, in the past, it has also been under the spotlight for disrupting user privacy.
Conclusion:
With online privacy receding each day, it is crucial to ensure security through reliable security solutions.Browsers with built-in VPNs seem to be a reliable option to browse the web anonymously, but they don't live up to their privacy claims. Therefore, relying on a secure VPN browser extension is best if you need the utmost browser privacy.
These browser extensions provide privacy and security by encrypting your data, hiding your IP address, and following a strict no-logs policy. Apart from that, it is always best to subscribe to a VPN app, secure your entire connection, and attain online privacy and security beyond your browsers.