Most web browsers don't respect your online privacy, leaving you vulnerable to spying and data leaks. Recently French regulators fined Google 150 million euros for tracking cookies. It is not the first time that Google has faced such a situation. In previous years, Google faced a lawsuit for tracking users in private mode. Considering the web browser privacy threats, everyone is now looking for the best privacy browsers. A private browser is much more reliable and safe than a mainstream browser like Google and Microsoft Edge.
Privacy browsers prevent online tracking and browser fingerprinting attempts and stop any data hunter from collecting data about your browsing activities. Also, they come with privacy and security-centric features that further increase your security as you browse the web. This article covers the best private web browsers that protect your privacy.
How Does a Privacy Browser Work?
A privacy browser is designed to protect your privacy and security. These browsers do so by incorporating specific features and functionalities meant to prevent you from tracking, fingerprinting, and other privacy risks. Some techniques used by privacy browsers include;
Third-party cookies blocking
Unlike regular browsers, a privacy browser blocks third-party cookies, usually stored in your browser. These cookies are small files that track your web activity and create your unique internet profile. So, privacy browsers prevent tracking by limiting these files.
Ad-blocking
Some privacy browsers come with ad-blocking capabilities. Unfortunately, popular browsers usually display ads that might contain intrusive or malicious files on your websites. Thankfully, a privacy browser blocks ads that often collect and track your activity from your search results and the websites you visit.
Built-in VPN or proxy
A built-in VPN boosts your privacy by encrypting your traffic. This helps mask your IP address and prevent other parties, including ISPs and government agencies, from monitoring your activity.
However, it is essential to note that proxies lack robust security features such as encryption and could be less protective than a VPN.
Private browsing mode
Incognito mode allows you to surf the internet without storing your browsing history, cookies, and other tracking files. This protects your privacy from third parties collecting your information using your computer or public networks.
Anti-fingerprinting measures
Some privacy browsers integrate anti-fingerprinting measures by limiting how identifiable data such as browser version, location, fonts, date, and other details are collected and saved by the browser. These features go a long way in making your browsing experience more private and harder to track.
Why 'private browsing mode isn't good enough
Private browsing is reliable if you share your personal computer with someone else. However, private browsing is not foolproof if you want to stay completely anonymous.
Some reasons why private browsing is considered insufficient include the following;
Doesn't block third-party cookies: Private browsing only focuses on blocking local cookies, browsing history, and other temporary files. However, it doesn't block third-party cookies like advertisers, which could compromise your privacy.
No protection against tracking: Private browsing mode does not offer complete protection against online tracking. While it may prevent websites from storing cookies on your device, it does not block other tracking methods like fingerprinting, pixel tracking, or browser profiling. Websites can still gather information about browsing through these techniques, infringing your privacy.
No encryption on your connection: Private browsing mode does not encrypt your internet connection by default. While it can prevent the browser from storing data locally, ISPs and third-party entities can still track or monitor your online activities if you're connected to an insecure network. Therefore, use a Virtual Private Network (VPN) or a secure HTTPS connection for proper protection.
Does not prevent malware or phishing: Private browsing mode provides no additional protection against malware or attacks if you visit malicious websites or click harmful links. In contrast, your system can still be compromised in private browsing mode.
16 best Private Browsers to use in 2023
Since these short descriptions on the "quick list above" don't do enough justice to the numerous ways these browsers ensure privacy and security, here are overviews of what each browser is capable of:
1. Tor Browser – Ultimate Private browsing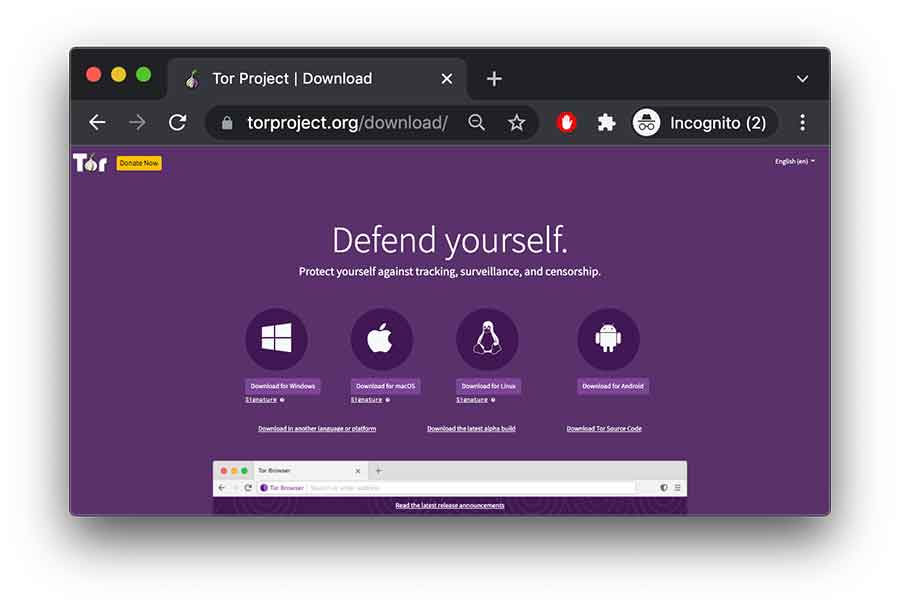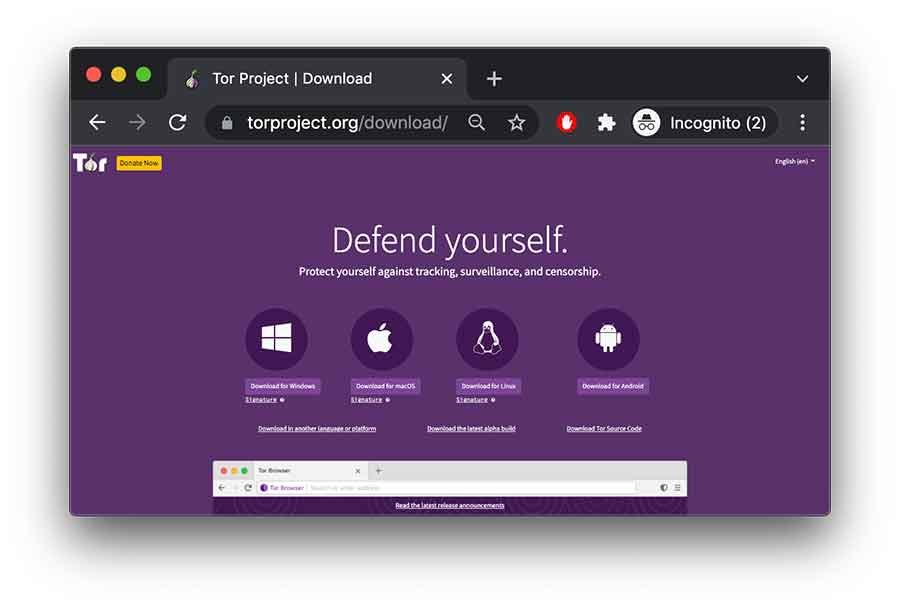 The Tor Browser is the best free private browser that allows browsing the web anonymously without leaving any tracebacks. It was initially designed by the US Navy for private communication and to maintain greater online anonymity. The private browser uses a system of nodes to route your data through multiple nodes. In this way, your ISP can't view what you are doing on the web, and it ensures safe access to the dark web.
Besides this, the browser has a range of privacy and security-focused features. It uses HTTPS encryption to keep your data protected from all prying eyes. Moreover, it also comes with impressive customization options that you can configure to prevent tracking and enhance the security levels to enjoy the desired level of online security. By default, the browser works in private mode, so you don't need to worry about online surveillance. Also, it deletes your browsing data after each session and protects against browser fingerprinting.
However, there are a few disadvantages to using the Tor browser. Since it offers layered encryption so; your data is vulnerable to hacking. Moreover, once the data leaves the Tor browser, these layers of encryption also come off, leaving the data vulnerable. Furthermore, the Tor browser results in slow browsing speed because the traffic hops through different layers. But you can reduce these risks by using a VPN with the Tor browser.
2. Brave Browser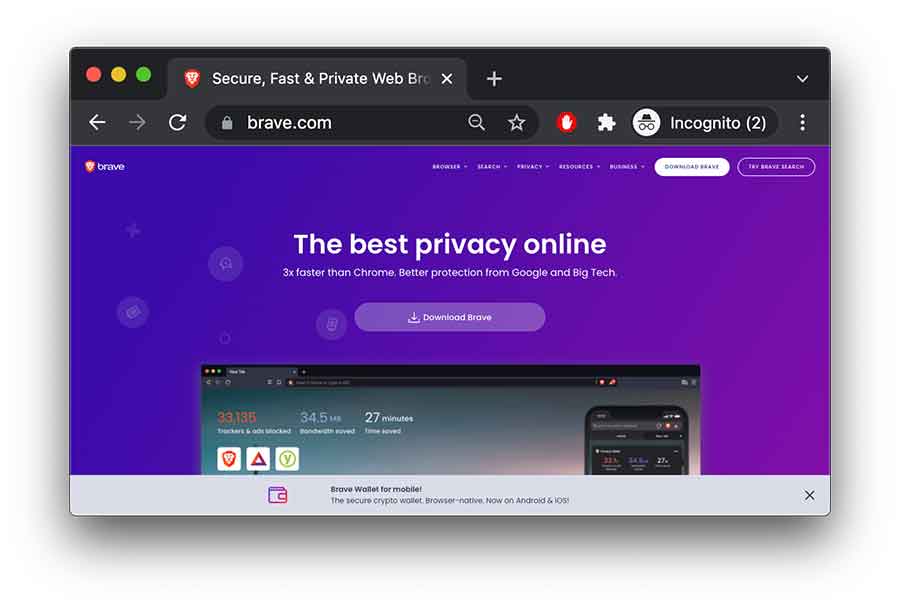 Brave Browser is also among the best private browsers to protect your privacy on the internet. It comes with incredible features that make your browsing experience unforgettable. It uses a Brave Shield feature that efficiently blocks cookies, pop-up ads, and trackers. Like the Tor browser, the Brave browser also uses on-site HTTPS encryption and safeguards your data from privacy invaders.
The browser is compatible with all major devices like Windows, Apple, and Android and gives an impressive user experience because of its simple and sleek interface. It is among the few web browsers that protect from WebRTC leaks and prevent unsecured scripts from loading. Moreover, it also uses reliable browser extensions like Script Blocker and HTTPS Everywhere to stop ISP monitoring and trackers from collecting your sensitive data.
The browser earns revenue via the ad program that the company launched in April 2019. The Brave browser users make money from the ad-generated profit by Brave-cryptocurrency. This initiative has shown a surge in the overall number of browser users. But since many people don't like ads, they're discouraged from using them regardless of the money factor.
3. Epic Privacy Browser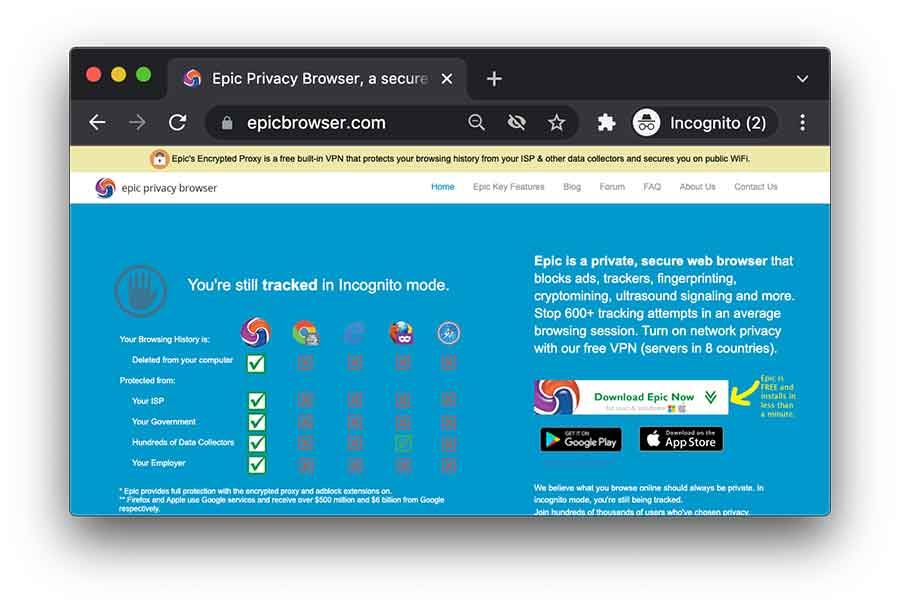 The next best private browser in this list is the Epic Privacy Browser. It is a Chromium-based browser that enables anonymous browsing and doesn't share your data with anyone. It uses an encrypted proxy that hides your IP address and makes your activities private from all snooping eyes. It also blocks WebRTC leaks and ensures that by no means does your IP address and other sensitive information get leaked. The private browser offers a clean and intuitive interface that is easy to use and has an impressive user interface.
When using the Epic Privacy browser, you don't need to worry about storing your data on the servers. The browser permanently deletes your information at the end of every browsing session. Moreover, it wipes out web analytics and leaves no room for anyone to track your web activities further to increase your digital privacy. The browser offers security and privacy-enriched features that make your browsing experience worth amazing.
The Epic Privacy Browser doesn't store your passwords and autofill information when browsing the web. It comes with a Do Not Track feature, and by enabling it, you can prevent trackers from gathering and sharing your data. It also offers built-in protection against ads and malware and ensures maximum online safety. You can download Epic Privacy Browser on your Windows, iOS, MacOS, and Android devices and enjoy anonymous browsing.
Although there aren't any significant drawbacks to using this privacy browser except that it isn't compatible with password managers and doesn't support many plugins.
4. DuckDuckGo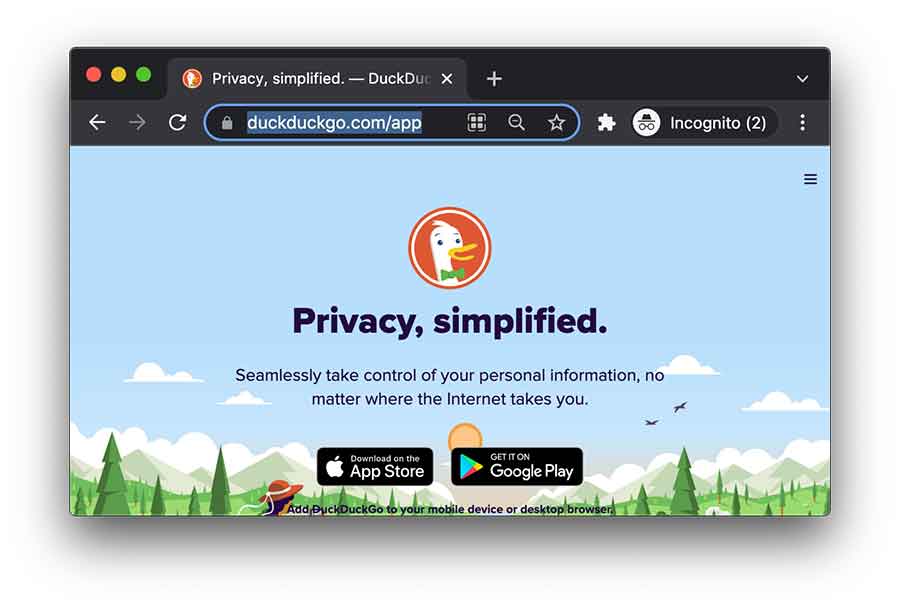 DuckDuckGo is yet another best private browsers that emphasize increasing users' privacy on the internet. It is the most-hyped browser because it offers a search engine that collectively maintains your privacy by not leaking your search and browsing data. The browser prevents collecting and sharing data with third parties or advertising companies. It automatically blocks cookies and trackers that follow you from one site to another. Another impressive benefit of using DuckDuckGo is that you won't see intrusive pop-up ads. It blocks all ads and ensures a smooth browsing experience.
Besides this, the browser is free, and its open-source nature makes it a reliable option. It uses an advanced, more ingenious encryption technology that prevents you from ISP tracking by upgrading your connection and enabling you to use the encrypted version of the websites. Moreover, to retain more online protection, DuckDuckGo has a privacy meter that rates the website on a scale from A-F and prevents you from using any unsecured site or the ones that log data.
The browser offers excellent functionality on all prominent devices and operating systems. The interface is also intuitive and easy to use. You can even add a browser extension for enjoying partial encryption and preventing trackers from invading your digital privacy.
5. Mozilla Firefox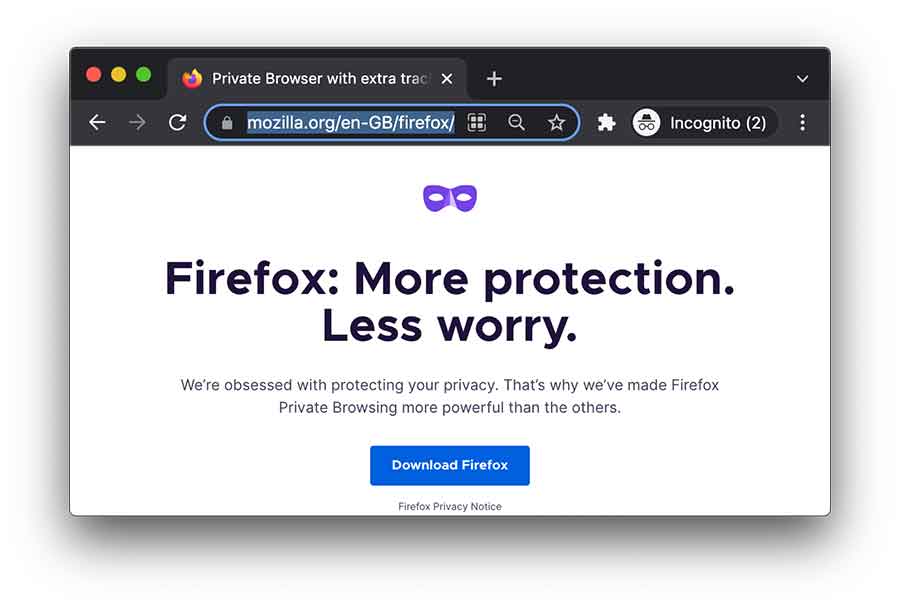 Mozilla Firefox is another private browser that aims to enhance your digital security and privacy. It is the oldest yet the most secure and reliable privacy browser serving users for the past 13 years. The browser offers an impressive interface that is easy to use and navigate. You can even customize the settings and make changes as you want. It provides robust privacy to the users by offering a private browsing mode. None of your activities are tracked or recorded when you browse in this mode. It also provides a content-blocking option, and you can get rid of browser fingerprinting attempts by enabling it.
Moreover, it has an enhanced tracking protection feature that protects users from unwanted trackers that secretly gather data about their browsing activities. It uses an ad-blocker extension and ensures you won't see intrusive ads while surfing the web. You can even add a secure browser extension and enhance your online security.
Another best thing about Mozilla Firefox is that it's been audited for vulnerabilities and security flaws. Cure53 and Radically Open Security audited the browser and didn't find significant security issues. For offering users a top-notch level of protection, Mozilla Firefox is the best private browser today. It also comes with regular security updates. However, people often complain that configuring the browser is tough, so you might need to focus on figuring that out skillfully.
6. Iridium Browser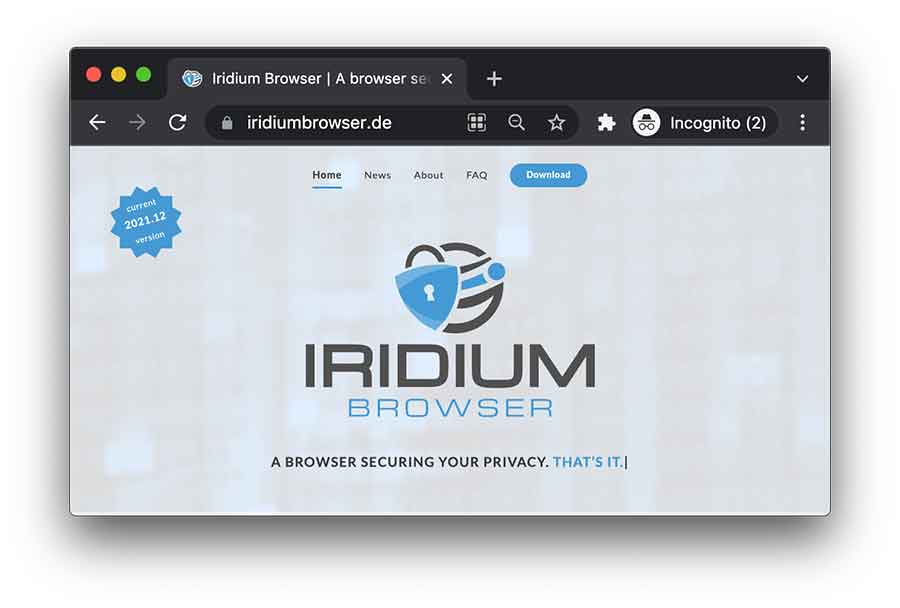 Another web browser that cares about users' privacy is the Iridium browser, which modifies the Chromium browser. It has an attractive user interface visually similar to Google, which is easy to use and navigate. The browser comes with incredible privacy-boosting features and plugins you can get from Chrome web and use to enhance your privacy. It is a free and open-source browser and allows users to make necessary configurations and enjoy a much-improved browsing experience.
Iridium Browser is a secure browser to use. It blocks cookies and trackers and protects your data from getting sold to advertisers. It offers safe browsing options that transmit data related to any unprotected site back to the developers and maintain a list of malicious URLs. The browser doesn't store your passwords and autofill information. It also allows the users to use Qwant or DuckDuckGo as their default search engine and enhance their browsing experience. Besides this, it offers fast browsing speeds and loads and renders websites quickly, which impresses the users the most.
The browser is compatible with only Mac and Windows devices. Hence if you use any other device, you can't avail of the benefits. Moreover, it doesn't come with an automatic update feature. You need to update the browser to ensure it works appropriately manually. Whenever there's a new update, the browser informs the users via the website, so do check the website in a timely in case you don't miss any updates.
7. Yandex Browser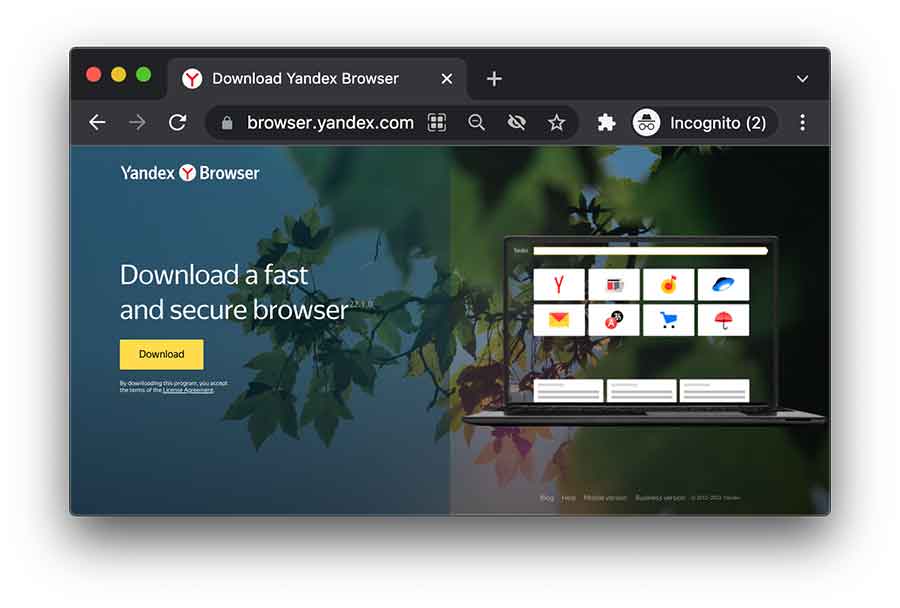 Yandex browser also makes the list of the best private browsers. It is a Chromium-based browser that ensures an anonymous web browsing experience. It has impressive features like an ad-blocker and flash blocker that doesn't interrupt while browsing the web. The Yandex browser's most incredible feature is the site reputation indicator. When enabled, this feature informs you that the website you are visiting is safe, and if it finds security issues, it stops you from accessing it further.
Like DuckDuckGo, the Yandex browser also has a search engine that offers a great user experience. It has a sleek user interface and gives similar functions to Google. Using the Yandex browser and search engine, you can easily configure your browser settings and make your web browsing experience unique. You can download the browser on Mac, Linux, and Windows devices and boost your privacy.
The browser doesn't log or share your data with the advertisers, thus maintaining greater online security. However, there are concerns over the browsers' privacy policy; therefore, using it with a VPN provider is better.
8. Puffin Browser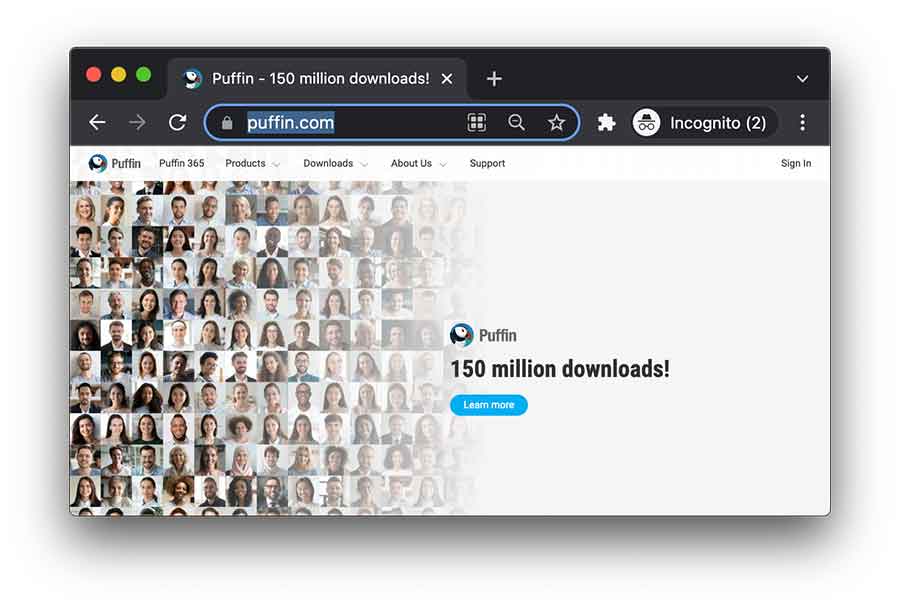 Puffin Browser is also a secure browser that you can use to combat browser security issues. It uses a proxy that hides your IP address and makes you anonymous. Your ISP and other snooping eyes won't be able to view your online activities. But since it doesn't wholly encrypt your data, using it alongside a VPN is best to ensure maximum privacy and security. The browser uses a private browsing mode like many other best private browsers, making it impossible for the trackers to steal your valuable data.
The best thing about the Puffin browser is that it works on cloud servers and thus loads web pages quickly. It's often regarded as the fastest web browser for quick search results. The browser offers a private browsing mode that keeps your activities private and out of the reach of prying eyes. Since it operates in the cloud, it protects users from malware and other online threats.
But there are some severe concerns regarding the Puffin browser. The browser claims to collect some data forwarded to the advertisers in its privacy policy. For this reason, you will see several ads while you browse through the Puffin browser. By using reliable ad-blockers, you can overcome this problem.
9. Globus Browser
Globus browser also makes it into the best private search engine list. It is among the few rare web browsers with a built-in VPN that helps access the blocked website and hide your online identity. Since it comes with VPN functionality, it provides a natural data encryption feature that changes your data into an unreadable form and takes your online security to the next level. It uses military-grade encryption keys for encrypting and protecting your data from privacy invaders.
Globus browser doesn't store your data and keeps it safe from the public. Thus, you don't need to worry about recording your data and other sensitive information. The browser is a Chromium-based browser with a simple and user-friendly interface familiar with Google Chrome.
Moreover, the browser offers excellent customization options you can make according to your preferences. However, many people don't like its interface and complain about having a dull interface.
10. Vivaldi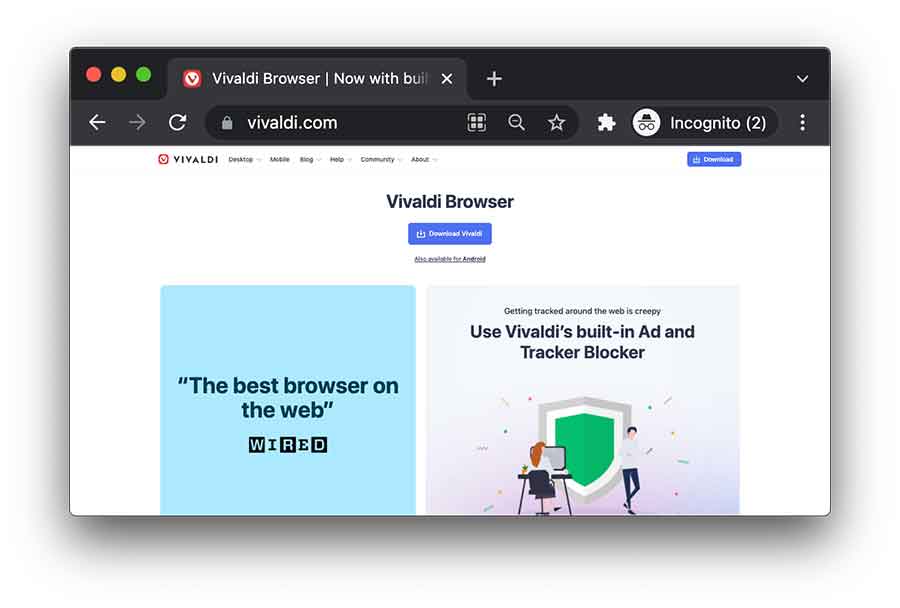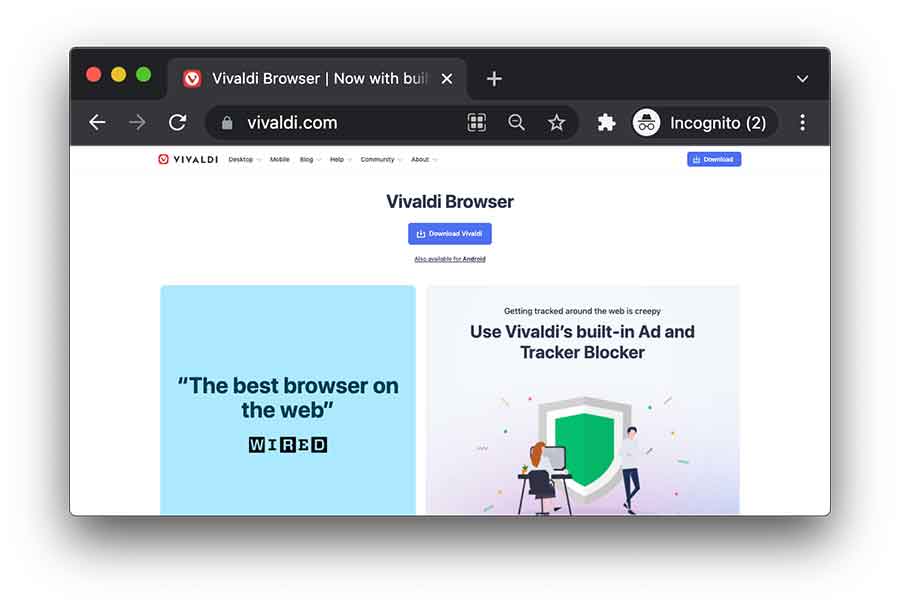 Vivaldi browser is a good option; it has a wide range of impressive features that make your browsing experience unforgettable. It is also among the best private browsers that never track the users nor sell your browsing data to third parties. With the Vivaldi browser, you can take your internet privacy to the next level.
It uses an ad-blocker that blocks ads and loads the web pages quickly. You can also enable the tracking protection feature and block sites that track you back. Moreover, the browser also brings extension support to strengthen your privacy on the web.
Other than this, other features like built-in Mail clients and note managers make your overall experience better. You can download the browser for free, but there are three different plans, i.e., essentials, classic, and fully loaded. They all offer various features, so download the one that fits your needs.
11. WaterFox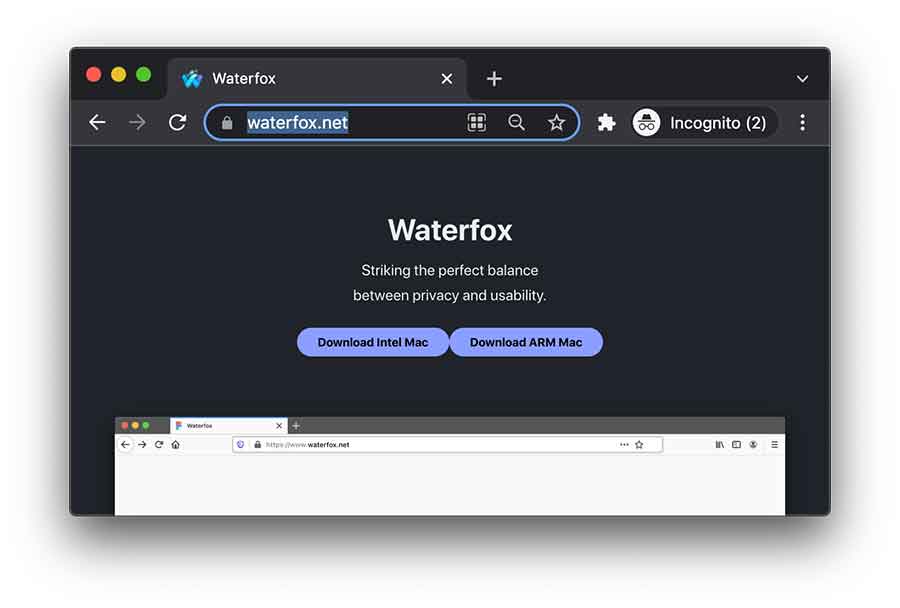 Waterfox is yet another private browser that is a fork of Mozilla Firefox. It is a free, open-source browser that prevents tracking your browsing data and other sensitive information. It is a popular browser among users who want to enjoy the same functionality as Firefox. However, the browser does keep limited data to keep the browser functioning smoothly, which privacy-conscious people won't like. Therefore, you can use a legitimate VPN provider and the Waterfox browser to prevent data logging and enjoy anonymous browsing without letting anyone know about your online activities.
It supports extensions from the Chrome and Firefox add-on store. You can download the ones you find suitable and increase your digital security. Moreover, it is one of the most customizable browsers that enables users to configure the browser in any way they want. The Waterfox browser developers created it with much faster speeds than Firefox, so you can enjoy browsing the web with stable speeds.
Waterfox is an excellent option to use when it comes to safe browsing. It blocks harmful and malicious content and even warns users about websites secretly downloading software on their devices. The browsers also offer multiple device compatibility, and you can download it on your Windows, MacOS, and Linux devices. Previously, it offered an Android version, but now it is no longer available on the Google PlayStore.
12. Pale Moon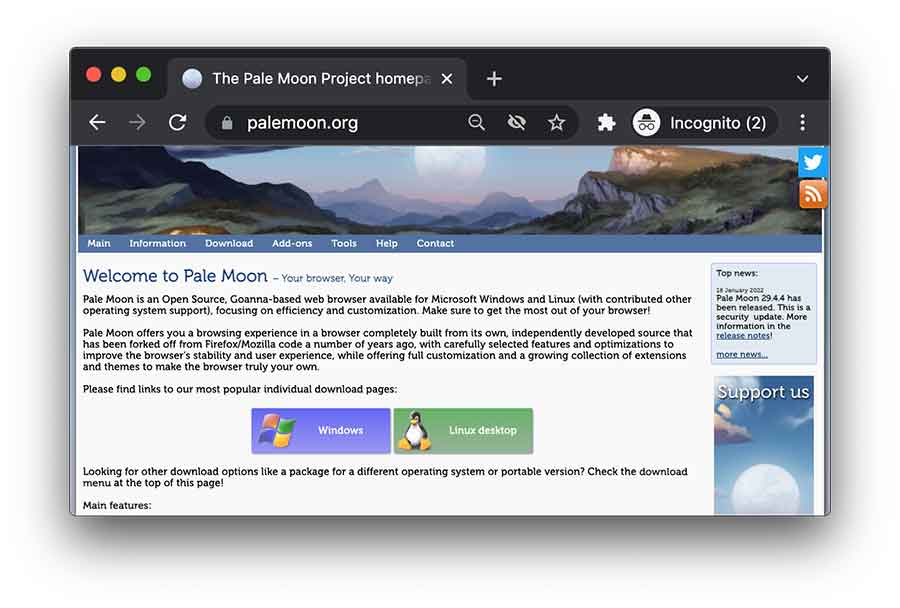 Pale Moon is an open-source web browser for Windows and Linux platforms, ensuring an anonymous web browsing experience. It offers customization options and browser extension support to improve its reliability and user experience. The interface is also user-friendly and doesn't cause any trouble to the users.
It is a secure browser because it serves zero ads, spyware, and data logging practices. Also, it is lightweight and delivers fast search results. The best thing about this browser is that it is run by a privacy-focused non-profit organization that makes every effort to maintain your online security and privacy.
13. Disconnect Browser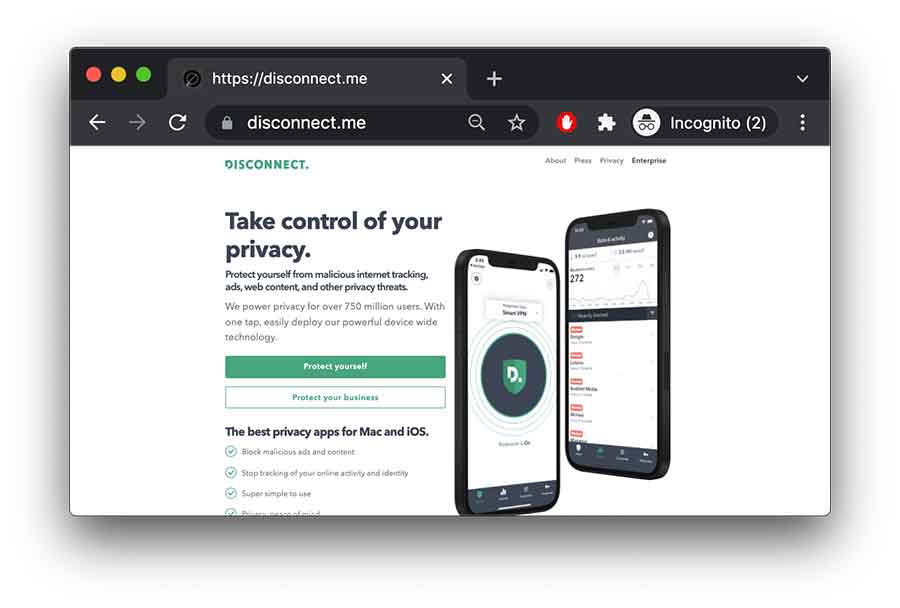 The last private browser is the Disconnect browser. Though it provides essential functions to the users, they're worth mentioning and make it compete with other best private browsers. Like other private browsers, the Disconnect browser doesn't track the users. It identifies websites that use tracking tools and monitoring technology to track the users and their data. Once it finds such unprotected websites, it stops the users from accessing them further. It disconnects the users' connection and maintains their privacy on the web.
Apart from this, the browser offers a simple yet appealing interface that is easy to use and gives users a fantastic browsing experience. Also, it blocks intrusive and malicious ads that can pose severe risks to your online security.
14. Chromium Browser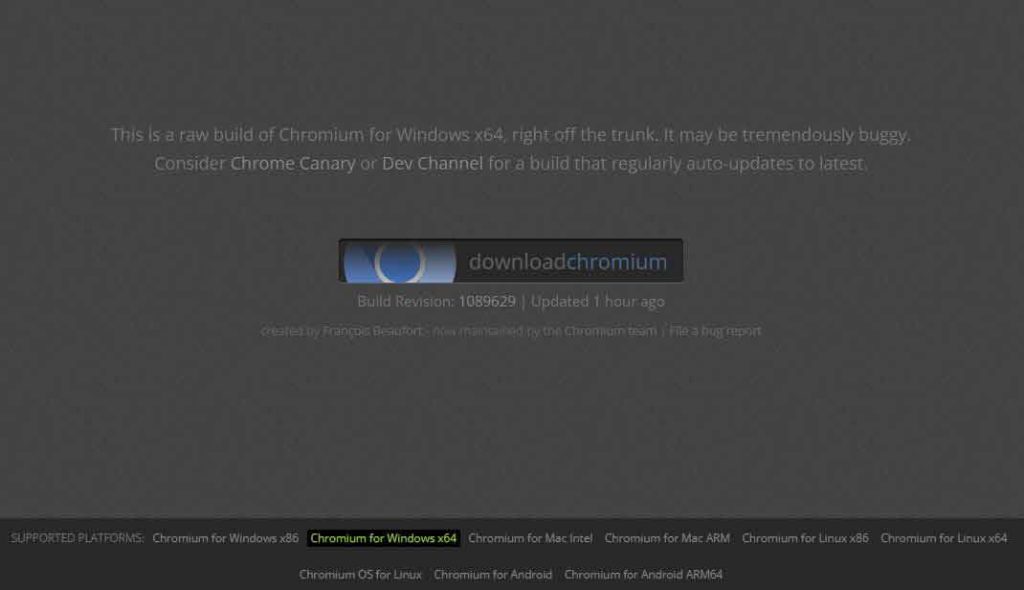 The Chromium browser is an open-source private browser that promises a faster and safer way to surf the web. Since it's open-source, it is an excellent option for web developers and advanced users. The developers are always working hard to improve the security flaws and ensure a more secure browsing experience.
The most impressive feature of the Chromium browser is that it doesn't track or store any browsing data. In addition, it allows users to add browser extensions without restriction and customize their browsing experience. The browser is compatible with all major platforms and available for downloading through its official page. The page automatically recognizes your device's operating system and provides the correct version of the Chromium browser.
However, on the downside, the browser hasn't been audited by any cybersecurity firm, which might concern some users. Besides this, it lacks automatic updates and support for Adobe Flash, so users must add the code to use it on websites that need Flash to function properly.
15. Bromite Browser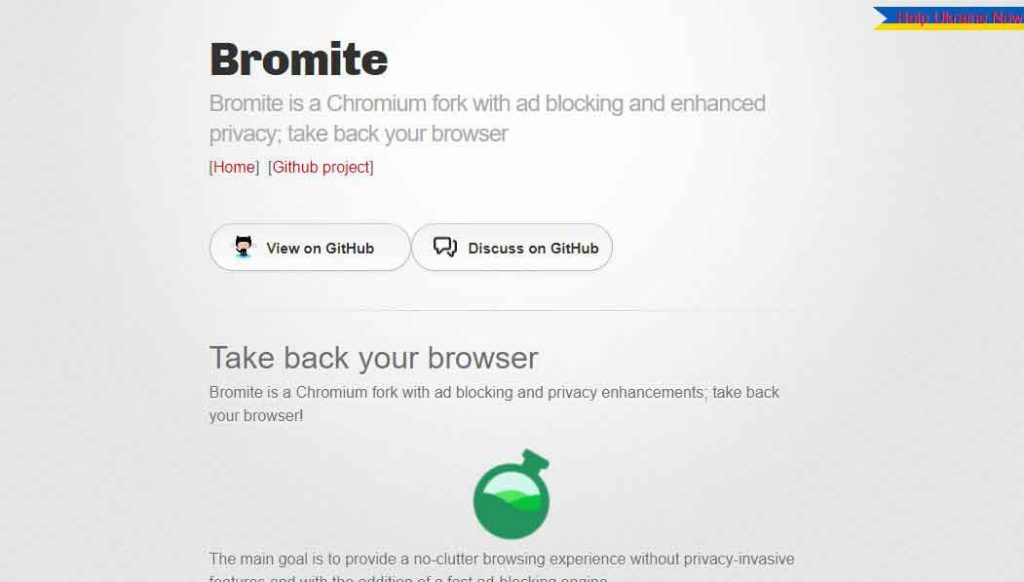 Bromite browser is a chromium-based browser that offers various security-centric features ensuring a secure and private browsing experience. On the top, the private browser has a fast ad-blocking search engine that blocks all intrusive and unwanted ads and loads the web pages faster. Besides this, it has an impressive Search Smart feature that enables private browsing and guarantees that no digital privacy abusers will learn about your browsing habits.
The browser enables the users to always browse in Incognito mode. This prevents online trackers from keeping a record of your browsing history. To further provide a private browsing experience, the Bromite browser enables users to select search engines like DuckDuckGo or Qwant to stop online snoopers from spying on your activities.
There isn't any significant drawback to using this browser. The only thing that disappoints the users is that it is only available for Android devices. So, unfortunately, if you're a Windows or Apple user, you can't benefit from this browser.
16. LibreWolf Browser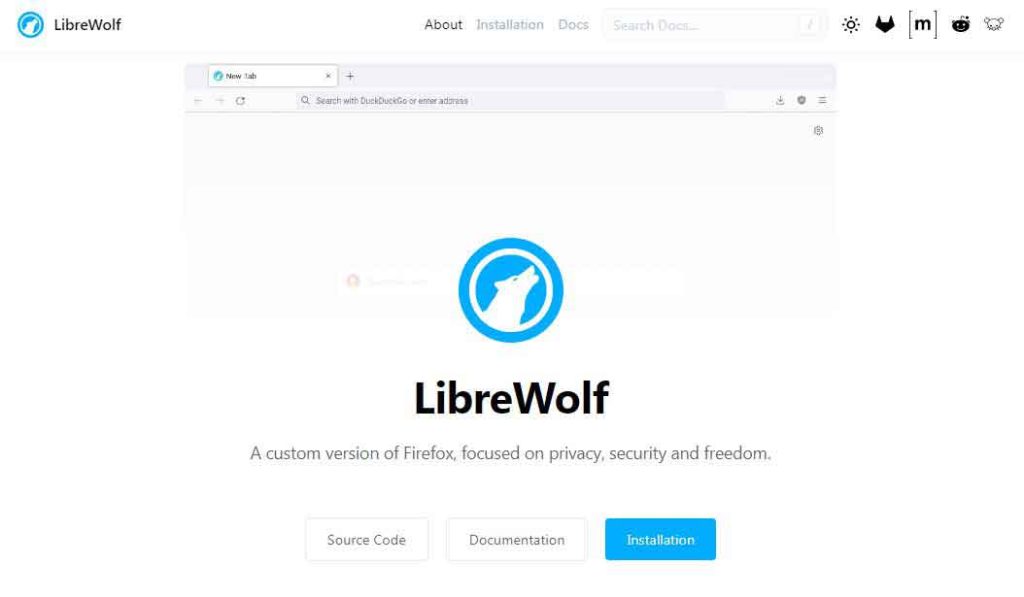 LibreWolf is another version of the Firefox browser that aims to provide online freedom and a safe and private browsing experience. It comes with various security and privacy-focused features that increase digital privacy. Above all, the browser deletes cookies and website data whenever you close the browser.
Besides privacy, the browser guarantees robust security using HTTPS encryption and prevents third parties or hackers from knowing which websites you visit. It also enables the users to block ads in the URL and enjoy an ad-free browsing experience. Besides this, it lets the users use DuckDuckGo or Searx search engines to protect their searches and browsing activities from privacy abusers. Another impressive feature of LibreWold is its unique RFP feature, one of the best anti-fingerprinting solutions and block fingerprinting techniques.
Furthermore, the browser allows users to add reliable extensions like uBlockOrigin. But it's better if you don't install too many add-ons, as they can contain security vulnerabilities and can risk your digital privacy and security.
Browsers you should avoid at all cost
Internet Explorer/ Microsoft Edge
Microsoft Edge and Internet Explorer have been criticized for their security and privacy flaws. Unlike most regularly updated browsers, Internet Explorer no longer receives updates. This exposes it to potential threats due to a lack of security patches to fix various vulnerabilities.
In addition, Edge collects private data such as form entries, passwords, and browsing history. Microsoft then stores this data, which is often a target by most hackers. Also, the DRM technology Microsoft employ limits who can access content depending on whether they have media licenses, which is a great inconvenience.
While Edge has attempted to improve its features to prevent tracking by blocking web trackers, there are still more significant concerns about its privacy. The browser is also a closed source, meaning the public doesn't have open access to its source code. As such, it's difficult to ascertain the browser's privacy and security measures.
Opera
Opera positions itself as a secure browser, which is often not the case. Its built-in VPN is a proxy that is disguised as a VPN. Unlike a standalone VPN service, proxies lack robust encryption.
The browser's security flaws are evident in past cyber incidents. For instance, in 2016, cybercriminals hacked into its cloud servers resulting in leaked IP addresses.
Moreover, Opera's privacy policy is shady, claiming to collect and share personal data when you use its products. This didn't exclude the built-VPN. Therefore, it still collects your location and device details even when connected to its built-in VPN.
Often, when browsers collect and store your data, they most likely share it with third parties. This is no different to Opera. The browser shares your data with big tech companies, including Google, Facebook, and other rising companies putting your privacy in danger.
Opera's acquisition by a Chinese company raises significant privacy concerns. China is a country known for its strict internet censorship and usage policies. Therefore, you can never know its practices since the government protects it. Overall, you're better off using other secure browsers.
UC Browser
UC Browser also poses severe privacy and security risks. The browser is popular in Asian countries and has close ties with the Alibaba Group.
In the past, there have been severe incidences of data leakage and unencrypted internet traffic by the browser, which gives cybercriminals an easy task. Some leaked data include IP addresses, search queries, and users' locations.
The 2020 ban by the Indian government quoting national security risk was also a massive blow to the browser. This painted a bad image of its overall reliability.
Vivaldi
Vivaldi is pretty secure but comes short of its tendency to assign a unique ID to every device that installs the browser. The browser uses the ID to forward data to its servers based in Iceland every 24 hours.
While they claim that the data is used to monitor the number of active users, it is pretty fishy that they must collect and store it. So, you should be more cautious of the browser since we can't determine what else they collect and share with other parties.
The fact that you might register using an email address, date of birth, and name to use the browser is a significant call for concern. You shouldn't entertain a browser needing that much personal information for browsing.
GNU IceCat
This is another browser that you should be wary of. The browser boasts a few privacy features, such as SpyBlock, LibreJS, and HTTPS-Everywhere. However, it lacks regular updates and might take years to roll out an update.
This makes its security patches quite vulnerable to breaches. To be on the safe side, it's better to stay off this browser than find out as a victim just how much your data is vulnerable.
Another factor that makes the browser less desirable is that it's only available for Linux. Therefore, most users won't bother with it anyways.
How to choose privacy browsers?
When choosing privacy browsers, there are various considerations that you should make:
Data handling practices: Before choosing a browser, consider its practices. Ensure you delve deeper into how it collects, stores, and shares your data to avoid falling victim to privacy and security breaches.
Privacy features: When looking for a browser, choose one with robust privacy and security features, such as disabling JavaScript, third-party cookie blocking, and private browsing mode, among others.
Open-source: Reliable browsers believe that they are up to the task of protecting user privacy and security. Therefore, they don't feel the need to use a closed-source code to hide their data tracking practices. Going for an open-source browser means anyone wishing to inspect the source code can do so freely.
Privacy policy: While some browsers are shady when stating their privacy policy, much of the information you need to know about their data practices is in the privacy policy. So, when choosing a browser, ensure you go through the fine details of the policy to understand its tracking activities and terms of usage.
Reputation: Even before choosing which browser to scrutinize, its reputation tells a lot about its performance. Do a thorough background check to determine whether the browser has had past cyber breach incidents.
Jurisdiction: Where a browser is hosted determines many of its data practices. For instance, a browser originating from China is likelier to be a victim of internet censorship practices and data usage policies that govern the land. Therefore, always go to a search engine based in privacy-friendly jurisdictions.
Why do you need to use a Private Browser?
Many browsers like Google Chrome work as data collection tools for advertising companies. By collecting users' data via their browsers, they sell it to the companies, and in return, they generate profit and target the users with ads. The following type of data is collected and misused by the browser:
Autofill information; your name, email address, and other PII. Login credentials, including your username and password. Browsing history, including the website visited.
Cookies and trackers
Geolocation API
WebRTC leaks
This abusive privacy model risks your online security and privacy and exposes you to other threats. Your data is the most valuable asset, and to take complete control of your data and increase your privacy, you should use the best privacy browsers. Such privacy browsers don't collect the data via cookies, browser fingerprinting, or trackers or leak your information to advertising companies.
The private browsers stop any privacy abuser from getting their hands on your data and allow blocked cookies and trackers to ensure an anonymous web browsing experience.
What makes a Browser more Private
The unique features that make a browser more private and secure are as follows so; let's have a look at them:
Anti-fingerprinting. The browser should protect from browser fingerprinting attempts and ensure that the browser doesn't record any of your information.
Anti-Tracking. The private browser should use features that block cookies and other tracking technology from gathering your browsing data.
Built-in Password Manager. It should be capable of creating strong and complex passwords for all your accounts.
Ad-Blocker Feature. The most annoying thing you witness while browsing is the pop-up ads. An automatic ad-blocker feature helps eliminate ads and reduces the risk of adware infecting your device.
HTTPS Encryption. The browser should use on-site encryption to protect your data from all prying eyes when you visit any unsecured site.
The best private browsers listed above do come with all these features. Get these and more with these browsers and start protecting your online security.
Does using a private browsing window hide my IP address?
No. When using a private browsing window, your IP address remains visible. A private window simply doesn't store permissions granted to various websites, browsing history, or the information you've keyed into various sites.
While Opera, Firefox, and Microsoft Edge claim to use an anonymous web, they aren't keeping your identity private. The best way to mask your IP address is to use a VPN. That way, ISPs, government agencies, and third parties cannot know your identity.
What is the most common personal web security risk?
The worst mistake you can make on the web is to link your private information, such as address, phone number, usernames, and passwords, on social media. Cybercriminals can use this information to infiltrate your private accounts.
So, always use pseudo-names to stay safe when signing up on social media. Also, turn location services off and avoid posting your home address or place of work. All it takes is a set of personal information for cybercriminals to get full access to your entire online presence and wreak havoc on your privacy.
Furthermore, avoid posting too much about your day-to-day activities. People with wrong intentions can track your movement, putting your home and loved ones in danger.
Memes have become part and parcels of our daily lives. However, they are not all that, as they pose a significant danger to your privacy and security. The name generator memes that ask for your childhood street name, your maiden name, where you attended high school, your first pet's name, or any other identifiable information to generate a gnome are dangerous.
Various websites use most of these answers as security or recovery questions. Therefore, submitting these answers thinking it's just a meme could grant an evil doer access to your confidential accounts.
How are you being tracked on the internet right now?
Websites use cookies to track your activity. These small data bits are stored in your browser to track your visited websites, downloads, shopping cart, search keywords, and other web activities. They are intended to make browsing seamless and the internet more usable.
However, a significant issue arises when third-party cookies from Facebook, Google, or other advertising companies are embedded into your browser without your consent. This threatens your privacy since other parties can use such cookies to track your web activity.
Another significant danger to your privacy is fingerprinting, which is far much dangerous than cookies. Parties often use JavaScript and webpage headers to gather your digital fingerprint, then create a unique profile based on your system setting.
Browsing fingerprinting usually comprises the operating system of your device, your preferred language, browser version, installed fonts, time zone, installed plug-ins, and screen resolution, among other aspects. With such detailed data, turning off your third-party cookies has little or no impact on how the site uses data to build your profile.
Unlike cookies which you can limit or delete at any time, fingerprinting is harder to evade. The only way to escape from browser fingerprinting is by using a random browser or device that randomizes your private information whenever you're surfing the web.
Moreover, some websites add characters whenever you copy their web address to identify your profile. However, various extensions have proved helpful in removing tracking elements from website URLs, thus protecting your privacy.
How can you prevent web tracking?
Some browsers are well known for their extra effort in preventing web tracking. For instance, Safari and Microsoft Edge block commonly known fingerprinters from dropping into your system. Additionally, Firefox has gone a step higher to employ behavioral blocking that detects and removes unusual data. This prevents further activity and actions from sites that look like they're trying to fingerprint your browser.
Furthermore, Safari, Brave, and Avast secure browsers use sophisticated technology to obscure data such as your preferred browser language, font, install plug-ins, browser model, and version, among other fingerprint information.
Microsoft Edge and Firefox are also launching more secure DNS protocols. These are the server system that browsers interact with to convert textual web addresses into numerical equivalents. In default settings, ISPs' DNS servers perform this translation. However, with secure browsers, the translation is done using DoH (DNS over HTTPS), which encrypts your connection and blocks ISPs from sending unsuccessful search requests to their search providers.
How do you know if you're trackable on the web?
A Cover Your Tracks webpage launched by Electronic Frontier Foundation (EFF) lets you diagnose whether your browser is prone to fingerprinting and tracking. A concealed but real tracking firm runs the tests. However, be warned that in most cases, the results show your browser has a unique fingerprint.
Furthermore, you can use tools such as Device Info and AmIUnique to detect digital fingerprints. Device Info specifically reports whether fingerprinting protection has been detected.
Suppose you're still stuck with usual browsers such as Google Chrome that lack rigorous tracking protection, you can opt for plug-ins to boost your protection, such as DuckDuckGo, Privacy Badger, Decentraleyes, and uBlock Origin, among others. DuckDuckGo has announced explicitly that it'll be launching a standalone private browser. It only offers a browser extension and a mobile app but lacks a desktop browser. However, you should note that Google has become quite fishy and will switch from Chrome to Manifest V3, which is meant to compromise the extensions' ability to stop tracking.
Which is the best Private Browser
All the private browsers discussed in this article are best in one or the other way to maintain and increase your privacy. But among all, the Tor browser, Firefox, and Brave browser are the best browsers. They all are free and come with incredible privacy and security-boosting features that make your browsing experience worth amazing.
The Tor browser uses layered encryption and routes your data traffic via relay nodes to increase online anonymity. The other browsers use HTTPS encryption to safeguard your data from privacy abuses. These browsers won't track your activities and delete the browsing data after every session.
Moreover, they don't log and share your data with third parties or advertising companies. Hence, you won't see pop-up ads while using these browsers. But increasing your security level is never a bad idea; thus, you should always use a reliable VPN provider with these browsers. A VPN provides end-to-end encryption that completely encrypts your data, making it impossible for anyone to breach your privacy.
Tips to Browse the Web Privately
You should consider a few protective ways to stay safe while browsing. Here are some tips that you should follow to become more private and anonymous on the web:
Use a secure private browser. A private browser maintains your online security and privacy by not logging your IP address, browsing data, login credentials, and autofill information. Moreover, they even protect from browser fingerprinting attempts and stop it from collecting unique information about the user.
Use a private search engine. Like you use a private browser, similarly use a private search engine. They don't record or track your search data and deliver fast, authentic, and unpersonalized search results. Check this post and decide the best search engine for yourself.
Use an ad-blocker. While you browse the web, you are bombarded with intrusive personalized ads. Start using the best ad-blockers and block ads that ruin your browsing experience.
Connect to a VPN. The encryption provided by a VPN is unmatched. It creates a secure encrypted tunnel through which your data travels safely and remains invisible to spying eyes. Another benefit of a VPN is that it hides your IP address, location, and browsing history and prevents the ISP from viewing your online activities.
Use Browser Extensions. Use reliable browser extensions like uBlock, HTTPS Everywhere, and NoScript to prevent cookies and trackers from collecting your data.
Tweak your browser settings. Some browsers offer exceptional customizable settings options that you configure to improve your online security and privacy. So, don't forget to navigate through your browser's settings menu and make necessary changes as per your need.
Protecting your privacy on the web is not at all a daunting task. You need to practice a few tips like those mentioned above and make browsing safer and more accessible.
The best VPNs for private browsers
1. ExpressVPN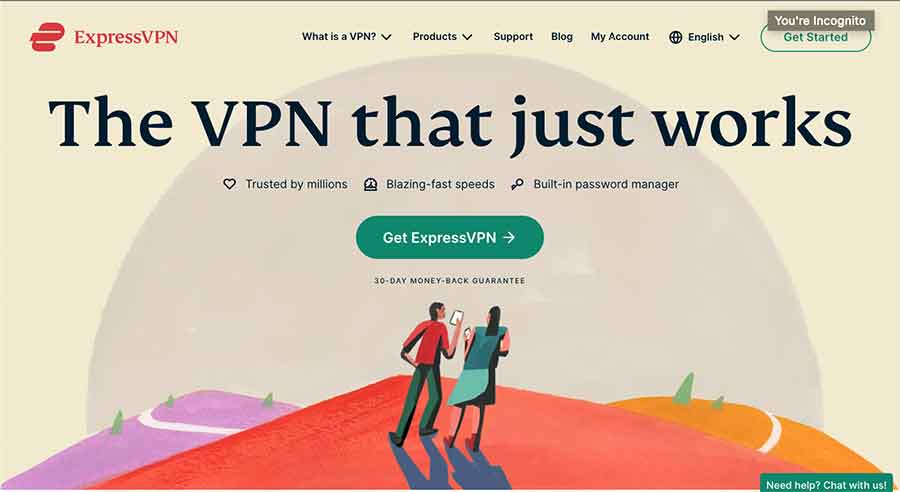 Over 3,000 servers in 94 countries to unblock geo-blocked websites
An automatic kill switch
Fast speeds to bypass ISP network throttling
Supports up to 5 devices simultaneously
A no-logs policy
Supports DuckDuckGo, Globus, Vivaldi, Puffin, Iridium, etc
Supports popular platforms: Android, Windows, MacOS, Apple TV, iOS, routers, Linux, and more
30-day money-back guarantee
ExpressVPN respects your online privacy and ensures that your data is not left vulnerable to cybercriminals. For example, it uses strong AES 256-bit encryption to protect your data. Also, its automatic kill switch helps to prevent accidental data leaks by disconnecting your connection in case of an unexpected network hitch.
The speeds are also excellent, thanks to its over 3,000 servers across 94 countries globally. Such a wide array of servers ensures a smooth experience when using private browsers. Additionally, with a no-logs policy, you're sure no trackers or third parties will retain your browsing data.
Moreover, you don't have to worry about compatibility issues since it supports popular private browsers, including DuckDuckGo, Globus browser, LibreWolf, Bromite, Vivaldi, Puffin browser, Iridium browser, and more.
If you're unsure how ExpressVPN will perform using a private browser, you can opt for the 30-day money-back guarantee. You only need to contact the support team, which is available 24/7, to get your refund.
Pros
Excellent speeds
A wide server network
Strong geo-unblocking capabilities
Highly compatible with different devices
Cons
Doesn't support ad and malware blocking
2. Private Internet Access (PIA)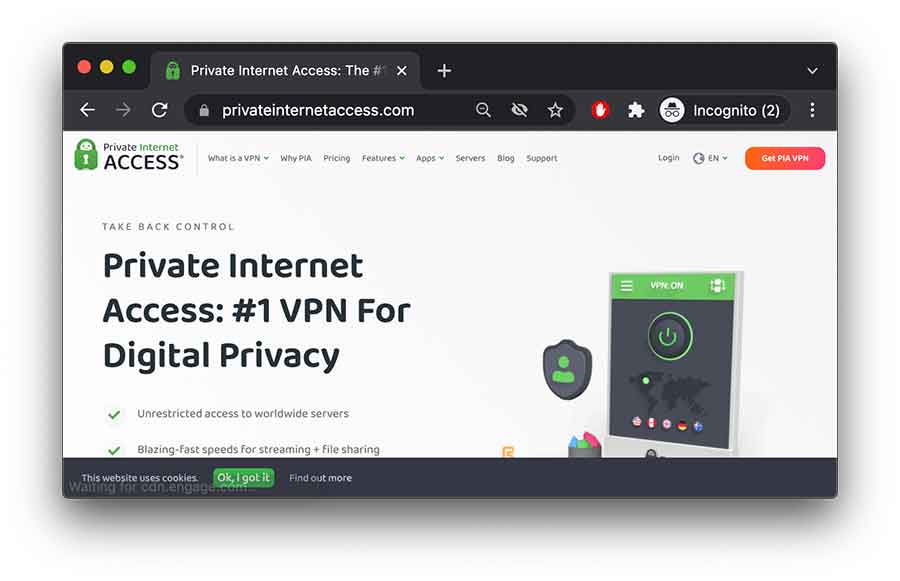 Over 29,650 servers in 84 countries
Protects unlimited devices simultaneously
A strict no-logs policy
Automatic network kill switch
IP/DNS leak protection
WireGuard protocol and Open VPN
AES 256-bit encryption protocol
Works with popular private search engines, including DuckDuckGo, Tor Browser, Epic privacy browser, Brave browser
Compatible with Android, MacOS, Windows, Apple TV, iOS, routers, Linux
PIA is a quite reliable VPN that allows you to browse anonymously without breaking the bank. The VPN uses a robust encryption protocol popular among government agencies and the military. It has a no-logs solid policy which means your data is not stored or shared with any other party, ensuring safe and private browsing.
Besides this, the VPN has various servers to boost its functionality. This will help you switch to whichever location you choose based on your browsing needs. Moreover, it also comes with an automatic kill switch that disconnects you from the internet if it detects VPN drops.
Also, PIA supports an unlimited number of simultaneous connections. As a result, you can connect different devices running different operating systems under one account for private browsing.
Pros
A strong encryption protocol
Supports ad and malware blocking
24/7 customer support
Supports unlimited simultaneous connections
Cons
Relatively slow on some servers
3. NordVPN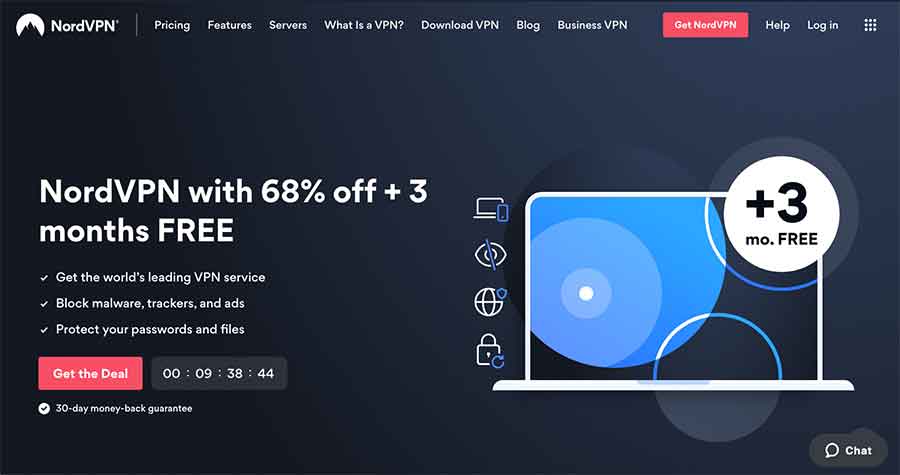 Over 5,000 servers in 59 countries to smooth browsing
P2P optimized servers
Supports up to 6 simultaneous connections
No logs policy
Uses AES 256-bit encryption
A network kill switch
Ad and malware blocking
Compatible with: Windows, Android, Apple TV, Mac, Ios, routers, etc.
Works with Yandex browser, Mozilla Firefox, Brave, Tor, Globus, DuckDuckGo, and more
NordVPN also ranks as one of the most reliable VPNs in the market. Since it comes with a wide variety of servers, it has excellent abilities to unblock websites across the globe.
The speeds are also super-fast, supporting a P2P network and improving privacy and security. It also uses 256-bit encryption, a military-grade encryption standard, to protect your data from intruders. Furthermore, NordVPN doesn't collect or store your data, thanks to its strict no-logs policy. Therefore, you don't need to worry about private browsers collecting some of your private information when using NordVPN.
Since most private browsers don't support ad and malware blocking, NordVPN ensures you don't miss out on the feature. It blocks known trackers from collecting or storing your private data. Moreover, unlimited bandwidth allows you to browse extensively on your private browser without worrying about data caps.
Pros
Supports unlimited bandwidth for the best browsing experience
Extensive unblocking capabilities
Super-fast speeds
Support P2P connections
Cons
Allows only 6 simultaneous connections
4. Surfshark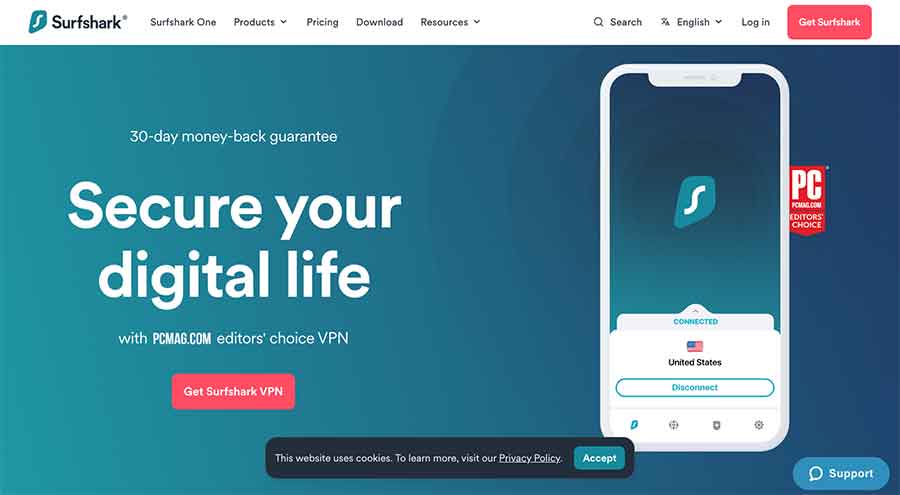 Over 3,200 servers in 65 countries
CleanWeb
Automatic kill switch
OpenVPN, IKEv2, and WireGuard Protocol
Unlimited device connections
No logs policy
Supports Windows, Android, Ios, macOS, and smart TVs
Works with DuckDuckGo, Yandex, Tor, Globus, Iridium, Brave, Bromite, Chromium, and more
Surfshark follows a strict no-logs policy, meaning it doesn't store your internet logs, IP addresses, or other identifiable browsing data. Another impressive feature is its support for unlimited device connections. This means connecting your Windows, macOS, iOS, smart TV, or other devices simultaneously to one Surfshark account.
Like NordVPN, Surfshark has a robust encryption protocol that protects your data from prying eyes. Also, its Cleanweb feature successfully blocks intrusive ads and malware. Since most private browsers don't have this feature, Surfshark would complement your private browsing.
This VPN also works well with DuckDuckGo, Yandex, Tor, Globus, Iridium, Brave, Bromite, and Chromium, among other private browsers. Therefore, you don't have to worry about compatibility issues.
Pros
Budget-friendly VPN
Support unlimited simultaneous connections
Relatively good antivirus protection
Good speeds
Cons
Poor support for torrenting
5. ExtremeVPN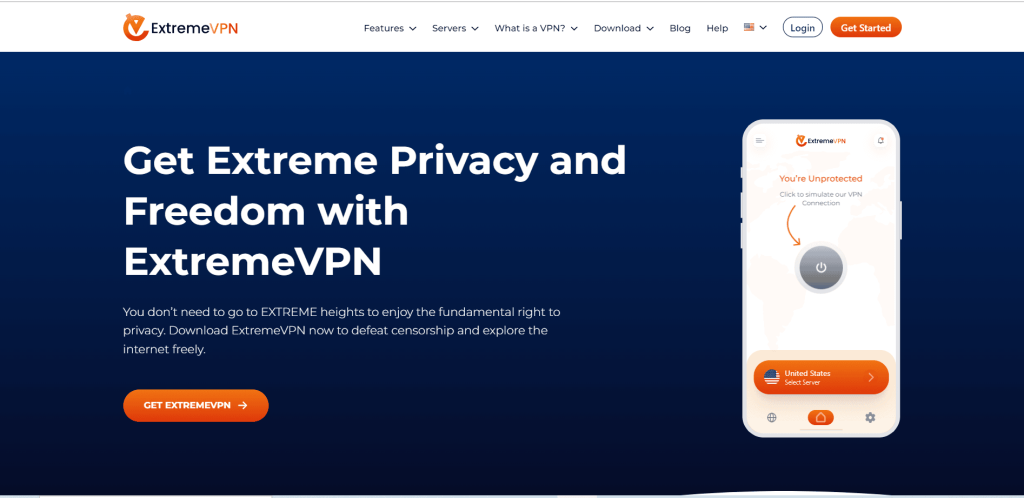 Over 6,500 servers in 70+ countries
No-logs policy
AES 256-bit encryption
Automatic kill switch
Dedicated IP address
Split tunneling
24/7 customer support
Compatible with Android, Android TV, Windows, Apple, Linux, Amazon Firestick TV, Chromecast, Kodi, Roku, routers, Xbox, PlayStation, and more
Supports popular private browsers, including Tor, Brave, Iridium, Globus, Bromite, LibreWolf, Wterfox, DuckDuckGo, etc.
Extreme VPN is the new talk in the town. The VPN is among the best premium VPN providers you can use with a private browser to protect your privacy. It comes with unique features that make everything about surfing quite enjoyable. It uses the same standard AES 256-bit encryption as every other VPN discussed in this article.
Also, you don't need to worry about your data falling into the hands of ISPs, advertisers, or cyber criminals, as it uses a no-logs policy and an automatic kill switch. The former ensures no identifiable data is collected, stored, or shared with external parties, while the latter makes sure you're disconnected from the web if the VPN connection drops.
Moreover, it has a dedicated IP address feature for a better private browsing experience. This address is exclusive to you only, meaning no one else has access or can use it.
Another best thing about Extreme VPN is its extensive support for private browsers. With this VPN, you can use private browsers such as Tor, Brave, and DuckDuckGo, among others, on different platforms such as Android, Android TV, Windows, Apple, etc.
Pros
Supports multiple devices and operating systems
Extensive server networks
Does not store user logs
Offers a dedicated IP address
Cons
Some features won't work with WireGuard
Browser add-ons for security and privacy
uBlock Origin
uBlock Origin is a powerful ad-blocker that goes beyond blocking annoying ads. It also filters out tracking scripts and malware domains, providing a cleaner and safer browsing experience. By preventing these elements from loading, uBlock Origin helps to improve page load times and reduce data usage.
Furthermore, its customizable filters allow you to fine-tune your ad-blocking preferences and whitelist specific sites if desired.
Privacy Badger
Privacy Badger is a product of the Electronic Frontier Foundation (EFF) and is an effective tool for countering online tracking.
It automatically detects and blocks third-party trackers that attempt to monitor your browsing activity. Privacy Badger learns as you browse, dynamically adapting its blocking capability to protect your privacy without breaking websites.
Additionally, it offers a user-friendly interface that displays which trackers are being blocked, giving you insight into the tracking landscape on different sites.
NoScript
NoScript is a comprehensive security tool that allows you to control the execution of websites' JavaScript, Java, Flash, and other plugins.
By default, it blocks all scripts and gives you the power to enable them selectively for trusted sites. This helps mitigate the risks associated with malicious scripts that can exploit vulnerabilities in your browser or introduce malware.
While NoScript may require some configuration and adjustment, it offers advanced users granular control over the active content on web pages, enhancing browser security.
Ghostery
Ghostery is a privacy-focused extension that detects and blocks trackers, providing transparency about website tracking technologies.
It allows you to see which trackers are present and choose which ones to block or allow. By blocking these trackers, Ghostery helps protect your privacy, reduce data collection, and enhance browsing speed.
The extension also offers additional features like anti-tracking protection for search engines and a privacy-friendly enhanced ad experience, giving you better control over your online privacy.
Conclusion
A private browser is essential for safeguarding your data and enabling you to browse the web with privacy. Finding the best private browser involves looking for specialized features like anti-tracking, anti-fingerprinting, ad-blocker, and password creation ability.
As discussed above, the private browsers have excellent specifications and seem to fulfill your needs. Thus, consider using any of these browsers, take control of your online privacy, and increase your digital privacy.
FAQs
All the browsers mentioned above are safe, but the Tor browser is the most secure. It offers a range of security and privacy-focused features like on-site encryption, anti-fingerprinting protection, and private browsing mode that prevents online snoopers from invading your privacy and ensures anonymity while browsing.
Hackers have become more advanced and sophisticated; hence, it's easy to hack a web browser no matter how secure. If they successfully hack a browser, they can access your sensitive information, browsing history, and location. Also, they can bombard your browsing experience by displaying too many ads and even inject malicious codes within them that can spread malware onto your device. Hence, use a reliable VPN that keeps your browsing activities anonymous.
Some reliable browsers, like the Globus browser, have a built-in VPN provider. It encrypts the data and takes your online security to the next level by ensuring no one knows about your browsing habits. But you won't find this add-on feature in every private browser.
Though private browsers still guarantee a private browsing experience, they are prone to online surveillance and hacking. The private browsers use on-site encryption that doesn't wholly encrypt the data. Thus, it's easy for prying eyes to invade your privacy. The best way to overcome this issue is to use a VPN provider. It provides end-to-end encryption, routes your traffic through a remote server, and makes it difficult for anyone to recognize you or your activities. Also, it hides the IP address making your activities private and untrackable. Thus, browse safely and privately using a top-rated VPN provider like NordVPN.
Share this article
About the Author
Rebecca James is an IT consultant with forward thinking approach toward developing IT infrastructures of SMEs. She writes to engage with individuals and raise awareness of digital security, privacy, and better IT infrastructure.
More from Rebecca James
Related Posts