Kodi is open-source and one of the most user-friendly, protractible media players in the streaming industry. It is open-source software that is entirely free and has an excellent user interface. Kodi is available for different platforms, making streaming and downloading movies, music, and media of your choice swifter.
You must search for content or load your file and enjoy watching. However, using Kodi has its limitations, which can be easily surpassed by using one of the best VPNs for Kodi.
Why do you need a VPN for Kodi?
Undoubtedly, Kodi is one of the most popular methods of free streaming TV shows and movies. As nothing is perfect in this world, the same goes for the service of Kodi. However, the imperfections in Kodi can be tackled by pairing it with the best Kodi VPN.
There is always a risk of getting reported as a copyright breach by your ISP for using Kodi. Furthermore, various Kodi streams and apps, such as Netflix, BBC iPlayer, and YouTube, are subject to copyright law and are also geo-restricted.
Privacy concerns are raised when many unencrypted data is sent across the Internet, chiefly when you regularly use torrent and P2P networks. Using an out-of-the-box version of Kodi can also make geo-blocked content challenging to access.
Fortunately, a VPN is capable of surpassing the caveats of Kodi. A VPN not only ensures military-grade encryption, but it will also turn your traffic anonymous. It provides access to its users to geo-blocked content and channels. Kodi's security and privacy concerns can all be solved in the blink of an eye, as a 'tunnel' is created between VPN and your Kodi device.
The criterion for the selection of the best Kodi VPN
Our selection criterion for the best Kodi VPN is based primarily on the following features:
Logging and security policies
Top-notch security should be a priority of every VPN. While selecting the best Kodi VPN, we ensured each VPN was built on a zero-logging policy and could encrypt all the traffic. Your anonymity and information safety should be guaranteed.
Bandwidth limitations
The most important aspect of streaming and downloading is speed. Various VPNs have specific limits on how fast you can transfer files, whereas after reaching a certain threshold, many VPNs start capping speed. Thus we made sure that our 5 best Kodi VPNs offer unlimited bandwidth.
Traffic limitations
Many VPNs block high-volume traffic from their service involving P2P and torrent files. That can cause your experience on Kodi to fall back by limiting you from streaming and downloading. However, Our best Kodi VPNs support a vast range of traffic possible, involving P2P and torrents.
Platform availability
Kodi is cross-platform and available on approximately every modern device. You can enjoy a favored position by installing VPN on the same device you use Kodi. Our best Kodi VPNs can be established on platforms like mobile devices, desktop computers, and the Amazon Fire TV Stick.
Geographical restrictions
A VPN lets you access geo-blocked and censored content. Geo-restriction is troublesome when traveling or when governments or universities have blocked certain content. The 5 best Kodi VPNs we enlisted below offer their users a wide range of options and the capability to switch between countries.
Which are the best VPNs for Kodi
Kodi functions similarly to a smartphone, with a diverse range of add-ons. These Kodi VPN add-ons help it function even better and enhance the user experience simultaneously. Some of these add-ons are considered perfectly legal, whereas others bear question marks regarding their legality. That is why you are advised to watch your step.
We have enlisted below some of the most popular Kodi VPN add-ons:
Best Movies and TV shows add-ons
Best Live TV add-ons
Best Music add-ons
Best Sports add-ons
1. NordVPN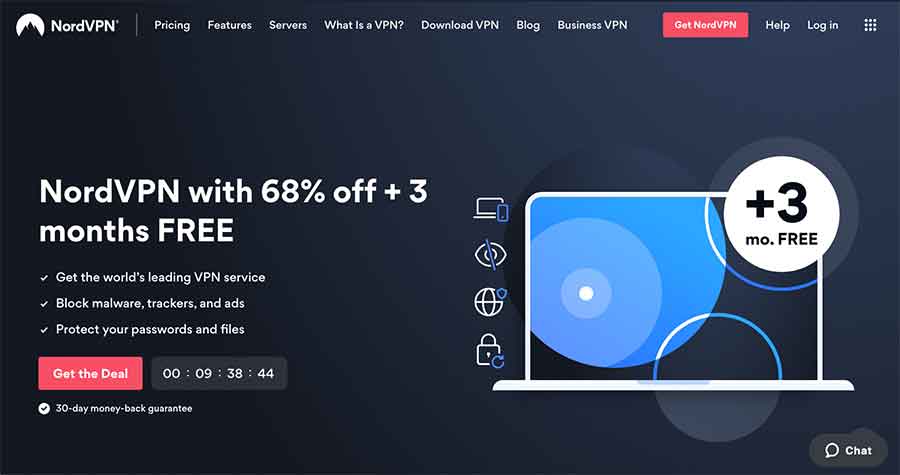 Pros
Excellent streaming DNS
Double VPN feature
Zero log policy
Optimized servers for P2P
Unlimited bandwidth
Cons
A free trial is hidden and complicated
The Double VPN feature slows performance
Not able to connect multiple devices to the same protocol at a time
NordVPN is undoubtedly the top contender for the best Kodi VPN. It is considered the first and foremost choice for streaming because of its colossal trove of servers. You can select the server that suits you best from the trove of more than 760 servers. This VPN for Kodi helps you search for a faster VPN in a flash, providing you with the server load information. NordVPN comprises different security protocols like IKEv2/IPsec and others, including PPTP, L2TP, OpenVPN, and IPsec, thus providing ironclad security.
This Kodi VPN has a crystal clear zero-log policy based in Panama. This policy offered by NordVPN protects its users from not just the jurisdiction of the 'Fourteen Eyes' but also the prying eyes of the copyright holders. Their policy also offers complete anonymity while streaming. The swift streaming servers of NordVPN also offer unlimited video streaming and downloading.
An excellent level of encryption is offered, along with the Double VPN feature, DNS leak protection, and the Kill Switch feature. Some servers of this Kodi VPN are optimized for ultra-fast streaming, so they work well for torrenting.
The only drawback of NordVPN is that it cannot simultaneously connect all 6 devices on the same server along with the same protocol. However, it does allow you to connect 4 devices simultaneously. Nevertheless, the pricing plans offered by this VPN for Kodi come with a 30-day money-back guarantee.
2. ExpressVPN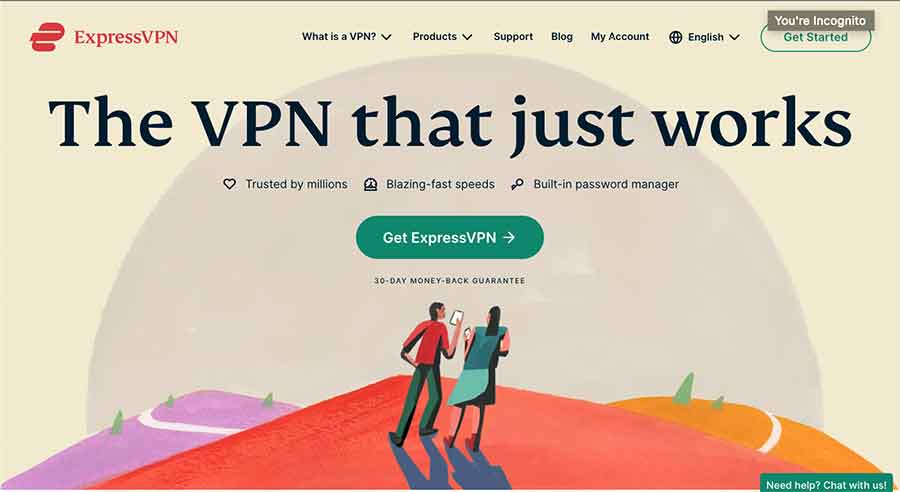 Pros
No usage logs
Outstanding performance
Guaranteed anonymity
Swift streaming and good P2P connections
The vast array of servers
Cons
No free trial is available
Expensive pricing plans
ExpressVPN is one of the best Kodi VPNs with a user-friendly interface. This Kodi VPN is packed with extraordinary features. It keeps no logs, so your online activities do not get monitored.
The two primary things a VPN requires while streaming on Kodi include high encryption and a lightning-fast connection. This VPN for Kodi lets you find the most suitable connection through the unlimited server-switching feature. It also offers military-grade encryption using the AES 256-bit encryption algorithm, thus ascertaining complete anonymity. The servers of ExpressVPN are also SSL-secured.
The customer support offered by ExpressVPN is remarkable as well. This VPN for Kodi is built for a P2P connection. That ensures that the broadband speed you receive while streaming does not disappoint you with high-definition (HD) content. The pricing plans are, however, a bit pricier than other VPNs, but they come with a 30-day money-back guarantee.
3. PureVPN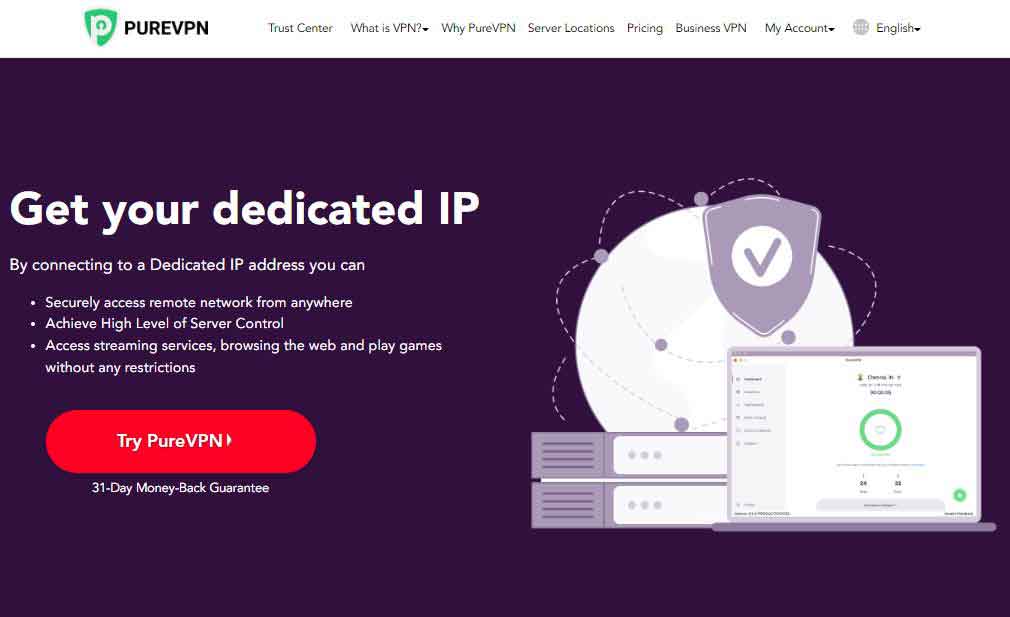 Pros
The wide range of servers
The client with Smart DNS technology
No log policy
Fast performance
Unlimited traffic
Cons
Strict refund policy
DNS leak issue
No free trial
The Hong Kong-based best Kodi VPN boasts more than 750 servers around 141 countries. PureVPN has sweated blood to gain the top positions for best Kodi VPNs. This VPN for Kodi does not record any activity apart from bandwidth and connections used only to manage the servers at their best.
PureVPN has a wide range of servers optimized for streaming HD videos, including unlimited bandwidth and speed via P2P support. This Kodi VPN also offers the split tunneling feature. This feature enables users to transfer all other apps and browsers to a direct connection while using a VPN for operating Kodi only.
PureVPN uses 256-bit encryption to encrypt your traffic. It has various security protocols like PPTP, SSTP, OpenVPN, IKEv2, and L2TP/IPSec. The Virtual Router feature changes your VPN software into a Wi-Fi hotspot, enabling the user to connect more devices besides the five already-supported devices.
4. Private Internet Access (PIA)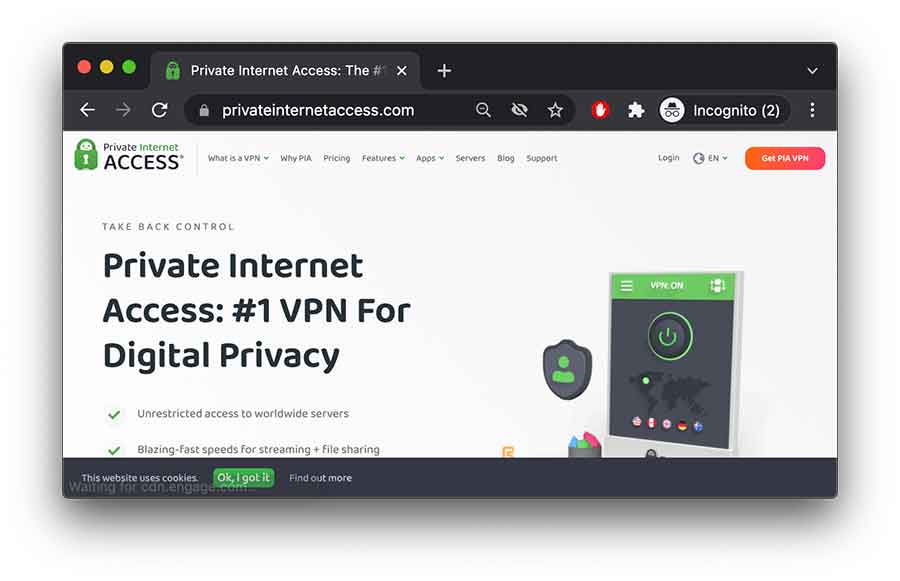 Pros
The gigantic range of servers
No log policy
Cheaper than other VPN
Cons
Average performance
Some websites are inaccessible
No free trial
Private Internet Access (PIA) VPN is among our five best Kodi VPNs. This Kodi VPN is undoubtedly reliable and secure, letting its users stream Kodi without the fear of copyright holders. It masks your IP address, thus ensuring complete anonymity. It has the most significant number of servers, i.e., more than 3200 servers, in 25 countries worldwide and thus offers unlimited server switching.
PIA VPN has separate P2P servers optimized for uncapped speed and bandwidth. But still, their downloading speeds are a bit slow compared to other Kodi VPNs. This VPN for Kodi has the necessary software with built-in malware blocking and an advert blocking feature.
The customer support offered by PIA VPN is outstanding and has different reliable support channels. PIA VPN is based in the US but has cleared its position in the privacy policy that it keeps no logs. This Kodi VPN is highly affordable and comes with a 7-day refund policy.
5. Ivacy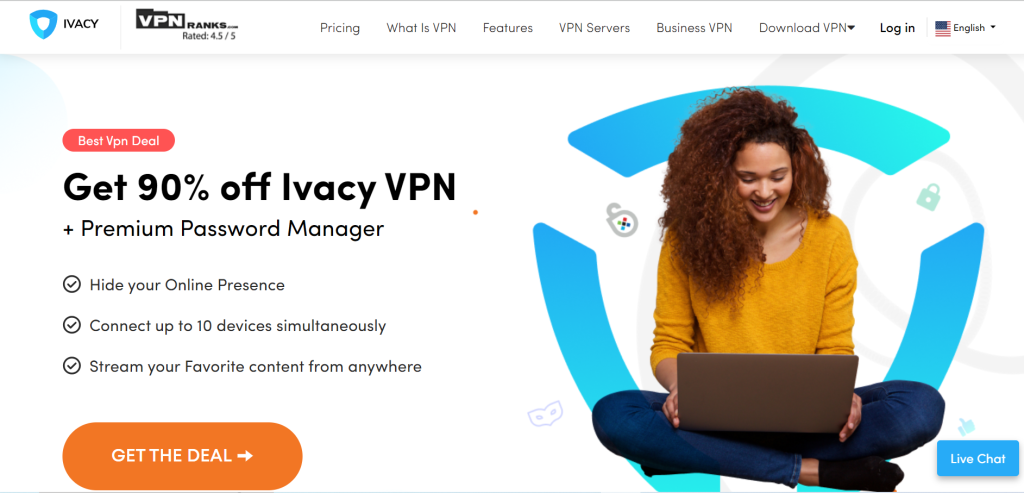 Pros
Above average performance
Zero log policy
Great customer support
Good quality streaming
Affordable pricing plans
Cons
No free trial
No live chat support is available
Limited refund policy
Ivacy VPN is also one of the best Kodi VPNs, and it has more than 250 servers in around 50+ countries worldwide. By securing your IP address, Ivacy VPN ensures complete anonymity and protects you from ISP and third-party tracking.
It has P2P optimized servers so that users can download and stream content with ultra-fast speed and under foolproof security. The support channels provided by this VPN for Kodi offer exceptional services and cover significant areas via the FAQ section. Ivacy VPN also allows you to bypass firewall, port-blocking, and ISP throttling.
Based in Singapore, it offers a log policy to its subscribers. The pricing plans offered by Ivacy VPN come with a 7-day money-back guarantee.
How to setup a VPN for Kodi
After setting up and running Kodi on your device, you can choose a VPN from our 5 best Kodi VPNs.
Sign up with your required credentials at the VPN service provider. Then you can download and install the VPN client on your Kodi device.
Start the VPN client and choose the server which suits you best.
Boot up the Kodi software with the VPN running. Start streaming your favorite movies and TV shows swiftly and fearlessly!
Conclusion
The award-winning, on-demand home theater software 'Kodi' – formerly known as XMBC – is gaining worldwide support and popularity. However, this multi-platform, open-source entertainment service has some obstacles and risks.
The high demand for streaming has entangled Kodi with hackers, ISPs, and copyright trackers. But you can bypass all these obstacles and monitoring parties by using the above-mentioned best Kodi VPNs.
Since it is predicted that the present strictness to streaming content could worsen, we advise you to get buckled up and get acquainted with one of our best Kodi VPNs.
Share this article
About the Author
Rebecca James is an IT consultant with forward thinking approach toward developing IT infrastructures of SMEs. She writes to engage with individuals and raise awareness of digital security, privacy, and better IT infrastructure.
More from Rebecca James
Related Posts