A Quick Overview of Best Dark Web Monitoring Tools
By monitoring the dark web, organizations can stay protected and remain on the latest trends in cybercrime. It is the perfect time to start if you're not using any dark web monitoring services.
Here's the list of the best dark web monitoring for individuals and business organizations:
Hold on! If you still can't decide which dark web monitoring tool to use, read each one's short review below.
The dark web's anonymity makes it a hub for illegal and nefarious activities. Cybercriminals use the dark web to sell stolen business data and personal information like usernames, passwords, and credit card details. It is extremely alarming as the stolen data is later used for identity fraud or to commit crimes. While this risks individual privacy, for businesses, it causes havoc and damages their reputation, and they lose valuable clients. This is where the need for dark web monitoring tools arises.
Individuals and companies can proactively map, monitor, and reduce the rising digital threat landscape using dark web monitoring tools. On the top, they can protect their sensitive data, intellectual property, and brand reputation from emerging threats. Also, individuals can take action, such as changing their passwords and boosting their privacy.
Check out which dark web monitoring solutions are available in the market and their key features, and choose the one that suits your needs.
What Is Dark Web Monitoring?
Cyber crimes are increasing exponentially and affecting individuals and businesses. While it risks individuals' privacy, businesses experience much more damage. 61% of the data breaches involved stolen credentials through social engineering, brute force attacks, or other tactics. After getting targeted victims' credentials, hackers often sell them on the dark web to make a profit. Over 26 million business credentials for Fortune 500 companies are available on the dark web. This is extremely alarming and needs an immediate solution, i.e., using a dark web monitoring solution.
Dark web monitoring is using a service to search and track organizations' information available on the dark web. These tools use a combination of manual and AI-powered scans to extensively monitor and track the dark web and its forums, websites, and private networks. By continuous tracking and monitoring, these tools help in finding leaked or stolen information such as:
Breached credentials
Compromised passwords
Intellectual property
Social Security Numbers
Phone Numbers
Credit/Debit card numbers
Email addresses
Usernames and other sensitive information
These tools classify the security risks and provide visibility into threats that traditional security tools fail to discover. When the tool detects a threat, it creates alerts and notifies the team members and everyone else within the organization so they can take action to minimize the risk. With these tools, businesses can find indicators that can result in a breach. Also, they gain insights into the attacking methods and develop a cyber defense strategy in accordance with it.
All in all, dark web monitoring services are great tools for identifying the exposed data and the time your data remains exposed. Anyone committed to protecting their data, be it an individual or a business, must consider using them.
14 Best Dark Web Monitoring Tools
Dark web monitoring tools provide an uncut view of the current cybercrime landscape and cyber attack trends on the dark web and provide actionable alerts to companies and individuals.
Like other cybersecurity solutions, the dark web monitoring tools' functionality and features can vary slightly. Let's sneak into the 14 best dark web monitoring tools and decide which suits you best.
1- ZeroFox Dark Web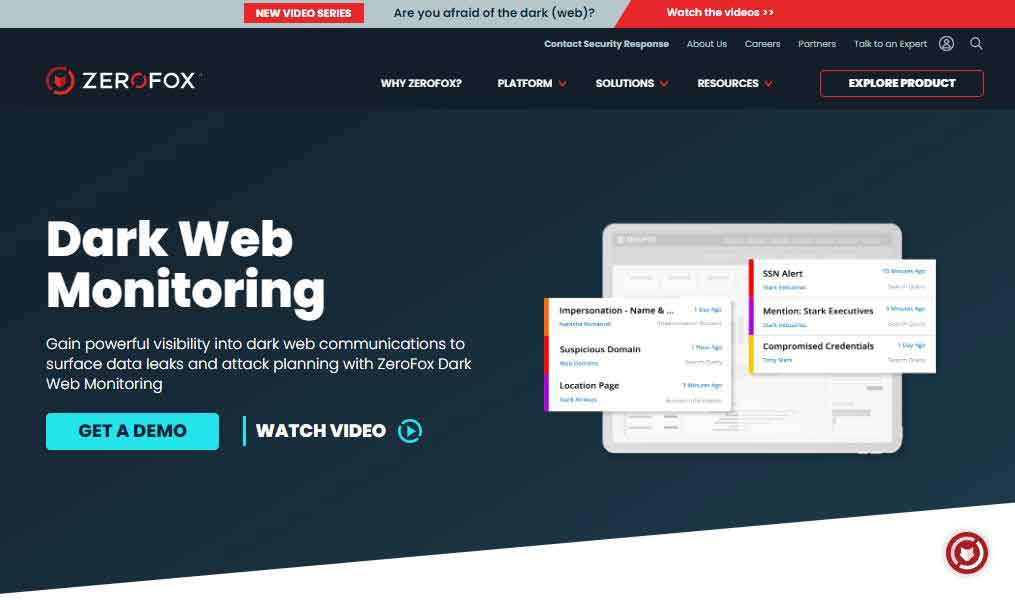 24/7 monitoring of credentials, IP, PII, and other sensitive data.
Provides extensive details of the compromised data
AI-powered platform
Full-spectrum threat intelligence and expertise
Protects assets from OSINT and deep/dark web sources
Breach-responsive service
ZeroFox is a leading cybersecurity platform that offers unified solutions to uncover malicious activities and cyber threats. Part of this SaaS-based platform is its Dark Web Monitoring solution that provides early warnings about information leaks, contextual analysis of cyber-attacks and offers actionable alerts to protect clients, brands, and employees. Companies looking for continuous in-depth dark web monitoring must try out this tool.
By employing the industry's advanced AI-powered engine, ZeroFox analyzes text images and videos and remediates threats faster. It enables Digital Risk Protection and easily integrates into SIEM, SOAR, TIP, Business Intelligence, and other technologies.
Besides this, by continuous scanning and monitoring, ZeroFox safeguards businesses against data breaches and illegal data sales on various deep and dark web forums and websites, like ZeroNet, Tor, I2P, and Paste Sites. The continuous scanning and monitoring ensure that businesses never miss out on any critical alert that might put their sensitive data at risk. It also allows security experts to involve cybercriminals and negotiate the return of sensitive data, which is rare in other monitoring solutions.
The dark web monitoring tool's interface and ease of use make it an organization's popular choice. With a single click, it lets the users take all important actions. ZeroFox's dedicated OnWatch Managed Services team works 24/7 throughout the year to protect brands from digital threats. This solution allows users to request a free demo before buying the product, which is impressive.
2- ACID Intelligence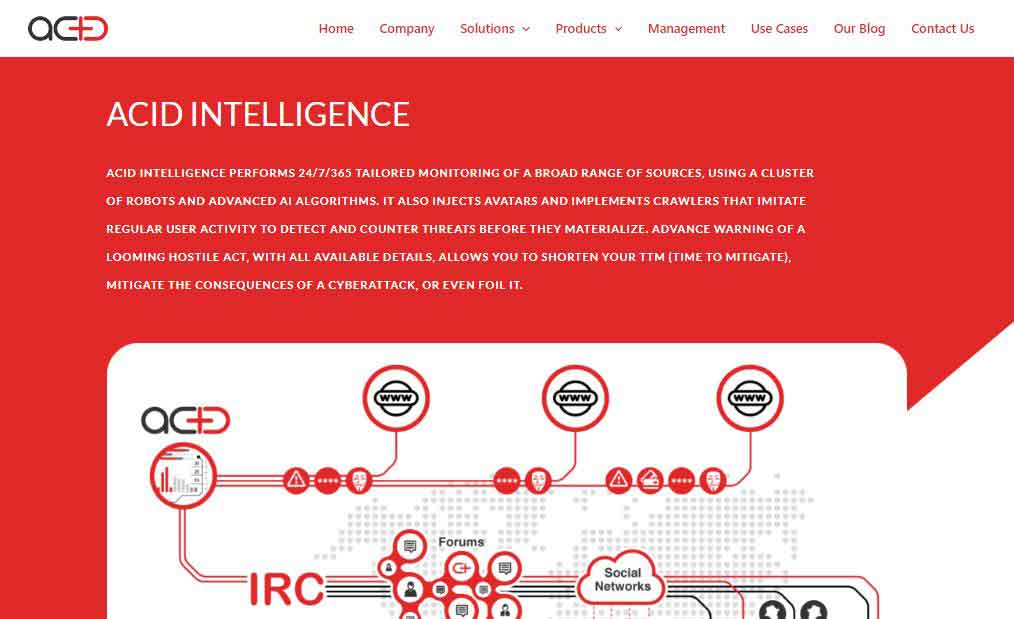 Wide coverage of credential monitoring, IP, and brand
AI-powered algorithms for effective search results
Tailored threat detection
Real-time alerts
Actionable advance alerts
ACID Intelligence is a leading threat intelligence company that protects companies from cyberattacks on the dark web. It continuously scans and monitors the dark web forums and websites to detect attacks early in the planning stage. After in-depth analysis, it provides real-time information about the potential attacks targeting the organization. It also prepares a response strategy to reduce the consequences and avoid them in the future.
The security-focused solution uses a cluster of robots that deploys AI algorithms to monitor a wide range of deep and dark web resources. When the monitoring tool identifies potential threats, it displays them in a centralized dashboard and sends real-time alerts. These alerts prove invaluable to organizations as they can optimize their responses and implement the most effective tools to control the threats based on their intensity.
Being one of the best dark web monitoring tools, ACID works throughout the year and investigates deeply into the dark web to find any clue of malicious activities targeting the clients. The most notable thing about this service is that it automatically and constantly updates the technological tools that deal with the latest threats and attack methods.
This dark web monitoring tool is best suited for all mid-sized to corporate-level organizations. As it is a paid security solution, organizations can directly request a demo or contact the team to hear about the pricing plan.
3- Dark Owl Vision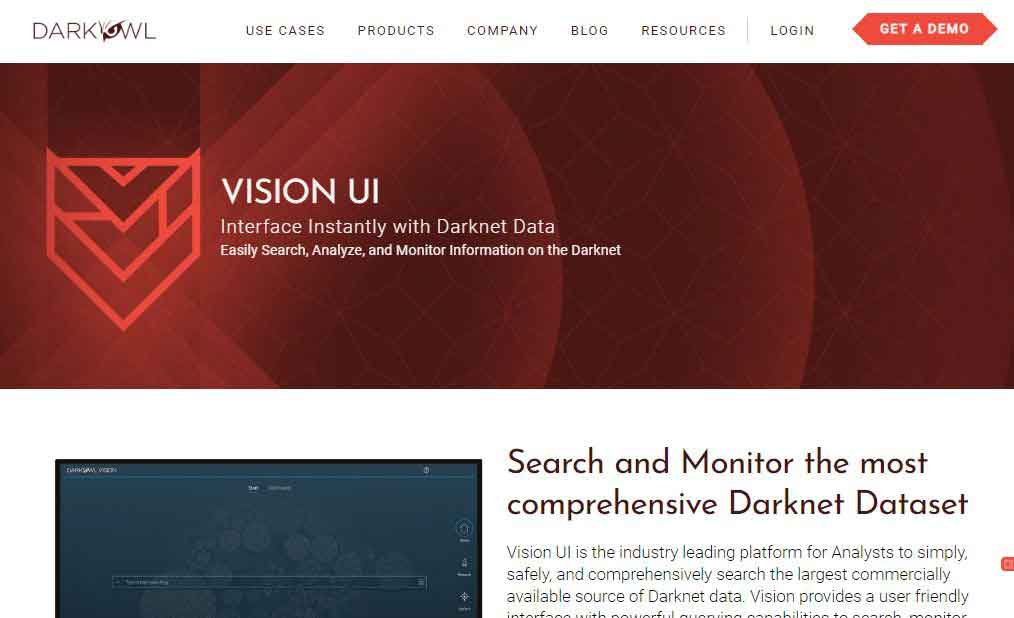 Customizable search options and threat alerts
Alerting dashboard provides active results from automated searches
User-friendly app
API for feed integration
Boolean and Regex-supported search logic for most querying needs
DarkOwl is a leading darknet company that provides the largest commercially available database of darknet content worldwide. Part of the DarkOwl product is Vision UI which enables users to monitor, search, and analyze the dark web and provides real-time threat intelligence.
Vision UI is an easy-to-use app that offers an intuitive and user-friendly interface backed up with strong querying capabilities to search, monitor, and create alerts for users' sensitive information. The investigation begins by simply entering the keyword or other operator in the search bar. The Boolean and Regex-supported search logic allows deep and highly targeted queries. It continuously updates the database from ten of thousands of darknet sites and other specific platforms like Tor, Discord, Paste sites, and Telegram.
Furthermore, users can also set filters like entities and search builders to define particular variables to return, like IP addresses, email, and cryptocurrencies. For any organization looking for a solution that searches and monitors the dark web across various sources, then, DarkOwl is the best option. In short, it offers a complete package that users always look for and thus emerges in the best dark web monitoring tools list.
4- CrowdStrike Falcon X Recon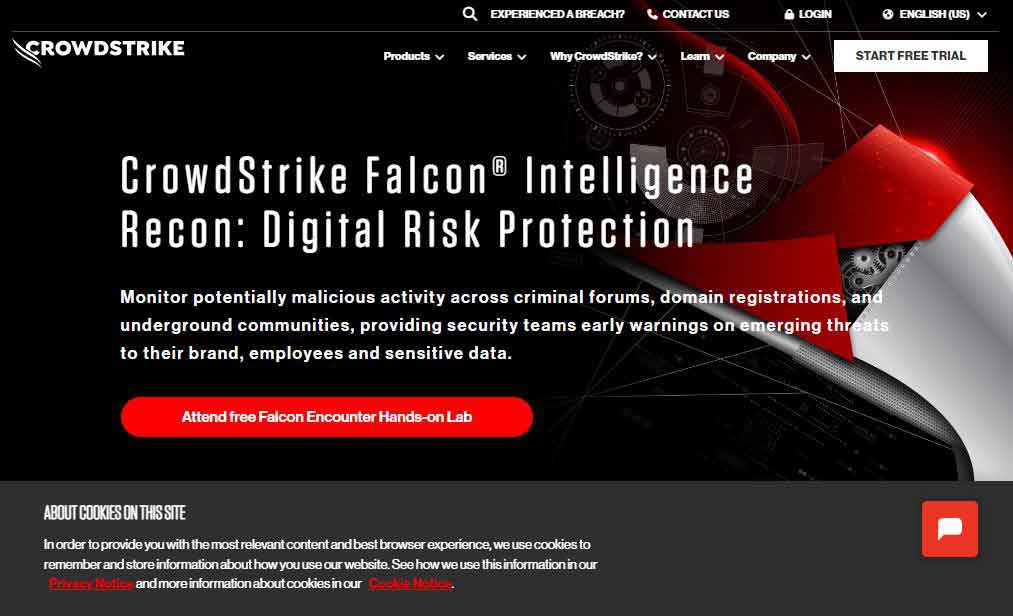 Available 24/7 to monitor and handle alerts and incidents
Best suited for all business types.
Provides customizable threat alerts
Real-time and effective threat warnings
Fast and efficient investigation
CrowdStrike is a pioneering cybersecurity leader that's been in business for almost a decade. It offers various security solutions but markets its dark web monitoring tool as the CrowdStrike Falcon X Recon. It's designed to help organizations of all sizes and types detect data leaks and breaches, monitor and track fraudulent activities, and the tools cybercriminal uses.
This dark web monitoring tool looks into thousands of darknet platforms, pages, and forums to provide instant access to over eight years of data. Digging out the raw intelligence data about fraud activities, enterprise threats, and stolen data of old-time gives CrowdStrike Falcon X Recon an edge over its competitors.
On the top, you can continuously monitor the hidden underground environments for threats without creating complex queries. The investigation results appear in a customizable dashboard, and the users can review the results in the original language and translate it into other 18 languages.
It has a Universal Search engine that automatically allows users to relate Falcon Intelligence Recon results with other CrowdStrike modules. The dark web tool offers two subscription packages. One is the Express plan that's best for SMBs, while the other Enterprise suits mid-sized and large organizations. Moreover, you can integrate this solution into major tools like SIEM and SOAR, making it one of the best dark web monitoring tools.
5- Have I Been Pwned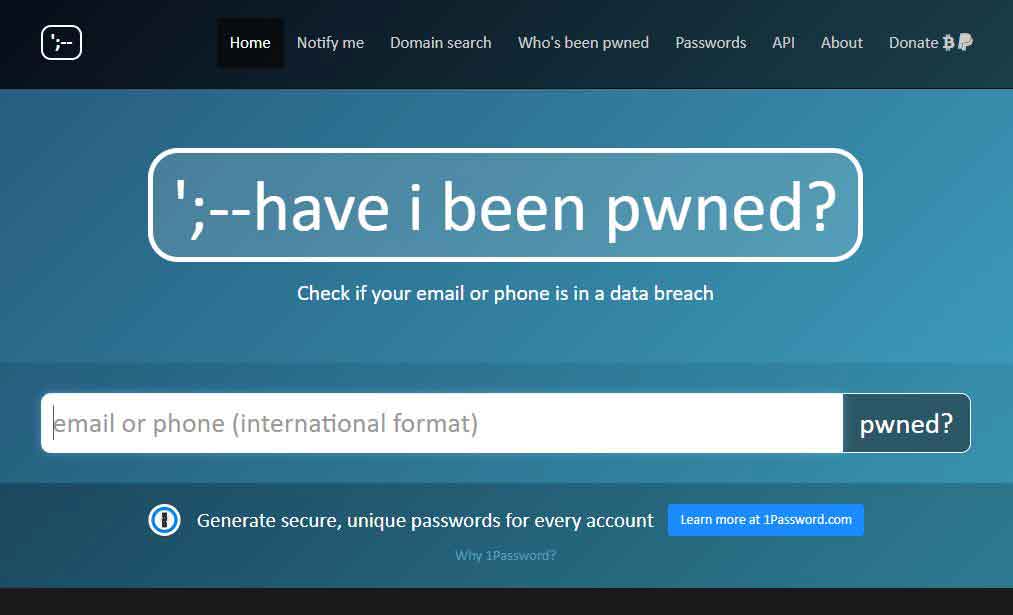 Free to use
Comes with a password generator
Searches on email addresses and phone numbers
Perfect choice of individuals
Doesn't use AI algorithms
Have I Been Pwned is a free dark web monitoring tool popular for individual users. Created by an Australian web security consultant, Troy Hunt, this tool discloses whether your login credentials and personal and financial data have been stolen or leaked online.
The tool collects and analyzes hundreds and thousands of database dumps and pastes the information about billions of leaked accounts. It also sends email alerts about new data breaches. The website possesses a simple and easy-to-use interface. It has a dedicated search bar where you can enter your email address or phone number to determine if it's compromised in a data breach. The most impressive part about this security tool is that it encourages users to change their passwords.
Besides this, you can also receive email notifications whenever your information is available in a recent data breach. Also, if you want to, you can remove their email address to use your email address to prevent others from looking to get more information linked to your email address. This way, users can take steps to mitigate the risk of identity theft and online fraud. It is a free software, but it accepts donations via bitcoins or PayPal to run its service.
6- SpyCloud ATO Prevention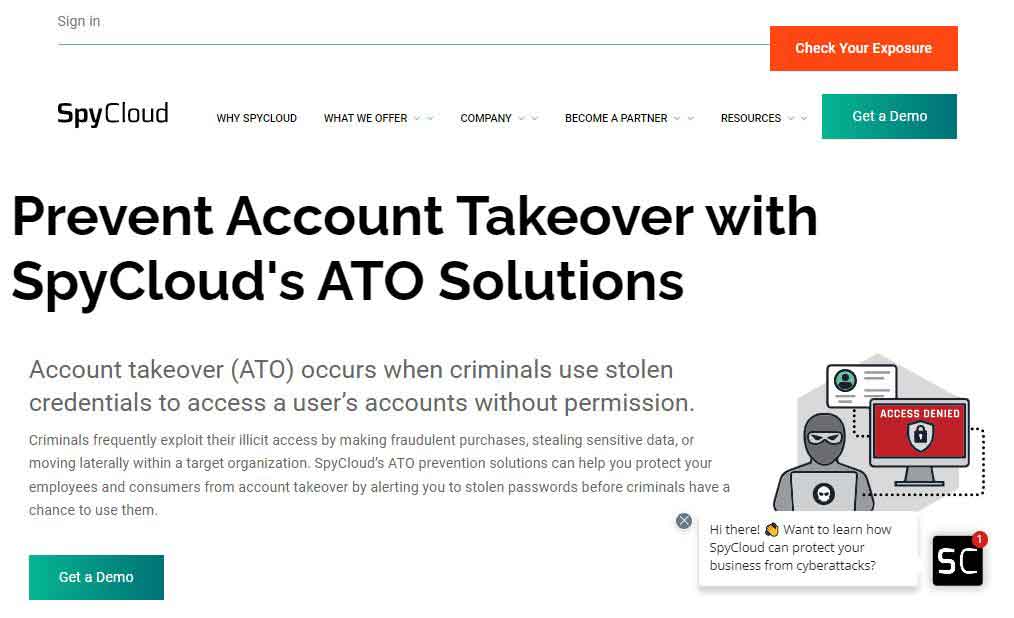 Active directory and strong password policies
Identifies compromised user accounts
Account takeover and fraud detection and prevention
Early breach notification
Best suited for MSPs and corporate organizations
SpyCloud is a renowned cybersecurity vendor that provides a good range of cybersecurity solutions to protect users against threats and cyber-attacks. ATO Prevention is the dark web monitoring tool that safeguards users from account takeover by warning them about compromised passwords before malicious actors can use them.
The dark web monitoring tool utilizes a combination of automated scanning and human intelligence to scan the dark web communities, pages, and sites that are not accessible to normal scanners. Apart from this, it actively monitors Active Directory, which automatically prompts users to change their passwords soon after discovering a data breach. It is an amazing feature that makes ATO Prevention twice better as other dark web monitoring tools discussed here.
The security researchers assess the breach data early in the breach timeline. This allows the end users to validate user identities and reset passwords before the hackers misuse them. Besides this, it offers visibility and a cloud-based threat intelligence database that helps the security teams to stay one step further from the cyber-crooks and check user logins against the biggest database of recovered breach assets globally.
Organizations, preferably mid-sized and large-scale, can consider using this security solution. To check how effectively ATO cloud performs, request a free trial.
7- DigitalStakeout Scout
Automated open-source intelligence
15 dashboard views
Protects and defends the company's reputation
Detects all forms of cyber attacks
Uses Machine Learning to detect abnormal behavior
Another reliable dark web monitoring tool that's the best choice for all sizes of businesses is DigitalStakeout Scout. This dark web threat intelligence service uses automation to monitor the surface and deep web, news sites, and social media to provide more in-depth results. By monitoring the potentially negative material about the organization, Scout safeguards the brand reputation and maintains the data's integrity.
The security solution includes machine learning technology that detects abnormal behavior within the network. Upon detecting a threat, Scout raises an alert in the monitoring dashboard. It is then up to the network administrator to manually shut down the network traffic or use any protection software. One impressive thing about this tool is that it has over 50 dashboard views that allow security teams to investigate and analyze insights and search the data.
Scout is the most preferred choice of users because of its strong dark web monitoring capabilities, automated alerts, and real-time intelligence. Another prominent feature of this tool is that it functions as a data loss prevention system, endpoint protection system, and insider threat defender.
This security-focused solution offers different pricing plans, but requesting a demo to know if it meets your standards is better. However, the tool's most disappointing element is it lacks the 24/7 live chat option. Meaning, the only way to directly get in touch with the support team is to submit a ticket.
8- Digital Shadow SearchLight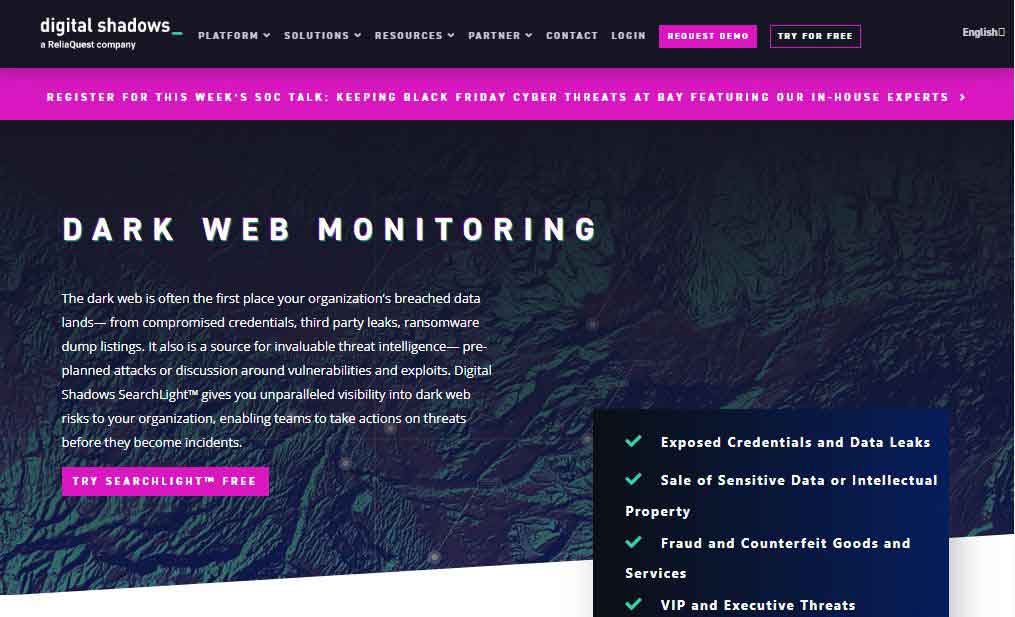 Searches passwords, VIP, and executive threats
The automation feature gives a quick action response
Uses advanced data analytics and API integrations
Investigate instantly with MITRE techniques
Free trial available
Digital Shadow enjoys a dominant position as a cybersecurity vendor. The SearchLight is the Digital Shadow's part of the service that provides unparalleled visibility into the organization's dark web risks. It delivers alerts and can assess an extensive threat intelligence library and historical archive of dark web data of over ten years. In addition, it enables the security teams to take immediate action on the threats before they cause any damage.
This tool monitors extensive dark web resources for exposed credentials, intellectual property, fraudulent activities, stolen data, VIP and executive threats, and more. It inspects underground marketplaces, Telegram, IRC, Tor, I2P pages, forums, and paste sites and sends alerts to notify the affected organizations.
The best part of SearchLight is that it allows users to try it for free for seven days. Organizations, preferably small and mid-sized, can get instant insights into dark web pages, criminal forums, and threat feeds and get 200 threat intelligence profiles of threat actors, their campaigns, and their tools.
9- Ecosec Beacon Systems
Automated data collection
Provided analysis reports on threat trends
Free trial available
Gathers sources from extensive dark web sources
Relies on Machine Learning technology to provide custom alerts
Ecosec Beacon Systems is one of the leading publicly available information (PAI) and open-source intelligence (OSINT) providers. The service leverages Machine Learning to classify threats, send custom alerts that disqualify noise, and draw the company's attention to serious issues. It locates compromised passwords, hijacked financial data, and personal data leaked on the web.
Enter a name, email address, SSS number, or other relevant information to begin the search. The system automatically scans the dark web marketplaces, forums, and social media sites to check whether the information is sold or displayed on an open free list. Also, it searches websites with the individual name or information that cybercriminals use to target a person. This way, EcoSec detects data breaches and tracks information involving individuals and business organizations.
As a whole, EcoSec is a great tool to use on the deep and the dark web and gain visibility and alerts on insights on the discovered data theft practices.
10- Cobwebs Technologies Web Investigation Platform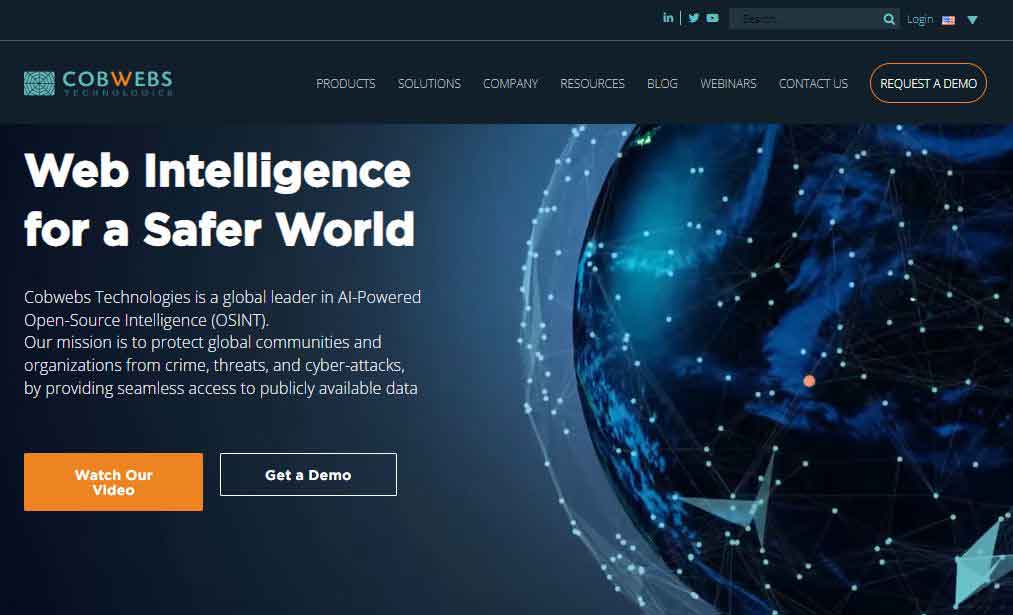 AI-powered analysis generates actionable insights
Most useful for large organizations
Automatically scans and updates the database
Extracts results from all layers of the web
Cobwebs Technologies is a leading global security and intelligence provider transforming web intelligence's face. This dark web monitoring tool enables seamless analysis of publicly available data resources available on the darknet. Part of its service is the threat intelligence solution that automatically scans and updates the databases with new information collected all around the web.
The security solution is a top choice for users because of its simple installation and scaling process that adapts to the organizations' growing needs. Plus, it deploys AI and ML technologies to analyze data across different web layers. In addition, this platform also generates actionable insights and real-time threat alerts that let analysts respond to threats more efficiently and effectively.
Cobweb Technologies is the perfect choice for large-scale enterprises working at private and governmental levels. Anyone who wants automated Al and ML-based web monitoring features in their dark web security solution must try this tool.
11- Dashlane Business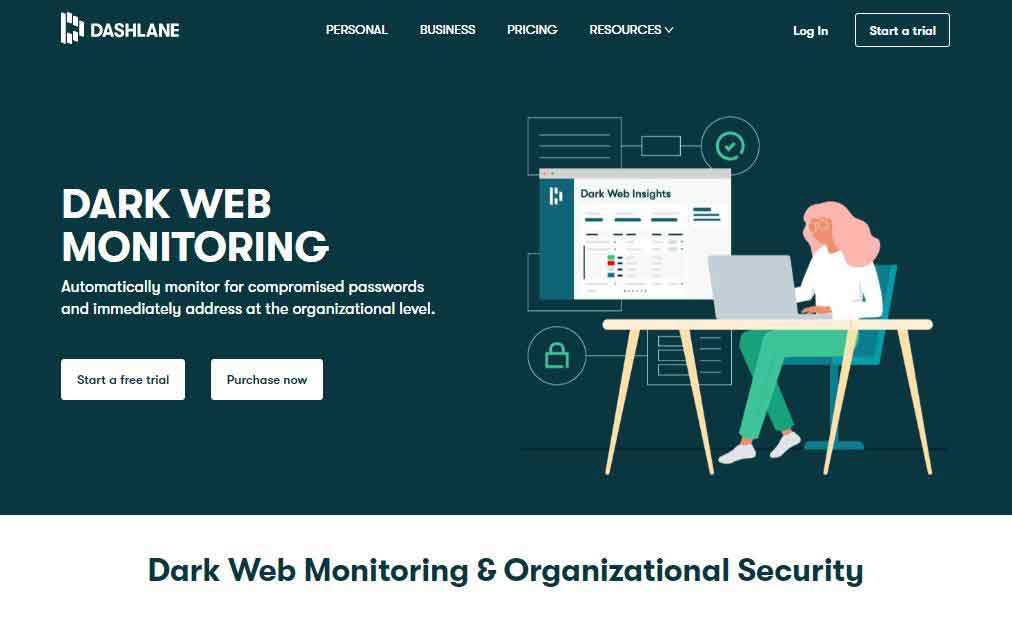 Scan up to five email addresses
Detect, assess, and prevent security risks capabilities
In depth-analysis of the dark web data
Built-in password generator and manager
Boost security with a built-in VPN
Dashlane is a popular password manager, but it excels the basic password management functionalities and includes a unique dark web monitoring tool. It notifies users of any leaked passwords and encourages them to take immediate action.
The dark web monitoring tool scans billions of accounts and passwords available in the databases of the dark web and flags the exposed ones. The organizations' IT admins can get real-time insights and alerts about security breaches and other potential threats and vulnerabilities that employees face. In addition, it also offers simple actions they must take to reduce the risk of such threats in the future.
Dashlane's dark web tool is an easy-to-use tool that lets users boost their account security with a single click. You can add up to five email addresses and run an initial scan that searches deep to find any compromised information linked to the email address. The scan results are sent via email, pop-up messages, and dark web alerts.
To benefit from the Dashlane dark web monitoring tool, subscribe to its premium plan. However, you can test this feature if you first opt for the free-trial version. Privacy-conscious individuals, start-ups, and SMBs can prefer using this tool.
12- KeeperSecurity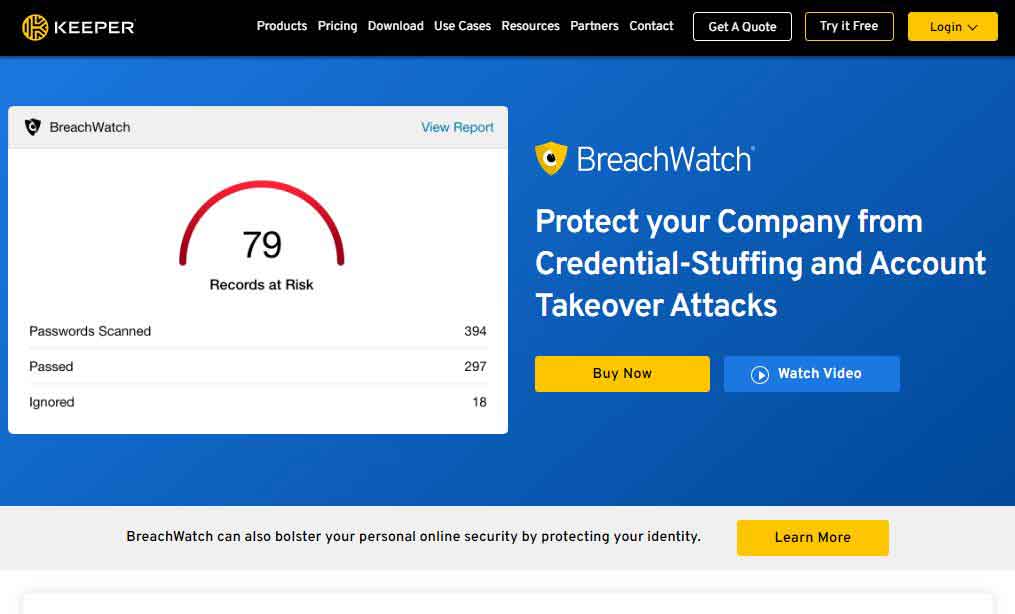 Unlimited scans
In-depth monitoring of the dark web
A free trial version is available
Enterprise-level risk assessment and visibility
Uses zero-knowledge architecture
Breach Watch is a dark web monitoring add-on tool of Keeper Password Manager. This powerful feature enables users to monitor the dark web for compromised accounts and matches them with the records stored in the vault. It works by continuously monitoring and scanning billions of records on the dark web while deploying zero-knowledge architecture that further boosts security.
The dark web tool works on all devices and major operating systems and ensures a secure and hassle-free user experience. It provides automatic notification records in the vault if it finds any alerts. In addition, it lets the users change the breached passwords within the app, which is another impressive aspect of using this service.
BreachTower is a premium add-on feature of a Keeper password manager. It best suits organizations and prevents credential stuffing and account takeover attacks.
13- WhatsUp Gold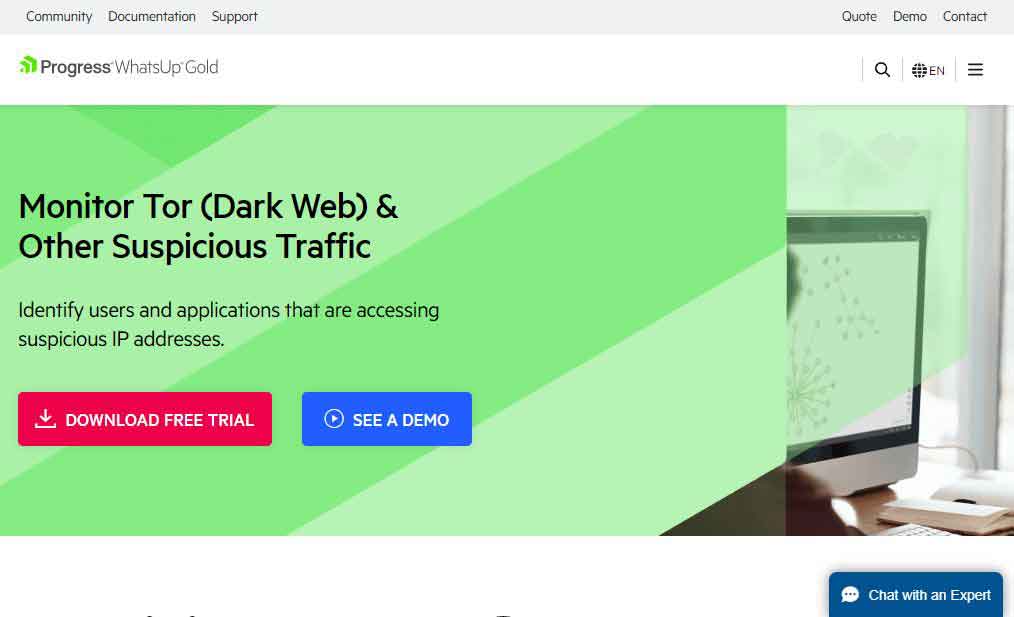 Leverage on Network Traffic Analysis
Tor tracker
Options to block malicious traffic
WhatsUp Gold is a prominent network monitoring system with several add-on modules. Network Traffic Analyzer is one of them that monitors Tor and other suspicious traffic. The Flow monitoring or NTA identifies traffic to known dark web entry or exit nodes. It alerts you when the users or applications connected to your network access the dark web.
On the top, it also recognizes traffic or some specific suspicious IP lists. Plus, it allows you to set up a list of IP addresses that you find suspicious. All this makes it an option to compete as the dark web tool.
14- LastPass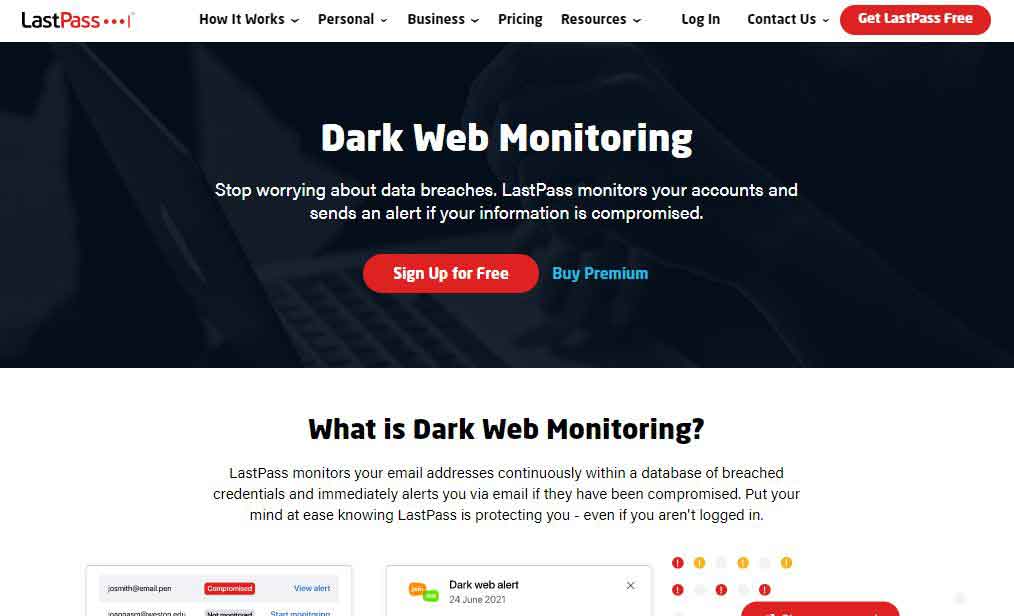 In-depth analysis of the dark web
Best for individuals and SMBs
Generate and store passwords within the app
Intuitive UI and easy-to-use
Dedicated apps for all major OS
LastPass password manager also comes with an impressive dark web monitoring tool. It's an add-on feature included in the Security Dashboard, which gives an overview of the health and security of the stored credentials. Besides assessing the security of the passwords and updating the weak and reused passwords, you can also monitor your email address for potential data breaches.
The security tool asks users to enter their email addresses, continuously scan within a database of breached credentials, and immediately alert if they have been compromised. However, this feature is accessible to all premium users.
Its ease of use and other features make it the preferred choice for individuals, families, and small and mid-sized organizations.
Features to Look Out For In the Dark Web Monitoring Tools
The monitoring tools regularly swap thousands of dark web pages and notify you if they find any stolen data. It is a time-taken process that also requires experience in dark web analysis, plus the efficiency of the tool also matters. However, not all dark web monitoring tools are equal. Thus, while selecting a solution, look for the following features:
Social Media Insights: Monitoring dark web forums, pages, and websites can give great information. It's best if the dark web tool you select uses monitors and analyzes them.
Geolocation Ability: Select a monitoring tool that provides the geofencing ability that helps locate the source of information on the dark web.
Dark Web Search Engines: Dark web search engines make searching and accessing various sites and forums easy. Thus, check if the tool you choose offers darknet search engine access.
Free-Trial Period: The monitoring tools are high-priced than most security tools. It's good to test the product and then buy it. Thus, choosing a dark web monitoring tool offering a trial period is a plus point.
Besides this, ensure the tool offers a range of extra features like search filters and results, free consultation, and reports that further ensure a hassle-free experience.
How To Prevent Data Leaks On The Dark Web?
The dark web is popular for the nefarious activities that occur on its platform. It is a valuable source for cyber criminals who buy and sell stolen credentials and other sensitive information. Preventing data leaks on the dark web has become necessary. Besides using a dark web monitoring service, you can also follow the tips below to prevent your information from getting leaked on the dark web:
Using a reliable VPN provider is advisable when visiting the dark web for anonymous communication, digging out facts, or accessing dark web news sites. A reliable VPN provider encrypts the data traffic and makes it impossible for prying eyes to know who you're and what you are doing on the web. Also, the best VPN providers come with security-centric features that maintain privacy on the dark web and eliminate the chances of data leaks.
Hackers gain access to sensitive information by using a variety of ways like phishing scams, malware, or keyloggers. You can easily protect against malware and other online threats by installing reliable antivirus software.
Above all, make sure you use strong passwords and store them safely. It's advisable to use the best password managers that generate strong passwords and store them in a secure encrypted vault.
FAQs
Can the dark web be monitored?
Various online tools like ZeroFox Dark Web, ACID Intelligence or Dashlane Business exist that are typically designed to monitor the dark web. They scan and search the dark web pages, look for users' information, and alert them if their data is leaked so they can take immediate action.
Is everyone's information available on the dark web?
Only some people's information is available on the dark web, but you can be among them. Hackers usually sell people's personal information, like their email addresses, compromised passwords, social security numbers, payment info, and company data. They usually gather this much information by various means, including phishing attacks or comprising password security. But to know if the cybercriminals have any of your information, using the best dark web monitoring tools is necessary.
Are dark web monitoring tools worth using?
Dark web monitoring tools are of great help to businesses and individuals. They scan the dark web and alert if the data is available online. It helps limit the damage of a data breach and informs them about the latest trends that cyber criminals might follow. This enables individuals and businesses to take necessary action to protect sensitive data. Hence, they are worth using.
Does NordVPN offer a dark web monitoring tool?
NordVPN's dark web monitoring is an advanced cybersecurity feature that prevents hackers from exploiting users' account information leaked on the dark web. It continuously scans the websites on the dark web and alerts if it recognizes any credentials linked to the NordVPN email address. It comes along with NordVPN so download the NordVPN app on any platform and enable this feature. It will continue to protect you while you do anything on the web.
Final Thoughts
The hacking-related data leaks and breaches happen when cybercriminals gain access to users' accounts, steal passwords and other data, and sell it on the dark web. The dark web monitoring tools help individuals and businesses to recognize any sensitive data that's leaked on the dark web and take immediate actions to reduce the damage. With tools like ZeroFox, Falcon X Recon, and LastPass, you can protect personal and business information from cyber-crooks.
Additionally, it's also vital to practice other safety tips to prevent security breaches, like using the best password managers or a legitimate VPN provider to avoid data leaks on the darknet.