Online streaming is one of the many ways people relax and spend their leisure time. But with the facility of watching your favorite shows and movies online comes the liability of issues such as ISP throttling and geo-blocking. For instance, you are watching a movie, and suddenly, the streaming speed drops, or you are in a different region where the shows you watch are restricted. These factors are not only annoying but also cause disappointment.
While streaming issues like buffering and long-term waiting can cause hindrance in the experience, and let's be honest, no one likes that. Censorship issues, copyright problems, and non-consented lowered bandwidth cause this internet and streaming restrictions.
However, using the best VPN for streaming can solve your streaming issues. It masks your identity and virtually relocates you to a different region where the restricted content is not blocked. It prevents ISP throttling by changing your IP and provides fast streaming speeds. Additionally, a VPN with many servers can help fast stream, especially during the holiday season, as internet traffic is the most frequent.
This article is a cluster of VPN options that provide fast streaming speed and unblock several geo-restricted content and sites, including US Netflix, Hulu, BBC iPlayer, etc.
How to choose the best VPN for streaming?
Many people get confused while selecting the best VPN for streaming. The VPN market is brimming with VPNs claiming to be the best, and amidst all that chaos, choosing the best VPN for streaming is a task. However, by looking for the following features, you can choose the best and most reliable VPN for streaming:
Number of servers: The VPN should have a significant number of servers to ensure there is no server congestion and users have reliable access to various locations.
Security & Privacy Features: the VPN must provide reliable privacy and security through secure encryption ciphers, tunneling protocols, and privacy features.
Dedicated streaming features: the VPN must have dedicated features such as intelligent play, optimized servers, and stealth protocol to help in reliable streaming.
Easy to use: the VPN must be easy to download and use, offering a one-click quick connection and automatic server selection features to make the experience more accessible.
Compatibility with streaming platforms: The VPN must work with all streaming platforms to provide an unhindered streaming experience.
Servers speed: Fast server speed reduces buffering and increases site speed. Therefore, the VPN must provide reliable, super-fast speeds.
Device compatibility: The VPN must work with all streaming devices, such as smart TVs and consoles.
Customer support: 24/7 customer support helps users quickly get answers to their queries.
All these factors allow users to have the best streaming experience. Therefore, the best VPNs for streaming must provide these features.
Best VPN for streaming
By following the methods mentioned above, we have come up with our list of the best VPNs for streaming. These VPNs promise a reliable streaming experience by providing super-fast speeds and a secure connection. Moreover, they work reliably with all the major streaming platforms and help bypass geo-restrictions. Here are short overviews to help you get to know more about these VPNs:
Best VPNs for Streaming – Detailed list
1. NordVPN
NordVPN: its top-ranked VPN provider, 5000+ servers, all security features, works with Netflix, Torrenting, Tor, and ISP throttling – 30-day Free trial.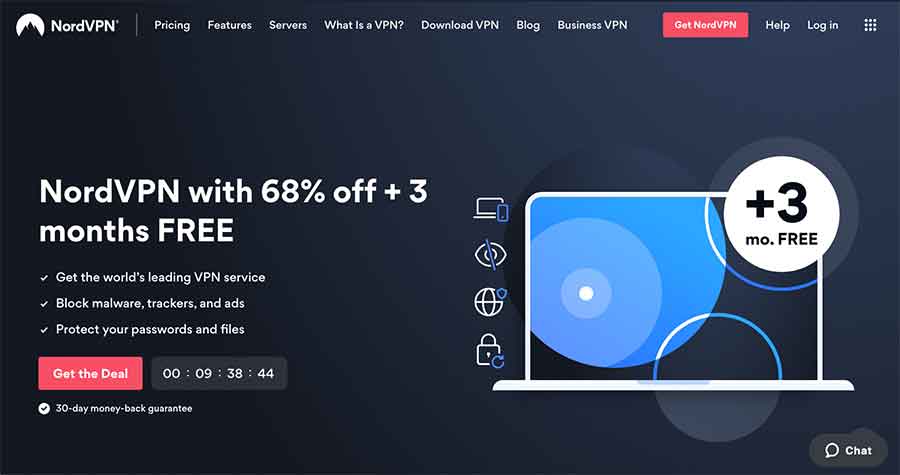 Main Features
DoubleVPN
Automatic Kill Switch
Split Tunneling
Dedicated IP
Next-Generation Encryption
Onion Over VPN
SOCKS5 Proxy
Dark Web Monitoring
Threat Protection
Meshnet
Browser Proxy Extensions
Support
Up to six devices
24/7 live chat support
Windows
Apple (Mac, iOS)
Android
Router
Linux
PSP4 and Xbox
Streaming devices
Streaming / P22
Netflix
Torrenting
SmartPlay
HBO Max
DisneyPlus
Amazon Prime
Games
One of the most reputed VPNs, NordVPN, is designed to offer a smooth and reliable streaming experience. Audited as the fastest VPN in the market by AV-Test, the VPN provides super-fast speeds for 4K HD streaming with negligible buffering time. It certainly helps that the VPN provider owns 5500+ servers across 59 countries, ensuring that there is no severe traffic congestion and that its users have several options.
NordVPN's specific streaming focus is evident through its various dedicated streaming features. One such feature is the SmartPlay technology, a secure proxy service that helps bypass geo-restrictions. The feature is enabled by default in all NordVPN apps and works by changing your DNS servers while hiding your IP address and encrypting your internet connection, which helps bypass geo-blocks and ISP throttling issues.
Therefore, in other words, NordVPN provides you unrestricted access to several popular streaming services, including Hulu, Amazon Prime, Disney Plus, and YouTube. With Netflix, it is not one to disappoint. The VPN constantly updates its server lists, enabling it to provide unrestricted access to all Netflix catalogs, be it the US, UK, Canada, Australia, or Japan.
Moreover, to ensure a seamless streaming experience, NordVPN offers compatibility with several streaming devices, including Android TV, Apple TV, and other smart TVs and consoles. However, NordVPN stands out the most because the VPN offers outstanding security through AES-256 bit encryption and the proprietary NordLynx protocol, along with other secure encryption protocols such as OpenVPN and IKEv2 that quickly help prevent online snooping and allow secure streaming. 
2. ExpressVPN
ExpressVPN: it has 3000 servers around the world and works great with Torrenting, Netflix, and special features for Tor. Offer 30-day Free trial available.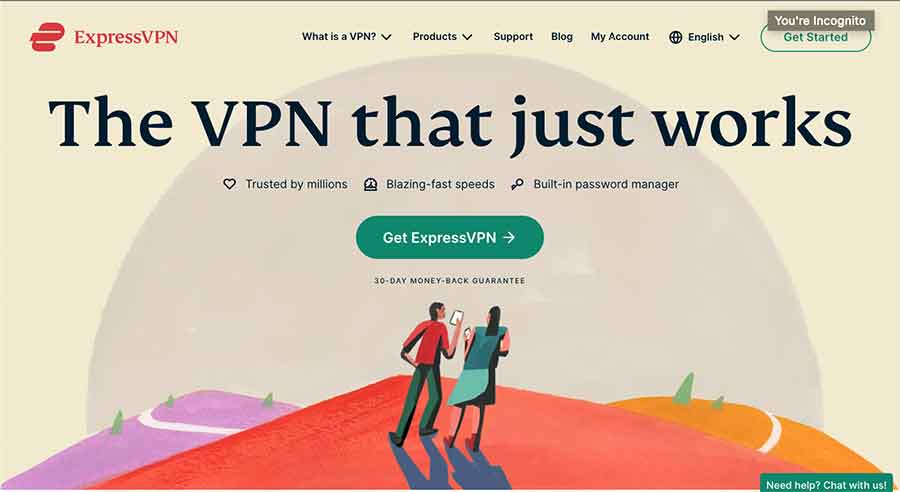 Main Features
Network lock
Zero-knowledge DNS
Threat manager
Split tunneling
Tor over VPN
IP Leak Protection
Private DNS
Trusted Server Technology
Stealth Mode
Lightway protocol
Support
Live chat support
Email support
Windows
Apple
Android
Linux
Router
Gaming consoles
Up to five device support
Streaming / P22
Netflix
Amazon Prime
BBC iPlayer
HBO Max
Disney Plus
Hulu
It is an all-rounder VPN and is one of the best choices for online streaming. It provides 3000 servers in 94 countries, ensuring fast and uninterrupted streaming. Moreover, ExpressVPN also offers Virtual servers. These servers virtually relocate the user's IP to the country of choice when routed via a different server for improved internet speed and bypass censorship.
Similarly, ExpressVPN provides the Stealth VPN mode that helps bypass censorship and VPN blocks by masking VPN traffic as regular HTTPS traffic. It is ideal to use while streaming in restrictive countries such as Turkey, Iran, and China.
ExpressVPN also offers the Mediastreamer feature. This Smart DNS proxy feature bypasses extremely strict geo-blocks and VPN blocks. This feature helps evade Netflix's VPN block and helps provide access to all streaming platforms. Additionally, ExpressVPN also promises compatibility with several intelligent TVs and consoles.
Apart from that, ExpressVPN promises reliable streaming through super-fast speeds through its proprietary Lightway protocol. Moreover, to help ensure its users get optimal speeds, ExpressVPN allows them to conduct a speed test before connecting to a server. With this, users can ensure they are connected to the fastest servers for streaming.
Furthermore, the VPN also guarantees robust security while streaming. It uses the industry standard AES-256-bit encryption with a network lock to prevent data leaks. Moreover, along with its secure proprietary Lightway protocol, ExpressVPN offers other secure protocols, including OpenVPN and IKEv2. The VPN also has a verified no-logs policy, so you can stream freely without worrying about data snooping.
3. CyberGhost
CyberGhost: it offers 7500+ servers around the world, works with torrenting, Netflix and also provides great privacy features. 45-day Free trial.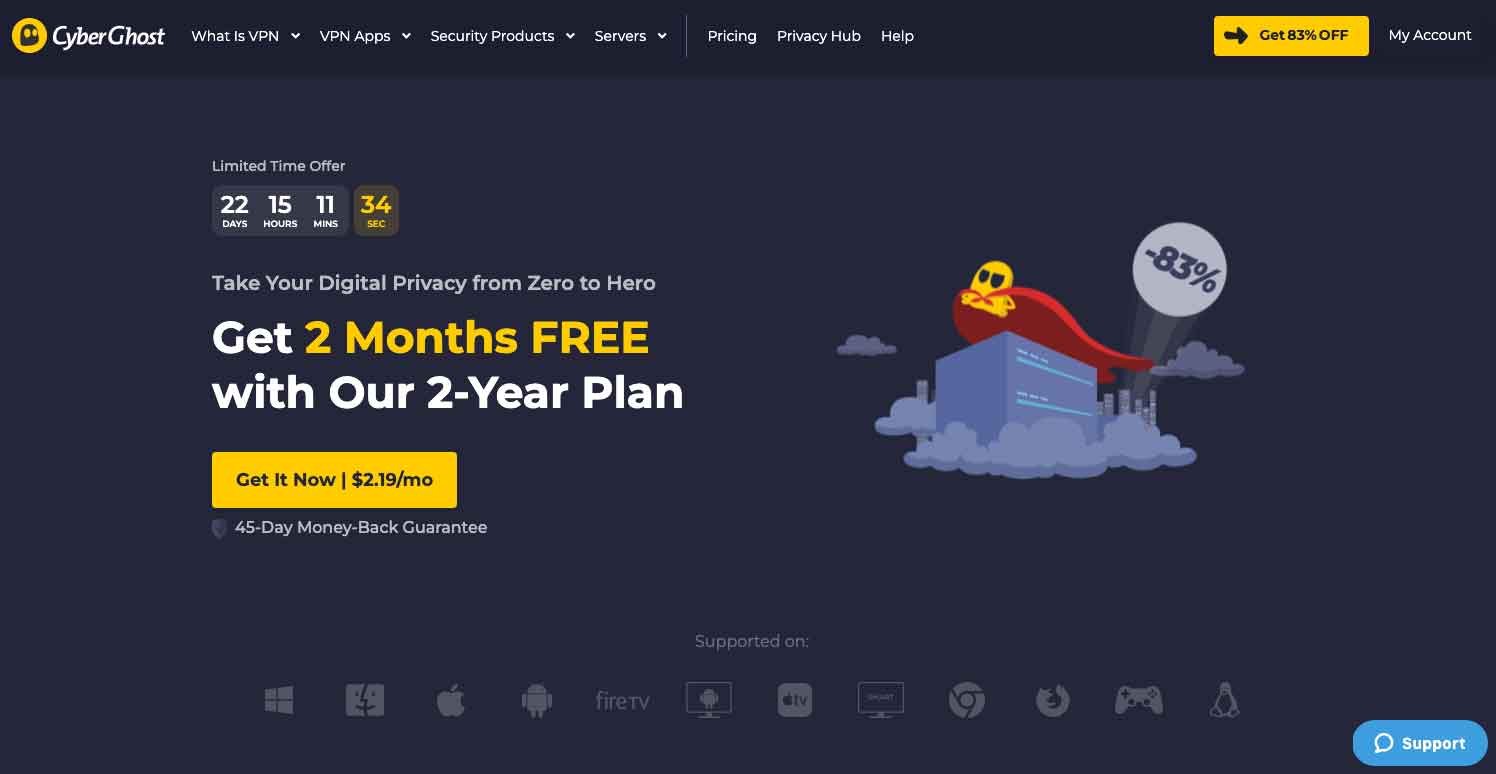 Main Features
Dedicated IP
P2P Allowed
Ad Blocker
Wi-Fi Secured
Ad Blocker
kill switch
Strict No Logs Policy
Support
Up to 7 devices
24/7 Live Support
Windows
macOS
Android
iOS
Streaming / P22
Netflix
Hulu Plus
Torrenting
Sports Streaming
CyberGhost is a reliable VPN provider that promises an ultimate streaming experience. The VPN offers some of the best streaming features, such as no-spy servers. Like what its name presents, the feature helps bypass some of the strictest online geo-restrictions, allowing users to stream all types of content. Whether accessing Netflix US or Disney Plus, the VPN ensures access to some of the best streaming content. It ensures compatibility with all the major streaming platforms and devices.
The VPN is a popular streaming choice primarily because it leaves no room for disappointment. It is easy to use and set up, but it also helps ensure super-fast speeds that help significantly cut down buffer time to zero. Apart from that, there is also an impressive number of 9249 servers in 115 locations. Such a large number of servers is ideal for streaming since it quickly helps bypass ISP throttling issues, and users don't have to face traffic congestion.
To top it all off, CyberGhost is not messing around regarding security. The VPN offers some of the best AES-256-bit encryption and secure VPN protocols, such as OpenVPN, IKEv2, L2TP-IPsec, PPTP, and WireGuard protocol. Regarding streaming, these protocols help ensure a safe and fast streaming experience. However, CyberGhost is particularly standout because it also blocks ads and tracking while following a strict no-logs policy, so you can stream without worrying about online snoopers.
4. Surfshark
Surfhark: It's great with Netflix and torrenting, can bypass ISP throttling, and has great privacy features. 3500+ servers and come with a 30-day free trial.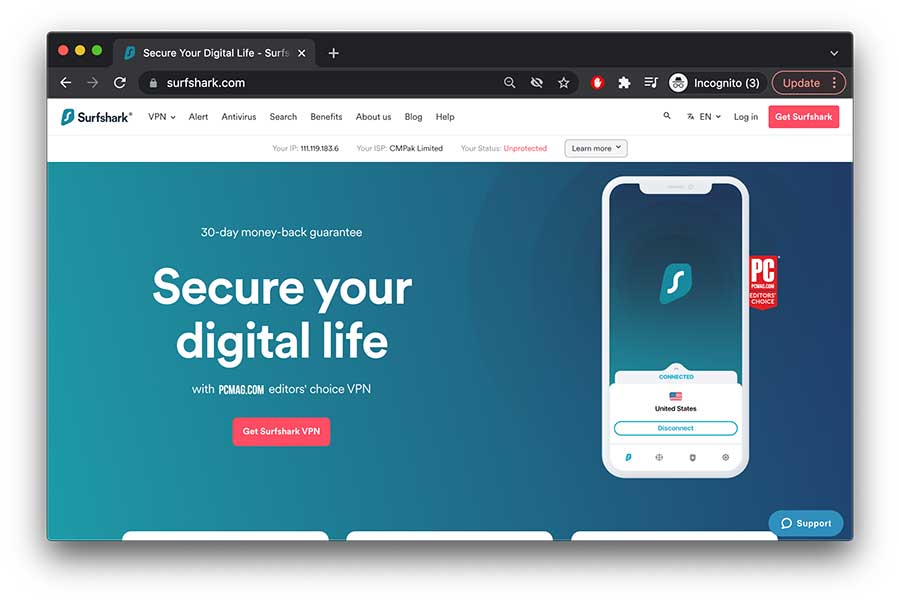 Main Feature
RAM-only servers
GPS spoof
Clean Web
No borders
Camouflage mode
Multihop
Device invisibility
Two-factor authentication
Bypasser
Perfect forward secrecy
Auto Connect
Tor over VPN
Support
24/7 live chat support
Email and online resources
Windows
Android
MacOS
iOS
Linux
Routers
Gaming consoles
Unlimited device connections
Streaming devices
Streaming / P22
Torrenting allowed
Netflix
Amazon Prime
Disney Plus
Hulu
HBO Max
BBC iPlayer
Surfshark VPN has a strong reputation as a fast and secure VPN provider, making it an ideal VPN for streaming. The VPN provides super-fast speeds that help stream in 4k HD quality with little to zero buffer time. Moreover, it also offers 3200+ fast servers in 100+ countries that cover all the popular locations for streaming. Surfshark has engineers working to optimize servers depending on the number of connections, which helps reduce server overcrowding and ensures super-fast speeds.
The VPN is also sufficiently equipped to bypass geo-restrictions and censorship. It offers an impressive No-Borders mode that helps bypass even the strictest geo-blocks and censorships. It is helpful for people living under restrictive regimes such as Turkey, Iran, or China.
Additionally, Surfshark is also efficient in evading VPN blocks. It offers a Camouflage mode, essentially an obfuscation tool that allows accessing restricted content and bypasses VPN blocks. It masks VPN traffic like regular HTTPS traffic, helping users evade VPN blocks. It allows access to all popular streaming platforms such as Netflix, Hulu, HBO Max, Amazon Prime, and much more.
The VPN also offers a Smart DNS feature that helps bypass restrictions by changing a user's DNS address. SurfsharkVPN also works compatibility with smart TVs and consoles, including FireStick TV.
While helping users evade geo-restrictions and VPN blocks, Surfshark ensures a secure VPN connection. The VPN provider encrypts data using robust AES-256-GCM encryption and secure tunneling protocols such as WireGuard, IKEv2, and OpenVPN. Surfshark provides a malware, ad, and tracker blocker for safe streaming.
5. Proton VPN

Proton VPN: it has 1400+ servers and is loaded with all privacy features. Works with Netflix, Torrenting, Tor, and bypassing the ISP throttling. Free Version available.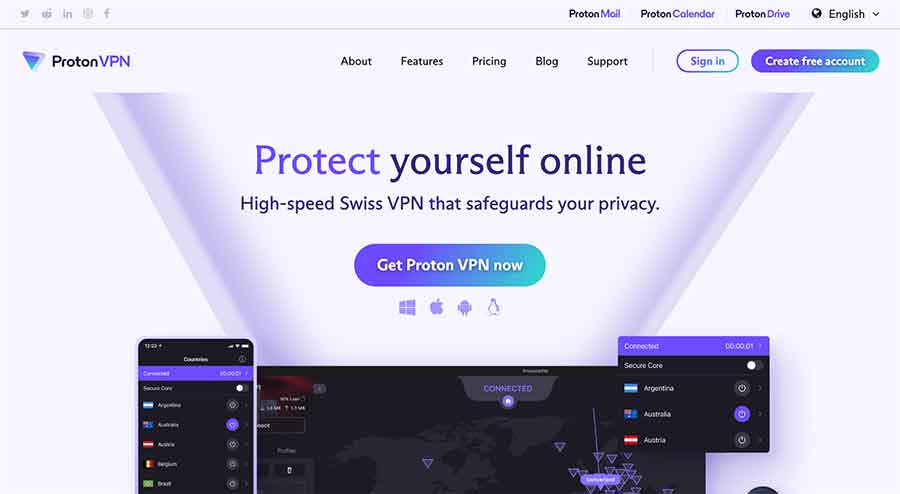 Main Features
Kill switch
Split Tunneling
Alternate Routing technology
NetShield Ad Blocker
VPN Accelerator
Secure core servers
Perfect Forward Secrecy
Full disk encryption
Support
Up to ten devices support
Email support
Online resources
Android
Apple
Linux
Streaming devices
Gaming consoles
Windows
Streaming / P22
P2P/BitTorrent support
Netflix
Amazon Prime
Disney Plus
HBO Max
Youtube
Proton VPN is one of the best VPNs for streaming that provides reliable streaming features. With a whopping 1080+ servers in 63 countries, it is undoubtedly ahead of many VPN services. These servers help ensure fast speed and prevent traffic congestion during peak hours.
The VPN also works efficiently in bypassing restrictions. It offers an alternate routing technology and a stealth VPN feature that efficiently help bypass online restriction and geo-blocks. The Alternate Routing technology bypasses restrictions and geo-blocks by routing data traffic through unblocked networks. Similarly, the Stealth VPN features help evade VPN blocks by disguising VPN traffic as ordinary traffic.
Therefore, it is safe to say that Proton VPN efficiently provides unhindered access to popular streaming platforms such as Netflix, Amazon, etc. Not only that, Proton VPN is highly compatible with almost all devices, including Android, iOS, MacOS, Linux, Windows, Streaming devices, Gaming consoles, etc.
However, its super-fast speeds make Proton VPN the best VPN for streaming. The VPN offers a VPN Accelerator feature, which helps boost speeds, efficiently reducing buffering time. The VPN provider claims that this feature increases the internet speed by 400%, allowing users to stream their favorite content from anywhere globally.
Moreover, Proton VPN also works to provide security while streaming. The Netshield feature blocks cookies, trackers, and annoying ads for seamless and fast streaming. Additionally, it encrypts user data through secure AES-256-bit encryption and offers robust VPN protocols such as OpenVPN, IKEv2, and WireGuard for a fast and secure VPN connection.
6. VyprVPN
VyprVPN: it has 700+ servers in over 70 Countries, works great with Torrenting, Netflix, special features for Tor. Offer 30-day Free trial available.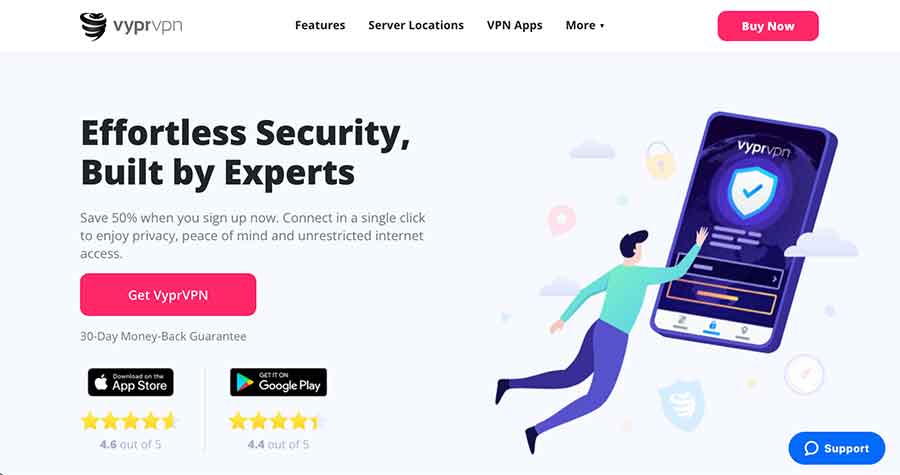 Main Features
Kill switch
Connection per-app
VyprDNS
Public Wi-Fi protection
AnonoBox router
Site blocker
NAT firewall
DNS, IP, and WebRTC leak protection
Split Tunneling
No-Log Policy
Support
Up to ten devices support
Email support
Live chat support
Android
iOS
MacOS
Windows
QNAP
Routers
Streaming / P22
Torrenting allowed
Amazon Prime
BBC iPlayer
Hulu
Netflix
WatchESPN
ESPNPlus
Sky sports
VyprVPN is another popular VPN that offers the ultimate streaming experience. The VPN offers 700+ servers in Asia, Africa, Oceania, and North and South America. These servers ensure fast speed and promise quick connections during peak hours. While, the number of servers is not essentially extraordinary, but it is still enough to keep VyprVPN in the best VPN for streaming leagues.
Vyprvpn is one of the few VPN services that provide optimised networks to defeat isp throttling and minimise lags and buffering for a seamless streaming experience. Moreover, the VPN also offers an obfuscating tool known as the Chameleon Protocol. The protocol efficiently disguises VPN traffic as regular traffic and allows access to blocked sites and content. Disguising VPN traffic as normal traffic also increases streaming speed and prevents bandwidth throttling.
Moreover, the VPN promises compatibility with all the major streaming sites, such as Netflix US, Amazon prime, Disney plus, etc. Additionally the VPN is compatible with various streaming devices including Android, iOS, MacOS, Routers, Windows, etc.
While streaming, VyprVPN ensures that the connection is secure and reliable. The VPN provides robust AES-256-bit encryption with private DNS to prevent any data leak. Besides this, Vypr VPN also offers some of the best encryption protocols such as WireGuard, OpenVPN, and IKEv2 protocols to ensure fast and unhindered streaming.
Should I use a free VPN for streaming?
Free VPNs are often enticing and while there are several free VPNs that promise a reliable streaming experience, their promises are nothing but hoaxes. In fact relying on a free VPN for streaming can be frustrating since there are several problems associated with them such as:
VPN Blockers Restriction: Streaming platforms use powerful VPN blockers to avoid copyright issues. Free VPNs usually don't have robust encryption or specialized obfuscation tools to bypass these restrictions.
Bandwidth Restriction: Free VPNs offer limited bandwidth, resulting in slow streaming speed and long-term buffering.
Limited Servers: Free VPNs have limited local servers. These servers cannot bypass restrictions and are slow due to traffic congestion.
Limited Access To Websites: The VPN may access blocked websites, but it is tough to sustain the connection, and the results are unsatisfactory.
ADs Interruption: Free VPN services gain benefits from ads. Therefore, they bombard users with advertisements while streaming, ruining their users' experience.
Keep Logs: Free VPNs often keep logs of their users. They rent out third-party servers, which can be accessed by third parties. Therefore, there is no data security.
Weak Protection: The VPN services for free use weak encryption and lousy protocols. Hackers can easily steal personal data by cracking weak encryption codes and protocols.
It is, therefore, better to use the VPN for streaming that guarantees a fast, reliable, and secure streaming experience. Most reliable VPNs for streaming, such as the ones mentioned above, also offer a free-trail period or a 30-day money-back guarantee that users can easily avail if they want.
Conclusion
VPNs are a necessary part of streaming online. They ensure a reliable and fast streaming experience and help bypass various online streaming issues such as ISP throttling, geo-blocks, online censorship, and VPN blocks. However, when choosing a VPN, it is crucial to look through its features carefully. Ensure that the VPN you select offers a reliable number of servers, has secure encryption standards, and sufficient streaming features to ensure a reliable streaming experience.
FAQs
You will need a VPN to protect your digital identity and to secure your data from hackers and online traffickers. A good VPN service secures our devices. It allows you to browse privately. You can access streaming platforms through a VPN  and unblock geo-blocked and censored content.
Yes! You can bypass geo-blocking and censored content using a VPN with high-level encryption and many servers.
You can easily connect your device to a VPN in just a matter of a few clicks
Follow these simple steps
1. Just download the app or software on your device or mobile.
2. Choose your country.
3. Log in.
4. Select server.
5. You are ready to use your VPN now!
In most countries, including the US, VPNs are legal for streaming online movies and TV shows. But sometimes, you might get blocked from accessing your streaming account if the website detects this activity, so make sure to use a VPNn offering obfuscated technology or smart DNS to bypass these blocks and ensure safe streaming.
If you are ever caught while streaming with a VPN, do not worry! You won't be charged any kind of penalty. The most that will happen is that you will be blocked from streaming until you turn off the VPN.
All the VPNs that are listed in this article can be used to access Netflix and geo-blocked content. expressvpn NordVPN is our best pick for streaming Netflix as it gives fast streaming speed and prevents ISP throttling, and bypasses bandwidth restrictions.
Using a VPN while streaming can help overcome various streaming problems, including censorship issues, ISP throttling, and geo-restrictions. It provides fast speed for streaming.
Indeed, they can. A VPN with high encryption and a  decent number of servers can help fast-stream.
Share this article
About the Author
Rebecca James is an IT consultant with forward thinking approach toward developing IT infrastructures of SMEs. She writes to engage with individuals and raise awareness of digital security, privacy, and better IT infrastructure.
More from Rebecca James
Related Posts