ExtremeVPN is relatively new in the market but is quickly gaining popularity for its ultra-fast speeds and powerful unblocking abilities. It is the ideal streaming VPN if you want to bypass the geo-restrictions of any streaming platform, including Netflix. Indeed, modern problems call for modern solutions.
Netflix is one of the largest video-on-demand streaming platforms with different regional content libraries. However, the platform locks its content geographically, and the only way to access it is by obtaining the IP addresses of the specific countries.
In this article, we will explain why you need a Netflix VPN, show you how to use ExtremeVPN for Netflix efficiently, and advise you on what to do when encountering problems.
ExtremeVPN Pros and Cons
Pros
Has a split-tunneling feature
An effective Kill switch feature with high efficiency
Supports torrenting
Uses military-grade AES-256 encryption
Allows up to ten simultaneous connections
Enforces a strict-no-logs policy
ltra-fast connection speed with unlimited bandwidth
Offers low-latency connections
Has applications for iOS, Android, Windows, and Mac
Cons
No router application
Does not provide dedicated IPs
Why is ExtremeVPN necessary to watch Netflix?
Despite covering more than 190 countries worldwide, Netflix is inaccessible in countries with strict censorship laws, like China, North Korea, Russia, and Crimea. If you live in such countries, you need a VPN to reroute your traffic and give you an IP address of another country where Netflix is accessible.
Moreover, Netflix categorizes video libraries geographically, and each regional library is different from the others and only accessible within the set boundaries. That is why the latest show on Netflix might not be available in your region.
The reason why Netflix enforces geo-restrictions on its content is to comply with streaming licenses from copyright holders. For instance, Netflix may have the exclusive rights to air certain content in the US. However, the rights are only restricted within the US, and offering such content outside the US would violate the terms of the license.
Popular streaming platforms like Netflix use advanced technology to enforce geo-restrictions, and that is where a quality VPN like ExtremeVPN comes in. The VPN boasts an extensive network of 6,500 servers and uses sophisticated technology to bypass Netflix geo-blocks from anywhere worldwide.
EtremeVPN Pricing Plans
You can choose from three competitive pricing plans:
One-month plan: Gives you access to unlimited ExtremeVPN features at $10.59/month.
Six-month plan: Charges you $5.15/month, billed as $30.9 every six months. This is a 51% discount on the monthly plan.
Annual plan: Pay $3.29 monthly, billed as $39.48 annually. Saves you about 68% monthly costs.
As you can see, ExtremeVPN is one of the most affordable VPNs on the market. However, you may also be required to pay more than the above amount to cover extra taxes in some countries. ExtremeVPN accepts payments via PayPal and credit cards but will soon accept crypto. Additionally, the VPN has a 30-day money-back guarantee, so you can try it risk-free by canceling your subscription before 30 days if you are unsatisfied.
Does ExtremeVPN offer a free trial?
If you are unwilling to commit your funds to test ExtremeVPN for 30 days, you can try it for free for 7 days. This is a massive advantage because few premium VPNs have a free trial version.
You will access all ExtremeVPN premium features during the trial. This includes unlimited server access, unlimited data caps, and ultra-fast connection speeds. The free trial version can perform all online activities, including gaming and streaming.
The best Netflix streaming servers in ExtremeVPN
We tested various ExtremeVPN servers to determine the ones that work best with Netflix in different regions. The table below summarizes the best servers to unblock various libraries of Netflix.
| | | |
| --- | --- | --- |
| Netflix US. | Chicago, Atlanta, Charlotte, Jersey, San Jose, Phoenix, Houston, New York, Los Angeles, Miami | HD |
| Netflix libraries | Recommended ExtremeVPN Netflix servers | SD |
| Netflix UK. | London, Maidenhead, Manchester | HD |
| Netflix Australia | Brisbane, Sydney, Melbourne, Perth | HD |
| Netflix China | Beijing | HD |
| Netflix Canada | Montreal, Quebec, Vancouver, Toronto | HD |
Which Netflix libraries can I access with ExtremeVPN?
ExtremeVPN is a premium VPN; one subscription gives you unlimited access to all its features. So, you can use it to unblock all libraries of any streaming platform from anywhere in the world. This includes Netflix, Amazon Prime Video, Hulu, and many more.
Does ExtremeVPN unblock Netflix US?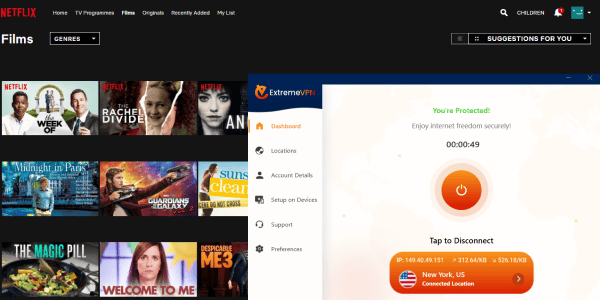 We tested ExtremeVPN's ability to unblock Netflix US by connecting to a server in New York. We aimed to see if we could watch the newly released movie 'Mudbound,' which is only available on Netflix US. As expected, we could access Netflix US, and the movie loaded swiftly in HD quality.
The connection recorded the following speeds:
| | |
| --- | --- |
| Upload | 101.06 |
| Download | 82.04 |
| Ping | 140ms |
Does ExtremeVPN Unblock Netflix UK?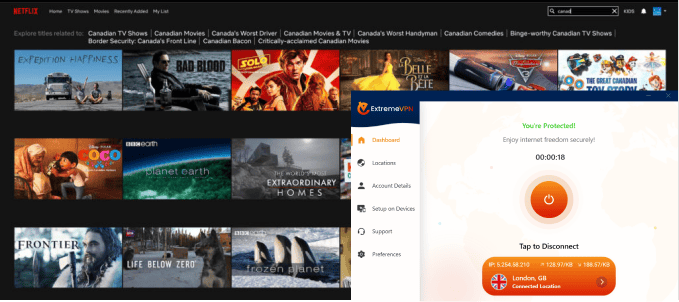 We were also able to unblock Netflix UK without much hassle. We connected to a Manchester server, allowing us to explore the rich UK Netflix library and watch 'The Dig.' The video load time was good, and we could stream in HD without buffering.
The connection recorded the following speeds:
| | |
| --- | --- |
| Upload | 79.01 |
| Download | 63.07 |
| Ping | 77ms |
Does ExtremeVPN Unblock Netflix Canada?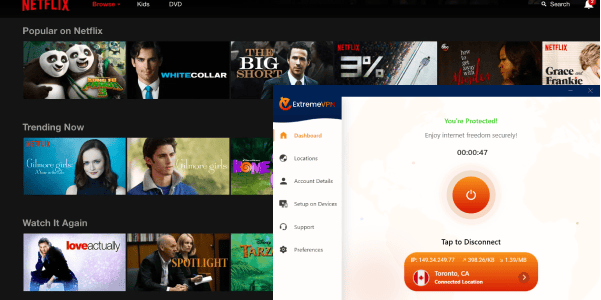 We also tested ExtremeVPN with the Canadian Netflix library, and we could watch different shows in HD quality. The connection was through a server in Toronto, and it had the following speed details:
| | |
| --- | --- |
| Upload | 94.05 |
| Download | 66.57 |
| Ping | 191ms |
Does ExtremeVPN Unblock Netflix Australia?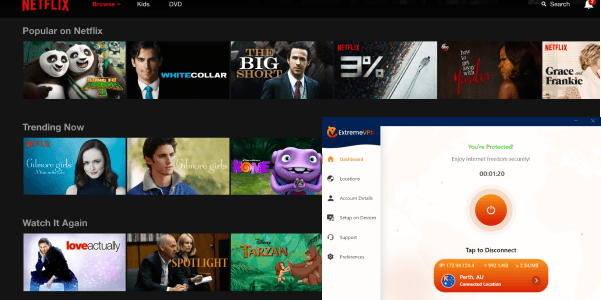 We then connected to ExtremeVPN servers in Melbourne to test if we could explore the Australian Netflix library. We were stunned by how quickly 'True Spirit' loaded in HD despite the high latency caused by the long distance. The connection recorded the following speeds:
| | |
| --- | --- |
| Upload | 86.84Mbps |
| Download | 76.75Mbps |
| Ping | 331 Ms |
Does ExtremeVPN have browser extensions?
ExtremeVPN has yet to launch a dedicated browser extension. However, you can download and install a Windows, Android, iOS, or Mac application and use it to protect all your traffic, including your browser's traffic.
We reached out to the customer support team with questions about browser extensions. They explained that browser extensions for all major browsers are under development and they could be launched anytime soon.
Is ExtremeVPN not working with Netflix – Fixes
Netflix uses sophisticated anti-VPN blocks to prevent VPN users from accessing geo-restricted content. The most common method is tracking down VPN IP addresses, blocking and blacklisting them. If you encounter problems with Netflix when using ExtremeVPN, use the following troubleshooting tips:
Confirm your IP address
Web platforms use your IP address to determine your approximate location. When your ExtremeVPN application is not working properly, or your IP address leaks, Netflix can know your true location and block your connections.
You can use many online tools to check your IP address, e.g., whatsmyip.com. If it shows your true IP address, reconnect and test again.
Switch to a different server
ExtremeVPNs use shared IP addresses which are assigned to more than one user. If one IP address is assigned to many users who try to access Netflix simultaneously, it is automatically blacklisted. Also, a server could be overcrowded, resulting in performance issues.
If you have obtained a different IP address and still have trouble unblocking Netflix, try switching to a different server. Maybe the IP address you have obtained is already blacklisted. Switching to a different server should do the trick.
Clear your browser's cache
In most cases, your browser's cache gives up your true location. Netflix stores data like IP address and login details on your browser to help its services. Therefore, Netflix may block your connection based on the cached information regardless of your IP address.
Note that despite the VPN you use, if Netflix has some identifying data on your device, there are high chances of blocking your connection.
Switch to another protocol
The VPN's tunneling protocol determines how the traffic is routed. Streaming platforms like Netflix detect VPN traffic differently depending on the tunneling protocol. ExtremeVPN uses three tunneling protocols (OpenVPN, IKEv2, and WireGuard).
If it is a speed issue, Wireguard is the best option, but if it is a security issue, try using the OpenVPN tunneling protocol.
Reach out to customer support
ExtremeVPN has a reliable customer support team available 24/7 via the live chat. If all the solutions we have suggested here do not work, contact the support team; they will gladly help you. The first interaction may be with a bot, but within no time, you should be connected with a customer support representative to give you personalized responses.
You can also find ExtremeVPN on different social media platforms and engage customer support representatives if you have complaints or questions. Alternatively, you can send emails, although the response may take some time.
How to fix the ExtremeVPN Netflix Proxy Error


You may have encountered a Netflix proxy error if you tried accessing Netflix without a VPN. It may seem challenging, especially if you are a beginner, but you can follow the steps outlined below to resolve it.
Remember, you must use a premium VPN like ExtremeVPN to fix this error.
How can I fix the ExtremeVPN Netflix Proxy Error on iOS and Android
Use this simple guide to fix Netflix Proxy error on iOS and Android.
Open your iOS or Android ExtremeVPN application.
Select a server in a region where you can access your favorite content. For example, select a server in Australia if you want to watch Netflix Australia.
Click 'Connect'.
Launch your Netflix app on Android or iOS and enjoy your favorite Netflix content.
How can I fix the ExtremeVPN Netflix Proxy Error on the PC
Follow these instructions to fix the 'ExtremeVPN Netflix proxy error' on Mac and Windows
Launch your ExtremeVPN desktop application.
Select a server where the Netflix library you wish to access is unrestricted.
Connect to the server.
Open your Netflix app and start streaming.
Can I watch Netflix with a free VPN?
Free VPNs can also reroute your traffic to remote servers and give you an IP address of another country. However, streaming platforms easily detect them and are unlikely to unblock international Netflix libraries. Netflix uses highly complex anti-VPN blocks that can only be bypassed by quality premium VPNs.
Additionally, free VPNs will give you a poor streaming experience characterized by substandard video quality, restricted bandwidth, and prolonged load times. They are also associated with questionable data practices that could compromise your privacy and security.
What more can you do with ExtremeVPN?
ExtremeVPN is a complete privacy tool that helps to stay safe and anonymous online. Besides unblocking streaming platforms like Netflix, you can safely watch videos on free movie websites without worrying about trackers and scammers. Other benefits include;
Public Wi-Fi protection: You don't need to worry about anyone stealing your data over unsecured public Wi-Fi because ExtremeVPN encrypts your traffic, rendering it unreadable.
Safe and smooth torrenting: ExtremeVPN's ultra-fast speed allows you to download and upload torrents swiftly.
User-friendly software application: ExtremeVPN is compatible with Windows, Mac, Android, and iOS. All its applications are almost identical and are easy to use.
Advanced security and Privacy: The main objective of using a VPN is to achieve total privacy and security. ExtremeVPN encrypts your traffic with the AES-256 algorithm and enforces a strict no-logs policy to safeguard your privacy and security. It also protects you against IP, DNS, and WebRTC leaks.
ExtremeVPN alternatives to watch Netflix
Few VPNs can safely unblock international Netflix libraries without affecting your streaming experience. Let's look at the best alternatives to ExtremeVPN.
1. ExpressVPN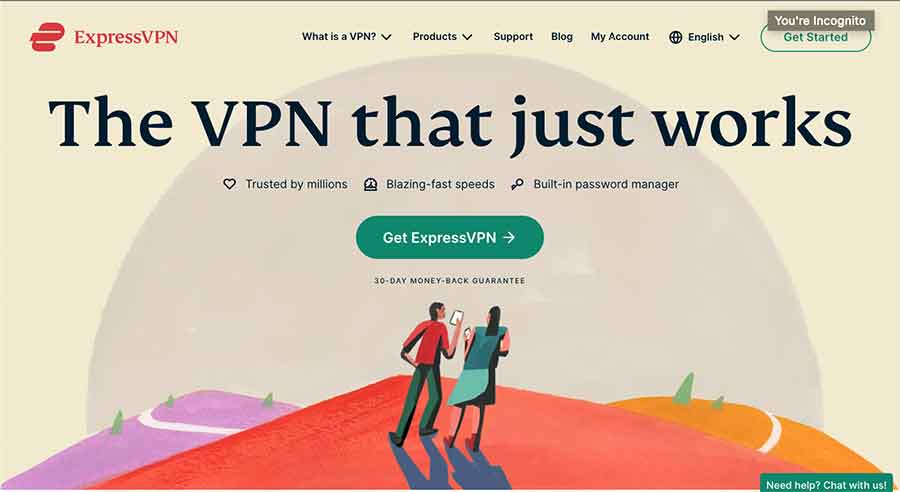 ExpressVPN is a high-end VPN service with some of the best connection speeds in the industry. It is a great choice if you want to unblock international Netflix libraries because of its large server network and speed. It also uses sophisticated technology to avoid detection by VPN blocks and geo-restrictions enforced by streaming platforms like Netflix.
Besides Netflix, you can also use the VPN to unblock other international streaming platforms like Amazon Prime Video, Hulu, and BBC iPlayer, among others. ExpressVPN is based in the British Virgin Islands, known to many as a privacy haven.
The VPN also uses the best safety and privacy measures in the industry. It employs uncrackable AES-256 encryption to protect your data from interference by third parties. Also, it has a reliable kill switch and leak protection feature. Its biggest disadvantage is its high price, starting at $6.67/month.
2. NordVPN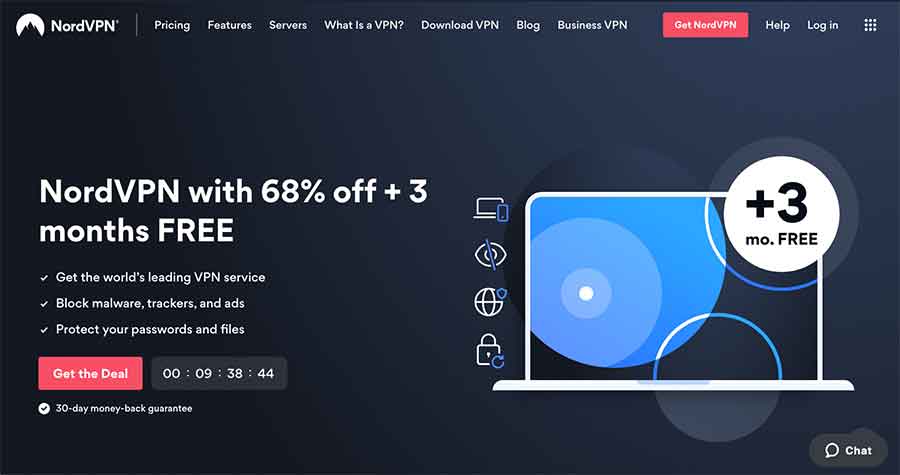 NordVPN is one of the most popular VPN services in the industry. Over time, it has undergone several improvements and serious innovations to become a competitive force in the market. One of its most popular features is the NordLynx tunneling protocol, which guarantees fast speeds when streaming or downloading files.
The VPN also has top-tier security features comprising unbreakable encryption and an independently audited privacy policy. Besides its fast speed and robust security features, it has powerful unblocking powers, and you can use it to unblock all international Netflix libraries.
Moreover, it has applications for all major operating systems and platforms, including routers. Additionally, the VPN offers a competitive pricing plan, with the cheapest going for $4.99/month in 12 months. You can also try its 30-day money-back guarantee to test the service for free if you are on a budget.
3. Private Internet Access (PIA)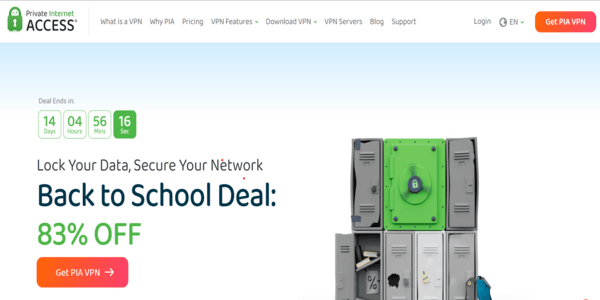 PIA is one of the oldest VPNs in the industry, with the largest server network. The VPN boasts over 28,000 servers in 84 countries, more than the combined number of all the VPNs covered in this article.
It is reputable for its customizable security features and fast connection speed, especially over long distances. The large server network, fast speed, and powerful unblocking abilities make PIA one of the best ExtremeVPN alternatives.
PIA has applications for all major platforms and uses RAM-only servers to ensure your data is not logged permanently. It also enforces a strict no-logs policy even though it is based in the US, which is popular for privacy infringement policies.
4. Surfshark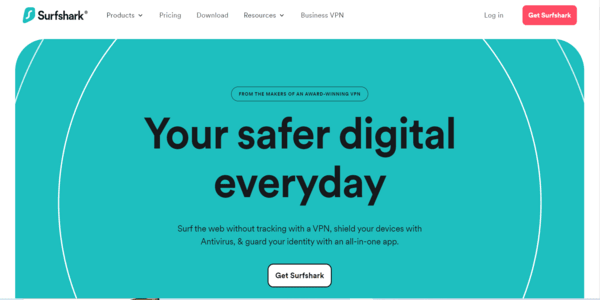 Surfshark is a budget-friendly VPN with a large server network and good connection speeds. Its monthly fee is $2.3; a two-year plan comes with an 82% discount. Instead of using free VPNs, you should invest a few dollars for a Surfshark subscription and be sure to get value for your money.
The VPN uses AES-256 encryption to protect your data in transit and does not keep logs about your browsing activity or identifying information. Also, it supports unlimited devices simultaneously, which is important if you share a Netflix account with friends.
Additionally, Surfshark has applications for all major operating systems and platforms, including routers. Also, Android and iOS users can enjoy a seven-day free trial.
Conclusion
Netflix is a top streaming platform serving more than 190 countries worldwide. However, it has geo-restrictions. You can't stream the content from a different library. To bypass such restrictions, you need a robust VPN. Plenty of options promise to provide the best services with maximum security and privacy, but not all of them are what they say.
ExtremeVPN is your go-to option if you are looking for a perfect VPN to bypass Netflix's geo-restrictions and watch your favorite content from your desired library. This newbie service has robust unblocking capabilities and boasts lightning-fast speeds for buffer-free streaming all the time.
FAQs
Yes, you can stream videos of any quality you wish on Netflix. However, ensure you have a strong internet connection to stream videos in HD. 
The best way to access Netflix US from another country is by using a VPN. Subscribe to a quality VPN like ExtremeVPN and connect to a server in the US. The VPN assigns you a US IP address, which allows you to access Netflix US as if you were in the US.
ExtremeVPN has not yet launched a browser extension. According to their customer support team, It is currently under development and should be launched any time soon.
Yes. In most cases, your ISP will know you are using a VPN, but they cannot do anything if a VPN is acceptable in your country.
Yes, you can use a VPN to stream Netflix. However, not all VPNs can unblock various Netflix international libraries. Netflix uses advanced systems to detect and block VPN connections, so you must have a quality VPN like ExtremeVPN.
No. Netflix cannot ban your account from using a VPN. The platform only blocks you from accessing Netflix libraries and displays an error. You may try switching to a different server or clearing your cache if you are blocked.
All VPNs slightly slow down your internet speed because of the procedures involved in rerouting and encrypting your data. However, the speed drop should not be noticeable if you have a strong internet connection. You can still stream HD videos on Netflix. 
You can connect to any server location offered by your VPN. However, Netflix works best when you are connected to the closest server. Netflix US has the largest video library, so if you want to explore the largest library, connect to a US server.
No. A VPN only allows you to explore geo-restricted content, but you must have a valid Netflix subscription. Your payment when subscribing to a VPN does not include a Netflix subscription.
VPNs are completely legal. You can use them to enhance your privacy, security, or anonymity. However, using a VPN for illegal purposes like illegal streaming and torrenting copyrighted content is illegal. Using a VPN on Netflix may be violating Netflix's terms of service, but it is unlikely to land you in court. The worst that can happen is blocking your VPN connection.
Share this article
About the Author
Rebecca James is an IT consultant with forward thinking approach toward developing IT infrastructures of SMEs. She writes to engage with individuals and raise awareness of digital security, privacy, and better IT infrastructure.
More from Rebecca James
Related Posts