As there is an increase in the VPN users over all the world, many websites such as Netflix and others have started to recognize the individuals who are unblocking content via VPN. Fortunately, this problem could also be countered by using best-dedicated IP VPN providers.
There are two types of IPs, shared IP and dedicated IP however, many people don't know the difference between the two. Shared IP, as implies by name, is the one through which many people are connected and it caters all the users at the same time. Whereas, dedicated IP is the one that is owned by a single user and is assigned to him only.
Shared IP and dedicated IP both have benefits and some drawbacks when compared. But, in the end, dedicated IP is believed to be at superiority when it comes to the advantages.
Benefits of Having Best Dedicated IP VPN
There are certain benefits you could get while having a VPN that offers dedicated IP option to their users. The dedicated IP once given to you could not be used by any other person and therefore you will always be connected with the same IP address every time.
On the other hand, a shared IP could be assigned to other users as well and that's why services such as Netflix are able to recognize the VPN user. Therefore, when they identify an IP address they mark it as blacklisted. But as you have the power to control the dedicated IP address and it belongs to you only, the chances of it being caught are very low.
With this advantage, getting a dedicated IP VPN will offer you a huge list of valuable benefits that a VPN alone could not provide much efficiently.
Unblock Popular Streaming Content
A VPN is thought to be an intelligent choice for those who want to enjoy the famous streaming channels such as Netflix. A VPN changes user's real IP and make him appear as the citizen of a country where that content is not blocked. However, now some of the channels such as Netflix have passed a new law that restricts users who are accessing the content through VPN. They identify the IP address which might be logged in before to the channel with a different user account.
But, a dedicated IP VPN could cater to this problem by assigning you an IP address that always remains to you. Therefore, anybody could not suspect it is a fake ID because whenever you login you will have that IP address every time.
Better Online Gaming Experience
When you are an addict of playing online games then you must have faced the problems like a DDoS attack. This is the problem which creates annoyance among the gamers when they are struck by it. Such attacks are regularly increasing and are suppose to happen when there are long online gaming activities or troubling e-sports. This problem could be avoided by using dedicated IP VPN which provides top-notch protection against DDoS attack.
Also, the Dedicated IP VPN counter the issues of lagging and latency that could interrupt you while online gaming activity. Normal internet connection has such issues due to the crowded pathway through which you gaming packets are transmitted resulting in delay processing. Whereas, a dedicated IP helps you to enjoy unceasing and smooth gaming experience by processing your data through clear pathways.
Fast Speed
While streaming content, everybody demands of a lightning fast speed without interruptions. This is the benefit you could avail through having a dedicated IP VPN. Due to the fact that a shared IP is used by many users at the same time and it has a pathway through which data traffic of many users is transmitted, the streaming speed slows down.
However, while you are connected to Dedicated IP or Static IP, a clear pathway with low data traffic is given to you through which you could experience fast and smooth internet browsing and streaming content.
Protects Your Credentials
When you are connected to a Dedicated IP VPN, it allows you to perform your private online transactions through only a particular static IP given to you. This a great feature for providing excellent privacy while you carry out such sensitive activities including financial details.
However, this level of security could not be provided through shared IP as it is shared by many users at a time. Therefore, in this way, your online financial details and sensitive information are protected from spying entities and hackers.
Reduces Down Time
A shared IP, as told before is changed every time you start up the connection. Due to this when your IP address is refreshed, it takes a while to pace up and this could create the risk of rundown. However, a Dedicated IP VPN could eliminate this problem without any interruptions as it always remains the same and doesn't have to change from one IP address to the other.
Best Dedicated IP VPN Services Reviews
Only some of the VPNs offer the unique feature of dedicated IP as it is an additional supplement for your privacy. Also, the static IP address is provided at increased rates due to the high resource requirement by it.
These all dedicated IP VPNs which we would discuss here are the ones with exceptional security features and an additional option.
NordVPN (Location – Panama)
Countries: 57+ | Server Locations: N/A | Number of Servers: 760+ | Multi-Device: 6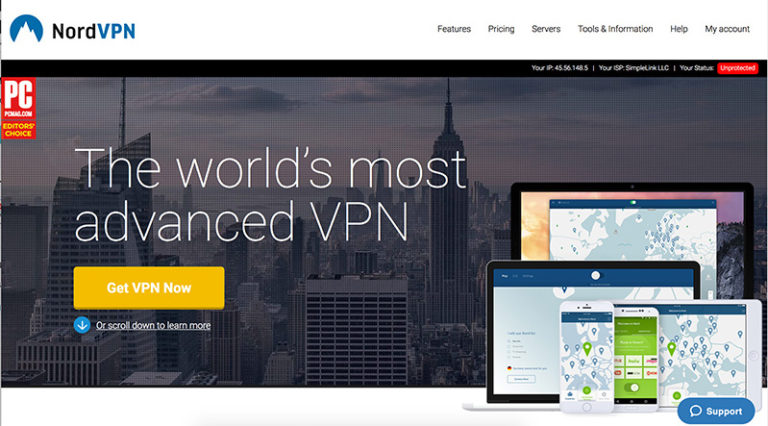 Pros:
Bitcoin payment support
No-log policy
DNS leak resolver
Double VPN
Cons:
NordVPN is our first roundup for dedicated IP VPN and has most of the efficient features to cater to their users. The static IP is provided by them to the business users or the customers upon the request and give them some of the software that is easy-to-use without demanding high efforts. It has a great server expandability through which it offers vast options of streaming and unblocking content.
With the dedicated IP, it also offers top-notch privacy features to make your VPN experience far better. The security protocols offered by them are i.e. PPTP, L2TP, IPSec, and OpenVPN with the recent added mobile security protocol IKEv2/Ipsec. Also, NordVPN gives support to P2P filesharing which gives you a better experience while torrenting.
It is based in Panama and that's why they have effectively zero logging policy which caters you with perfect anonymity. However, the downside of NordVPN is that it does not offer support for connecting 6 devices simultaneously with the same server having the same security protocol but it could only connect you to 4 devices at a time.
The pricing plan offered by NordVPN is much affordable and with the guarantee of 30-day money back after the purchase. The pricing packages are;
1 Month [$11.95 per month]
6 Months [$7.00 per month – $42 for 6 months]
Special Holiday Deal
PureVPN (Location – Hong Kong)
Countries: 141 | Server Locations: 180 | Number of Servers: 750+ | Multi-Device: 5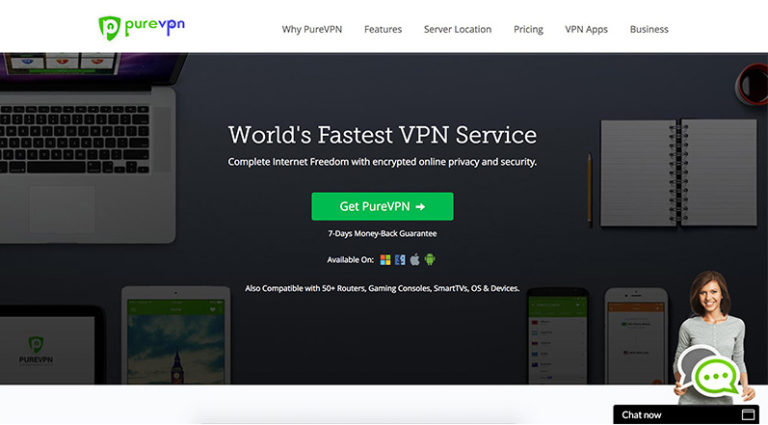 Pros:
Excellent performance
Zero logging policy
Cons:
PureVPN is also from one of the dedicated IP VPNs which offers this unique feature to its customers. They have this feature for the internet users at a very reasonable price which could take their privacy to a top level with the other efficient security features. PureVPN has its servers in almost than 140 countries providing accessibility to most of the internet content. They have an advantage of 5 multi-device logins at the same time.
There strong encryption of 256-bit with security protocols PPTP, L2TP/IPSec, SSTP & OpenVPN. As compared to other VPN services, they offer distinctive features such as split tunneling and virtual router. Through a split tunnel, you could divide your data into encrypted and unencrypted one, making your internet processing faster.
PureVPN is located in Hong Kong and due to this, they keep the strict no-log policy for their customers. But, as we have experienced, the logging policy dulls when its servers face DNS leak. They offer the 7-day money back guarantee on their pricing plans which are;
1 Month [$10.95 per month]
6 Months [$8.95 per month – $53.70 billed every 6 months]
How to Get Dedicated IP VPN
You could easily buy dedicated IP VPN following these steps;
Select a VPN that offers dedicated IP.
Go to the VPN providers website and make an account.
Now, choose the pricing plan that you want for further payment.
Then, add the feature of dedicated IP add-on to your package.
After that select a payment mode.
Make the selected payment amount and get off from the website.
Now, on your device download and install the VPN.
After the set up of VPN open the VPN app and in the required option, enter the dedicated IP address and then click connect.
After a few minutes that VPN could take to connect, you can finally experience the dedicated IP VPN with added security and privacy.
What Are The Benefits Of a Shared IP
Cost-effective
Forgetting dedicated IP VPN you have to give an extra amount as it is considered an additional feature with the VPN service. However, there are many users who are using shared IP at a time that reduces its cost. Also, the static IP doesn't require efficient and added sources due to which its cost remains low.
High Anonymity
When you are using shared IP, every time you are given with the new and changing IP address that gives you more anonymity chances. Also, many users are using the dynamic IP at the same time which makes it really difficult to maintain and recognize your identity.
Server Could be Switched Easily
The shared IP gives you a chance to change or switch the server to which you are presently connected. This is the fact that makes it really easy for you to unblock any content from any part of the world in a few seconds.
However, with a dedicated IP VPN, it is a bit difficult to change your location from one place to another if you want some other internet content. For instance, you have to get a new static IP address for switching the server location.
Greater Security
As discussed earlier, the shared IP address is the one which keeps on changing every time you connect to the VPN service. Due to this, you have a greater security available in the case of any cybercrime. For instance, if the static IP address you are using is once hacked then it would be a difficult procedure to get a new one. Whereas this is not the case with dynamic IP but you could eliminate the chances of such data thefts by Internet security suites and router firewalls before having a dedicated IP.
There are many perks you could enjoy and experience while connecting to a dedicated IP VPN. However, some of the downsides of static IP are that it's a bit expensive and have less availability around the world. But, the needed protections for today's world could efficiently be catered through dedicated IP.
Here in this article, we have discussed the VPNs that offers you an option of dedicated IP with the extraordinary security features. Therefore, you could easily get a VPN which gives you the required feature in an affordable amount. Also, a downside of dedicated IP VPN is that it could effect anonymity but on the other hand it could be really useful for highly specific needs.