If your computer has been infected with ransomware, do not panic. Several tools can help you remove the infection and regain access to your files. This article delves into the best ransomware software available, so keep reading.
Ransomware is a form of malware that encrypts files on a computer, making them inaccessible until you pay the ransom to the attacker. But what's worse is that even if you pay the ransom demand, there's no guarantee that you'll get access to your files again. It's because some cybercriminals take payments without providing any decryption keys.
The best ransomware removal tools are anti-ransomware software, which helps remove this attack from your PC, protect against future attacks, and maintain digital privacy.
What Is Ransomware and What Dangers Does It Pose?
Ransomware locks or encrypts files on a computer, rendering them inaccessible to the user until a ransom is paid to the attacker. It can be hazardous, as it can essentially hold a user's files hostage until a ransom is paid through various means like spear phishing, malvertising, and malspam. In some cases, ransomware can even infect files on network drives, making them inaccessible to all users on the network. Thus, it has become vital to use anti-ransomware software and protect your data.
14 Best Anti-Ransomware Software
Now, let's read the short reviews of each anti-ransomware software and choose one for yourself. All of this software are well-reputed and give excellent protection from ransomware.
1. Bitdefender Anti-Ransomware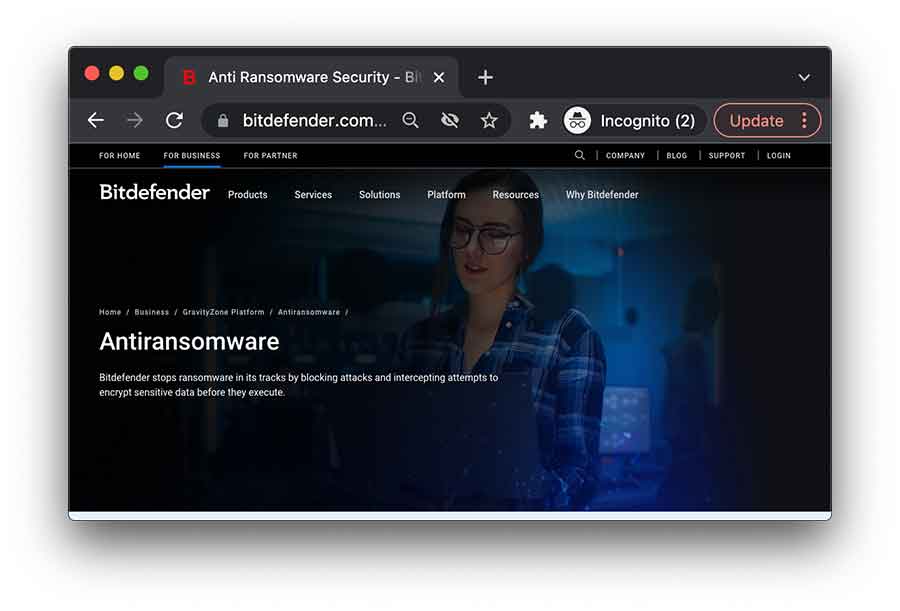 Offers real-time protection
Prevents online frauds and phishing attacks
Multi-layer ransomware protection
Multiple devices compatibility
30-day free trial is available
Bitdefender Anti-Ransomware does a great job protecting your computer from ransomware infections. It is updated regularly to ensure that it can handle the latest ransomware variants, and it has a very user-friendly interface.
Client feedback states that the anti-ransomware software comes with cloud-based network threat prevention. It runs in the background and provides timely alerts about the product. It also keeps an eye on new and active threats, so you don't have to worry about anything. Additionally, it monitors new and present dangers to ensure that you are protected. Most users believe that Bitdefender Anti-Ransomware is reasonably priced based on a solid platform. However, you can also avail the free 30-day trial period to test how it works.
2. Zscaler – best anti-ransomware tool
Cloud-gen firewall
Unlimited SSL inspection
Prevent lateral movement
Zero-day threat protection
30-day free trial is available
Zscaler is a cloud-based security platform that offers protection against ransomware and other malware threats. It features anti-ransomware defense, real-time threat intelligence, and malware removal tools. It also offers a free trial to test it out before you buy. Moreover, it provides comprehensive protection against ransomware and other malware threats. The real-time threat intelligence feature ensures that you are always up to date on the latest threats, and the malware removal tools can help you clean up any infections that occur.
The Zscaler Cloud Sandbox is based on the proxy architecture that provides the most outstanding security possible. Customers claim that the Zscaler gives complete protection for your PC. It also includes a decent inline sandboxing setup and total safety. This tool cleans your system regularly, keeping it free of malware. A free trial is available for 30 days. The basic plan costs $2.40/month, while the premium plan costs $5.00/month.
3. Comodo AEP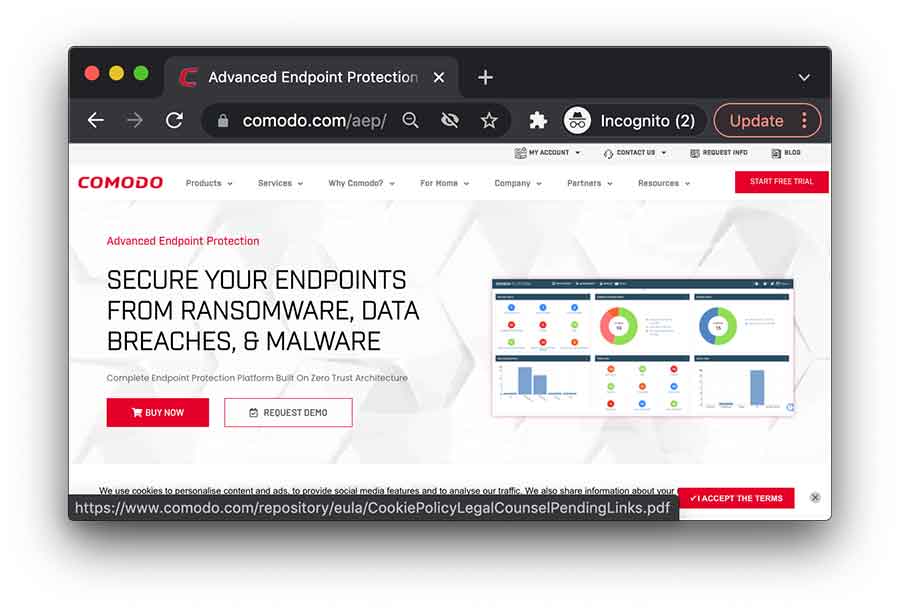 Easy deployment
File recovery and alters feature
No downtime
Built-in backup tool
Free trial available for 30 days
Comodo AEP is a well-known anti-ransomware software that offers easy deployment and delivers great results quickly. This program has a simple interface and a good backup option that allows you to back up data, information, and files and even gives you fast protection. This software includes a cleaning tool that may conduct unannounced security checks.
It features advanced features like no downtime, file recovery, and a built-in backup tool. Download Comodo AEP and get your files back now; you can buy it for $39/year or benefit from the 30-day free trial period.
4. HitmanPro.Alert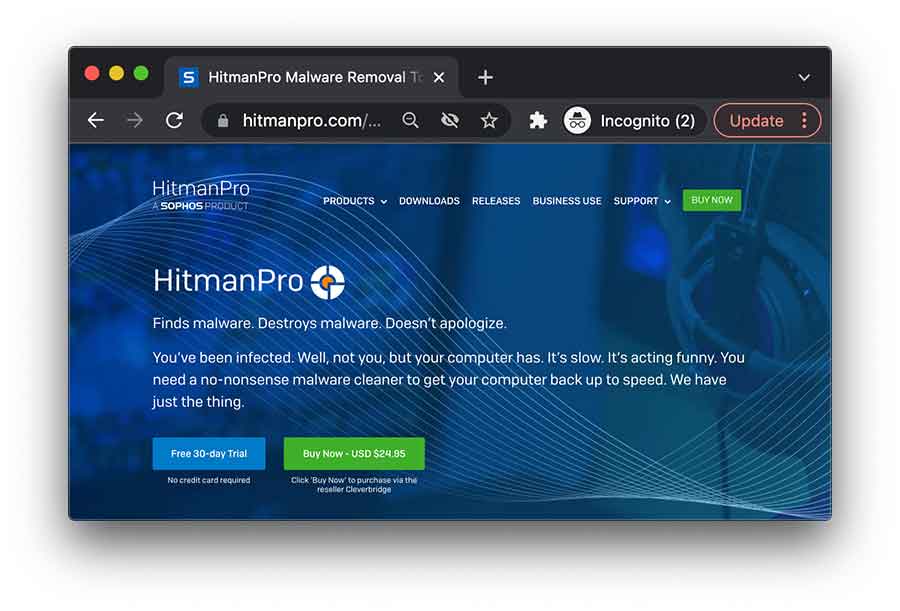 Ensures safe browsing
Protects from vulnerable programs
Affordable in price
Works on Windows 7 and above versions
Free trial available for 30 days
The HitmanPro.Alert is the best anti-ransomware software that enables you to keep track of your computer from a remote location and show real-time information about any malware threats encountered in the past. It has both free and pro versions, and the best part is that the free version includes all features found in the Pro version, allowing you to stay secure when using it.
The software uses top-level encryption to guarantee your data's privacy. It has dual-performance capabilities, which means it can remove malware and defend you against online dangers. Moreover, it comes with an impressive 'Alert' feature that protects your files and data from being accessed. As a result, you may immediately secure your information using the program. The product also includes CryptoGuard, which allows you to safeguard your financial records, passwords, and other vital data.
5. Acronis Ransomware Protection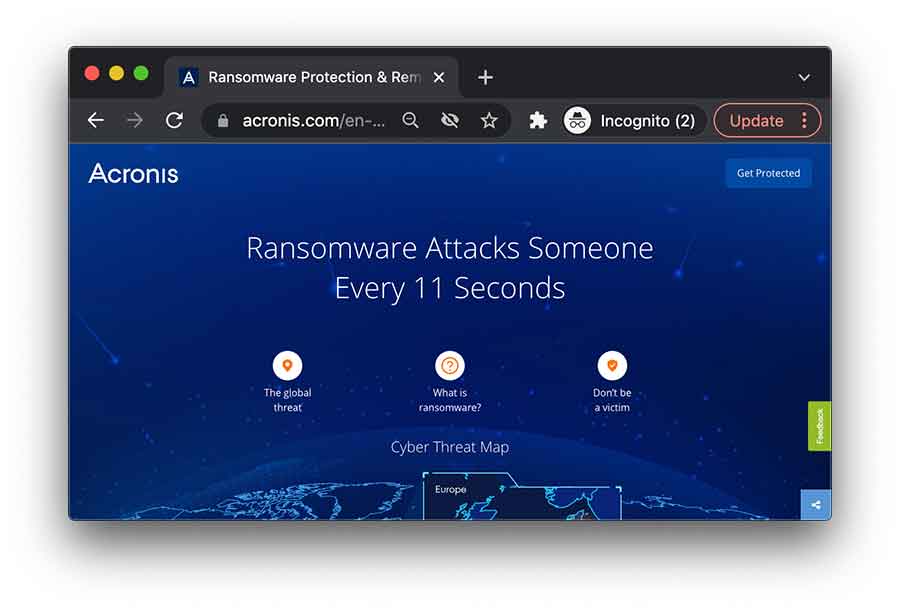 Proven protection against ransomware
Enhanced active protection
Available for both Mac and Windows
Offers individual and business plans
Comes with a free trial
The Acronis Ransomware Removal application is the tool most people want to use for their computer security. One of the finest things to watch after is an on-demand scan of this device, which provides incredible outcomes. The best thing about it is that it protects both Mac and Windows computers. Corporate users may benefit from this device's inexpensive pricing by using it to safeguard their data.
It is one of the most popular tools since it offers real-time protection for optimum results. It gives total protection to the device as well as your data. Besides this, it also protects cloud storage at an advanced level, like the Enhanced Active Protection feature provides complete coverage for both online and offline data.
Free trials are available for 30 days. Acronis True Image costs $49.99 per year, while Acronis Cyber Protect costs $59 per year.
6. Malwarebytes Anti-Ransomware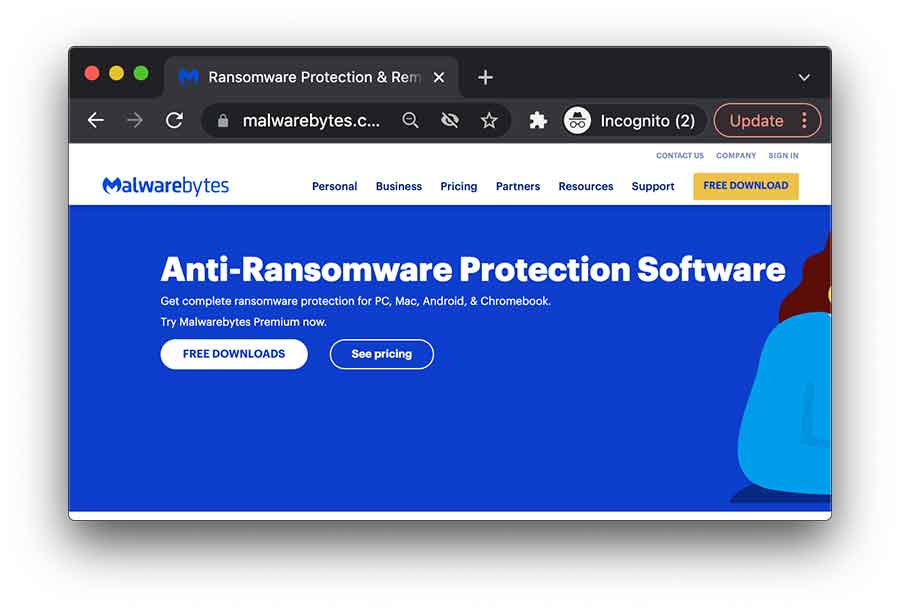 Gather comprehensive threat information
Cloud management consoles
Includes next-gen antivirus software
Automated on-demand reports
14 days trial offer is available
The Malwarebytes Anti-Ransomware is yet another best anti-ransomware software you can consider using. It protects from phishing, ransomware, and zero-day threats. This program includes artifacts and modifications, making it simpler to get optimum results. The ability to meet three critical EDR criteria right away enables the detection of all sorts of trojans and backdoors. As a result, you can always be happy with this tool's capabilities.
This software is a lightweight endpoint agent, which reduces the threat level considerably. The secret to keeping your data safe is the product's cloud-native management console. The free trial is accessible for 14 days after purchase or can even buy it for $49.99 per device on a yearly basis.
7. ZoneAlarm Anti-Ransomware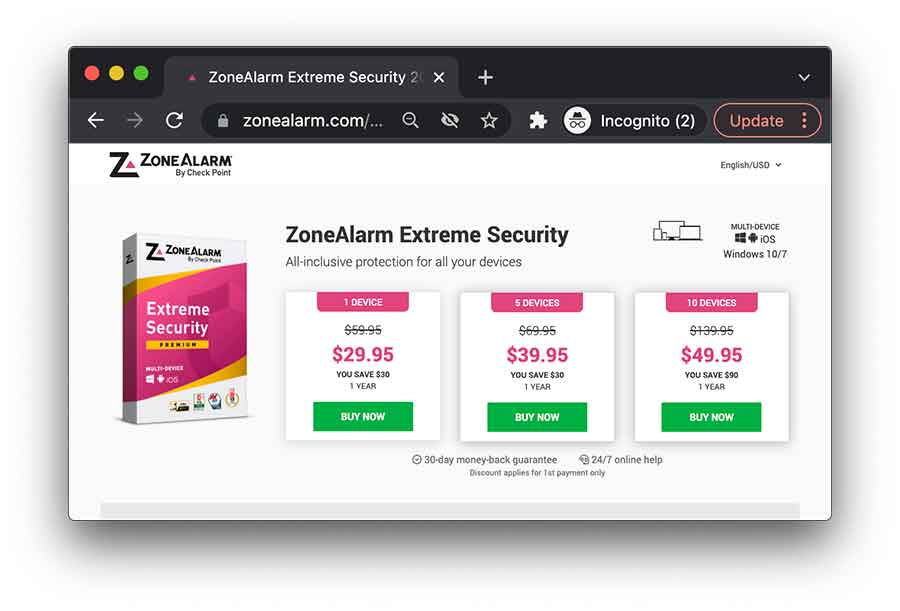 Real-time phishing protection
Compatible with all antivirus programs
Automatically restores your encrypted files
Simple and easy to use
A trial offer is available
The ZoneAlarm Anti-Ransomware is a one-of-a-kind program that protects your PC against whatever. It includes complete file protection, enabling you to install the most secure solutions available. You will have unrestricted access to data security. The best part is that it works with almost all anti-viruses on the market today. This is why this tool has such an essential position in our guide.
According to customer feedback, the ZoneAlarm Anti-Ransomware includes a feature that allows it to restore files automatically. According to comparisons, this program works faster and more effectively than other software. As a result, it becomes even more secure for your data and your paperwork. Even if you have encrypted files on your device, this tool may be used to restore them. The anti-ransomware software has various subscription plans for different devices, but instead of buying, you can first avail the 30-days trial offer.
8. Webroot SecureAnywhere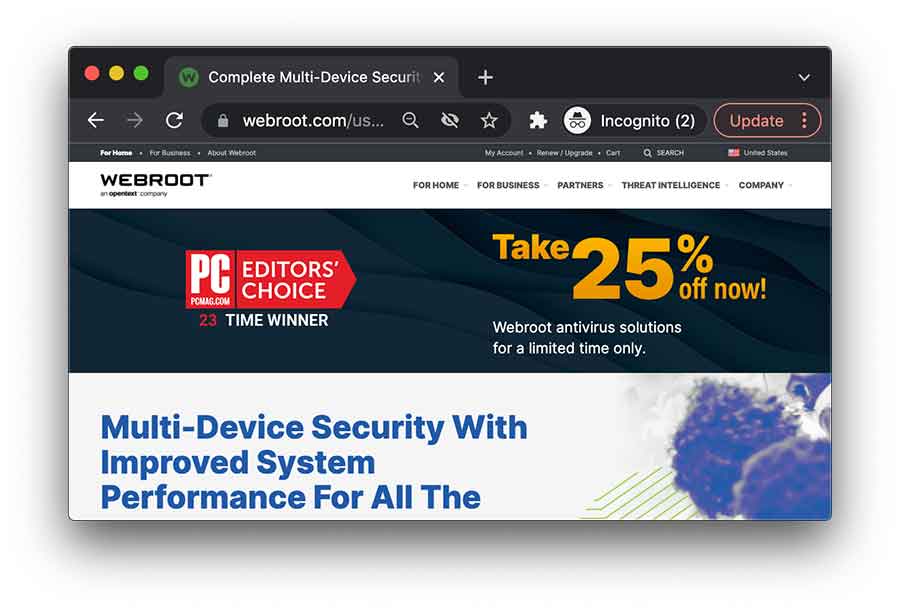 Fast and easy deployment
Comprehensive reporting
Automated management
Simple and clean design
Free trial is available
When it comes to performance, the Webroot SecureAnywhere is a tool that gives comprehensive protection against identity theft and ransomware. It's ideal for individuals, businesses, and technology partners and offers new-look console features, making it much more appealing.
Webroot SecureAnywhere is one program with a lot of good customer feedback. This technology stands up against the various internet dangers you might encounter. Because of its nature, it is entirely compatible with mobile devices and computers. The access points in the device are protected through multi-vendor mitigation for endpoints. As a consequence, delivering an outstanding return becomes a whole lot simpler. Like other anti-ransomware tools, WebRoot Secure Anywhere also offers a free trial for 14 days.
9. VMware Carbon Black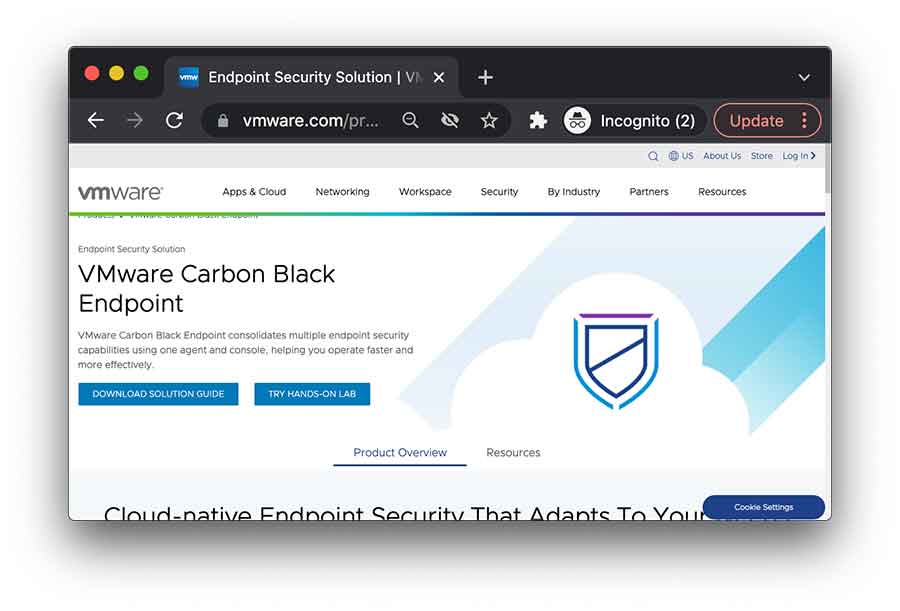 Protects from emerging threats
Powerful application control
Managed detection and response
Offers best solutions for businesses
14-days trial offer available
VMware Carbon Black is a reliable anti-ransomware software that includes various enhanced security features, like multiple advanced protection levels. It offers an easy-to-use application control that provides excellent results. The main benefit of this program is that it protects both online and offline data. As a result, files are saved, and you're fully secure from any dangers. Thus, you can trust this tool.
According to user reviews, the VMware Carbon Black is one gadget that removes any security or difficulties you might anticipate. Since its debut, this product has been one of the greatest. It gives you the right to secure your data while also protecting it in any way you choose. Users are more confident about using VMware Carbon Black for business activities. A free trial is accessible for 14 days, and the premium costs $52.99 per year.
10. Trend Micro Ransom Buster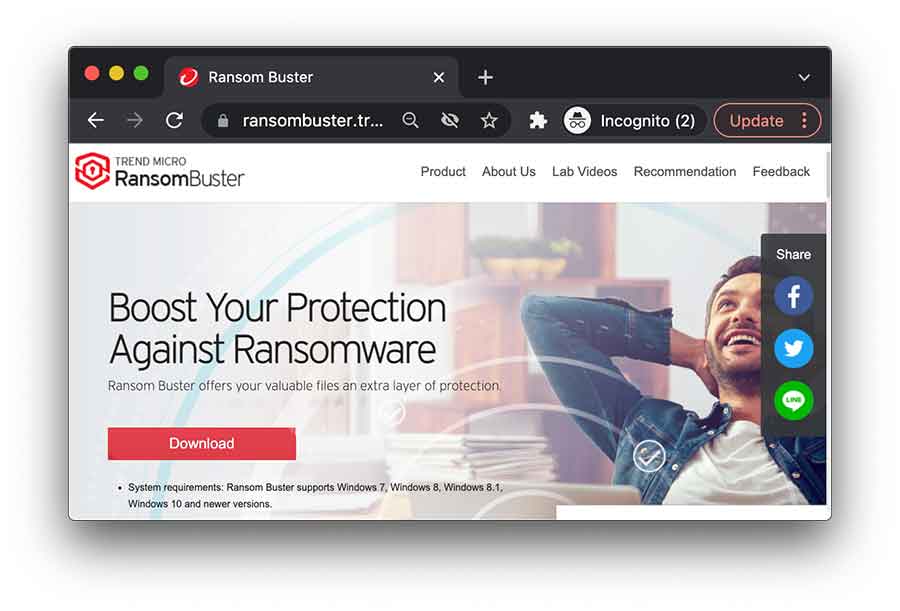 Receives automatic updates
Easy to use
Lightweight
Works on Windows 7 and above versions
A 30-days trial period is available
If you're searching for complete security, the Trend Micro Ransom Buster is one of the best. It's a comprehensive solution that protects against ransomware and online threats. It works with a wide range of antivirus programs and offers good results. Furthermore, the product includes various features like automatic updates and excellent flexibility.
According to users, the Trend Micro Ransom Buster has the most user-friendly interface. This tool performs as a comprehensive file and setup package ready for use in any circumstance. The program is simple and takes little time to install on your device. Furthermore, it enables you to remove files or manually add them to safeguard yourself quickly. Premium accounts are available for $2.99/month and include a full 30-day free trial.
11. AVG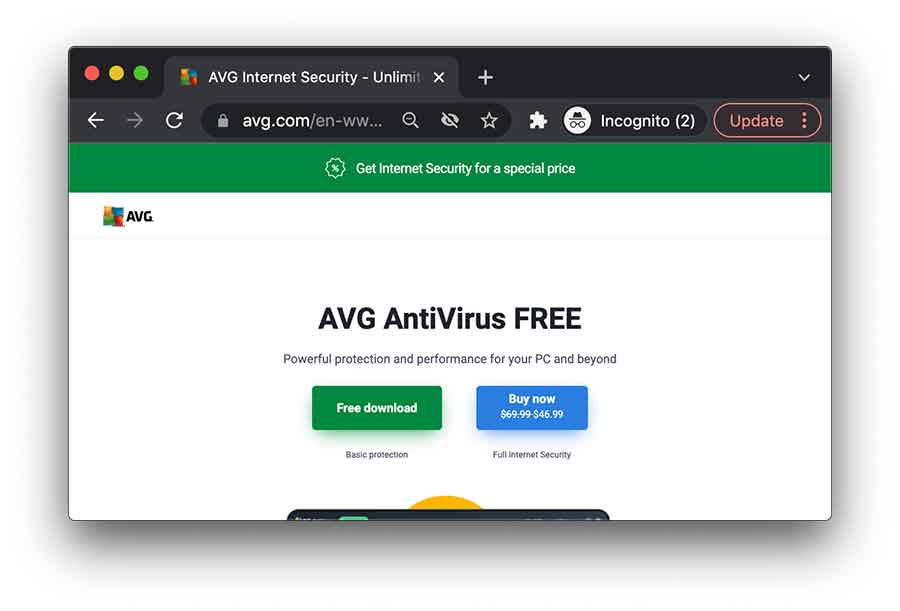 Continuously updated
Powerful protection
Continuous innovation
Works on Android, iOS, and Mac
Available for free
AVG is the most recognized antivirus software that has been around for decades. Most experts believe that using this anti-ransomware tool safeguard their computers and maintain a top-notch level of protection. You will get timely alerts about new tools and achieve great results due to quick ransomware detection. Also, this program is continuously updated and promptly eradicates bugs.
The AVG is a popular ransomware-blocking tool that has received much praise from customers. The program effectively prevents ransomware or other types of cyber danger from entering your system.
The best antivirus software is also completely free.
12. Avast Antivirus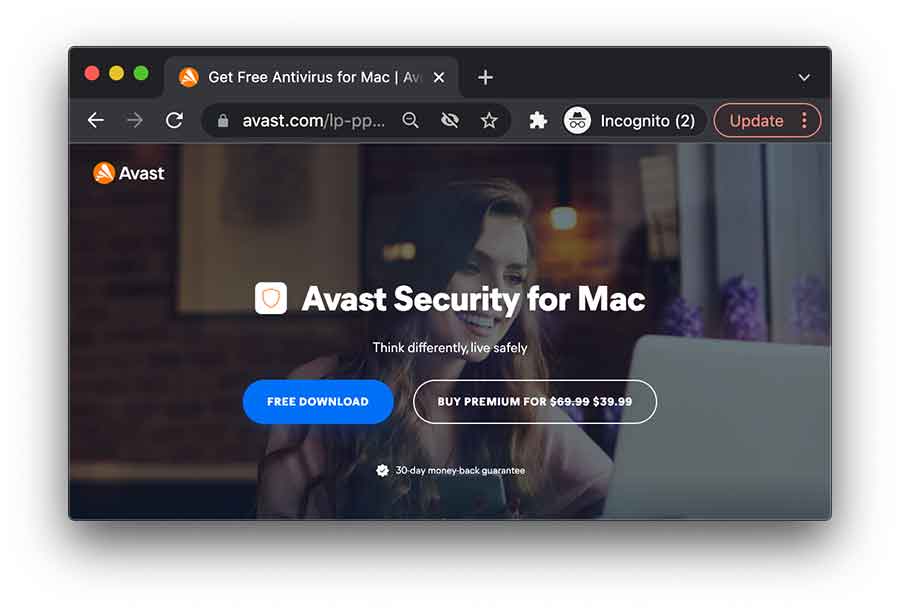 Updated frequently
Available for mobile devices and PCs.
Completely free to use
Avast Antivirus is a top-rated antivirus program. While the firm is recognized for providing free antivirus software, it's worth noting that this includes an anti-malware component that employs behavioral analysis to identify fraudulent applications. The Avast Antivirus Free Edition includes ransomware protection, so you don't have to pay anything extra to upgrade.
If you want to use additional security features, however, there is a premium version of the program.
13. ESET NOD32 Antivirus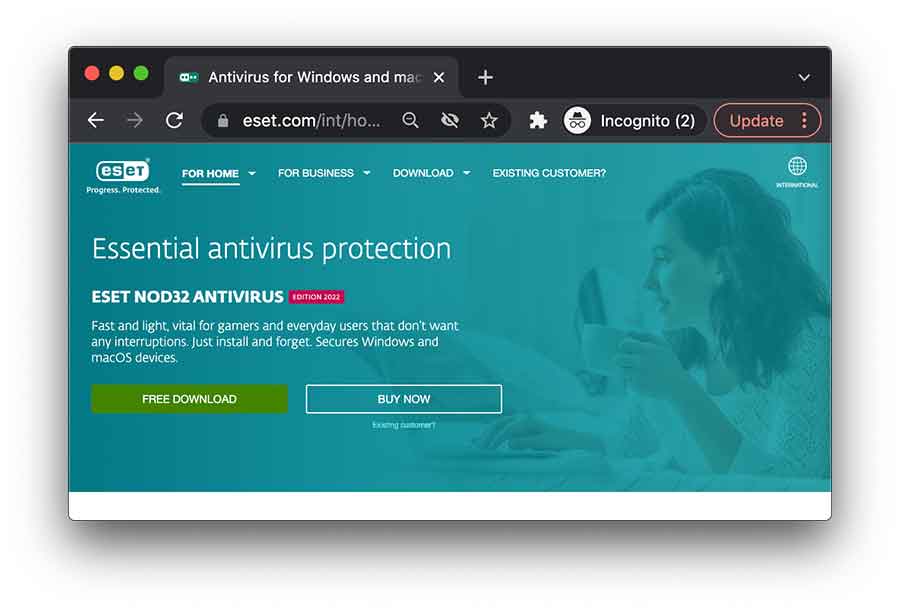 Firewall and botnet protection
Password management feature
Webcam protection
If you assess antivirus software on the number of features it provides, ESET NOD32 Antivirus may come up short. It has real-time malware detection, anti-ransomware layer protection, URL filtering to prevent dangerous websites, and modules to protect against attacks using PowerShell and hazardous scripts.
The Device Control module restricts the risk of infection from other devices by restricting USB sticks, external hard drives, optical storage media, and Bluetooth and FireWire-connected devices. It's an unusual addition, but it might be helpful if others regularly plug in their gadgets to your PC.
However, remember that ESET NOD32 Antivirus isn't a beginners' product. The interface might be clunky at times, some features are quite complex, and the Help may not always be of assistance.
14. Kaspersky Anti-Ransomware Tool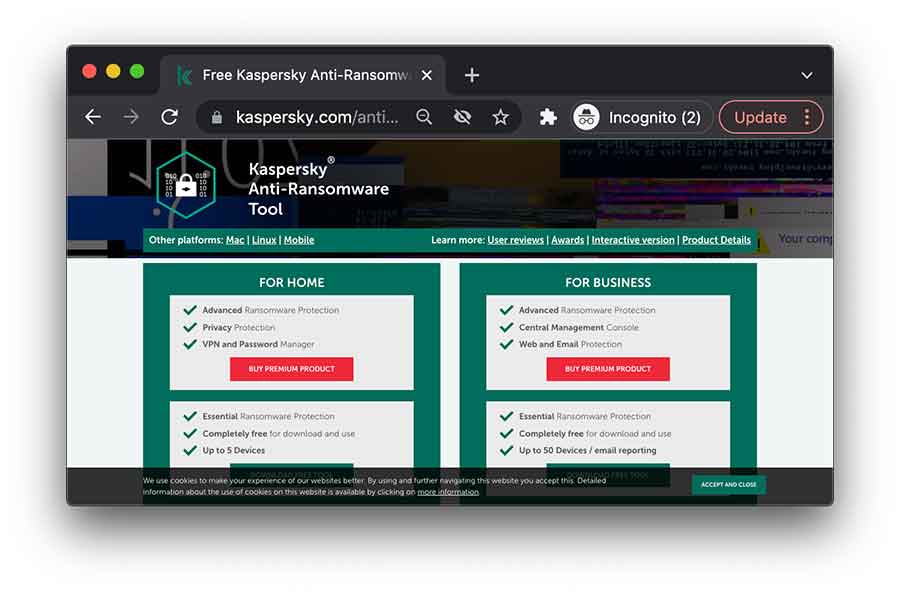 Monitors network activity
Proactive ransomware protection
Central management consoles
Web and email protection
Free plan for business allows 50 device usage
The Kaspersky Anti-Ransomware Tool is intended to assist small and medium-sized businesses (SMBs) in protecting their data from a ransomware attack. It's a preventative tool rather than a decryption program like Bitdefender Anti-Ransomware, designed to keep you safe from infection in the first place rather than unlocking your desktop.
It is integrated into the Kaspersky Anti-Virus security software and can be used alongside your existing security suite to detect suspicious network activity and compare it to known ransomware behavior. Because the threat database is located on Kaspersky's cloud servers, updates are distributed to all users immediately. As a whole, it's an excellent tool to use and offers both individual and business plans with several advanced features.
How Do Ransomware Removal Tools Work?
Ransomware removal tools are designed to break the encryption used by hackers, thereby allowing users to re-access their files. Some of these tools are specific to certain types of ransomware, while others are more general-purpose, like removing malware and viruses.
All these tools work by scanning a computer for the presence of ransomware. When you open the software app, there will be a 'Scan' button, click on it, and your device and memory will be scanned for ransomware. Once your device is flagged with ransomware, the software will start decrypting the files, and you can access your files like before.
How to Choose the Best Ransomware Removal Tool?
While searching for the best anti-ransomware tools, you'd come across several options but deciding the best one can be challenging. As all ransomware removal tools are not created equal, you have to pay attention to some factors while choosing the right one for your needs. Here are a few tips that might help you in making the right decision:
Ensure the tool is specific to the type of ransomware that infected your computer.
The anti-ransomware software should receive regular updates as this ensures that it can handle the latest variants of ransomware.
Read reviews from other users to get an idea of how well the tool works.
The best tool is the one that's compatible with all major devices and platforms like Android, iOS, macOS, and Windows.
Besides this, make sure that your software doesn't cost too much in your pockets. It should be affordable in price and comes with a free trial or money-back guarantee offer, so, in case you're not satisfied with the software, your money does get wasted.
Ransomware vs. Malware- What's The Difference?
Ransomware and malware are both types of computer viruses, but ransomware is a specific type of malware. Ransomware is malware that encrypts your files, making them inaccessible until a handsome amount of ransom is paid to the attacker. On the other hand, Malware is a general term for all types of malicious software. It can include ransomware and viruses, spyware, and adware.
What Is The Best Protection Against Ransomware?
The best protection against ransomware has a good backup plan. If your computer is infected with ransomware, you can restore your files from the backup. You should also have anti-ransomware software installed on your computer and keep it updated.
Does Antivirus Protect From Ransomware?
Antivirus software can help protect your computer from ransomware, but it is not 100% effective. It would be best if you also had a good backup plan in place if your computer is infected with ransomware.
How Do I Protect Against Ransomware In Windows 10?
Windows 10 comes with several features that can help protect your computer from ransomware. You should make sure that you have Windows Update enabled to receive the latest security updates. Moreover, Windows 10 also includes a feature called Windows Defender, which is a built-in antivirus program. You should ensure that you have Windows Defender enabled and keep it updated. Additionally, you should install the best anti-ransomware software on your computer.
Should You Pay For Ransomware?
It is not recommended to pay for ransomware. Instead, you should contact the police, local authorities, or the FBI's National Cyber Crime Division instead of paying the ransom. Moreover, these infections are very simple to clean up, and most companies can remotely remove them with the best anti-ransomware tools.
Final Thoughts
Ransomware is a hazardous form of malware, but thankfully, anti-ransomware software is available to remove it. If your computer has been infected with ransomware, try one of the tools listed above, and you should be able to get your files back. Stay safe out there!