With the rapid spread of technology, internet privacy and security get tossed out of the box. For this reason, VPNs are essential security tools if you want complete and integral privacy. Thus, you don't settle on any VPN to keep you safe and secure, but you also need the best no logs VPN.
Suppose you are a social or political activist, an investigative journalist, hacker, or privacy-conscious person. In that case, you can easily get physically located, and all your online activities can be linked to you by your logs. In case your activity is logged, there is a possibility that whatever you download, upload or share might get tracked back to you.
For billions of VPN users, privacy is the most anticipated characteristic of a VPN, if not the most valued advantage. A VPN service provider's details recorded about users and their activities are a critical concern. However, not all VPNs are the same in this matter.
Mostly all VPNs canter out some policies that '' we do not keep logs'' on their websites. However, the reality is that several service providers' policies regarding keeping records can differ widely. You can also read about the importance of no-log VPNs and how different countries deal with them by scrolling to the bottom of the article.
No doubt, searching out the VPN providing the best online anonymity and privacy levels is a complex and complicated task.
No Log Policies in Best VPN Providers
Here are our top ten recommendations for privacy-conscious VPNs which support their no logs policy with the most reliable truth as far we are concerned.
ExpressVPN Logging Policy Explained


The ExpressVPN is one of the best no logs VPNs which function from the British Virgin Islands, and its privacy policy is the strongest worldwide. The general and comprehensive privacy policy of ExpressVPN states that ExpressVPN is not subject to any data retention laws. Moreover, revelation instructions from out-of-state must permit and approved by the British Island High Court.
A case broke out in Turkey in 2017, according to which an ExpressVPN server deleted the social media posts and essential emails. But since the provider does not recollect browsing history, traffic data, IP address, or DNS inquires, they were powerless to give any user details.
ExpressVPN's strict and stern no logs policy has passed the real-life test and proof to be faithful to all its promises.
NordVPN Log Policy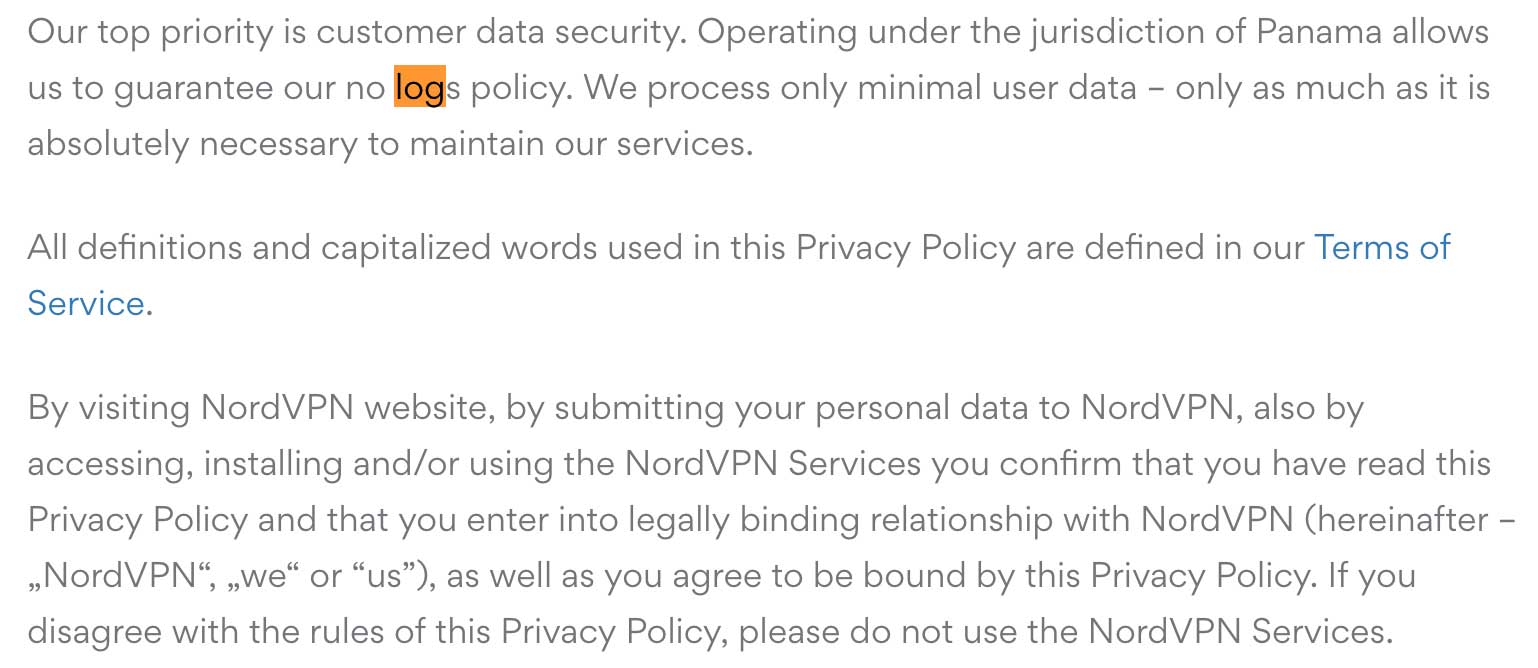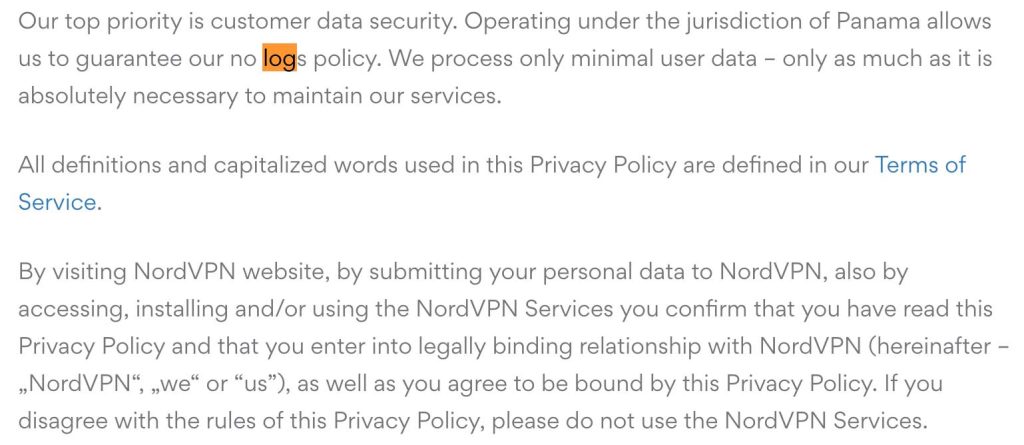 NordVPN operating from Panama is evidence of the maximum and strictest privacy policy you can get ever except in any VPN. The VPN provider arrogantly makes its stand on logging identified to all who are willing to find out. For many VPN privacy-conscious users, it is nothing but like a cradlesong that will sing you to browse any website with complete confidence and sureness.
But, the websites do collect users' accounts and payment information. Users should not worry about it because the data do not impose any privacy concerns. If the user does not provide this information, NordVPN will permit secret payments by receiving cryptocurrency. Moreover, optimized servers allow hassle-free access and streaming to various torrent sites.
The NordVPN ensures a strict no-log policy for its users. In other words, it means that all the activities are either recorded or stored, monitored, or forwarded to third parties. Their privacy policy states:
Private Internet Access (PIA) log Policy


Even though its head office is present in the USA, the PIA is one of the most secure and no-log VPNs as far as privacy is concerned. Its record is extremely flawless and immaculate as no logging and privacy are concerned.
Following the FBI's summons in 2016, the legal authorities were eager to obtain user data and information to assist in any investigation of a likely fraudster. The PIA's paternal organization, The London Trust Media Inc., generously notified the FBI of their capabilities to provide the looked-for data, as it does not log any user activity.
Later in the same year, Russia also passed harsh laws, significantly affecting data privacy. As an outcome, and in demonstrating their promise to protect users from any surveillance or control, the PIA instantly shut down all Russia's servers. It was indeed a breakthrough among the users and evidence to the provider's stand on how stern it takes their no-logging policy.
Although PIA does collect some user information, they do not keep logs as mentioned in their policy.
CyberGhost Log Policy


The CyberGhost is a hassle-free, no-log VPN. It is perfect for beginners or technophobes who do not want to mess with any settings or interference. CyberGhost is ideal for users who care more about absolute Internet privacy than they do about its technicality.
It is a Romania-based VPN with a stringent no-log policy. The provider does not collect or check any traffic data.
It only stores the billing details, including the IP address but for anti-fraud purposes. The information gets held in reserve in an anonymized set-up, and it cannot be related to any user activity. Moreover, CyberGhost has their crowdsource-funded servers, which they manage on-site, a feature known to users as ''no-spy-servers''. It guarantees that there is no server access given to any third party. Hence, improving security and reducing the risks resulting from third-party access.
Private VPN Log Policy

The PrivateVPN is based in Sweden and is one of the best no logs VPNs. The strict privacy policy of PrivateVPN also states that ''they do not collect or log any traffic or use of its service''. In other words, they do not share any user information with the concerned authorities even if they are forced to do so.
The Private VPN provides its services in more than 52 countries. The critical feature of this no-log VPN includes a firewall that has both kill and per-app switch for securing users on all facades. The users also have complete built-in DNS leak protection and IPv4/IPv6.
Moreover, the no-log VPN has a notable customer service department that will somewhat install the VPN for most of the technophobes. It allows up to six devices to get connected instantaneously and as an additional feature of HTTPS, SOCKS5 proxies, and port forwarding.
IPVanish VPN Log Policy


The IPVanish is the best-known no-log VPN with a perfect balance of power and presentation without compromising privacy and security.
Whether you want to configure this robust or powerful VPN on a mobile device or a desktop, it provides substantial protection.
Their admirable and worthy no-logging policy makes them different from other VPNs. The hugely configurable innate users are full of features and have a method for technophobes who would not mess with professional settings.
IPVanish quick speedy performance and configurable user software set it above other competitors.
Windscribe Log Policy


When it's a matter of internet privacy, the users want to be as anonymous as possible. The Windscribe VPN does this job much more effectively. It is a VPN with a clear privacy policy. It does not keep logs of VPN users, their IP addresses, or any historical periods.
The Windscribe VPN does not keep logs or logs of any user activities. When retaining any data, the no-log VPN records small factors like the Open VPN username, to whom VPN servers are connected, a period of connection, and volume of data transferred. It expires after retaining this little information and is also cast-off in three minutes.
The VPN is a multipurpose VPN that permits users to connect to available devices. Moreover, it does not compromise performance. Usually, the user platforms are plain and simple enough to fulfill the maximum of your needs and requirements.
ProtonVPN LOG Policy


ProtonVPN was created by the founders of ProtonMail, one of the world's largest service providers of encrypted email services. It is also based in Switzerland and known best for no-log VPNs.
The ProtonVPN only retains the login timestamp, overwritten after a new successful login occurs. Therefore, traffic and IP logs are usually non-existent. Since Switzerland is not bound to US or EU rules, the clients can be carefree that their privacy and security are the utmost priority for ProtonVPN.
However, in the past few years, Switzerland passed some adverse and uncomplimentary surveillance guidelines compelling the key ISP and telecoms to retain metadata for a year. But the owners of ProtonVPN made it clear with an official statement that their exception from the list mentioning they are not known as a significant telecom organization.
AirVPN LOG Policy

The AirVPN is an Italy-based no-log VPN. It is known for not keeping any logs of the users and thus providing them utmost web privacy.
It uses an OpenVPN protocol to form a connection between their computers and servers. OpenVPN is also recognized as one of the most reliable and secure solutions for encrypted tunnels.
The AirVPN lets your torrent traffic, file-sharing traffic, and all type of other traffic. In this VPN, there is no restriction and limitation at all. Moreover, to confirm anonymity, they also take payments in Bitcoin and even other cryptocurrencies by Coin payments.
VPNArea LOG Policy


The VPNArea functions under the dominion of Bulgaria. It has been in business since 2012. It provides shared IPs and does not keep logs to assure the privacy of its users.
A single account of VPNArea, the user can connect to almost six devices. They also provide unlimited bandwidth and have a kill switch to avoid IP leaks if the VPN connection drops.
What is The Need of ''No Log VPNs''?
Generally, no-log VPN means that the VPN network cannot collect or record any information that transmits through the system. These VPNs do not save information about users' data, such as their browsing history, upload, download, and search details. Hence, the user's online privacy and anonymity are protected and secured from everybody, even the VPN provider.
VPN Logging Rules in the USA:
The United States does not impose any mandatory data retention laws on users. But suppose any VPN provider or telecommunication organizations retain the users' data so. In that case, the legal authorities can ask to access the information as per the Stored Communication Act (SCA).
Moreover, if the authorities try to recognize any specific user, they can require any VPN service provider to store logs of that particular individual. It also includes their online activities and financial information for 90 days.
The US VPN Providers and logging:
Several VPN providers in the US keep logs to comply with the requests from various law enforcement agencies. It is because they couldn't afford costly and time-consuming legal fights. To recognize the individual accountable and give the information needed by the authorities enables the VPN to avoid responsibility as the consideration will move to the user.
Moreover, VPN providers also face severe issues due to backdated changes to the legislature. If a service provider operates according to the current law, it will still be in danger of prosecution.
The US agencies are famous for sneaking servers and carrying out surveillance. Consequently, several VPN providers in the US intend to remain on the right side of the authorities. To achieve this, they do keep logs. Moreover, they are keen to cooperate when they receive a copyright appeal from law enforcement and copyright enforcers.
The US VPN Providers Who Do Not Keep Logs:
The VPN in the USA does not require keeping records by law. But it is still achievable to search companies that can provide excellent options for several privacy-conscious users. The method of shared IPs is yet another measure that will help protect user privacy. It is almost impossible to recognize any individual grounded in their activity. VPN providers like Private Internet Access (PIA) support a privacy policy that keeps no logs activities.
PIA suggests their customers only use servers in specific locations for P2P. Generally, the USA is one of the areas which is not suitable to use for secure P2P traffic. Several VPN companies are loyal in helping you in protecting your data. They are subject to troublesome pressure, making it difficult to assure privacy within USA servers.
Almost every VPN will guarantee that the VPN is anonymous and keeps no logs. But you should know which VPN providers are true to their words. Everyone justifies using a VPN that is private and secure. We are hopeful that this article seems helpful to you.