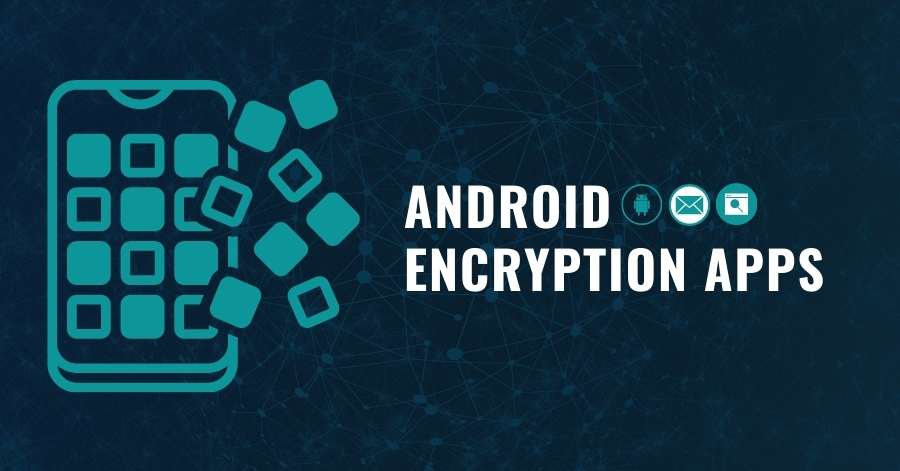 Encryption apps allow your android to secure your emails, data, internet traffic, and your communication through the best possible encryption.
Are you an android lover who is concerned over its privacy? When it comes to Android devices, the technology gets underside by the hoard of privacy issues that come with it. 
In fact, reports show that 98% of mobile malware targets Android devices, making android users face scamming and hacking issues. 
Therefore, achieving advanced security and privacy with android encryption apps to prevent personal device data from being hacked or leaked is crucial for every android user. There are various ways to achieve Android encryption, such as:
With such encryption apps, all your device data is stored in an unreadable and scrambled form. This way, when an android device is locked, all its data is encrypted so that it isn't accessed or read by any scammer or hacker by invading your device through open WIFI or malicious websites.
1. Data Encryption – Best secure folder in android
Jetpack Security's crypto library lets you achieve abstractions for encrypting files and SharedPreferences objects. This library mainly focuses on promoting the usage of AndroidKeyStore while using safe, reliable, and highly familiarized cryptographic primitives. 
While using EncryptedFile and EncryptedSharedPreferences, the Jetpack Security locally protects all the files that may have sensitive and important data of an application. This can include data like API keys, OAuth tokens, or other such app secrets.
Moreover, Jetpack Security is based on Tink, an open-source, cross-platform security project by Google. All in all, Jetpack Security offers an extra level of protection to the app data.
Apart from encrypting your android apps, using reliable sources and applications to ensure that your android device is encrypted and protected from all kinds of prying websites and malware attacks can also be crucial. For this, you can count on the following application solutions for different types of encryption demands.
2. Use Android VPN – to encrypt all Internet traffic
A VPN or a Virtual Private Network ensures privacy and security by encrypting your data and carrying it in encrypted packets within an encrypted tunnel. Encrypting the data protects it from surveillance, spying, and monitoring, while enclosing that data within encrypted packets and encrypted tunnels merely solidify security. 
VPNs also ensure user anonymity by rerouting data through secure remote servers, which mask your original IP address and location with a fake one. Thus VPNs help you remain private and anonymous online. There are several legitimate VPNs for android available which you can opt for, such as:
– NordVPN
NordVPN: its top-ranked VPN provider, 5000+ servers, all security features, works with Netflix, Torrenting, Tor, and ISP throttling – 30-day Free trial www.nordvpn.com.
A Panama-based VPN provider offering privacy through secure encryption and a strict no-logs policy. It unblocks US Netflix and supports P2P traffic or file sharing. App Available on Google app store!
– ExpressVPN
ExpressVPN: it has 3000 servers around the world, works great with Torrenting, Netflix, special features for Tor. Offer 30-day Free trial available www.expressvpn.com
Based in the British Virgin Islands Express VPN ensures industry-standard secure encryption and a no-logs policy. It also unblocks Netflix and has P2P support.
– Surfshark
Surfhark: It's great with Netflix and torrenting, also can be used with bypassing ISP throttling, and has great privacy features. 3500+ servers and come with a 30-day free trial www.surfshark.com
With secure headquarters within the British Virgin Islands, Surfshark offers security through robust AES-256 bit encryption. It supports P2P, unblocks US Netflix, and offers additional security features such as a built-in adblocker.
Since our data is of particular value to entities such as the government, criminals, and advertisers, using a VPN has become more of a necessity. Not only do VPNs protect your data from spying and surveillance, but they also help get past ISP tracking, geo-blocking, and unnecessary censorship. Moreover, a legitimate VPN can also help unblock Netflix and support P2P traffic or file sharing.
3. File Encryption- Apps In Android
File encryption works by encrypting individual files or collective file systems, ensuring that they only remain accessible to you. Such apps encrypt files through a wide range of encryption ciphers such as AES, Blowfish, Serpent, RC6 256 bit, and a lot more. Some reliable android applications for file encryption include:
– ZenCrypt
This android file encryption app has an easy-to-use interface that supports AES 128, PKCs5, CBC padding. It also encrypts all kinds of files, generates a random IV and other random and secure keys, and supports 5 encryptions on its free version.
– Crypt4All
This open-source and easy-to-use application encrypts and decrypts files. Its strong file encryption performance also offers dedicated file browsers and Unicode passwords.
– EgoSecure
EgoSecure serves as a file manager and file encryption app. It allows quick access to the necessary encrypted and decrypted files while offering strong encryption to all the files stored in the android device.
Encrypting your files helps protect them from third-party access, even if it's through spyware or a hack attack. Moreover, if you lose or misplace your device, it will most likely remain secure if your data is encrypted. Therefore, if you are privy to their personal information, it is best that you encrypt your files and folders.
4. Encrypted Messaging Apps – For secure messaging
Secure messaging apps work by encrypting our messages and conversations to introduce digital privacy to your chats. Nowadays, most secure messaging apps provide end-to-end encryption that ensures your data remains encrypted at both the sender's and the receiver's end, which guarantees robust security. For android users, some reliable and highly secure messaging apps include:
– Signal
Headquartered in the San Francisco Bay area offers messages, voice calls, and group chat features that are all secured by end-to-end encryption.
– Threema
This German-based end-to-end encrypted app offers basic messaging features like encrypted text, voice, picture, video messaging, and anonymity with a Threema ID. It also supports file sharing, group messaging, and poll systems.
– Wickr
This NY located messaging app and collaboration tool offer features like sharing screens, location, and online status. It also offers transparency reports, self-destructing messages, accessible search bar, open-source, safe file transferring, secure sharing, 30 days data retention, and instant and custom integration.
– Whatsapp
This California-based app offers end-to-end encryption, protected file sharing, necessary messaging/calling features, various socializing features, and a user-friendly interface.
– Telegram
A Germany-based messaging app that offers encryption of voice calls and group chats, self-destructing messages and files, secret chats feature, open AP and protocol, unlimited chats, and media sharing.
– Wire
A Switzerland-based app that offers default end-to-end encryption while letting you customize storing conversations for only a specific time before their deletion.
While most messaging apps collect users' data and store messages for their records, it can be challenging for individuals and businesses to achieve complete privacy and anonymity with their chats on such apps.
Hackers and intruders also tend to easily access messaging apps and conversations while leaking your personal details. Hence, it's highly reliable and secure to use secure messaging apps that protect your conversations from prying eyes and limit the storage of your messages and personal data.
5. Secure Encrypted Browsers
Encrypted browsers allow secure browsing while protecting you from privacy issues such as trackers, malicious ad-pops, browser fingerprinting, and crypto-jacking. Moreover, they hide your browsing history and online activity from spying. Some highly reliable and secure encrypted browsers for android users include:
– Brave
Headquartered in San Francisco, Brave is an open-source Chromium-built browser. It automatically blocks third-party and advertising cookies, built-in HTTPS Everywhere, and fingerprinting protection.
– DuckDuckGo
This US-based browser offers a one-tap deleting option of the user's browsing history, blocks ads and third-party tracking, and supports HTTPS encryption.
– Firefox
A popular California-based browser offering advanced anti-fingerprinting and enhanced tracking protection. It also supports a wide variety of extensions and automatic adblocking.
– Avast Browser
This Prague-based browser offers fast, private, and fully encrypted browsing. It also supports pin-lock or fingerprint lock for browsing history, ad and tracker blocking, and masking users' identities.
– Dolphin Zero
This China-based incognito browser features a Do Not Track mode, gesture controls, and various themes. It also has the ability to download video content.
– Orbot
Based in Vista it is an open-source proxy app that offers complete anonymity and hidden browser history from third-party monitoring.
Since your browsing history and web activity reveal much about you, it is best to use an encrypted browser. Moreover, it also protects from any third-party tracking done by cyber criminals, the government, advertisers, and surveillance agencies. 
6. Password Managers – To Keep Your Password Safe
A password manager is a reliable application for storing your passwords and other important information and credentials. Most password managers protect your data within encrypted vaults that require a master password for access. Some reliable and secure password managers for android users that you can consider for secure password and credentials storing include:
– Dashlane
a NY-based password manager that offers reliable and strong encryption, auto-fill, security alerts, storage for up to 50 passwords, and user access on a single device.
– 1Password
A Canada-based password manager supporting password generation, cross-platform support, automatic password unlock travel mode, easy controlling and sharing password vault, and a guest account option.
– LastPass
LastPass is headquartered in Boston and offers password and credentials storage, auto-sync credentials, password sharing, multi-factor authentication, and multiple accounts/membership options.
– Keeper
This Chicago-headquartered password manager offers Android's native auto-fill capabilities, password generation, unlimited password storage, and a vault for storing all media files.
– BitWarden
This US-based password manager serves as an open-source app featuring usage on unlimited devices, with encrypted generating, storing, and auto-filling password services and a Bitwarden Send feature.
– NordPass
A Panama-based audited password manager offers password importing from the browser, auto-form filling, support for multiple form-filling identities, and secure password sharing.
– Zoho Vault
This Indian password manager is a feature-packed app. It offers two-factor authentication, actionable password strength report, secure password sharing, easy access from various platforms, auto-login, auto-fill, bulk password sharing, real-time password audit, IP restriction, and emergency access.
Along with protecting your password credentials, password managers also help generate strong passwords that ensure protection. In short, password managers protect you from intrusive logins due to lost passwords and weak passwords.
7. Encrypted Emails Apps – For Safe Emailing
Email encryption is the process of covering your email messages into secure codes that prevent unauthorized third-party access to your emails. Encryption adds better privacy and security to your email conversations and sensitive content by making it unreadable by anyone who does not have the decryption key. These apps encrypt our emails through encryption, strengthening their privacy and security. Some reliable apps you can consider in this regard include:
– ProtonMail
A Switzerland-based email encryption app offers free end-to-end encryption for all email protection. Its secure and robust privacy and security services are maximized with the open-source implementation of AES, RSA, and OpenPGP.
– K-9 email
This open-source email encryption software offers simple, strong, fast UI support. It supports features like multiple accounts access, flagging emails, adding signatures, and syncing multiple folders with its free email encryption services.
– Gmail
Gmail, a CA-based email service provided by Google, is a relatively widespread and widely trusted emailing application. This free emailing platform offers strong security support for features like multiple accounts and notifications, handy tools for email organization, Automatic filters, and various IMAP and POP email accounts and exchanges.
– BlueMail
This San Francisco-based email encryption app offers a standard layout with secure and robust email protection and management services. It also completely customizes your emails and notifications along with an email, URL, or domain blocking feature.
– AquaMail
This freemium email encryption app offers an easy setup of various email services. It also supports cross-platform email accounts like Office 365, Google Apps, etc. it also supports neat email integration with different android apps and various customization features.
– Outlook
Outlook's secure and straightforward UI makes it an easy-to-use email encryption app that offers basic message composition, inbox organization, and search options. It also supports Microsoft's calendar integration features for the users.
– Missive
This Canada-based email encryption app is designed for small businesses and teams to serve firmly secure and shared email or email collaboration services. It also supports built-in chat, shared labels, task assignment, filter rules, collaborative drafting, and email customization features.
Since emails are a means of official and private conversations and often contain sensitive information such as bank account details or pictures, it is best to ensure privacy through encryption. Otherwise, if any of your emails get intercepted by a hacker or cyber-criminal, they can exploit various means such as identity theft or financial fraud.
Final words
The rapid digitization in this fast-paced world has made monitoring and surveillance easy for anyone who has the right tools. Amidst this, it is best to ensure cybersecurity. Encryption helps keep user data and information secure, and it is the best-known method to protect your personal information. Hopefully, the above apps can help you attain the privacy you seek.