A Quick Overview Of Private Browsers For Android
Among various available options, it's hard to know which Android browsers are credible and reliable. Below is a quick list of the 13 best private browsers for Android that are worth using:
Each Android browser is different in its own way. While some focus more on privacy and security, others might prioritize user interface and customizable features. But they come with all the essential features that keep you safe online.
Your privacy always remains at risk while using any browser that stores browsing data, login credentials, passwords, and other sensitive information. The only way to protect your sensitive information and ensure a safe and secure browsing experience on Android devices is to use the best private browsers for Android.
Browsers contain a lot of sensitive information like browsing history, IP address, and login credentials. Private companies also track users' activities via trackers to collect data and target them with personalized ads. In fact, many browsers also work as data collection tools for advertising companies. These ads are extremely annoying, and even hackers can infiltrate them with malware to make a pathway to access your phone, potentially resulting in data loss.

Besides this, a report finds that the Android OS is more prone to vulnerabilities. Hacking, malware invasion, and browser exploit attacks are more common on Android devices. It's mainly because open-source software makes it an easy target for hackers to create and release mobile malware. Fortunately, there are private browsers that you can use on Android devices and can attain maximum anonymity. But, to further boost your privacy, use a legitimate VPN provider with a private browser. Unlike private browsers, VPN encrypts the internet traffic and ensures that your browsing activities remain private.
Why Use a Private Browser For Android?
Android phones don't have a single default browser. They come with pre-installed browsers defending Android phone versions and manufacturers. Huawei phones have introduced their own browser, and Samsung phones have pre-installed Samsung internet explorer as their default browser.
Google Chrome is the most used browser by Android users and is the default browser on most of its devices. But all these browsers have one thing in common; they don't protect users' privacy. They gather users' private data like IP address and browsing history and share it with third parties. After all, big tech companies make a huge amount of money by collecting data via your browser and bombarding you with targeted ads.
Mainstream browsers like Microsoft Edge and Google Chrome experience vulnerabilities and zero-day flaws that hackers can easily exploit. For example, in July 2022, Google Chrome announced the fourth zero-day exploit of the year due to a WebRTC component flaw. According to the researchers, the bad actors can further exploit the vulnerability to launch denial-of-service (DoS) attacks. Similarly, in May 2022, a member of the Google team warned Android users of the Chrome browser about some serious security flaws.
Many users think that browsing in private or Incognito mode reduces these risks. Android offers a private browsing mode that protects users' browsing activities and personal information. Your browsing history will not get recorded and thus remains private. It also doesn't store cookies, so you will be less likely to see online ads.
However, since it doesn't hide the IP address, the ISP and other third parties can still track you. Previously Google tracked users in Incognito mode and collected data without their consent. This means using the private mode or mainstream Android browsers won't guarantee privacy. Thus, switching to a private browser is advisable to avoid all these reasons.
13 Best Privacy-Oriented Browsers For Android
A private browser for Android is a great online tool that keeps users' activities and personal data safe from online threats and prying eyes. After testing several private browsers, here are the 13 best privacy-oriented browsers that deliver a good user experience and are free from following any privacy-abusing model.
Let's get straight into the best private browsers for Android and see how they boost online security and privacy:
1- Tor Browser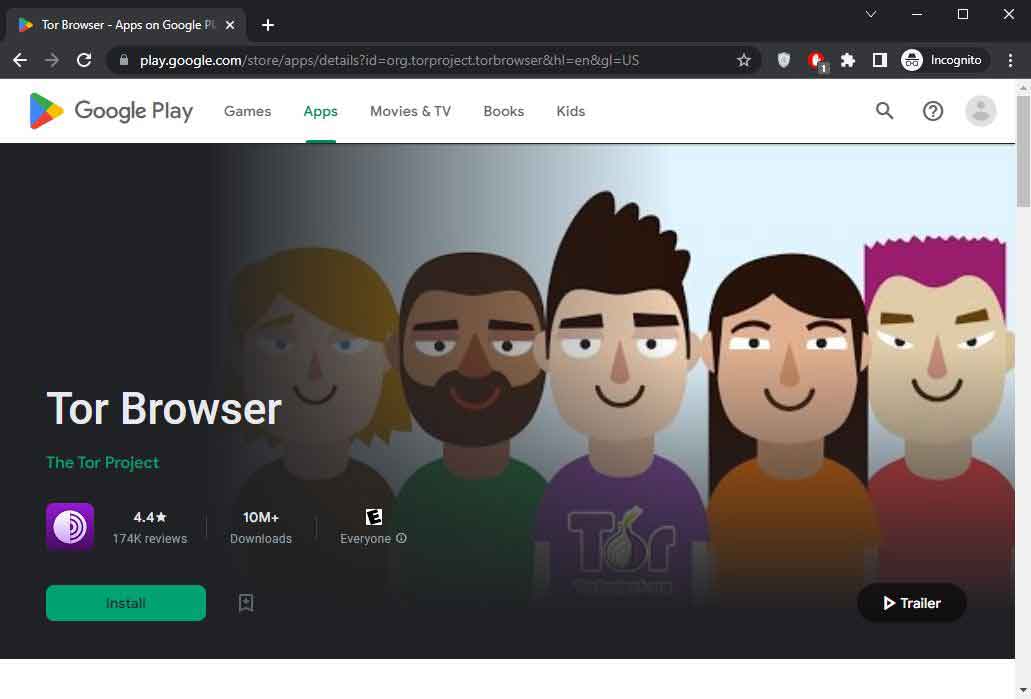 Provides layered encryption
Good for anonymity
Uses on-site HTTPS encryption
Private browsing mode
Prevents browser fingerprinting
Tor browser is among the best private browsers that offer a desktop version and an Android app to prevent tracking, censorship, and online surveillance. The app design and interface is like most other browsers and is best suited for beginners and intermediate users.
On the top, Tor uses layered encryption to route the IP address and data into multiple nodes and hides it from the ISP and other snooping eyes. In addition, it uses HTTPS encryption that hides your online activities that stop hackers from knowing which websites you visit. By default, the Android browser is set to a private browsing mode that prevents online surveillance and, thus, is the most preferred choice of journalists, social activists, and whistle-blowers.
Moreover, Tor protects against browser fingerprinting and deletes all browsing data, trackers, and cookies. This way, it ensures that you have no records or traces of your browsing activities left behind. Besides this, it offers a range of customizable features to prevent online tracking. Also, Android users can increase security standards to enjoy the highest level of online protection.
On the downside, Tor has developed various security flaws. The browser provides anonymity but doesn't keep your activities private. Instead of wholly encrypting the data, it only encrypts it within the Tor layers leaving the data vulnerable to online spying and hacking. Apart from this, it offers slow browsing speed because its working mechanism frustrates users. That's why use a reliable VPN with the Tor browser to mitigate these risks.
2- Brave Browser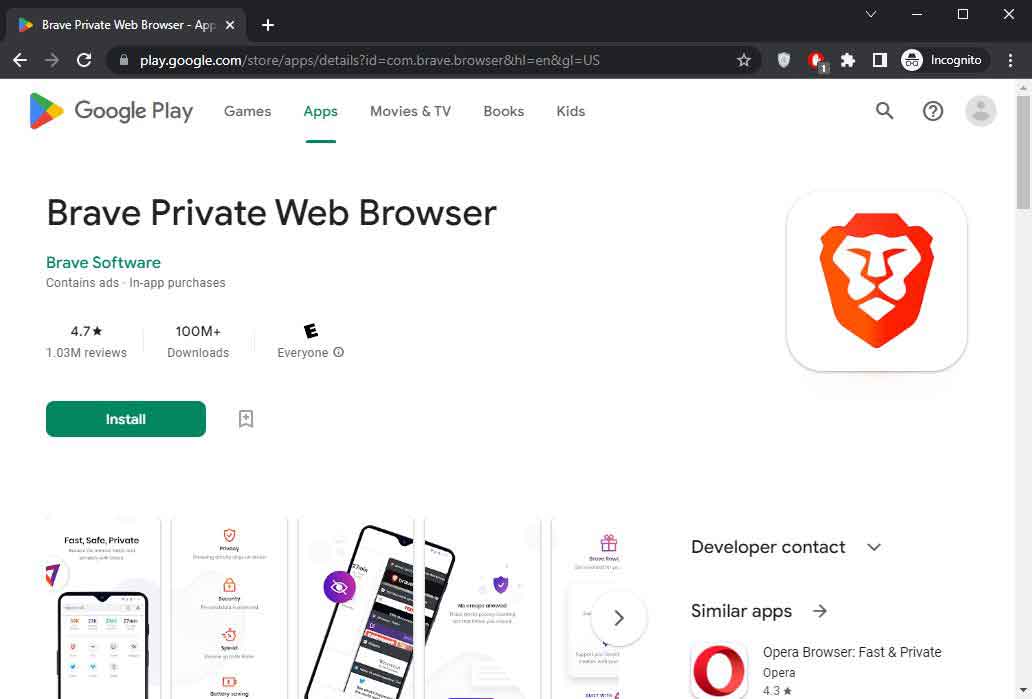 Brave Shield
Easy-to-use UI
Crypto-wallet integrated within the browser
Built-in ad-blocker
Firewall+ VPN add-on functionality
Brave browser is a private and fastest web browser whose sleek and easy-to-use interface makes it a popular choice among Android users. The browser app uses on-site HTTPS encryption to hide the IP address and prevents trackers and snooping eyes from learning about your browsing activities.
Also, it uses a Script blocker extension that prevents unsecured scripts from loading.
Apart from this, Brave browser offers a built-in ad feature that ensures your browsing experience isn't interrupted by malicious and unwanted ads. In addition, it blocks trackers and cookies and protects your device and activities from privacy invaders. Other notable features of the Brave browser app include a password manager, sandboxing, and WebRTC leak protection.
The browser Android app also has two impressive features that give it a clear edge over other browsers. It offers a firewall + VPN feature that protects your browsing experience outside the Brave browser. There's also a Brave Wallet feature, which is rare, and most browsers don't offer it. It is a multi-chain crypto wallet that allows users to send and receive NFTs, buy, exchange, store tokens, and track market data.
As a whole, Brave browser is a complete package and includes everything necessary to maintain your digital privacy.
3- DuckDuckGO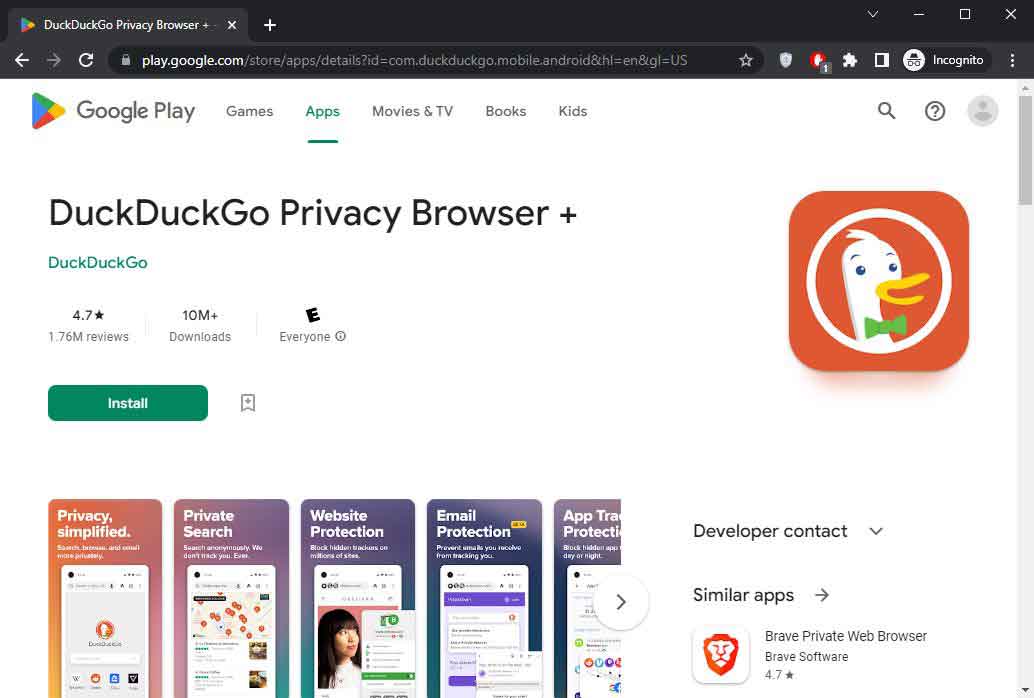 HTTPS encryption
Privacy meter scale
Blocks ads
Smarter encryption technology
Delete browsing history
DuckDuckGo is also a private browser with great privacy options and offers a dedicated app for the Android platform. It leverages HTTPS encryption to protect your data and the Smarter Encryption Technology that automatically upgrades your connection and ensures you use the website's encrypted version. This way, DuckDuckGo prevents ISP tracking and allows users to surf the web anonymously.
Android users praise DuckDuck Go's interface and functionality. The app is simple, sleek, and has an intuitive UI that's easy to use. Plus, it doesn't clutter the screen with pop-up ads and offers to use a free privacy-focused search engine that doesn't leak your searches or browsing data.
The privacy-oriented browser offers a wide range of privacy-centric features that guarantees an anonymous browsing experience. The app comes with a privacy meter that rates every website a user visits on a scale from A-F and warns about any unsecured website that might log and share your data.
Besides this, DuckDuckGo clears browsing data with the data burn and file tab options that stops cybercriminals from harvesting your data. It also automatically blocks cookies and trackers that sneak into your activities without your consent.
4- Firefox Browser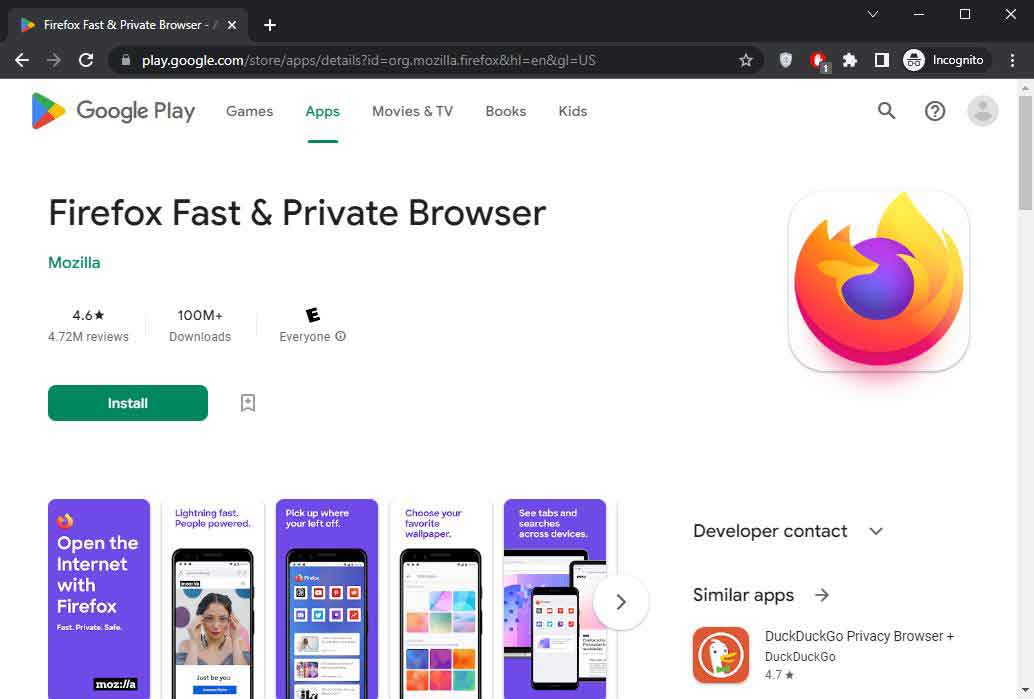 Independently audited
Private browsing mode
Streamlined home screen
Easy password management
Simple and easy-to-use UI
Firefox is a leading private browser that has maintained users' web security for over a decade. It is the oldest privacy browser that's easy to use and non-controlling. The Firefox app for Android gives greater privacy protection while browsing the web; there are valid reasons for this.
The browser is among the few browsers that have undergone a security audit. Cure53 and Radically Open Security audited Firefox but had no significant flaws or issues. By default, it blocks trackers and scripts like social media trackers, crypto-miners, and cross-site cookie trackers. The browser app allows you to search in the private browsing mode and when you close it, it automatically erases browsing history and cookies from the device. In addition, the browser app gives users the liberty to select any search engine within the browser.
The most impressive thing about the Firefox browser app for Android is its user-friendliness. It has a simple and sophisticated interface making it easy for beginner users. The home screen is also streamlined, allowing users to see all the open tabs intuitively grouped and displayed with the bookmarks, top sites, and popular articles on the home screen. Besides this, users can also switch to dark mode, reducing eye strain and battery time.
Another best thing about the Firefox app is that it makes password management easy by remembering all your online account passwords across all devices. The browser app delivers lightning-fast page loads that ensure a seamless browsing experience.
5- Vivaldi Browser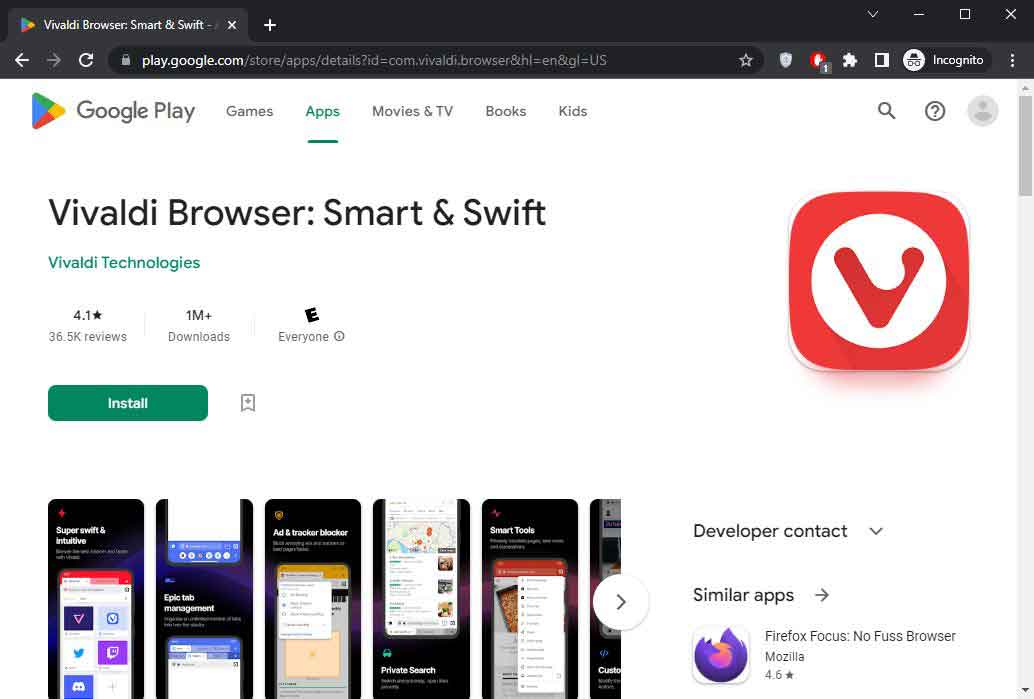 Built-in ad and tracker blocker
Private Tabs
QR code scanner
Download manager
Auto-clearing browsing data
Vivaldi for Android is a privacy-focused browser with smart tools that ensures a secure and seamless browsing experience. It has a wide range of impressive features like desktop-style tabs, built-in ad blocker, private translator, and tracker protection, making it a popular choice among Android users.
On the top, this browser app automatically blocks trackers that silently follow you around the web and violate your privacy by collecting data. Also, it doesn't log or store your searches, cookies, visited websites, or downloaded files. There is also a Private Tabs feature that keeps your browsing history private.
With Vivaldi, you can get rid of intrusive pop-up ads. It has a built-in ad blocker that blocks ads and trackers around the web, making your browsing experience secure and fast. Apart from that, it has a simple and sleek interface and offers a customizable user experience, which is why Android users praise it. You can easily capture screenshots, scan QR codes, open saved logins and bookmarks, and sync the devices using end-to-end encryption and password.
Overall, the Vivaldi browser is a great option that takes your web browsing experience to the next level on Android devices.
6- Yandex Browser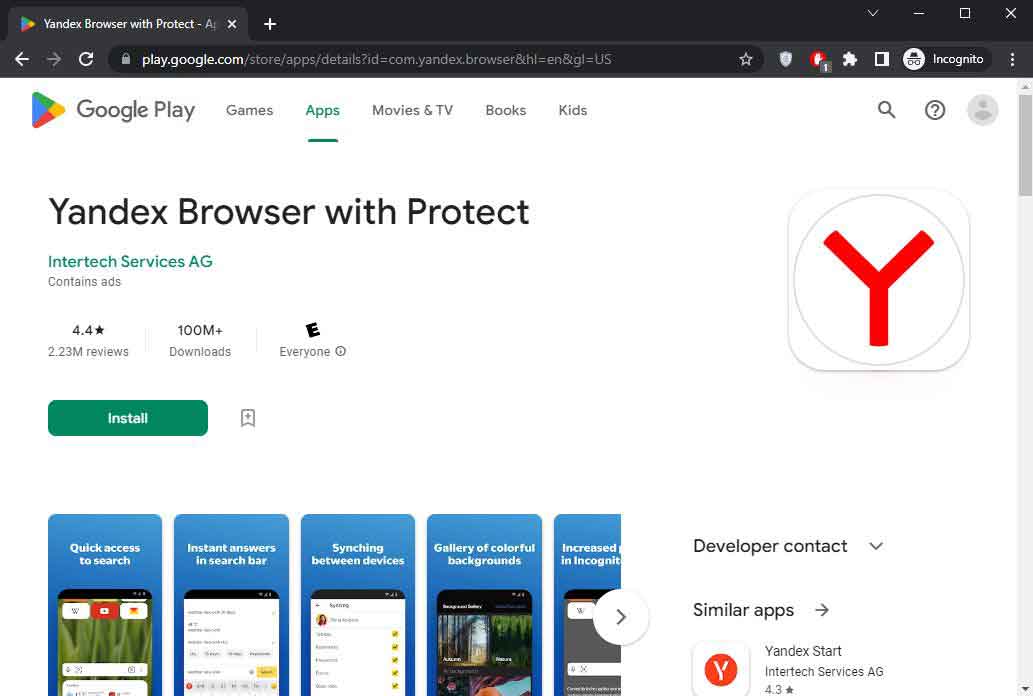 Block ads and trackers
Browse privately using Incognito mode
Customize the browser as you wish
Fast page loading speeds
Simple and sleek UI
Yandex browser is another reliable browser for Android devices that runs on version 5.1 and above. This chromium-based browser offers several features for an anonymous web browsing experience. The most prominent feature of the Yandex browser is its ad blocker which prevents annoying and unwanted ads from disturbing the browsing experience. Besides this, the browser's active security system, called Protect, boosts online privacy and protects the data from getting into the wrong hands when connected to any public Wi-Fi network.
Moreover, the Yandex browser app for Android lets the users browse the web privately using Incognito Mode. It further guarantees a private browsing experience by not collecting search queries, passwords, and browsing history. It is a simple and easy-to-use browser, and its sleek interface gives users much space to view web pages smoothly. In addition, it also provides various customizable options that enhance the overall experience. For instance, you can change the background color theme, bookmark your favorite sites, and sync the data through your Yandex account.
Apart from this, the browser offers reliable and fast browsing speed. If you experience slow speed for any reason, Yandex's Turbo feature improves the speed and saves the data charges. However, users often show great concern over its privacy logging and its headquarters in the USA, a privacy-invasive jurisdiction. Thus, using a reliable VPN provider with a Yandex browser is better.
7- Bromite Browser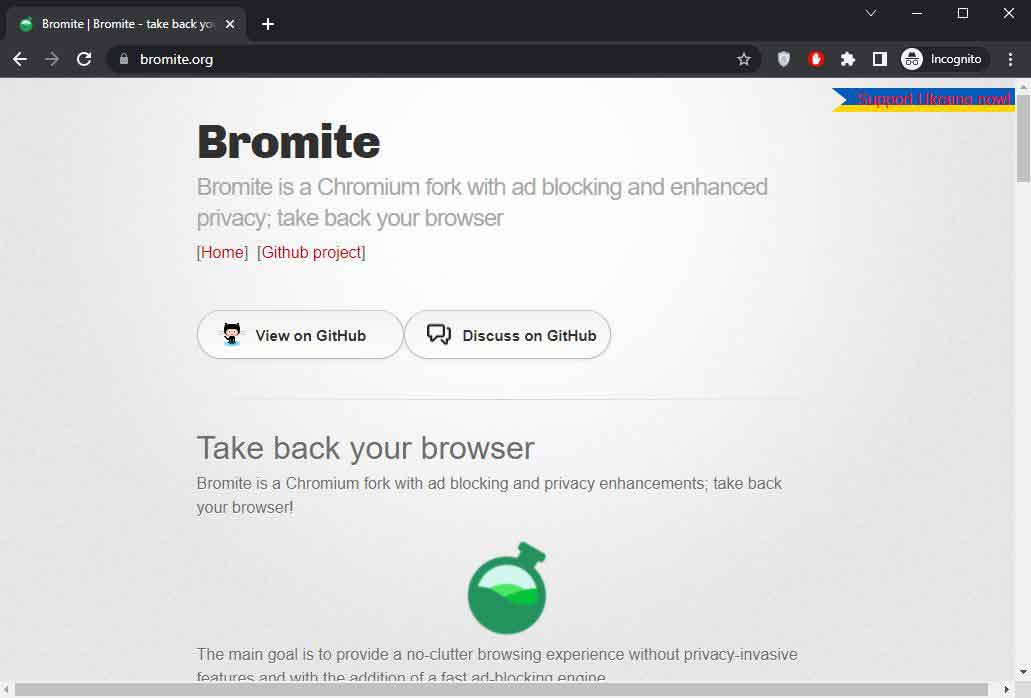 Blocks ads and trackers
Always browse in Incognito mode
Chromium-based browser
Available for Android Marshmallow 6.0 and above
Bromite is a Chromium-based browser that offers a wide range of security and customizable features for Android users. It promises a no-cluttered browsing experience and hence offers a fast ad-blocking engine that wipes out all unwanted ads and loads the web pages faster.
Besides this, the browser stops trackers from keeping records of your browsing activities, ensuring maximum anonymity. With Bromite, you always browse in Incognito mode, so, no need to worry about your browsing history being stored on the device. In fact, by opting for the Search Smart feature, you can browse privately and keep away privacy intruders. The app's interface is another reason why it is a popular choice among users. It delivers a browsing experience similar to Google Chrome and hence causes no trouble to the users. Be it a beginner or intermediate user; the Android browser app is always simple and easy to use.
Furthermore, the Android browser app offers various customization options to suit your needs. It allows users to select a search engine like DuckDuckGo, Google, Yahoo, or Qwant and ensure that the snooping eyes remain unaware of your search queries and searching behavior.
As a whole, Bromite is an excellent private browser for Android that offers maximum privacy and impressive customization features than most other top-tier browsers.
8- Epic Privacy Browser
Chromium-based browser
File vault
Ad-blocker
Follows a no-log policy
Fingerprinting protection
Epic privacy browser is another chromium-based browser for all popular platforms, including Android. It uses DuckDuckGo as the default search engine, but you can change it by navigating to the settings menu. Being a privacy-oriented browser, it guarantees maximum anonymity and protection on the web. It offers a free encrypted proxy and unlimited VPN that hides the IP address and makes your activities private from the ISPs and other snooping eyes. The VPN encrypts the entire internet traffic and ensures the highest level of digital security and privacy. With consistent browsing speed, the VPN offers servers in eight major locations, including Canada, France, the UK, and the USA.
Besides being security-centric, the Android browser app is also privacy-savvy. It follows a strict no-log policy that neither logs nor shares users' data with any third party. After every browsing session, the browser permanently deletes all the data, including browsing history, cookies, and trackers. In addition, it deletes web analytics that ensures there's no clue left for the privacy abusers to track your online activities.
The browser has a file vault that encrypts downloaded files on Android and boosts digital privacy. It uses the fingerprinting protection feature that blocks fingerprinting techniques used by data scrappers who later use the information for targeted advertisements. Also, it blocks ads, cookies, and trackers that disturb the browsing experience.
Epic privacy browser for Android is a good option to consider using. It provides top-notch security, privacy, and various customization options like audio que and video downloader. The app's interface is simple, sleek, and easy to use, which leads to a hassle-free user experience.
9- Firefox Focus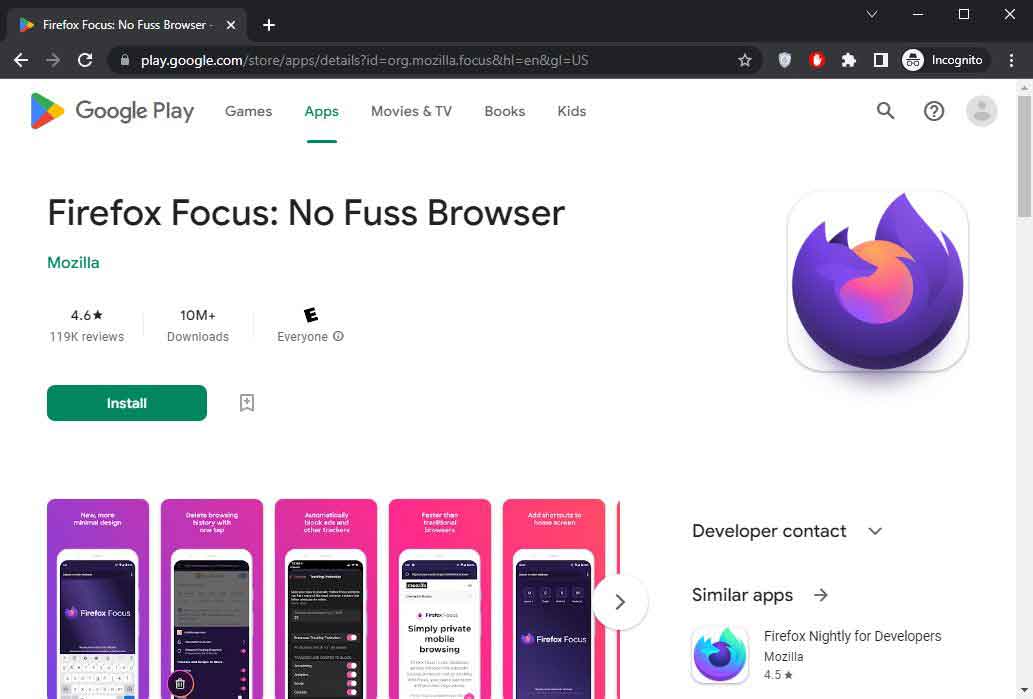 One tap to delete the history
Create shortcuts
Fast page loading speed
Blocks online trackers and ads
Another name on the list of the best private browser for Android is Firefox Focus. It is an open-source privacy-focused mobile browser from Mozilla, a non-profit organization, meaning you can trust it not to sell your data. The browser includes everything you might be looking for on your Android device. With a single trash button, it deletes browsing history, stored passwords, and cookies and guarantees greater anonymity on the web.
On top, it has an enhanced tracking feature that wipes out the intrusive and unwanted ads that ruin the browsing experience. This way, the browser app provides faster page load speed and ensures users don't have to wait for a long time. Also, it blocks trackers by default, including social media, and saves you from creepy advertisements.
The browser app's UI and extra features are amazing, which is why Firefox Focus is the best private browser for Android. It has a minimal design and sophisticated interface that the users like most. Apart from this, it allows users to create shortcuts, add them to their home screen, select a search engine, and enjoy browsing the way they desire.
10- Aloha Browser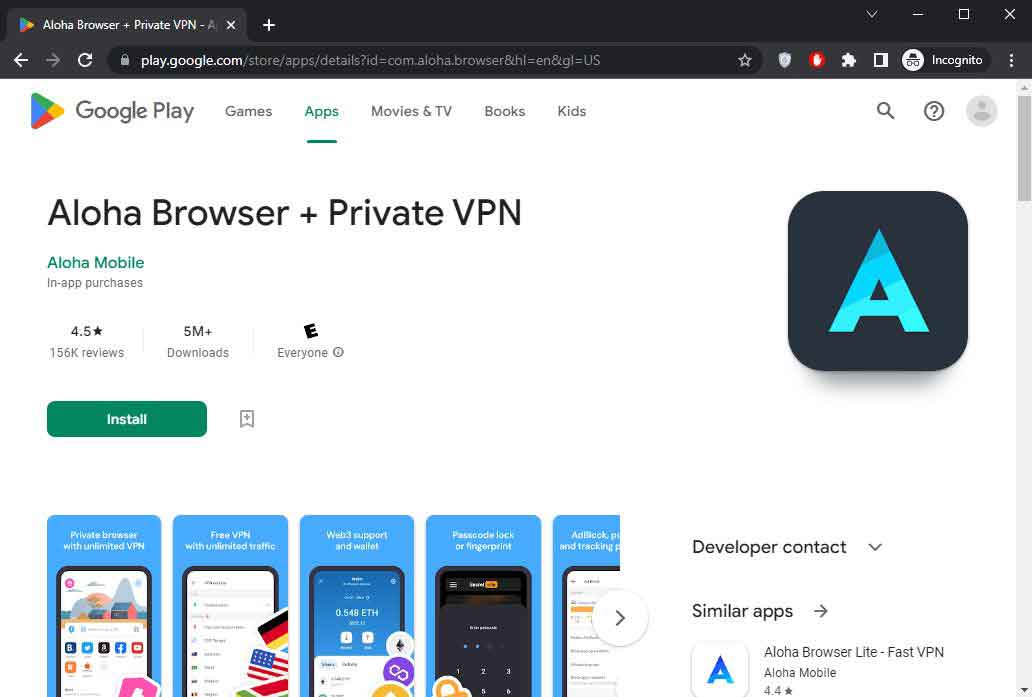 Crypto wallet
Ad blocker
Private Tabs and Vault
Free VPN
Follows no-log policy
Aloha browser is a fast private mobile browser that provides maximum privacy and security. It uses a wide range of security-focused features that keep your web activities private the way you want. The Android browser ensures you won't see inappropriate or irrelevant ads while browsing the web. The ad-blocker feature blocks ads and saves the mobile battery. Plus, it also takes care that trackers don't follow you from site to site and transfer your data to third parties.
One best thing about this Android browser is that it leverages optimized rendering engines that load pages twice faster than other mobile browsers, along with hardware acceleration. It is a featured-enriched browser with a clean interface and several useful features like private tabs, Wi-Fi sharing, and a crypto wallet.
Moreover, the browser follows a strict no-log policy and doesn't log or share your data with anyone. Another prominent feature of the Aloha browser is its built-in free VPN provider. The free VPN servers are available across the globe and encrypt the data traffic to strengthen online security. Besides this, users can also benefit from the Web 3.0 feature that explores NFT and helps manage the crypto wallet.
Android users can store the files in an integrated file manager and lock them with a password or fingerprint. This way, no unauthorized party will ever be able to access the sensitive data. Aloha browser for Android is an excellent option that covers everything and is a complete package for the users.
11- Ghostery Privacy Browser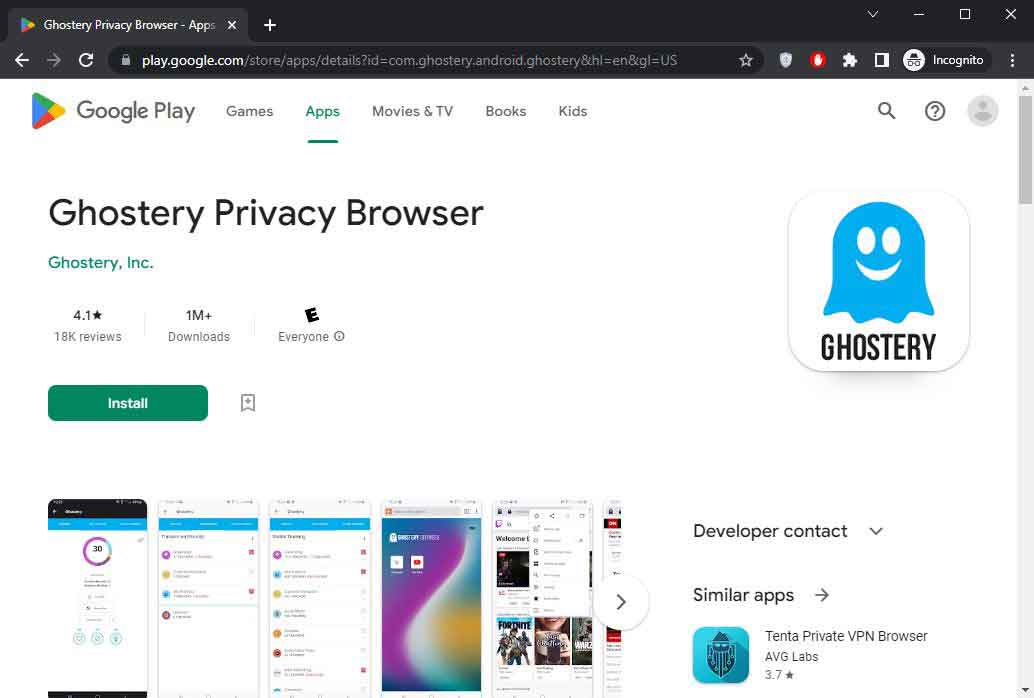 Built-in ad blocker
Tracker visibility and control
Private browsing
Doesn't logs data
Intuitive user interface
Ghostery privacy browser is another private Android browser that offers comprehensive features to enhance privacy while browsing on mobile. It integrates powerful ad-blocking and tracker protection functionalities that guarantee an anonymous and private browsing experience. The ad-blocker removes all intrusive ads that clutter the screen, often resulting in a slower page loading speed.
In addition, the tracker visibility and control feature allows the users to see who is following them on websites they visit and can simply block them. Another special feature of the Ghostery Android browser is the Ghost Tabs. The private browsing mode further maintains privacy by stopping the websites you visit from appearing in your browsing history. This way, the Ghostery app protects your data and activities and keeps them away from the reach of prying eyes.
Besides ensuring a secure browsing experience, Ghostery also makes your searches private. It offers a built-in search engine that doesn't log or share data with anyone. The app's design is intuitive and uses a dark theme which users might like the most because it reduces eye strain. The interface is also simple and easy to use.
Though it is a good Android browser, it needs to fix update issues that most users complain about.
12- Phoenix Browser
Unique design
Unlimited and free VPN
Ad blocker
Data saver
Fast browsing and downloads
Phoenix browser is a free, fast, and private web browser for Android. It takes care of user privacy by allowing them to browse in Incognito mode and browse the web without keeping any tracebacks. To ensure that your browsing experience isn't interrupted by pop-up ads, it has a built-in ad blocker that helps improve page loading speed.
The Android browser is relatively fast, which makes it popular among users. It loads the page speed 2x times faster and saves 90% of your data, resulting in a fantastic user experience. What's more impressive about this browser is that it offers free and unlimited VPN functionality that further makes you private on the internet.
Its unique design and sophisticated interface make it a good option. The browser app provides a range of customization options and features like a file manager and video downloader that enhance the user experience. The app also receives frequent updates, proving that it is free from security flaws, and you can use it without any doubts.
13- Puffin Browser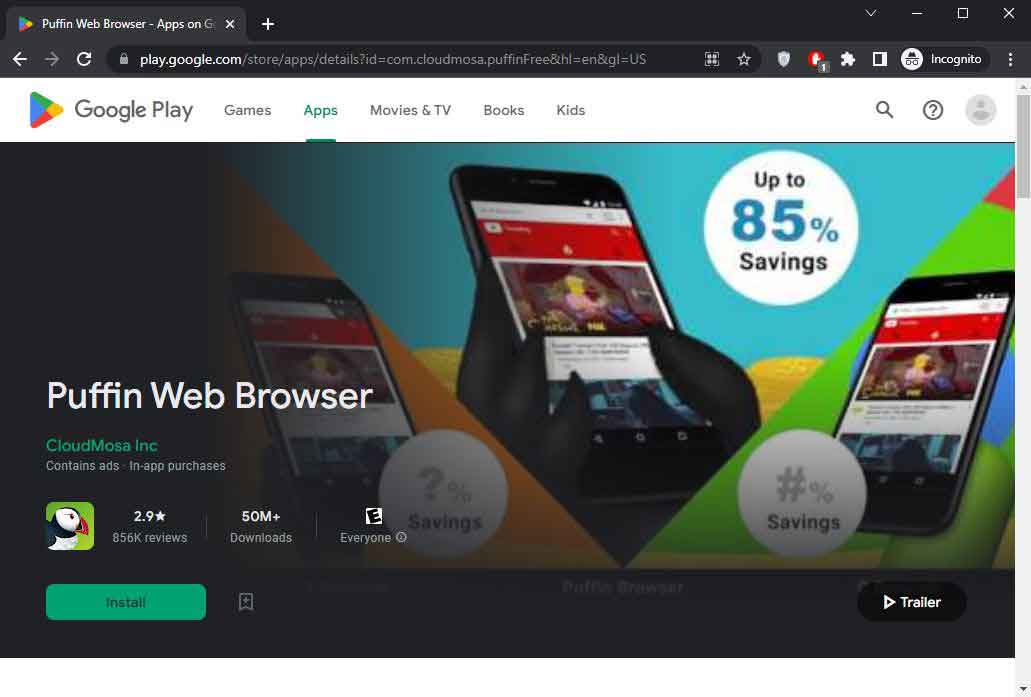 Cloud protection
Built-in ad and tracker blocker
Fast page loading speed
Subscription for unlimited use
Use a proxy to hide the IP address
Puffin Browser is another reliable and private mobile browser that can improve web security. It is free to download but to use it unlimitedly; you need to pay the subscription fees. However, a free evaluation is also available that lets the users try out the service before subscribing to it. But be prepared; the pop-up ads will ruin your experience during the free evaluation.
It is one of the best private Android browsers because it uses cloud servers to protect the users' data. All the data is end-to-end encrypted and boosts security while connecting to public Wi-Fi networks. Besides this, it uses a proxy to hide the IP address and makes you private over the web. The private browsing mode prevents trackers from collecting data about your browsing activities and keeps snooping eyes away.
With the Puffin browser, you can enjoy unparalleled page loading speed. It's mainly because of the cloud servers that manage the data and let the web pages load incredibly fast. However, this Android browser comes with certain limitations. Its servers are only accessible to users in the US and Singapore. Also, the browser is blocked in highly restrictive countries like China, KSA, and UAE. Thus, use a VPN to unblock the Puffin browser and enjoy a secure and smooth user experience.
How To Choose the Best Android Browser?
Many users think the pre-installed Android browser, i.e., Google Chrome is the only go-to browser. However, it isn't like that. Due to the rising privacy concerns, people are trying to find privacy-focused browsers. While they find several options, deciding the best one sometimes seems difficult. Also, at times, the browsers' claims contradict their performance leaving the users' information exposed to hackers and other prying eyes. Thus, it's imperative to consider some factors while selecting an Android browser.
Here is the list of features that you must look into while choosing the best private browser for Android:
Ad Blocker: Online ads frustrate users thus, select an Android browser with an ad-blocker feature to protect from third-party ads and ensure a seamless user experience.
Cookies and Tracker Protection: Ensure your private browser doesn't track back your privacy. It's best to have built-in trackers and cookie blocker features that prevent them from gathering users' browsing data.
HTTPS Everywhere: The browser must ensure that the website uses an HTTPS connection instead of HTTP and protects the users' data and activities from privacy intruders.
Do Not Log Data: Ensure that the browser app follows a strict no-log policy and doesn't record or share your data with anyone.
Auto Delete: The best private browsers for Android delete cookies, trackers, and the entire browsing history after every session.
Anti-Fingerprinting: Choose a browser app that protects against browser fingerprinting and guarantees that it doesn't collect any information like the browser type and version.
Don't overlook any of the above features, as it's essential for maximum online protection while browsing the web.
How to Browse Safely-Quick Tips?
Private browsers are great tools for web surfing and keeping trackers and other privacy intruders away. Unfortunately, using a private browser for Android won't provide 100% anonymity. That's why it is essential to practice one of the following security measures to browse securely.
Your browsing history and the cookies website are invaluable resources to privacy abusers. Thus, clear your browsing data, cookies, and caches when logging off your device.
Use a reliable VPN provider for increased anonymity and digital privacy. It encrypts the entire internet traffic and hides the IP address making you more private on the web.
The unwanted and irrelevant pop-up ads frustrate the users and cause the web page to load slower. Also, hackers might inject malicious codes within the ads that can infect the device with malware or spyware. Therefore, always use a reliable ad-blocker that blocks all ads and ensures a smooth user experience.
Before accessing any website, do check a padlock icon in its URL. If it's there, the site uses HTTPS connections and SSL certificates and will protect against eavesdroppers and other malicious actors.
Search engines also track and record your search queries or other sensitive information like your IP address or location. Make sure to use private search engines like DuckDuckGo or Startpage that maintain your digital privacy while delivering authentic search results.
To stop cookies and trackers from gathering your browsing data, use reliable browser extensions like HTTPS Everywhere and NoScript.
Some browsers even offer customizable settings options that improve digital privacy. Do tweak your browser settings as per your need and enjoy a secure browsing experience.
By practicing the above-mentioned security tips, you can browse the web safely and reduce the risks of browser security threats.
FAQs
Which Android browser is the most secure?
All the browsers listed above are best for Android devices, but the ones that stand out among others are Firefox and the Tor browser. Both are quite popular and have been the users' most preferred choice for years. These browsers use HTTPS encryption that establishes an encrypted and secured connection when visiting any site. They block ads, trackers, and cookies and guarantee an anonymous user experience. Also, it won't log any of your data nor share it with third-party advertising companies.
However, Firefox is better than the Tor browser. Unlike the Tor browser, Firefox offers fast page loading and browsing speed. The security audit firms also audited it for potential vulnerabilities and found nothing that could risk users' privacy.
Are browser add-ons safe to use?
Browser extensions are an excellent feature that expands the browser's functionality out of the box. They add impressive browser features like managing passwords, blocking ads, and taking notes. However, not all browser extensions are safe and can expose you to severe vulnerabilities and other online threats. Also, it's possible that they might be laden with malware and later infect your device. In 2020, Avast found around 28 third-party Chrome and Microsoft Edge extensions infected with malware. Thus, doing proper research is essential before you use any browser extension.
Does browsing in Incognito or Private mode ensure a private browsing experience?
Incognito mode ensures that you leave no traces of your online activities on the browser, but it won't guarantee complete protection from online surveillance and tracking. It doesn't save your search history or record browsing activities, but it won't hide your IP address or encrypt the data traffic. The websites you visit and login details are still visible to the ISPs, hackers, and advertisers using the same Wi-Fi network. That's why Incognito or Private mode is less private than most think.
Final Thoughts
Android phones are more prone to hacking and online threats; thus, maintaining device and online security is crucial. Using a private browser is the first step toward improving online safety. Instead of securing your privacy, the mainstream browser makes you more vulnerable. Hence, using the best private Android browsers is the best option. The best Android browsers discussed in this guide prioritize security and privacy over anything.
They protect against browser fingerprinting attempts, adverts, trackers, and cookies. Overall, they are worth using and ensure that Android users surf the web without inconvenience. However, it is nearly impossible for a browser to make you 100% anonymous on the web. Therefore, make sure to connect to the best VPN provider and enjoy maximum online safety on the web.