A Quick Overview Of NYAA Alternatives & Working Mirror Sites
Finding reliable anime sites is a hassle, especially with NYAA shutting down. However, here are some of the best NYAA alternatives that are still around and promise the ultimate anime streaming experience to their users:
Torrenting with your original IP address can cost
low-speed Internet speed
, called
ISP throttling
. And ISP Monitoring can lead to you
DMCA notices
and fines. It also threatens your online privacy and security by inserting malware into torrent files. By using
Torrent compatible VPN
you can avoid all these issues, and get the
fastest downloading speed
.
NYAA alternatives are reliable sites for downloading anime content. But torrenting comes with malware, ads, and ISP throttling issues. But you can always prevent these issues with a compatible torrent VPN
NYAA was one of the most popular sites for anime lovers. It was the leading site for finding anime movies and a source of free and updated content. Not only that, but it could also locate torrent files such as movies, music, software, pictures, books, action movies, and more. Users could also create an account on NYAA to upload torrent files.
However, the site has shut down due to unknown reasons. One possible reason could be the significant amount of pirated content on the site. It is no news that the site has been under fire for this, specifically after 2014, when the Japanese Government highlighted it as an excellent platform for stealing digital content.
It was shocking for users to know that their favorite website is shut down in many regions worldwide. As a result, the seeds and content declined. Therefore, many best Nyaa alternatives are now appearing. While most of these sites are legitimate, proceeding cautiously and using a VPN is crucial to ensure security from trackers and online snoopers. 
Since the shutdown of Nyaa is a very unfortunate event for anime fans, we gathered a list of the best NYAA alternatives in 2023.
Why do I need the best Nyaa Alternatives?
NYAA has been a popular site for anime lovers; the website had various features that help users provide an ultimate anime streaming experience. However, after its shut down, the users were left in the dark. While there are also several mirror sites available for NYAA, these sites are unreliable and often shut down. Therefore, anime lovers have to make use of searching for the best NYAA alternatives in 2023. 
Many of these NYAA alternatives are reliable options after the NYAA shutdown. They have a significantly vast anime content library. Most of these sites also help users bypass the language issue with anime by providing dubbed and subbed anime content.
However, proceeding with caution while using these sites is still important. While they may provide good anime content, they often bombard users with ads and malicious redirects. However, since they are torrenting platforms, chances are that you might face the consequences such as ISP throttling when you visit these sites. If you live in a country with strict copyright issues, you might face DMCA notices and fines. Therefore, to avoid these troubles it is best to use these NYAA alternatives with the best VPN for torrenting
NYAA Mirror Sites
NYAA is not working anymore , but there are few proxy sites that give the same streaming experience to its users.
https://nya.iss.one/
https://nyaa.si/
https://nyaa.lato.pw/
These few sites are working and provide the same experience as the original one. These are not original so to protect the security users need to use VPN service.
20 Best NYAA Alternatives
1. AnimeFreak
AnimeFreak is one of the most prominent alternatives to NYAA. It is similar to NYAA regarding containing the most current programs and categorizing everything. This site allows its users to go through filters and narrow search results. All you are supposed to do is sign up on the platform, and you are all ready to stream your favorite animes.
Moreover, it is a free platform that provides dubbed content with subtitles. Not only that, but it also has a massive collection of anime shows present in categories from popular animes to least popular. In addition to this, each of them has an enormous list of updates users want. The site also has a straightforward interface.
Other features of AnimeFreak are a prominent search bar and a continuous software update option. And around a million users use this website daily and worldwide.
2. Anime-Planet
Anime-Planet is another excellent alternative to NYAA. The site has an easy and sleek UI and has fast categories, making the search super quick. Users can create an account on the website to sign up and make a list to watch and stream.
An interesting addition to the site is its feedback option for every type of content users stream or enjoy. However, the content is massive users try to filter the content to find everything in the same place. It takes your review and tries to enhance the experience if it can. There are a few ads on the site, which might be annoying for users, but you can use an ads blocker to block them.
3. Crunchyroll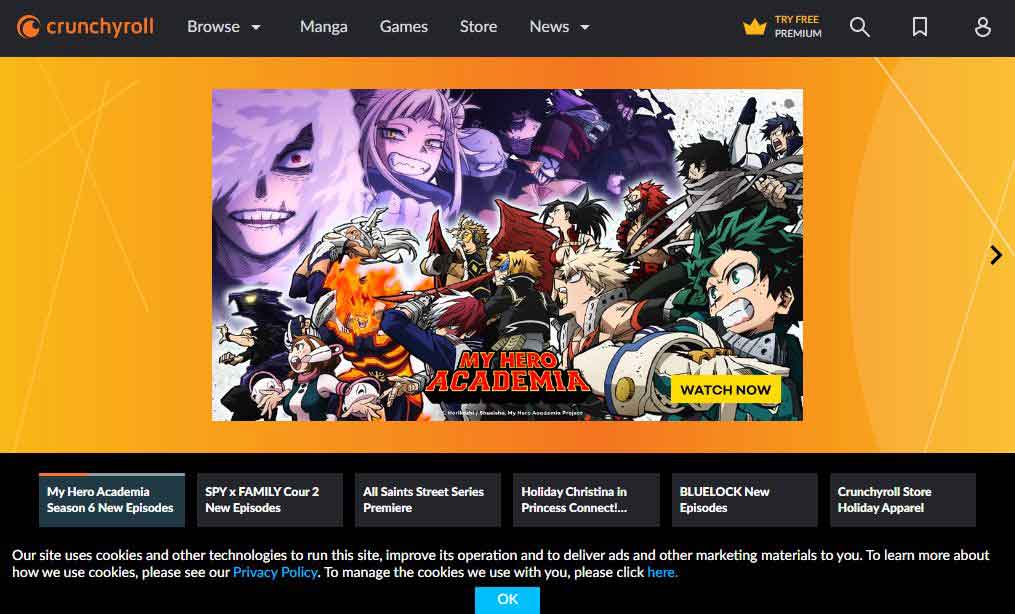 Crunchyroll is another excellent option for anime fans which is considered one of the most fantastic streaming sites. The site is reliable, specifically when it comes to language and productivity of the content that matters while watching shows.
The site offers 720p resolution for its users to have an incredible experience. Furthermore, the website also supports subtitle episodes and English-dubbed files that lessen the language problem while watching anime shows. However, the site will ask its users to sign up before exploring the site, unlike animefreak.
4. Aniwatcher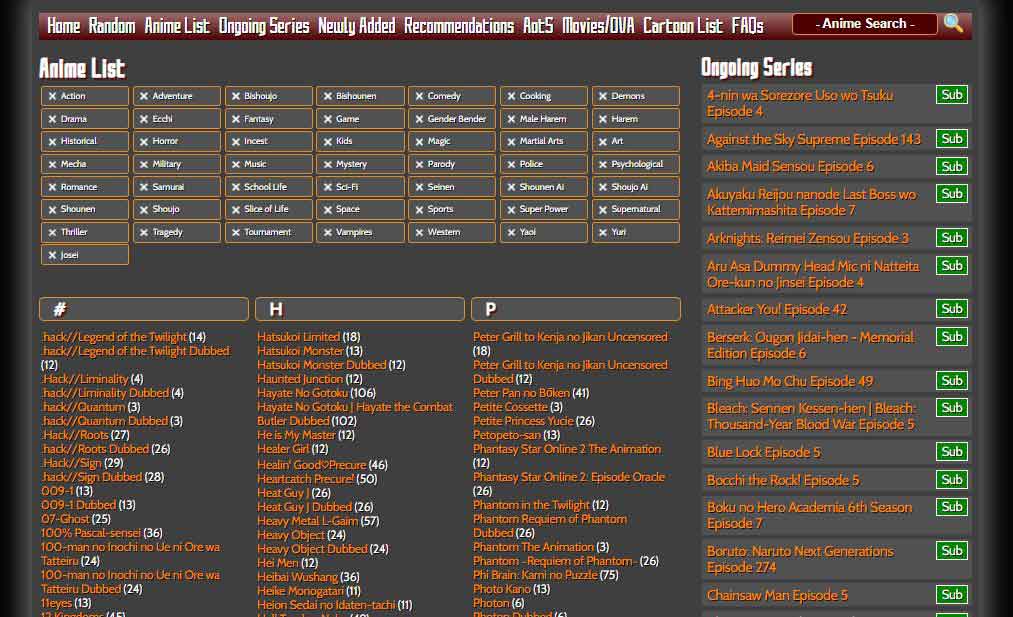 Aniwatcher is another prominent site for anime lovers that provides a vast library of anime shows. Not only that, but it also offers free content to its users. The site homepage usually gets updated with the new subbed and dubbed anime.
The site interface is easy and convenient. Users can spot display ads on the right sidebar. There is an optimized header with categories. Aniwatcher has almost 800k monthly visitors. Most of them are from the U.K. US and Germany. The site is considerably new and has gained popularity among users. However, a lot is still unknown about this site therefore, to ensure a security, it is best to use a reliable VPN.
5. KissAnime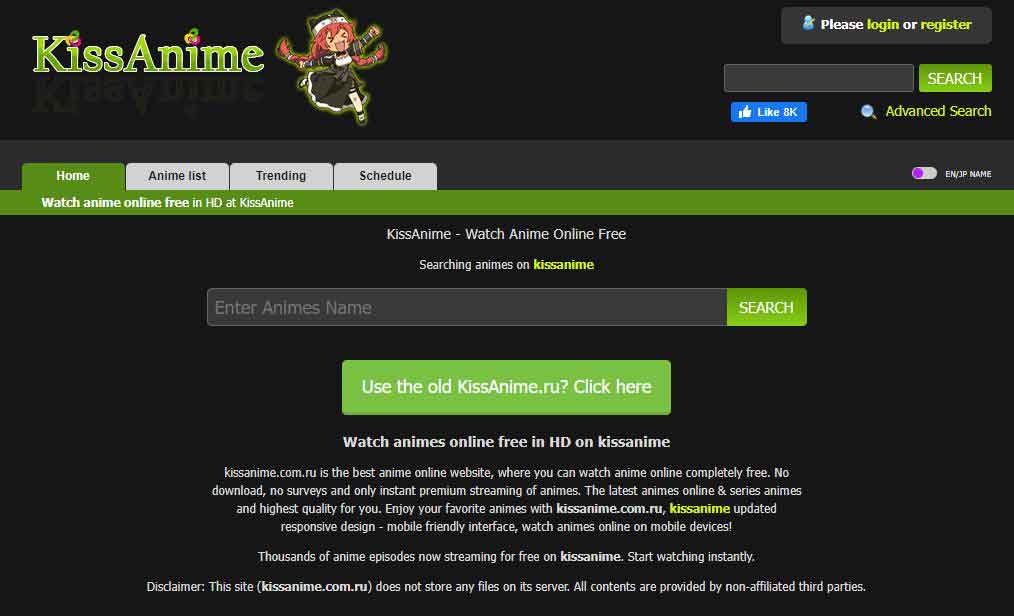 KissAnime is one of the most reliable anime streaming sites to watch anime online and the best alternative for NYAA. Users can enjoy their favorite anime shows on this website without downloading them. Anime shows on this site are free to download. The new anime display is available directly on the homepage for users to rapidly scroll through them.
Moreover, the website provides various content to its users, who can watch it without signing in. Users can also enjoy animation on these websites and access videos from 240p to 1080p video quality. KissAnime is also a website that has been introduced recently and has gained a lot of popularity among users.
6. 9Anime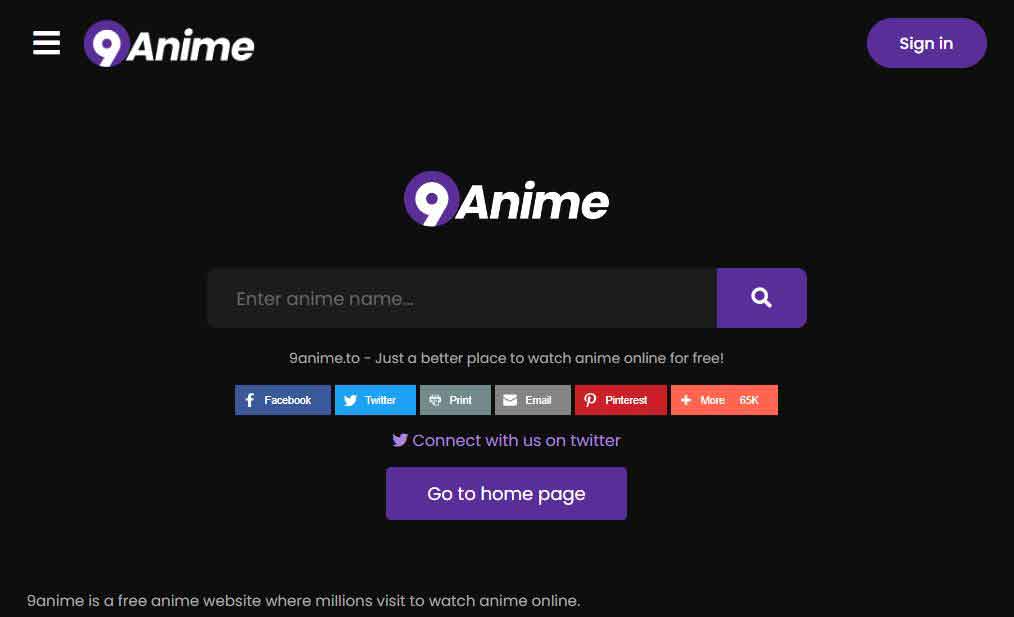 9anime is an online anime streaming site. Users can freely watch their favorite anime in HD with dubbing and English subtitles. They can download any anime without any registration or payment. It has an extensive library that provides a huge variety of anime shows. All of the video files are encoded in the highest possible resolution. The website also has a quality setting function that allows users to enjoy streaming regardless of internet speed.
The content on the site is updated hourly so visitors can update content. The site contains a straightforward interface. 9anime works fine on mobile phones and desktops, even with old browsers. So users can enjoy their favorite shows anywhere.
7. Chia-Anime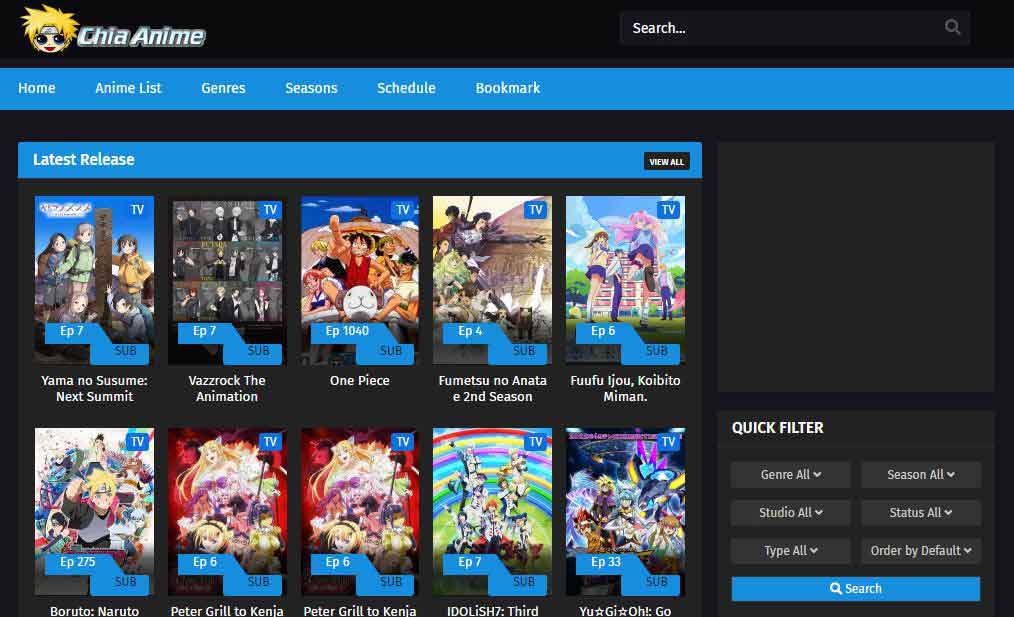 Another great alternative to NYAA is Chia-Anime the list would not be complete without it. The website is available worldwide, which suggests that shows are available in English dubbing. Users must wait for loading between the videos and experience some ads. Since these ads can be annoying, it is best to use a reliable adblocker while accessing this site.
Users can also filter the shows according to their preferences. Another helpful feature of Chia-Anime also allows its users to download videos to watch later. Therefore, if you are obsessed with anime, Chia-Anime is your platform.
8. Masterani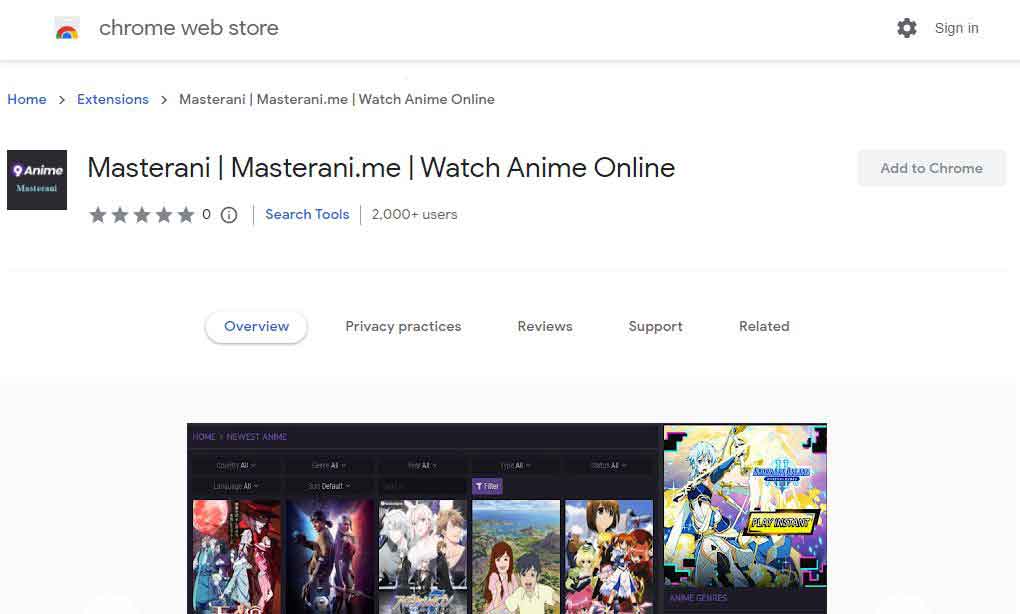 Another best NYAA alternative on the list that provides many anime shows to its users is Masterani. Due to that, it stands out in the crowd. It has a simple and effective program on the site. It was created with the sense of its audience from different parts of the world. So, the video files on the site are dubbed in English for its users' continence.
Masterani has more Anime material than users can think of, and they also have access to see any of it worldwide. Like other NYAA alternatives, users can filter out their search results.
9. Anime Karma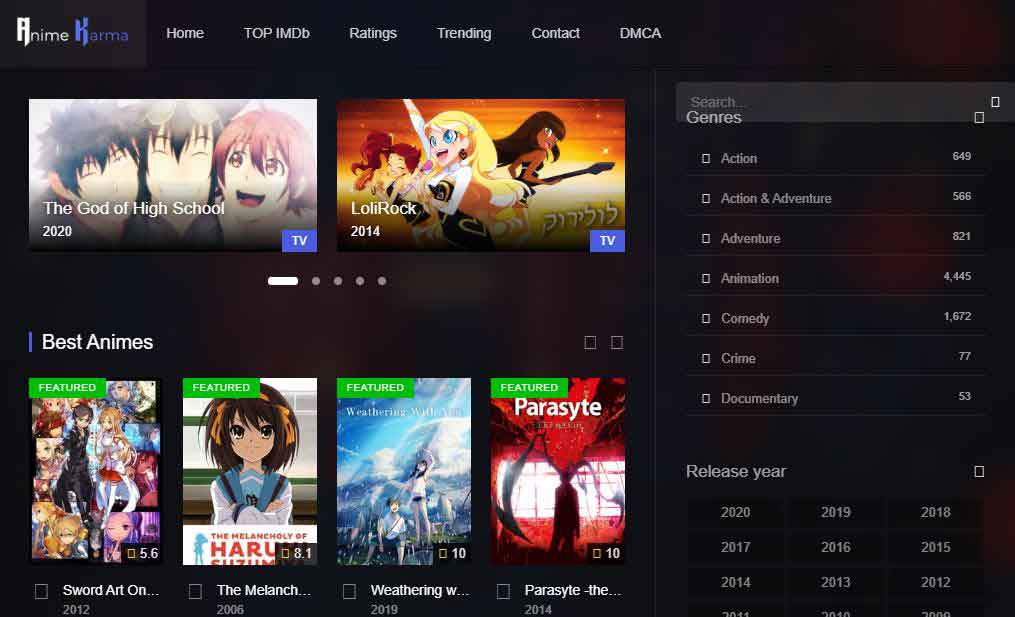 Anime karma is yet another best option to opt users for their favorite anime shows. It allows its users have access to a significant number of anime shows. Users can stream them on their mobile phones and desktops. From the excellent to the most recent content is available on the site for the viewers to watch and enjoy.
The website is a perfect combination of American cartoons and the anime world. From categorizing the list of shows to the release year, the website has been incredibly convenient in filtering out shows to watch. Now, here viewers can enjoy their shows without any trouble.
10. AnimalFrenzy
AnimalFrenzy is yet another prominent site to watch anime shows. It contains plenty of anime content. The site uploads anime content daily and has the most recent anime shows. One of the unique features of this anime site is it provides American shows, which makes viewers use it even more. It includes content with vibrant colors, good quality, and audio versions that greatly influence viewers.
A significant feature that make it the perfect alternative to NYAA are its quick menu, which extracts user results according to their command. The main motive of AnimeFrenzy is to become a quality entertainment site created for viewers who want to watch the adaptation of various human movies with cartoon-based effects and visuals.
11. 4Anime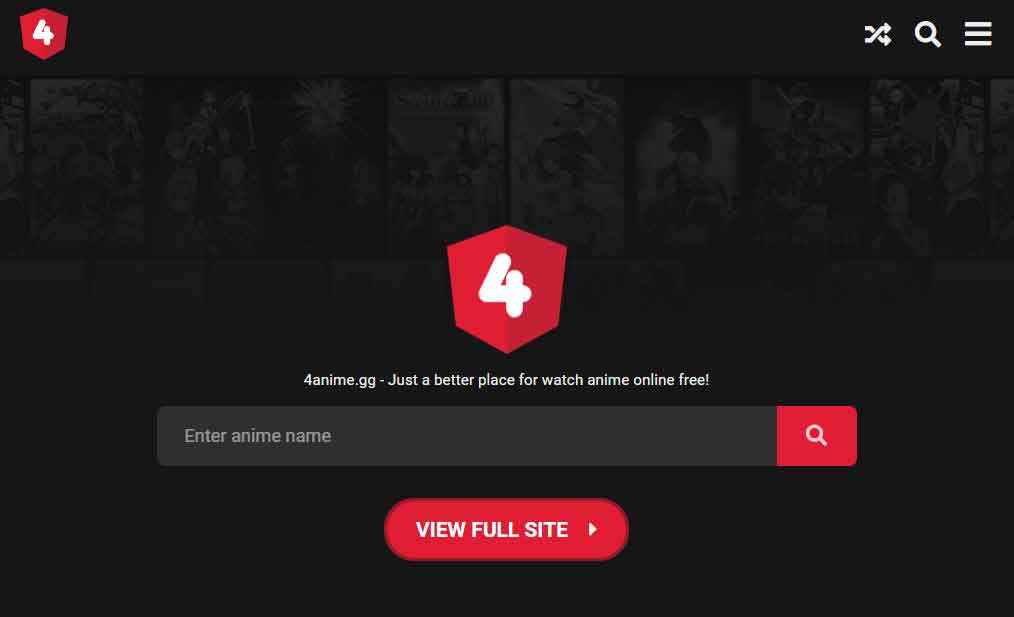 4Anime is another alternative to NYAA. Users do not have to pay or register anywhere to utilize this website; 4Anime is free to watch anime shows. The website provides great-quality content to its viewers. One of the most prominent features of this site is it has secured the server, so viewers' data is in safe hands.
However, the ads-free site safe its users from all the trouble of using ad blocking. 4anime is the site to watch English Dubbed anime online for free. This is the best place to enjoy your favorite shows as it provides HD quality, fast loading speed, optimized UI and UX, excellent customer service, and many more. Your anime world will become more authentic and lively with the high video quality.
12. GoGoAnime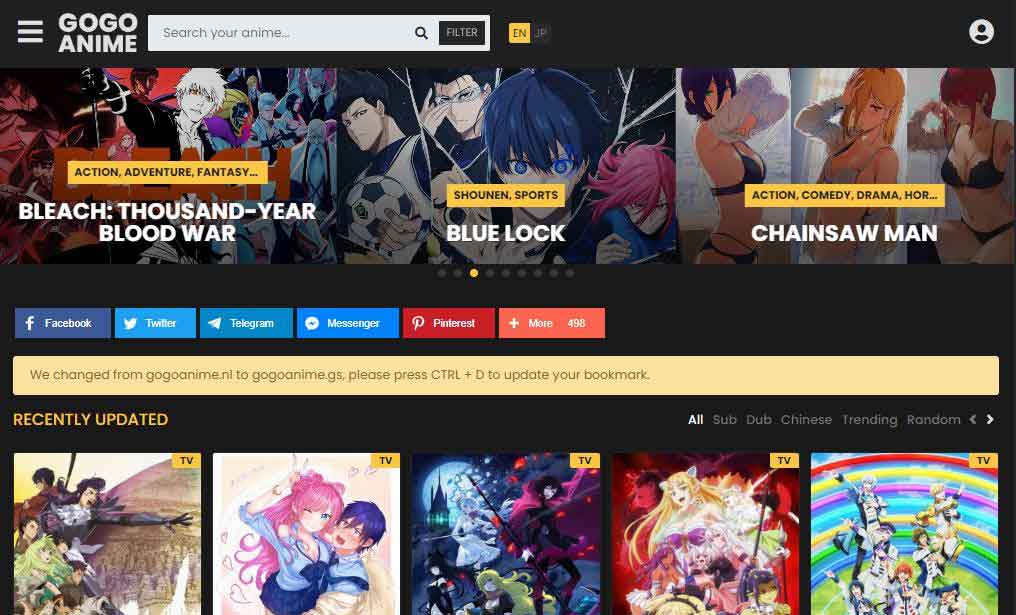 GoGoAnime is a fantastic alternative to NYAA and is famous for offering free anime shows and movies. It provides the best interface and amazing user experience at no cost. Viewers can watch English dubbed content with the high-definition video quality. Not only that, but it also gives viewers the liberty to stream their favorite anime movies and shows without signing up.
Moreover, users can make a list of their favorite shows or movies, share it with their friends, and comment on their favorite videos. To better secure your experience, GoGoAnime has a section where all the Anime content is available and has been categorized alphabetically. The website lets you download videos to watch later.
13. KissCartoon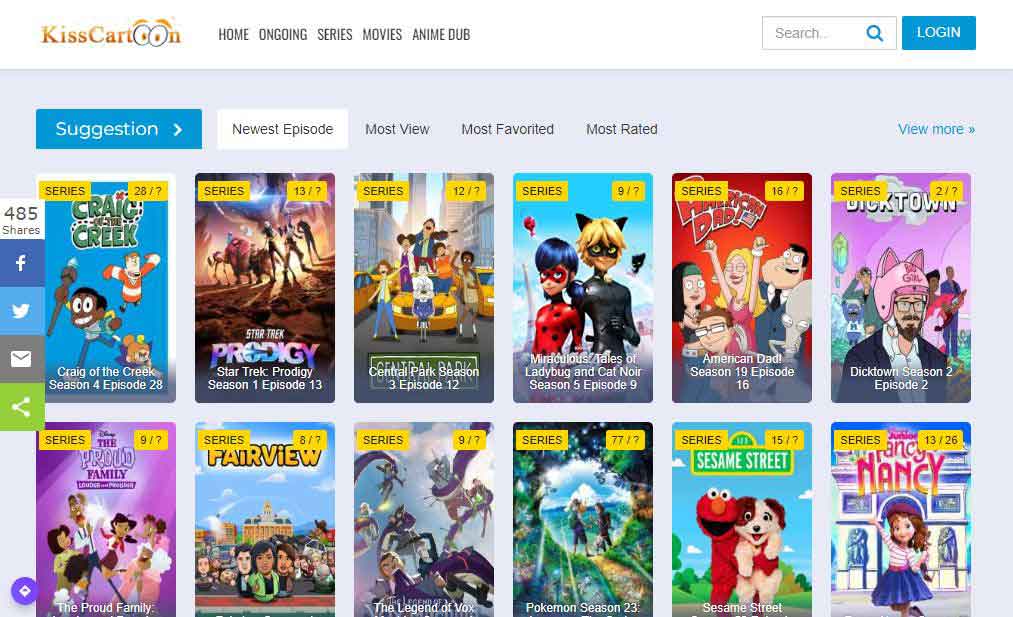 KissCartoon is another excellent alternative to NYAA, which provides free cartoons and anime movies, and shows to its users without any signup. The site upgraded the content and categorized them for the users. Users can also register on the site if they want, after which viewers will get notifications whenever a new cartoon or anime is uploaded.
However, both sidebars of the website are covered with ads, and users will also get popups when they click on the videos. Besides that, KissCartoon is famous among the viewers; it has around 15 million monthly traffic; most users watch content from the US and UK on this site.
14. AnimeShow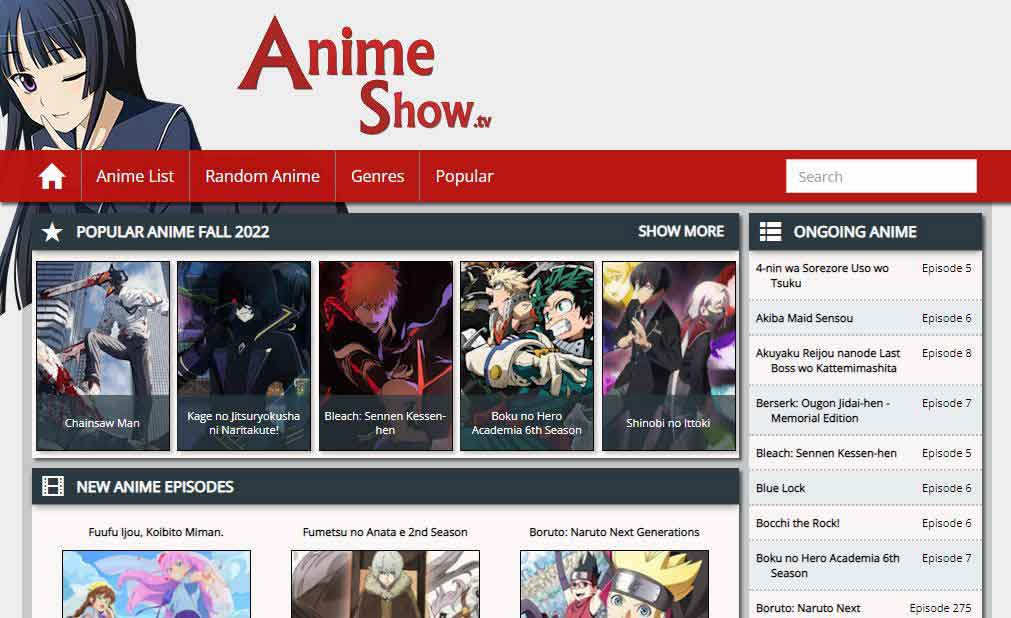 AnimeShow is another anime site that streams millions of anime content worldwide; It has a massive collection of anime. This site has excellent viewership, with 11 million monthly traffic and get famous in the US and UK. Viewers can explore their favorite anime in the search tab.
However, the site has some pop-up ads, which makes the streaming process a little troublesome for some users.
15. OtakuStream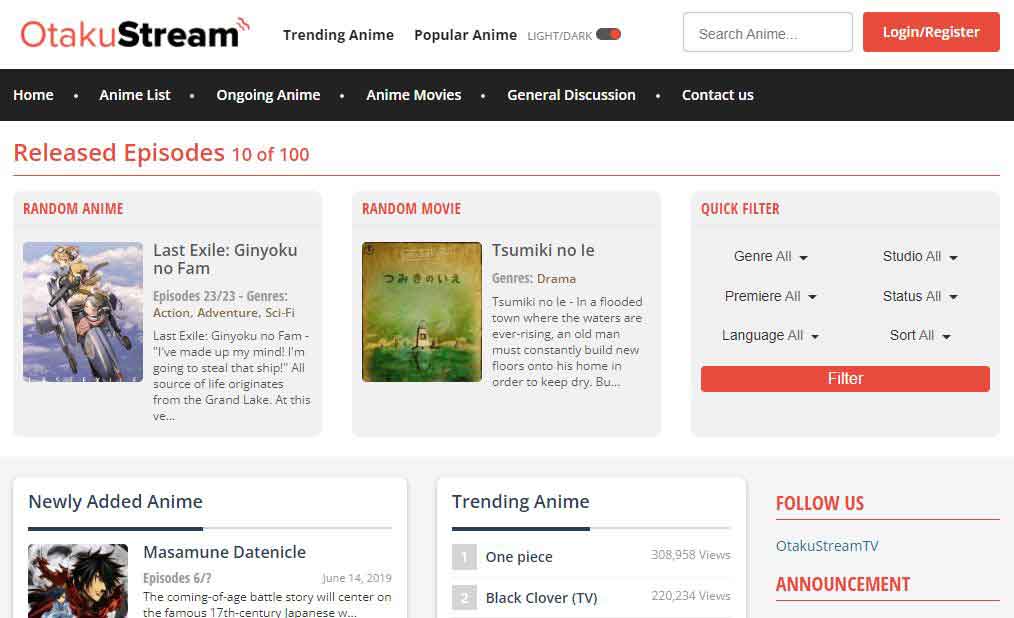 OtakuStream is one of the prominent NYAA alternatives to watch free anime content; It allows its users to access the latest released anime, sorted out into categories. It has a unique feature known as Light/Dark, where users can select their screen theme according to day and night.
Moreover, OtakuStream has a simple and easy interface and provides the best user experience, and they also don't see any ads on its home page. Users can register on the website with Facebook or Twitter. In addition, it provides a search bar where viewers can search for their favorite anime. Not only that, this site has around 15 million monthly visitors from the US, UK, Canada, and Germany.
16. AnimeLand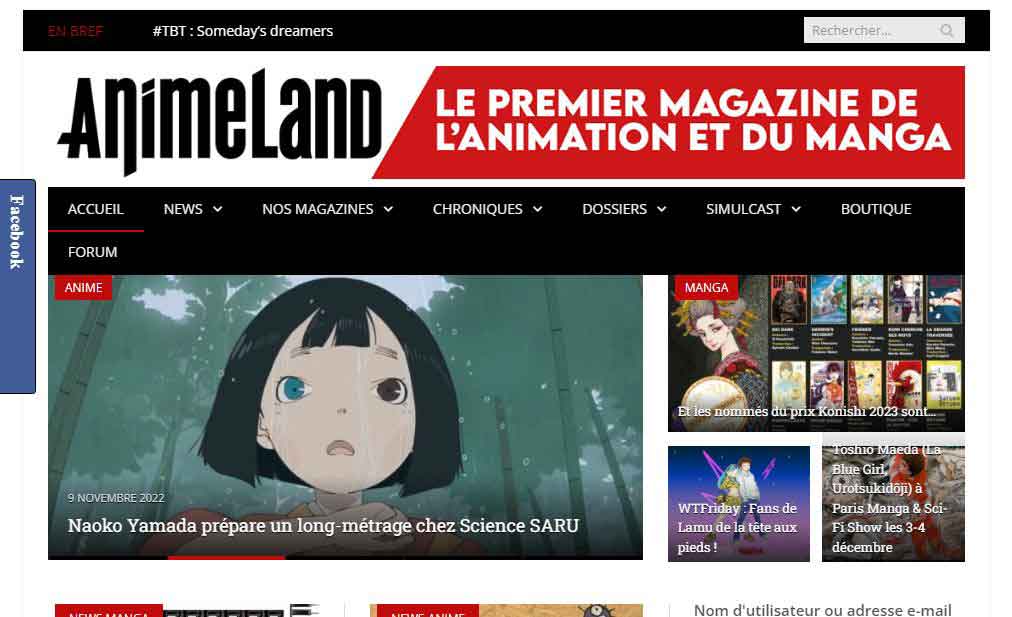 Another great NYAA alternative, AnimeLand, does not need any introduction as it's pretty famous among Anime fans. The website allows you to download and enjoy the content without even needing registration on the site.
Furthermore, the Animeland site lets users access the shows, series, and movies dubbed in English, which helps them better comprehend the storyline with unique and vibrant graphics. This site is absolutely free-to-use, like NYAA, which makes it among one of the best websites on the list.
17. CartoonCrazy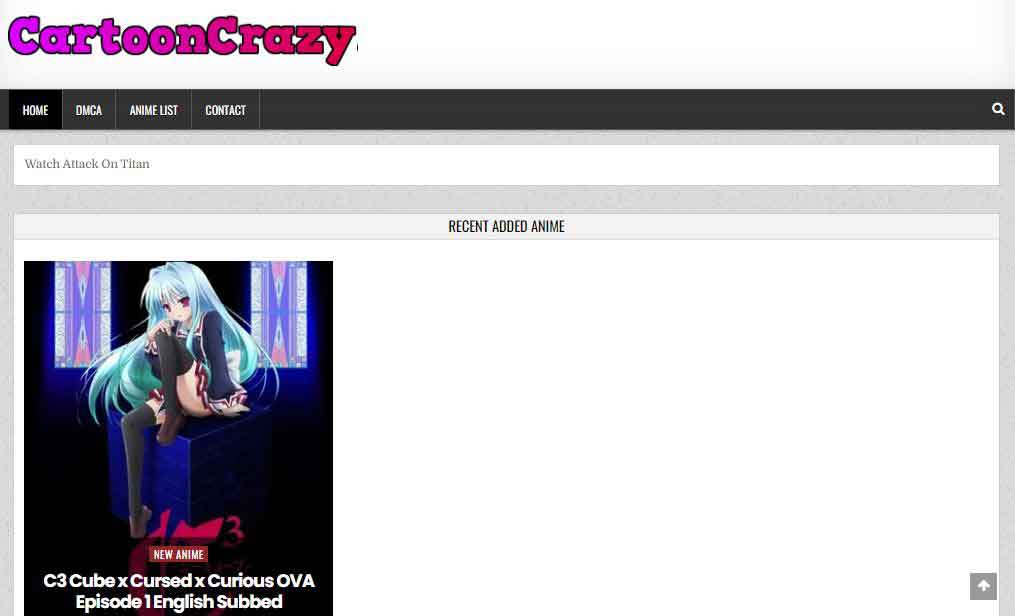 Cartoon Crazy is another alternative to NYAA, which provides a new cartoon streaming site for streaming platforms. This is a fantastic option for all anime lovers, giving a massive collection of free cartoon movies and series awarded by third-party servers.
Furthermore, it has an easy and user-friendly interface. When users open the website for all new release series, it displays them on the front of their screen, as well as categories and advanced search bars that help them to search their favorite animes.
This site also offers its users to watch HD cartoons and movies or download them to watch them later. CartoonCrazy provides numerous amounts of content, such as; films and shows, and users can also access its vast database worldwide.
18. AnimeDao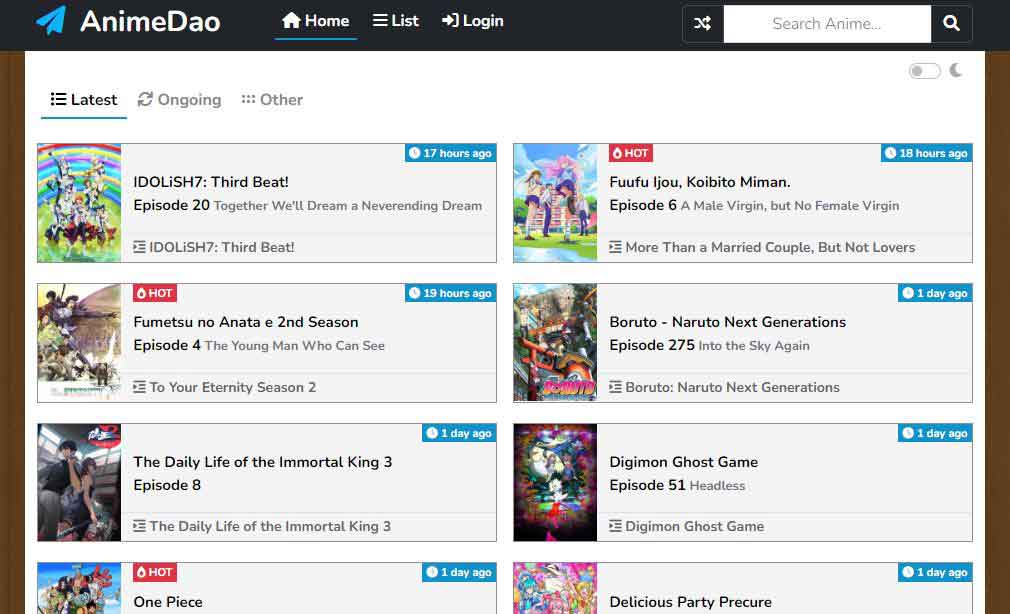 Animedao is another alternative to NYAA, providing its users the Anime content with quality time. Combining all the recent or current telecast shows and motion pictures with good resolution can be discovered here.
Animedao has many Anime videos or movies that are quite a treat to all fans worldwide. The site also allows users to put in requests for any movie or series that isn't on the website.
19. Animepahe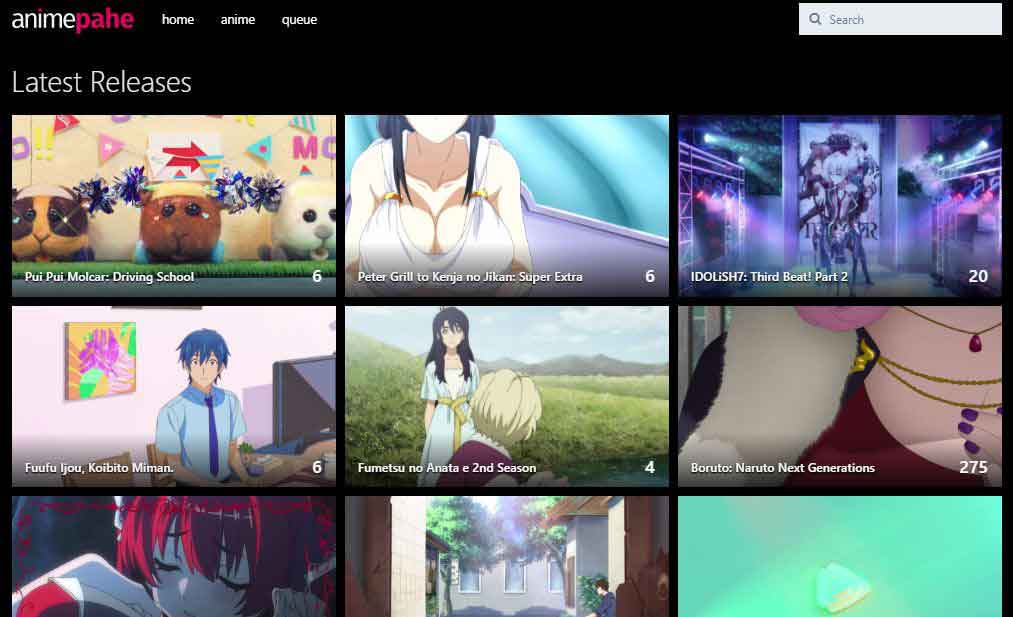 Another fantastic website for anime lovers is Animepahe. Its homepage is ad-free, uncomplicated, and simple to understand, and AnimePahe only shows its latest anime on its homepage. It provides numerous subbed, dubbed anime content.
Moreover, According to the interface and user experience, this site is reliable compared to any other free anime streaming site. The video player is also good, with a straightforward interface. Users get the thumbnail and title of the anime, and after clicking on it, their anime file will be ready to play.
Therefore, the website has around 2.5 million monthly traffic from the US, India, the Philippines, and Malaysia. The different thing is Indians also visit, but it only offers English anime.
20. AnimeTV
AnimeTV is also one of the best NYAA alternatives to watch anime for free. It gives the latest subbed and dubbed anime in the English language. The homepage displays the latest anime thumbnails to is users making it easy for them to browse through the content. In addition, users can register on the website with Facebook and Twitter. Anime TV is a favorite website in the US and UK, with around 7 million monthly visitors.
However, both sidebars of the homepage are covered with display ads. Since the ads can be a bit annoying it is best to use an adblocker to get rid of them.
21. AnimeFLV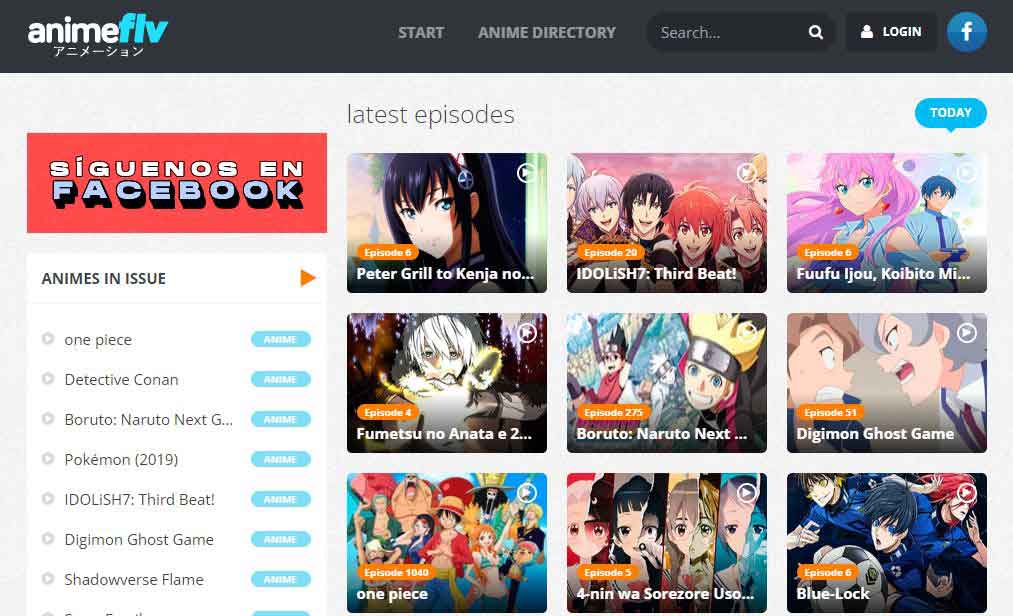 AnimeFLV is a popular site for anime lovers which is also known as the father of anime content, but one essential part of the website is that it is not for English language users. It is precisely for spanish language users. However, watching all kinds of AnimeHeroes online on AnimeFLV could be best if viewers can understand Spanish. The website interface is easy to navigate and user-friendly. It displays a list of anime in the left sidebar where users can explore their favorite Anime Heros here.
22. Animeheros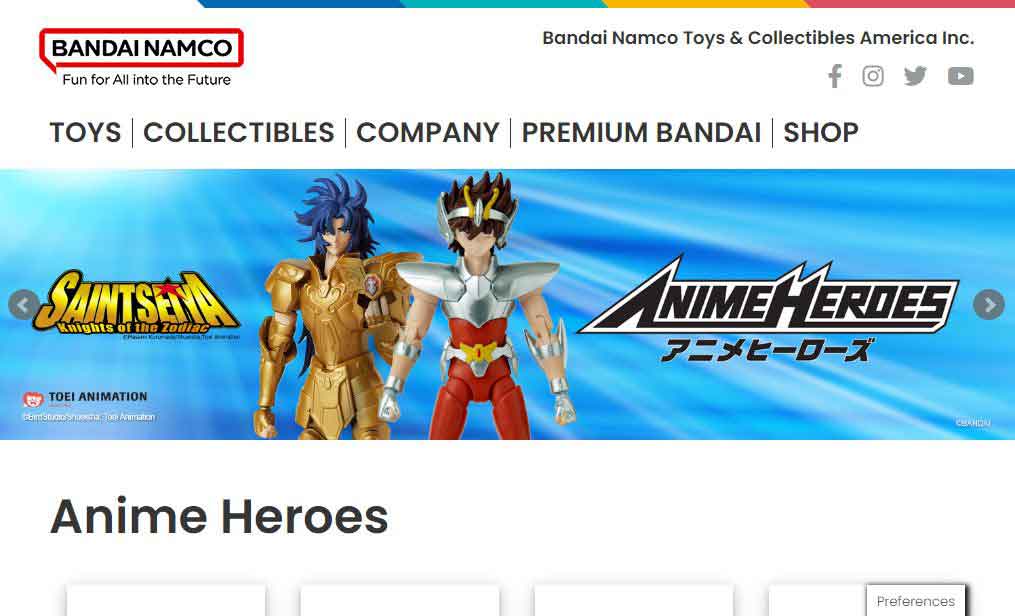 Anime Heros is yet another great name in the list of NYAA alternatives which has been introduced considerably as the new anime streaming platform on the market. It is relatively new in the cartoon streaming world. However, it provides users with the most famous and recent anime shows and movies. It has some categories where you are notified about the popularity of animes that are most watched and famous on this site.
AnimeHeroes is not an old site; that's why it has around 150K monthly users. Moreover, users don't see display ads on its homepage but get pop-up ads while streaming anime. It has a simple and easy-to-operate interface.
23. BabyAnime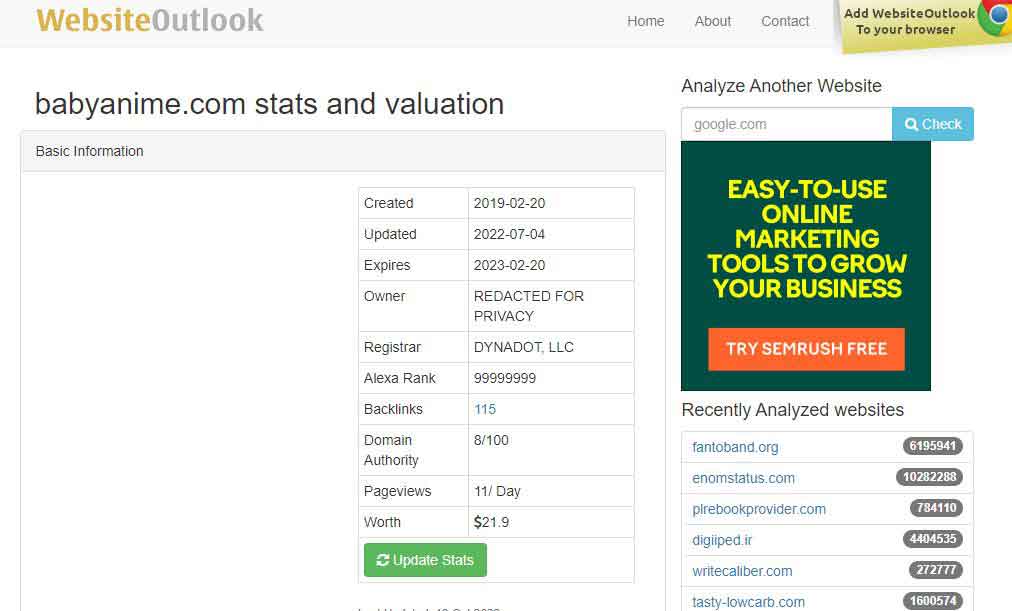 Another great alternative to NYAA is BabyAnime, where viewers can watch all of their favorite series and movies. Not only that, it also provides you with anime content in English dubbing and subtitles. Viewers can live stream anime directly, but they need to create an account on that. Another cool feature of the site is users can post their questions related to anime and get answers from a large community.
Furthermore, the site is completely free to use and open source. No ads at all to annoy users while streaming, and not only that, they can also watch anime in HD resolution.
Moreover, the website provides categories to the name of the anime shows and movies on the search bar, and gets access to them with a single click. Add your selected collection to the list and watch them later to save effort.
24. Mangapark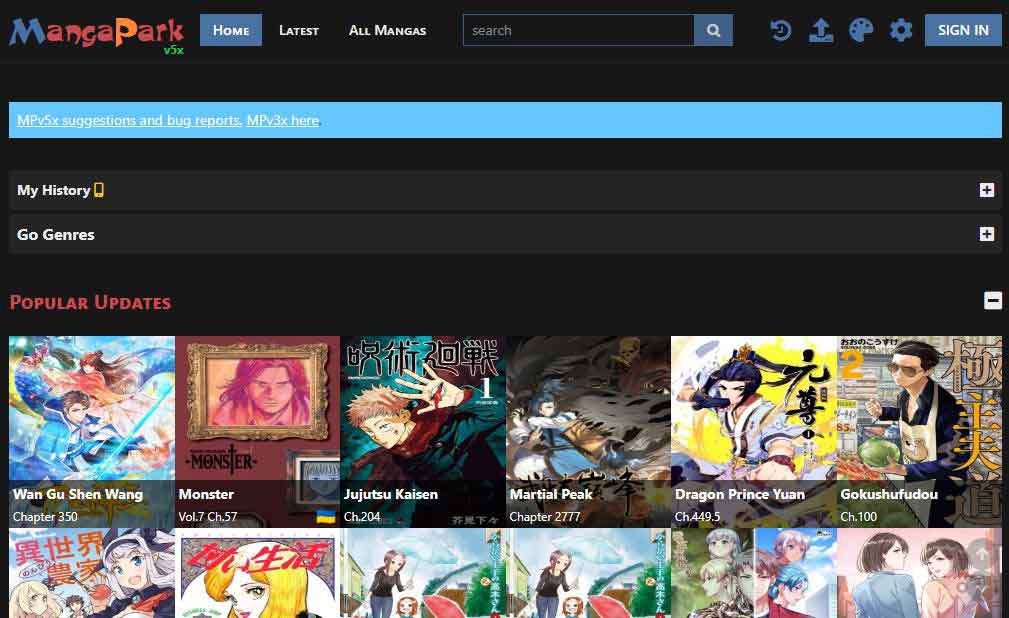 Mangapark is an alternative to NYAA that assists users with content for reading millions of free manga and anime episodes. The website has a new user-friendly interface. Users can also take the pen in their hand to create a manga using their imagination and share it with a large community of other manga fans worldwide. It allows you to sort the collection to find a manga series based on author, category, and genre.
The large community of other manga lovers is helpful, and fans will get recommendations to read a trending manga series from time to time. However, the site provides a summary for each series and allows users to choose from hundreds of genres. Not only that it also blocks adult content to make it child friendly.
25. MyAnimeList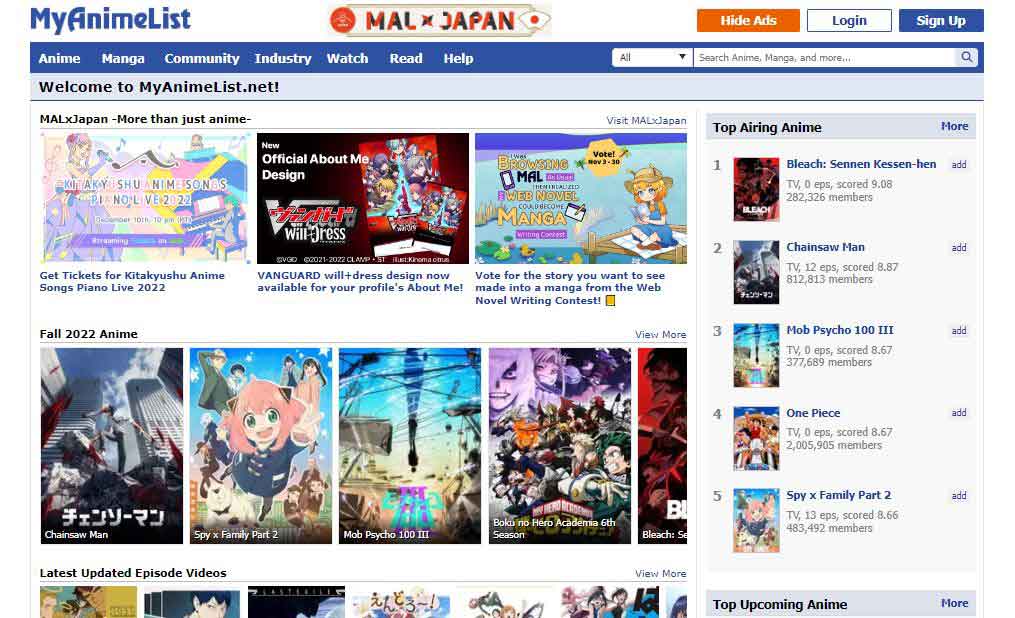 MyAnimeList alternative with a list-like system to show the available anime collection so you can discover new favorites according to your taste. It has a simple and easy user interface that makes the streaming pleasant, and users only need to create an account to check the recent collection. The daily update of the collection ensures that you don't miss out on the latest series. It is also an app that users can download and enjoy their anime series and movies on.
Moreover, users can read background stories, information about the cast, and opening and closing themes on the website. Not only that, they can also live stream a series in high video quality just like they watch on television, and sharing options lets you post on social media apps to recommend it to your fellow anime lovers.
26. AniChart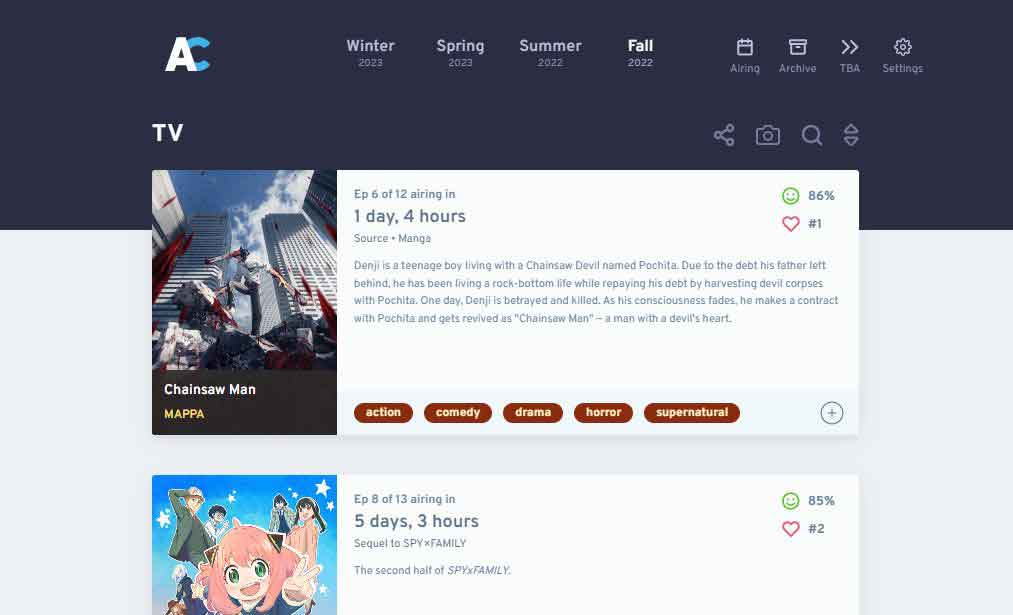 AniChart is also a reliable NYAA alternative that shows information about trending anime seasons, and its display makes users update their collection as soon as possible. The site also allows users to click on it and read information about it before adding it to their watch list. It also gives users the options of Dark mode with high contrast text and Multi-language, meaning users can stream the site with their preferred language.
Moreover, you don't need to pay anything to watch anime programs on this site.
It can sort the list according to the series name or the release year to view the relevant shows at the top. Use tags to search for similar anime series and save a series in a dedicated favorites folder to synchronize the data and read it on your other smart devices.
27. Funimation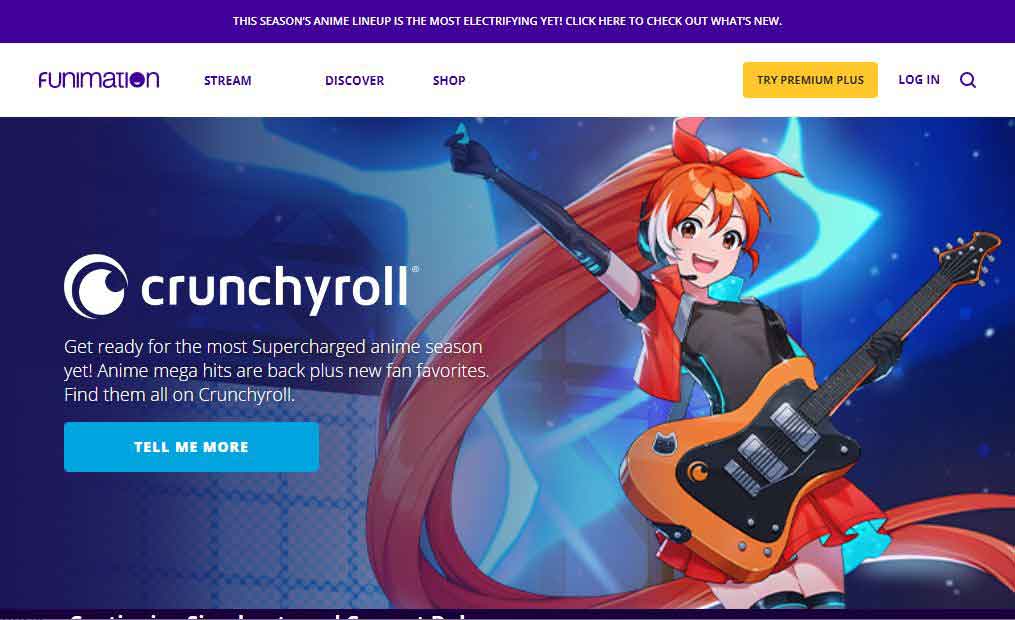 Funimation is a relatively new style website and mobile application that allows users to watch free anime online. It is another reliable alternative to NYAA and provides similar options with some additional features. The best thing about this site is its huge collection of old to latest anime with several different genres. Each category has titles you can explore to find your favorite anime show or movie.
Moreover, The site has a simple and easy interface that allows you to subscribe and stream anime. Funimation provides one of the most massive and amazing collections of English-dubbed anime with subtitles.
28. AnimeTosho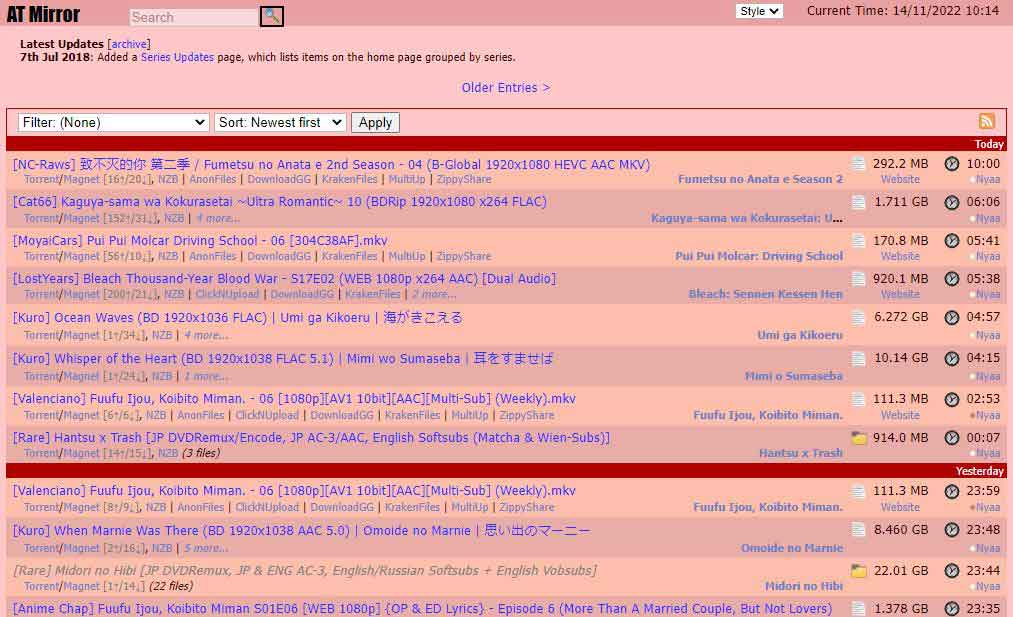 AnimeTosho is another great alternative to NYAA, which has the most active online community and provides a massive collection of free anime torrents. The site also provides various categories to browse and explore anime movies. The site gives a simple interface and provides content in several languages, including Chinese, Japanese, English, etc. It also indicates that users can access its service worldwide. It also allows users to stream anime movies online in HD quality.
Furthermore, the site offers content regarding anime and manga, so users can get to know the exact length of projects immediately. This way, users can save the effort of downloading trendy stuff on their computers and mobiles and watch them when they don't have internet access.
How a VPN Is a Helpful Tool While Using the Best NYAA Alternatives?
Downloading torrents has become a more risky business than ever. There's always a risk of downloading copyrighted content which can lead to legal troubles. Countries have different torrenting laws, so ISPs always monitor your activities. If they catch you doing something against the law, they send you a warning and DMCA letters, and even if you don't stop your activities, they involve the government in this matter.
The ISP troubles you even if your country's regional laws allow torrenting. Since torrenting consumes much of your bandwidth, optimizing the network traffic starts throttling your connection, and as a result, you experience slow downloading speed. Besides this, torrent websites show adverts that can track and gather information about your browsing habits. These ads can also contain malware and can target you with phishing attacks. Thus, using a reliable VPN on the best NYAA alternatives is crucial to ensure a safe torrent downloading experience.
A VPN compatible with torrenting will prevent all these issues in the following ways:
A trusted VPN provider hides the IP address and encrypts the torrent encrypts, meaning no one can know who you are, nor can anyone intercept the network traffic. This way, you can get around legal torrenting issues and ISP monitoring.
As a VPN offers unlimited bandwidth and a vast server network, you get fast downloading speeds by connecting to the remote server network.
Most reliable VPN providers use obfuscation technology to bypass internet censorship, geo-blocks and help access blocked NYAA sites.
A trusted VPN provider also offers malware and ad blocker features to ensure safety files containing malware or spyware. The adblocker feature blocks ads interrupting your downloading experience.
For all these reasons, using the best VPN for torrenting is recommended before signing up for any torrent website.
Final words
Undoubtedly, NYAA is one of the best sites for anime content but unfortunately no longer available for its users. But, these alternatives to NYAA discussed above can offer complete episodes of the latest anime series so that you can download anime from these sites instead. But if you are still worried about downloading torrents and want to remain anonymous, don't forget to use a VPN, which will help you hope your IP while streaming and secure you from viruses and malware.
FAQs
Why should we use a VPN for torrenting anime?
The VPN or Virtual Private Network, which allows users to connect to secure servers in countries with access to anime torrent sites. In other words, the device that users searching from masks up with the IP address of another country, therefore bypassing ISP censorship. Not only that it secure you form malware and viruses and safe your data form third parties
Are anime torrents legal?
The act of sharing torrent files is not illegal, but uploading and downloading pirated or copyrighted content is. However, there are strict rules in countries about illegal torrenting, but the legal action taken for the downloaders are relatively not so strict.
what are the features of top anime websites?
Some of the features that are really needed in the top anime site is huge database that provide massive collection of anime content for free. Moreover, users also need filtering options and regular updates in the content to get the most recent content to watch.