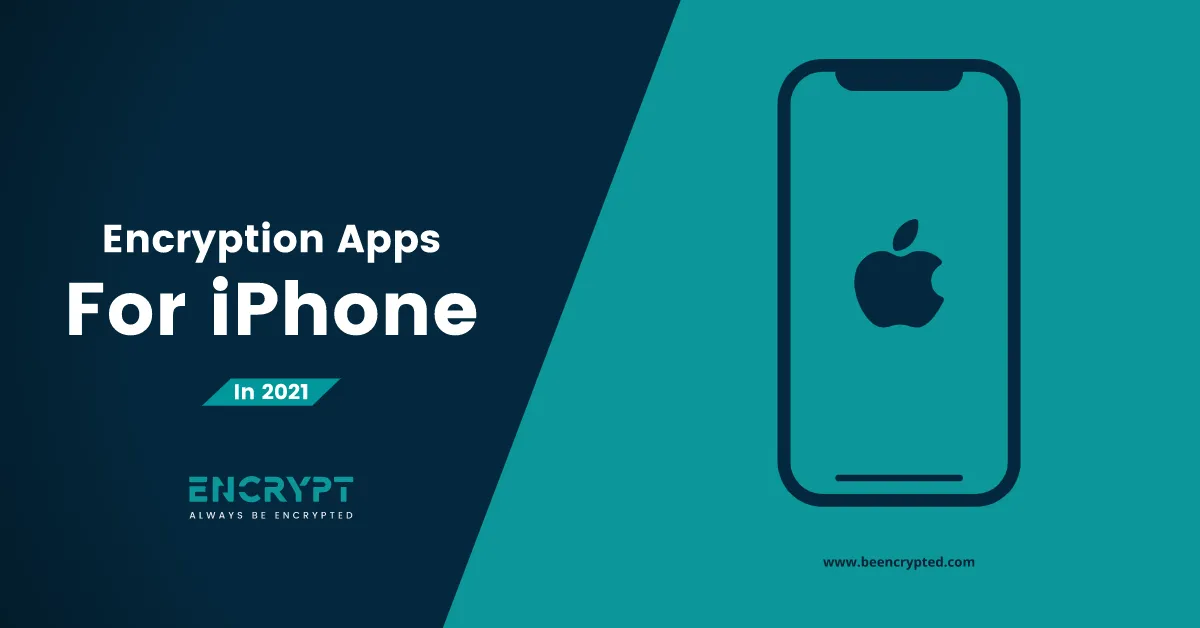 Here is a quick list of encryption apps for iPhone, whether it's communication through chat, email, or data. Here is everything you need!
It can be challenging to decide which encryption app is the best for your iPhone. It can be hard to know where to start with so many options to choose from. But with this list, you'll have all the information you need to make an informed decision!
One best way to protect your iPhone from such vulnerabilities and malware invasion is encryption. It is a process in which your data is converted into a scrambled and unreadable form that needs a decryption key to break.
We'll start by talking about why it's important to encrypt your iPhone. Then we'll show you how to do it. And finally, we'll recommend some of the best encryption apps!
Why It's Important To Encrypt Your iPhone
Many things can compromise the security of your data. Sometimes you might not even be aware of it if you're not tech-savvy. However, there are small things you can do to protect yourself and avoid having your information compromised. One of those small things is encrypting your iPhone.
Encrypting your iPhone takes only a few minutes, but it can provide you with peace of mind when using your device. To enable encryption, go to the settings on your phone and find "Passcode". From here, simply toggle "Data Protection" to on.
The Best Encryption Apps
iPhones come with simple default protection, but if you want something that's more effective and customizable, there are plenty of third-party apps out there for you to choose from. These three apps below are all great options:
1. 1Password
1Password Pro is great for individuals who want to keep track of their passwords. It allows you to store all your passwords in one secure location, so you can access them with just one tap. You won't have to remember them all if you have the data on your device. Plus, it offers TouchID support so you can unlock your passwords quickly.
2. BoxCryptor
BoxCryptor is great for individuals who want to encrypt their files on Dropbox or Google Drive before sending or storing them. You'll first have to download your storage app and install the encrypted file manager for your Mac or PC. Then, you can encrypt your files on either your phone or computer with a simple drag and drop motion.
3. DataVault
DataVault is great for individuals who want to do quick backups of their iPhones without compromising security. You'll first have to install the software on your Mac or PC, then download it from your phone as you would any other app. Then, you can do quick, encrypted backups of your device on your phone or on your computer.
4. iPhone VPN
A VPN is the best privacy tool to encrypt your data traffic and safeguard your data from all snooping eyes.
The best VPN for iPhone is the one that offers dedicated apps for different devices and operating systems. Fortunately, the best VPN providers are compatible with all major operating systems, including iOS. You can download the VPN app and can secure your data and browse anonymously.
When you connect to a VPN on an iPhone, it first establishes a connection and encapsulates the data into packets. The data packets then pass through the VPN tunnel where it is encrypted and goes to another end where the VPN server decrypts it and connects you to your requested website. The encapsulation process makes your data undetectable over the internet.
In this way, a VPN encrypts and protects your data. A VPN is secure and reliable to use because:
It hides the actual IP address and location by routing the traffic to a remote VPN server. In this way, you gain more anonymity and privacy over the web.
A VPN prevents ISP throttling and ensures that you enjoy a fast internet connection.
A VPN makes it impossible for your ISP to track and monitor your online behavior by hiding your IP address and encrypting your data.
It allows users to spoof their geo-location, access blocked streaming content, and download torrents.
Undoubtedly, VPNs offer the best encryption, but not all are trustworthy. Since they are vulnerable and come with several security risks, you should avoid using them. This especially goes for the free VPNs providers.
5. Encrypted Messaging Apps
On iPhone, you can get encryption by using various encrypted messaging apps. Some of the best ones are as follows:
WhatsApp
Apple iMessage
Dust
Wicker
ChatSecure
1. WhatsApp
WhatsApp is among the most commonly used messaging apps that allow people to exchange text messages, images, videos, files, voice messages, and post a status or make calls across the globe.
The messaging app is reliable to use because:
It uses an encryption protocol developed for Signal. Open Whisper Systems is the industry-standard end-to-end encryption protocol. Its primary purpose is to prevent third parties from accessing your messages, calls, and files you send and receive via WhatsApp.
If the encryption keys from a users' device got compromised, they can't be used to decrypt the previously transmitted messages.
The users exchange messages protected with a Message Key using AES-256 bit encryption and HMAC-SHA256 for authentication.
The instant messaging apps also have a Verify Security Code option. It allows confirming that all your calls and messages are secured with end-to-end encryption. You can find the code in a 60-digit number or a QR code.
WhatsApp doesn't store your messages once they are delivered. If your messages are not delivered, WhatsApp will keep them for 30 days, and if the messages are not delivered within this period, the WhatsApp server will delete all your messages.
The only issue with WhatsApp is its controversial privacy update. The instant messaging app in January 2021 updated its privacy policy. Since Facebook owns WhatsApp, it might give Facebook more rights for collecting users' data. Moreover, the flaw in the WhatsApp group-chat feature compromises its end-to-end encryption.
2. Apple iMessage
Apple's iMessage is another instant messaging app that you can freely download on all Apple devices. Besides allowing users to exchange text and video messages, it comes with end-to-end encryption to strengthen user privacy and security.
Apple's app is reliable to use because:
iMessage's end-to-end encryption protects messages only between iPhone users, making it the best encryption app for iPhone users. If you send a message to an Android user using the iMessage app, the text messages are sent as regular messages and are not encrypted.
The app holds the encrypted messages on its servers for seven days before they get wholly deleted.
Messages in the iCloud automatically sync messages both of SMS and iMessage on iPhones and other Apple devices. It also saves attachments in the cloud to free up device storage, and if you delete a message on one device, it disappears on all of them.
Besides these security features, iMessenger does have security flaws. The app fails to encrypt your metadata and also the data synced to iCloud. The sensitive information such as mobile numbers and contact lists are stored in plain text instead of hashes like the IP addresses and timestamps. If anyone invades your cloud network, they can access your device.
Moreover, research in 2016 revealed a flaw associated with Apple's encryption that can leave messages vulnerable to decryption. Although the flaw was patched up, this does not guarantee that such a thing can happen again.
3. Dust
Previously known as Cyber Dust, Dust is yet another private messaging app that uses end-to-end encryption to protect users' communication. Although it is not very popular among users, it's still the best to use.
Here are some of the reasons why you should use the Dust app:
It uses end-to-end encryption, a combination of AES-128 and 256-bit encryption, to encrypt your text messages, videos, and pictures sent via the app.
It allows you to permanently delete the message from the device within 24 hours or as soon as the recipient reads it.
It does not display user names in messages and informs when someone takes screenshots within the app.
The app comes with a privacy-watchdog feature and a stealth search tool to maintain user privacy while searching the web.
All your messages are not stored on your phone or the company's server. The messages are sent to the app's RAM till the receiver accesses them.
The only drawback of the Dust app is that it doesn't allow video or voice calls. Otherwise, there are no significant security risks associated with the encrypted messaging app.
4. Wickr
The best encryption app for iPhone users on our list is Wickr. If you are an Android user, you can also use this app. The encryption messaging app is available in both free and premium versions.
Like other apps in this article, Wicker is also secure and boosts users' digital privacy. It's reliable to use because:
All communications on Wickr are locally encrypted on each device, with a new key generated each time for a new message. The Wickr users have the keys to decipher their communication data. Besides encrypting user data and conversations, Wickr also encrypts the metadata transmitted through the network.
It comes with a Secure Shredder feature that adds an extra layer of security by ensuring that the deleted files can't be recovered with any advanced tool or security. You can also manually delete the messages from your phone.
On iOs, Wickr enables users to block third-party keyboards. It helps safeguard your information by preventing keyloggers from recording your usernames, PIN codes, and any other information that you typed in the app.
The app does not record your IP addresses or metadata. The annual transparency report also proves their stance.
By default encryption feature is turned on.
It is open-source software that supports the 2FA feature and allows users to self-destruct the messages.
Wickr is free from any significant security flaw and vulnerability. However, previously the app was criticized for keeping its software closed source. Also, the premium version is more feature-packed as compared to the free version.
5. ChatSecure
ChatSecure is an open-source and free encrypted app that's available for only iPhone users. Although it is the latest development, you should try the app at least once if you are a beginner.
The app was primarily designed to keep your communication secure and private. According to the website claims, it supports OMEMO and OTR encryption over XXPP.
The app comes with the following security-focused features:
It uses open-source cryptographic libraries to keep all communications private and secure.
The encrypted messaging app supports Tor. It means that users who are looking for encrypted messaging apps and private browsing experience all in one can use this app. You can connect your existing Google account or create a new account on XXMP server or Tor.
Though it is safe to use, the use of multiple protocols is its biggest drawback. A report revealed that ChatSecure 2.2 handles various protocols implemented in different sub-modules, which can become a reason to promise your privacy and security.
6. Wire
Another excellent encrypted messaging app is Wire that is worth trying. Like Wickr, Wire also offers end-to-end encryption by default to protect your files, images, conversation, and other private data to and from the app.
Wire app is an open-source and collaborative platform that has both free and pro versions. It's recommended to use because of its plenty of valuable features like:
The app uses its own Proteus encryption protocol that's based on the Signal protocol. The Proteus protocol uses the ChaCha20, Curve25519, and HMAC-SHA256 algorithms.
The video and voice communication uses the Perfect Forward Secrecy feature along with WebRTC.
The used protocols have an open-source code that's subjected to external security audits.
All the communications are end-to-end encrypted, and those messages that are still waiting to reach the recipients are encrypted and can't be read by anyone.
The app allows you to separate your personal and business communication by offering multi-platform cross-device syncing and support for multiple accounts.
While I reviewed Wire, I came across two significant issues. In May 2017, an article published on Vice.com told that Wire records and an unencrypted list of people you contacted using the app. The recorded information includes their email address and contact numbers till your account exists.
Moreover, Wire belongs to a Switzerland-based company that moved its company headquarters to the United States. It is alarming for Wire users because the data retention laws and internet privacy laws are applicable in the US.
6. Encrypted Email Apps
You can also encrypt your data and communication on your iPhone by using encrypted email apps. The two most commonly used encrypted email apps for iPhone are as follows:
1. ProtonMail
It is a Switzerland-based encrypted email app that provides robust security and protection while sending emails from your iPhone. It is an open-source service that uses end-to-end encryption to protect your emails until it reaches the recipient. ProtonMail is best because:
The app uses the PGP method for protecting email communication from the interception of hackers and other third parties.
It uses various encryption algorithms to protect your data like SHA, AES-128, 4096-bit RSA, etc.
The encrypted email app works on a zero-access mechanism, which means that only the recipient can view the Email when you send emails. Even the ProtonMail servers can't read the emails.
If the recipient is not a ProtonMail user, you can still send encrypted emails. It comes with a unique feature that, after encrypting the messages, leaves a link in the Email. The recipient can decrypt the emails by inserting a password that you've shared with the sender from this link.
It also offers an Authentication Logs feature. You can check your account for any suspicious login through this feature.
The iOS app enables users to use the AppKey feature. It adds an extra layer of protection and prevents hackers from accessing the data by verifying their identity.
The only issue with ProtonMail is its jurisdiction since it belongs to Switzerland, the EU Privacy and data retention laws are applicable.
2. StartMail
The next best-encrypted email app on the list is StartMail. It is run by the same group of people who own the StartPage search engine. It is a privacy-focused search engine that allows users to send encrypted emails and protects their data from any prying eyes.
StartMail is popular among the users because:
It allows creating unlimited disposable email addresses that are tough to trace back.
Like ProtonMail, it also uses the PGP communication method for sending encrypted emails to even non-PGP users.
Their privacy policy has mentioned that they don't store or share email logs.
It means it is free from recording or selling users' data. The app enables users to implement a two-factor authentication feature. It also ensures that your emails remain invisible even if someone knows about your password.
The encrypted email app is ad-free, which means it also protects against tracking and third-party advertisements.
It belongs to the Netherlands. The Dutch privacy laws are applicable, and since the Netherlands is a member state of the European Union, the mandatory data retention laws of the EU are applicable. Moreover, it is not free. You can try a free trial period before buying their premium subscription plan.
All of these apps are great options for encrypting your iPhone, both in terms of functionality and price. Many offer free trials so you can try them out before committing to a purchase.
Summary
To conclude, we all live in a digital world where nothing is more important than data security and privacy. If you are a privacy-conscious person, you should use the best encryption apps on your iPhone to protect it against hackers or other threat actors.
Hopefully, this article has provided you with all the information on the best encryption apps for iPhones. It's recommended to use these apps along with a VPN to gain maximum security and privacy benefits. Using a VPN along with these apps will double your device and digital privacy. So what are you waiting for? Hurry up and start using the encryption apps in combination with the best reliable VPN providers.