Here is a quick list of the best uTorrent alternatives that you can use instead. you might get more features from these alternatives and way better privacy and security.
Note:
It's highly recommended to use the
fastest VPN while torrenting
; it will provide better anonymity and security with the
fastest downloading
.
A quick overview of the best uTorrent alternatives might not satisfy your quest to find the best one for yourself. Thus, go through a much more detailed review of each uTorrent alternative as below:
With more than 100 million users and numerous impressive features, uTorrent was the most popular torrent client among the users. But, because several security issues compromise its reliability, users are now searching for alternatives. However, finding the best uTorrent alternatives is difficult, specifically since several alternatives have claimed to be the best.
Whether you're looking for a lightweight, easy-to-use client or one with more features, this article covers all of them. It looks at 11 of the best torrent clients available and explores what each one offers.
When looking for a uTorrent alternative, you should consider a few things include;
The number of features the torrent client offers
How easy the torrent client is to use
The speed of the torrent client
The size of the torrent client
The security of the torrent client
If you ensure these key points are taken care of, you can choose the best torrent client for your needs.
Important: Using the fastest VPN with Torrenting is always recommended – it will prevent privacy threats and provide consistent fast speed.
Best uTorrent Alternative That You Can Use In 2022
There are plenty of options when it comes to finding a good uTorrent alternative. This section explores some of the best uTorrent alternatives that are available. These torrent clients offer similar features as uTorrent, but also include additional features worth considering.
1. Frostwire – Is the best and most reliable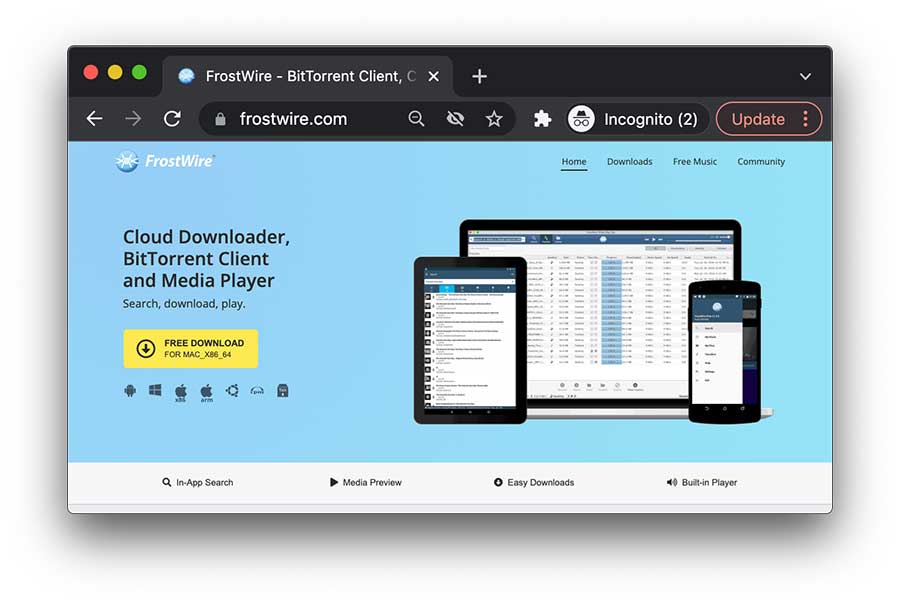 High-speed download.
Privacy-friendly
Easy to use and setup
Built-in search engine
Frostwire is another great alternative available. This torrent client offers similar features as uTorrent, but also includes additional features that make it a reliable option for torrenting. The torrent client allows the users to select a single torrent file or the entire torrent package to download.
One of the best things about Frostwire is that it has speedy downloads; thus, it is one of the fastest torrent clients available. This makes it an excellent choice for those looking for a high-speed download. Another impressive feature of this uTorrent alternative is the in-app search feature. The users can connect to different search engines and cloud sources to find public domains and free downloadable files. You can even set filters and search a file according to your preferences. Also, with this feature, you can see the search results in your app and don't even need a browser.
With Frostwire, you can stream files from the cloud before downloading. Moreover, it allows you to organize torrent file in the Frostwire library. Another vital thing to note about Frostwire is that it is very privacy-friendly. The client does not keep any logs of your activity. Therefore,  you can rest assured that your privacy will be protected. Frostwire offers multiple device compatibility and can easily be used on Android, Apple, and Windows platforms. 
2. Transmission – Light and Fast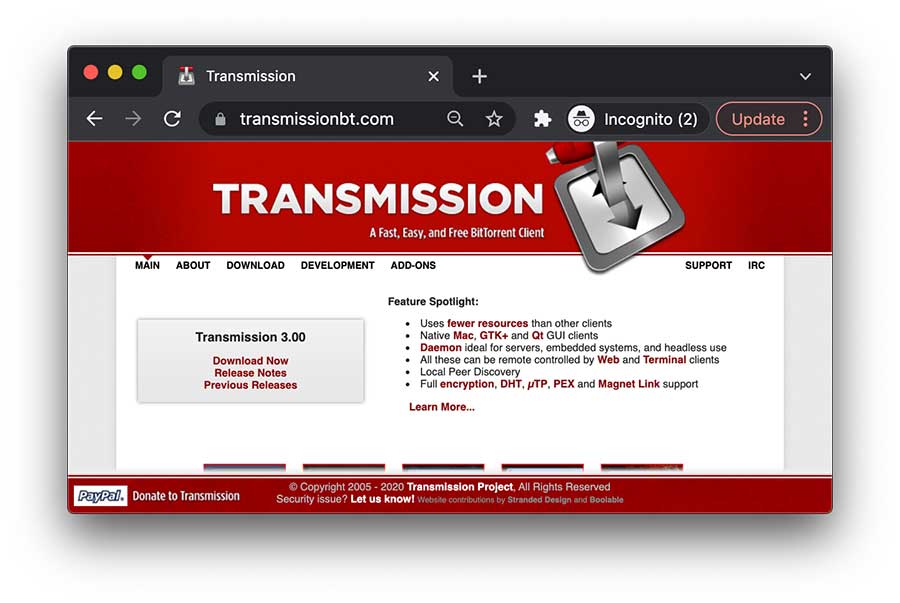 Ad-free downloads
Magnet links
Global and per-torrent speed limits
Selective downloading
Transmission is one of the best uTorrent alternatives you can consider using on Linux and Mac devices. If you're a Ubuntu user, the Transmission torrent client comes pre-installed. It is a lightweight torrent client that offers a simple and sleek interface. Since it is open-source software, it offers various customizable options and features that ensure a better user experience. The best part about Transmission is that it provides privacy features like encryption, IP filtering, and support for various add-ons, making it a good option for those looking for a safe torrenting experience.
Other notable features include; web seeding MSE/PE, magnet URLs, tracker editing, and selective downloading. It also offers a fast downloading speed that enhances your torrent downloading experience.  The client is free and doesn't ruin your torrenting experience with pop-up ads. It is available for Windows, Mac, and Linux operating systems. 
3. BitComet – Another Great option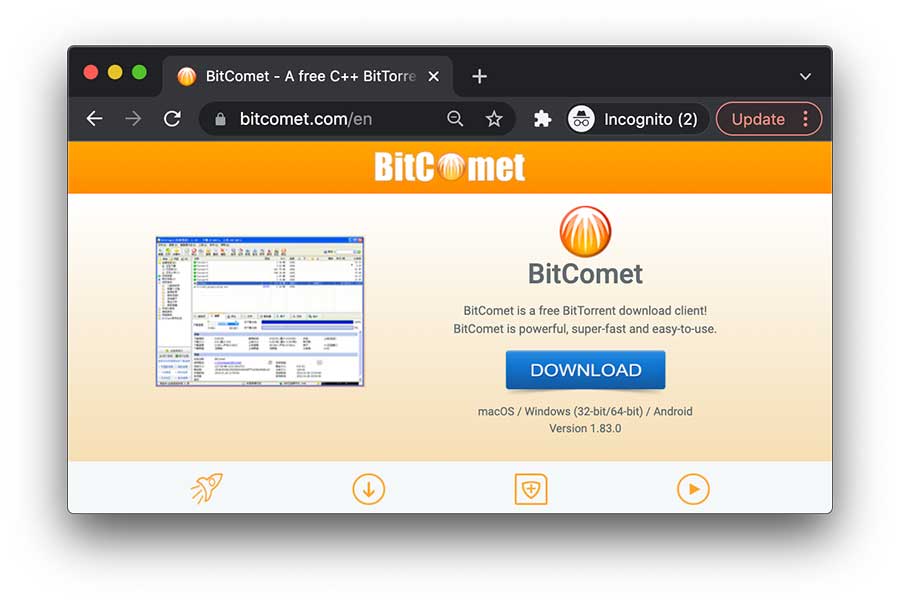 Bandwidth management
Schedule downloads
Global and per-torrent speed limits
Preview while downloading
BitComet is another uTorrent alternative that you can use. It is a free torrent client that offers many impressive features and results in an improved torrent downloading experience. The BitTorrent technology is well integrated into the HTTP/FTP downloads that make BitComet automatically search other clients and get data from them to speed up the downloading process. Doing so will not take extra bandwidth which is a good sign. The torrent client even solves seeding issues and ensures a hassle-free downloading experience.
The torrent client is an excellent option because it uses the unique long-term seeding technology that helps find more seeds and thus improves overall performance. Moreover, it has a simple and easy-to-use interface that doesn't trouble the users. You can also add filters to your torrents and control the number of connections. BitComet also supports magnet links and has a built-in player for previewing media files. It's far better than the uTorrent in terms of privacy and security. 
BitComet is the best alternative to uTorrent because it is among the few torrent clients that protect the hard drive from getting damaged by caching the data in the memory. You can download it on your Android, MacOS, and Windows devices so, do try it out.
4. qBittorrent – Is great for privacy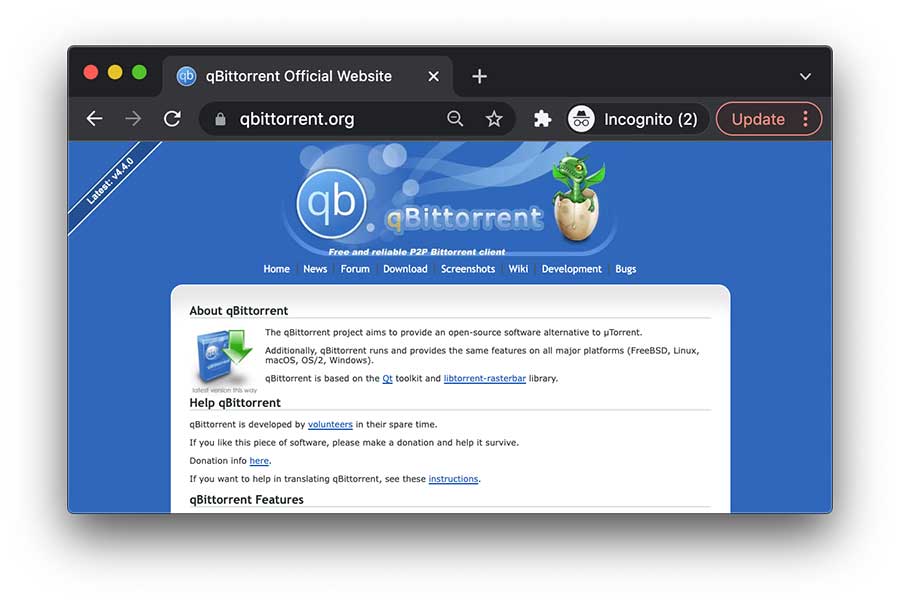 Polished UI
Open-source
GPLv3 license
No ads
IP filtering
qBittorrent is an open-source torrent program that is free to use and free from adware and malware. Despite being filled to the brim with tons of advanced features and customized setting options, it is simple to use.
The software works fine across all devices and operating systems with ease. It features a seamlessly integrated search engine that instantly gives you access to the torrent file you need.
Moreover, it allows you to simultaneously search for multiple files. You can initiate a category-wise search or even partake in sequential downloading to save time. The tool also features a UI lock, which can be established to prevent unauthorized access to the software. Besides this, it also offers encryption, making it one of the best uTorrent alternatives.
The torrent client is compatible with Windows, MacOS, and Linux platforms.
5. BitTorrent – lightweight and free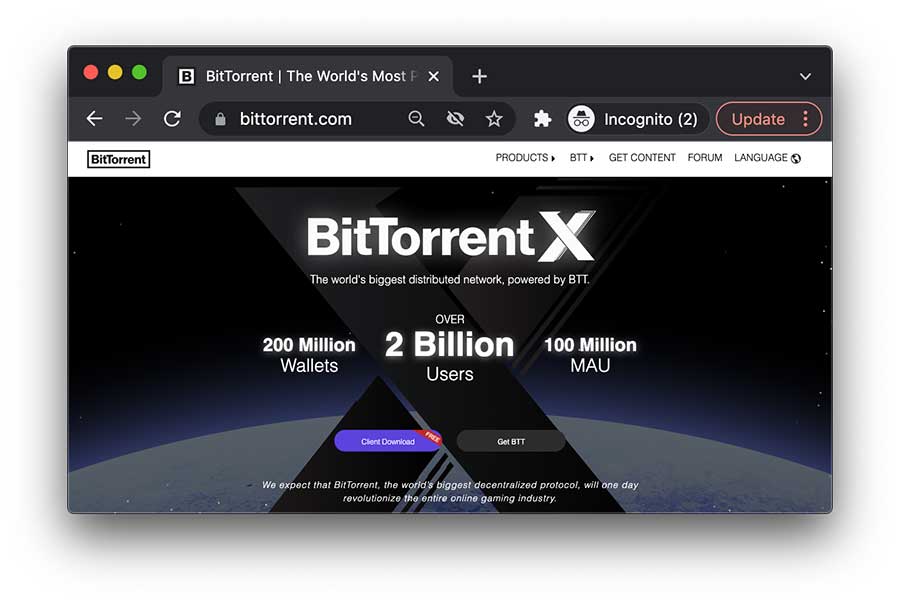 Schedule downloads
Search based on categories (music, movies, software)
Set cap on download/upload speeds
Limit bandwidth usage
BitTorrent is one of the oldest torrent clients on this list. It comes with a plethora of features that cater to both amateur and advanced users. You can tweak its setting to schedule downloads, limit bandwidth usage, put a cap on download and upload speeds, and manage paired devices.
This torrent client has garnered a loyal user base by facilitating them with advanced features and a sleek yet simple UI. Users will find advertisements in the software. If they bother you, you will benefit by paying a small fee to subscribe to its pro version instead.
The Pro version comes with its own set of advanced features, including the ability to stream torrents as the download is in progress and access the built-in media player.
6. Vuzu – really safe for downloading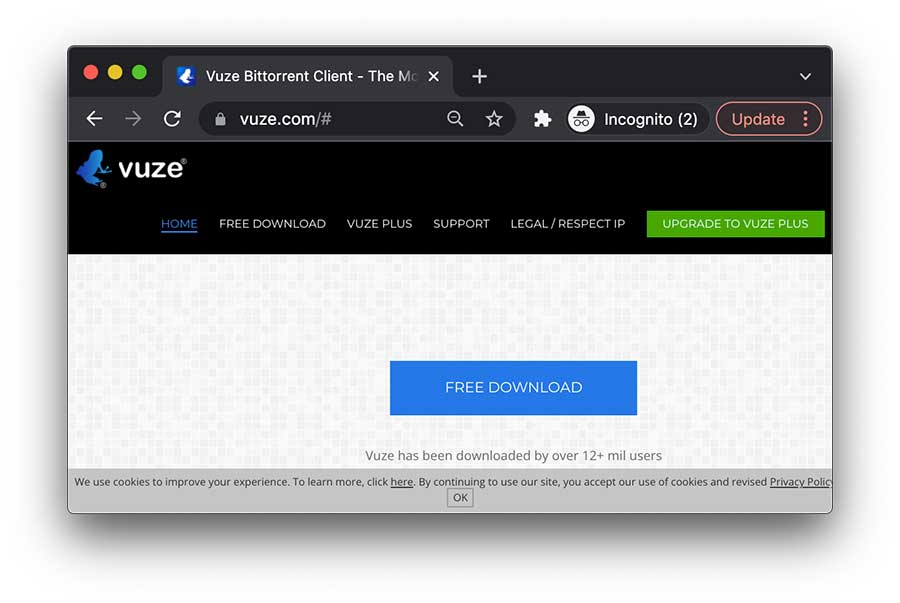 Simple and clean UI
Remotely control tool via mobile app
Magnetic link support
Integrated search option
Vuze is one of the earliest BitTorrent clients; thus, you will notice some similarities between its UI and other popular torrent clients over the years.
Searching and downloading torrent files is hassle-free with Vuze. It is designed to prioritize simplicity, and its basic UI exemplifies this. There are advertisements, but they are minimal and do not hinder one's user experience. You can get rid of those advertisements anyway by switching to its paid version – Vuze Plus.
Vuze offers features like anl integrated search option, magnetic link support, and the ability to remotely control the software via a mobile app. Its Premium version goes a step further and allows users to preview files in its in-built media player while they are being downloaded.
7. Deluge – simple to use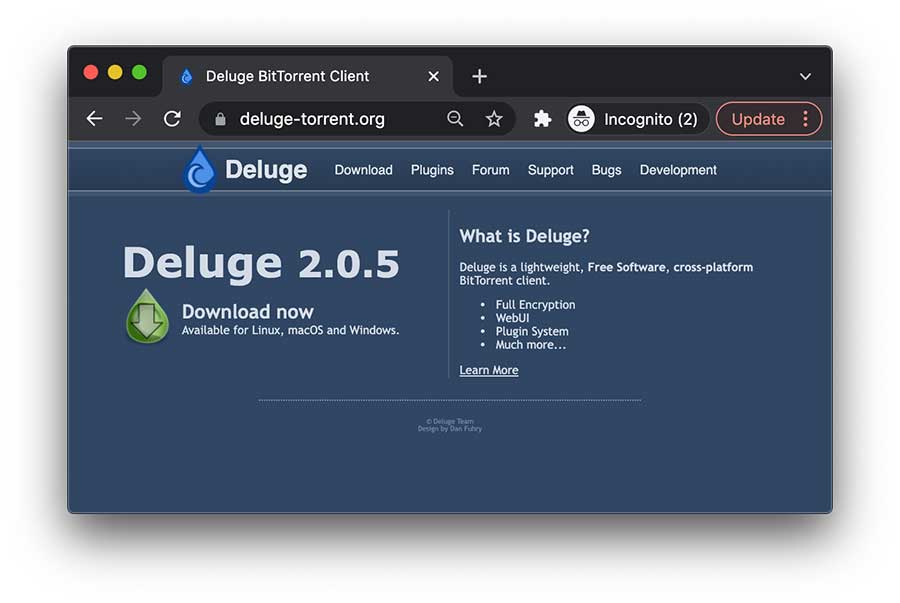 Lightweight and simple to use
Local peer discovery
Set Global and Per-Torrent bandwidth limits
Clean interface for a fast download
Deluge has been around for a few years and remains one of the best uTorrent alternatives. It is a lightweight and fast torrent client that doesn't sacrifice features for simplicity. It also supports first and third-party plug-ins.
The torrent client has a clean and intuitive interface that lets you download uTorrent files quickly. It is an open-source client with a wide range of features and customization options. One of the best things about Deluge is its lightweight footprint, as it hardly takes any system resources.
It is compatible with Windows, Linux, Mac OS X, FreeBSD, OpenBSD, and Solaris. But, while using this alternative, you couldn't have the built-in torrent search engine that doesn't impress the users. Overall, it is a solid uTorrent alternative for BitTorrent users.
8. Bitport.io – Cloud base Client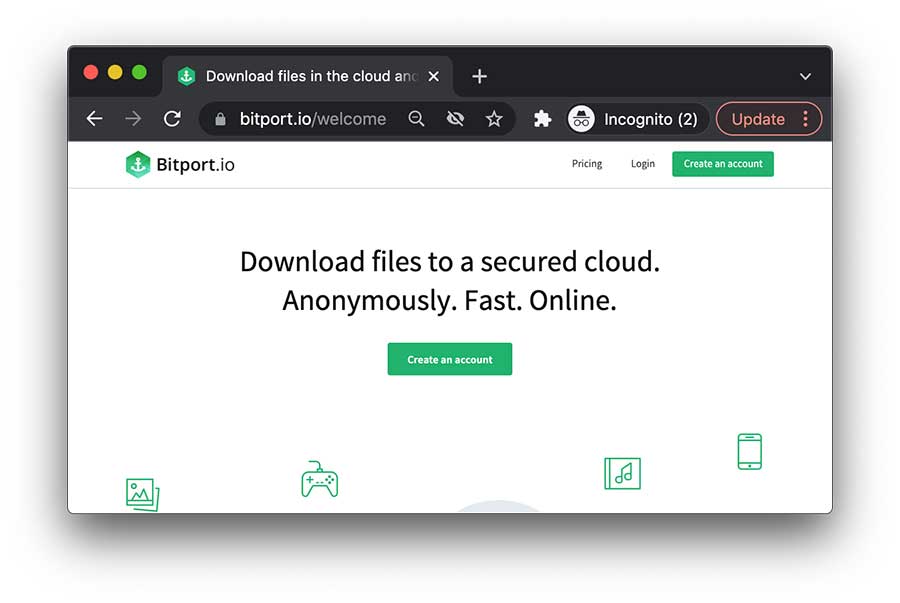 Cloud-based – easy to use and manage torrent files
Secure storage of files
Accessible from any device
Bitport.io is a cloud-based torrent client that is very easy to use. You can easily find and add torrent files, and the files are stored securely on the cloud. The clean cloud-based UI makes it easy to manage your torrent files, and you can access them from any device, anytime.
The torrent client doesn't require you to download a program or client separately. All you need is a common browser. It is available in free and premium versions. The pro version offers more features than the free version. If you want to try it so you can and if not satisfied, you can avail of the 30-days money-back guarantee offer.
9. Tixati – Basic UI and Easy to use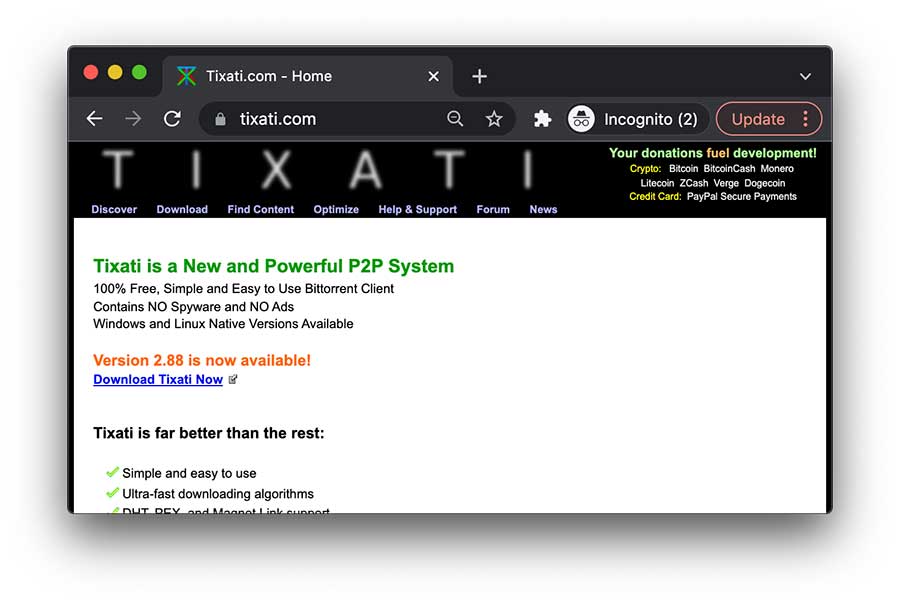 Basic UI, which is easy to use
No spyware or adware included
Complete Bandwidth Management
DHT, PEX, and Magnet Link support for enhanced user experience
Users can set bandwidth limits and caps on both upload and download speed
Tixati is a good BitTorrent client that is ad-free and malware-free. It has a simple user interface that enhances your overall experience.
Besides this, Tixati provides increased user security by supporting forced RC4 encryption and SOCKS5 proxy. The proxy server hides your IP address and makes you anonymous over the web. With Tixati, you can also manage your downloads by filtering out the harmful IP address and setting a limit to your bandwidth.
Overall, Tixati is a good BitTorrent client with a simple and ad-free user interface with enhanced features. Also, it's available for Linux and Windows devices.
10 -BiglyBt – Ad-free experience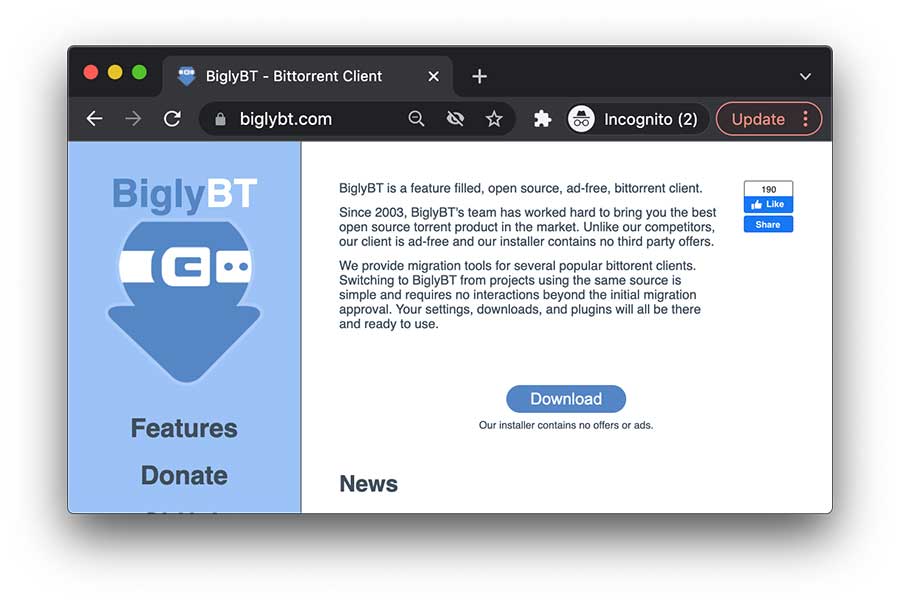 Ad-free experience
Support for third-party plug-ins.
Schedule your downloads
Set bandwidth limits
Filter your torrent results
BiglyBt is a good BitTorrent client for those looking for an ad-free experience. It comes with all the features of the best torrent clients, plus additional support for third-party plug-ins. You can customize your experience with various setting options, schedule your downloads, and more. Its swarm merging feature detects similar files in multiple torrents and merges them together to speed up the downloads. Hence, in this way, you can enjoy fast downloading speeds. Another impressive feature about this uTorrent alternative is that it allows users to create and share their subscription feeds with others.
The torrent client maintains your online security by using a unique security mechanism like VPN detection. Moreover, it also offers support for I2P that helps in anonymous downloading of torrent files and ensures to keep your identity hidden. The torrent client is compatible with all major devices and operating systems like Android, MacOS, Linux, and Windows.
11. WebTorrent – Free To Use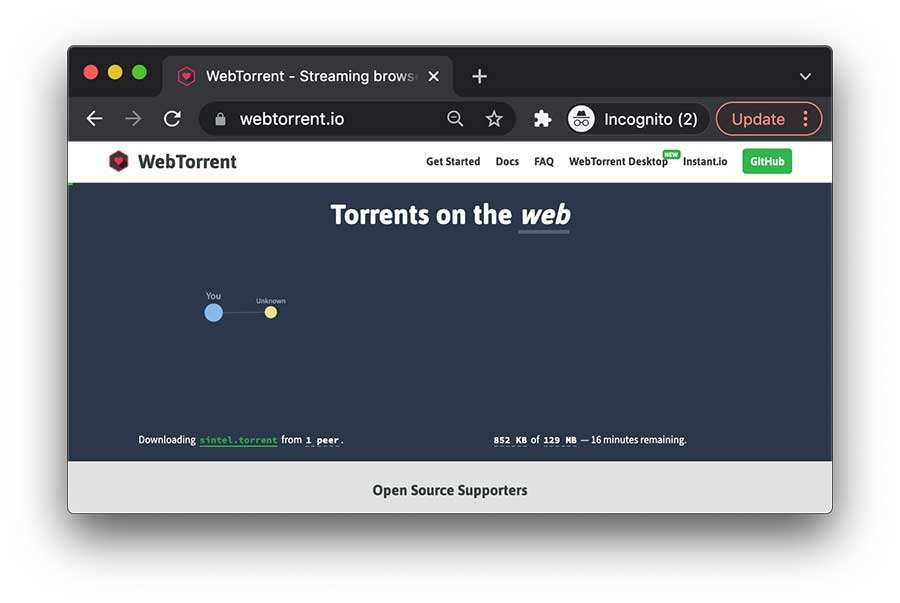 Streaming torrents without downloads
Integration with multiple operating systems
Free to use
WebTorrent is a desktop torrent client that allows you to stream torrents without downloading them.  The torrent client is lightweight and its interface is also sleek and attractive and users don't find it difficult to use it. It has many impressive features that improve your torrent downloading experience. Like, you can use the drag-and-drop feature and can easily add and download the torrent files of your choice. Moreover, the web torrent feature extracts file pieces from the network and downloads them instantly. 
This is free, open-source, and non-commercial and integrates well with multiple operating systems. However, it is still in beta mode and has a long way before it realizes its full potential.
Is QBittorrent Better Than UTorrent? 
qBittorrent is a great alternative for those looking to minimize their dependence on the ever-changing world of BitTorrent. It has all the features of uTorrent and some that are new and unique.
qBittorrent uses a more open IPC system, allowing for better scaling over many connections, which means less memory and CPU usage stress. AFAIK, qBittorrent creator Phillip Piratin has included logic optimizing peer selection with effort-based ranking. In essence, qBittorount prioritizes downloading from 'the fastest' sources while still giving due consideration to what will eat up your available upload limit, least between two connected peers connecting from the same torrent/magnet link.
Conclusion
The list above has the best option you can choose in place of uTorrent. All the torrent clients mentioned have some similarities and better offerings than uTorrent. Hopefully, now you can find the ideal uTorrent alternative from the list. Tell us which torrent client you picked as a replacement for uTorrent, and write the name in the comment section below.