A free web proxy service is perfect for protecting your online identity and browsing the web anonymously without investing in a paid tool like a VPN. They enable users to browse the web without facing any restrictions anonymously. But since most proxy services log your activities and sell your data to advertisers thus, you should look for the best free proxy services.
A web proxy acts as an intermediate gateway between you and the internet. They route your data traffic via its servers, thus changing your IP address and protecting your online privacy. Also, they're helping to get around firewalls and internet restrictions imposed by the government, ISPs, workplaces, and schools.
The following article looks deeper into the best free proxy services and what extra features they offer to bypass internet restrictions.
How do proxy websites work?
When using a browser to access a website, you send a direct request to the web server via their IP address. The web server then responds with the website data back to your browser.
On the other hand, a proxy server operates as an intermediary between you and the website you want to visit by facilitating web requests and responses. When you send a web request, it initially goes to the proxy server. It then makes the web request on your behalf, gathers the response from the web browser, and sends the web page information to your browser. Proxy servers can alter the data you submit while forwarding your web requests and still receive the information you want. Moreover, a proxy server conceals your IP address and encrypts your data, enhancing online privacy.
13 best free proxy services in 2023
Let's take a deeper look at the proxy services listed above so you can better understand their functionality and benefits and decide for yourself.
1. ExtremeVPN Proxy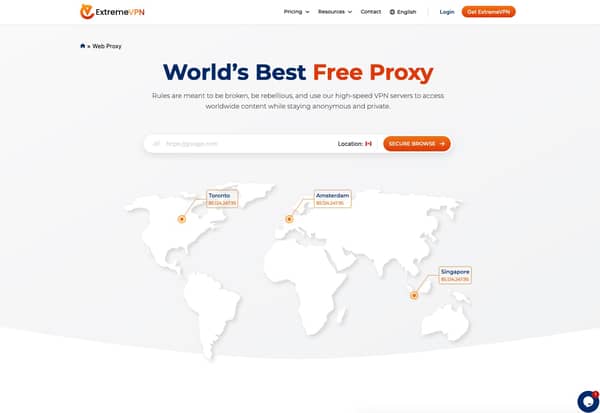 ExtremeVPN free web proxy is the most reliable and fastest one we have experienced. It masks your IP address and ensures you are secure and anonymous online.
Canada
Singapore
Netherlands
The proxy is currently working in 3 countries (Canada, Singapore, and the Netherlands), but you can customize it manually with many options.
The service promises top-notch and dependable privacy and security online. Plus, it works extremely well with Google Autocomplete searches.
ExtremeVPN proxy helps you bypass firewalls and access any website. You can customize your privacy by encrypting URLs, blocking pages, and disallowing cookies.
2. Hide.me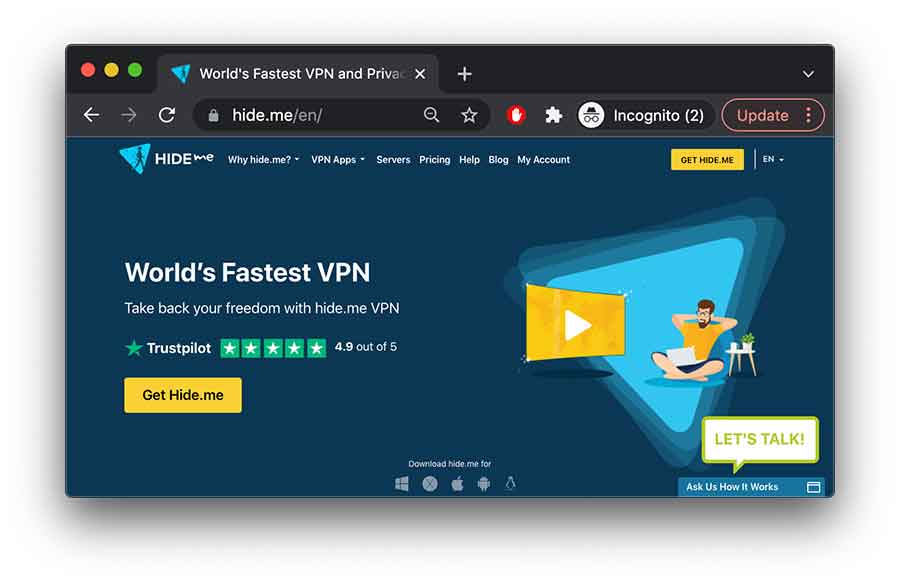 Hide.me has been famous till now for offering VPN service, but it also provides a free proxy service that helps maintain your internet privacy when you don't want to invest in a VPN. The proxy is free to use and offers three server locations:
Netherland
Germany
Finland
It is the best free proxy service because the proxy servers don't store the activity logs or your IP address and thus ensure maximum anonymity on the web. It also maintains your online security as the servers support secure WireGuard, SoftEther, IKEv2, and OpenVPN tunneling protocol.
With Hide.me proxy, you can bypass the firewalls and access any site. You need to enter the website URL in the search bar provided and enter. The proxy even allows the users to customize their internet privacy how they want. It means you can encrypt your URL and pages, disable cookies, remove objects and scripts, and stop leaving any tracebacks.
The website claims to have more than 25 million users globally, and this popularity is because of its multi-platform functionality. You can download the proxy on your Windows, Android, and Apple devices without hassle. The downloading process is simple and the same as any other proxy service. All BitTorrent clients support it and even offer the SOCKS5 feature to hide your IP address and speed up your connection while torrenting. Moreover, it also provides a browser extension for Chrome and Firefox and further boosts your privacy.
Since it has servers in three countries, the ping time is longer than usual, resulting in slow connections. Also, watching streaming content on Netflix and Amazon Prime becomes challenging because of the limited server network.
3. HideMyAss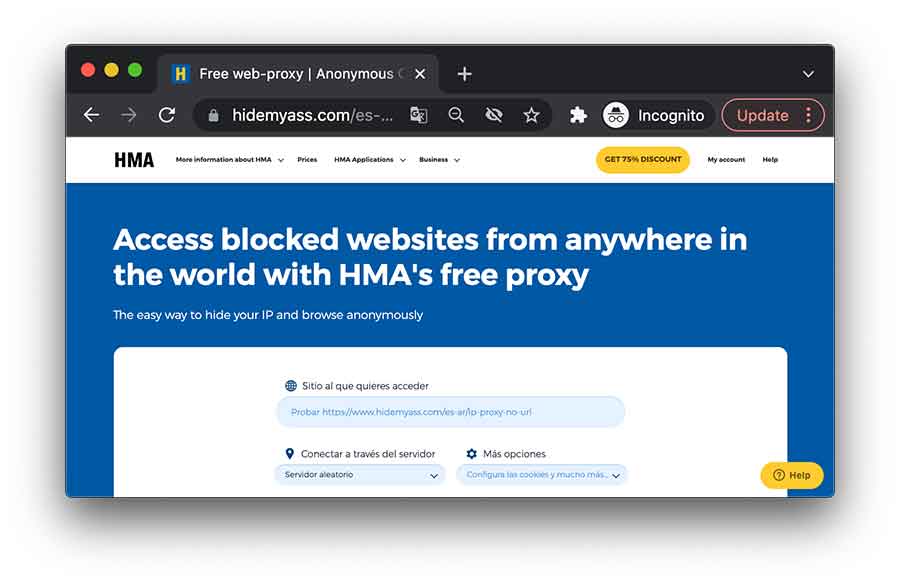 HideMyAss is another free proxy service you can consider using to hide your online identity and access blocked websites. Though the server network is limited to five countries, some prominent countries still help access regional and international sites. Its servers are present in:
Czech Republic
Germany
Netherlands
UK
US
This proxy is an excellent option for accessing Facebook or YouTube at work or school. You can even stream the US, UK, and German Netflix libraries. But since the server network is not as vast as a VPN, it might affect your streaming experience.
It has a similar user interface as Hide.me; to access any blocked site, you need to enter the URL in the search bar. It is a reliable free proxy service to encrypt the URL pages and remove cookies and scripts if you want. Besides a free proxy, HMA allows you to test whether your DNS and WebRTC leak your IP address.
Other impressive features that HMA offers are unlimited bandwidth and an ad-free browsing experience. Throughout your browsing experience, you won't be interrupted by pop-up ads that the users like the most.
You can download it on all popular devices and operating systems like Android, iOS, macOS, Windows, and more. Also, you can use the free proxy service with HMA VPN as it encrypts the data traffic and provides more protection on the web.
However, like other proxy services, it lacks the SOCKS5 feature.
4. Hidester Proxy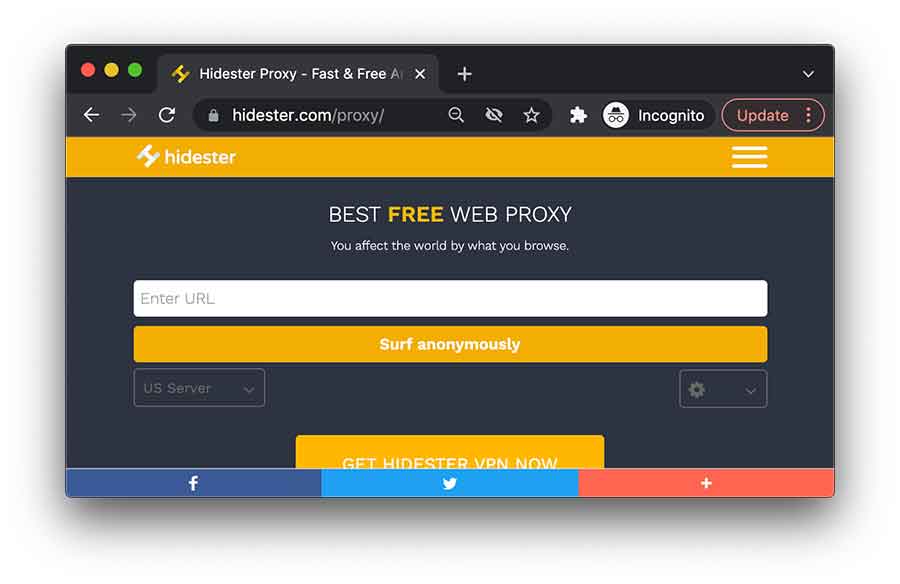 Another best free proxy is Hidester, which is simple and easy to use and offers a similar user interface and experience to Hide.me and HMA. To use Hidester proxy, open your browser and enter the website, and you get connected automatically. It also means you don't need to download any additional app or software to make it work.
Hidester is a safe proxy because it instantly encrypts your connections using 128-bit encryption and maintains higher levels of online security. It doesn't store cookies and removes unwanted scripts making you more private on the web. It also neither logs nor shares your logs with any third party.
Moreover, it uses impressive SSL technology to protect against malicious scripts and hackers trying to steal your sensitive data. It even protects public Wi-Fi connections and thus makes it the best free proxy to use today.
With Hidester proxy, you can bypass government, ISP, and employer restrictions and access any website you choose.
Unlike other proxy services, the Hidester server network is limited to only Europe and the US. For this reason, you might experience slow internet speed if you're using it from other locations, which might ruin your browsing experience.
5. Whoer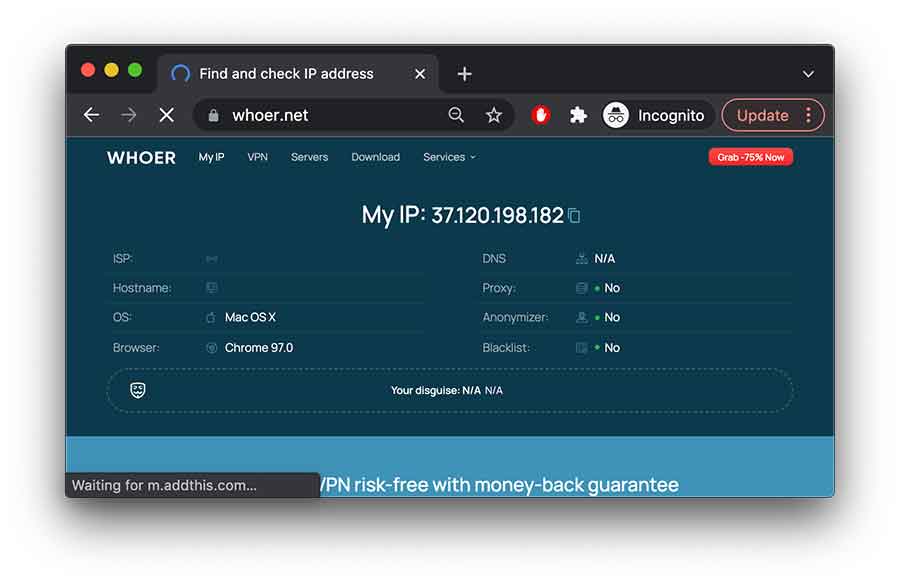 Whoer is another premium VPN provider that offers a free web proxy service. It allows you to circumvent internet restrictions and access blocked sites. It changes your IP address and ensures maximum anonymity over the web. The server network is not much extensive but covers major countries like:
Netherlands
Moscow
London
Paris
Saint Petersburg
You can retain greater online anonymity with Whoer proxy because it protects from WebRTC leaks that can, in turn, expose your actual IP address. The free proxy service is only available as a Chrome, Firefox, Opera, and Yandex browser extension. To use Whoer, you must install the browser and the extension and click the start button to access the blocked sites.
Moreover, it uses SSL encryption to hide your data and activities from privacy invaders. However, the proxy does come with some significant drawbacks.
Unlike other proxy services, Whoer offers limited bandwidth that can impact the speed. Moreover, as the server network is not extensive, selecting a proxy other than the assigned countries is impossible.
6. ProxySite
Another reliable proxy service that allows you to surf the web freely and anonymously is ProxySite. Like other proxy services, it also has a premium VPN with added benefits and features to ensure robust online protection and security on the web.
With ProxySite, you can easily unblock Facebook and YouTube at your alma mater and workplace and have some entertainment breaks without anyone knowing. It uses an SSL connection for encryption and helps bypass the firewalls efficiently and without hassle.
The best thing about this free proxy service is its gigabyte network that helps load the web pages faster and ensures fast browsing speed. Moreover, when this combines with SOCKS5, it provides ultra-fast internet speeds.
Another feature of ProxySite is its server network. It offers over 20 UK and US servers and helps cover your digital footsteps.
7. VPNBook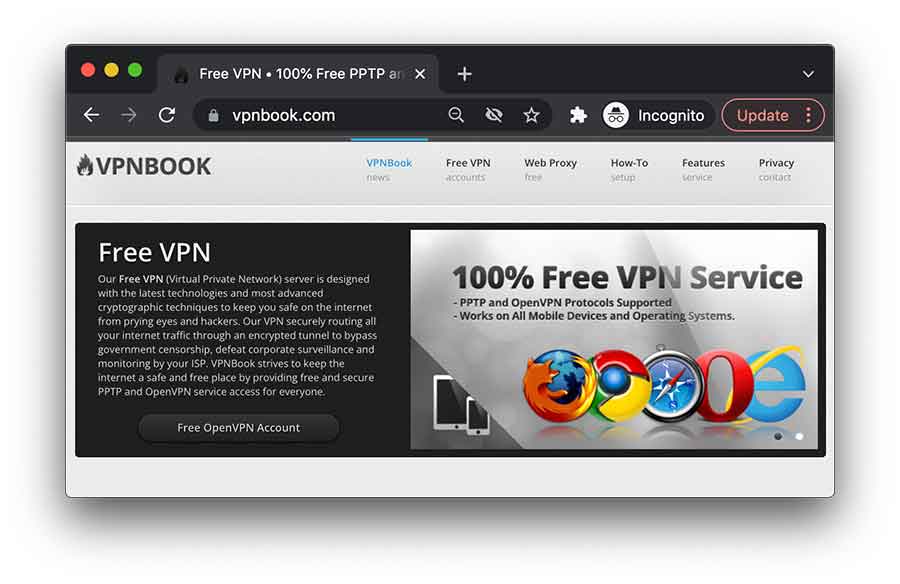 VPNBook is another excellent option to use and enables you to unblock any website or service. It is a popular free proxy service that doesn't block ports and allows you to play regional-blocked games. It is the best service for unblocking Facebook, Twitter, and YouTube anywhere.
The proxy service offers multiple servers at four locations, including:
The speeds offered are pretty decent and help get around the internet restrictions. It is a secure proxy service because it doesn't track and record your IP address and other connection logs. Moreover, it increases your online security using 256-bit SSL encryption and safeguards your data from all snooping eyes.
Like HMA, VPNbook is also a browser-based proxy service that doesn't require additional software for downloading.
It is an excellent service to access blocked sites while hiding your identity. But on the downside, it is not free and would ruin your browsing experience with pop-up ads.
8. MegaProxy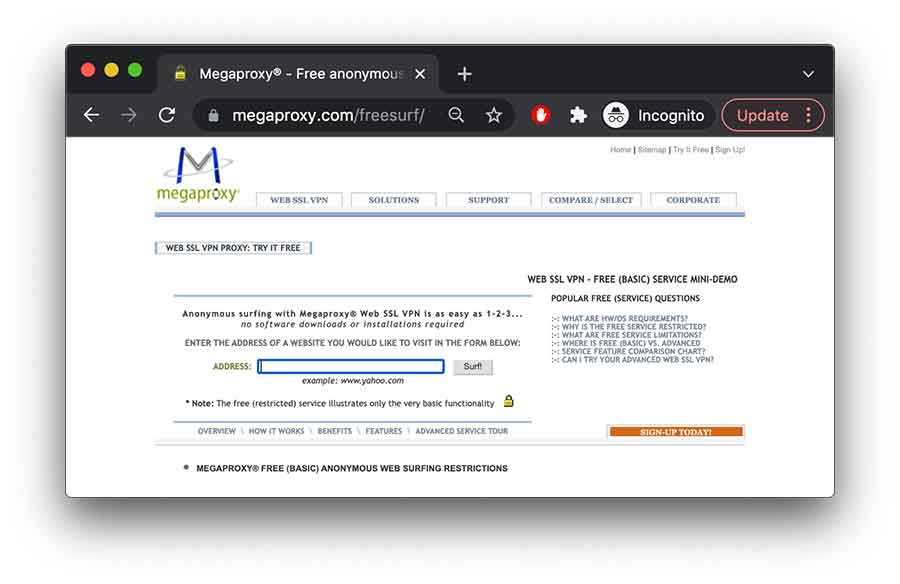 Megaproxy is another free proxy service that hides your browser and operating system and boosts your online anonymity, besides masking your IP address. It offers servers in the following countries, namely:
Canada
France
Holland
Italy
Germany
USA
By choosing a country of your choice, you'll get the country's specific IP address and begin surfing the web anonymously. It offers fast browsing speed and enables users to unblock Facebook, YouTube, and other related sites in a quick time. Moreover, you can even unblock geo-blocked content and websites by using Megaproxy.
Another best thing about this proxy service is that it filters out the content and web pages and ensures a smooth browsing experience. However, unlike other proxy services, it doesn't offer browser extensions or any other added features which might compel users from not using it.
9. Anonymouse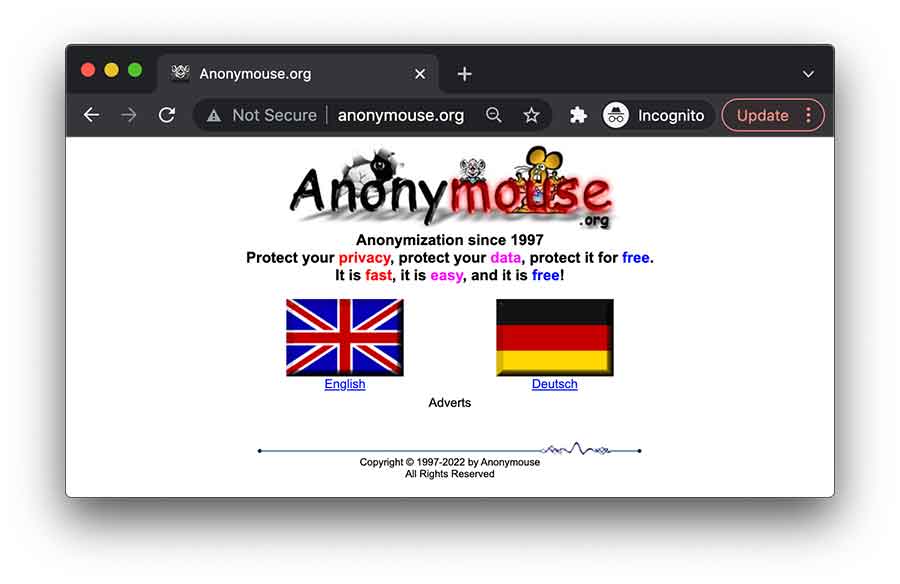 Anonymous is the oldest, most accessible, easy-to-use web proxy that ensures an ad-free browsing experience. It offers unlimited bandwidth and encrypted connections that help maintain higher levels of online security.
The interface is pretty outdated; however, the same usage process. It provides no information about the server locations and lacks browser extensions and other notable features, such as removing scripts and blocking cookies on its main page. You need to enter the website URL to unblock any particular site.
10. Kproxy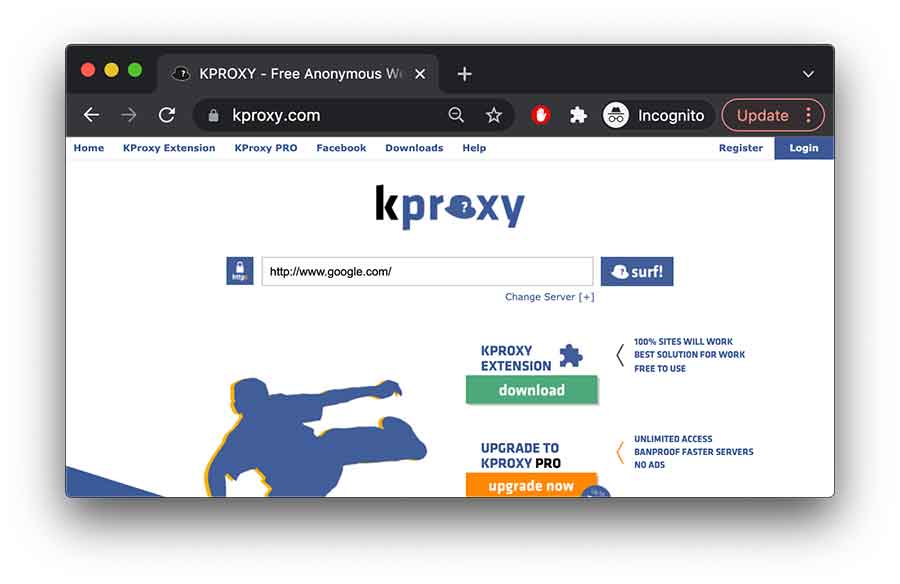 If you're looking for the best free proxy service, you should try Kproxy. It is one of the oldest proxy services operating since 2005, helping more than 1.5 million people maintain higher levels of internet privacy. Since it is free to use, it doesn't come with a registration process, and you can download it on your device and enjoy an ad-free browsing experience.
It offers browser extensions for Chrome, Firefox, and Microsoft Edge. These extensions are safe because they encrypt the connection between your browser and the target server, making it impossible for any prying eye to steal your valuable data. Moreover, you can easily switch between the servers located in:
With Kproxy, you can bypass online blocks and restrictions and easily access the blocked content and websites without anyone knowing. Besides this, the proxy provides various other impressive functionalities; by default, it protects from IP leaks and even offers a WebRTC protocol that helps access the blocked sites.
You can even upgrade to Kproxy Pro and enjoy unlimited downloads, no overloaded server issues, and unlimited usage of Kproxy extensions. However, you can avail of the 30-day trial period if you are unsatisfied with the service.
11. IPRoyal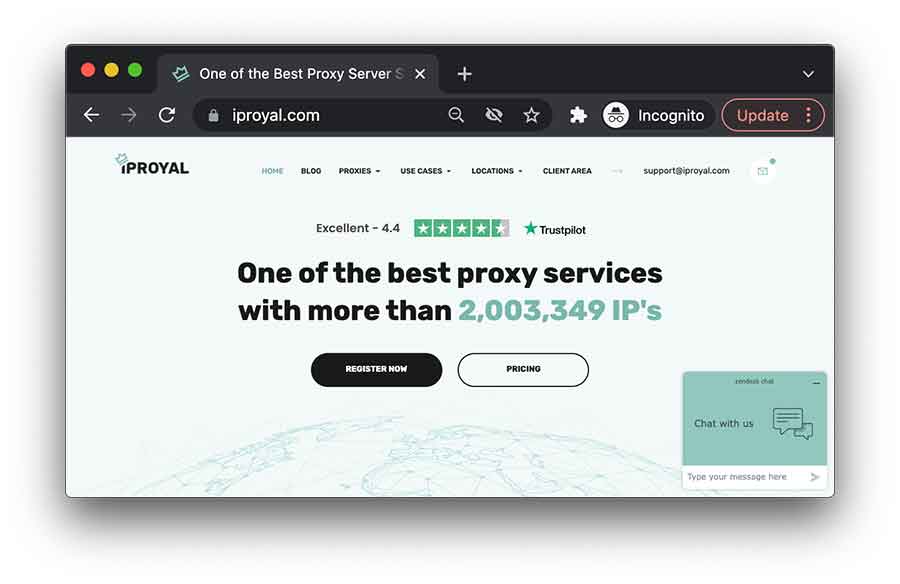 IPRoyal is another best proxy service that holds more than two million IP addresses. It offers four different proxies to the users: residential, data center, sneakers, and static residential proxies. Whether you're looking for a proxy service for individual or business use, IPRoyal caters to your needs. All your sensitive data remains protected from snooping eyes by using these proxies.
It is the most preferred choice of the users because of its extensive global server network that's spread in all popular locations like:
Australia
Canada
China
France
Russia
The United States of America
Another reason for IPRoyal's popularity is that it uses a SOCKS5 proxy that boosts your security by using various authentication methods to process the data. Also, it uses partial HTTPS encryption to establish a secure connection between your device and the internet.
The proxy ensures anonymous browsing by adding a security layer and minimizes the risks of data breaches and cyber-attacks. It is a common myth that proxies slow down the internet speed, but if you use IPRoyal, it saves bandwidth and provides a faster internet connection. IPRoyal proxies reduce the server loads on corporate networks and improve overall efficiency.
The only thing that people don't like about IPRoyal proxies is that it doesn't come for free. But, as the prices are pretty low, starting with $3 per GB, you can consider investing in them.
12. GeoSurf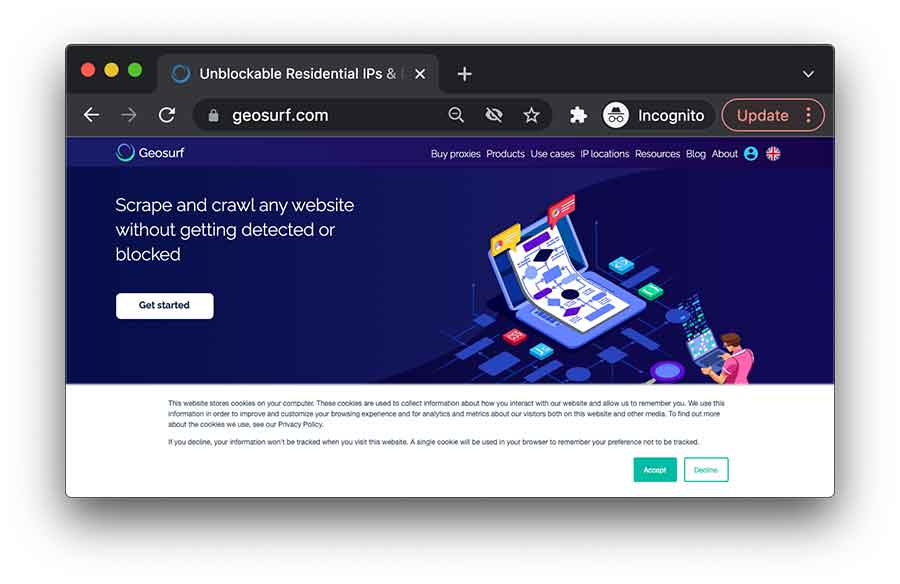 GeoSurf is another best proxy service that pools over 2.5 million residential and static IP addresses. It is a reliable proxy service that is undetectable, thus allowing you to surf the internet freely without getting blocked.
The proxy service holds an extensive server network spread in almost every country and more than 1700 cities worldwide. Some of the prime server locations include:
Australia
Canada
France
India
Netherlands
Russia
UAE
UK
US
It offers blazing-fast speed and helps bypass every filter and access the desired website anywhere. The proxy's fast speed is not just because of its vast server network. Still, it also uses its proprietary automatic bandwidth optimization technology that guarantees the fastest connection from each gateway on your premium proxy network.
Another critical feature of GeoSurf proxy is its mobile and desktop VPN. It allows you to enjoy more privacy and anonymity by hiding behind the proxy while browsing the web.
GeoSurf is a reliable and easy-to-use proxy that improves user experience by not displaying pop-up ads while using the web. However, as it is not accessible, this might not impress many users.
13. SmartProxy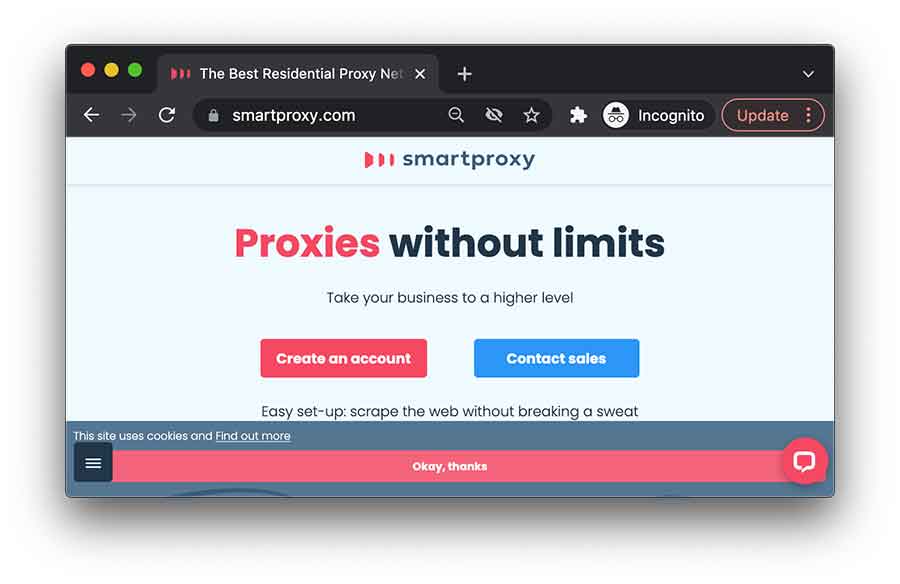 Website URL: smartproxy.com
SmartProxy is among the best proxy services providing residential and data center proxies. The IP address is assigned to using devices like computers, laptops, and smartphones every day. In this way, the ISP and network administrators won't be able to detect who you are and reduce the chances of getting blocked. Also, SmartProxy offers data center proxies that allow unlimited connections.
The proxy service offers more than 40 million IP addresses globally. It consists of an extensive server network that's spread over 195 locations, including:
Canada
India
Germany
Japan
UK
US
SmartProxy uses a rotating proxy network that enables you to switch to a new proxy without much effort. The residential back-connect proxy efficiently rotates to a new IP address and allows you to use unlimited sticky IP sessions. Moreover, data center proxies ensure fast speed.
Another impressive thing about SmartProxy is its responsive customer support. If you face any issues, you can contact the technical staff 24/7 via email or initiate a live chat to resolve your issue quickly.
What users don't like about SmartProxy is that it isn't free. It offers a paid plan, but since it comes with a three-day money-back guarantee, you can use it to test the proxy service and its features.
How to visit a blocked site using a free proxy site
You can use a free proxy site to unblock a restricted site by following the steps below.
Find a reliable, accessible web-based proxy server. A decent proxy site, like Hide.Me, uses proxy servers to access the blocked sites for your device. It also boosts your anonymity by ensuring your location and IP address are not tracked.
Enter the URL of the blocked site you want to visit in the address bar. While browsing, the menu bar will show the proxy server's name, implying that you use a proxy address to surf.
Tap the 'Enter' or 'Go' tab. The web data will be routed via the proxy server and then back to your browser, where you will see it. Although browsing may be slowed, you can unblock your favorite websites.
Are there any Risks of free Proxy Services
A free proxy service is tempting and lures users to anonymously browse the internet without investing a single penny. But using a free proxy is more of a risk. Here are some of the risks associated with a free proxy provider:
No Security: The free proxy services don't guarantee utter security and anonymity on the web. Because of the lack of encryption, it is easy to track your activities. Also, IP leaks happen and expose your real identity.
Slow Speed: Most free proxy services have a minimal server network spread in two or more countries. This results in server overload and slow and unreliable connection speeds.
Malware: At times, it isn't easy to verify the security of a free proxy service. Not all of them ensure an ad-free experience, and the displayed ads can have malware embedded with them that can risk their digital privacy.
No HTTPS: A study found that 79% of the free proxy services don't use HTTPS encryption and allow other people to view your activities.
The free version of proxies sometimes lacks necessary security features and is risky to use. But if you want to use them for short-term use, you can use them.
Paid proxy servers
1. Bright Data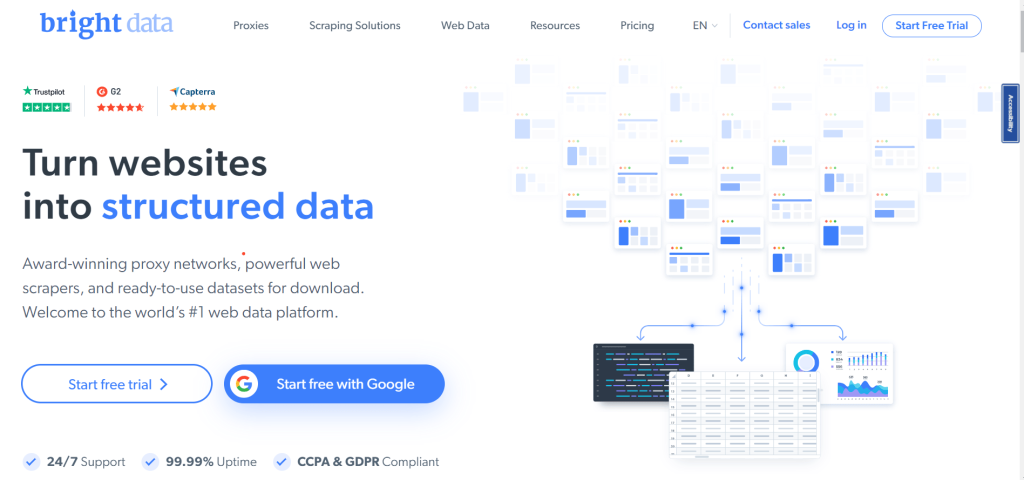 Destination URL: brightdata.com
Bright Data has a complex pricing scheme that offers a massive proxy pool of over 72 million IP addresses with global coverage of all countries and cities. Besides rotating IP addresses, this service provides static IPs, a collection of 6-100 residential addresses that have never been used with your target domain. Additionally, it sells mobile IPs that are more resilient because they work on challenging targets.
Moreover, it includes a Proxy Manager, an open-source tool that can be freely installed on Linux, macOS, and Windows. This tool allows you to control IP rotation, optimize bandwidth usage by routing some requests through non-proxied connections, and block inconvenient IPs.
Bright data support the Autonomous System Number (ASN), a detailed targeting option. Also, its residential proxies support major protocols like HTTPS, SOCKS5, AND HTTP.
However, all its proficiency and features come at a higher cost than its peers. The service offers various payment plans, including monthly plans, yearly subscriptions, and pay-as-you-go plans to suit different users.
2. Webshare
Destination URL: webshare.io
This proxy prioritizes its users' privacy and connection speeds. It boasts the fastest proxies and a worldwide proxy network that is entirely protected and encrypted. The service provides a pool of advanced features to enhance the user experience, including the support of both SOCKS5 proxy and HTTP protocols and the availability of multi-factor authentication. In addition, it offers a free proxy plan, but it is limited to only 10 IP addresses, making it unreliable for big projects.
Webshare is an appealing proxy with extra features like robust security, a friendly UI, fast speeds, a focus on anonymity, and various pricing plans. However, it has some shortcomings, like high pricing plans, lack of customer support, and fewer IPs compared to its peers, but it is still worth a trial considering the available features.
3. Oxylabs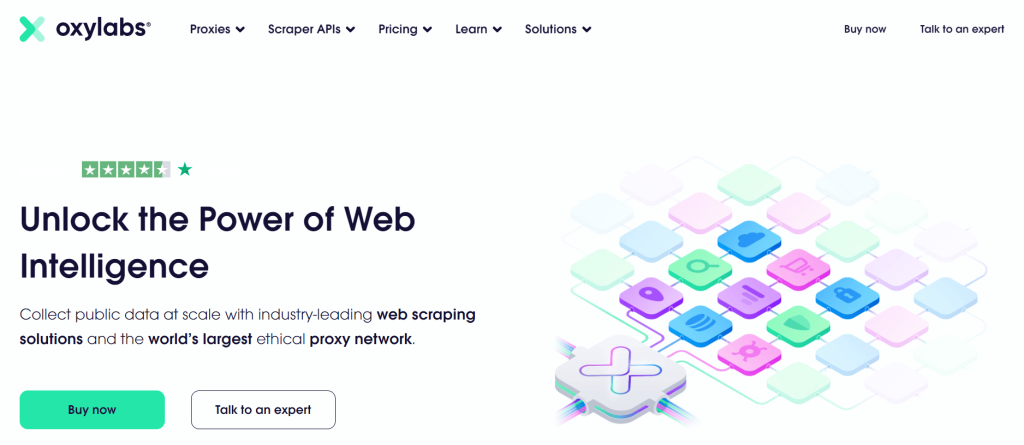 Destination URL: oxylabs.io
Oxylabs includes a vast network of over 70 million proxies that cover all countries and cities worldwide. Its residential IPs employ back-connect gateway servers that require a manual address modification to add parameters for targeting information.
Furthermore, it provides static non-rotating residential proxies that it acquires directly from ISPs, which are better in terms of resilience and speed. These static proxies and Oxylabs' over 2 million data center dedicated IPs support the SOCKS5 protocol.
Moreover, the service offers a cutting-edge residential proxy that uses AI and machine learning to mimic a regular user's surfing behavior to circumvent captchas and blocks. Also, it includes a built-in web scraping tool that gets your response data in JSON or HTML format. Thankfully, it has various payment plans that become budget-friendly as you continuously commit.
4. Rampage Retail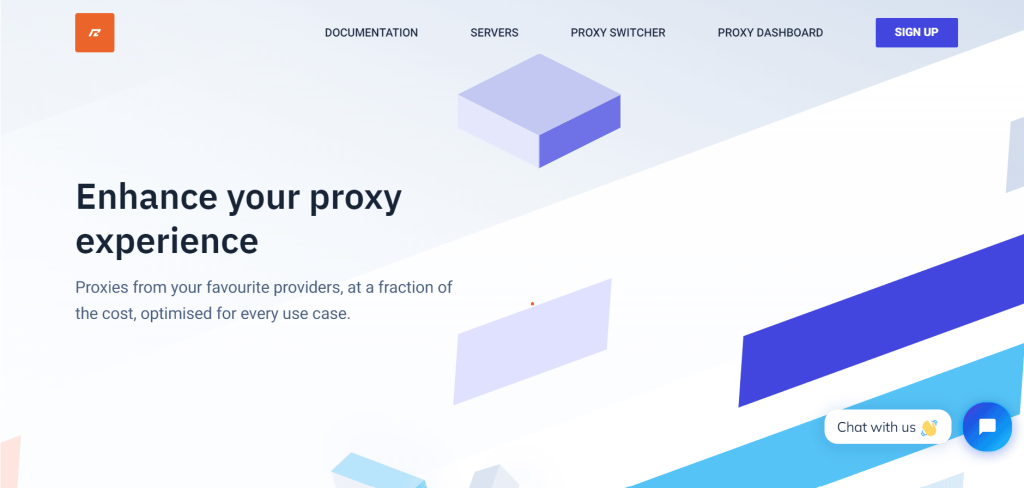 Destination URL: rampageproxies.com
Rampage strives to be entirely transparent on its providers and pricing, offering proxies at wholesale costs in any quantity you require. It initially purchases proxies at a lower rate from top proxy vendors like Geosurf, Smartproxy, or Oxylabs and then resells them to customers at a reasonable price.
Rampage Retail offers an exciting way to access proxies, attracting users with an extensive database of proxies, advanced anti-bot standards, and a cost-effective strategy. Conversely, it has a limited customer support contact method, no free trial, and no user self-help content. Luckily, it provides a low-cost option in the proxy space if you are on a budget.
5. PacketStream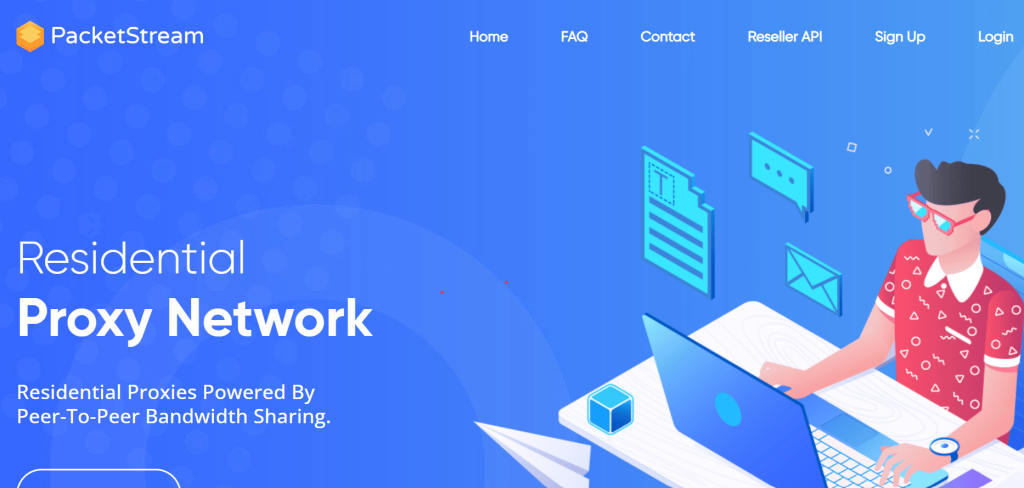 Destination URL: packetstream.io
PacketStream is a residential proxy network with no mobile or stable ISP-based residential proxies. This proxy purchases excess bandwidth from other proxy users and leases it to its users. It also boasts a 99% uptime and zero restrictions, making browsing with its residential connections more anonymous.
Moreover, it offers an exclusive entry into the proxy space, an impressive tier pricing model, and the opportunity for other providers to benefit by selling their residential proxies. However, it has several drawbacks, like a limited direct support option, no city or state targeting, and limited self-help support. PacketStream is still worth giving a shot if you have a low-budget operation.
6. Storm Proxies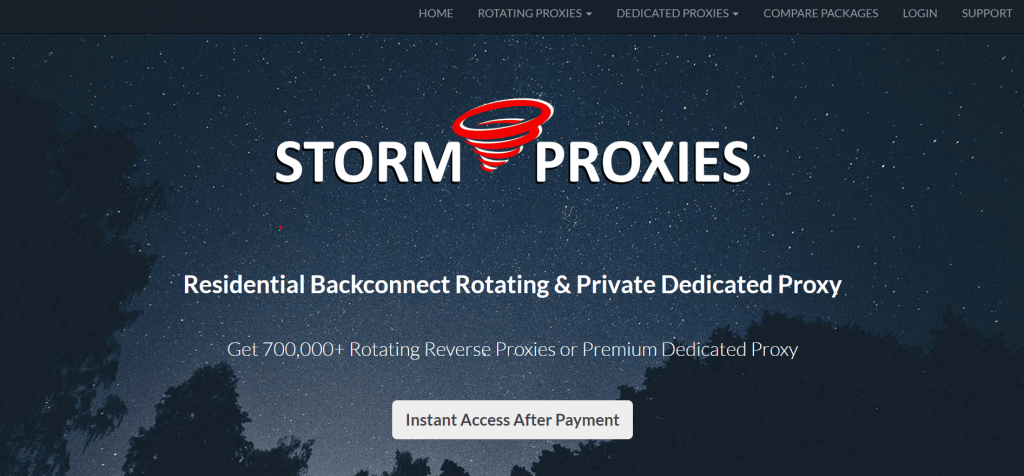 Destination URL: stormproxies.com
This Proxy service is intended for occasional proxy users that would forego extra features for affordable pricing plans. It provides rotating residential proxies, including back-connect rotating proxies with residential and data center IPs.
Furthermore, all its proxies provide unlimited bandwidth. Storm's private dedicated proxies restrict accounts based on the number of IPs, whereas its rotating residential proxies limit accounts based on port numbers, with each port supporting up to 50 simultaneous connections. Also, the back-connect rotating proxies limit accounts based on the number of concurrent connections.
The proxy's back-connect rotating proxies give you access to over 70,000 shared IPs that you can only choose among three major regions, i.e., Europe, the US, and worldwide. The 5-minute rotating residential proxies include roughly 40,000 IPs but only cover EU and US regions and do not allow you to pick your target countries or cities.
What's Better: a VPN or a Proxy?
A proxy and a VPN are privacy-enhancing tools with the same purpose but perform differently. While a proxy hides your IP address, a VPN encrypts it from both ends, making it impossible for anyone to view what you're doing on the web. Using a VPN over a proxy is a better choice for reliability and security.
Besides this, there are other areas where VPN wins over a free proxy like:
A VPN offers a vast server network with less ping time and establishes a quick connection.
You can unblock sites and stream content from anywhere.
A VPN provides better security, customization, and reliability.
They have a strict no-log policy and even don't serve you with ads.
Therefore, a legitimate VPN provider is recommended if you're more privacy-conscious and want anonymity for long-term use.
Best VPN alternatives to proxy sites
1. ExpressVPN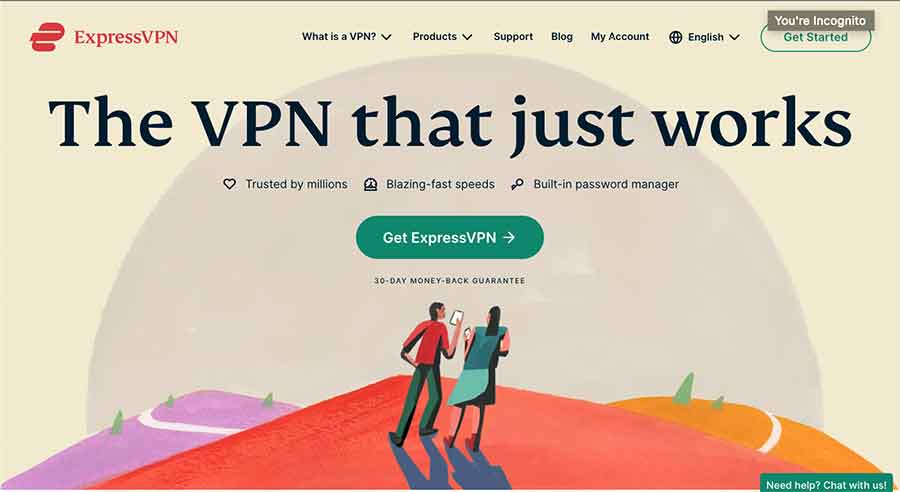 Over 3,000 servers spread across 94+ countries
Military-grade AES-256 encryption
A strict no-logs policy
Private DNS
Split tunneling
Support P2P connections
Threat manager
Allows up to 5 simultaneous connections
A 30-day money-back guarantee
A top-tier VPN service with blazing speeds and advanced security and privacy features like robust AES 256-bit encryption, a kill switch, and a no-logs policy.
ExpressVPN boasts a vast global network of over 3,000 servers in 94+ countries. This VPN provider offers lightning-fast speeds, ideal for unblocking geo-restricted content from popular platforms like Netflix without lagging or buffering.
Unlike most proxies, this service guarantees the users' privacy because it has an audited zero-logs policy. It also includes advanced security features than proxies, such as military-grade AES-256 encryption, a kill switch, split tunneling, onion over VPN, and private DNS.
Moreover, the VPN service offers a 30-day money-back guarantee allowing you to use it for a free trial and claim a refund if unsatisfied with its services. This lets you test how a VPN secures your online activity and data compared to a free proxy. Also, it supports up to 5 simultaneous connections on popular devices such as Windows, Android, Linux, macOS, routers, iOS, and more.
Pros
Excellent Customer Support
Multiple Device Support
Fast Connection Speeds
2. Private Internet Access (PIA)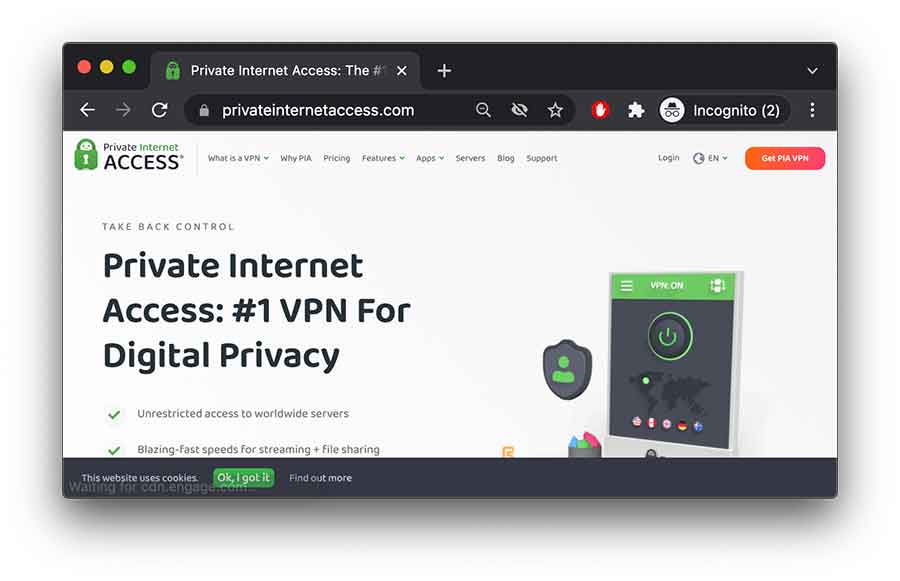 35,000+ servers in over 83 countries.
A customizable AES 128-bit and 256-bit robust encryption
An automatic Kill switch
Dedicated IP address
Split tunneling
Port forwarding
A strict no-logs policy
Allows unlimited simultaneous connection from a single account
Offers a 30-day refund policy
A decent network with an extensive server network that provides consistent and fast speeds. It also has additional privacy and security features, making it a good alternative for proxies.
Private Internet Access (PIA) has an extensive network of over 35,000 servers in 83+ countries worldwide. It offers stable and decent connection speeds, which are adequate for downloading, browsing, and streaming significant platforms like Netflix, Hulu, and Amazon Prime Video.
PIA offers outstanding features that optimize your online security and privacy, making it a superb alternative for proxies. These features include an active kill switch that protects your IP addresses from leaking if the VPN connection drops, a no-logs policy, advanced split tunneling, an efficient ad-blocker, dedicated IP addresses, and an antivirus protection feature. In addition, PIA safeguards you against VPN leaks like WebRTC, DNS, and IP.
Moreover, you may try PIA for free for 30 days by taking advantage of the money-back guarantee. It allows unlimited simultaneous connection from a single account. Also, it is compatible with popular operating systems such as Smart TVs, Windows, macOS, Linux, iOS, and others.
Pros
User-Friendly Interface
Responsive Customer Support
Affordable subscription plans
Cons
Less Advanced Customization
3. NordVPN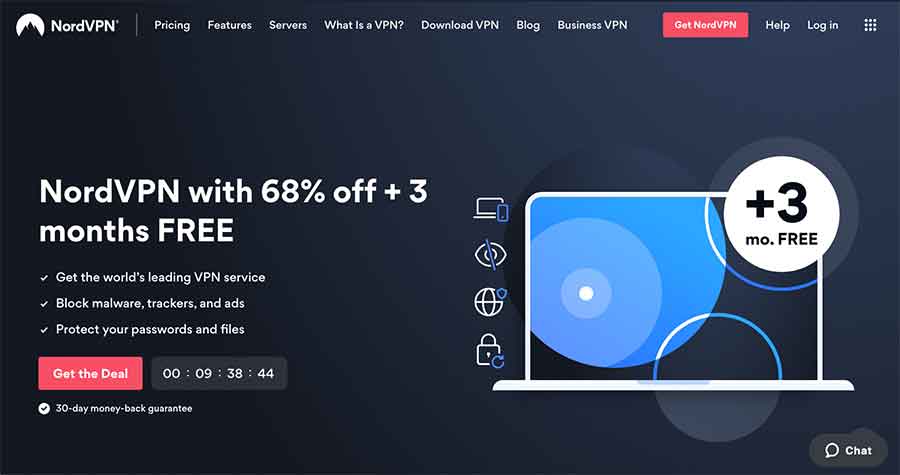 5,000 servers spread in over 59 countries
Tor over VPN
A robust AES 256-bit encryption
Double VPN
A kill switch
SOCKS5 proxy
A strict no-logs policy
Allows up to 6 simultaneous connections
30-day money-back guarantee
A reputable VPN service with advanced security and privacy features like Tor over VPN and a no-logs policy. It also provides fast and reliable speed, making it an excellent proxy alternative.
NordVPN boasts a vast global network of 5,200+ servers in 59+ countries. It also offers blazing-fast speeds suitable for torrenting, streaming, and browsing, with a minimum drop-down compared to proxies. You can enhance the speeds by switching the servers and your protocol to the next-gen NordLynx protocol.
This VPN service offers many advanced features that boost your security and privacy to ensure the best user experience. These features include a double VPN that encrypts your data twice, split tunneling, SOCKS5 proxy, Onion over VPN, dedicated IP addresses, automatic kill switch, threat protection feature, Meshnet, and dark web monitoring tool.
NordVPN has a variety of user-friendly apps for popular operating systems, including Windows, Linux, iOS, macOS, and Android. Furthermore, it has knowledgeable customer support with a live chat tool and a 30-day money-back guarantee, allowing you to sample the service for free and then request a refund before the 30 days are over.
Pros
No DNS/IP/WebRTC leaks
Top notch privacy and security
Accepts cryptocurrency payment method
Are proxy sites safe?
Proxy sites offer a standard level of security. The vast majority of proxies do not include advanced encryption features, and those that do only safeguard the browser and not the whole network. This implies that proxies will not protect other programs on your gadget.
Unfortunately, many free proxies cap your data and have a limited number of IP addresses constantly blocked by streaming platforms once they are discovered. Some may even go to the extent of stealing your bandwidth and logging your traffic. We recommend solely using proxies when browsing the internet. To enhance your security and privacy, a VPN provider like ExpressVPN is the best option.
Conclusion
Using a web proxy is an easy and cheap way to browse the web freely. It hides your actual IP address, thus bypassing the internet restrictions and accessing the blocked websites. With several proxy services claiming to be the best, the above are the best ones with good browsing speed, servers in major countries, and extra benefits and features that can make your experience amazing. So, do consider using those mentioned above for free best proxy services.
However, as the proxy services don't encrypt your data traffic which is their biggest drawback, you can invest in a paid proxy service or a VPN provider. The choice is yours.
Share this article
About the Author
Zehra Ali is a Tech Reporter and Journalist. She has done her Masters in Mass Communication. Topics related to cybersecurity, IoT, AI, Big Data and other privacy matters are extensively covered by her on various platforms. You can follow her on twitter.
More from Zehra Ali
Related Posts